ManageEngine SharePoint Manager Plus
SharePoint management and auditing
SharePoint Manager Plus is a comprehensive tool that can monitor, analyze and control multiple SharePoint deployments from a central console. The system allows users to save working time and increase efficiency. Thanks to the solution, users can manage SharePoint much faster, more conveniently and simply. The application also allows migrating. The system has many built-in reports that enable detailed insight into the environment.
SharePoint Manager Plus Offering
The Complete Management and Auditing Solution for SharePoint
An extensive reporting section presenting the state of the environment
The SharePoint Manager Plus system offers the possibility of a graphical presentation of the activity and monitoring its status. The dashboard also shows documents on resources and the space taken up by files on shares. Thanks to the overview of the entire environment, the user can accurately verify it and visualize all actions taken, significantly improving SharePoint management.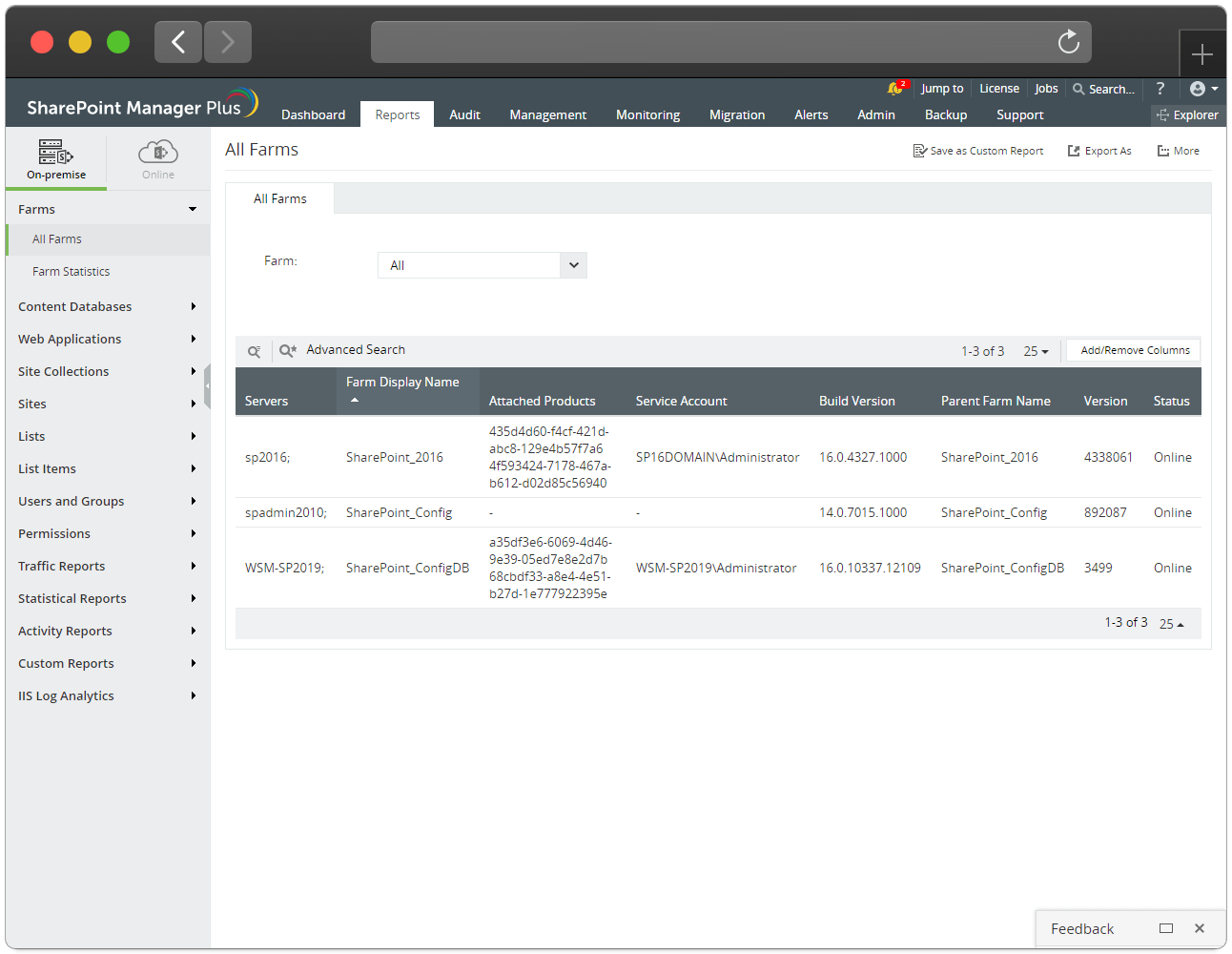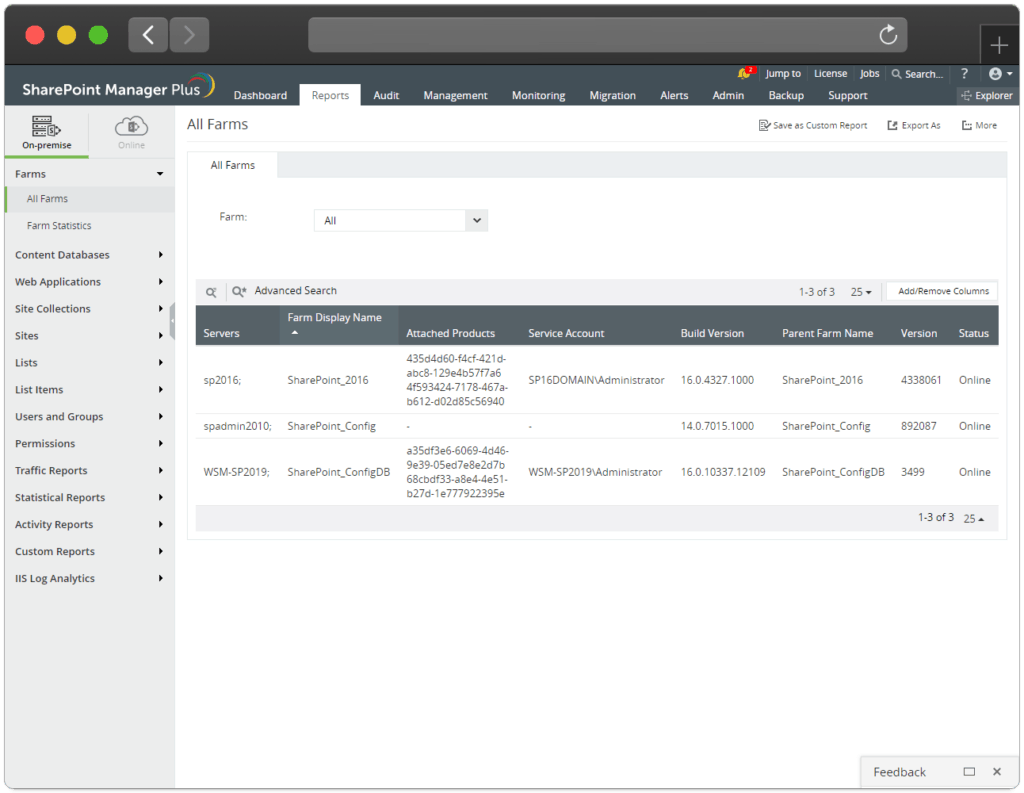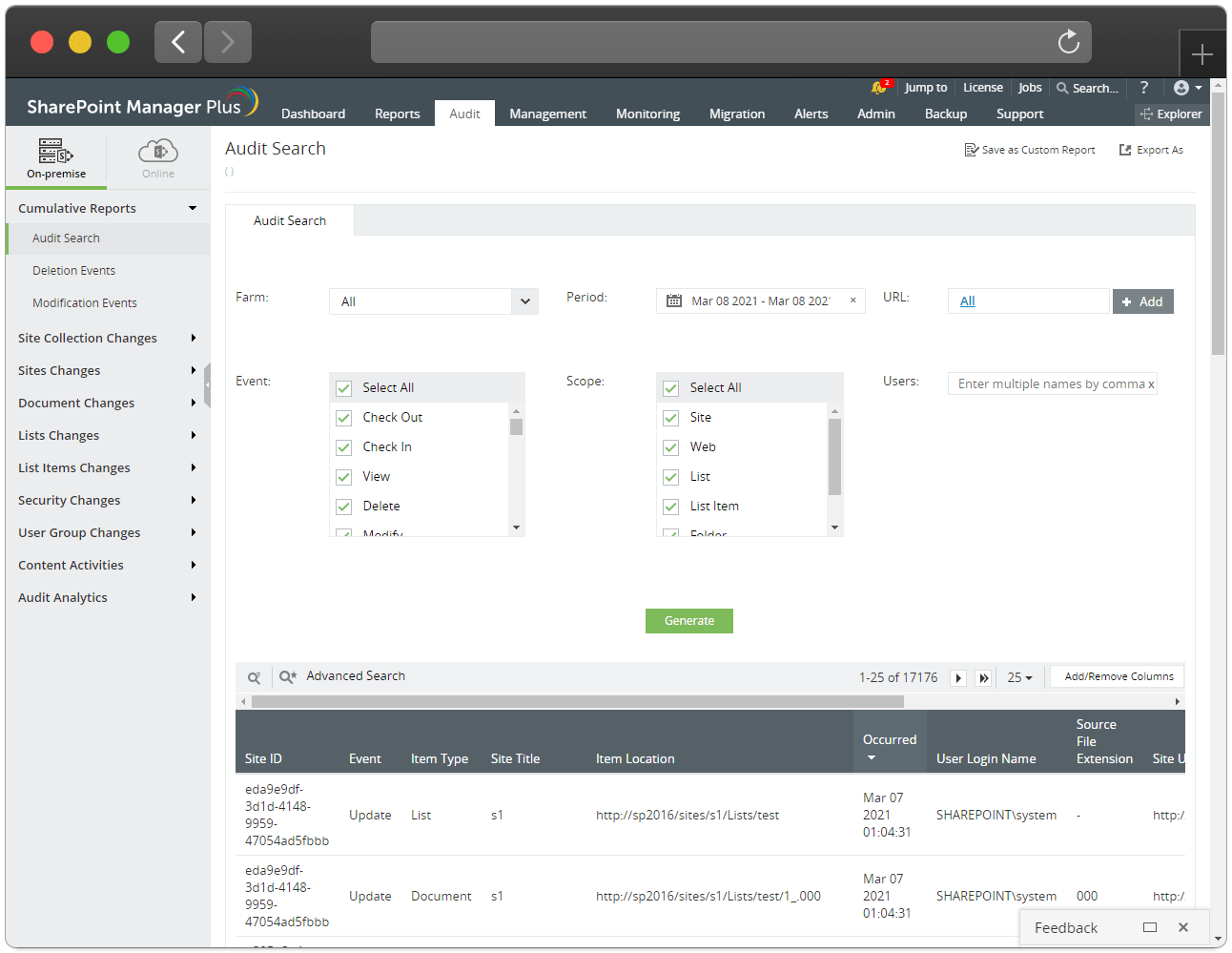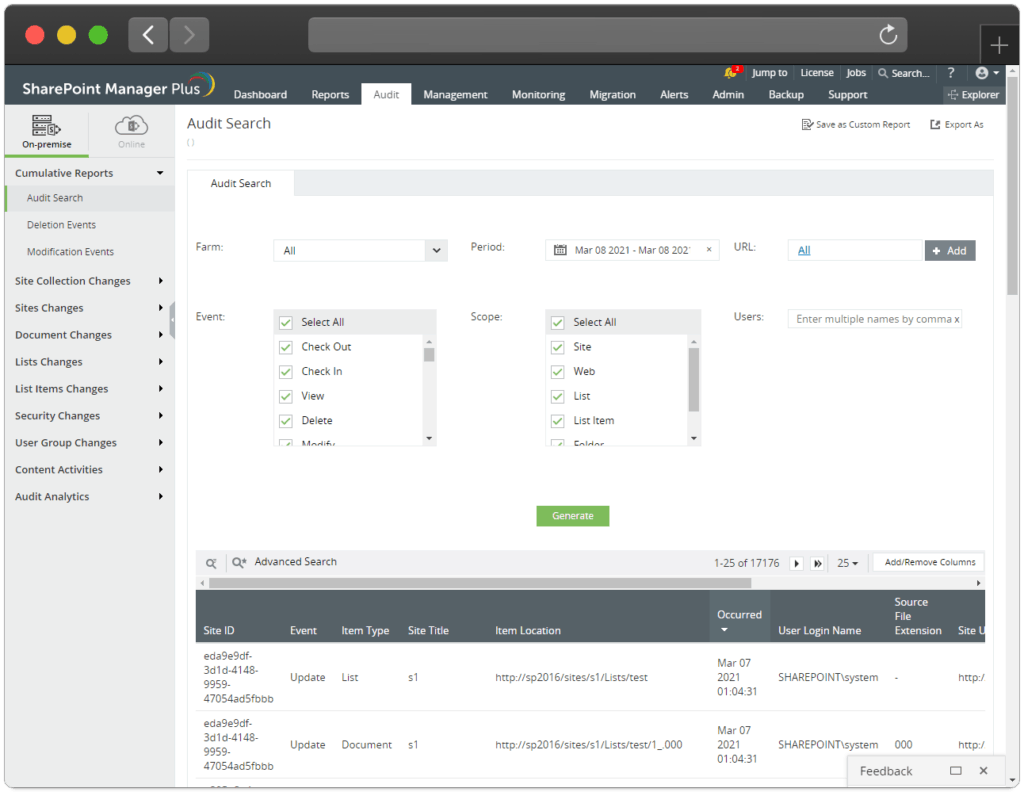 Audit of the environment and verification of all changes
The SharePoint auditing function allows the user to view both online and on-premise resources. The system provides access to extensive data of archival changes introduced in the environment. The generated search result can be sent to the file in the selected format, such as CSV, PDF, XLS, HTML.
Management of SharePoint and access to the environment
Thanks to this system, the user can manage user access to resources in the entire environment. SharePoint Manager Plus enables the user to grant granular permissions to precisely define user access and permissions. As a result, the user gains full control over SharePoint management.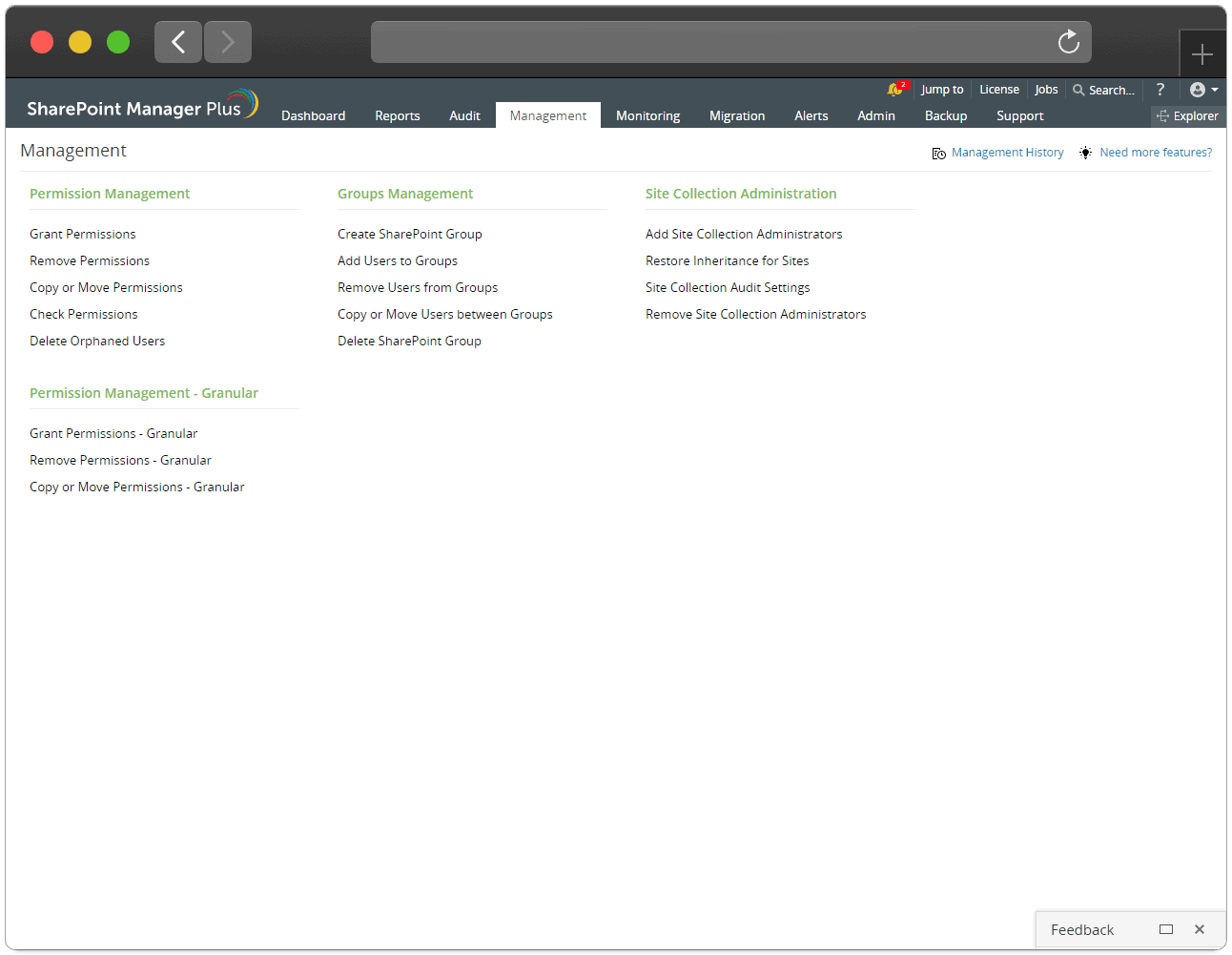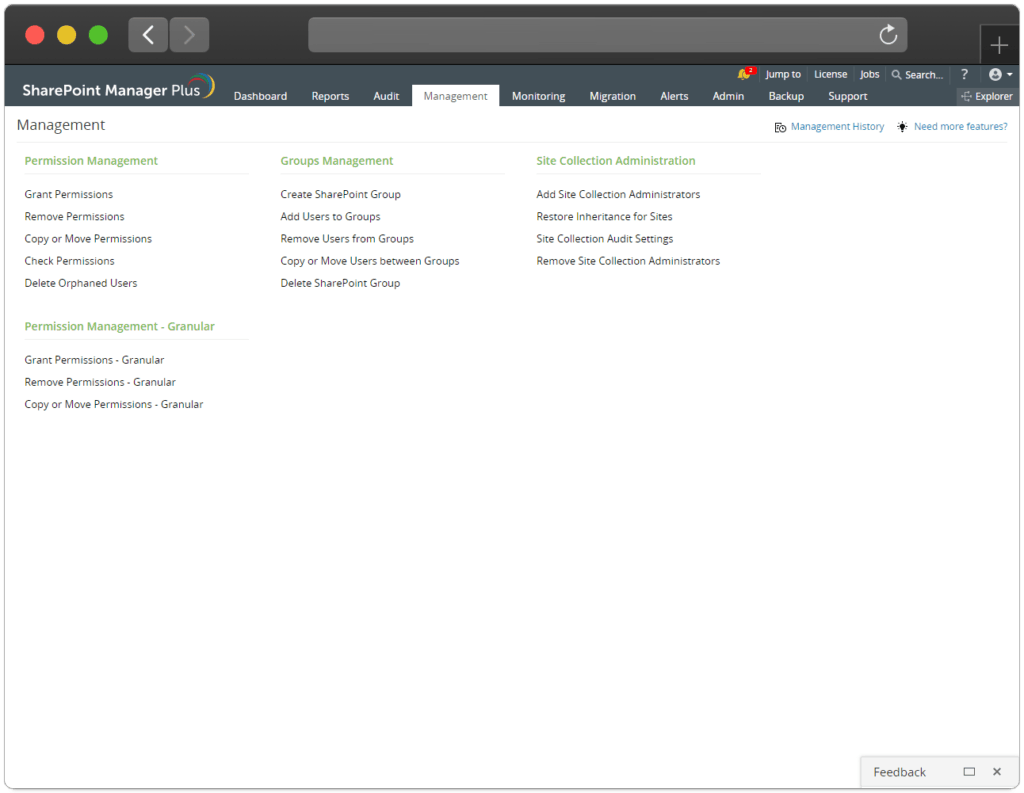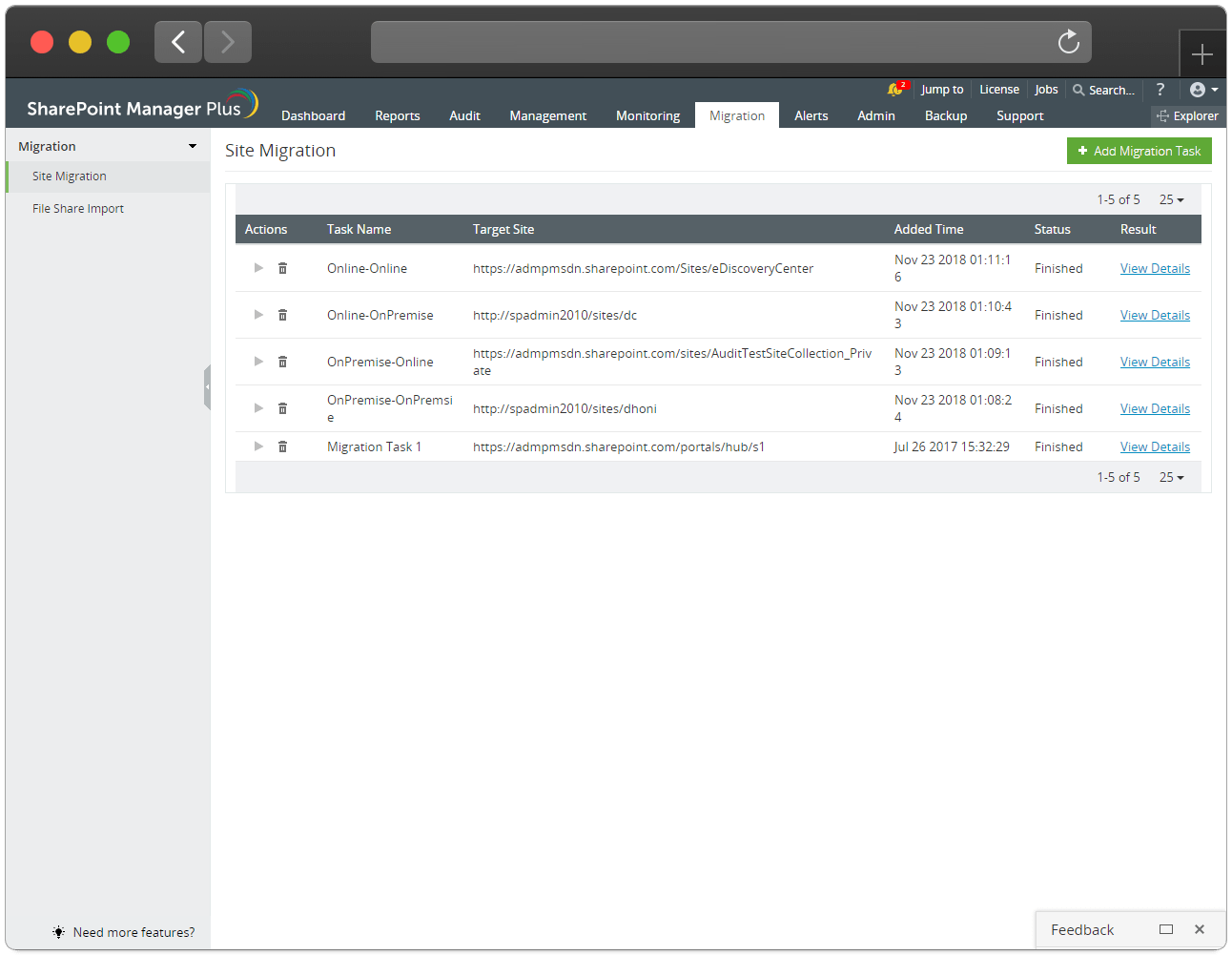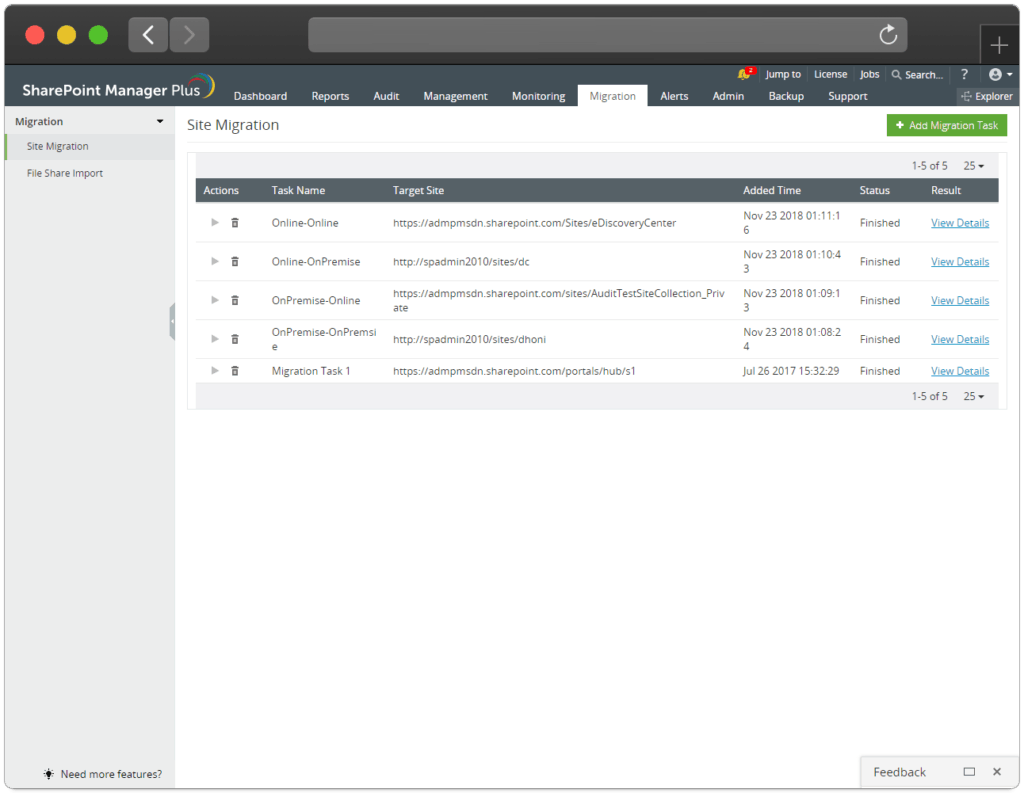 Easy migration between on-Premise and online
SharePoint Manager Plus enables easy migration from on-Premise to online and vice versa. This allows for hassle-free access to data and the ability to save or backup it with ease. The system also allows user to transfer individual elements such as users, groups and any non-standard permissions. It also allows the user to run migration outside working hours, thus eliminating downtime for users.
The ability to configure real-time event alerting facilitates SharePoint management
Thanks to this functionality, the User can configure the notification of network administrators. For each recorded event, the user can properly define the message's content that will be delivered. As a result, the administrator will be informed of any critical changes that occur in the environment.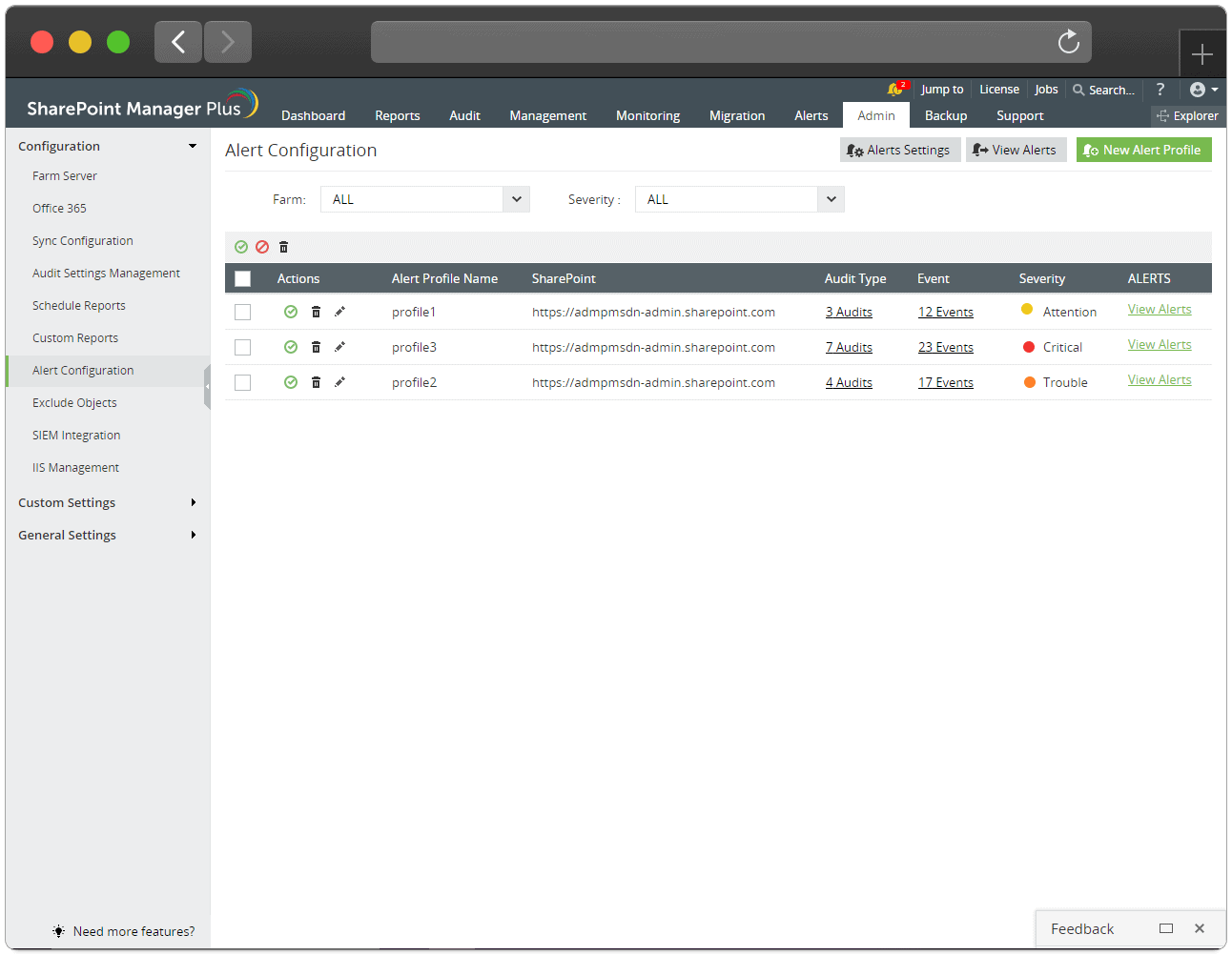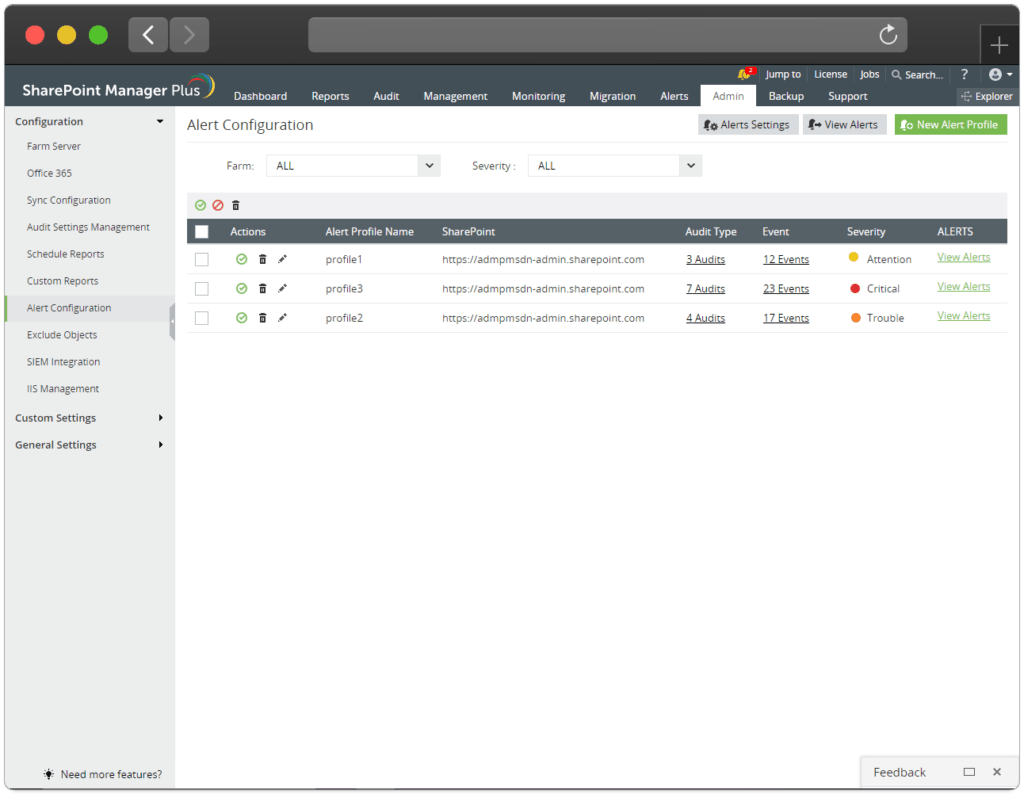 ManageEngine SharePoint Manager Plus Pricing
Standard Edition is Starting From:
50+ prebuilt reports for on-premises and Office365 servers that help in managing, monitoring, and auditing.
70+ audit reports for on-premises and Office365 SharePoint servers.
Schedule and create custom reports.
Get in-depth visibility into hybrid SharePoint architecture with 'Explorer' option.
Receive instant email notifications.
Archive audit log data for custom time period
Professional Edition is Starting From:
Includes all features of Standard Edition.
Offers capability to manage SharePoint permissions, groups, and users.
View operational logs for auditing purposes.
Manage site collection administrator accounts at ease
Frequently Asked Questions
What is Share Point Manager Plus?
ManageEngine SharePoint Manager Plus is a SharePoint reporting, auditing and management tool that allows users to manage, analyze and audit SharePoint activities down to the component level. The solution provides users with out-of-the-box reports and alerts that help SharePoint server management, storage management, and security.
What are the features in Share Point Manager Plus?
Comprehensive & Agentless tool: Supports online (Office 365) and on-premise and hybrid environment and doesn't require server-side installation.
Intuitive dashboards: Includes an intuitive graphical dashboard that helps quickly analyse what's happening in the SharePoint environment.
In-depth auditing reports: Provides in-depth component-wise auditing reports that gauge the critical changes happening at SharePoint servers.
Complete infrastructure visibility: Includes 'Explorer' view that helps in viewing  SharePoint architecture as such. The solution also provides detailed out-of-the-box reports that help gain complete visibility into  SharePoint infrastructure down to the component level.
What is Share Point Reporting Tool?
SharePoint Manager Plus provides insight on all activity happening in  SharePoint with an easy to understand dashboard and comprehensive reports. This tool generates reports for SharePoint 2010, 2013, 2016, and the online Office 365 platform. These reports are focused, easy to read, and exported to multiple formats, including XLS, CSV, PDF, and HTML. User can also schedule reports to be sent to inbox.
How can user create a Task Notifications Workflow in SharePoint?
In SharePoint, these are the steps user could implement to create a Task Notifications Workflow
Open SharePoint designer and create a new task list
Under TASK LIST Create, a list workflow associated with the Task List
Set the term and condition, if the current item priority is high and sends an e-mail
Mention the mailing address of "Assigned To" and add the subject with a lookup to the recent item title and a link to the Task list's edit form and the current task ID
Activate the workflow to start each time a new item is created
Publish the workflow
Mention how to create a list in SharePoint 2013?
In SharePoint to create a list, from the setting menu
Tap on the "Add an app" link to add a custom list
It will open your Apps section under "Site Contents."
Now click on "Custom List" under your Apps
Enter a Description and Name of the list and click on create. This will create a list in SharePoint.
Explain what is a site in SharePoint?
A site collection is referred for a SharePoint site collection with the same owner and shares administration settings, such as permissions.  SharePoint Online site collection has three sites collections, the team site, public website and my sites.
Want to continue the
conversation?
Thank you for your interest in ManageEngine's SharePoint Manager Plus solution. Please fill out the form below to ask a question or request assistance.