A comprehensive browser-based Help Desk system compatible with the ITIL library.
ServiceDesk Plus is available in local, cloud, & MSP versions. The system automates the activities related to handling requests, sending notifications, and verifying compliance with SLA agreements. One package integrates modules such as registration and incident management with the ability to create a catalog of requests, registration, and manage service requests.
Additionally, ServiceDesk Plus has a Problem Management module with the option of linking multiple incidents into a single problem. Moreover, it allows the recording of resources related to the Purchasing and Contract Management module. The MSP version of the application is available locally only - installed in the client's environment.
ServiceDesk plus incorporates the best practices of ITSM.
Trusted by over 100,000 help desks worldwide, ServiceDesk Plus is the only full-stack ITSM suite that handles support tickets, IT networks, desktops, mobile devices, and Active Directory (AD), all from a single console.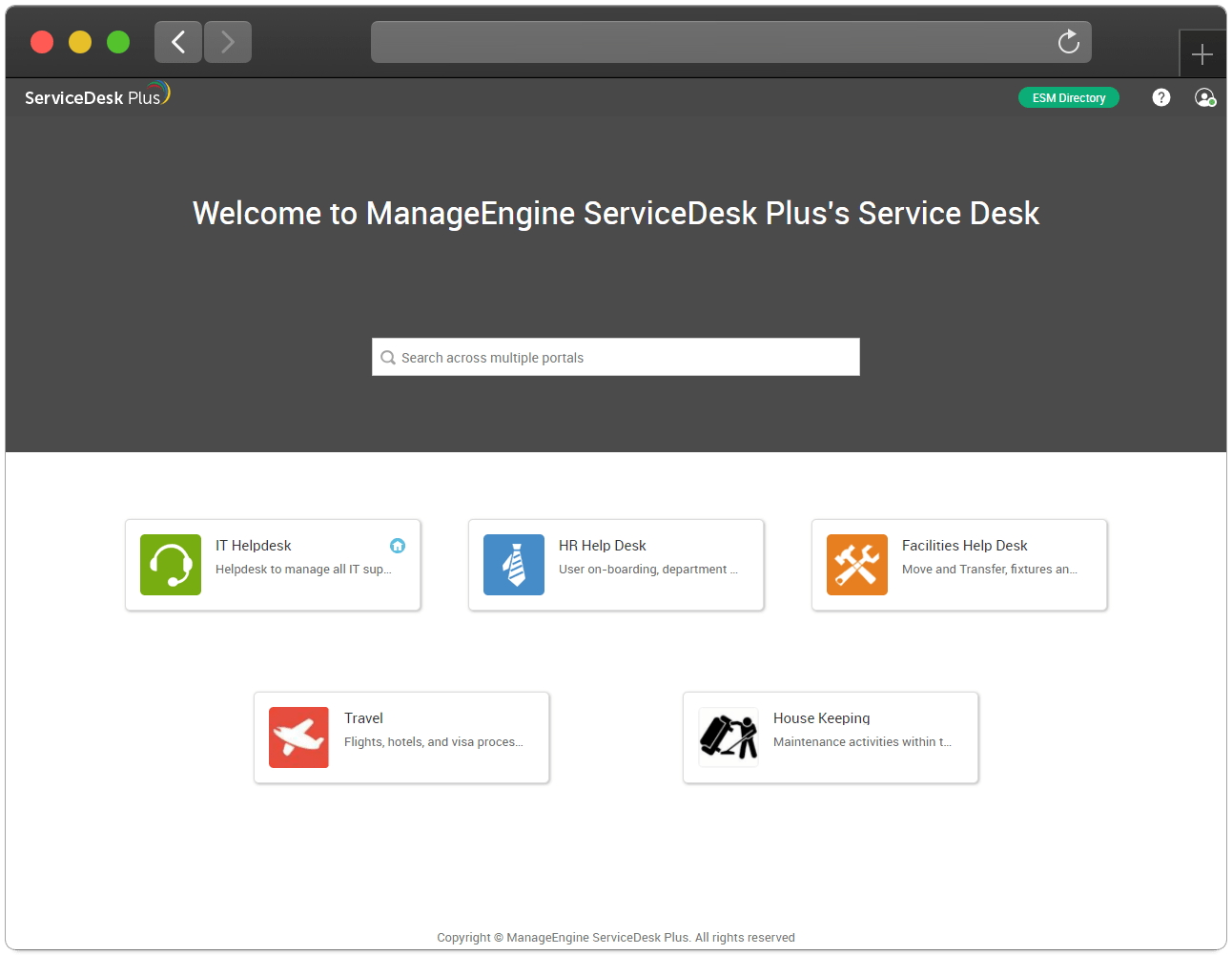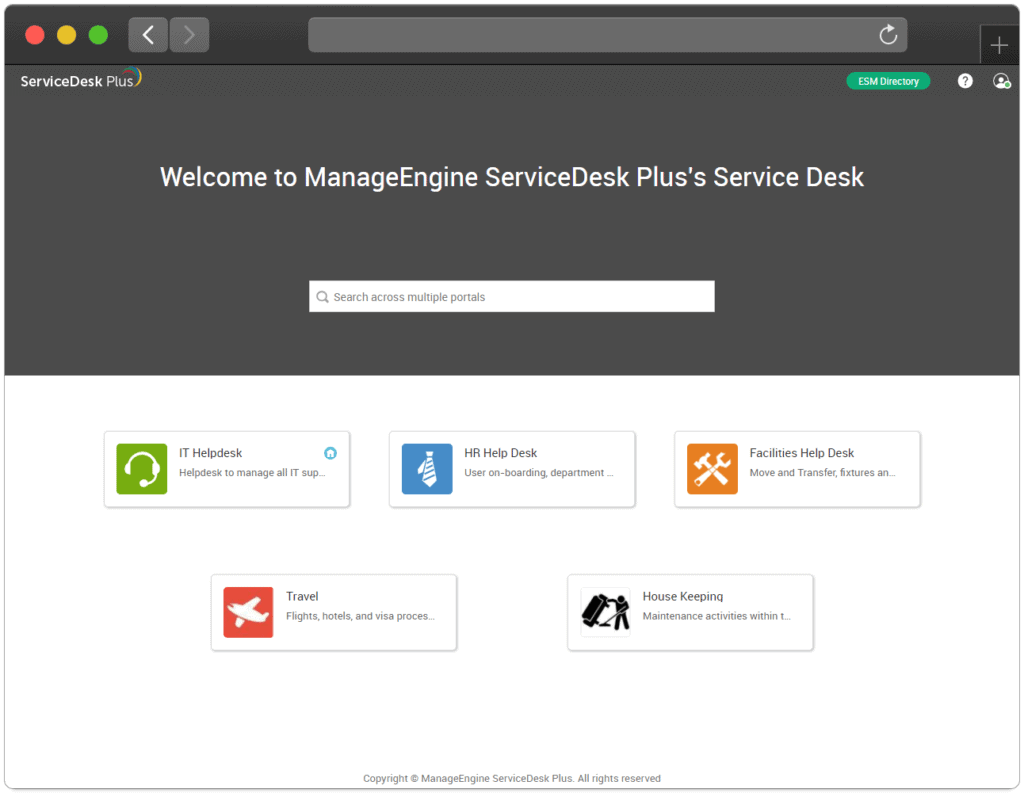 Web-browser support with access from anywhere.
ServiceDesk Plus is installed on the server, where it is made available after appropriate configuration. It is also possible to obtain an on-demand version in the manufacturer's cloud, which ensures an automatic software update process.
Integrating additional tools that enable:
1. Monitoring and full management of all resources
2. Advanced reporting and carrying out of necessary calculations to integrate data from many systems
3. Extensive real-time network monitoring
4. Password management with accepted standards of the organization
5. AD management with necessary data reporting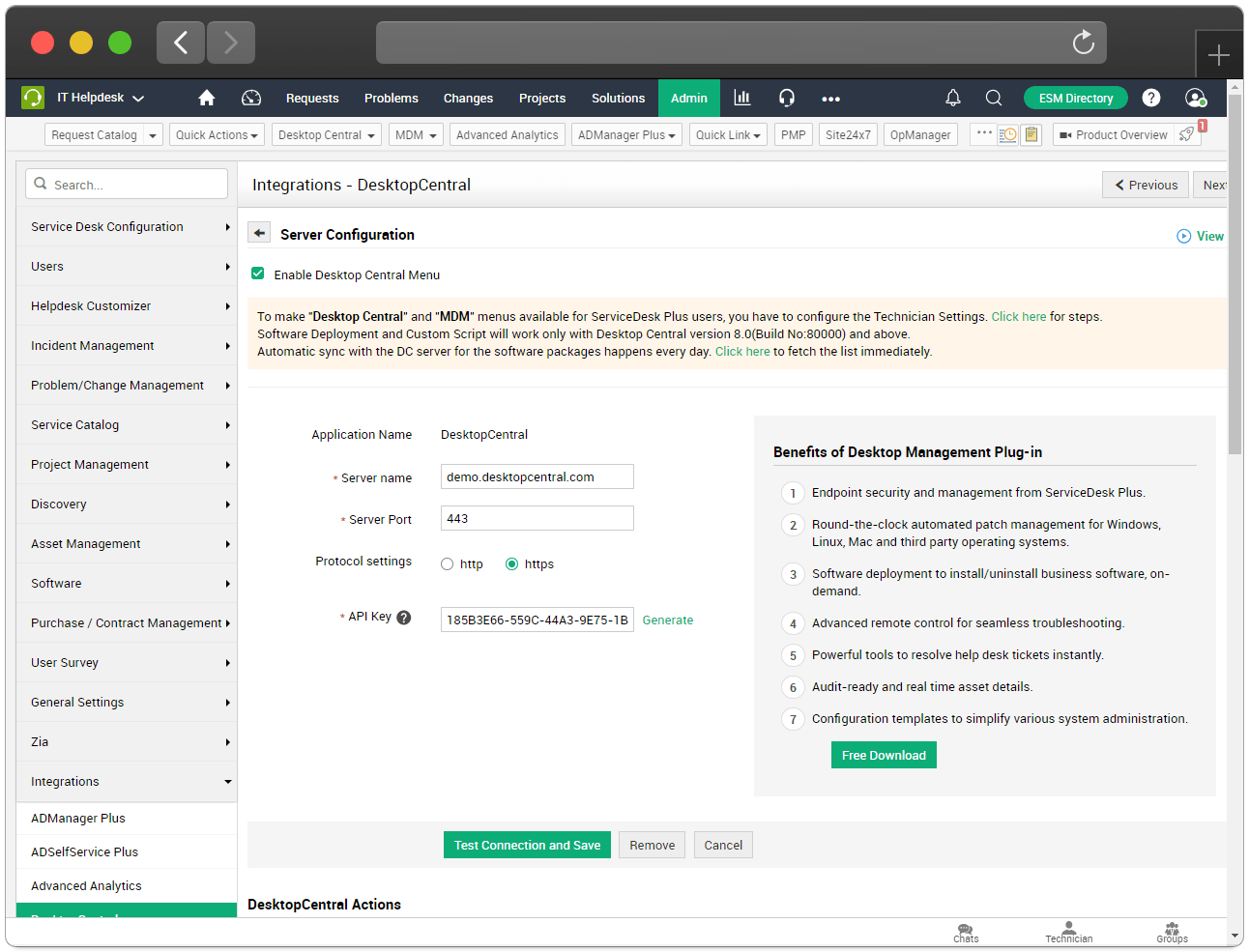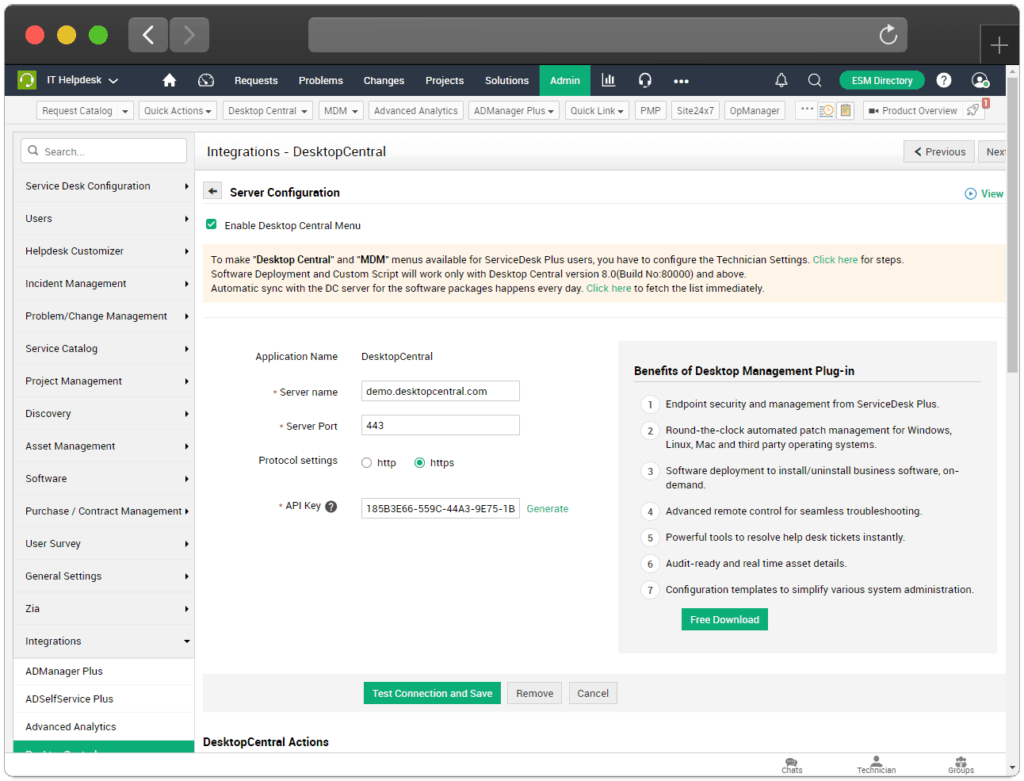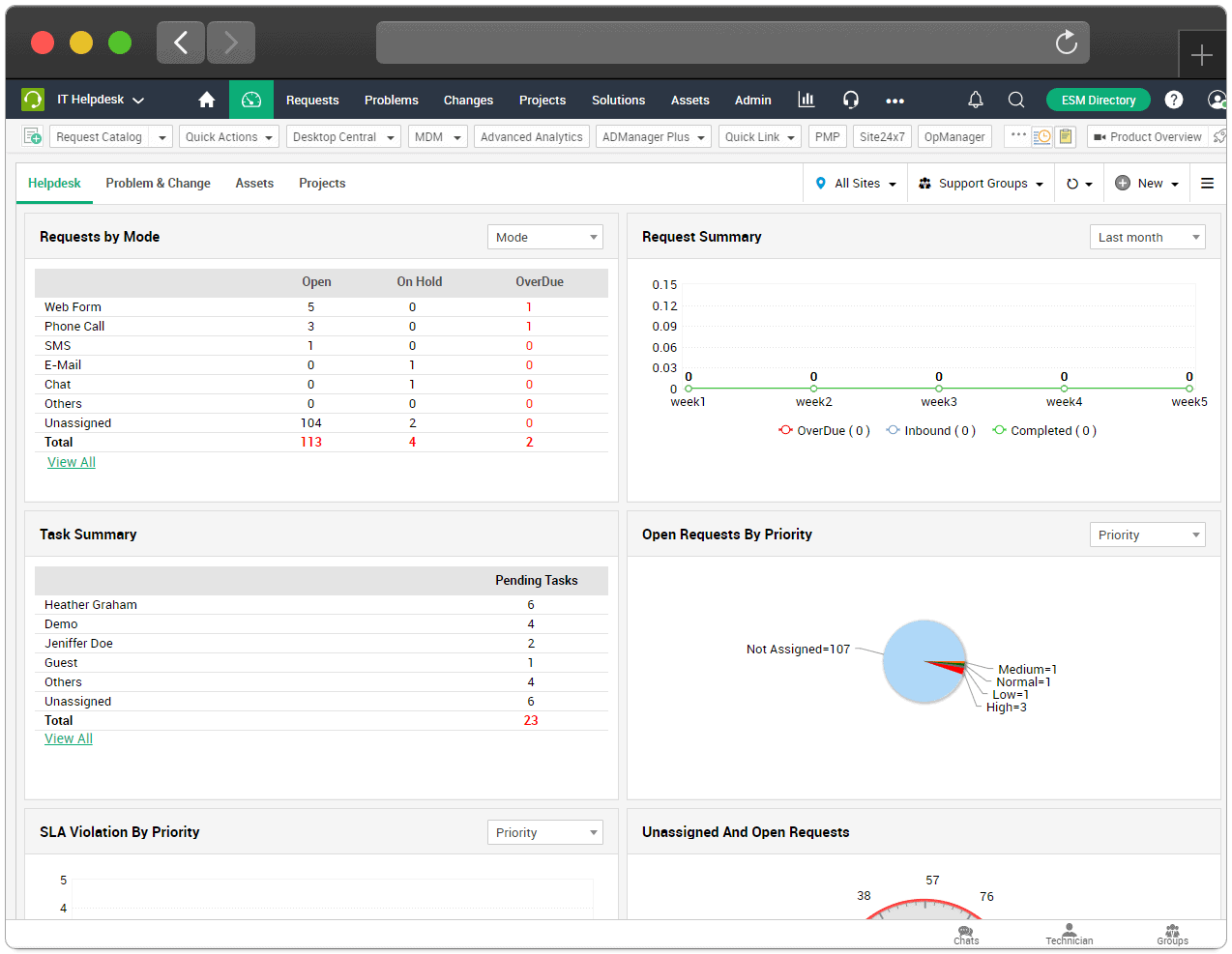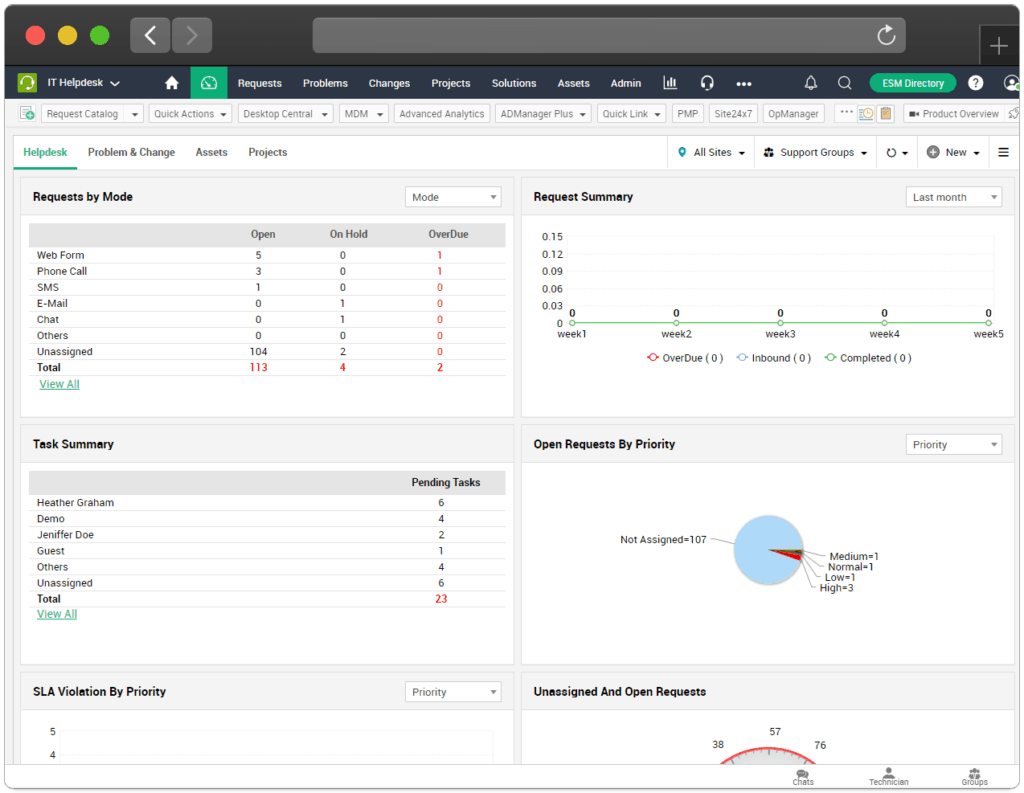 Adaptable HelpDesk interface for individual needs
ServiceDesk Plus supports a personalized view in the main ticket module, thanks to which the user can easily select data based on previously configured filters.
The whole process is complemented with access directly from a mobile application for both Android and iOS devices.
The software uses a Dashboard module, i.e. interactive boards presenting data in a way selected by the user.
Extensive rights to users
The described Helpdesk system has predefined roles that are assigned to users. Self-configuration is also possible to meet the most demanding and non-standard roles that are adopted as part of business cooperation.
Having a separate module with defined roles significantly reduces the time of granting appropriate access in the case of employee rotation, regardless of the level in the organization.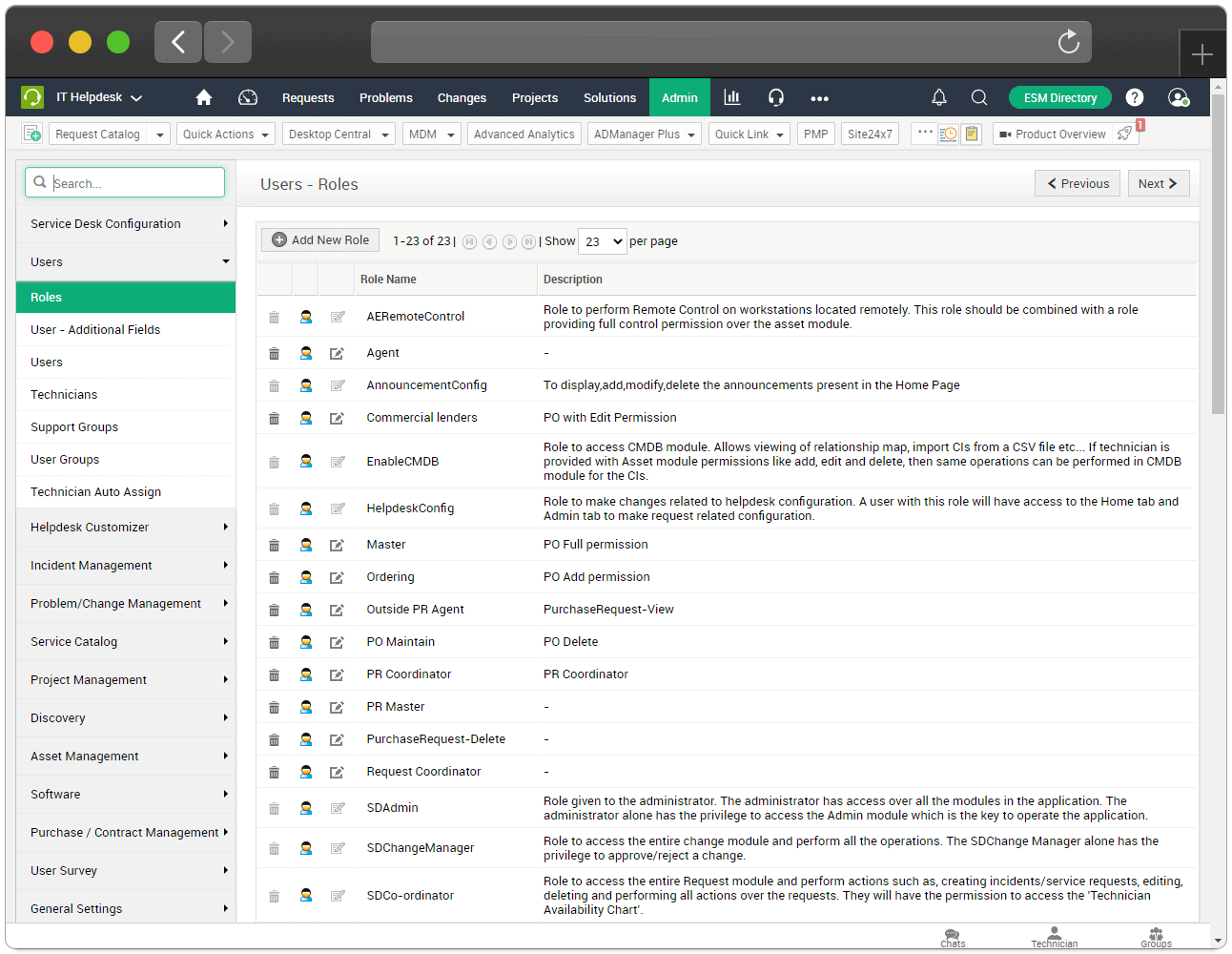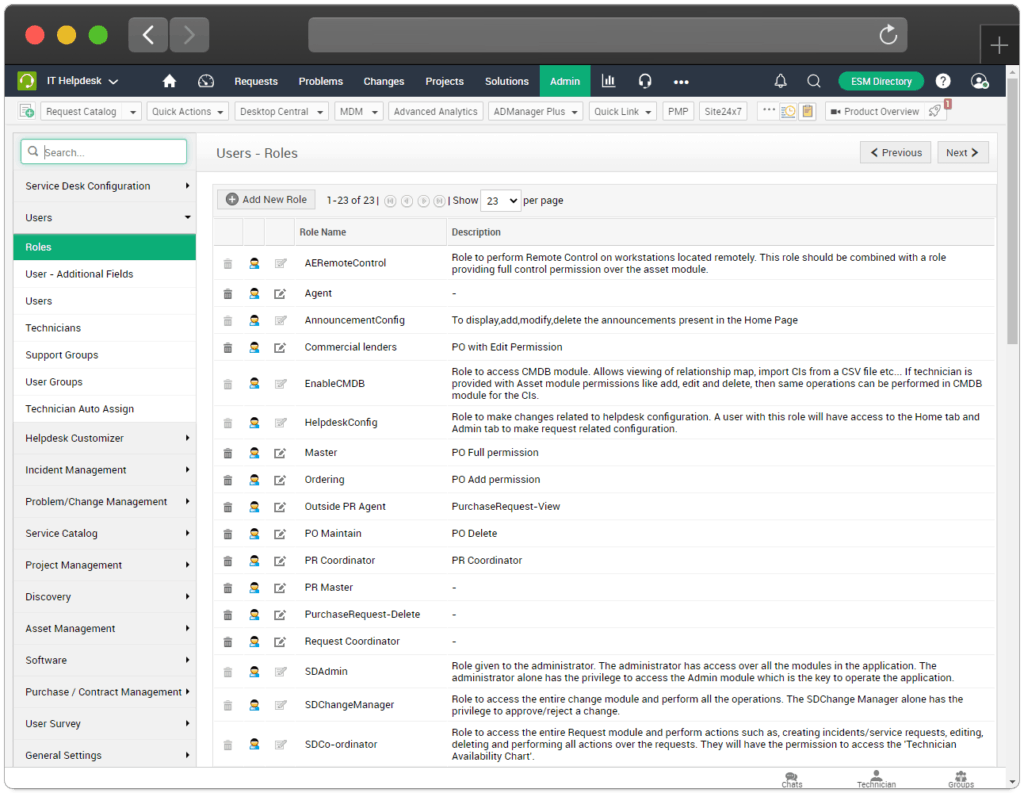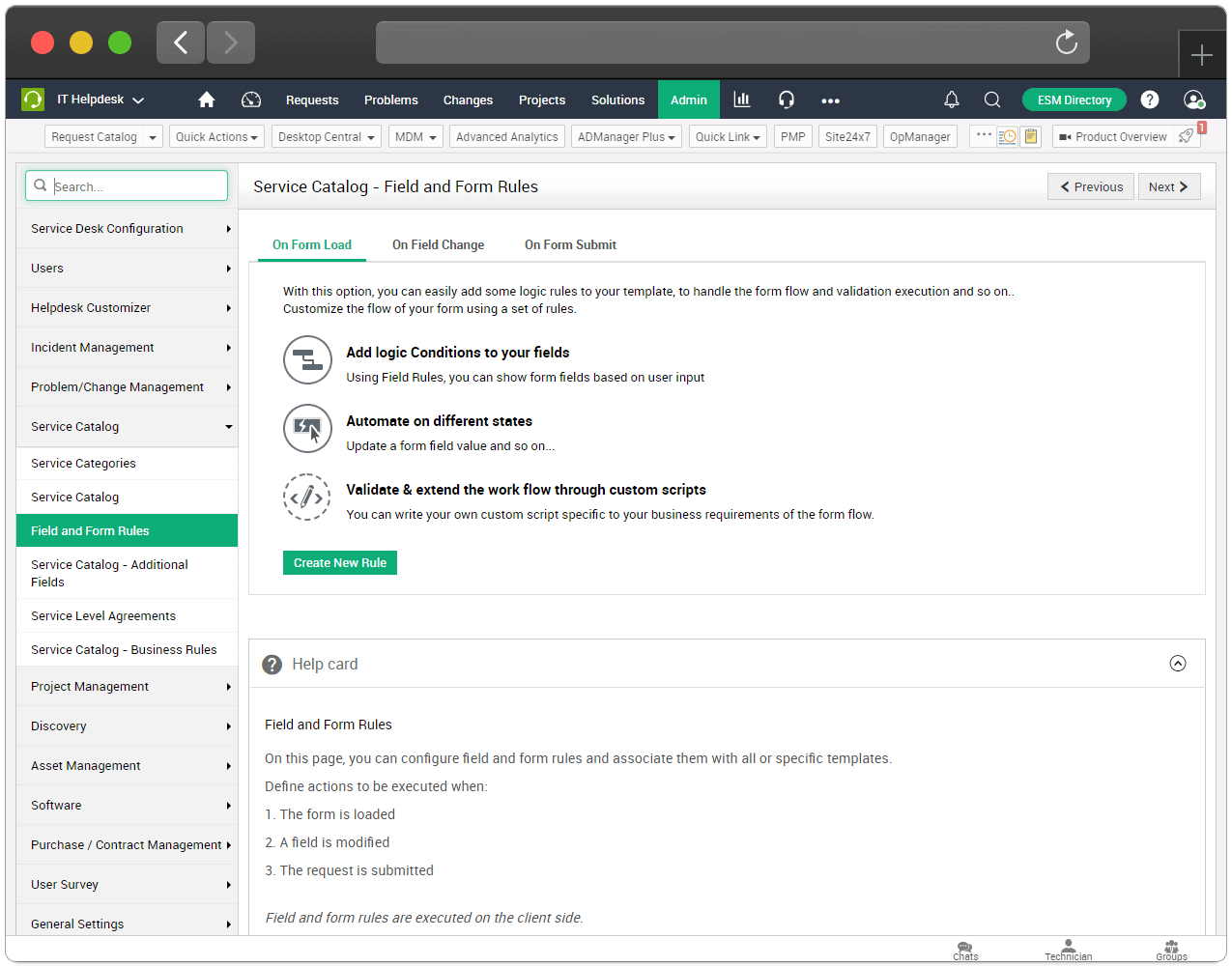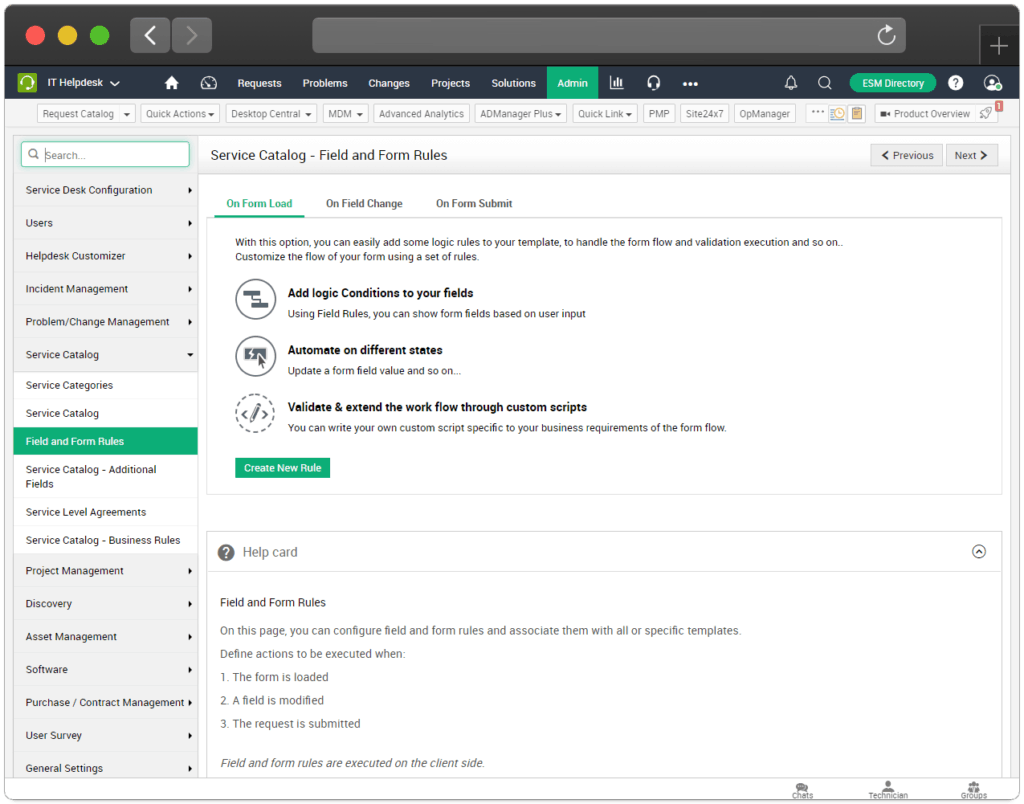 Scripts, field, and form rules for complex application templates.
An extensive system of creating templates on the basis of 'Drag and Drop' with the possibility of creating custom fields, automatic filling of descriptions or topics depending on the method of filling in the form.
Everything is automated and can be easily configured in the application interface or by using JavaScript.
Three different ways for detailed data reporting:
1. The possibility of using ready-made reports configured by the software producer.
2. Data analysis that uses an intuitive interface with a list of columns to choose from and advanced filtering options.
3. Use of user-created queries to match the appearance of the report, as well as 100% complex filtering tailored to the current needs.
Each of the reports can be configured as scheduled, i.e. sent with regular frequency to the indicated e-mail addresses.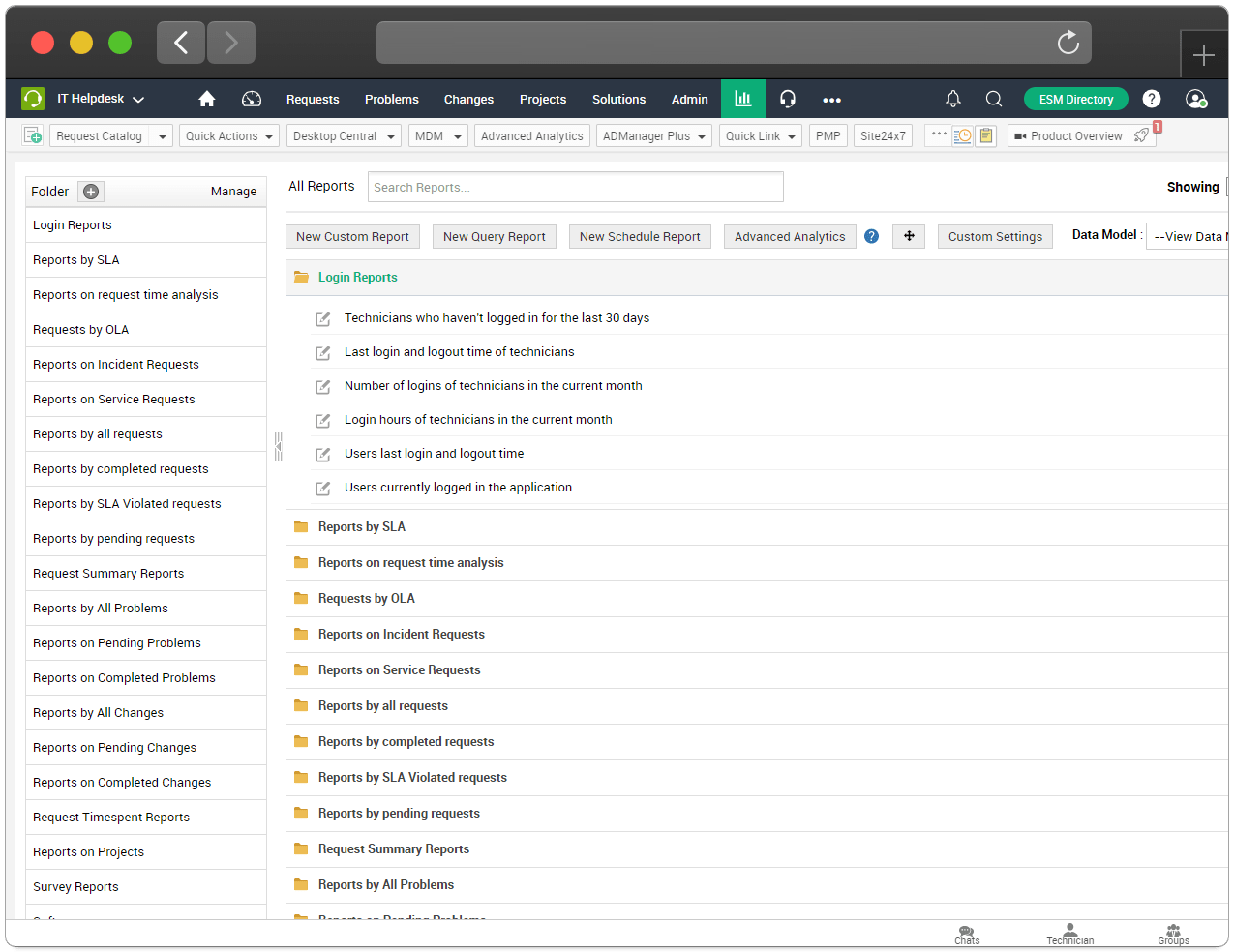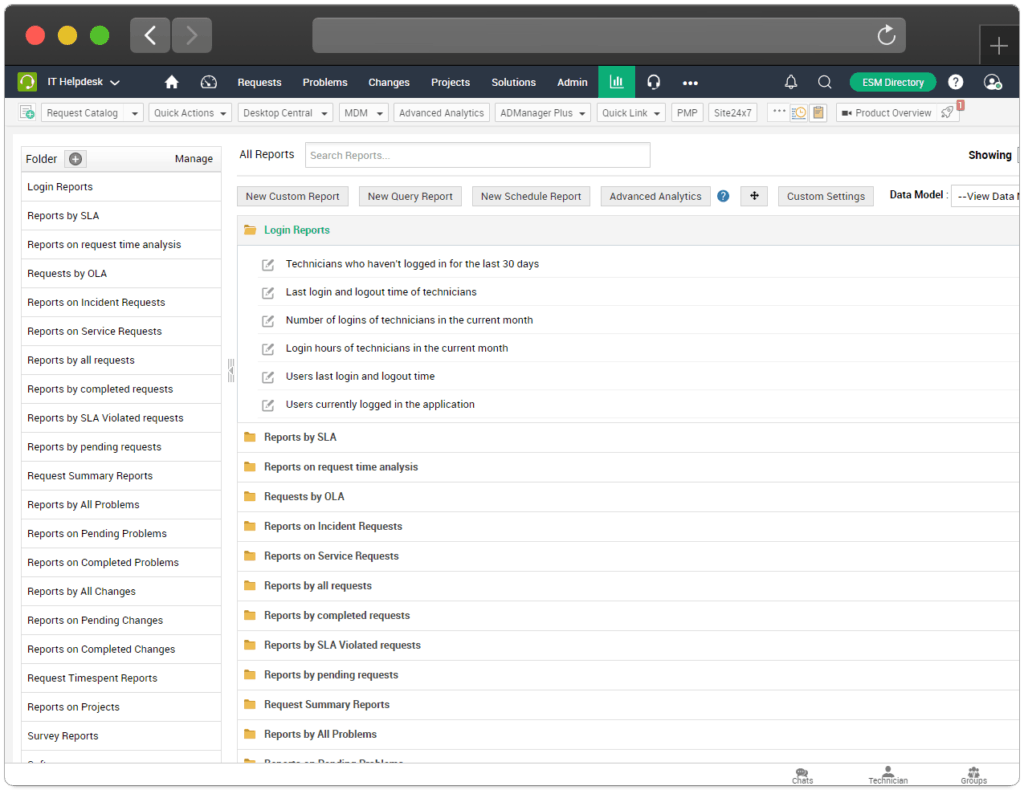 ServiceDesk Plus native IT integrations
ServiceDesk Plus offers powerful indigenous integrations with industry-leading applications from ManageEngine to provide a 360-degree view and control of the IT infrastructure.
Frequently Asked Questions
What is ServiceDesk Plus?
ManageEngine ServiceDesk Plus is a Help Desk and Asset Management software. It offers an Integrated Package with Incident Management (Trouble Ticketing), Asset Tracking, Purchasing, Contract Management, Self-Service Portal, and Knowledge Base at an Affordable Price Point.
What are the versions of ServiceDesk Plus?
Service Desk plus is available in Cloud, On-Premise and,  MSP Version. ServiceDesk Plus MSP is IT help desk software that is designed specifically for Managed Service Providers (MSP).
Is ServiceDesk Plus free?
ServiceDesk Plus Standard edition up to 2 Technicians ServiceDesk is free. Also, ServiceDesk Plus comes with a free 30-day trial which can be availed on the ManageEngine website here.
What are the Editions of ServiceDesk Plus?
ServiceDesk Plus is available in Standard, Professional, and, Enterprise Edition. Kidan is providing the licensing for all these SDP's editions.
How do I install ServiceDesk Plus?
Being the Swiss Partner of ManageEngine, Kidan is responsible for aiding with professional services, such as installing, implementing, configuring, training, and supporting the company to ensure an effective on-boarding of ServiceDesk Plus.
To make it even better, Kidan even provides advice on top of it all!
Get in touch with us to know more.
Want to continue the
conversation?
Thank you for your interest in ManageEngine's ServiceDesk Plus solution. Please fill out the form below to ask a question or request assistance.