RecoveryManager Plus
Active Directory Backup Utility.
RecoveryManager Plus backs up all aspects of an Active Directory environment. It enables immediate restoration of deleted or modified objects and individual attributes without restarting the domain controllers. Thanks to the RecoveryManager Plus system, AD objects, such as users, groups, GPO, OU, Exchange attributes, DNS information, computer accounts, and contacts can be restored easily.
RecoveryManager Plus can also restore the entire AD environment to a selected point in time, undoing all previous changes. Active Directory can keep backups for a specified period of time and perform them automatically according to a set schedule. The application also supports the performance of Office365 and Exchange backups, securing them against potential problems.
RecoveryManager Plus Offerings
Recovery and restoration of important objects, information, attributes, and more done easy!
Preview backups and changes to incremental backups
RecoveryManager Plus allows you to back up Active Directory and view in the menu the number of attributes that have been added to the backup. The dashboard shows the types of objects for the selected domain and the time needed to create a backup.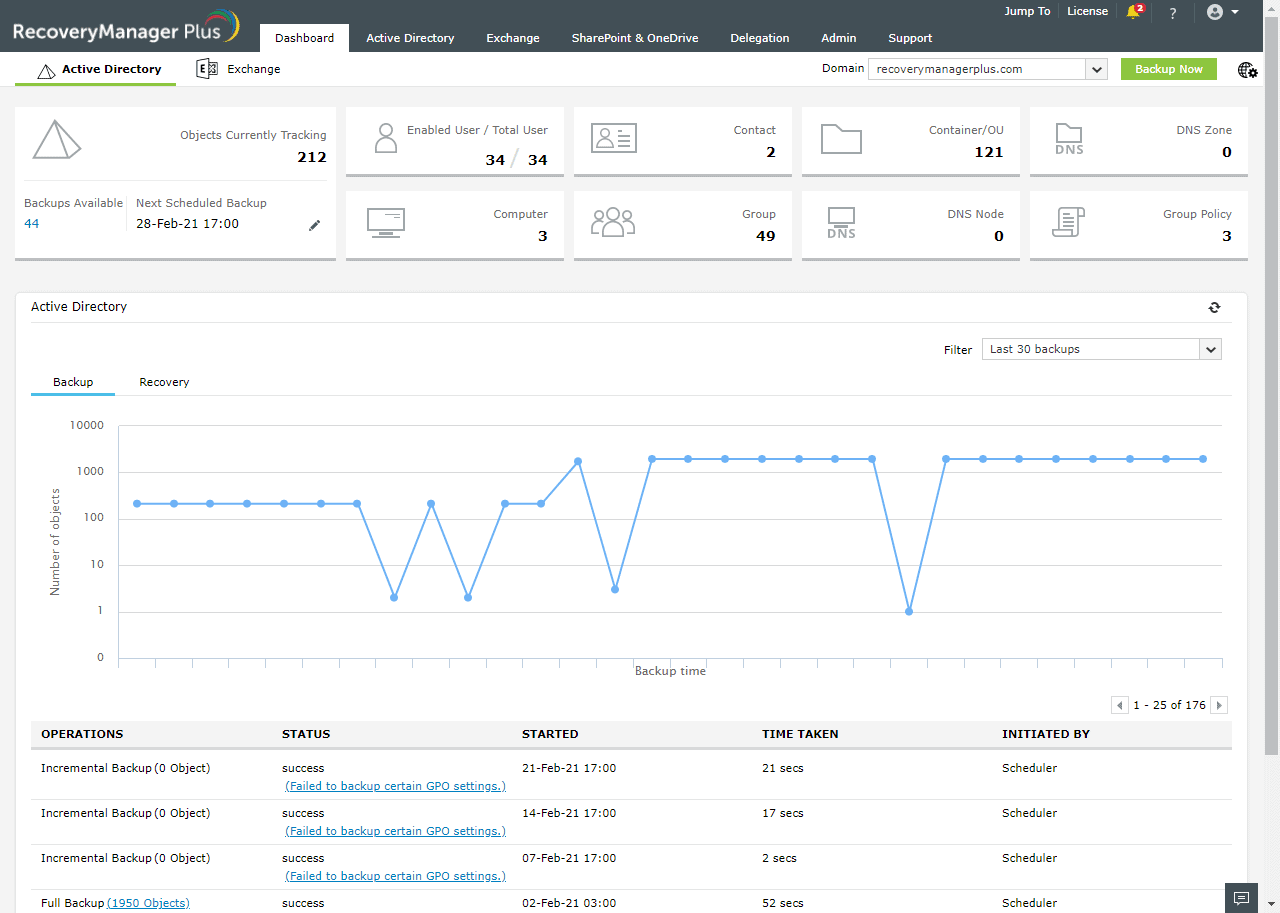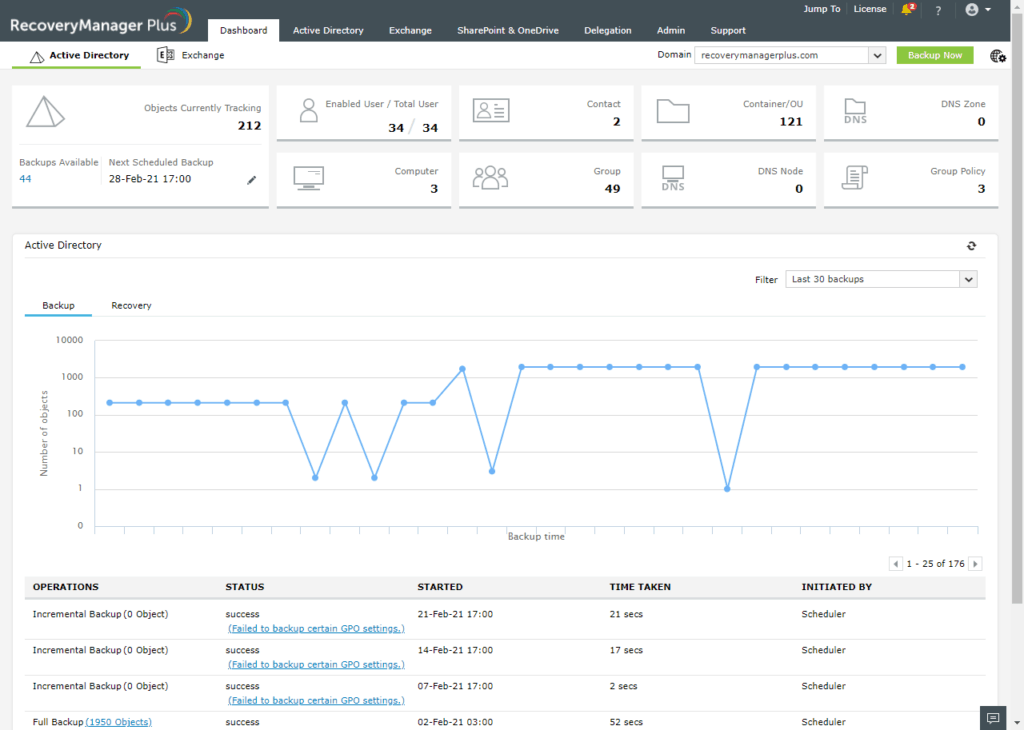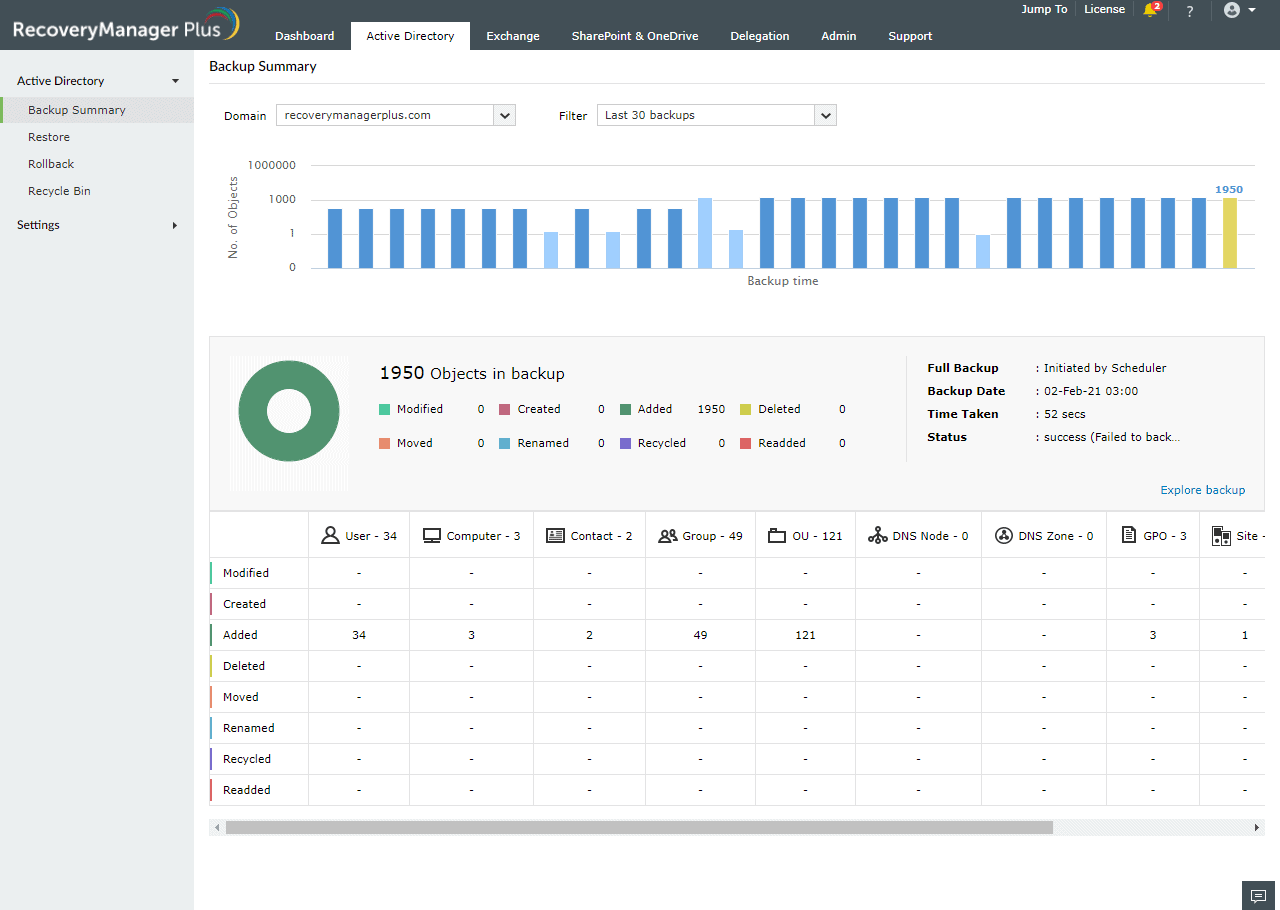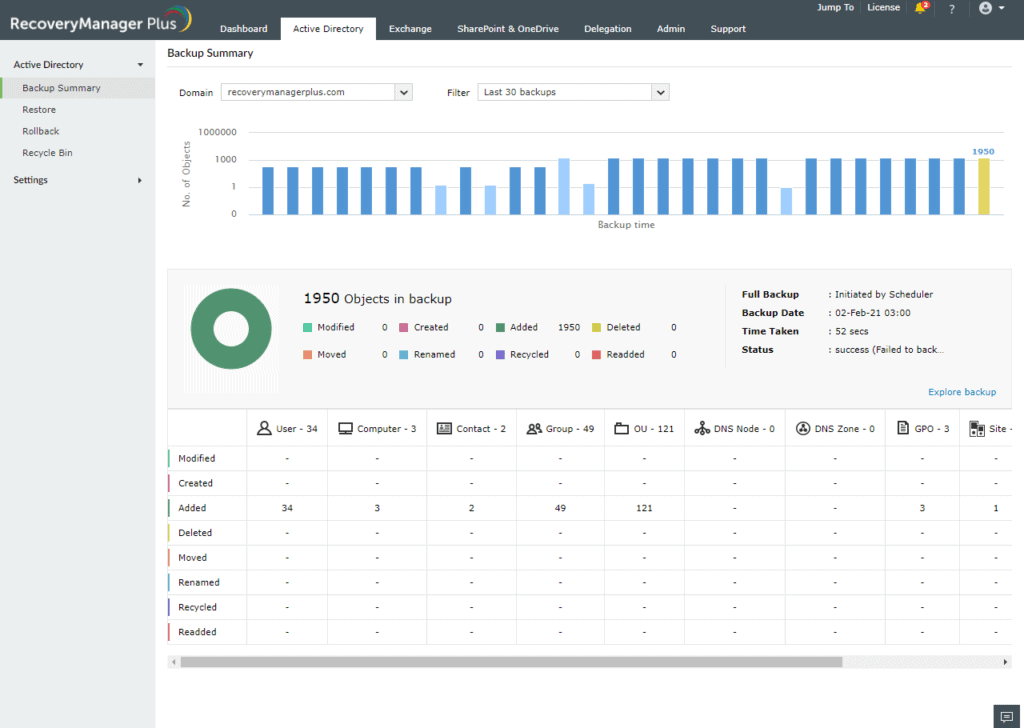 Backup AD, Office 365, and Exchange On-Premise
From one web console, RecoveryManger Plus can configure the backup schedule for Exchange, Office365, and Active Directory tenants. The tool can store backups for a long period, enabling a return to the appropriate version.
Restore a full backup or a single item
RecoveryManger Plus can restore a single attribute from a backup or an entire item. This feature enables trouble-free recovery of AD to the appropriate state, without the need for manual intervention. Everything from one graphic interface available via the website.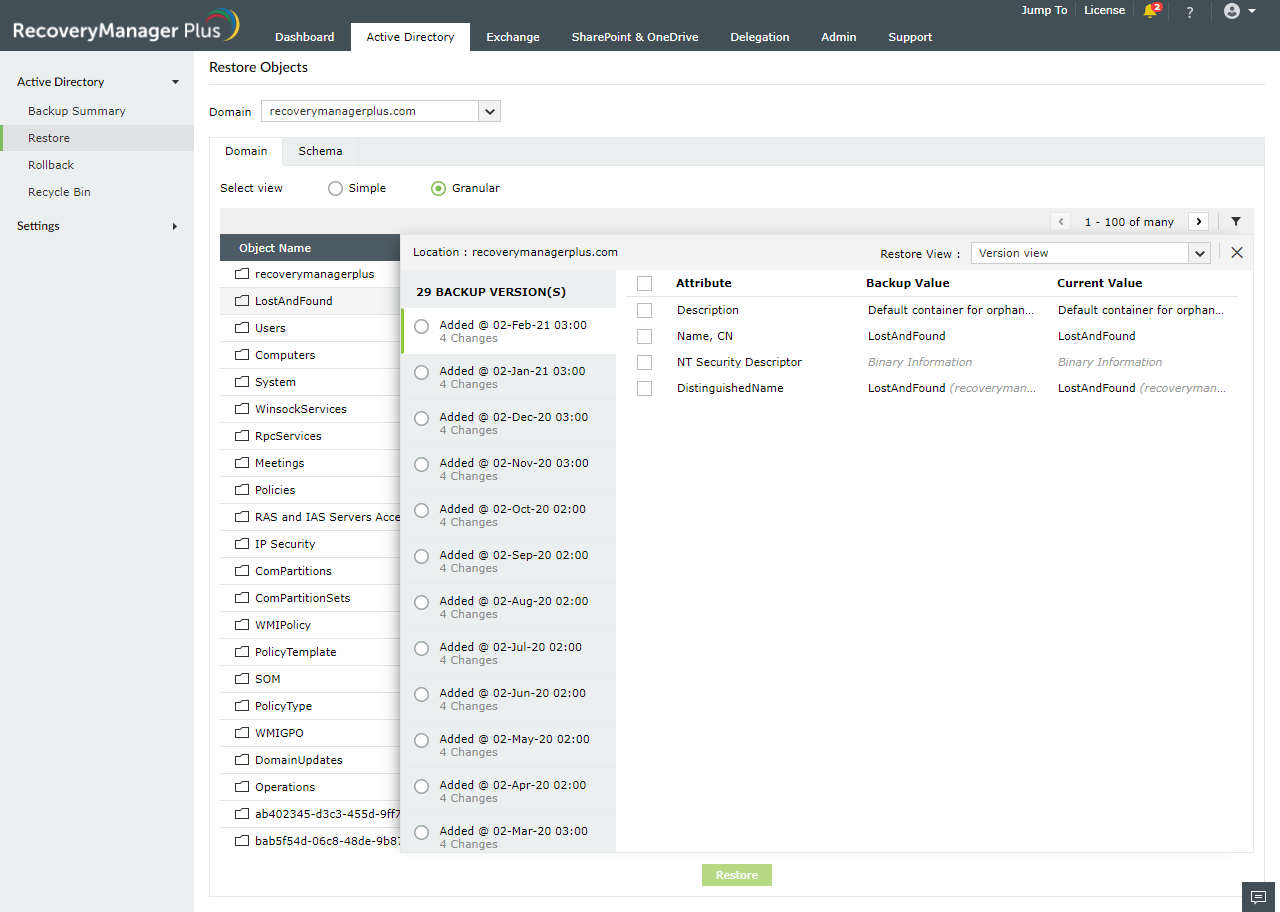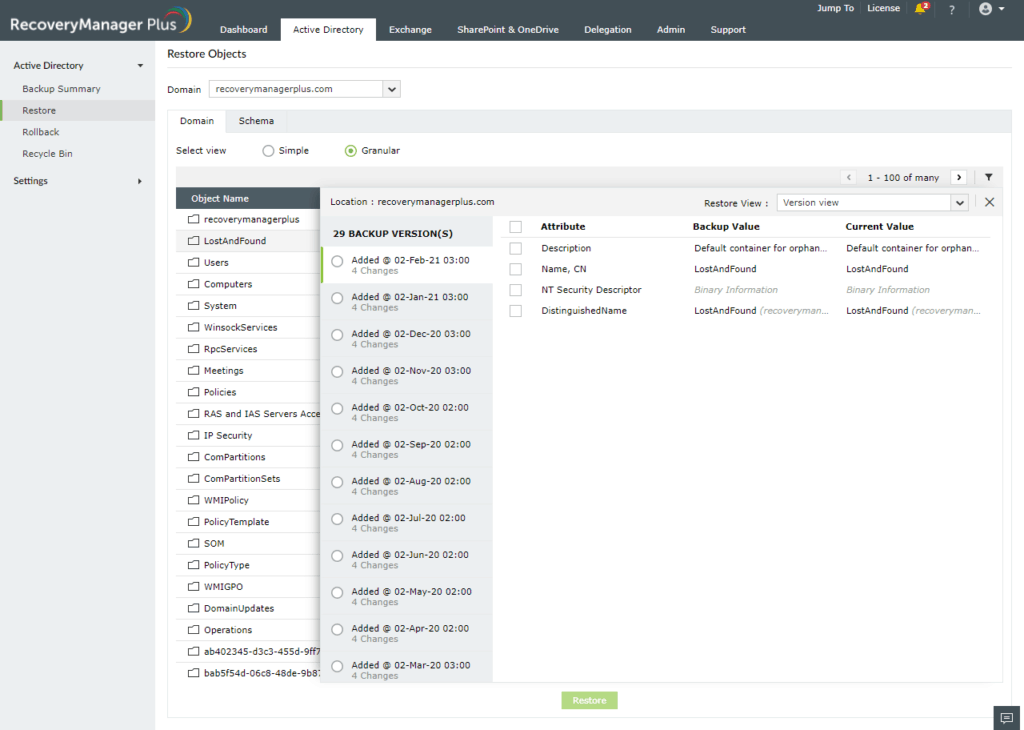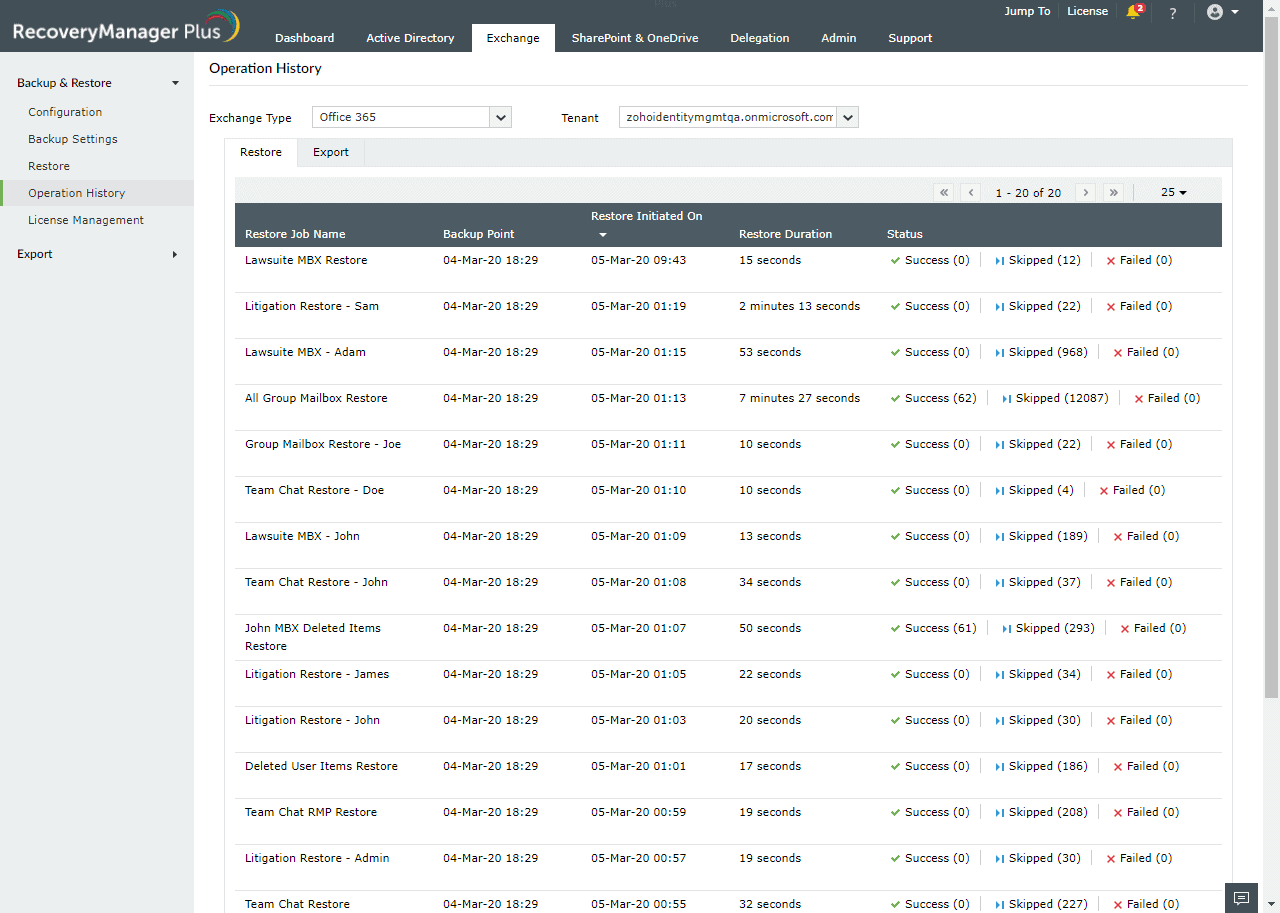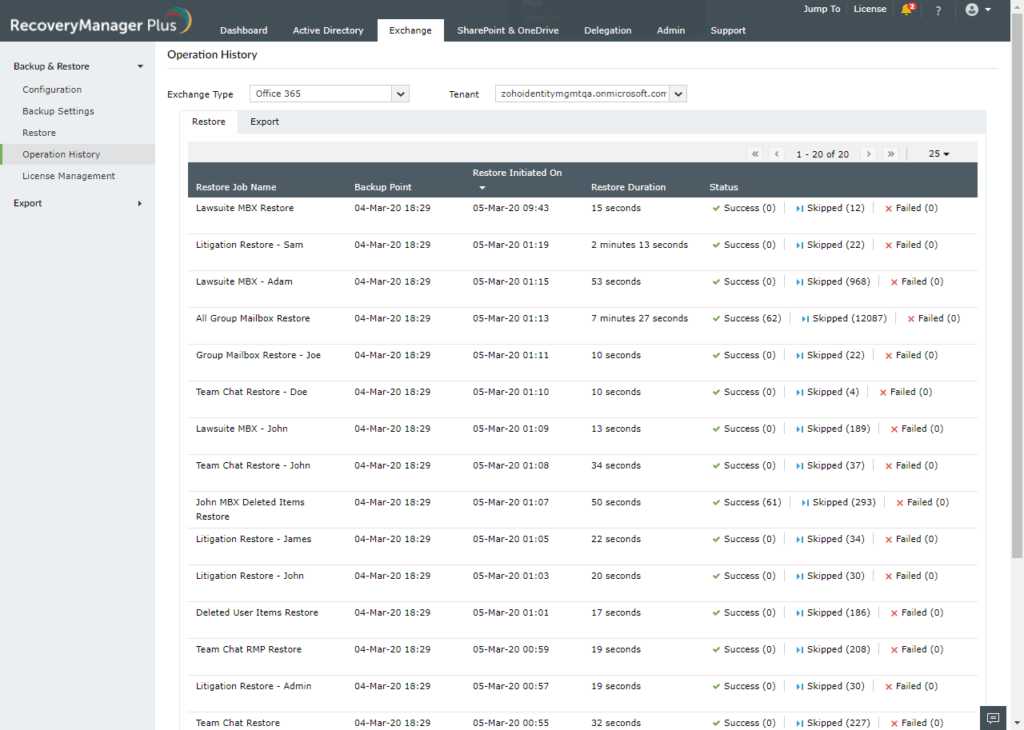 Easily revert bad changes
RecoveryManager Plus has a rollback feature that can undo any change in the event of an error while backing up Active Directory. If the administrator mistakenly grants permissions to a resource instead of one person from a few different groups, they will not have to search the entire AD to remedy the situation. It only takes a few clicks to undo it.
ManageEngine RecoveryManager Plus Pricing
Recovey Manager Plus is Starting From:
Starting from $295 per user


Features:
Access Controls/Permissions
Archiving & Retention
Backup and Recovery
Backup Log
Backup Scheduling
Compression
Continuous Backup
Data Import/Export
eDiscovery
Encryption
Incremental Backup
Local Server Options
Multimedia Archiving
Remote Server Options
Retention Management
Frequently Asked Questions
How do I install an SSL certificate in RecoveryManager Plus
Follow these steps to apply SSL certificate in RecoveryManager Plus
Step 1: Enable SSL in the RecoveryManager Plus client.
Step 2: Create a Certificate Signing Request (CSR).
Step 3: Issue the SSL certificate.
Step 4: Associate the certificate with RecoveryManager Plus.
Click here for more detailed steps.
How do I restore MS Teams data?
In the Teams application, press the … next to the team name, then choose Manage team from the menu. Now move to the Channels tab, expand the Deleted list, and press Restore on the channel that you'd like to recover.
Can I back up SharePoint Online and OneDrive for Business sites using RecoveryManager Plus
To back up your SharePoint Online and OneDrive for the Business environment using RecoveryManager Plus, you'll have to add your Office 365 tenant to the product. Once the tenant has been added, the product will start identifying the different SharePoint Online and OneDrive for Business sites in your tenant.
For more information on SharePoint backup, click here.
For more information on OneDrive for Business backup, click here.
Can I find deleted objects in Active Directory?
Using RecoveryManager Plus, find the deleted items by performing the following steps before the tombstone lifetime elapses.
Download and install RecoveryManager Plus.
Log in to RecoveryManager Plus as an administrator.
Recovery Manager Plus will automatically identify the AD domain.
In the Quick Backup section, select All in the OUs to Backup field and select all the object types in the Objects to Backup field.
Enter the username and password of a domain or an enterprise administrator.
Click Backup Now to trigger a backup of an AD domain.
What are the benefits of RecoveryManager Plus?
A web-based, easy to use application offering a quick backup and restoration solution
Reduces any business downtime and thereby prevents any productivity loss caused by accidental deletions or changes
Provides unparalleled control over Active Directory object changes
Flexible backup options with support for organizational unit wise and attribute level backup.
How do I install RecoveryManager Plus?
Being the Swiss partner of ManageEngine, Kidan is responsible for aiding with professional services, such as installing, implementing, configuring, training, and supporting the company to ensure an effective on-boarding of RecoveryManager Plus.To make it even better, Kidan even provides advice on top of it all!Get in touch with us to know more.
Want to continue the
conversation?
Thank you for your interest in ManageEngine's RecoveryManager Plus solution. Please fill out the form below to ask a question or request assistance.