Central management of passwords and privileged access in the organization
Password Manager Pro (PMP) is specially designed for enterprise teams and provides a complete solution to control, manage, monitor, and audit the entire lifecycle of privileged access, helping in detecting any suspicious events in real-time. Password Manager Pro extends password storage with the ability to make SSH/RDP/VNC connections to all resources.
Password Manager Pro encrypts and stores all sensitive data in a centralized vault, including passwords, documents, and digital identities, then retrieves them through a web interface.
Password Manager Pro Offerings
PMP acts as a consolidated archive for saving usernames and passwords of any 'network resource' such as a network computer, a desktop server, an application, etc.
Rotate keys and periodically change passwords
Password Manager Pro allows SSH keys to be rotated at certain times. This prevents unauthorized access by people outside the company. Additionally, the system administrator can be informed about the rotation by email notification.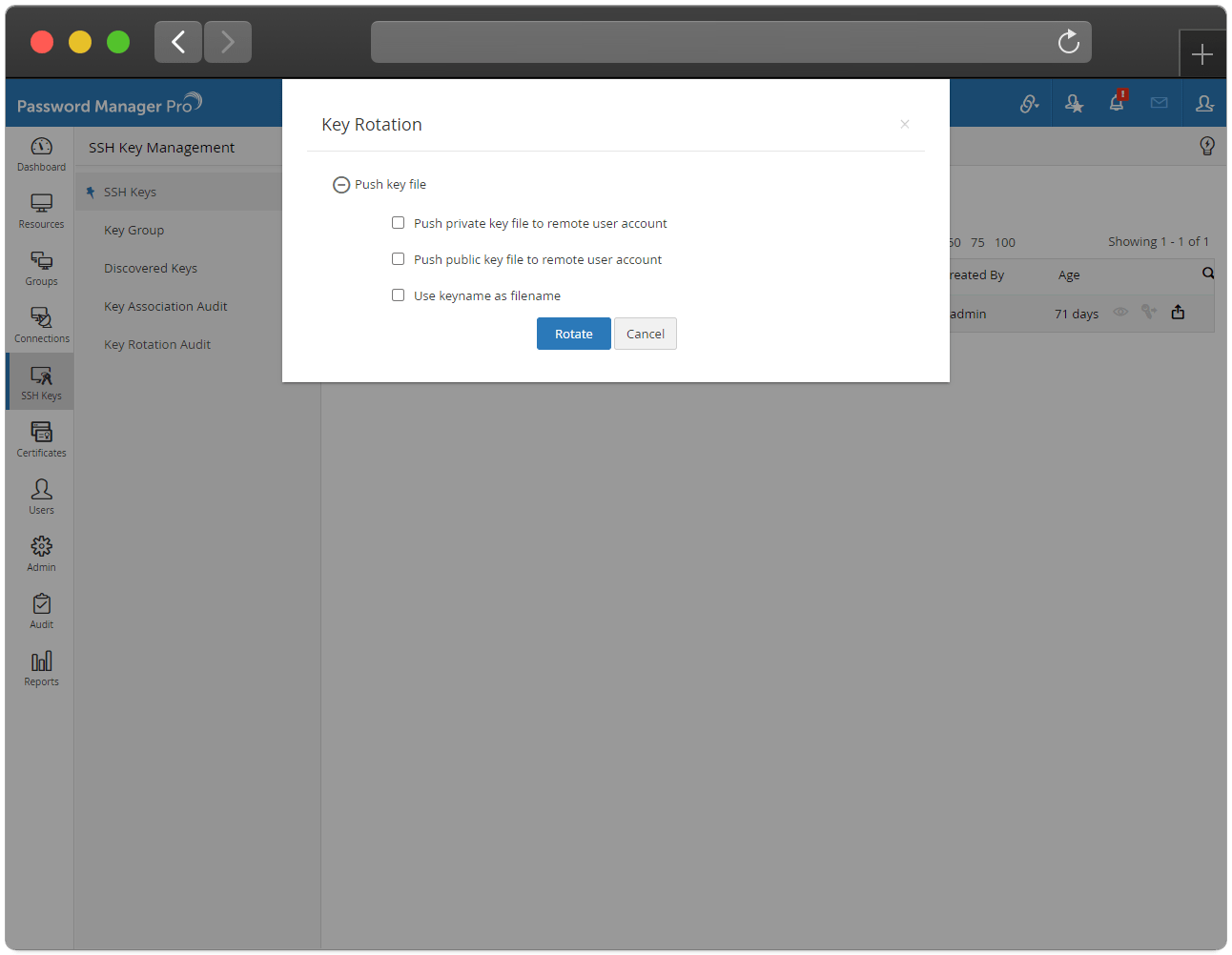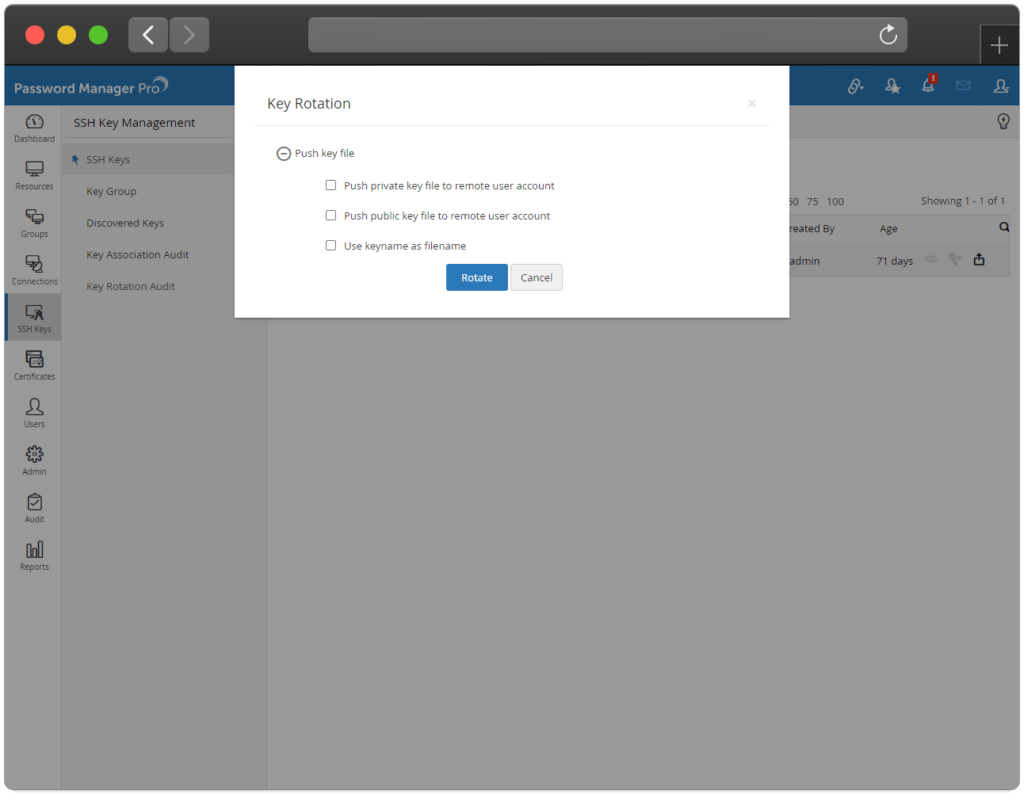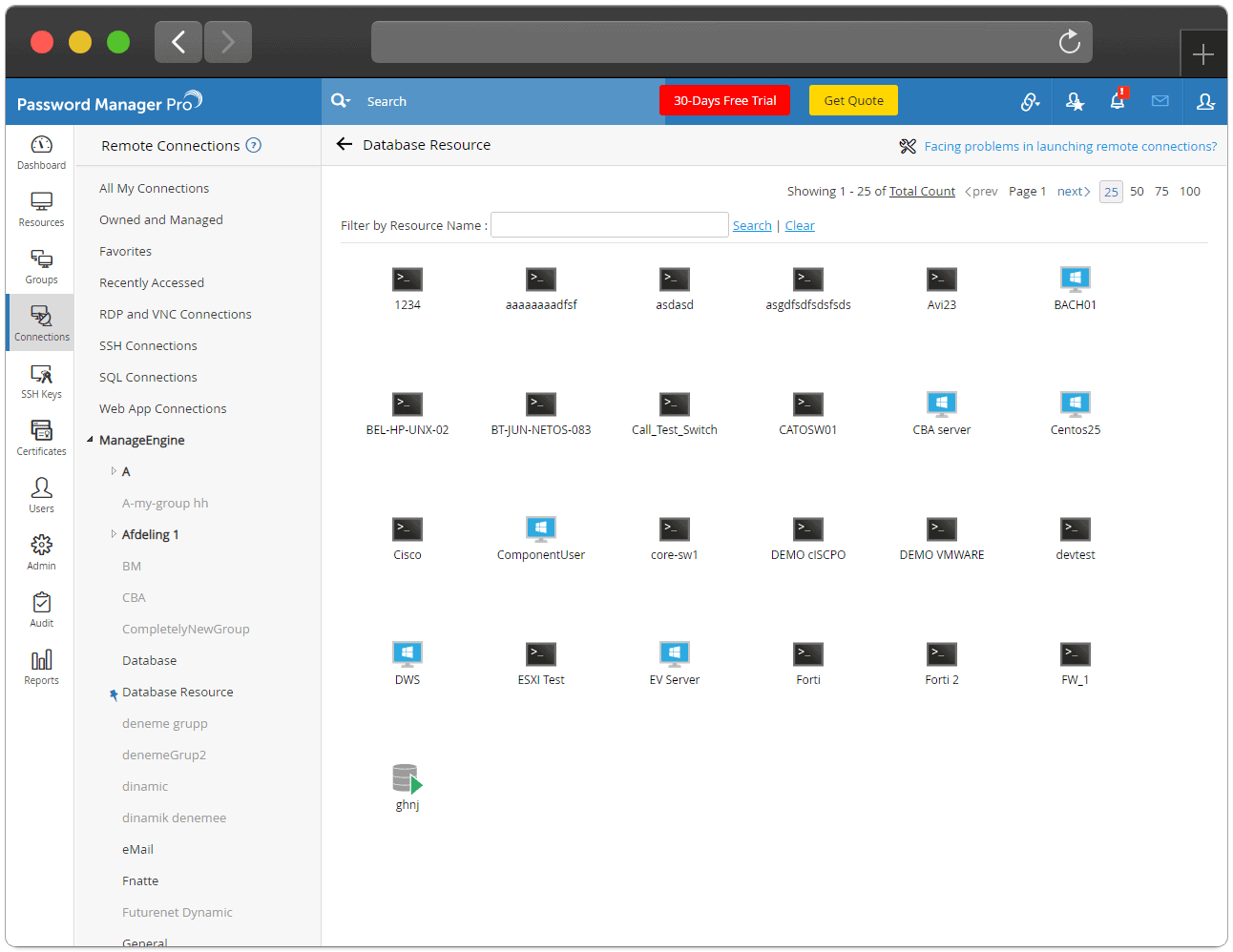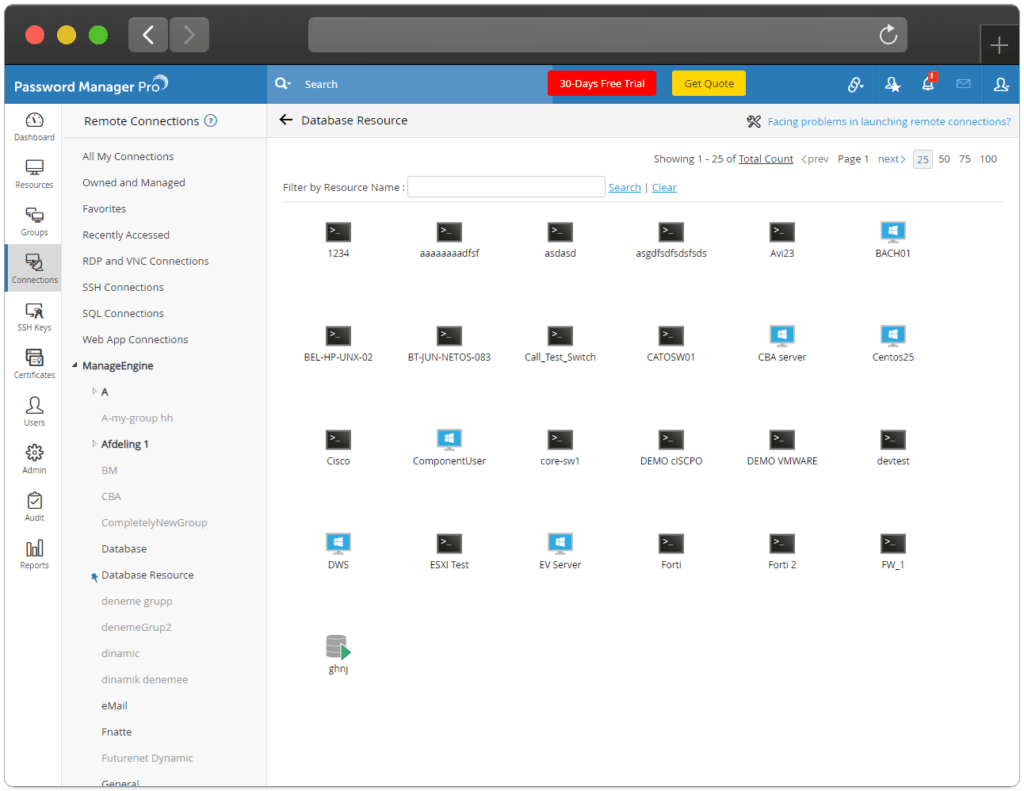 Remote access to resources and session recording
This function allows third parties to access a given environment, but for a specified period of time. Password Manager Pro allows time to be defined for a remote session and after the session, the password that was used can be reset to prevent re-access to the resources.
Additionally, the system is capable of recording remote users' sessions and save them to a path selected by the administrator. Password Manager Pro can record RDP, VNC sessions as well as SSH, Telnet, and SQL.
Audit of user access to resources
Password Manager Pro has the ability to audit and search events detected in the system.
Additionally, it is capable of displaying whether one of the user sessions is active. It takes operational resources and allows viewing of saved sessions as well as recordings from one place.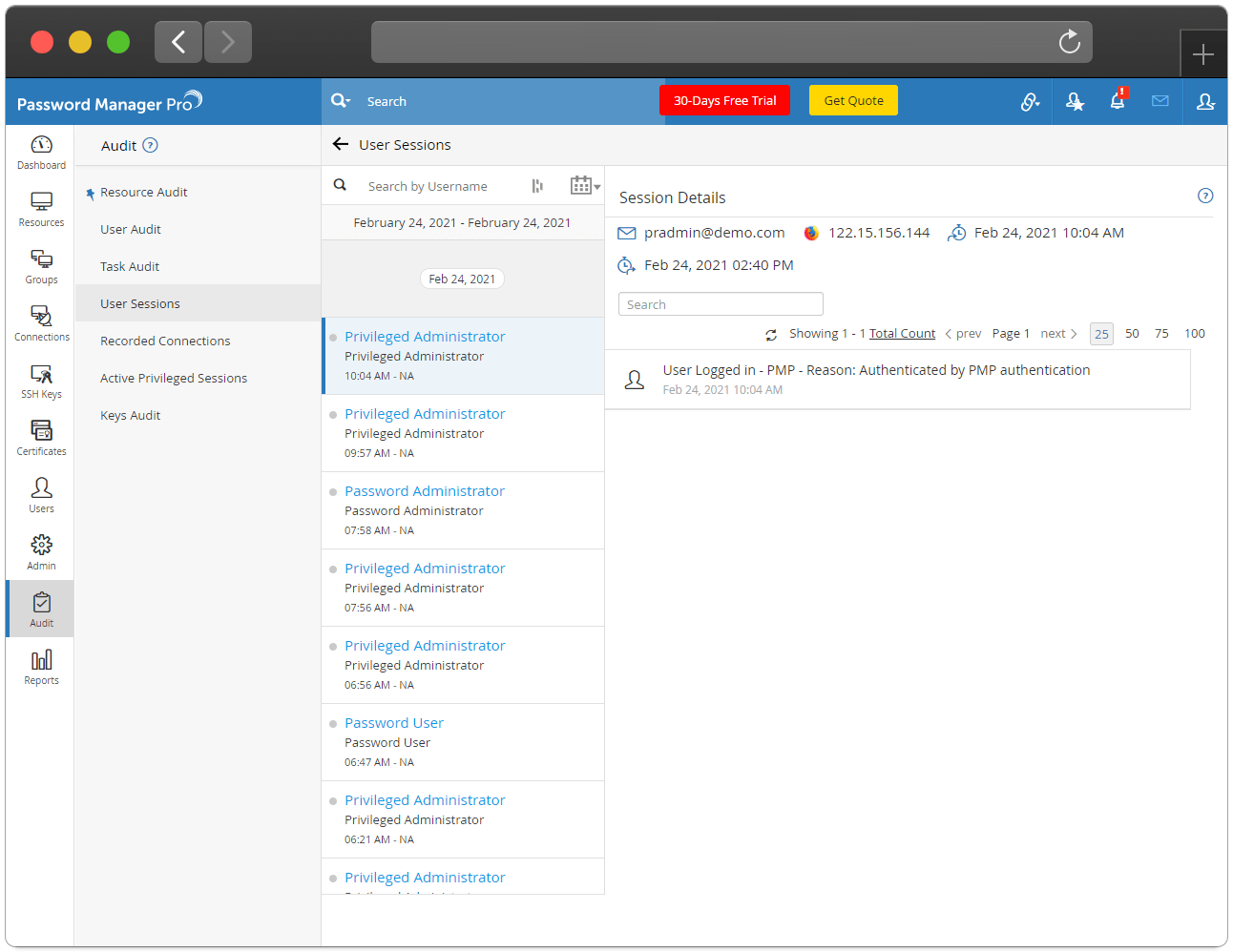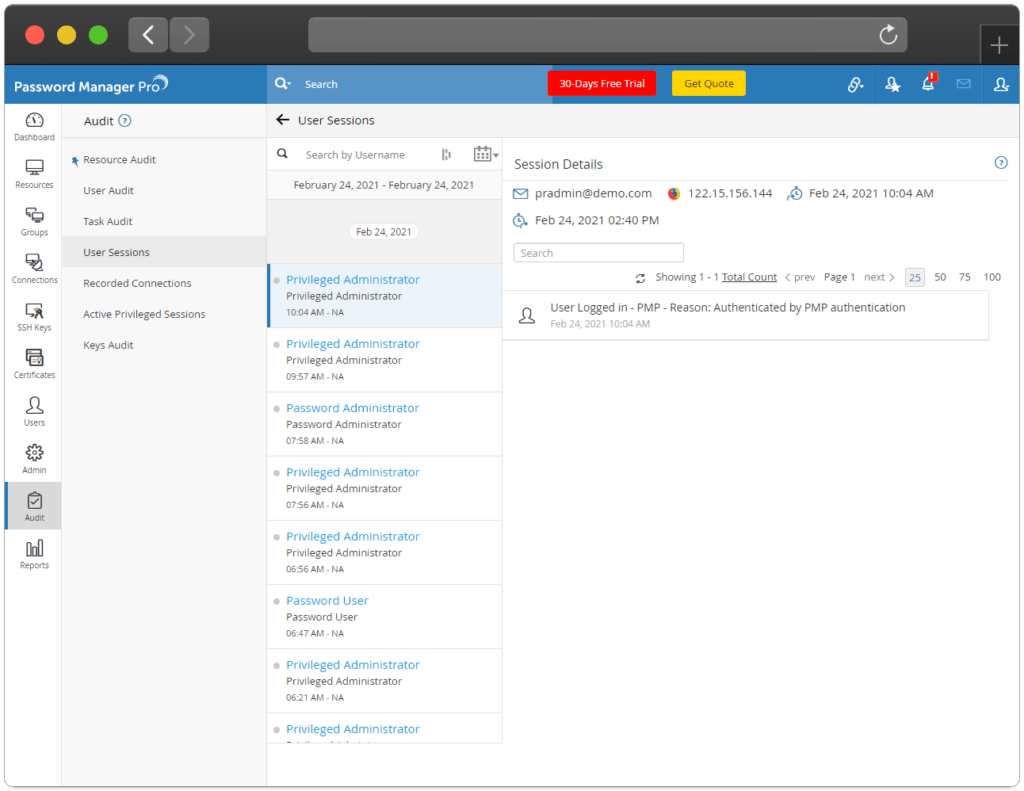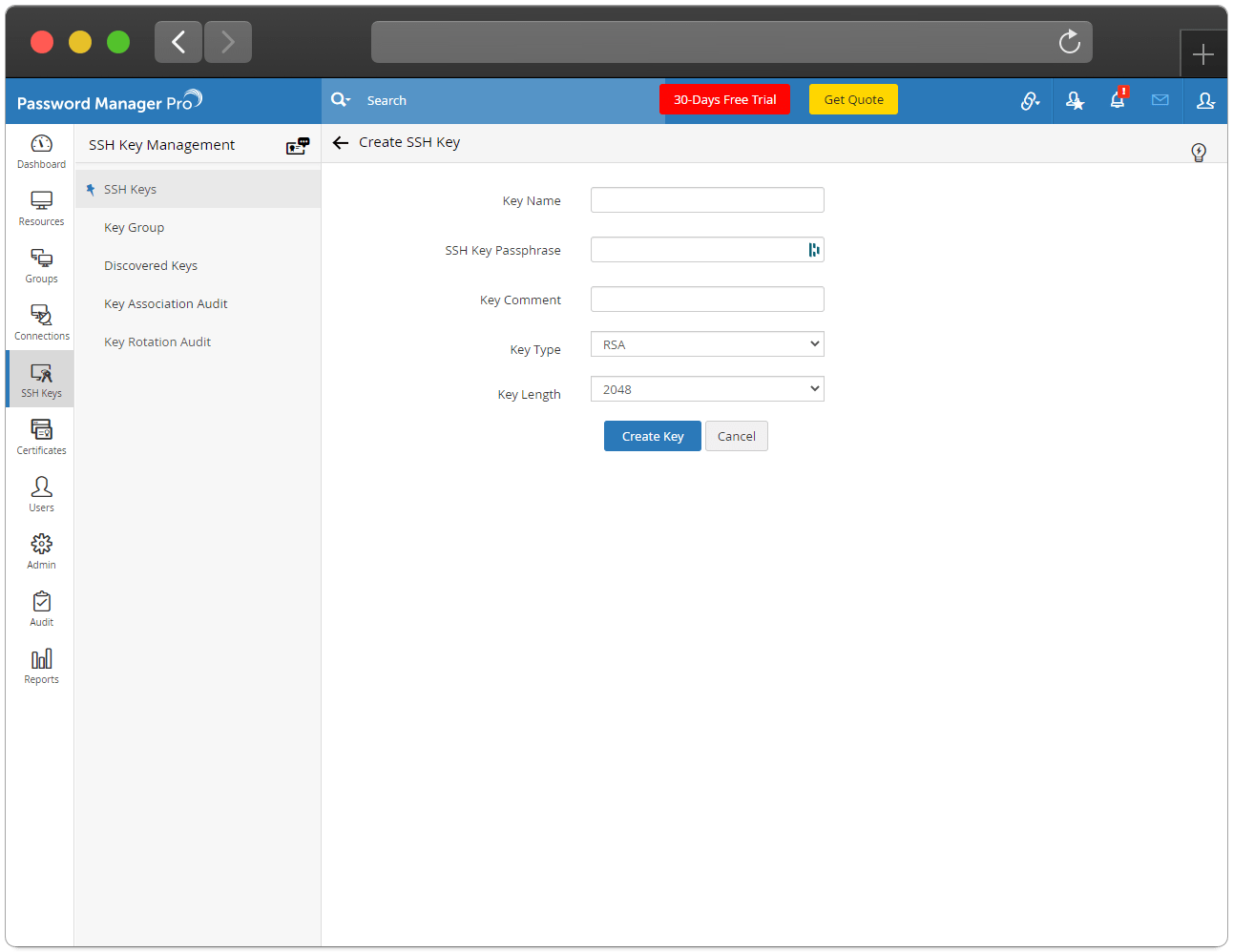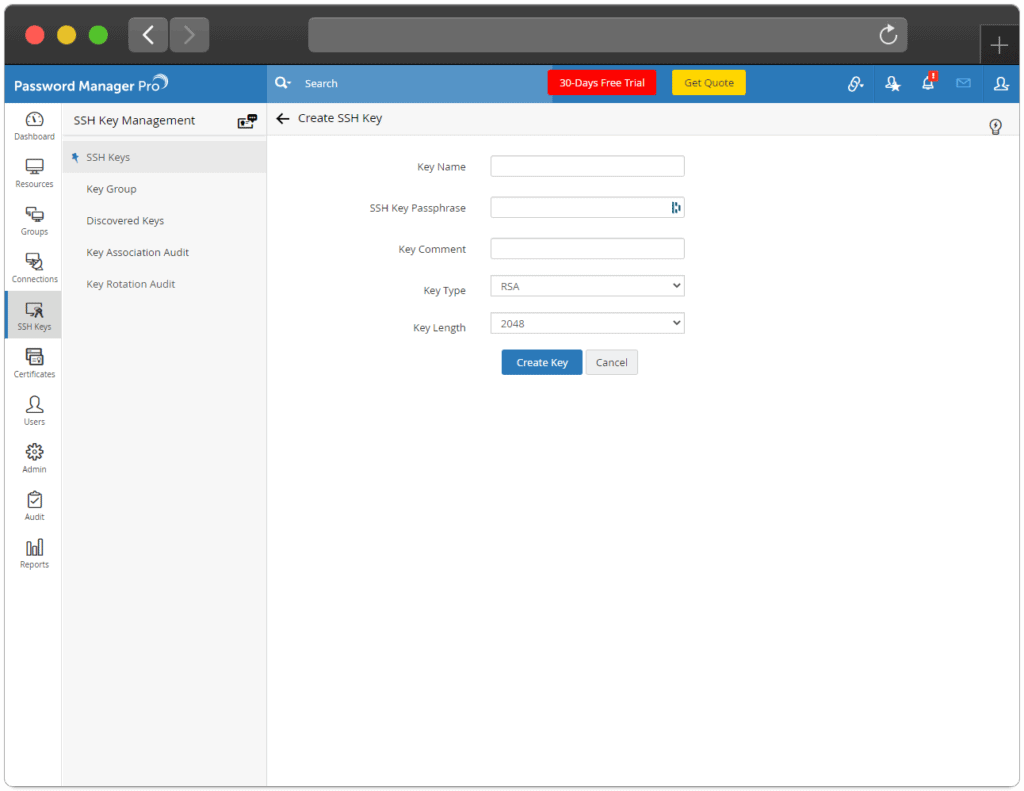 Manage SSH keys
Password Manager Pro allows SSH keys to be searched and managed within the network and also displays IP addresses or DNS names.
Access to SSL certificate management
The system has the ability to detect all SSL certificates in the environment, along with information about them, such as expiration or assignment. Before a given certificate expires, the administrator will receive a notification to do the necessary to maintain smooth operation.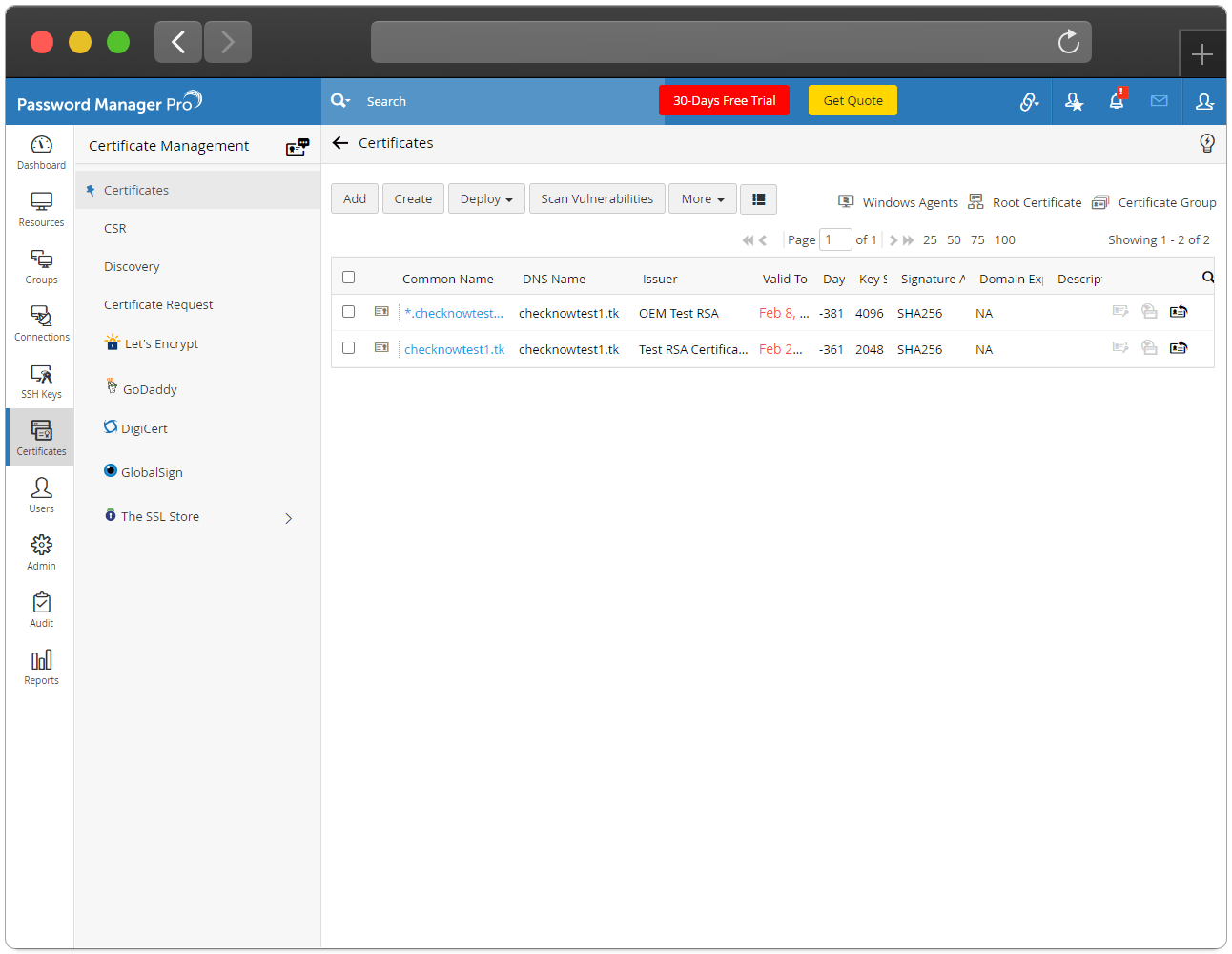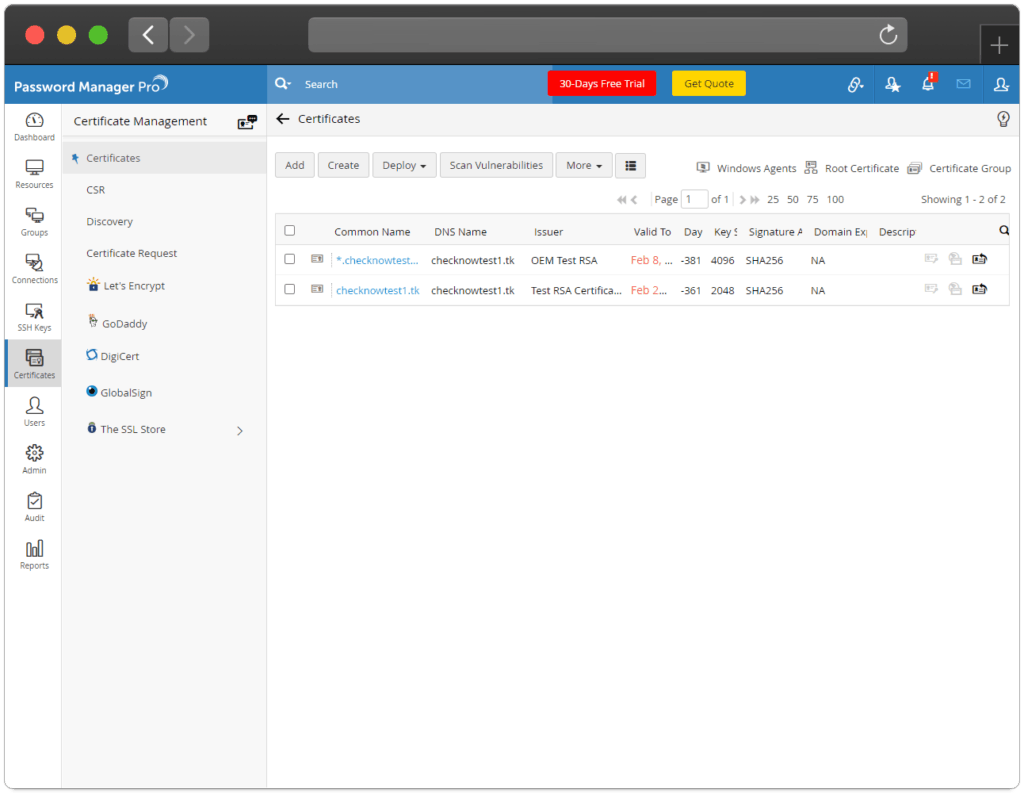 ManageEngine Password Manager Pro Pricing
Standard Edition Starting From:
2 Administrators (unrestricted resources and users +AMS)


Features:
Centralized Password Vault
Manual Resource Addition
Import Resources from CSV Files
Import Resources from KeePass
Import Resources from Active Directory
Password Policies
Password Sharing and Management
Audit and Instant Notifications
User / User Group Management
Local Authentication
RADIUS Authentication
AD / Azure AD / LDAP Integration
AD / Azure AD Sync - User groups & OUs
Export Passwords for Offline Access
Password Reset Listener
Backup and Recovery Provisions
Remote RDP, SSH, Telnet, and SQL sessions
Two-factor Authentication - OTP sent via Email
Rebranding
Mobile Access (Android, iOS, Windows)
Browser Extensions (Chrome, Firefox, IE)
IP Restrictions- Web Access
VNC Support for Collaboration
Transfer Approver Privileges
IIS AppPool Password Reset
IIS Web.Config Discovery
Notification Email IDs
Personalization of User Interface (Night-mode Theme)
Emergency Measures
Etc…….
Premium Edition Starting From:
5 Administrators (unrestricted resources and users)


Features:
Everything on Standard Edition +
Auto Logon Helper
Password Access Control Workflow
Admin Dashboard (Live feeds, Reports and Graphs).
Password Action Notifications (Resource Group-specific).
Remote Password Reset (On-demand, Scheduled, and Action-based) - List of supported platforms.
Agent-based Password Reset.
Canned Reports.
Two-factor Authentication - PhoneFactor, RSA SecurID, Google Authenticator, Duo Security, YubiKey, any RADIUS-compliant authentication, Microsoft Authenticator, Okta Verify.
High Availability.
Privileged Session Recording.
Password Reset Plugin.
User Sessions.
Trash Users.
Privacy Settings.
Password Reset using SSH Command Sets.
Disable Password Resets for Privileged Accounts.
IP Restrictions - API access and Agent Access.
SSH Key Pair Lifecycle Management.
Periodic SSH Key Rotation.
Automated SSH Discovery.
Microsoft CA Auto Renewal.
CMDB Integration for SSL Certificate Synchronization.
Enterprise Edition Starting From:
10 Administrators (unrestricted resources and users)


Features:
Everything on Premium Edition +.
MS SQL Server as Backend Database.
Password Management API (XML RPC, SSH CLI).
Privileged Accounts Discovery.
Active Directory Sync – Resources.
LDAP Sync - User and User Groups.
SAML 2.0 Support Okta, Azure AD, ADFS, OneLogin.
Ticketing System Integration -ServiceDesk Plus On-Demand, ServiceDesk Plus MSP, ServiceDesk Plus, ServiceNow, JIRA Service Desk.
Custom Password Reset Listeners.
Scheduled Export of Encrypted HTML files.
SIEM Integration - SNMP Traps & Syslog Messages Generation.
Email Templates for Notification Configuration.
CI/CD Platform Integration - Jenkins, Ansible, Chef, Puppet.
Secure Cloud Storage Options.
Role Customization.
File Transfers over Remote Desktop Sessions.
RESTful API.
Purging Selective Session Recordings.
EAR Support while using MS SQL as Backend Database.
Encryption Key Rotation.
Landing Server Configuration.
Federated Identity Management.
Smart Card / PKI / Certificate Authentication.
Etc……
Frequently Asked Questions
What happens if a user leaves the organization without sharing their sensitive passwords with anyone?
If an administrative user leaves the organization, they can transfer the resources they own to other administrators. By doing so, they will have no access to those resources themselves, unless they transfer the resources to themselves.
Does domain SSO work across Firewalls/VPNs?
The domain Single Sign-On (SSO) is achieved in the Windows environment by setting non-standard parameters in the HTTP header, which are usually stripped off by devices like Firewalls/VPNs. Password Manager Pro is designed for use within the network. Hence, if users are connecting from outside the network, SSO cannot be enabled.
Why does the size of PostgreSQL Wal Archive file increase at a rapid pace?
This issue occurs when the backup location specified in Password Manager Pro is no longer accessible to save the backup file. In simple terms, whenever the PostgreSQL database backup fails, wal_archive folder size will start increasing.
Try this solution:
If not, remove the logs directory and a few files present inside directory.
Only one or two backups have to be present here.
Login to Password Manager Pro and navigate to Admin >> Configuration >> Database Backup.
Click on the 'Backup Now' button.
This will trigger an instant backup and automatically purge the Wal Archive directory.
What are the user roles available in Password Manager Pro? What are their access levels?
What if I forget my Password Manager Pro login?
With a valid Password Manager Pro account was provided, the user can head to 'Forgot Password?' on the login page. The username/email ID should match with the one which was configured with the account. The password will be reset for that account and the password can be sent to the respective email address.
However, this option is not necessary if AD/LDAP Authentication is enabled.
How do I install Password Manager Pro?
Being the Swiss Partner of ManageEngine, Kidan is responsible for aiding with professional services, such as installing, implementing, configuring, training, and supporting the company to ensure an effective on-boarding of Password Manger Pro.
To make it even better, Kidan even provides advice on top of it all!
Get in touch with us to know more.
Want to continue the
conversation?
Thank you for your interest in ManageEngine's Password Manager Pro solution. Please fill out the form below to ask a question or request assistance.