Introducing Veeam Software
Veeam Backup & Replication
The one solution for easy, secure, and scalable security of ALL of your server, virtual and physical workloads is Veeam Backup & Replication. Let the burden out of handling the issues with data protection, ransomware prevention, and compliance. Veeam saves you time and resources with key features that allow you to entirely handle the entire backup data life cycle, simplifying administration and minimizing expensive downtime. Now you can concentrate with confidence on driving your business goals forward.
Products Features
Modern Data Protection for Reliable Business Outcomes
The Power of License Portability
Veeam Universal License (VUL) is a flexible, portable, and cost-effective licensing solution for your ever-changing workload landscape. Perhaps you are going from physical to virtual, virtual to cloud, changing hypervisors, or even trying a new application. Maybe you have a combination of on-premises and multi-cloud workloads — Veeam has you covered!
#1 VMware Backup & Availability
Veeam Backup & Replication delivers Availability for all your cloud, virtual and physical workloads designed to meet the backup demands for organizations of all sizes to reduce complexity and out-perform legacy backup.
VMware Backup
While recovery is paramount, having a strong VMware backup solution is the foundation. In order to provide the highest chance of successful backups and ready restores, Veeam Backup & Replication provides various key capabilities that will allow you to get the right backups done correctly the first time.
Regardless of the workload type, storage constraints, and SLAs, by ensuring that your VMware VM backups were performed as designed and completed on schedule, you will be ready for any type of recovery the world can throw at you. With the right amount of protection, monitoring, storage management and user control, you'll make babysitting your virtual backups a thing of the past.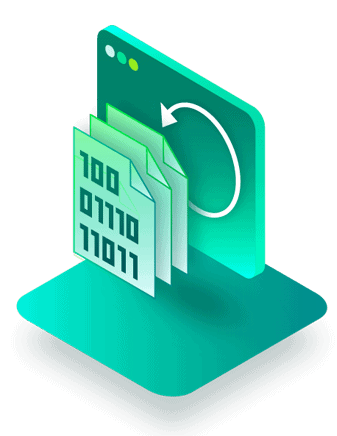 VMware Replication
The Veeam 3-2-1 rule – maintain three copies of your data, on two different types of media, with at least one being kept offsite. In today's age of massive unstructured data growth, regulatory compliance requirements for DR and retention, and the constant threat to data through malicious acts, the 3-2-1 rule is more important than ever and is often a challenging ordeal.
Veeam Backup & Replication makes this simple with the built-in replication that ensures your data gets to its destination in an encrypted fashion and that is delivered quickly through WAN acceleration.
Testimonials
How Veeam solutions make the difference through the enhanced capabilities and great user experience.

With Veeam, we began replicating backups of our IT systems to our DR site — a key component of our DR strategy that legacy backup had failed to execute reliably. Next, we started replicating production critical IT systems. Veeam delivers this make-or-break DR protection right out of the box. We were floored.
Jo Desplenter
Infrastructure Solutions Manager, Global IS Unilin/Mohawk
Foundational questions
What is Veeam Backup Essentials?
Veeam Backup Essentials is a bundle that combines the powerful data protection features of Veeam Backup & Replication and the monitoring capabilities of Veeam ONE. When buying Veeam Backup Essentials, you will be able to backup, recovery, monitor, and report virtual, physical, and cloud workloads from one single console. The bundle is priced and packaged for the needs of small businesses with less than 250 employees and environments with up to 6 CPU sockets or 50 workloads. Veeam Backup Essentials also offers 24.7.365 technical support.
What are the three types of backups?
When searching for the right backup solutions for your business, you first need to understand the three core types of protection that are seen in backup solutions today:
A "full" backup will copy entire blocks of all your selected data and will be the most time- and storage-consuming backup.
An "incremental backup" will copy only the data that's changed since the last INCREMENTAL backup and will be the last time- and storage-consuming backup. Post full backup recovery, each incremental restore since the last will need to be performed in succession to recover to the latest point in time.
A "differential" backup resembles an incremental backup in operation. Still, it differs in that it copies all changes since the last FULL backup, resulting in a smaller backup than the FULL backup but larger than the INCREMENTAL backup. After the full backup recovery, you only need to restore the latest differential to recover to the latest point in time.
What are the best data backup strategies?
In modern data backup solutions, you will have the flexibility you need to choose the backup strategy that will allow you to maximize your storage and network while minimizing the time that it takes to recover data when needed.
Core to any backup strategy you must consider:
What is being protected?
What is the backup frequency needed to enable my recovery objectives?
How do you ensure things are ready for recovery?
Nearly everyone considers items one and two when choosing backup solutions for business, but often we forget the most important item — can it be restored when needed? When choosing data backup solutions, always ensure that your backup solution has an automated way to test and secure backup data for recoverability before it goes into storage.
What is the most secure way to backup data?
Security is essential when choosing backup solutions for businesses, as the data stored in your backups is a goldmine to your business and any malicious attackers. To keep safe and secure, your backup solution should offer the methodology to:
Limit access to data backups and data backup solutions
Prioritize sending and storing data in a secure and encrypted manner
Provide the tools to test the security of the backup data post backup and pre-recovery
Facilitate automated regular testing of backups
As a small business, what do I need to consider when choosing a data protection solution?
There are far too many backup technologies, and choosing the best fit can be daunting. When choosing a modern backup solution, a small business user or IT professional should resolve three fundamental areas.
The data protection capabilities must be stable, reliable, and easy to use.
Tangible (hardware, software, and storage) and intangible (downtime and data loss) costs are clearly laid out and in control.
One solution that protects all workloads

 

– physical, virtual, and cloud – from one simple and accessible platform.
Want to continue the
conversation?
Thank you for your interest in Veeam solutions. Please fill out the form below to ask a question or request assistance.