ManageEngine Application Control Plus
Full control over your applications
Application Control Plus automates the generation and maintenance of application whitelists and blacklists based on the specified control rules. With built-in sophisticated Endpoint Privilege Management, Application Control Plus is a comprehensive solution tailored to fit every growing enterprise's application control needs. It allows users to increase work efficiency by blocking users from unwanted applications.
The tool allows users to take the initiative and implement a specific policy for the application. Most importantly, don't have to think about whether or not users are following it, as all control rests in the administrator's hands.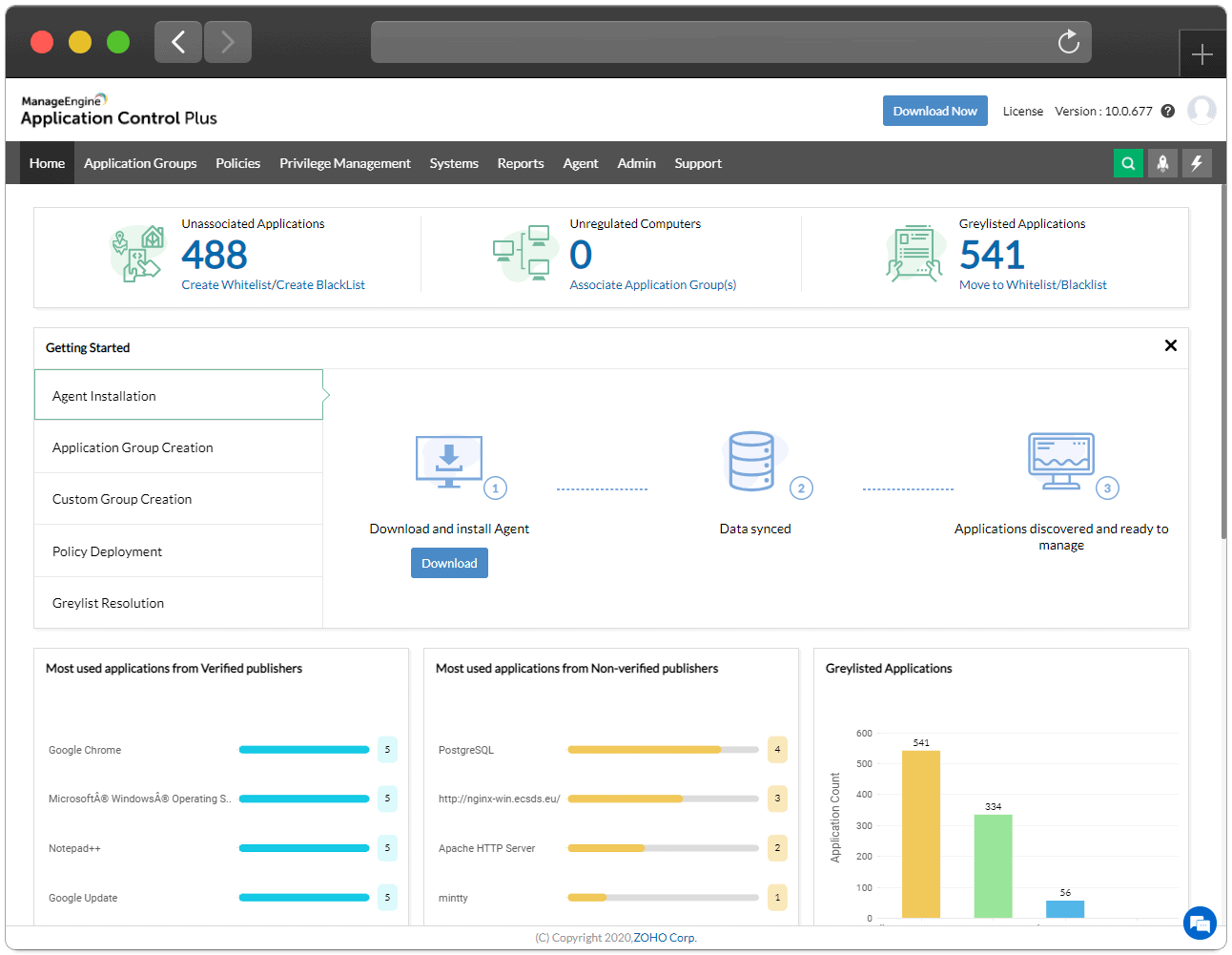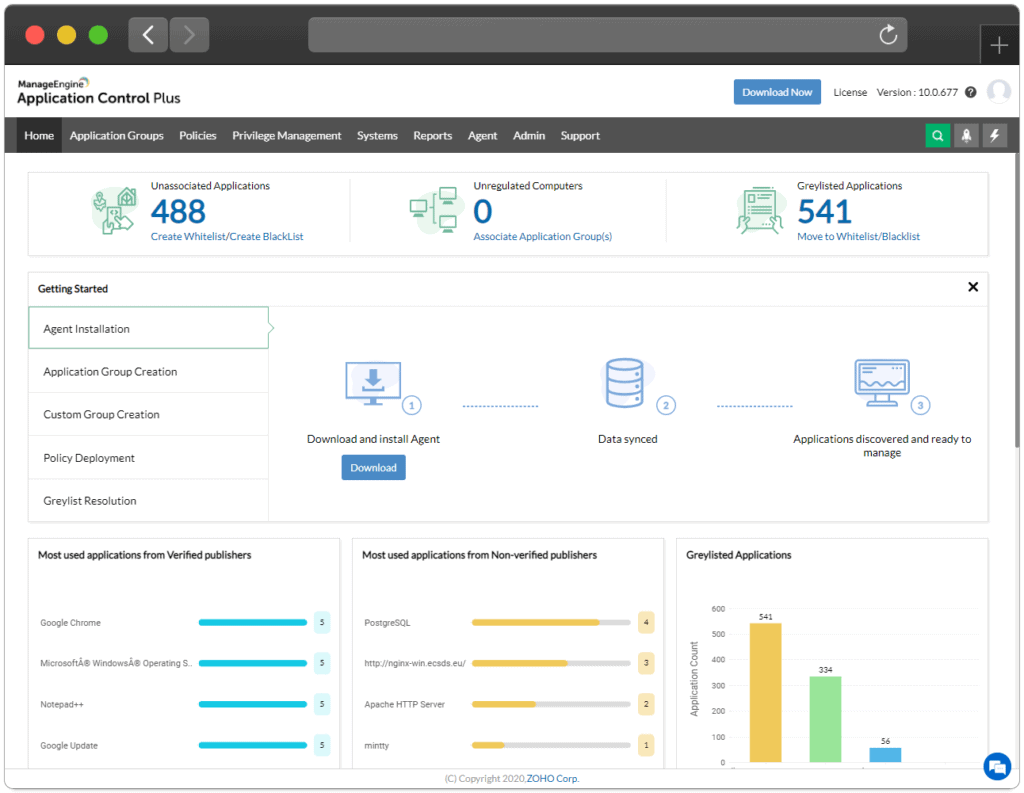 Application Control Plus Offerings
Solutions beyond the scope of traditional application control
Intuitive software selection and the possibility of automation.
Application Control Plus is designed with the simplicity of using all the basic functions in mind. After logging in, the home page contains all the necessary information for the administrator who accesses the data. Thanks to this configuration, check not only the current state of detected applications but also trends from the last dozen or so days in the case of the gray list.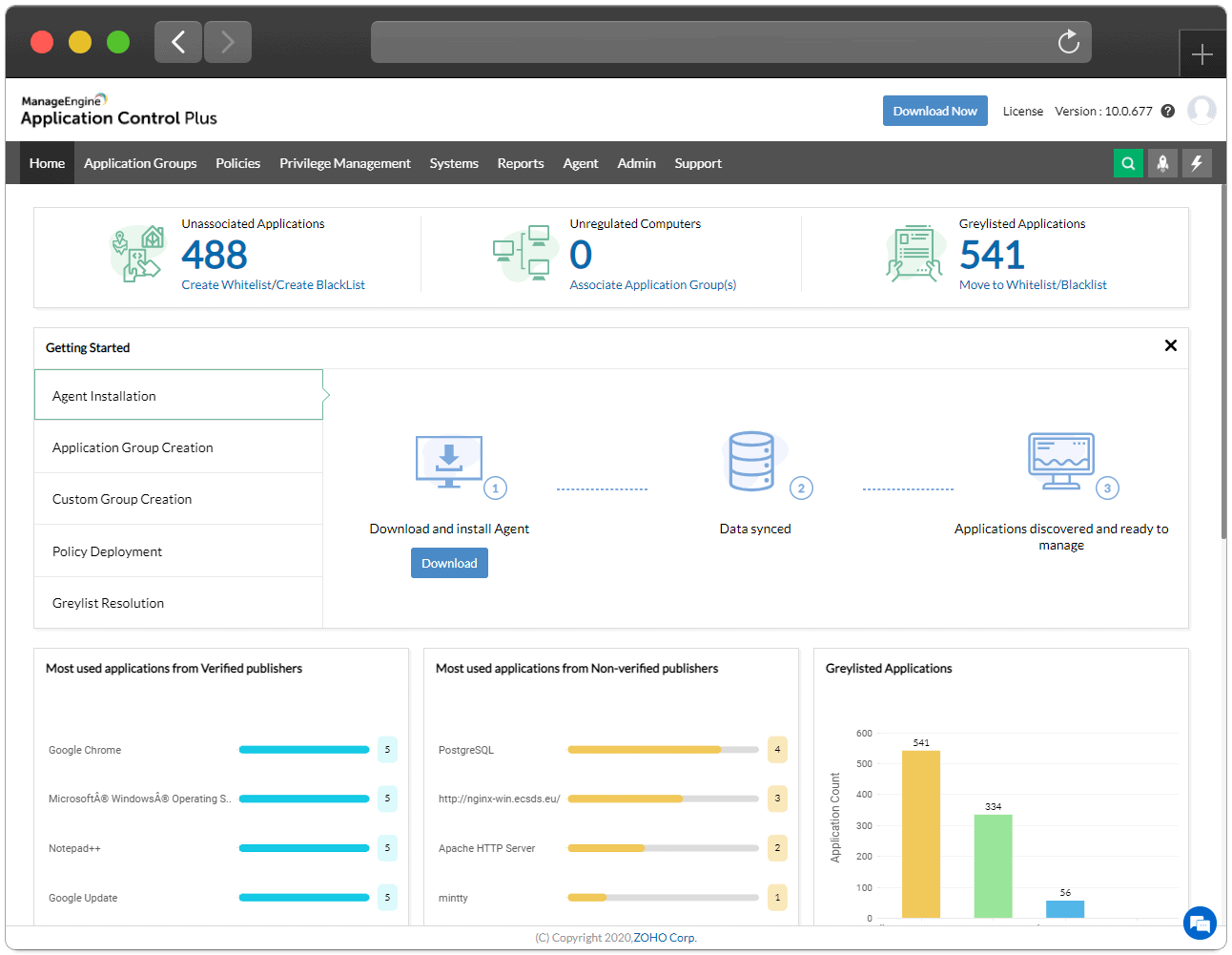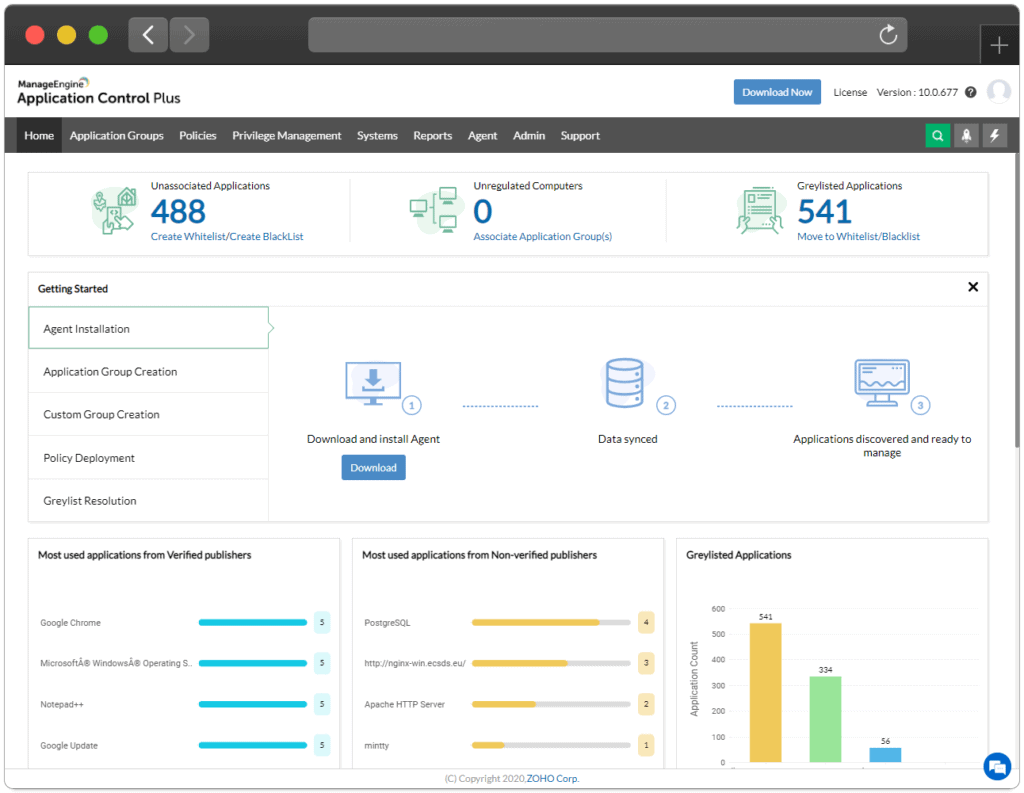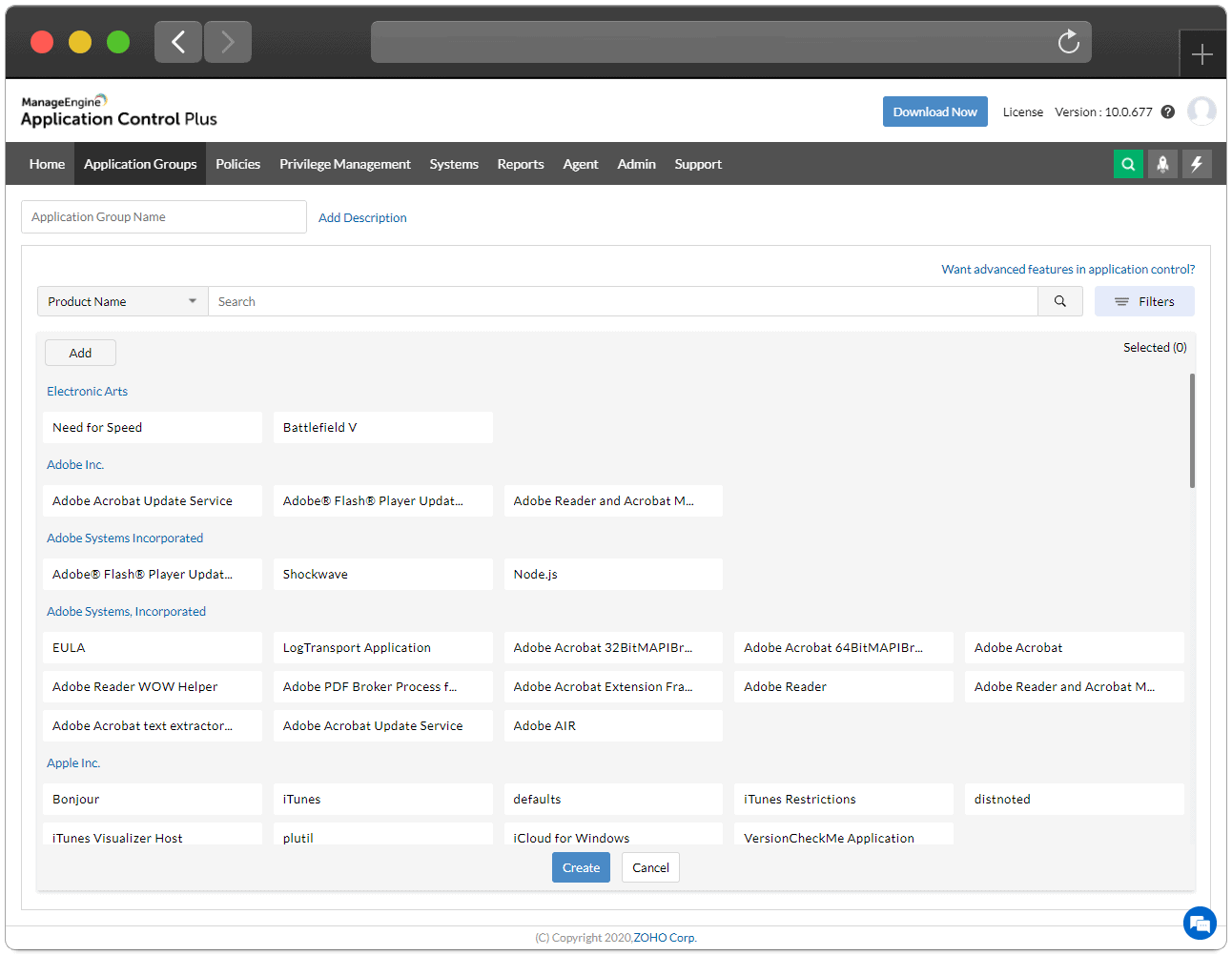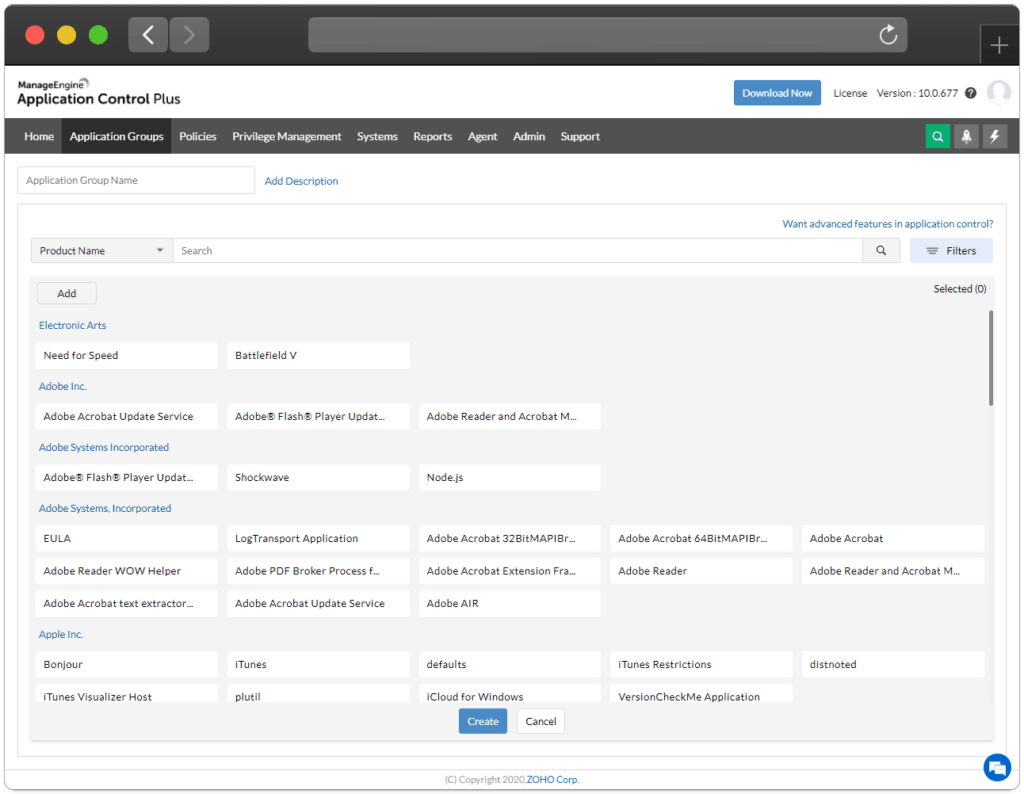 Black and White list to select applications in terms of their possible use.
Selection is made by selecting the appropriate software, which is added to the appropriate list. It allows the users to create multiple collections with the possibility of intuitive filtering and export data to PDF, CSV or XLSX formats. The greylist is a temporary area that concerns applications not allocated to one or the other group in the system.
Application groups to reach the position of interest.
Groups allow selecting software in an accessible way, which can then be assigned to appropriate restrictions as a whole. There's no need to define security policies for each application separately. The sets created in this way can be modified or deleted when the need arises. This application management system also shows when the group was created and when it was last modified.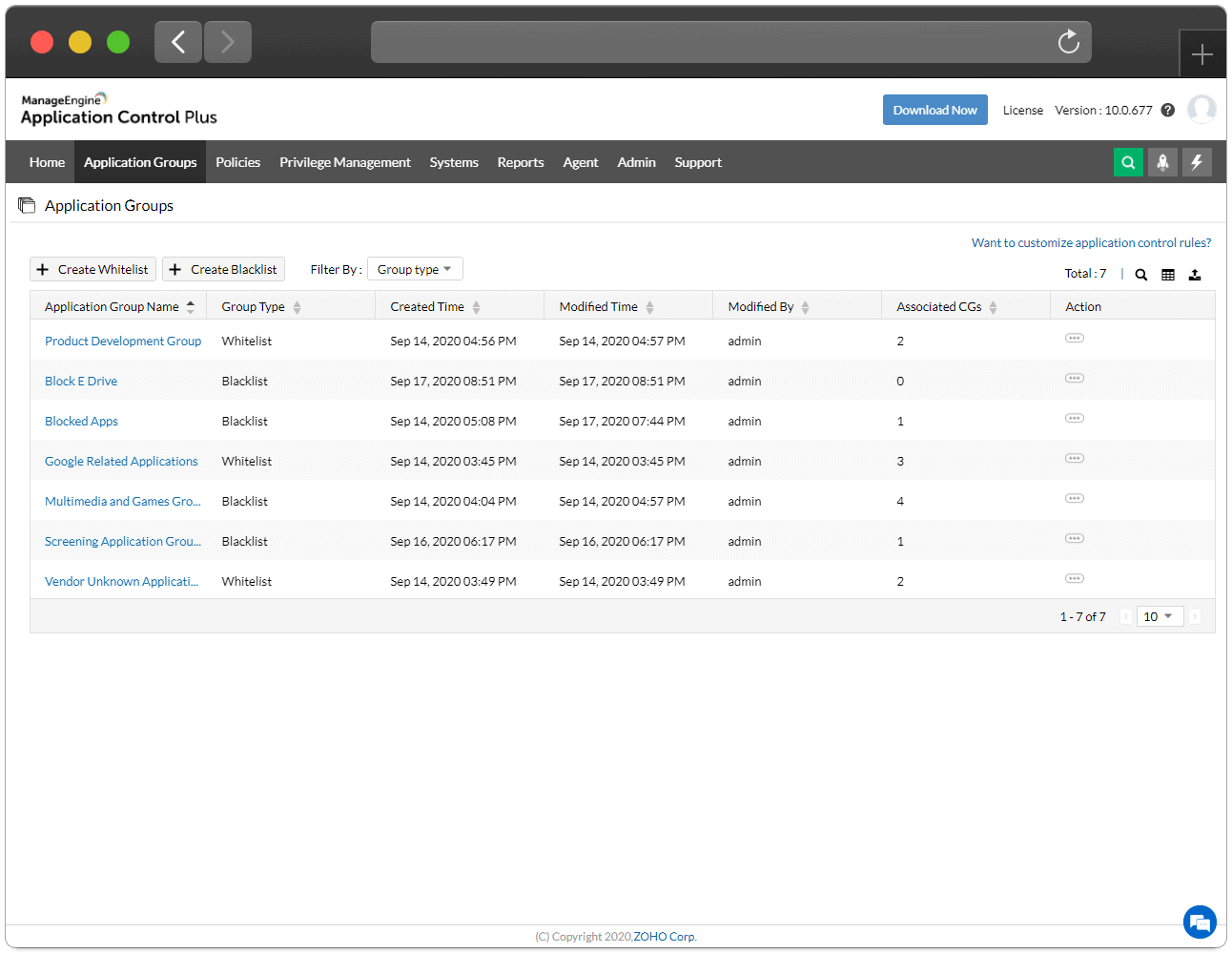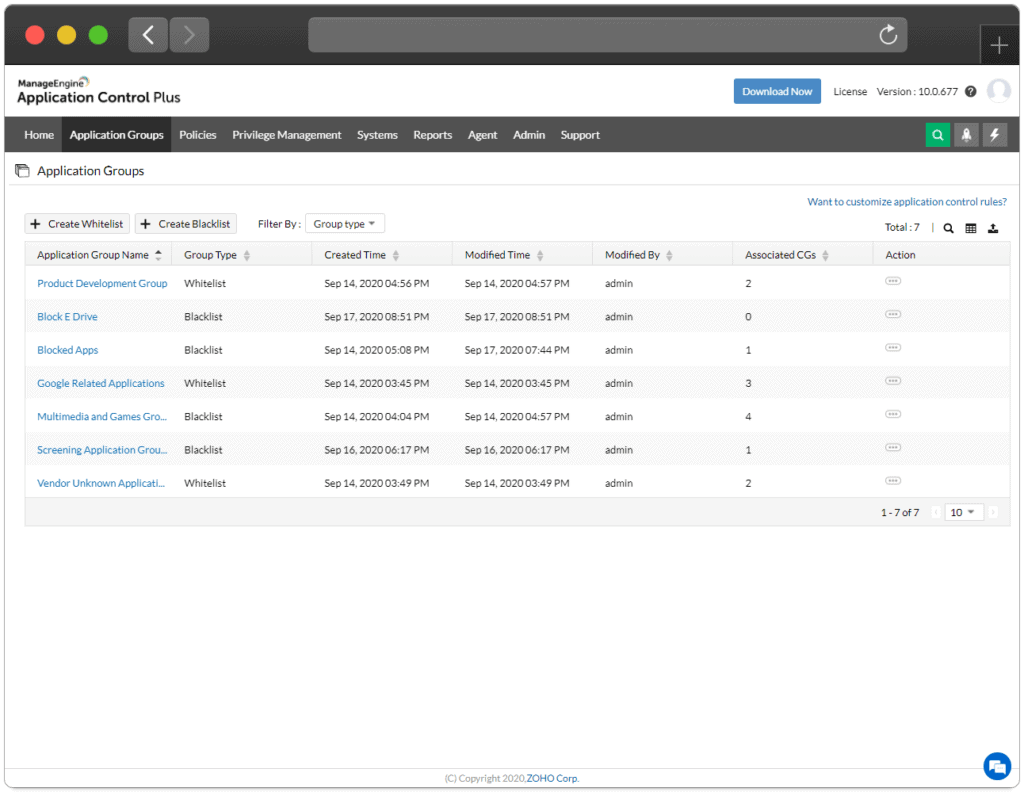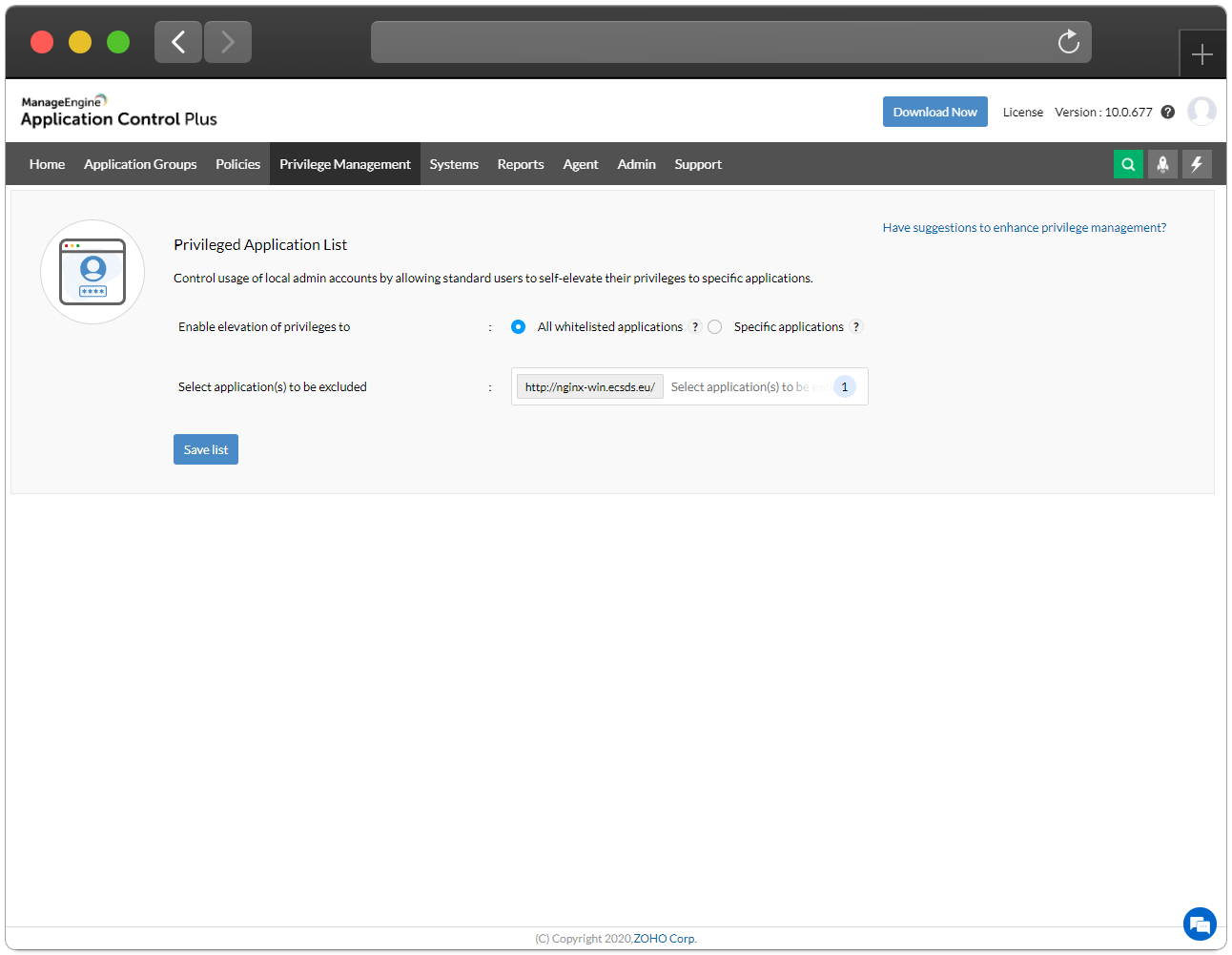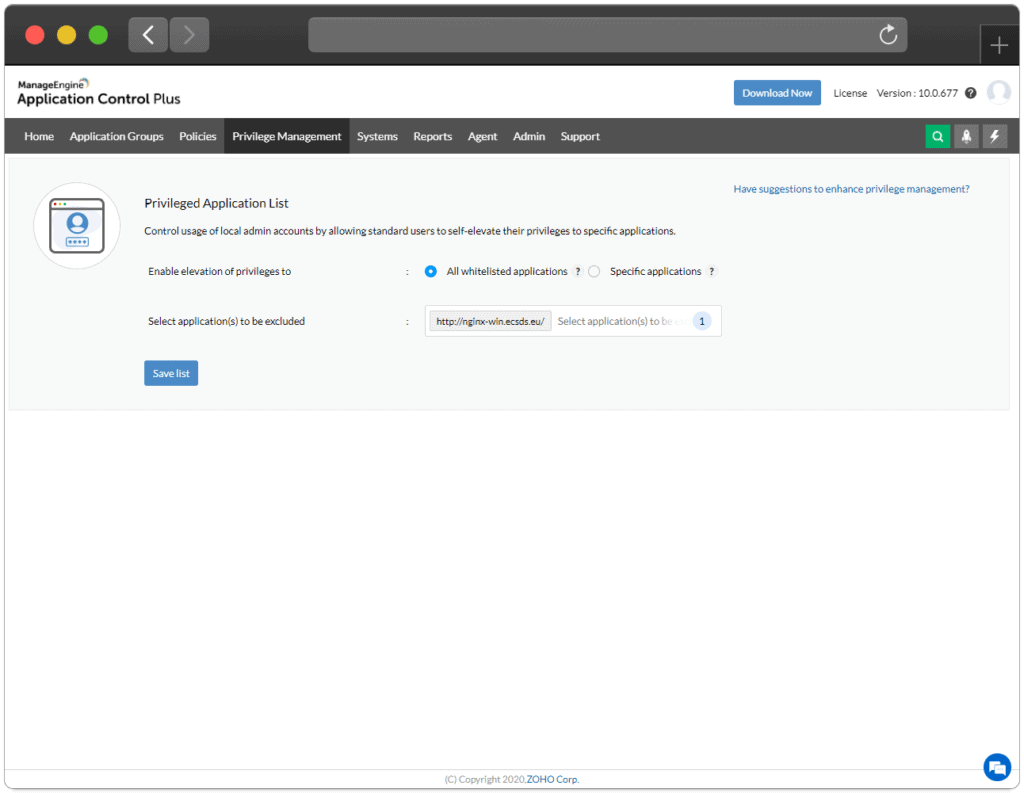 Use administrator rights to better secure the devices used.
Some applications require administrator privileges to work properly, but for security reasons, it is worth granting them only when necessary. In the event of a malfunction without administrator rights, it is worth considering whether the software we use is not infected or used for data loss.
Create software implementation policies
Thanks to this feature of the application management system, the user can introduce predefined restrictions on many devices. Without having to define them for each device separately. Restrictions are assigned to appropriate groups, while applications can be run in the following modes:
1. Audit Mode - allow users to verify the graylist and redefine the applications on the white and black lists
2. Strict Mode - allow users to use only the white list (software verified, approved for use).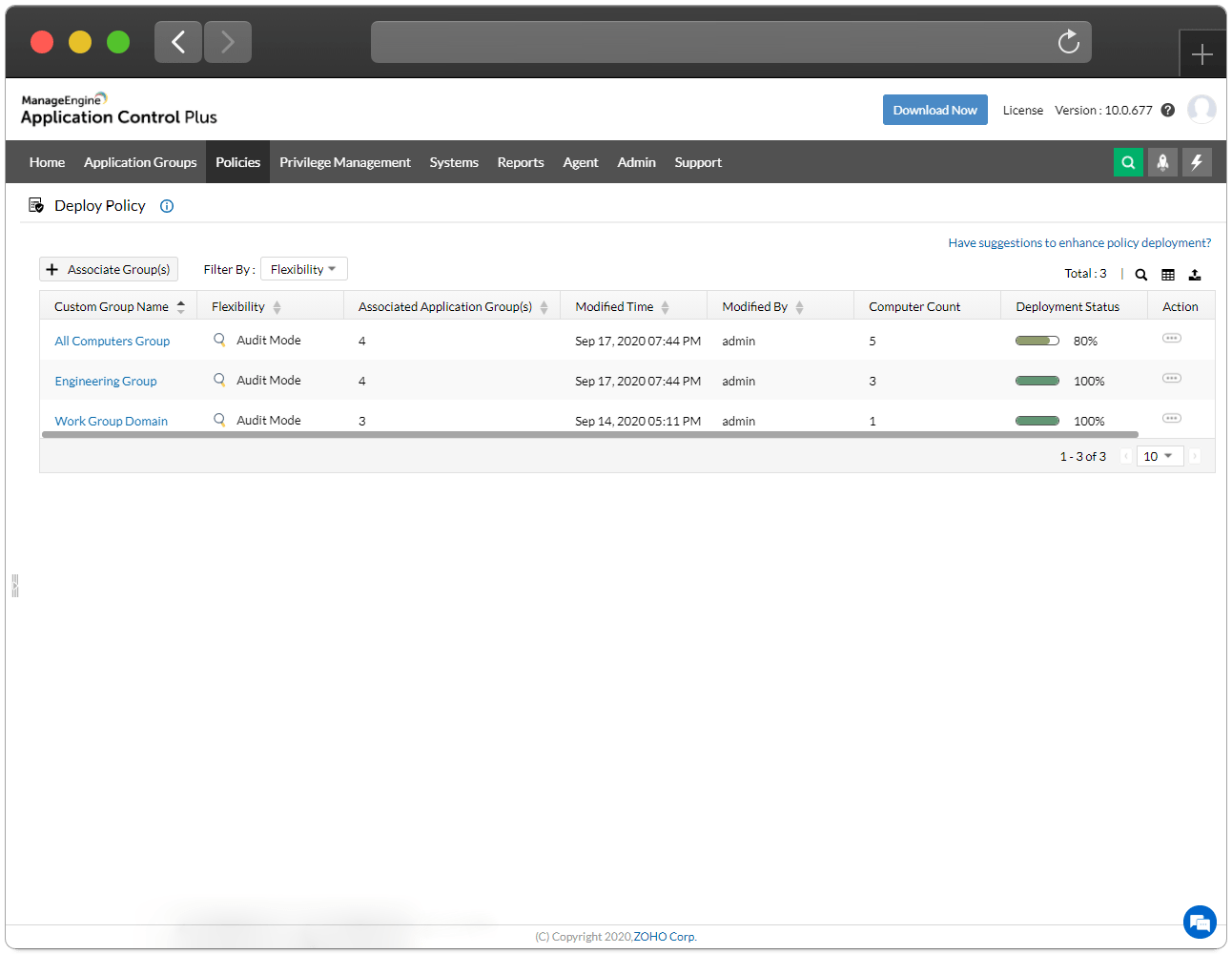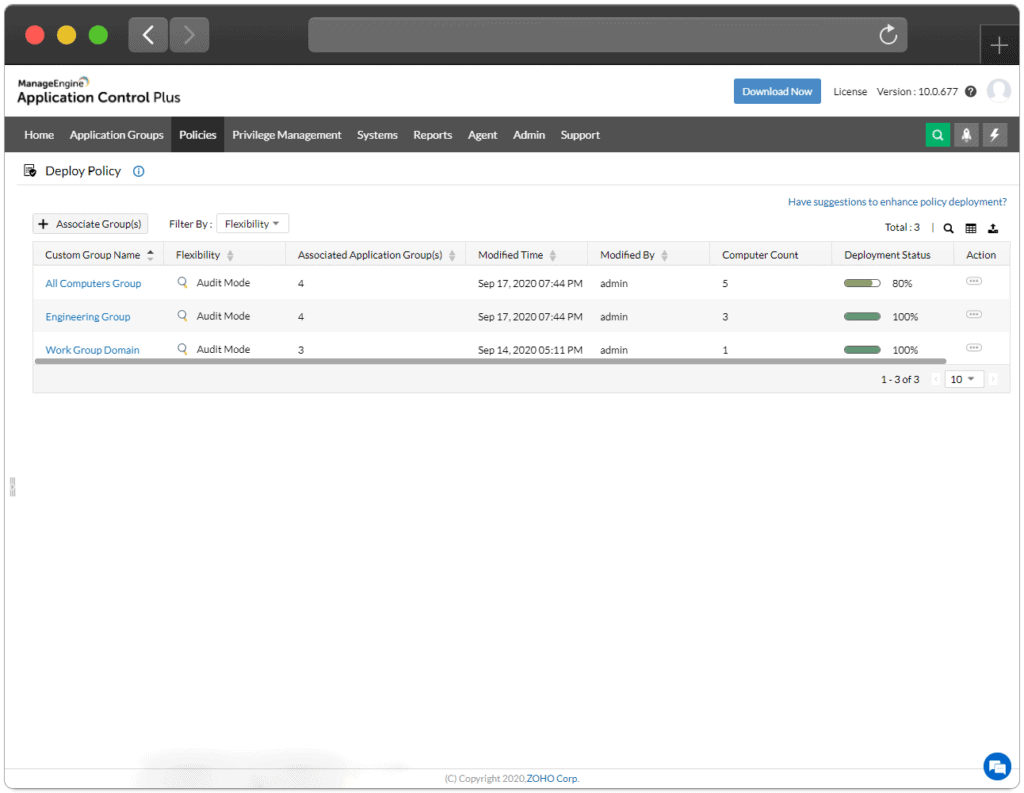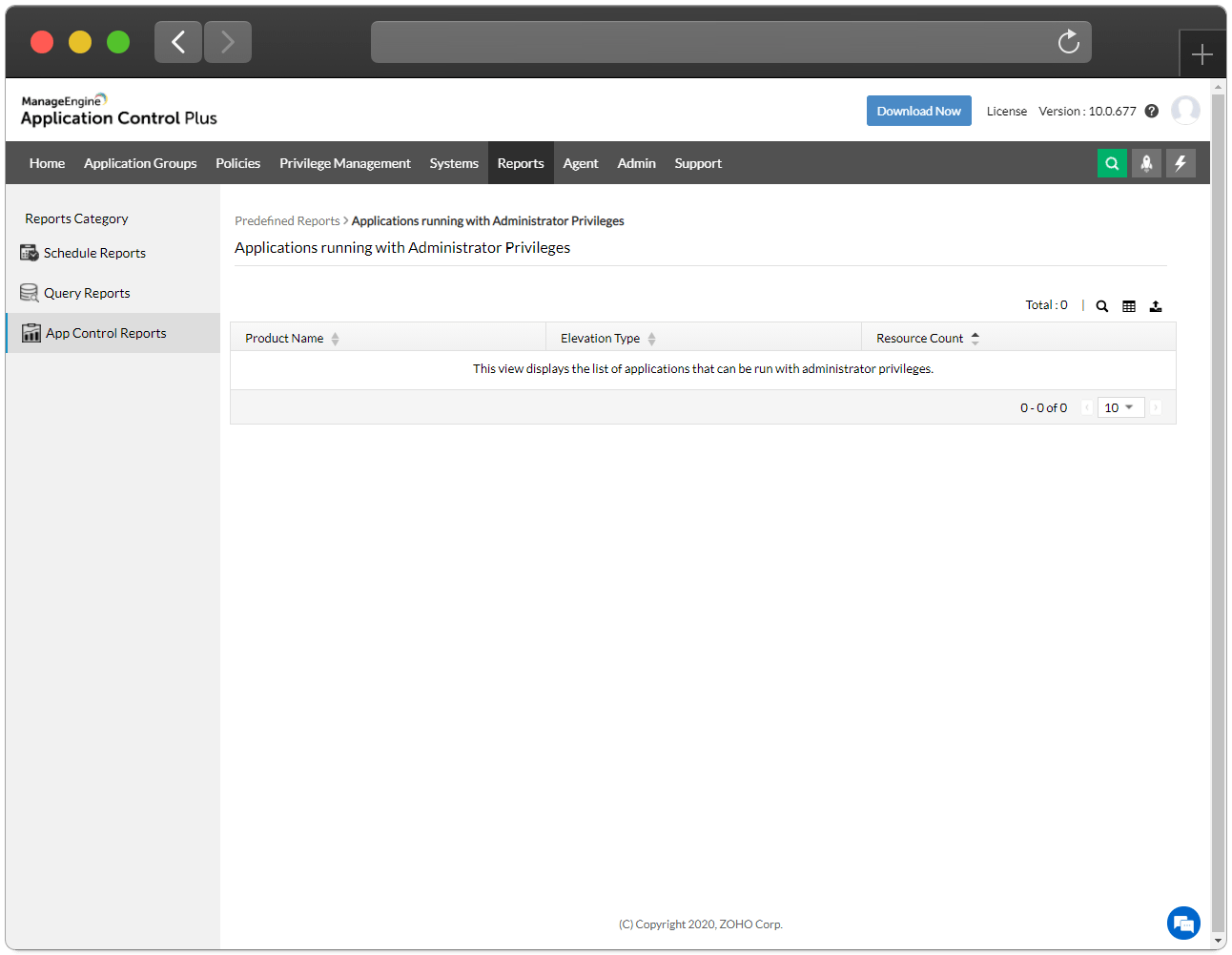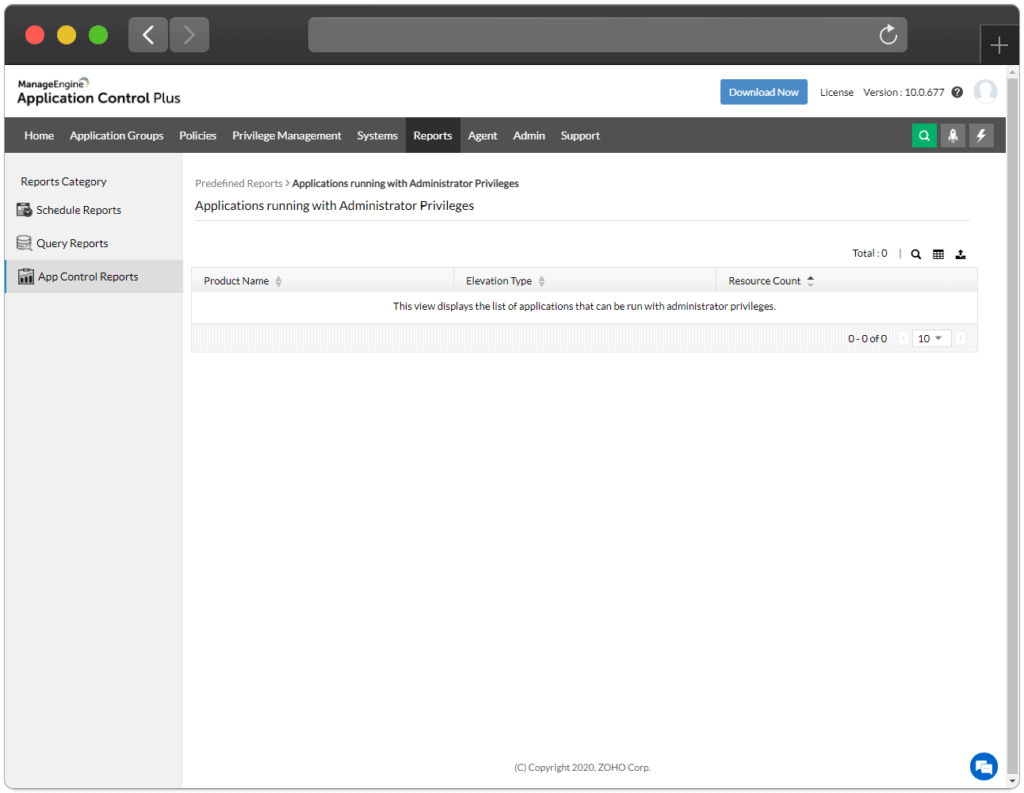 Application management function reporting software
The application saves data in PDF, XLSX and CSV formats. In the case of cyclical notifications, the system offers three shipping options: as an attachment, as a ZIP file or as a publication on Desktop Central servers with a notification of a valid URL. The reports offered concern, including Active Directory, user logins, and software black/grey list.
ManageEngine Application Control Plus Pricing
Professional Edition is Starting From:
Suitable for computers in LAN & WAN
1. Discover installed application
Whitelist and blacklist applications
Control flexibility modes
Identify and resolve application greylists
Endpoint Privilege Management
Insightful dashboards and reports
Frequently Asked Questions
What is Manage Engine Application Control Plus?
ManageEngine Application Control Plus is a comprehensive application control software that automates and transforms whitelist and blacklist applications for enterprise or remote workforce.
What are the features of Application Control plus?
‌Instantly discover and categorize all running applications.

Simplify application control list creation and management by using predefined rules.

Build application whitelists by enforcing a trust-centric approach.

Prevent malware, zero-day vulnerabilities, and advanced persistent threats by blacklisting malicious executables and applications.

Cater to your network's unique prerequisites utilizing the various flexible modes available.

Easily manage and resolve greylisted applications.

Control application-specific privileged access, and reduce the chances of attacks leveraging privileged credentials.
What is application blacklisting?
The process of creating a list of applications and prohibiting only those from running is called application blacklisting. Application Control Plus enables blacklist creation on the basis of policies like vendor, product name, file hash and executables with valid digital signatures. 
How is Application Control Plus licensed?
Application Control Plus offers the same pricing plan for workstations and servers, with one free and one enterprise edition. 
What is Endpoint Privilege Management?
Endpoint Privilege Management is the process of allocating application-specific privileged access to users based on their requirements. User Can easily adapt the least privilege principle through the network without affecting productivity using this feature. It enables privileged access to applications without compromising the privileged credentials or any unnecessary privilege elevation.
Process of installing Application Control Plus
Shut down Application Control Plus i.e. right-click the Application Control Plus logo on the Notification area of Taskbar and click on Stop service)
Important:

Take a backup of the Application Control Plus installation directory (/ApplicationControlPlus) to avoid any data loss during the upgrade process.
If you have installed Application Control Plus Server on Windows 2008, Windows 8, Windows 2012 or Windows 2012 R2 you should login as a default administrator before running the Update Manager tool.
Ensure that either your Application Control Plus installation directory or the Application Control Plus Directory folder in the system on which the Application Control Plus database is running is not scanned by the anti virus.
If the Application Control Plus Service is being monitored by a 3rd party tool or a script that will restart the service, ensure that you disable it until you complete the upgrade process.

Execute the UpdateManager.bat file present in the

 

/ApplicationControlPlus/bin directory.
Click "Browse" and select the. ppm file that you have downloaded.
Click "Install" to install the service pack. This may take a few minutes depending on the amount of data that needs to be migrated.
Wait until the service pack/hotfix is fully installed.
Click "Close" and then click "Exit" to exit the Update Manager tool.
Start the Application Control Plus.
How do I install Application Control Plus?
Being the Swiss partner of ManageEngine, Kidan is responsible for aiding with professional services, such as installing, implementing, configuring, training, and supporting the company to ensure an effective on-boarding of Application Control Plus.
To make it even better, Kidan even provides advice on top of it all!
Get in touch with us to know more.
Want to continue the
conversation?
Thank you for your interest in ManageEngine's Application Control Plus solution. Please fill out the form below to ask a question or request assistance.