ManageEngine Network Configuration Manager
Automated management of network device configuration changes
Network Configuration Manager helps automate and take total control of the entire device configuration management lifecycle. The system can make periodic backups of device data configuration, securing them against loss. It can monitor any changes to network devices in real-time by sending notifications about configuration changes. It is also capable to automate configuration tasks without having to do them manually. All these elements are available from one graphical interface.
Network Configuration Manager
Customizable device templates that support any device vendor
Backing up network devices
Network Configuration Manager can back up and manage device configuration from a single interface. This feature allows to automatically switch between devices without having to do it manually.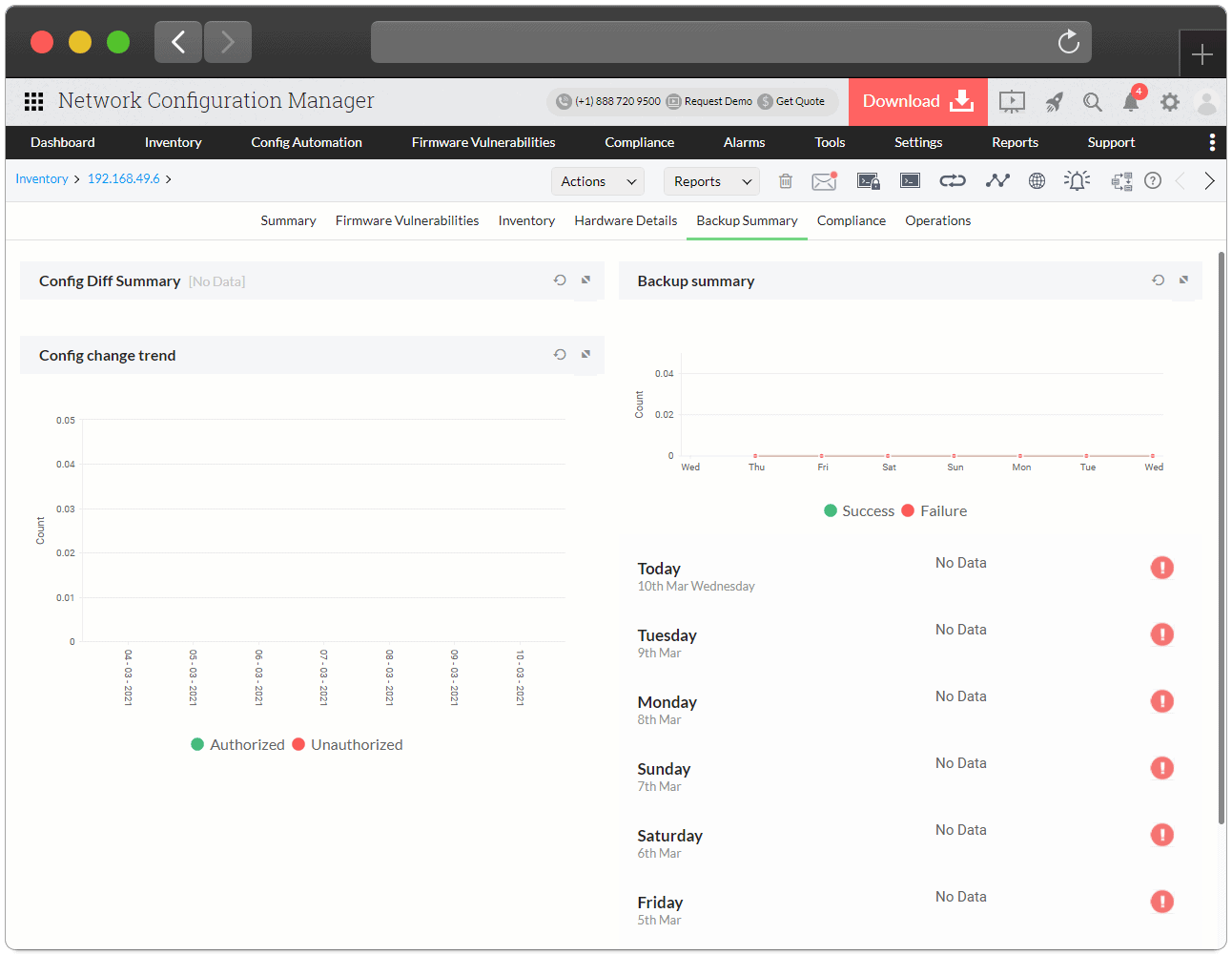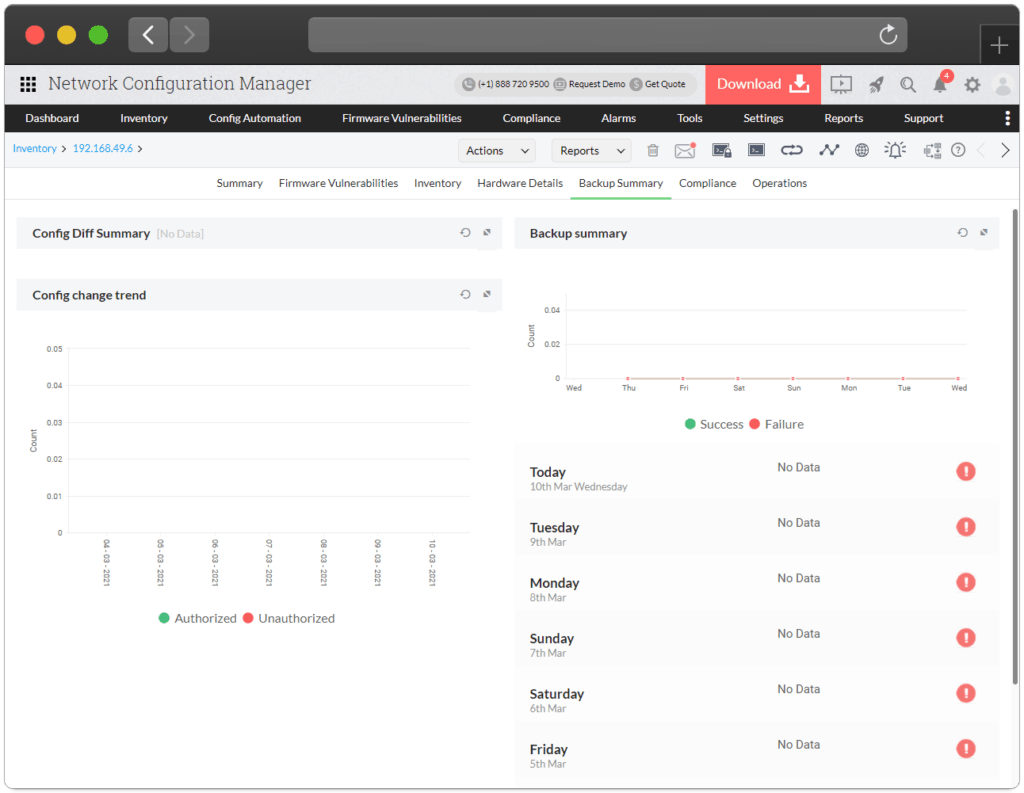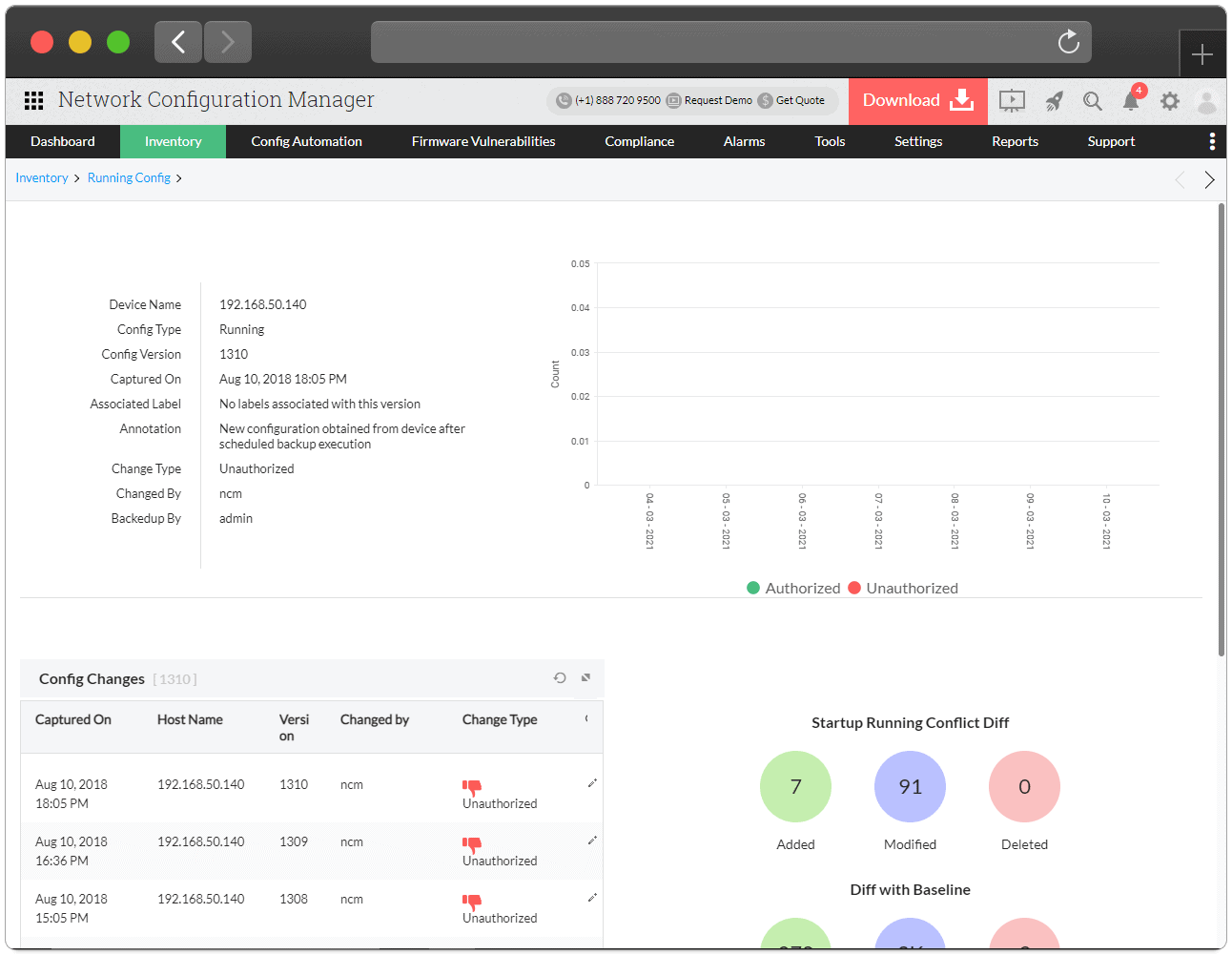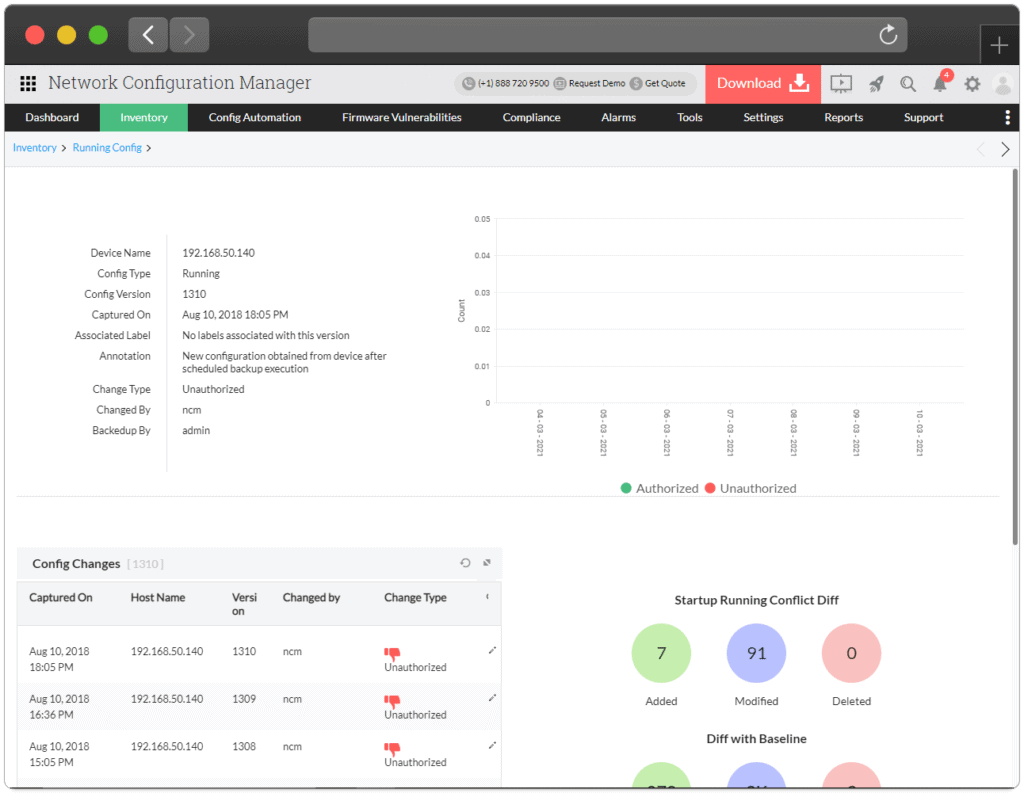 Monitoring & managing the changes & configuration of network devices
The system, by downloading each device configuration, makes it possible to compare the current configuration with the one that has been approved. This allows sending notifications when a configuration mismatch is detected on the device.
Compliance of devices with the designated standards
This Configuration tool has a built-in module that can create appropriate standards, i.e. compliance. This allows the network device to be monitored for compliance with the relevant standards. Therefore, allowing to easily and quickly verify the correct configuration of all network devices.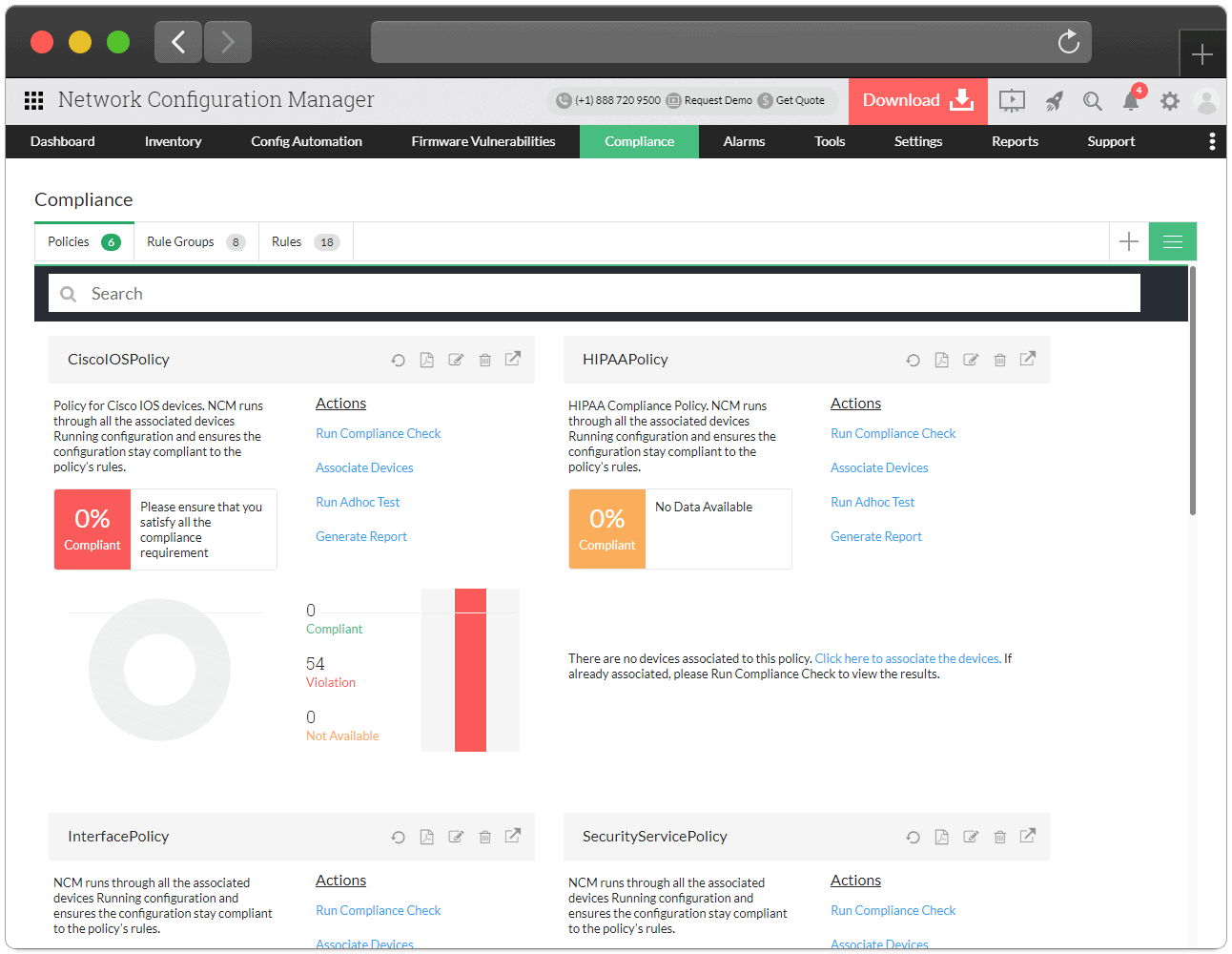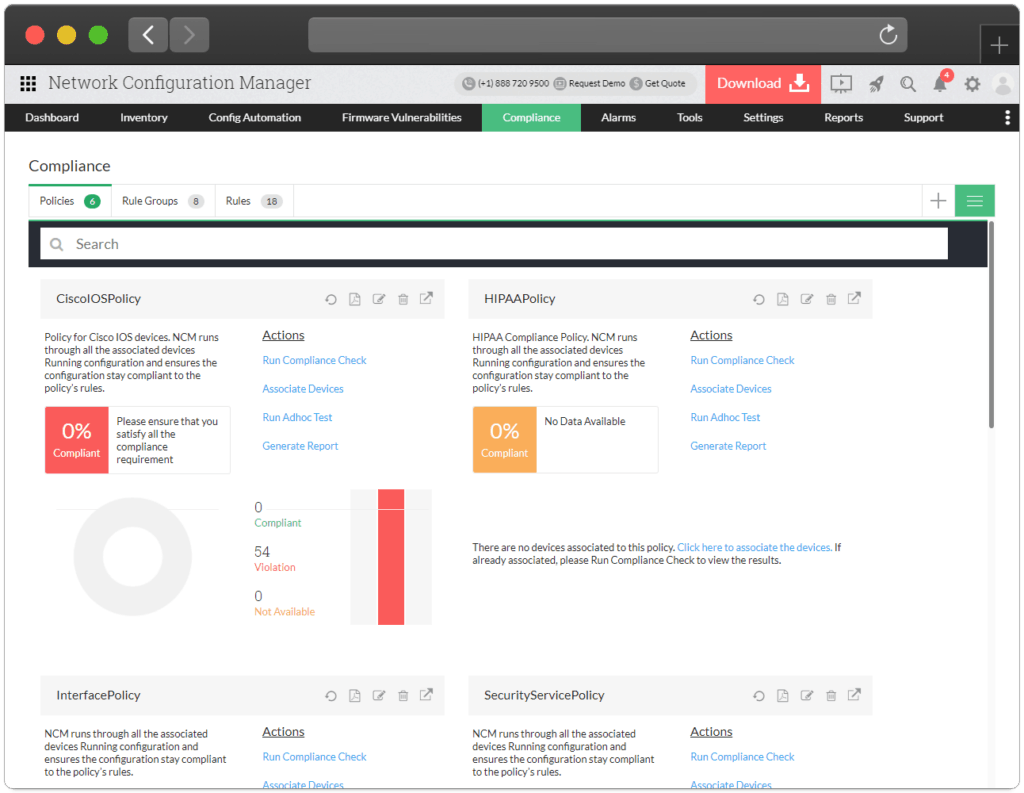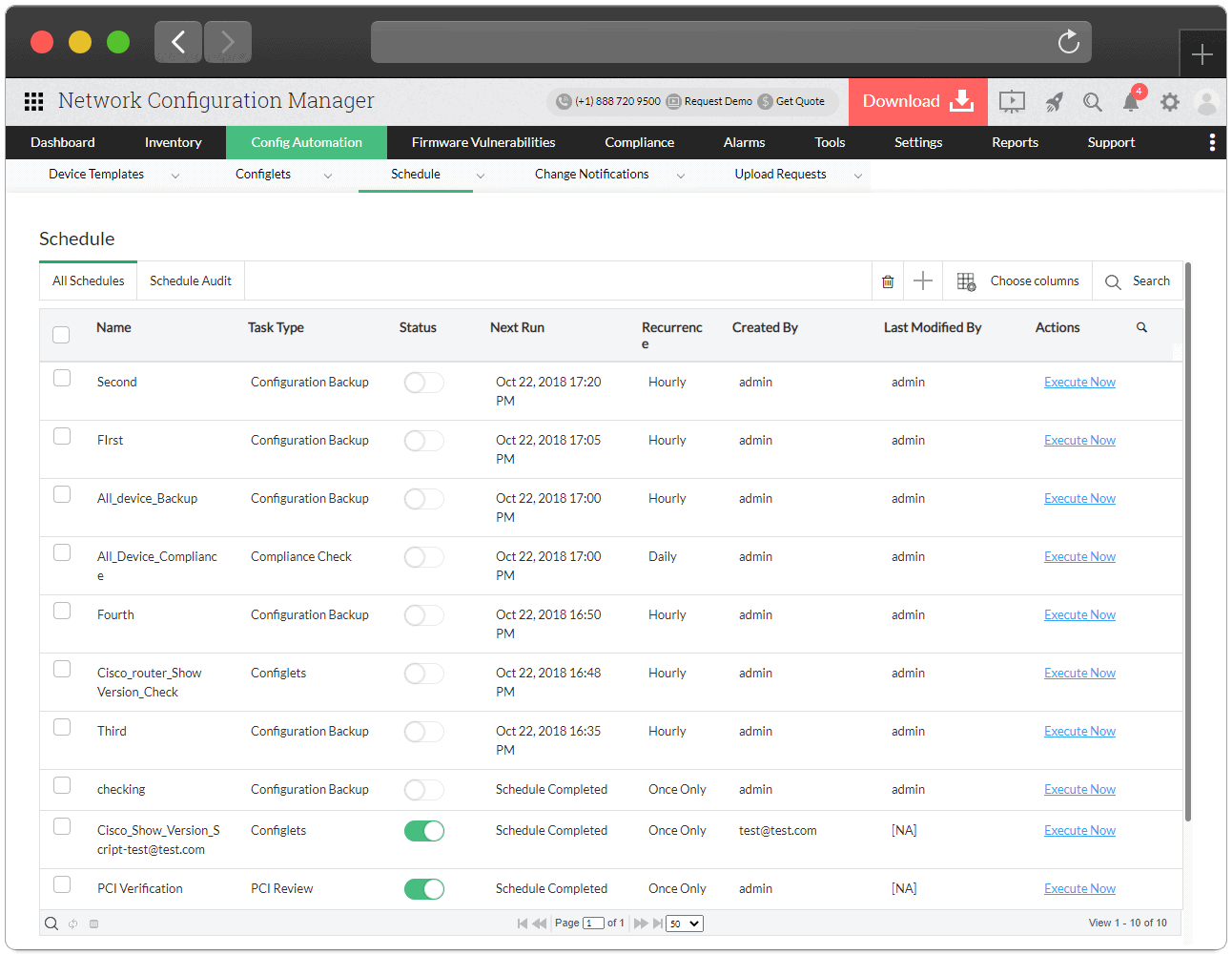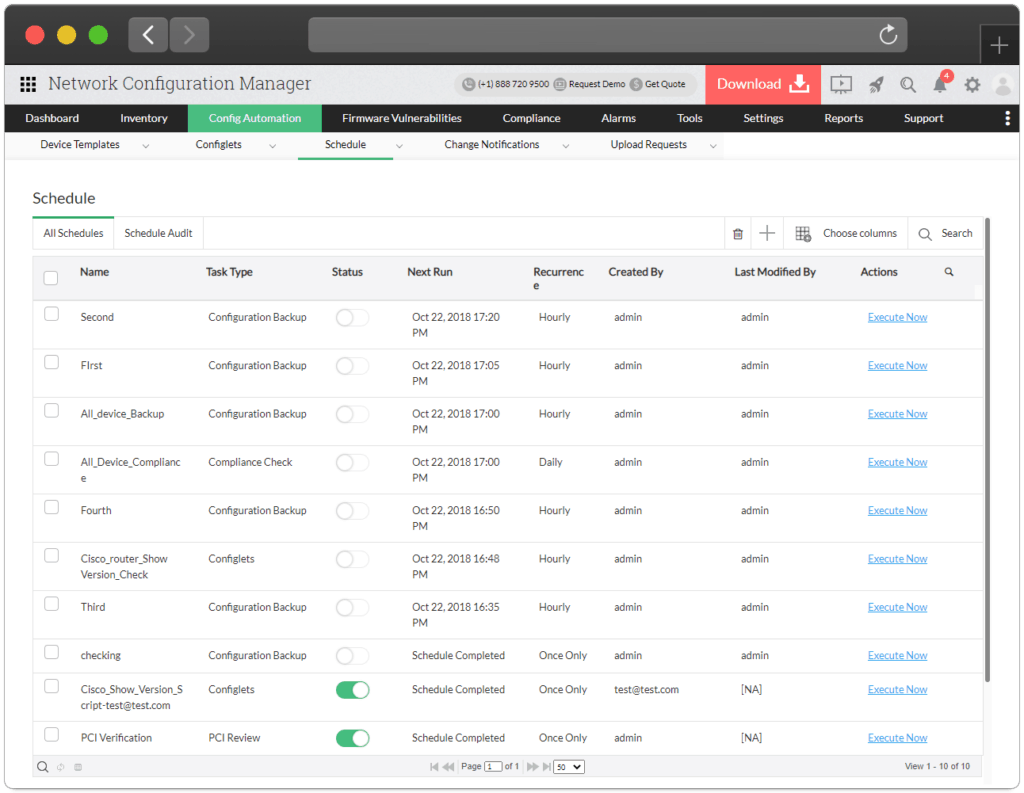 Performing cyclical actions with the automation function
The system has a built-in automation module that enables the cyclical execution of actions selected by us. This can prepare a backup at specified intervals by running an appropriate command on selected or all network devices.
Device configuration management from one interface
It is noteworthy that this system allows viewing of the currently working configuration and sends new packages with updates or patches to selected devices. This feature can effortlessly manage the configuration of network devices from one place without the need for manual action.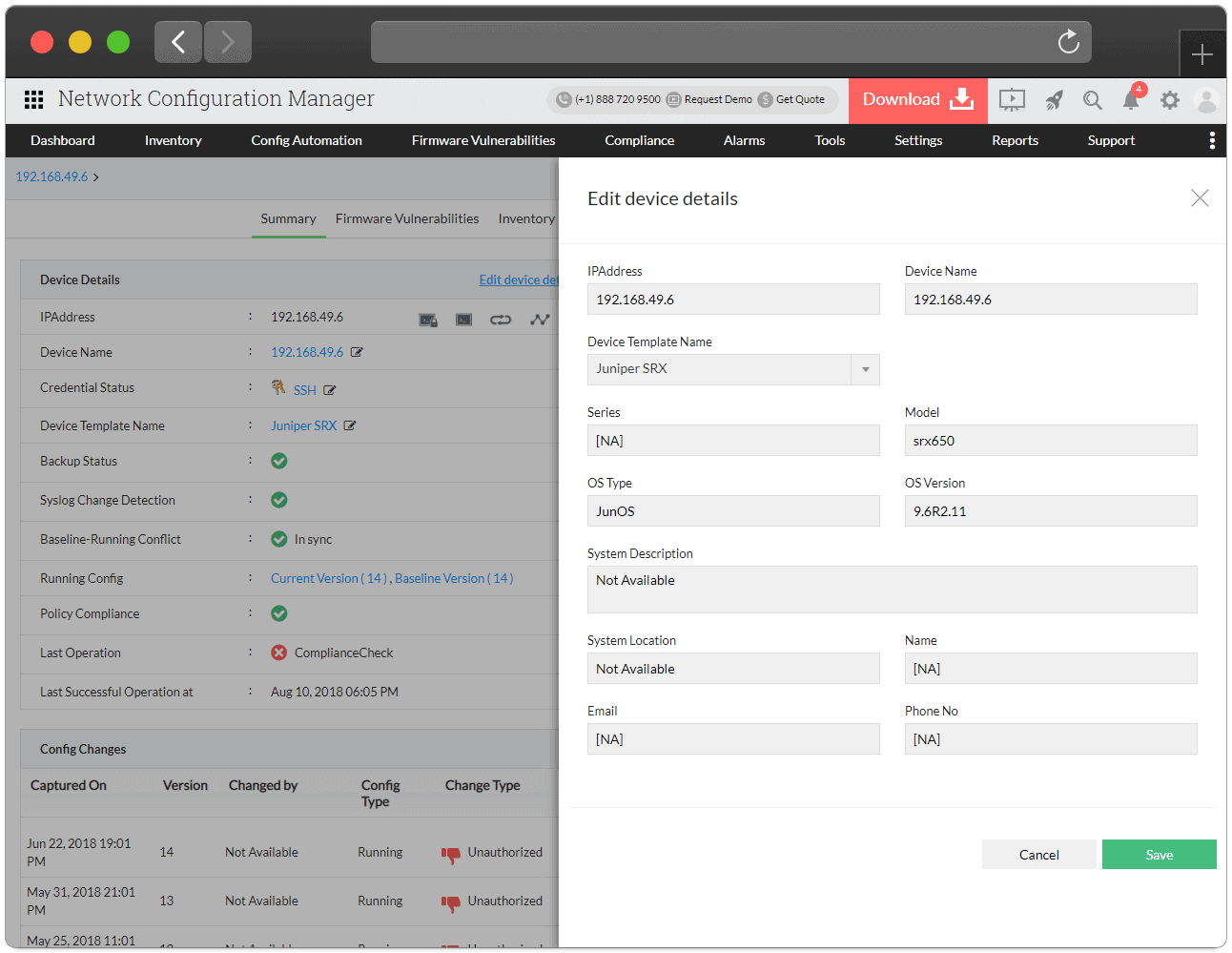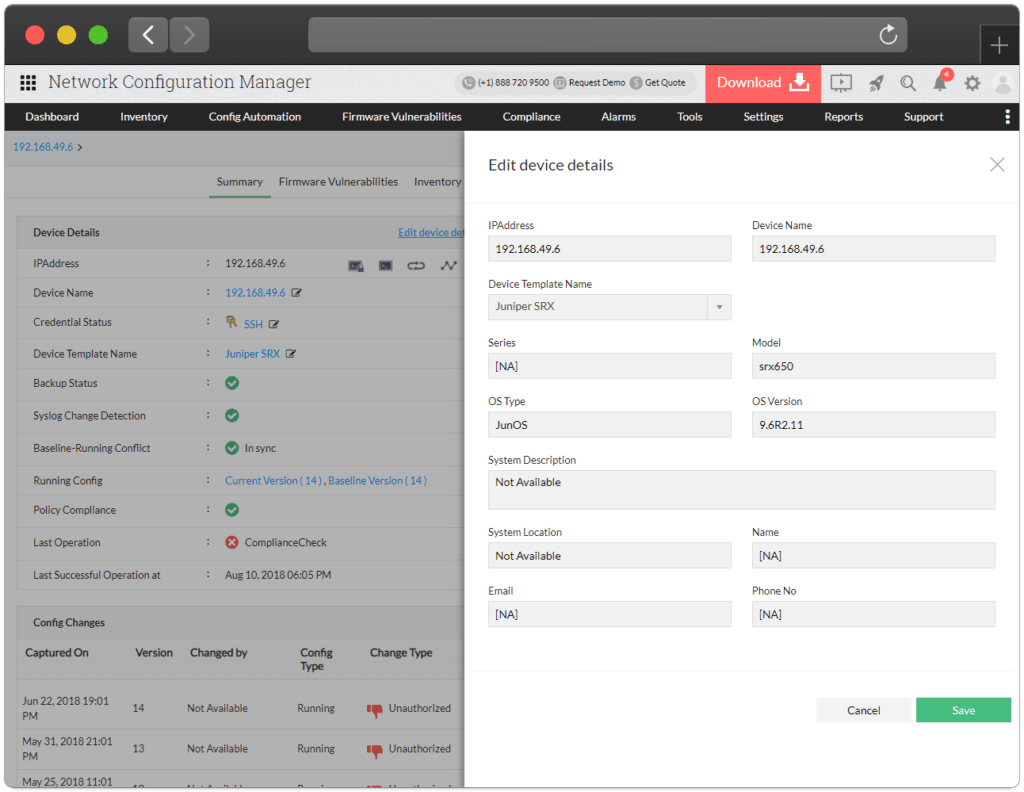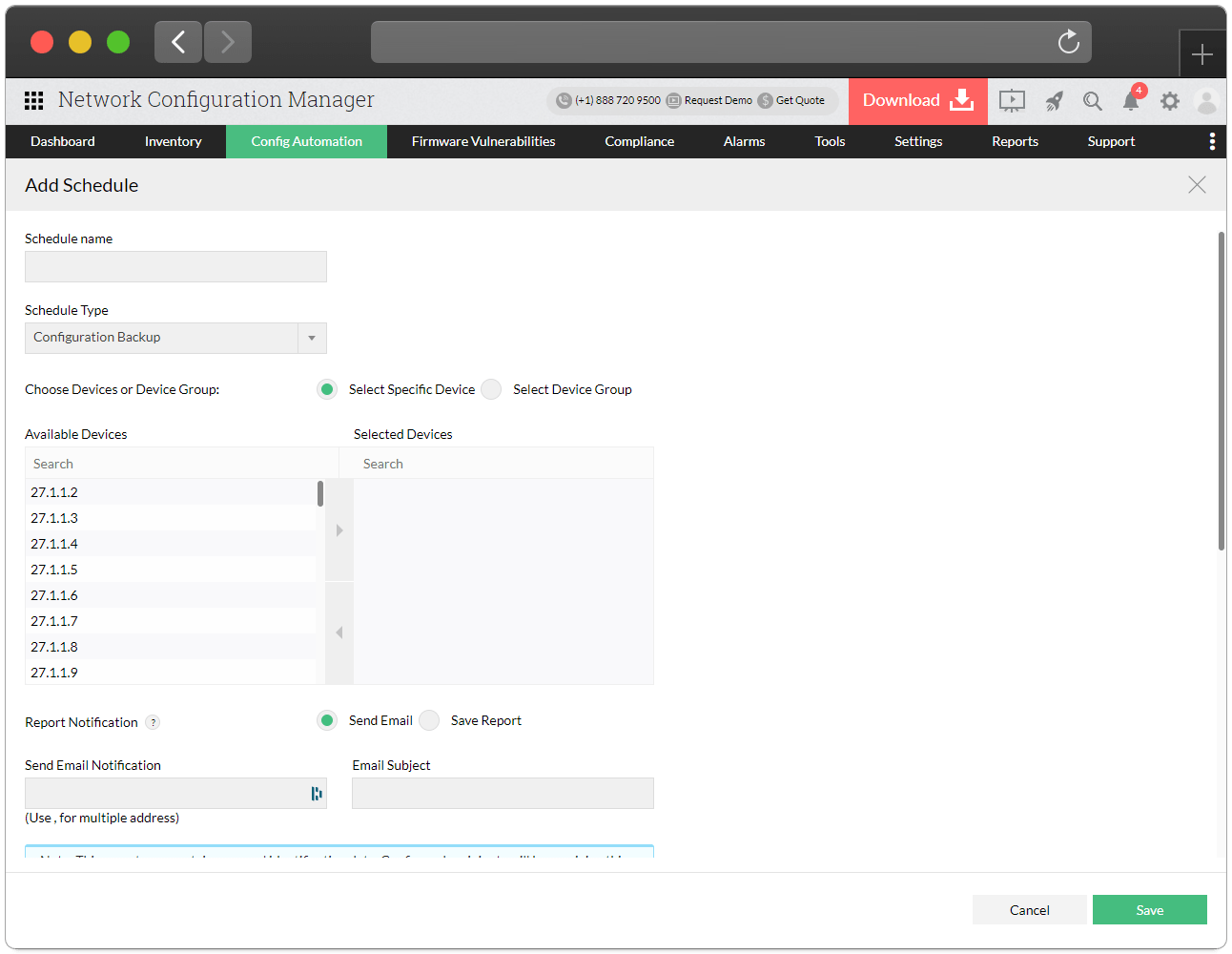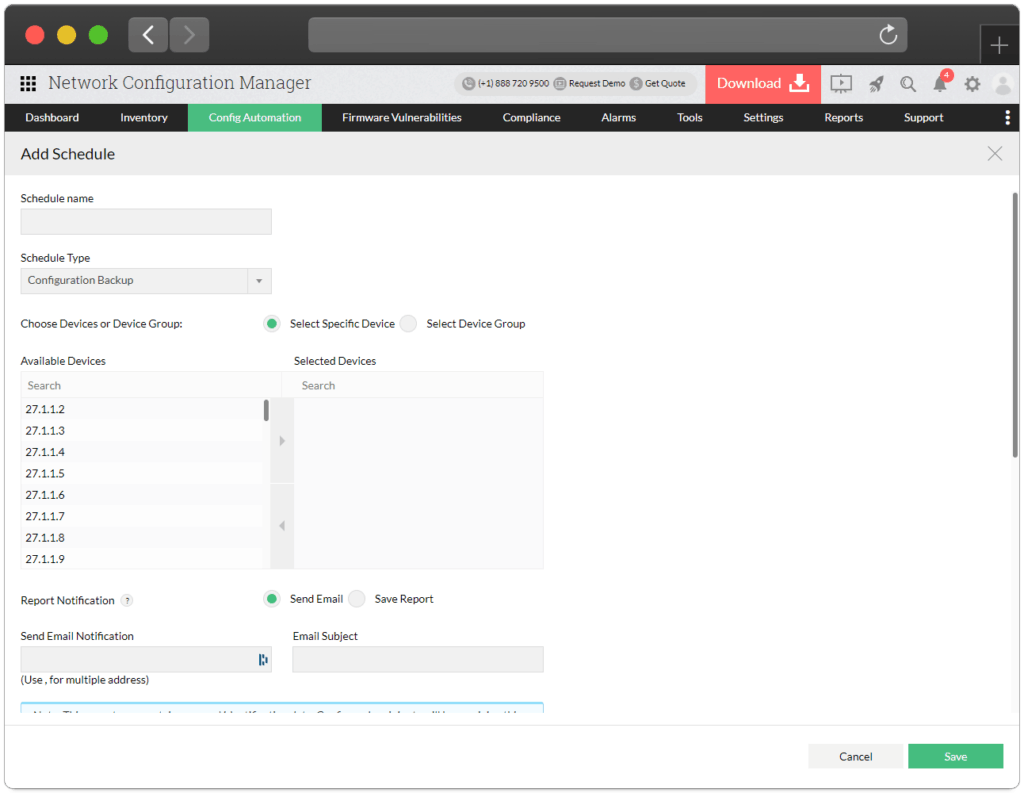 Bulk configuration of many devices on the network
The system allows managing the configuration of devices, both single and grouped, from one interface. Therefore, it can easily implement the configuration on many devices with a few clicks and without going to each device or preparing the appropriate scripts.
Frequently Asked Questions
What is purpose of Network Configuration Manager?
Network Configuration Manager can manage network devices such as switches, routers, firewalls wireless access points and integrated access devices, etc. from multiple vendors such as Cisco, HP, Nortel, Force10, D-Link, Juniper, NetScreen, Juniper, NETGEAR, Dell, 3Com, Foundry, Fortinet, ADTRAN, Enterasys, Huawei, Extreme, Proxim, Aruba, and Blue Coat. It discovers network devices, builds up an inventory database, and allows IT administrators to take control of configuring the devices from a central console. The web-based administrator console provides the User Interface to perform all the configuration operations. 
What are the browser versions supported by Network Configuration Manager?
Web Interface requires one of the following browsers** to be installed in the system:
IE 7 and above (on Windows)
Firefox 2.0 and above (on Windows and Linux)
** Network Configuration Manager is optimized for 1024 x 768 resolution and above
Can I apply same set of credentials to multiple devices as a bulk operation in Network Configuration Manager?
Yes, the user can apply the same set of credentials 'as they are' to multiple devices. In such cases, to avoid the cumbersome task of entering the credentials for each device separately, Network Configuration Manager offers the flexibility of creating common credentials and sharing the common credentials among multiple devices. This is called as 'Credential Profile'.
Can I receive automatically generated reports on Device Configuration in my mailbox?
Yes, Network Configuration Manager provides the option to mail reports to email IDs. The user can schedule reports to be generated at any point in time and reports will be mailed to the user's Email ID.
How much security does Network Configuration Manager offer to my configuration?
Network Configuration Manager offers a good level of security to the user's configuration as all the configuration information retrieved from devices is encrypted and stored in DB. Also, device credential information is also encrypted and stored in DB.
How do I install Network Configuration Manager?
Being the Swiss Partner of ManageEngine, Kidan is responsible for aiding with professional services, such as installing, implementing, configuring, training, and supporting the company to ensure an effective on-boarding Network Configuration Manager.
To make it even better, Kidan even provides advice on top of it all!
Get in touch with us to know more.
Want to continue the
conversation?
Thank you for your interest in ManageEngine's Network Configuration Manager solution. Please fill out the form below to ask a question or request assistance.