Key Manager Plus
Managing SSH keys and SSL certificates
Increase the visibility of these elements and help administrators manage all keys and certificates in terms of leakage control and compliance. Effectively monitor all SSL certificates that will expire in the future and find out when the time to replace them will come.
From the level of the unified console, have an overview of the entire environment, saving time moving among many other systems. Key Manager Plus is a tool that will improve the operation of every administrator and allow for more effective management of the environment.
Key Manager Plus Offerings
A web-based key management solution that helps consolidate, control, manage, monitor, and audit the entire life cycle of SSH (Secure Shell) keys and SSL (Secure Sockets Layer) certificates.
Find SSL certificates across the web
This SSH key and SSL certificate management system has the ability to detect all certificates in the environment, along with information about them such as expiration or assignment. Before the certificate expires, the administrator will receive a notification to take action to keep things running smoothly.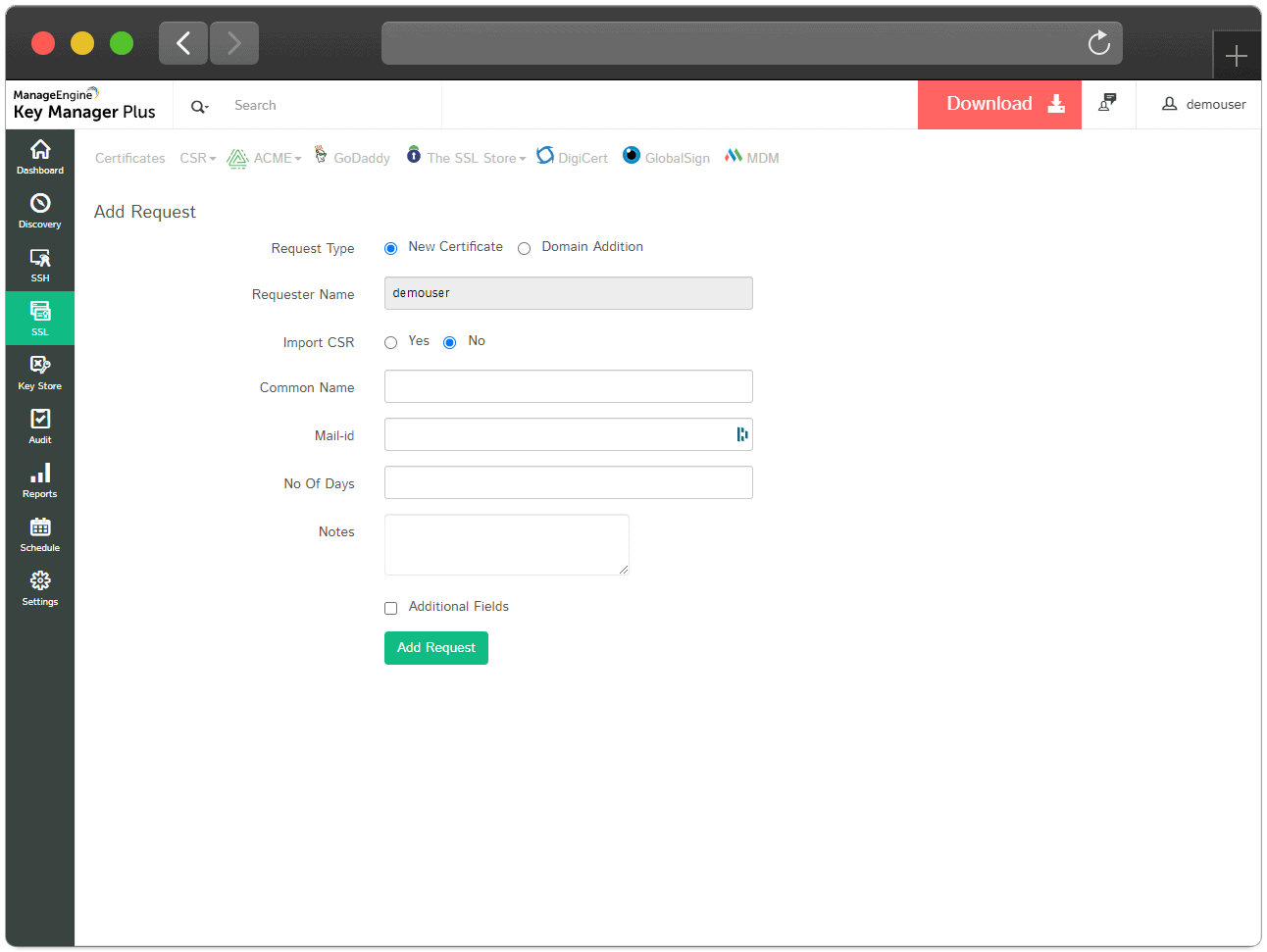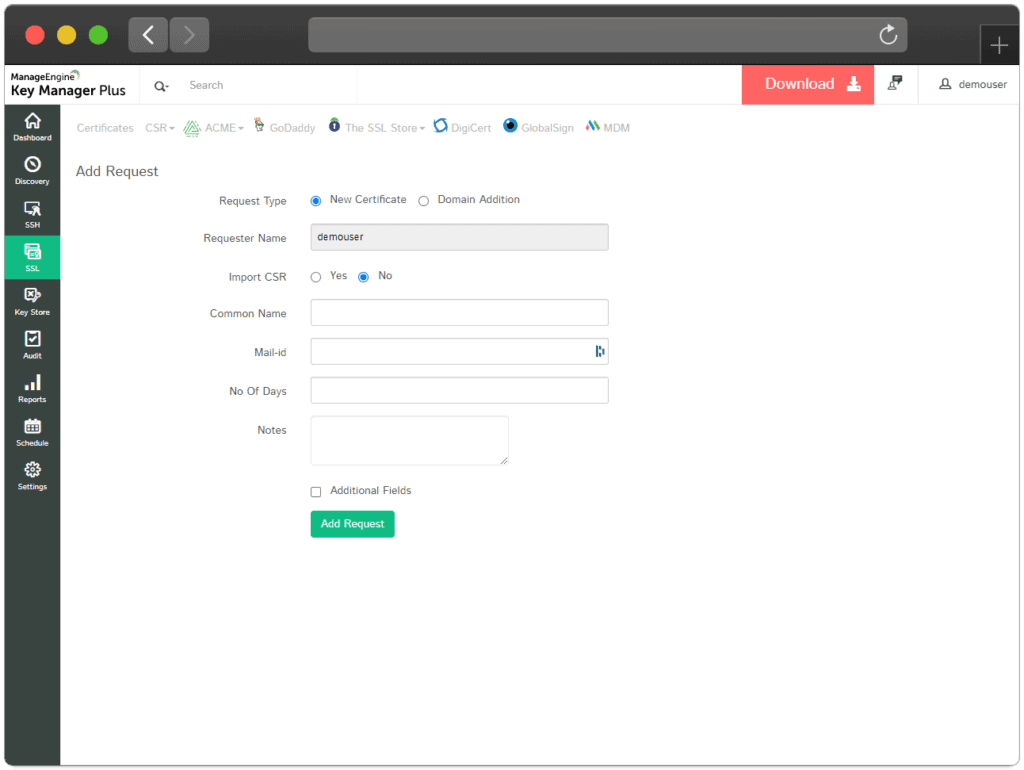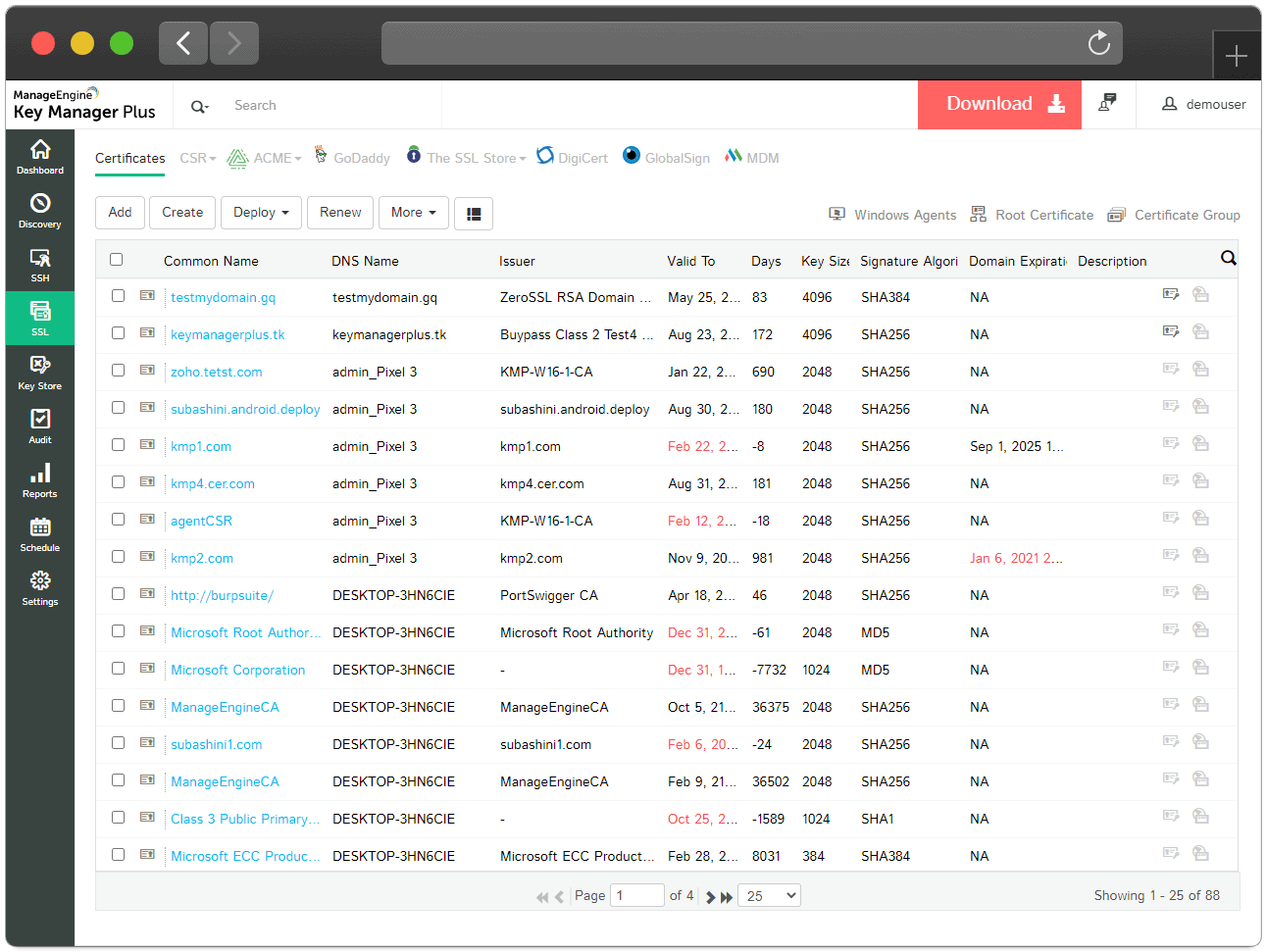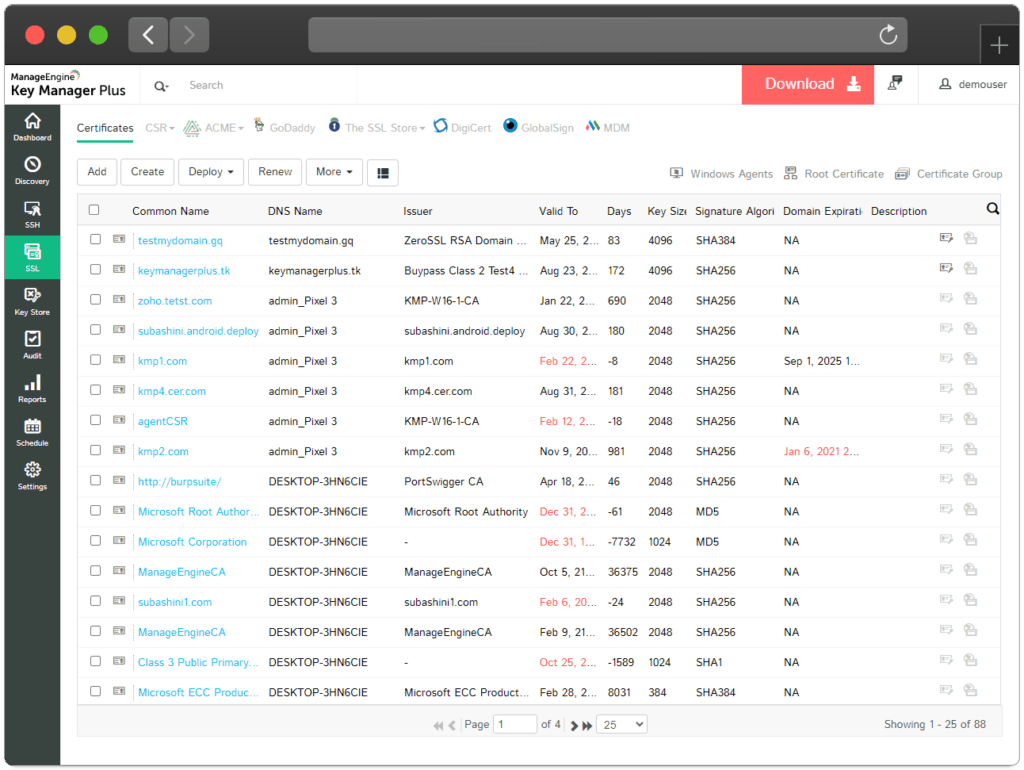 SSH Keys & SSL Certificates
Key Manager Plus has direct access to certificate management in the MS Certificate Store and user certificates. The tool can search for and add new certificates from one web console.
SSH key lookup function on the network
The system can search the network for SSH keys and then manage them. Key Manager Plus also shows IP addresses or DNS names, the time when the SSH keys were created and to which servers they were assigned.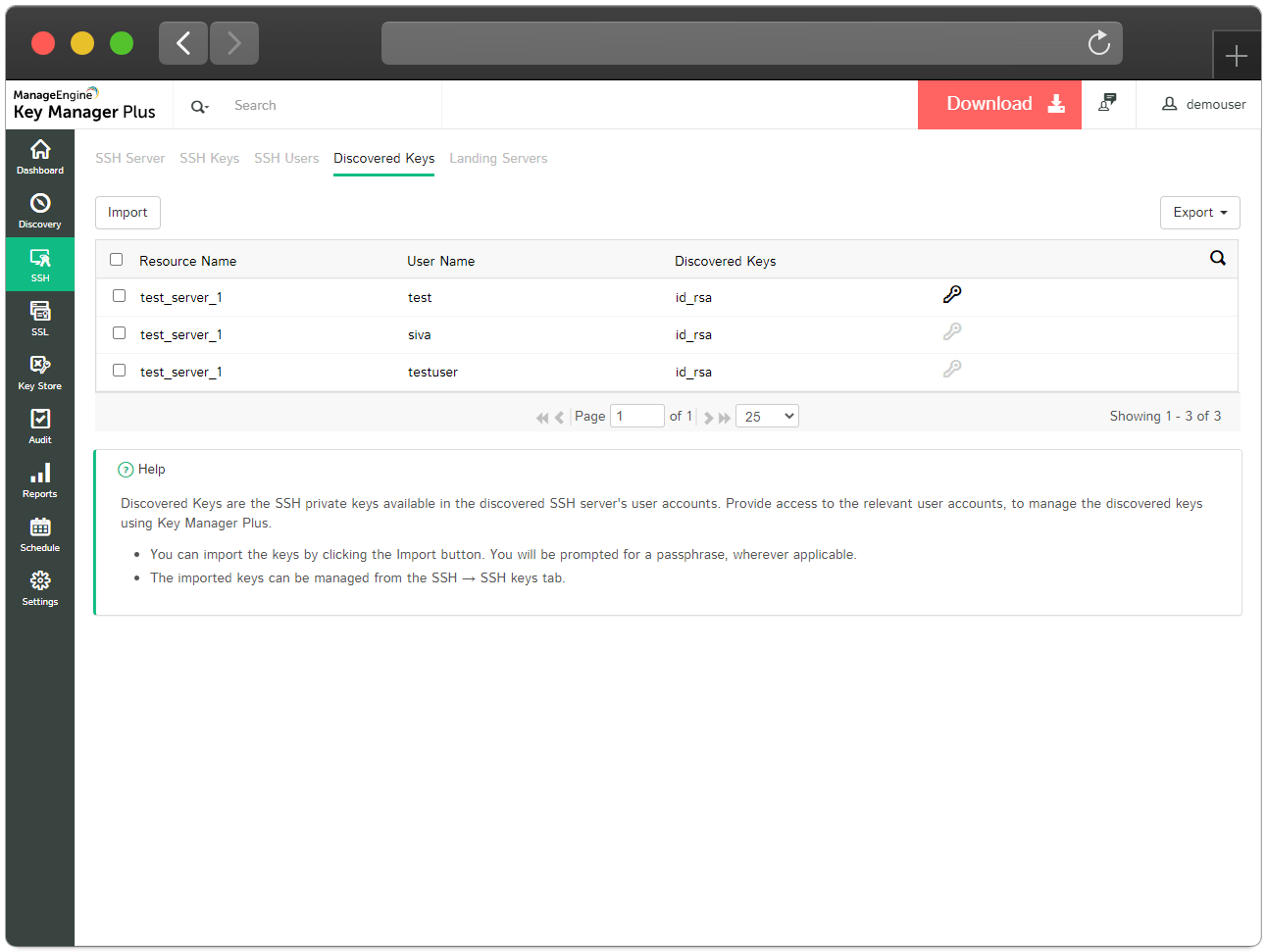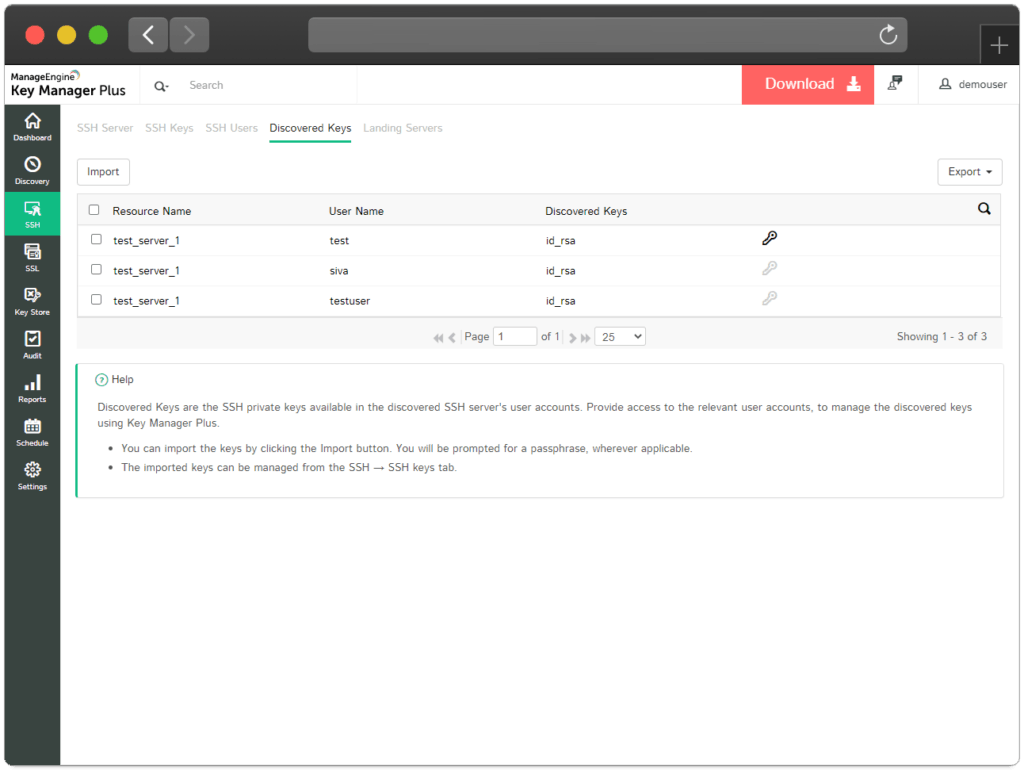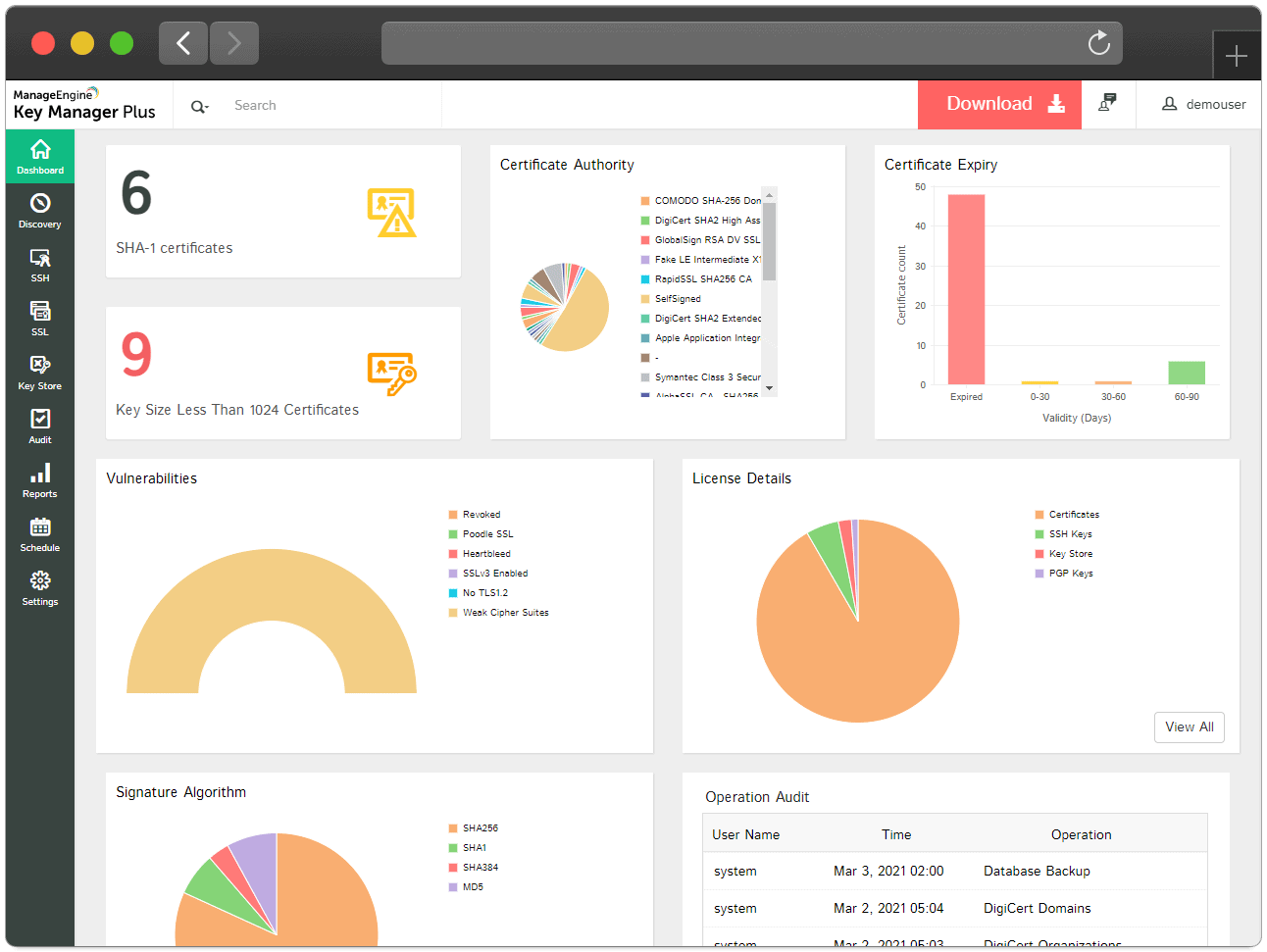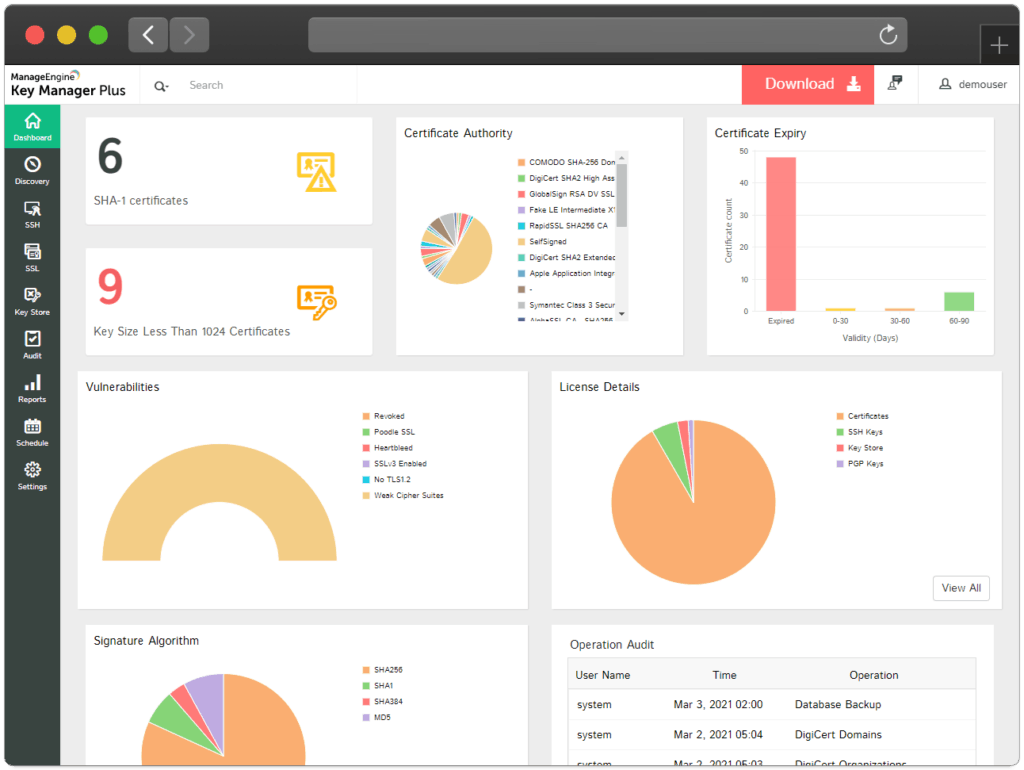 Store all items in one database
The software serves as a central repository of SSH keys and SSL certificates. The system has AES-256 encryption to ensure security and prevent unauthorized access to the resources.
Manage rotation configuration and SSH keys
Key Manager Plus can rotate the SSH keys at specified intervals in order to prevent unauthorized access by people outside the company. The system administrator may be informed about the rotation by e-mail.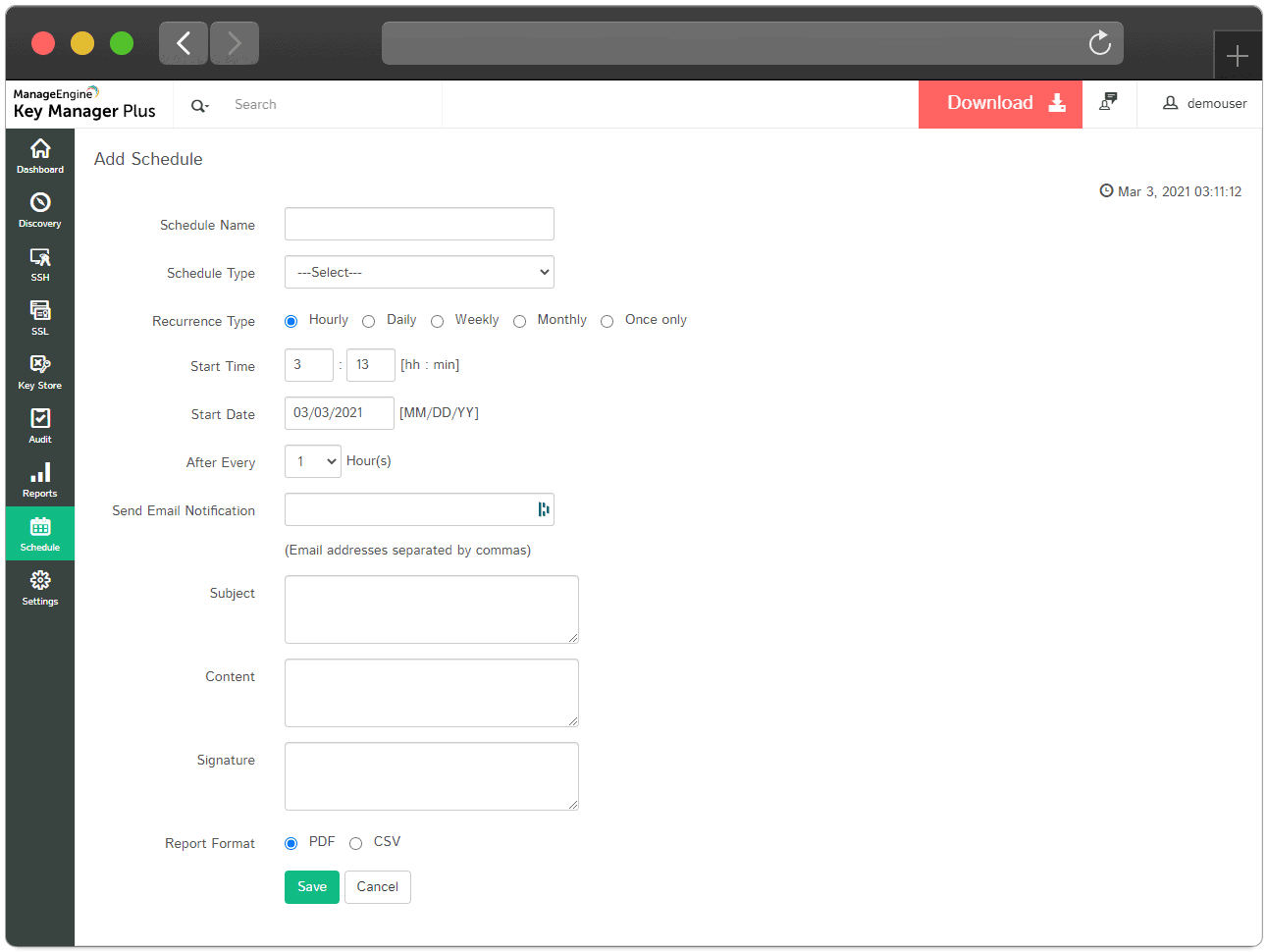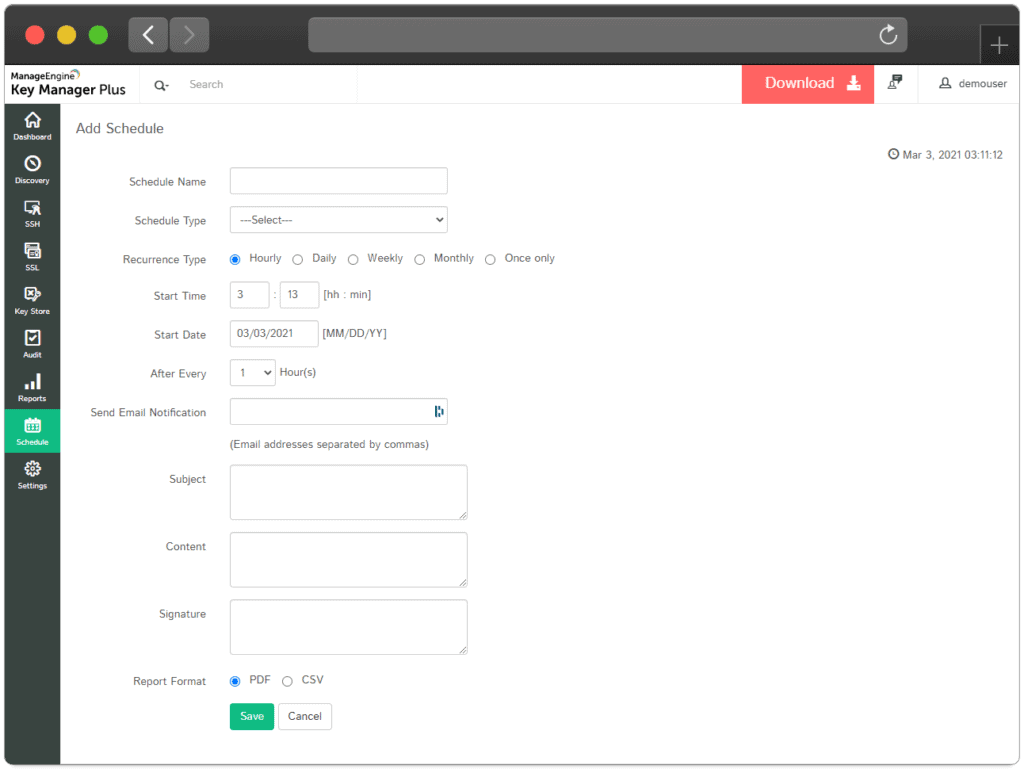 ManageEngine Key Manager Pus Pricing
Standard Edition is Starting From:
Features:
25 keys
Price varies based on number of the keys
Frequently Asked Questions
What are the basic system requirements necessary to install Key Manager Plus?
There is no prerequisite software installation needed to use Key Manager Plus.
What are the ports used by Key Manager Plus?
By default, Key Manager Plus uses the following ports for web client and backend database.
PostgreSQL (backend database) – Port 53306
Web client – Port 6565
Are there any differences between SSH user accounts and SSH service accounts?
No, Key Manager Plus adopts the same approach for managing SSH user accounts and SSH service accounts. The only difference is that during resource discovery if service/root account credentials are provided to establish a connection with the resource, extended privileges are acquired to import and manage keys from all user accounts.
When the connection to the resource is established using user account credentials, retrieve key management privileges only for SSH keys present in that particular account.
Does Key Manager Plus support subnet based certificate discovery?
No. Key Manager Plus currently doesn't support subnet based SSL certificate discovery. However, this might be available in one of our future releases. 
Are certificates issued by the company's internal certification authority counted for licensing?
Yes. All types of SSL certificates, SSH keys and any other digital key being managed using Key Manager Plus are considered for licensing. There's a dashboard widget "License Details" that provides insights into the type and number of digital identities being managed using Key Manager Plus to be taken into account for licensing. 
How can I install Key Manager Plus?
Being the Swiss partner of ManageEngine, Kidan is responsible for aiding with professional services, such as installing, implementing, configuring, training, and supporting the company to ensure an effective on-boarding of Key Manger Plus.
To make it even better, Kidan even provides advice on top of it all!
Get in touch with us to know more.
Want to continue the
conversation?
Thank you for your interest in ManageEngine's Key Manager Plus solution. Please fill out the form below to ask a question or request assistance.