ManageEngine Asset Explorer
Full control over resources
AssetExplorer is a web-based IT Asset Management software that helps users monitor and manages assets in the network from the Planning phase to the Disposal phase. AssetExplorer provides several ways to ensure the discovery of all the assets in the network. By accessing Active Directory, it checks all found workstations. Using network scanning, AssetExplorer can find, among others, Linux-based workstations, network printers, routers, and switches.
With AssetExplorer, the administrator can track and manage ownership of all assets from one location. The tool scans and audits all workstations in LAN, WAN, and VPN networks.
AssetExplorer Offering
Easy and Effective Asset Management for any enterprise
Complete Management of IT Resources
The division into IT-related resources and other resources, which additionally has categories for specific types of devices. Asset Explorer also allows users to generate barcodes, helpful in the quick identification of resources within the organization.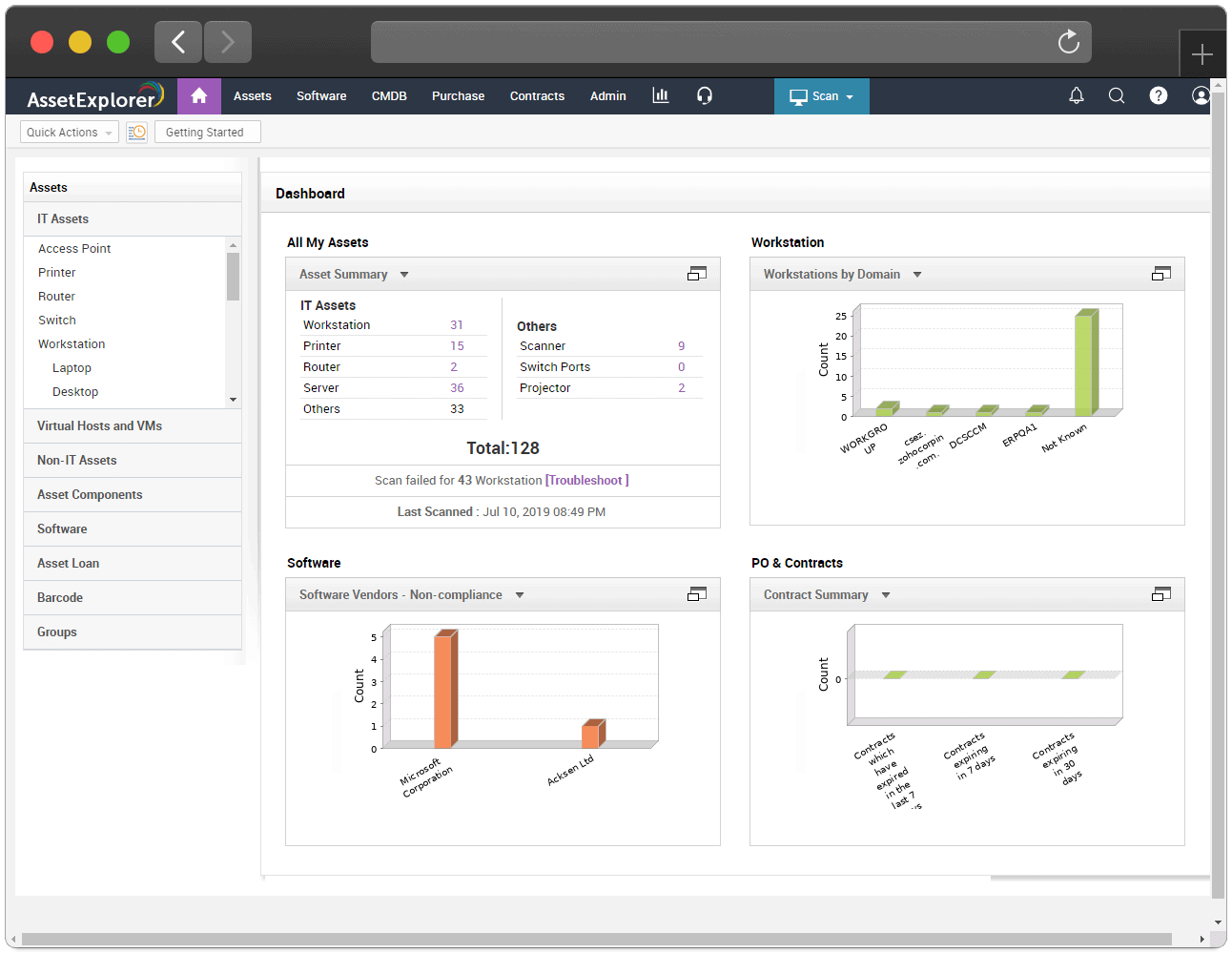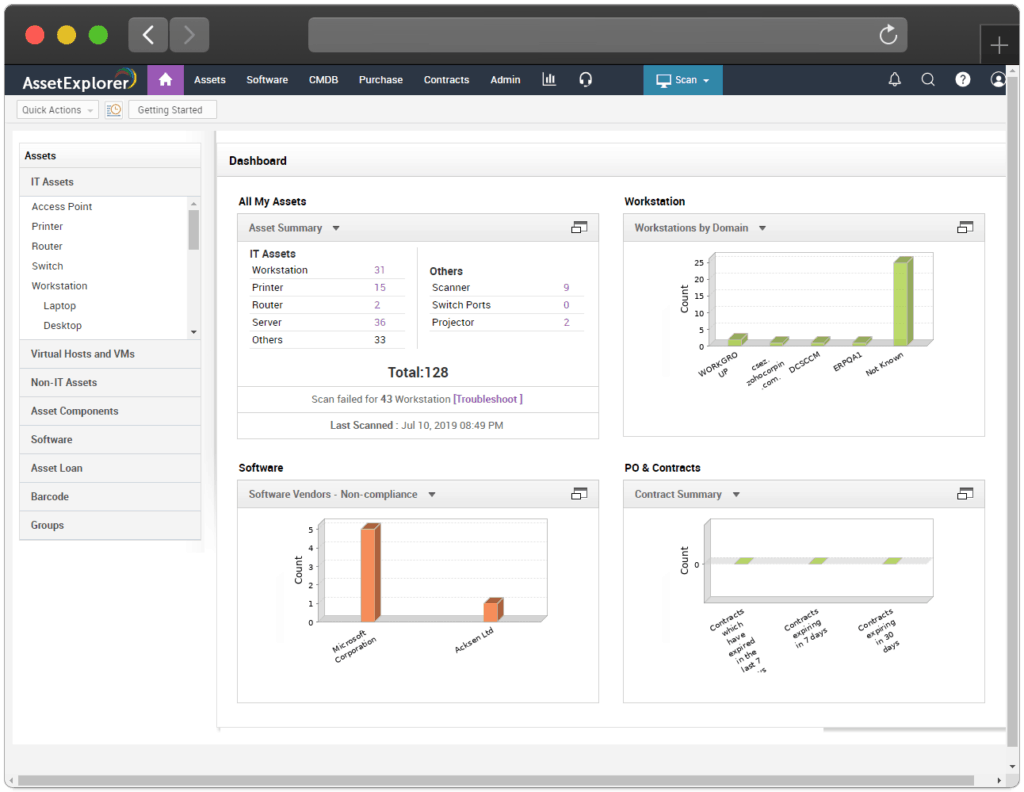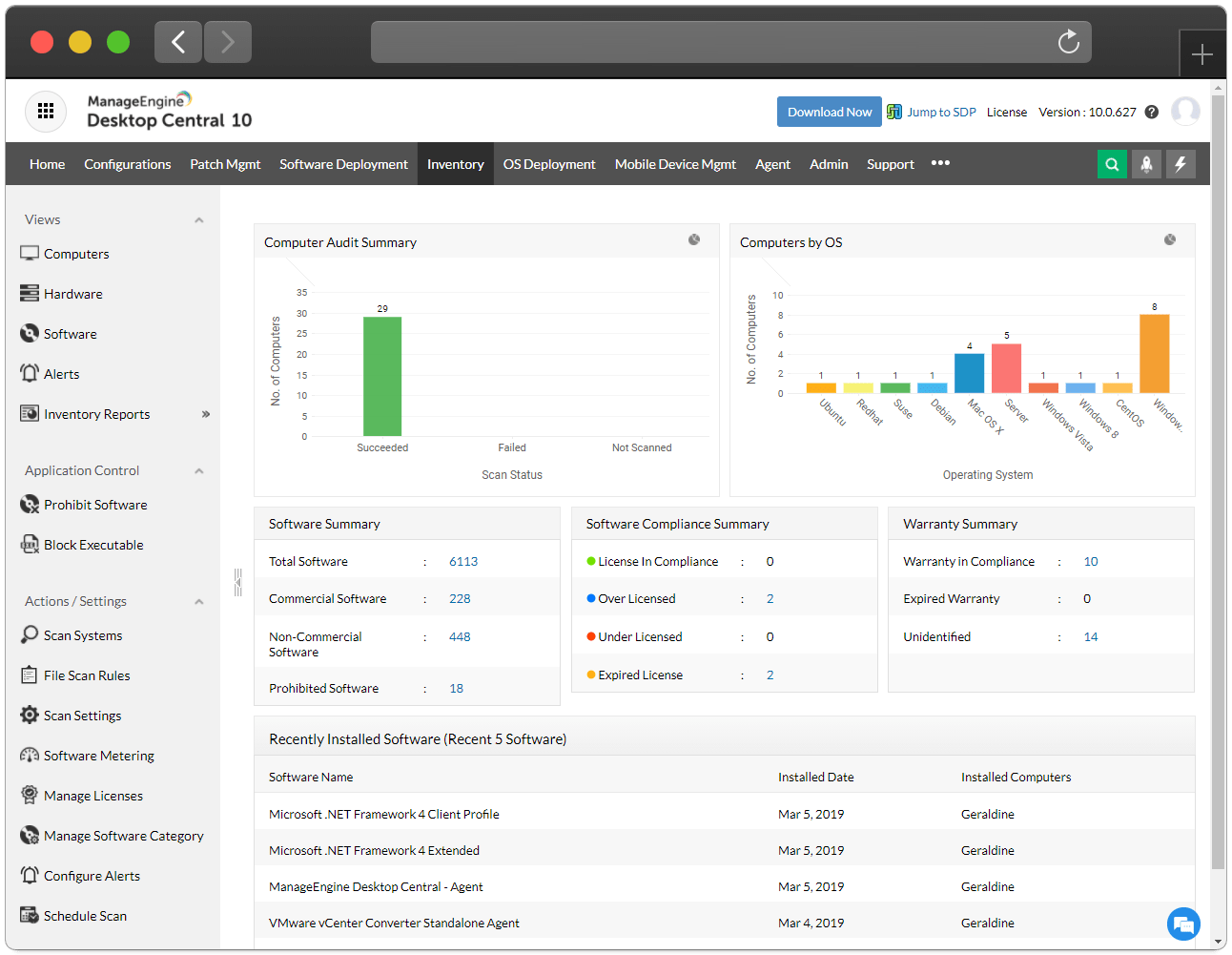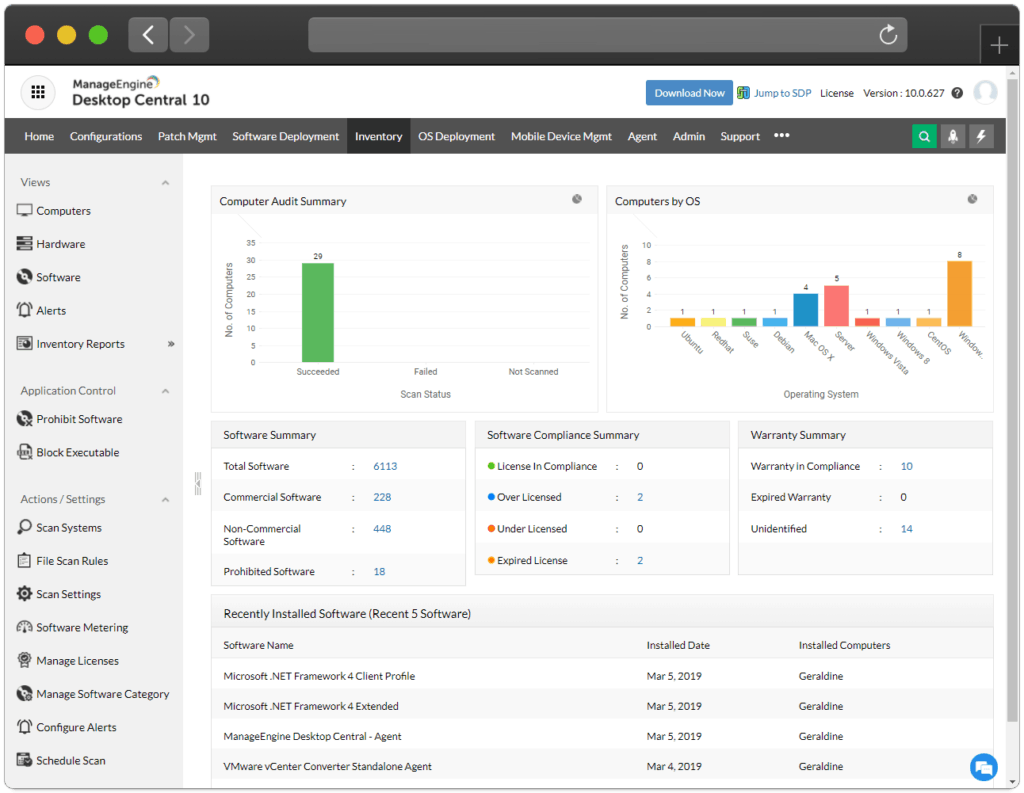 Integration with other ManageEngine Solutions
In conjunction with Mobile Device Manager, the user can access the management of Android, iOS, and Windows mobile devices. Integration with Desktop Central will allow for full management of IT resources, including organization workstations. It also makes it possible to automate most of the processes, e.g., implementing updates, restrictions, conducting remote sessions with access to the device.
Purchasing module for a transparent process of acquiring resources with approvals
The form allows users to complete all the necessary data, e.g. order number and name, required dates, delivery address, invoicing address, delivery cost, tax rate, discount or general ledger code. Having regular suppliers can save time by defining all these data in the system. At the time of creating an order, the information mentioned will be available from the drop-down list.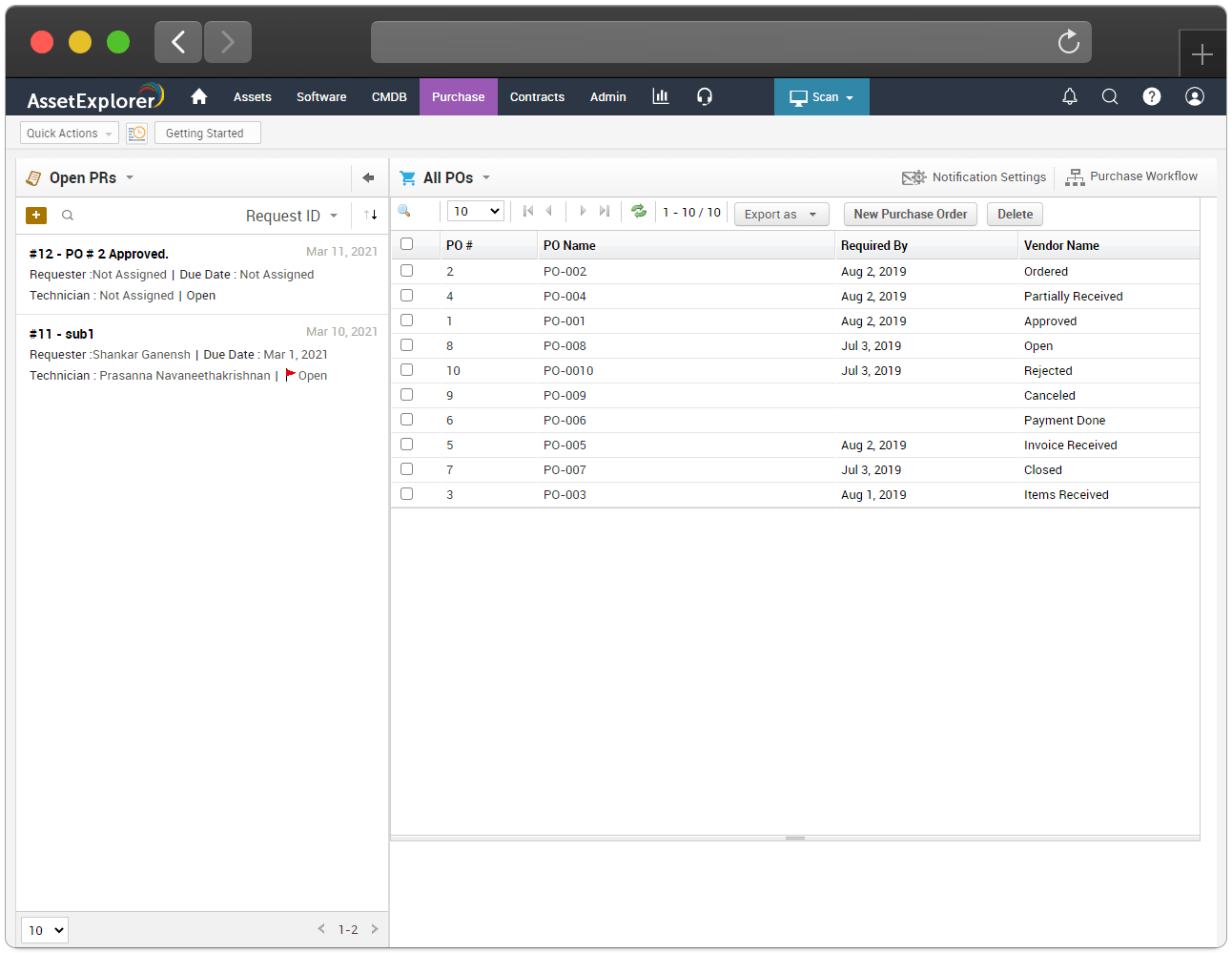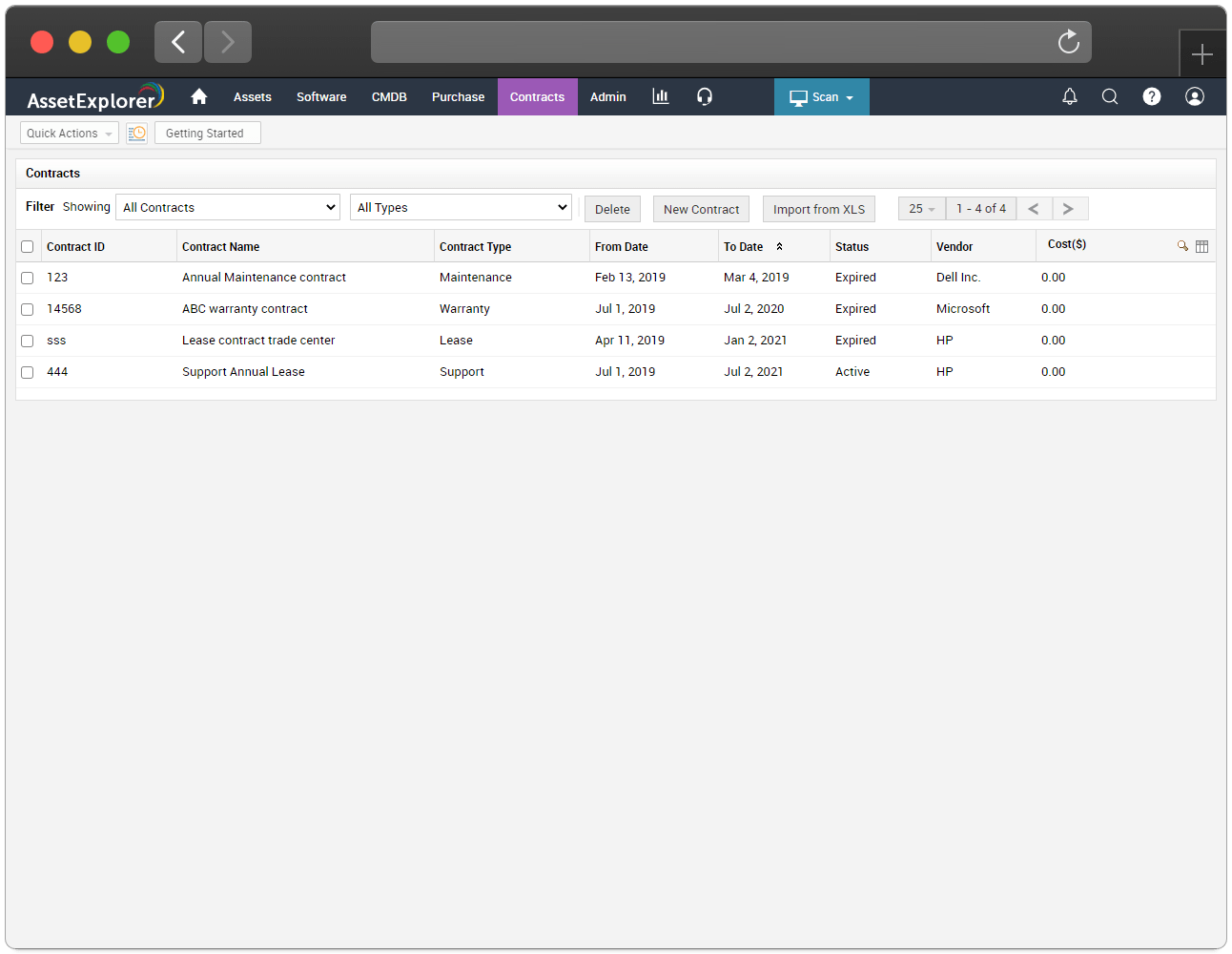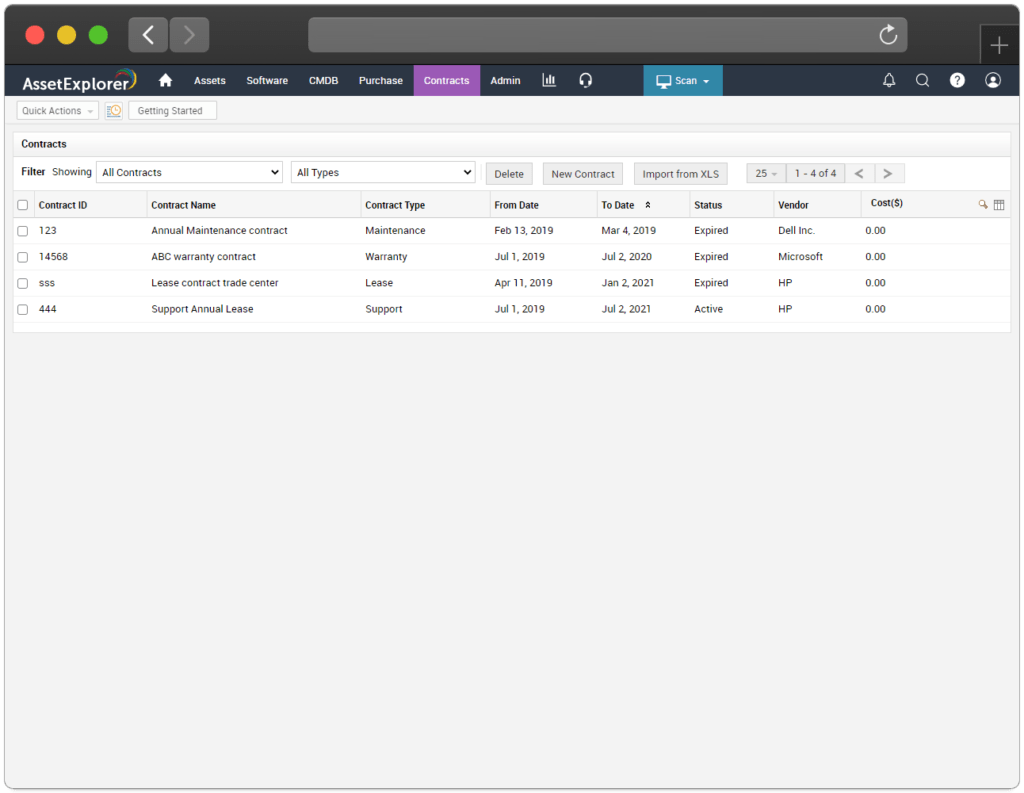 Contract management module with many functionalities
The main view of the module allows users to filter contracts based on two guidelines quickly. Their validity dates and basic types, e.g., maintenance, support, warranty, and leasing contracts. AssetExplorer allows importing data from an XLS file or filling in a form with all the necessary data. These include an identifier, parent contract, vendor, description, duration, and resource linkage.
ManageEngine Asset Explorer Pricing
Professional Edition is Starting From:
250 IT Assets
Audit Management
Compliance Management
Compliance Tracking
Configuration Management
Contract/License Management
Cost Tracking
Inventory Management
Maintenance Management
Procurement Management
Requisition Management
Supplier Management
Frequently Asked Questions
What is the purpose of Asset Explorer?
AssetExplorer gives users the tools and information needed to:
Stay compliant with license agreements
Eliminate spending on unused software
Manage hardware inventory
Track and report on IT purchases
Keep unauthorized applications off the network
What are Agentless and Agent-bases Scan option of AssetExplorer?
Agentless and Agent-based scans are supported by the Windows platform. The Agent is client-side software installed in the host to scan inventories and provide easy access for remote assistance. On the other hand, Agentless scans inventories using WMI (Windows Management Instrumentation).
How do I perform a domain scan in AssetExplorer?
After the installation and starting of  AssetExplorer for the first time, it detects all the domains in the network and from the neighboring network of the server on which it is installed.
Click Admin -> Windows Domain Scan to list all the domains.
Users can also enter the domain controller information, login name, and password on editing the domain user want to scan. The login name and password should be a domain admin login name and password.
What is the difference between Windows Domain Scan and Network Scan?
Windows Domain Scan fetches all the Windows Workstations and Servers available in the network. The scan is performed using an Agent or WMI (Windows Management Instrumentation).
Network Scan discovers all the Linux, Solaris, MAC, IBM-AIX machines and devices such as Printers, Routers, Switches and Access Points that are part of the network. In addition, the Windows machines and Workgroup (Windows machines that are not part of a domain) are also fetched.
Can technicians be notified automatically when prohibited software is detected?
Yes, AssetExplorer provides an option to automatically notify technicians on detecting prohibited software under Admin -> Notification Rules under General block -> select "Notify Technicians when Prohibited Software are identified during Domain/Network Scan" check box.
How do I install AssetExplorer?
Being the Swiss Partner of ManageEngine, Kidan is responsible for aiding with professional services, such as installing, implementing, configuring, training, and supporting the company to ensure an effective on-boarding of Asset Explorer.
To make it even better, Kidan even provides advice on top of it all!
Get in touch with us to know more
Want to continue the
conversation?
Thank you for your interest in ManageEngine's AssetExplorer solution. Please fill out the form below to ask a question or request assistance.