Software for managing IP addresses and switch ports
OpUtils complements existing management tools with real-time troubleshooting and monitoring capabilities. It makes it easier for network engineers to manage IP addresses and network switches. Thanks to the built-in tools, it is able to help with many network tasks, such as detecting intruders, checking Internet bandwidth consumption, monitoring the availability of key devices and performing Cisco device backups.
The tool is available from one web interface, so the users always have quick access to our environment.
OpUtils Features
With its suite of 40+ tools, OpUtils addresses the need of Network Engineers for troubleshooting connectivity issues and on-demand monitoring of the network.
Managing IP addresses in the organization
The OpUtils system can control the network and devices that are in it, thanks to extensive views. They allow each element to be thoroughly checked without the need for manual verification.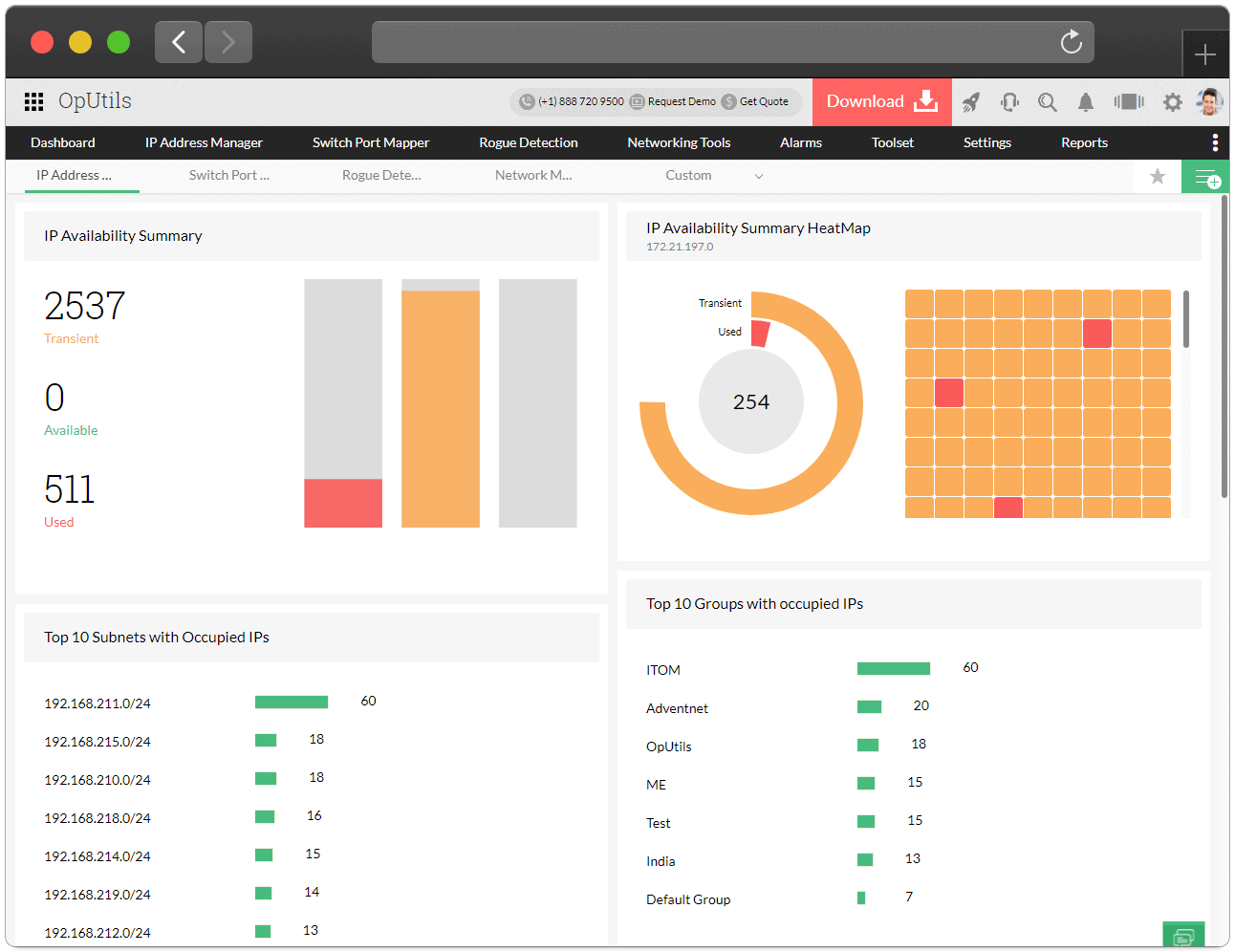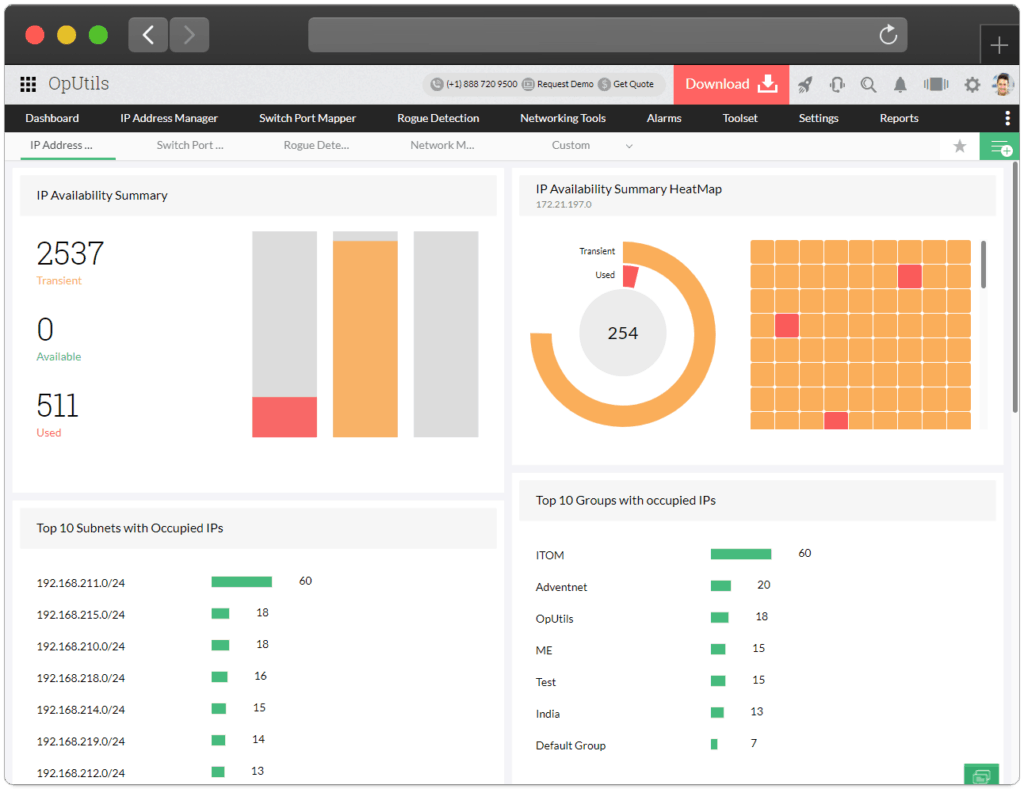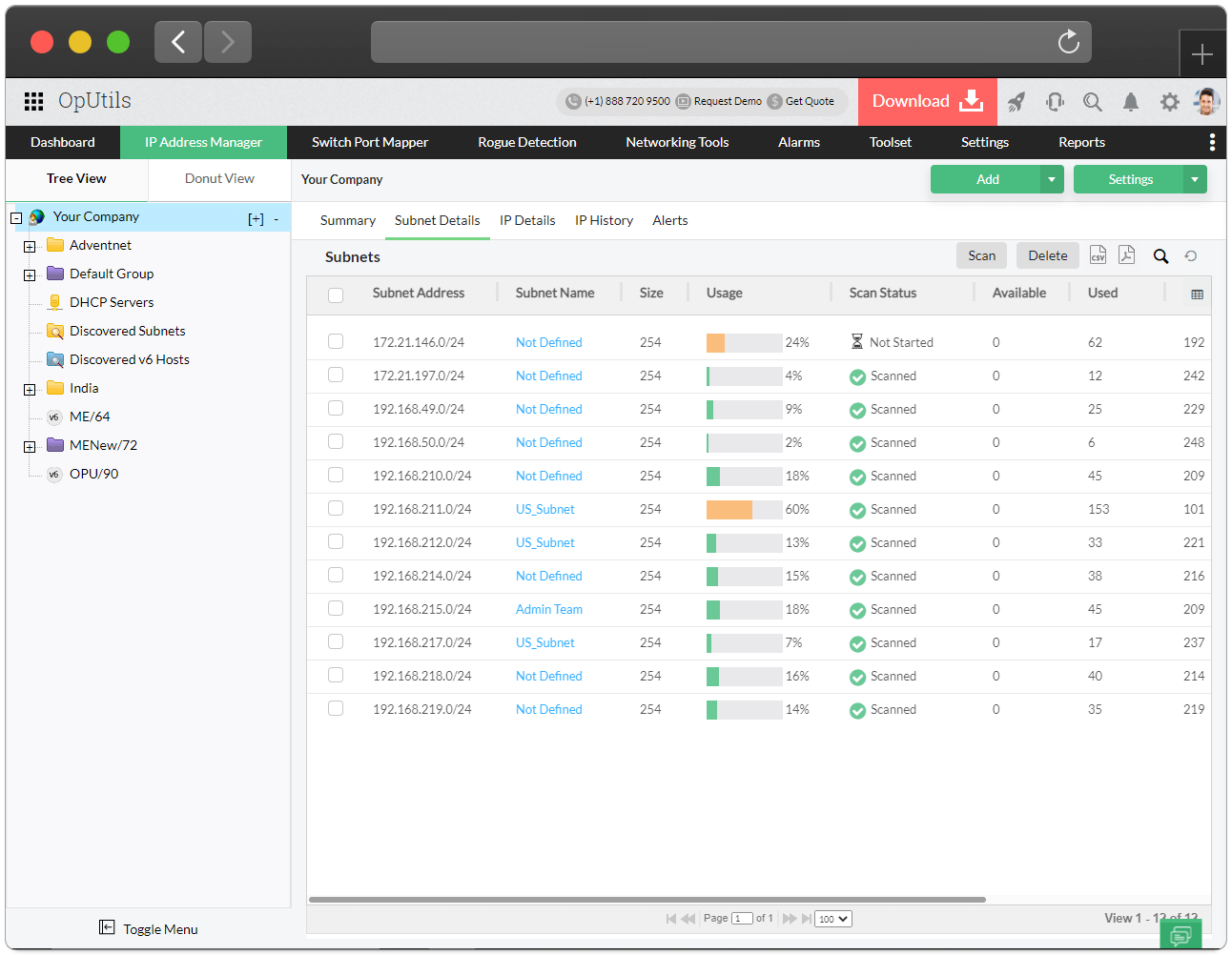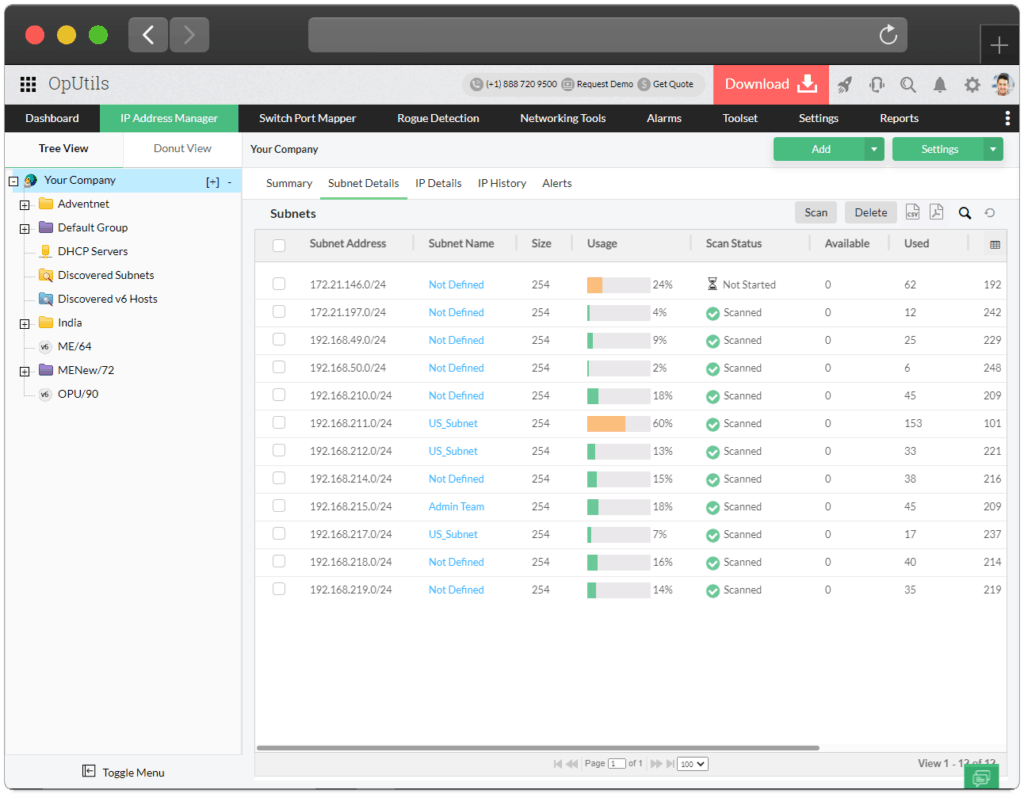 Control assigned IP addresses from one place
OpUtils scans the entire subnet at specified intervals. Thanks to this, always know everything about the current situation. The system allows scanning of multiple networks, which additionally allows controlling each subnet with each device. In addition, it also marks IP addresses as busy or free.
Verification of subnets and assigned IP addresses
Thanks to OpUtils, verify each subnet, as well as obtain detailed information on each of them. Thanks to this functionality, control how much the network is used in the organization, as well as how many free IP addresses are left. The application also uses DHCP routers, so it has a preview of all data in one place.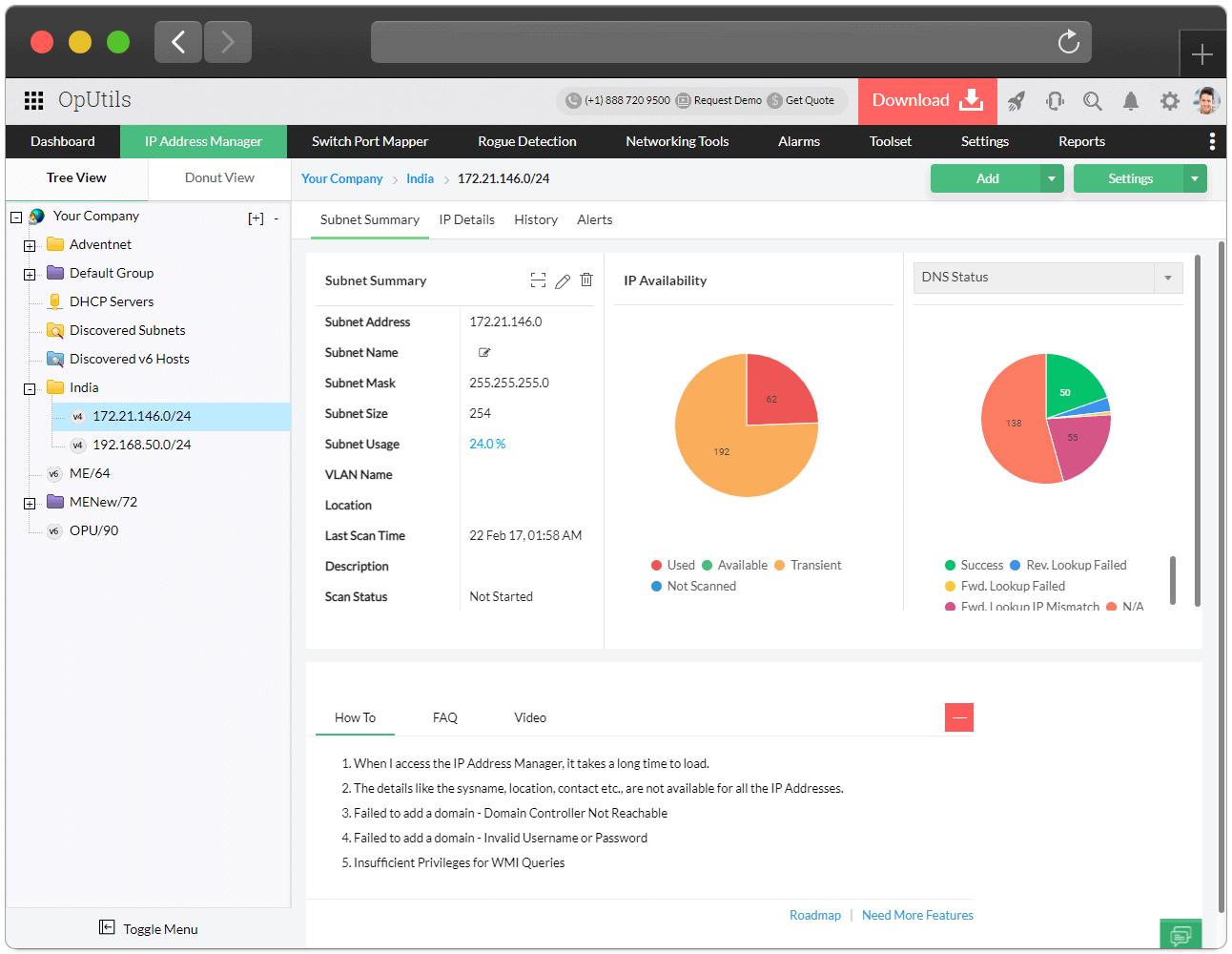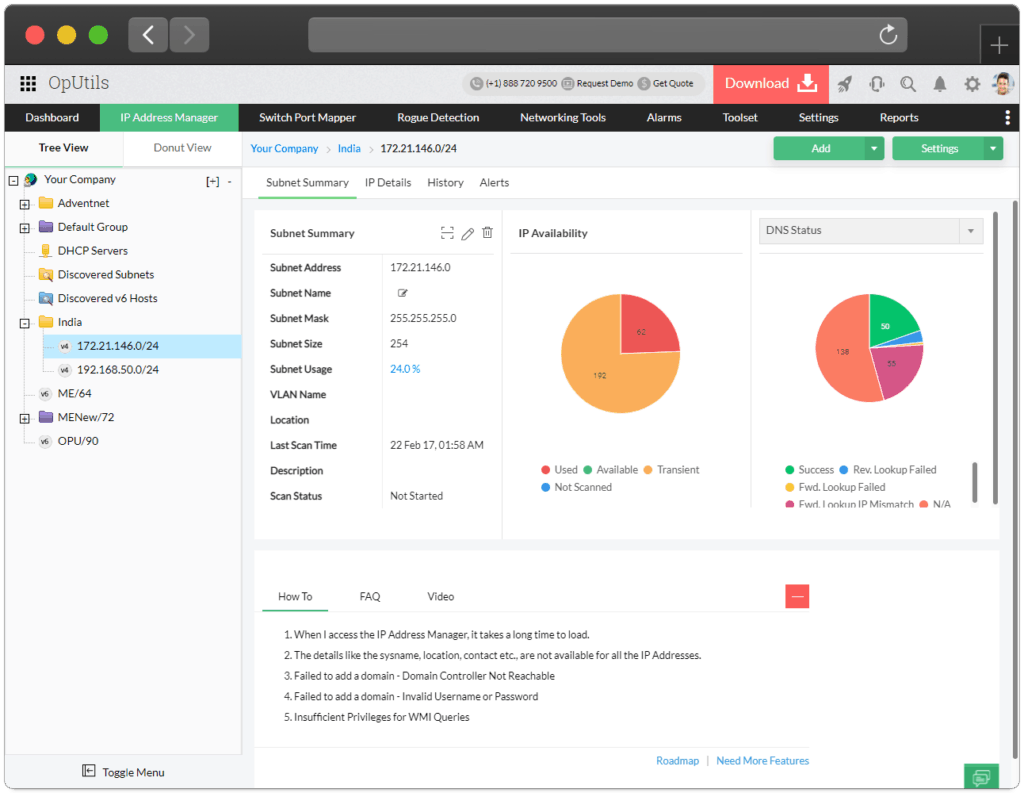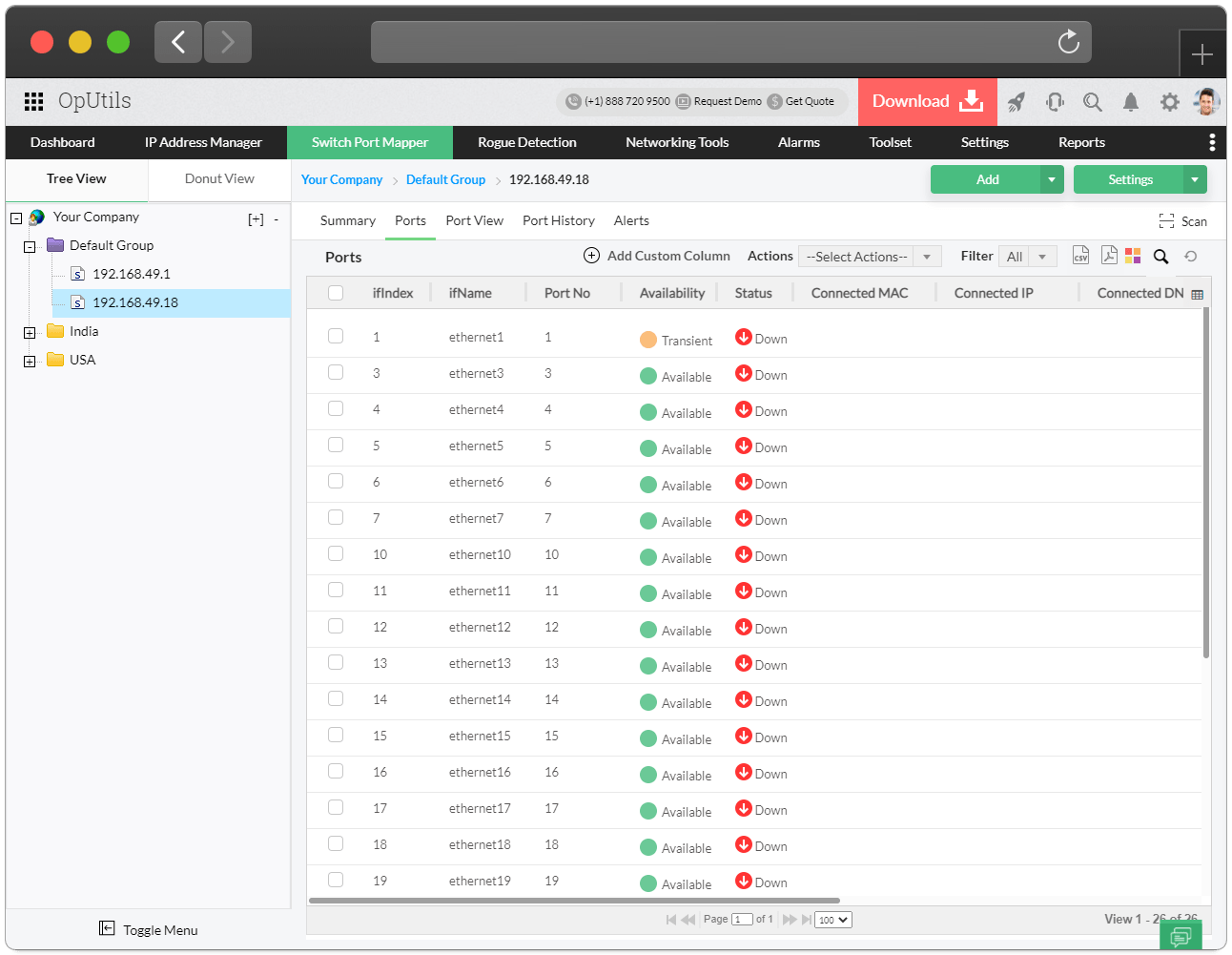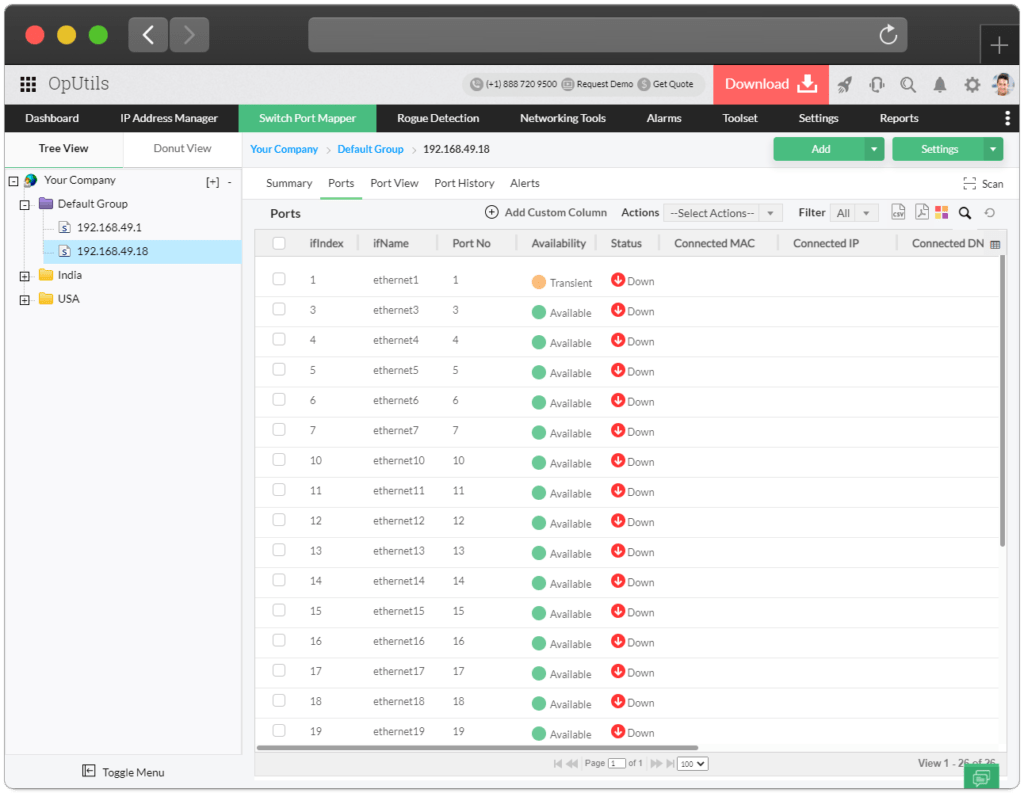 Analysis of devices connected to switches
The OpUtils tool can visualize which specific switch a given device is connected to. Thanks to this feature of the system, the need to remember or mark where devices are connected is eliminated. OpUtils will analyze this data and then present it in the form of easy-to-read tables.
Detection of forbidden devices in the network
By knowing what devices are allowed on the network, OpUtils can also tell us about all devices that should not be on the network. It also notifies when they have been detected and what company they come from.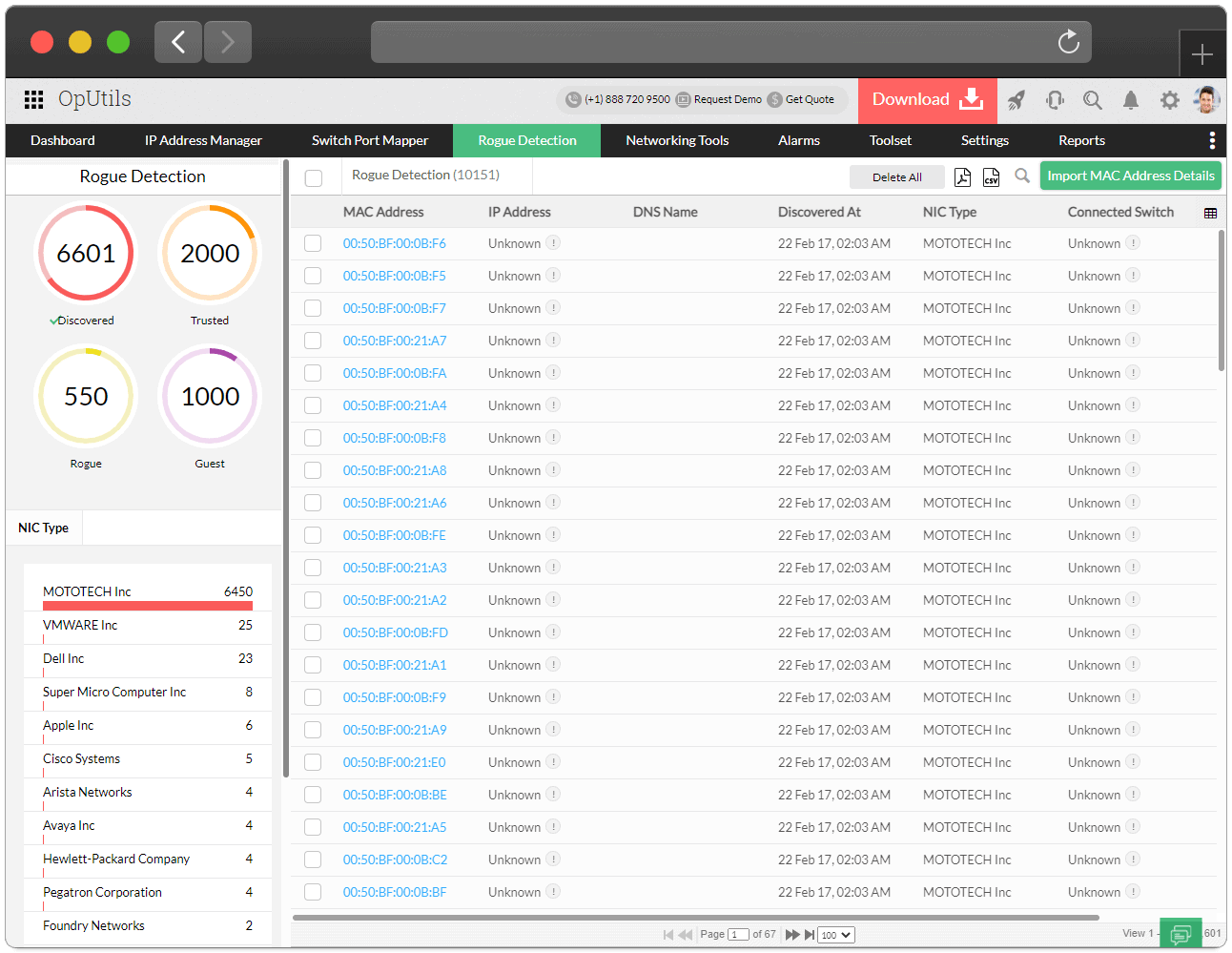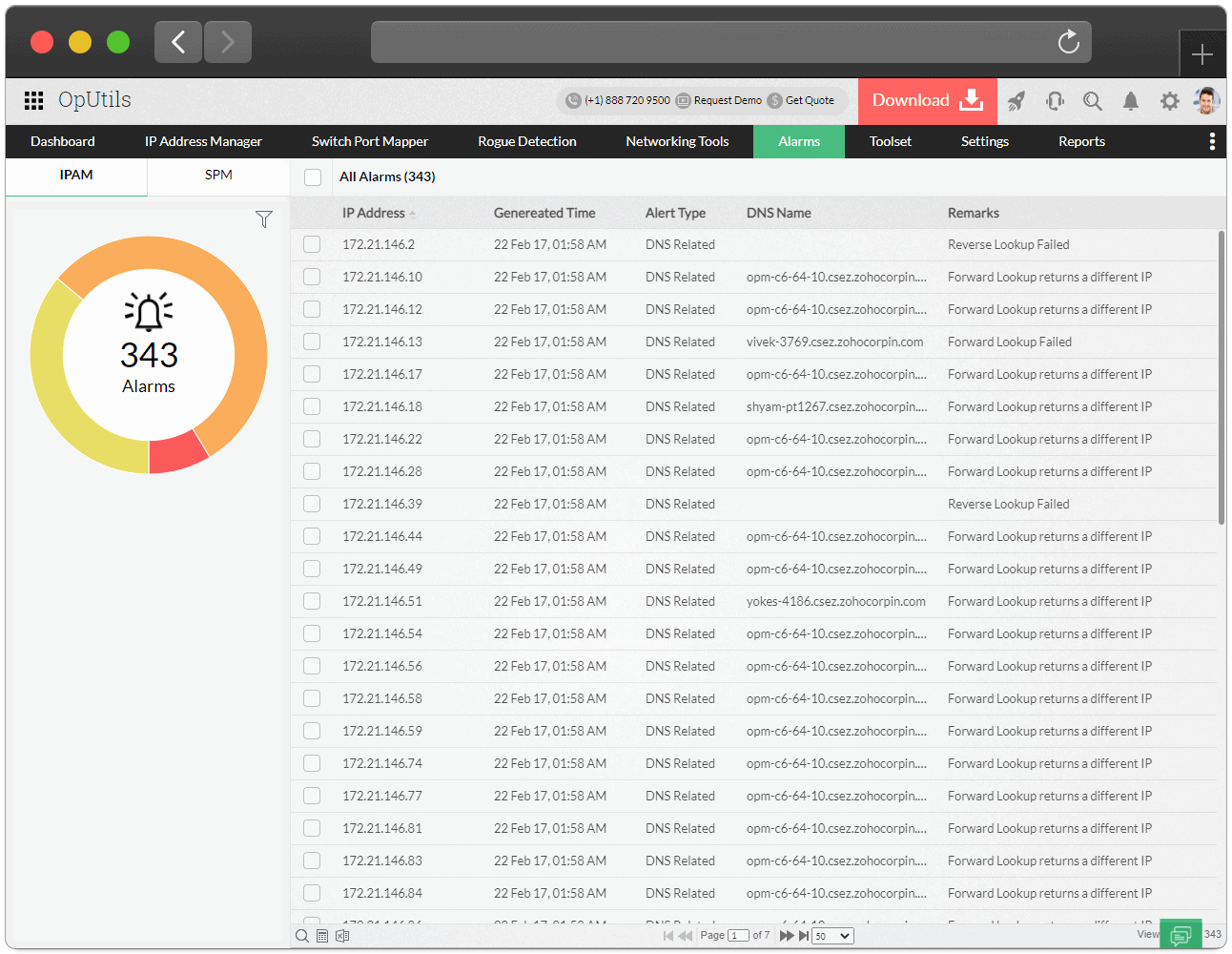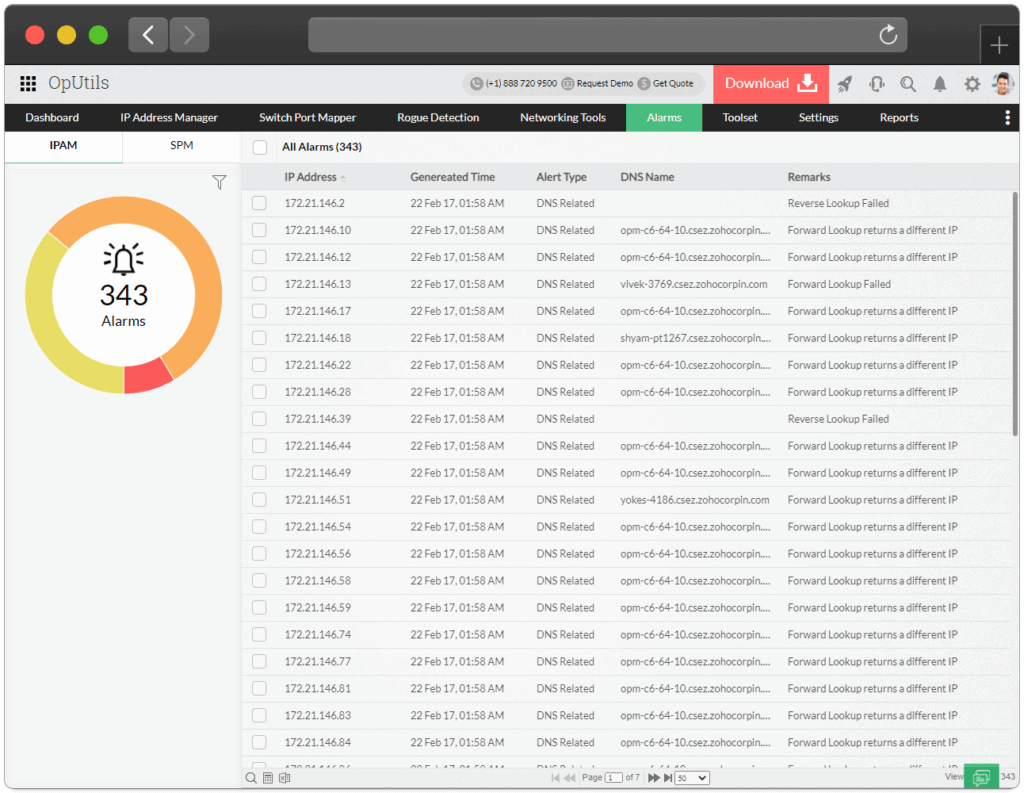 Real-time notification of infrastructure problems
The system has a real-time alert function. It provides information about each event that occurs on the network in the form of a message. Starting from the lack of response of a given device, through an incorrect IP address, and ending with the reserve DNS lookup. OpUtils also notifies which switch is currently down, which allows reacting quickly in the event of a failure.
Testing the network with built-in IP address management tools
OpUtils has a built-in toolkit that any administrator will find useful. From the level of the graphic interface user can, among others ask for device availability, determine its routes in the network, poll for CLI and verify responses on specific ports.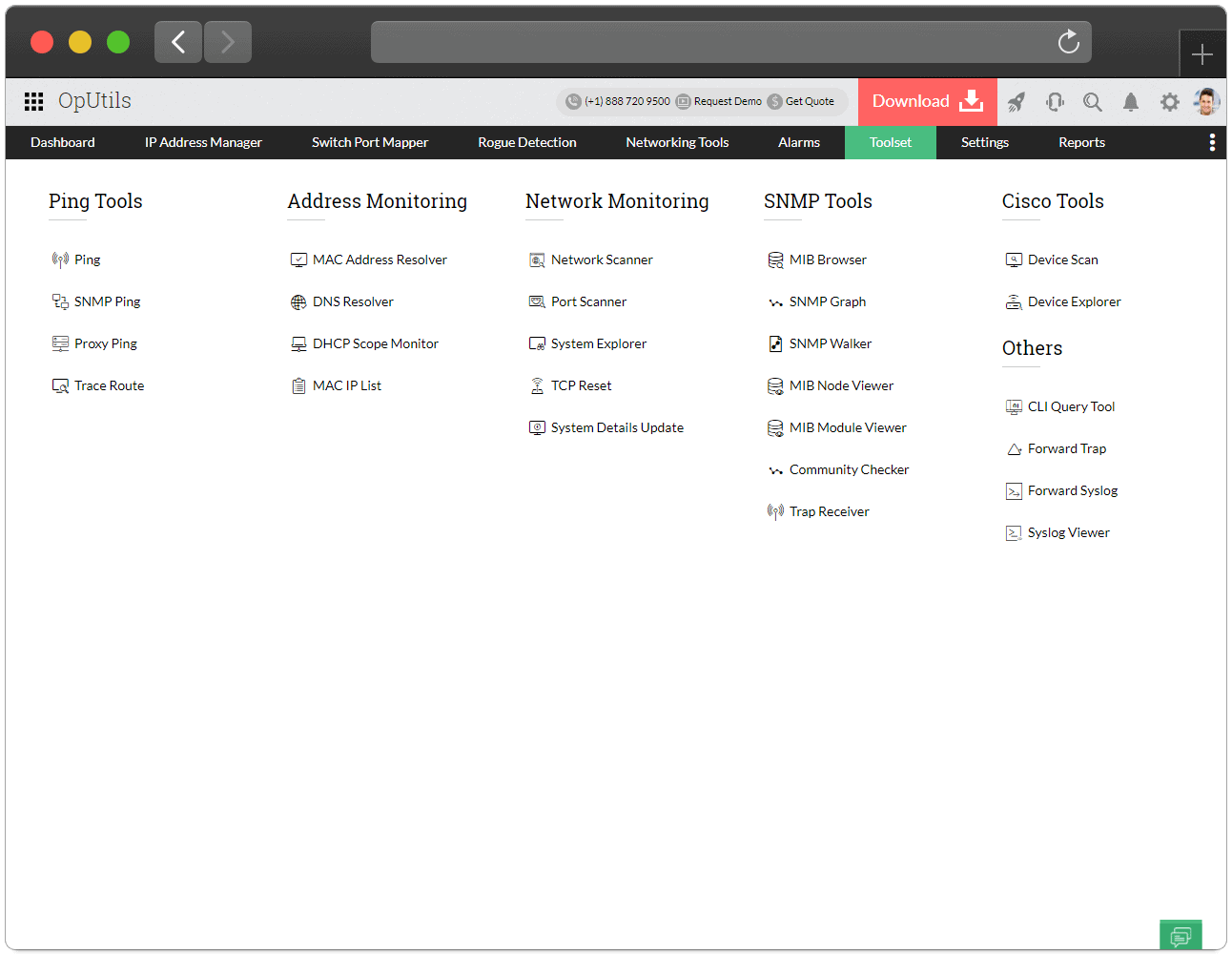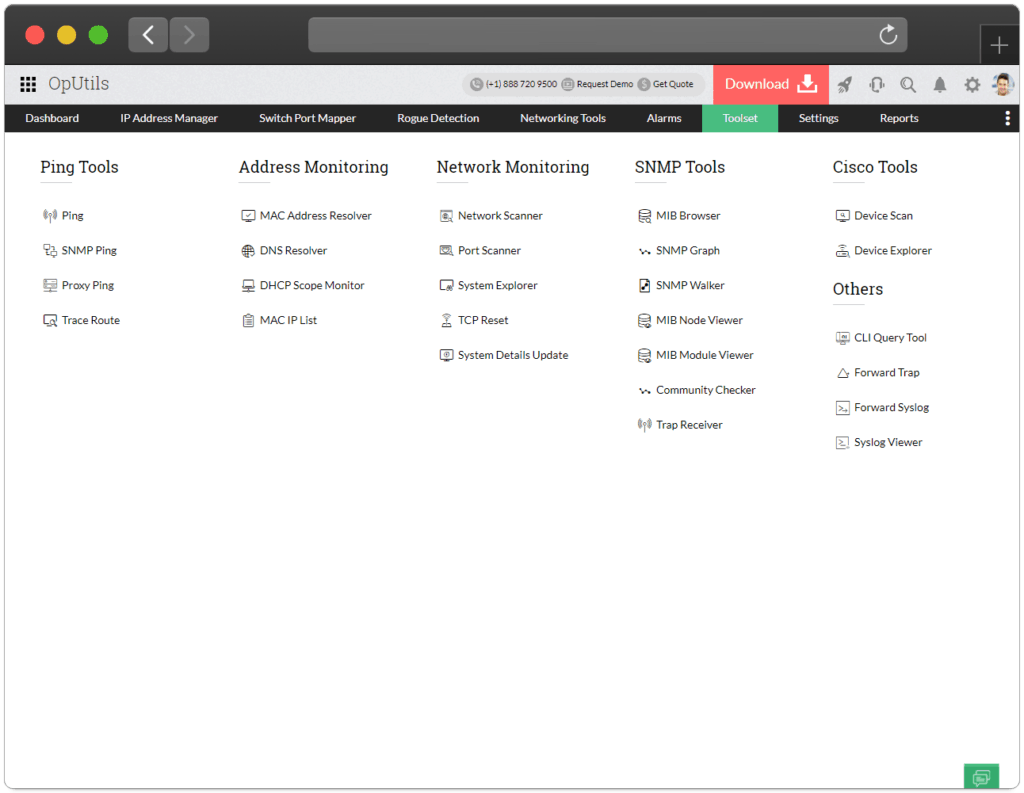 ManageEngine OpUtils Pricing
OpUtils is Starting From:
Features:
Alerts / Escalation
Change Management
Historical Audit
Network Monitoring
Frequently Asked Questions
What is the purpose of OpUtils?
OpUtils is a Switch Port & IP Address Management software that helps IT admins manage switches and IP Address Space with ease. With its comprehensive set of 30+ network tools, it helps users perform network monitoring tasks like detecting rogue device intrusions, keeping a check on bandwidth usage, monitoring availability of critical devices, backing up Cisco configuration files, and more.
Can I install OpUtils in one machine and access it remotely?
Yes, the user can install OpUtils in one machine and access the tools from any web browser.
Does OpUtils integrate with any other Manageengine product?
Yes, OpUtils is also available as a plug-in to ManageEngine OpManager. Users will be able to use IPAM and Switch Port Mapper in integrated mode.
What are Rogue IP addresses and how to deal with them?
Rogue Detection tool of OpUtils software helps in detecting unauthorized access of network resources. The tool scans routers, subnets, switches, gateway servers, etc., periodically and detects the wireless/wired rogue systems, devices, Access Points, and more.
What are the System requirements for OpUtils?
Supported JDK – JDK 1.5 and above is required for ManageEngine OpUtils.
Platforms – OpUtils is platform-independent and supports operating systems such as – Windows 2000, Windows NT, RedHat Linux 7.x and above.
Supported Browsers for OpUtils are – Internet Explorer 5.5 and above, Netscape 7.0 and above, and Mozilla Firefox 1.0 and above.
How do I install OpUtils?
Being the Swiss Partner of ManageEngine, Kidan is responsible for aiding with professional services, such as installing, implementing, configuring, training, and supporting the company to ensure an effective on-boarding of OpUtils.
To make it even better, Kidan even provides advice on top of it all!
Get in touch with us to know more.
Want to continue the
conversation?
Thank you for your interest in ManageEngine's OpUtils solution. Please fill out the form below to ask a question or request assistance.