Firewall Analyzer
Get full visibility and control over the security of the entire network
Firewall Analyzer is a log analysis and configuration management software. It is an agentless solution that helps administrators understand how bandwidth is being used on their network. Additionally, the tool is vendor-independent and supports almost all open source firewalls and commercial networks such as Check Point, Cisco, Juniper, Fortinet, Palo Alto, and others.
It allows for quick insight into the environment from the level of a web browser. Thanks to this, it allows trouble-free work from anywhere and monitoring our environment in real-time.
Firewall Analyzer Offerings
A single platter for comprehensive Network Security Device Management
Observing using advanced dashboards
The Firewall Analyzer log analysis system has extensive views, allowing in-depth visualization of the environment. The system collects all data and presents them in an administrator-friendly form. Thanks to this function, all the events in the environment can be viewed.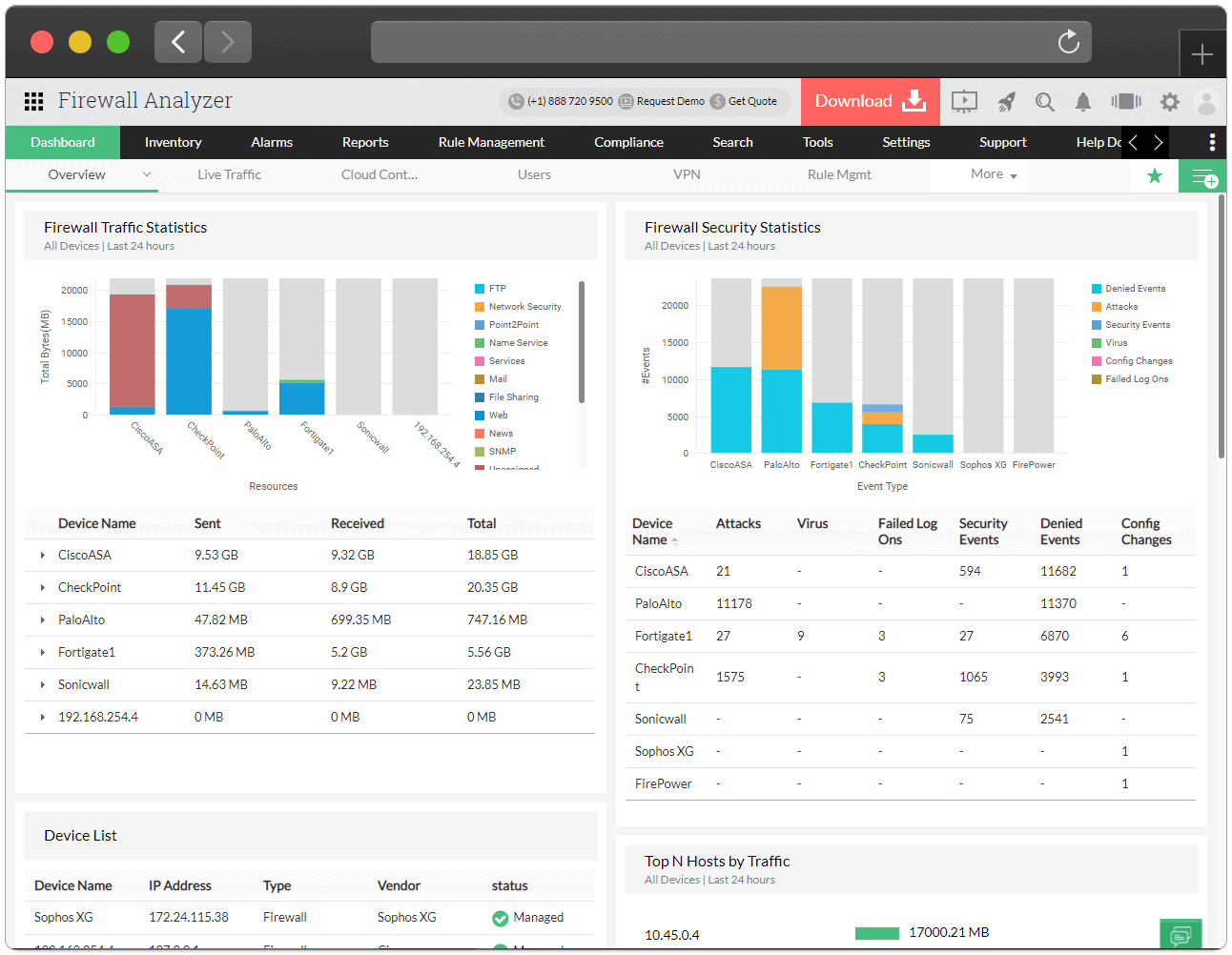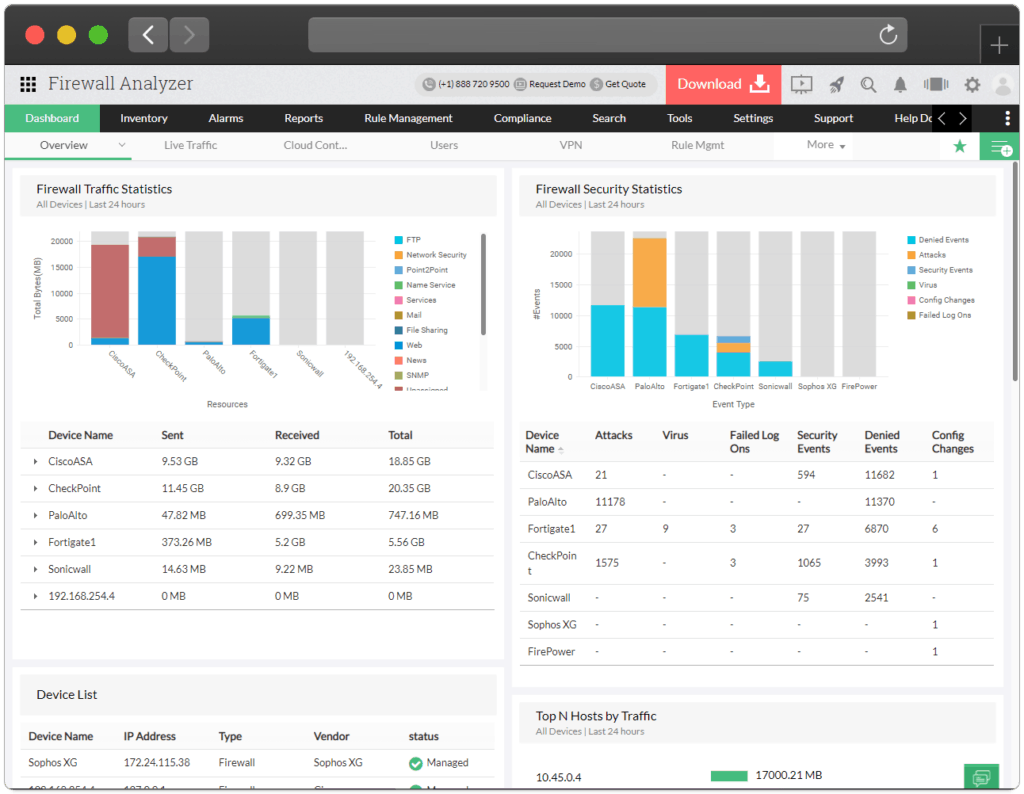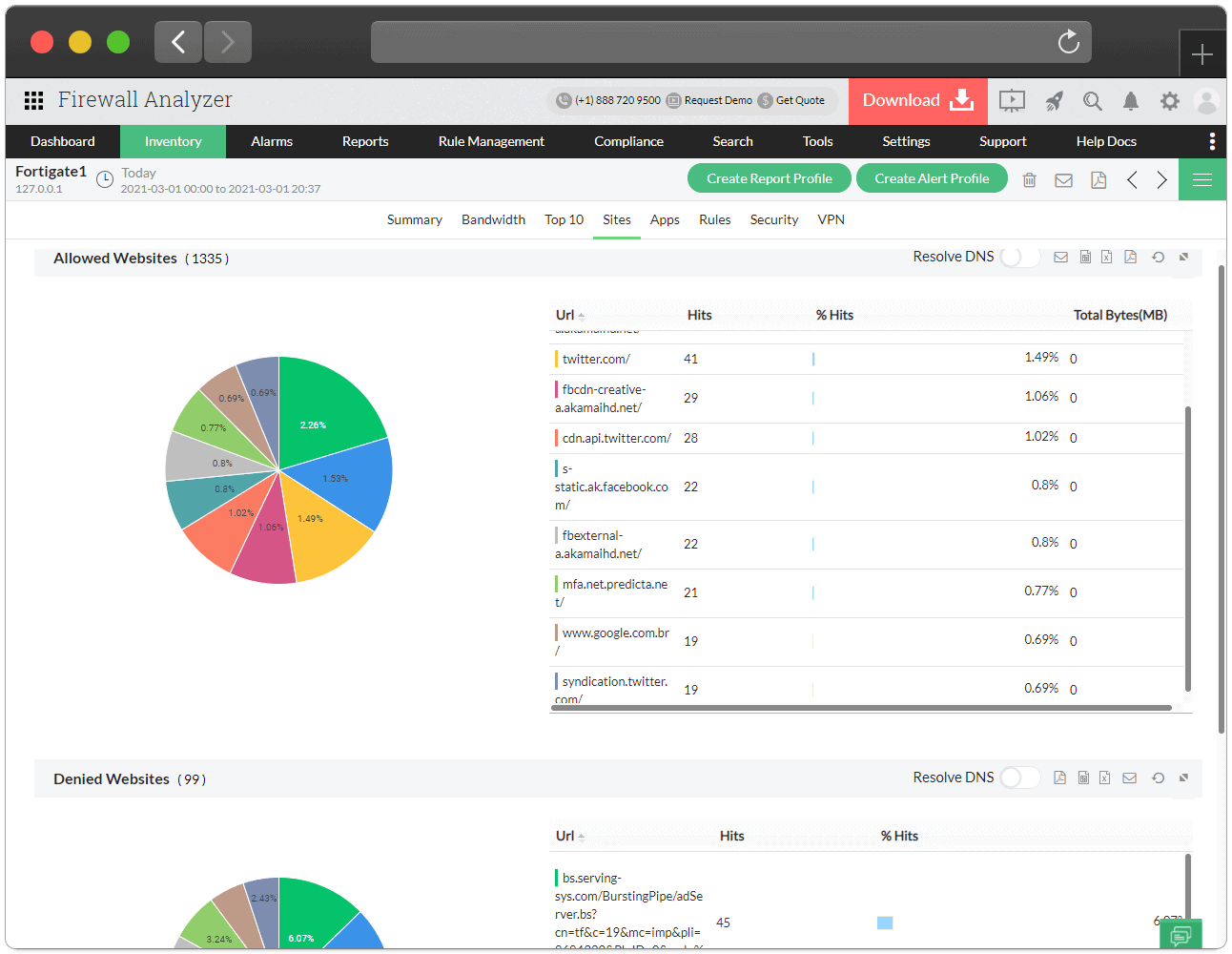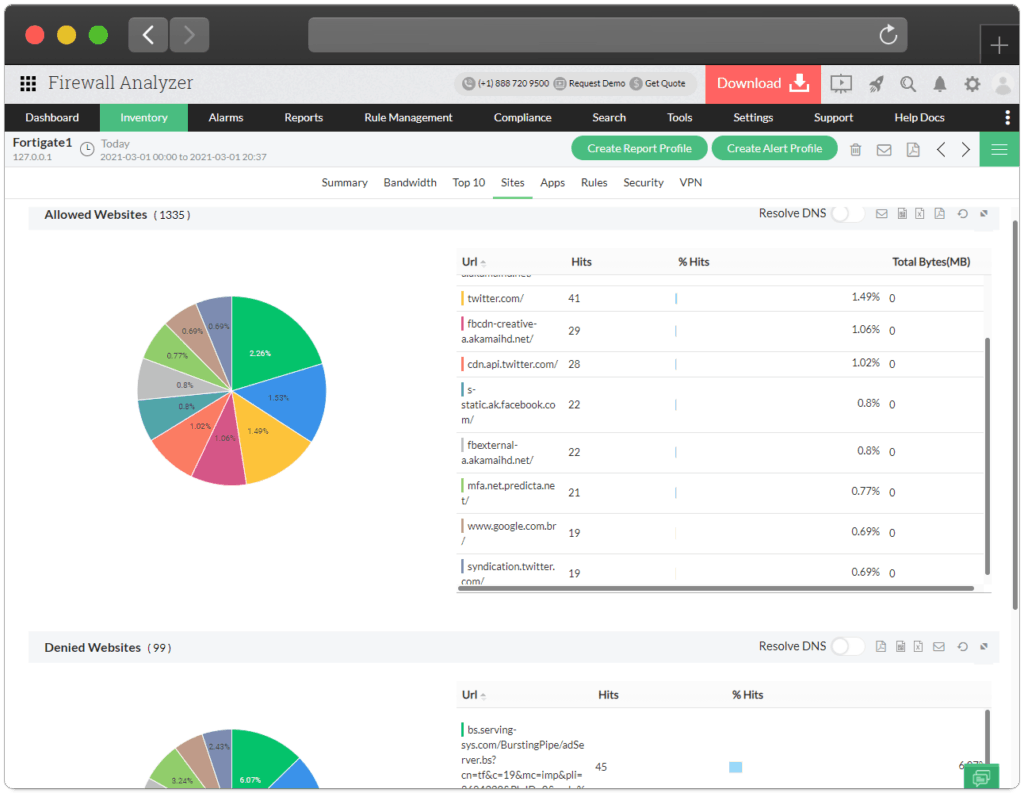 Easy-to-view information
The system collects a lot of information from connected devices and stores them archived in its database. Thanks to this, historical and current values can be reviewed easily. Firewall Analyzer can present information from the most detailed to general, thanks to which every element in the environment has a detailed view.
Real-time notifications
The system has a built-in alerting module that notifies the administrator in the event of an anomaly. The administrator can define appropriate boundary values and if they are exceeded, the administrator will be informed immediately.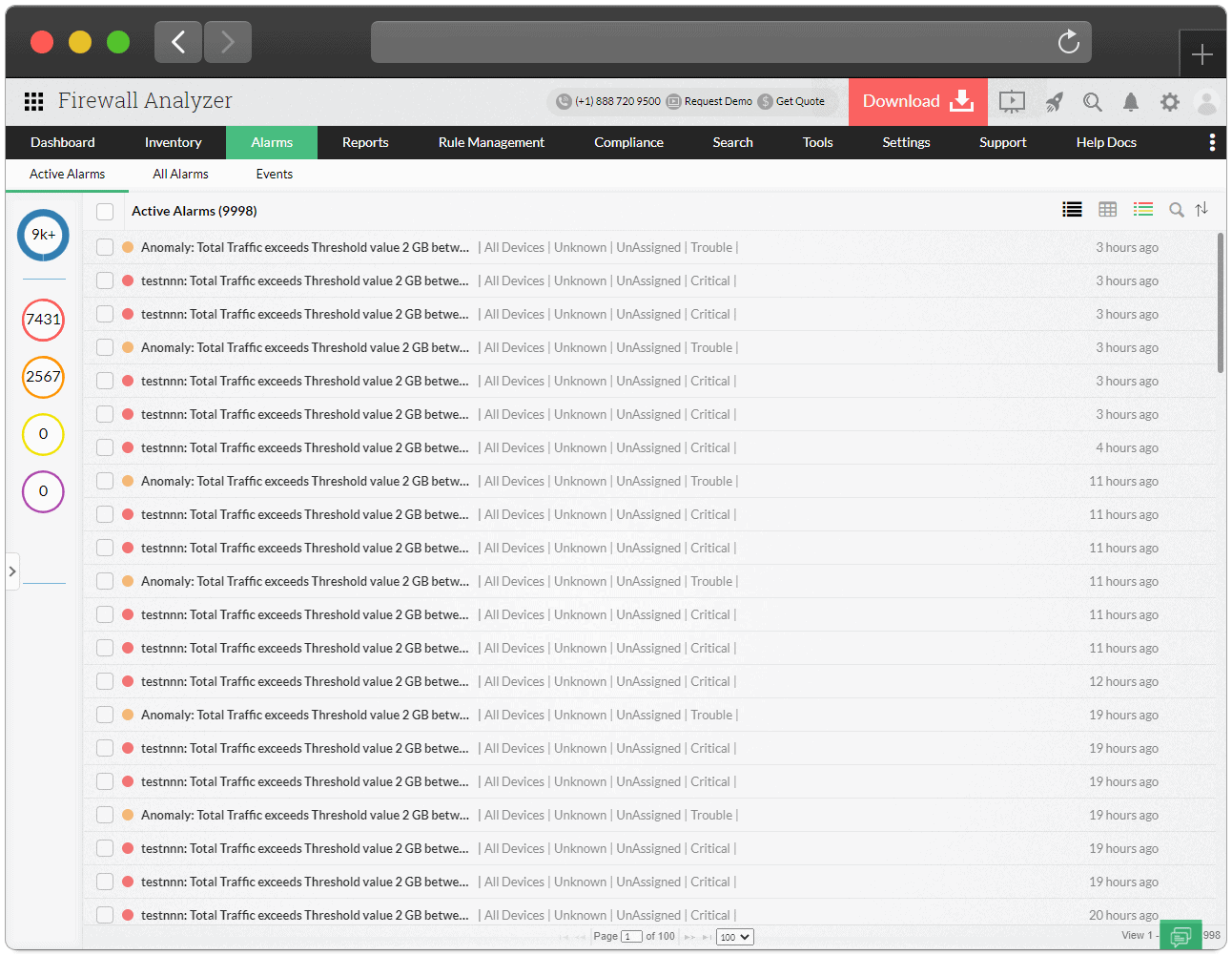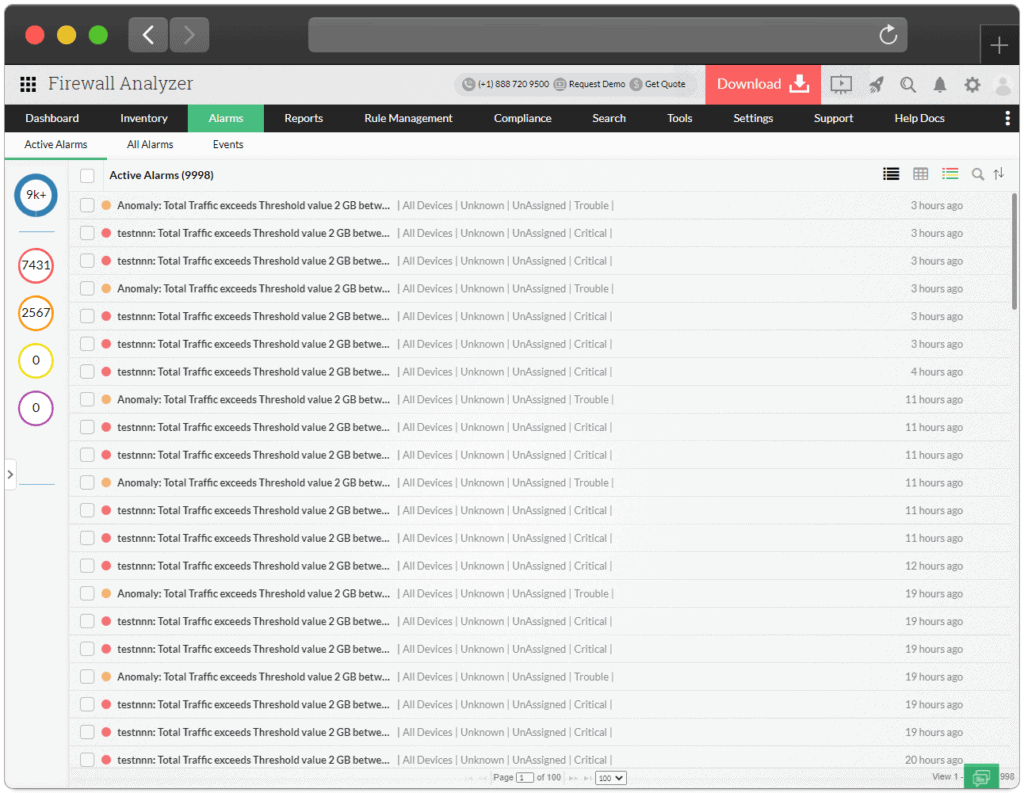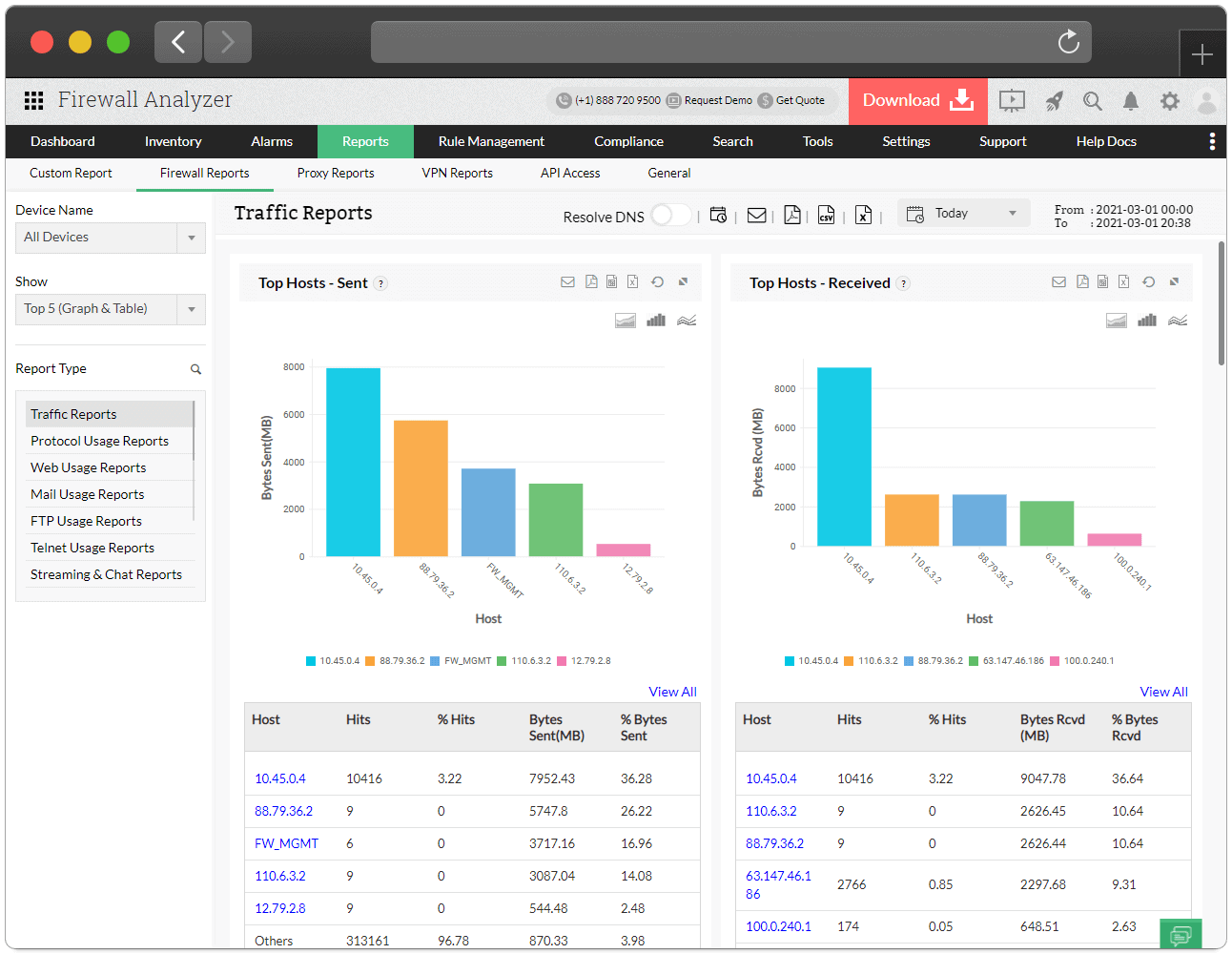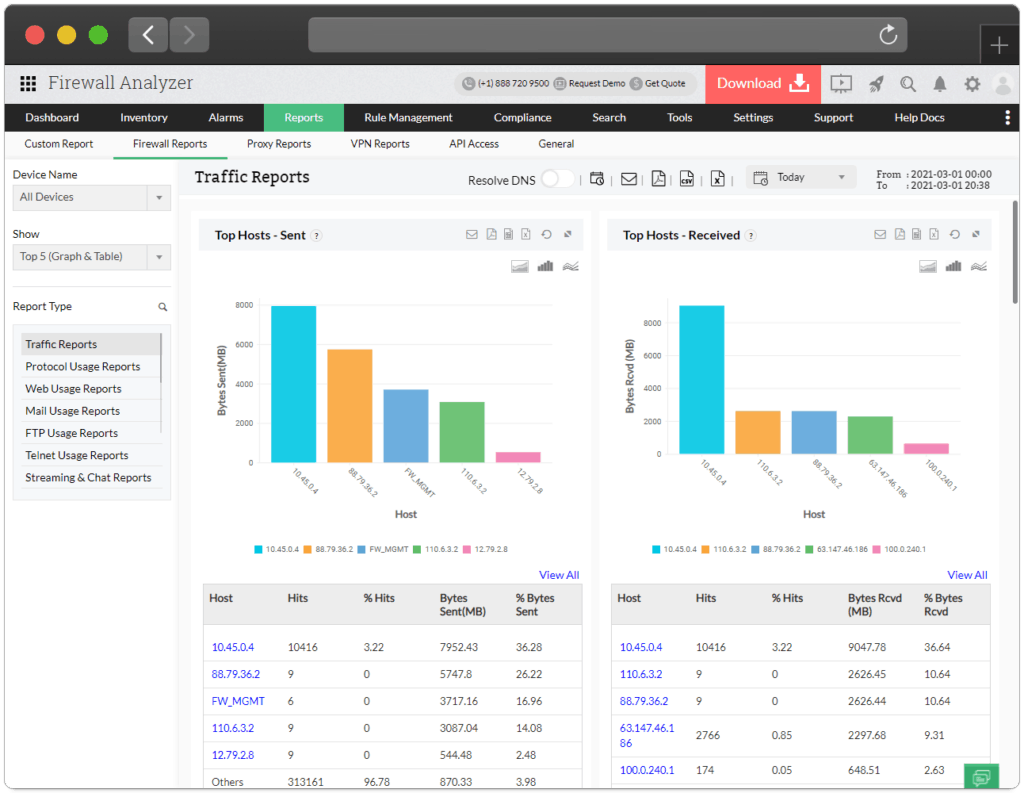 Log analysis system with specialized reports
Firewall Analyzer, in addition to dashboards, also has a reporting module, thanks to which users can report any activity that interests the administrators. The integrated module allows to view historical data from the entire environment, present it in a friendly manner, and export this data to various formats.
Manage firewall rules centrally
The system analyzes the current rules on firewalls and identifies rules that are never used. In addition, it can suggest which rules are redundant and there is no need to duplicate them on the network devices. These features help administrators to quickly manage their environment.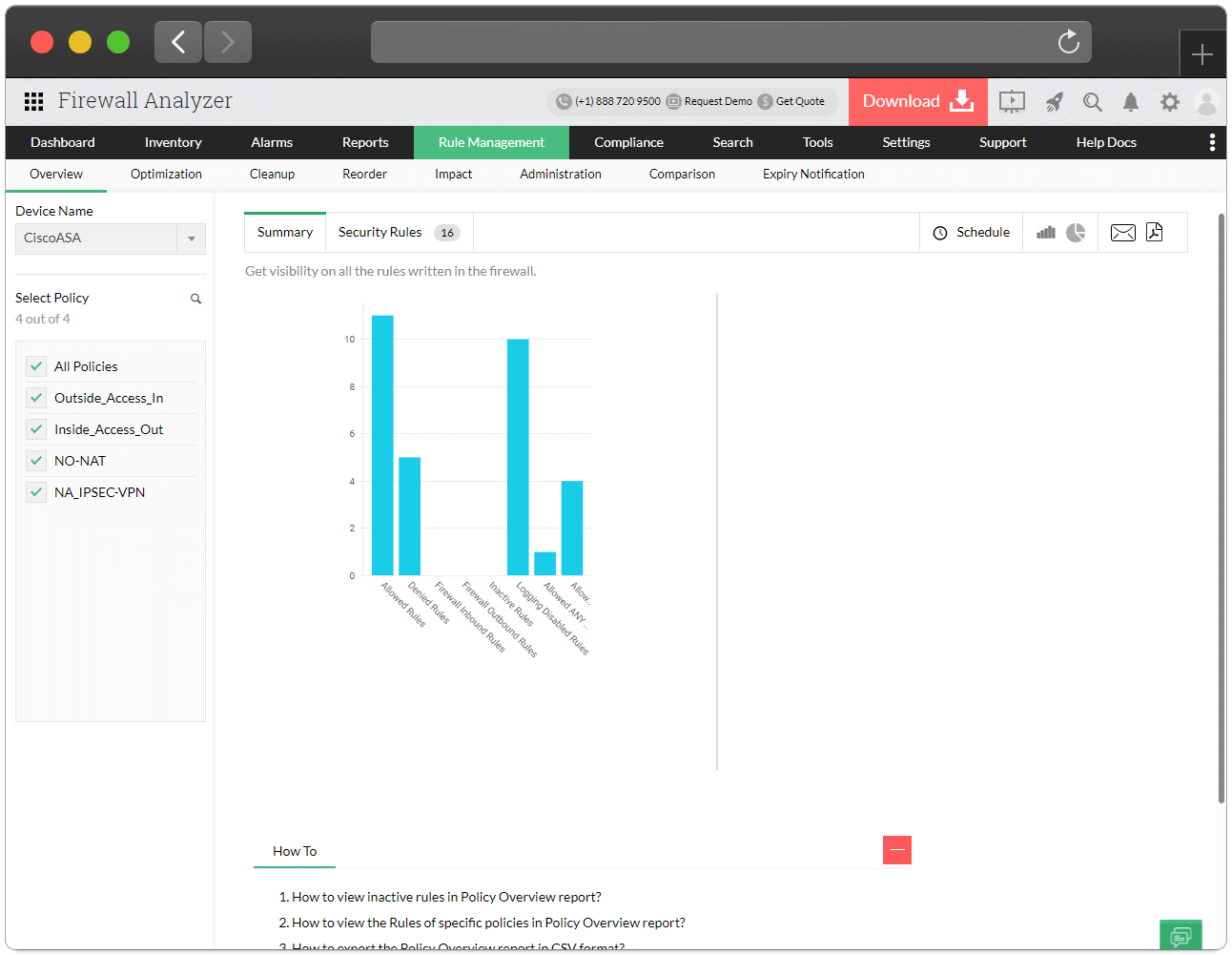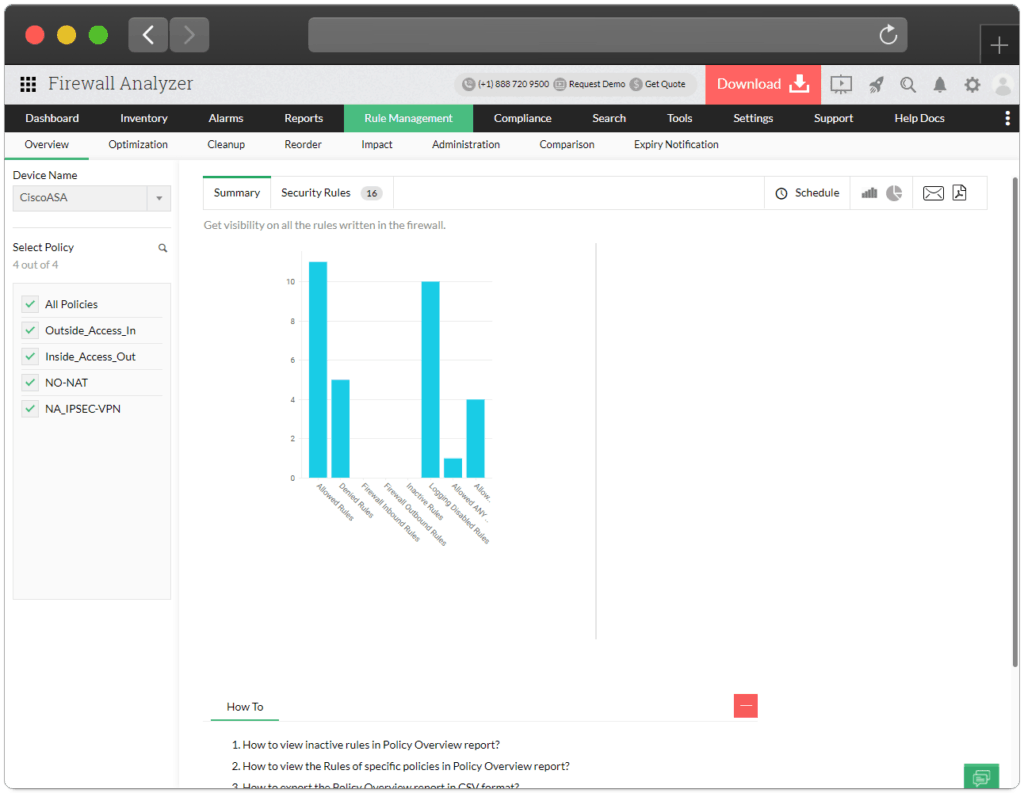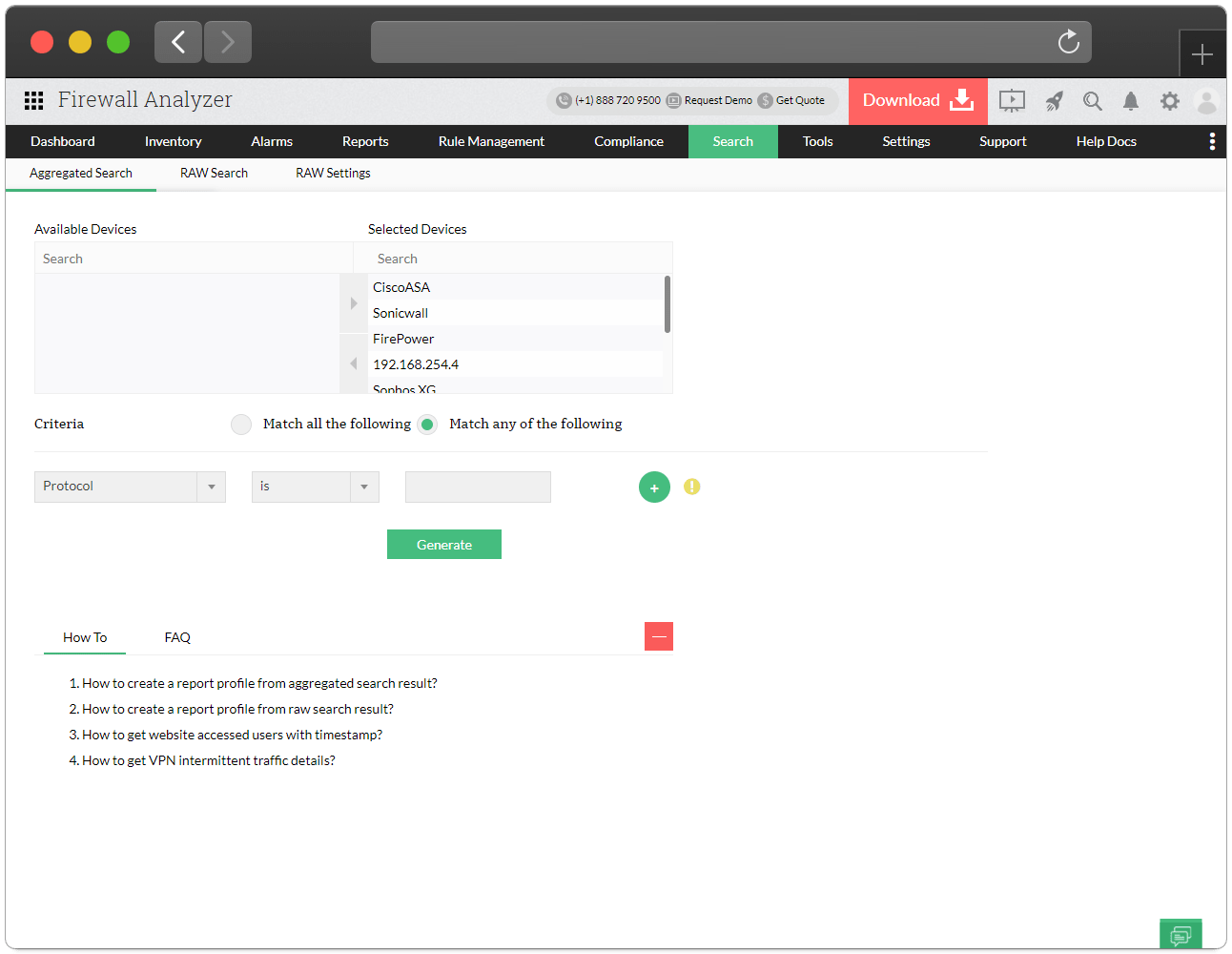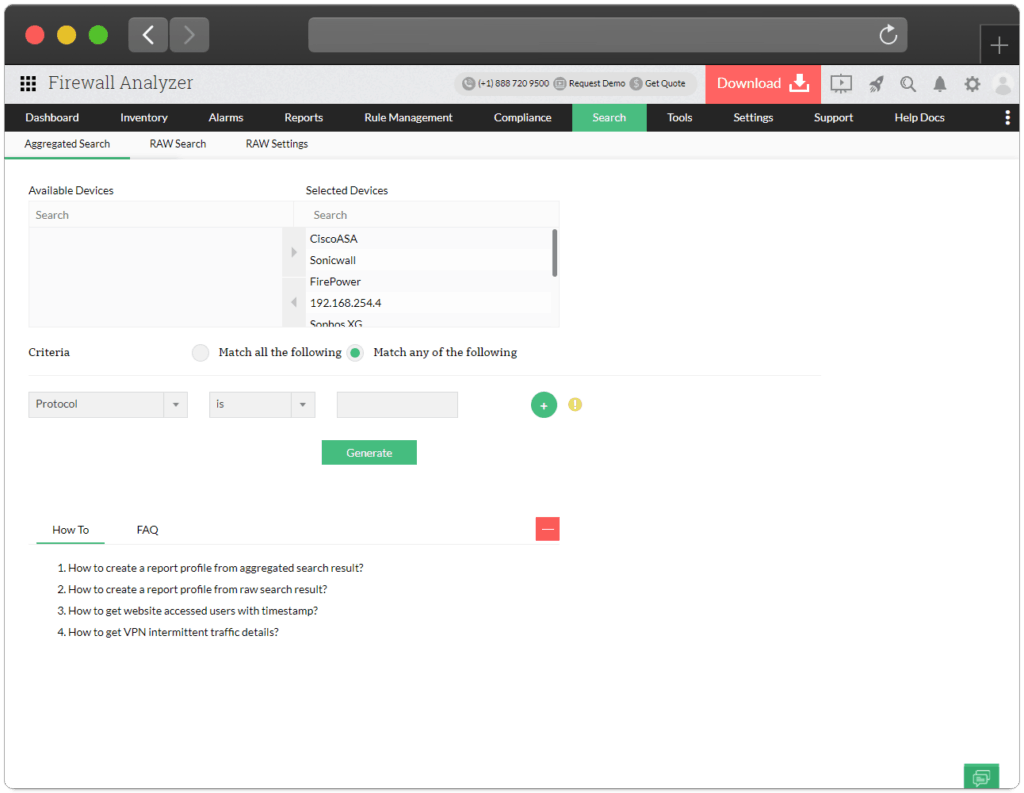 Search logs from a unified user interface
Firewall Analyzer has the ability to search all information provided by firewalls. Every logged file can be searched from the devices without having to go to each individual device. Thanks to this, filtering by appropriate phrases are much easier.
Test the network with built-in tools
The system has a built-in set of tools that will be useful for any administrator. From the level of the graphical interface check device availability, determine the routes in the network, poll for CLI, and verify responses on specific ports.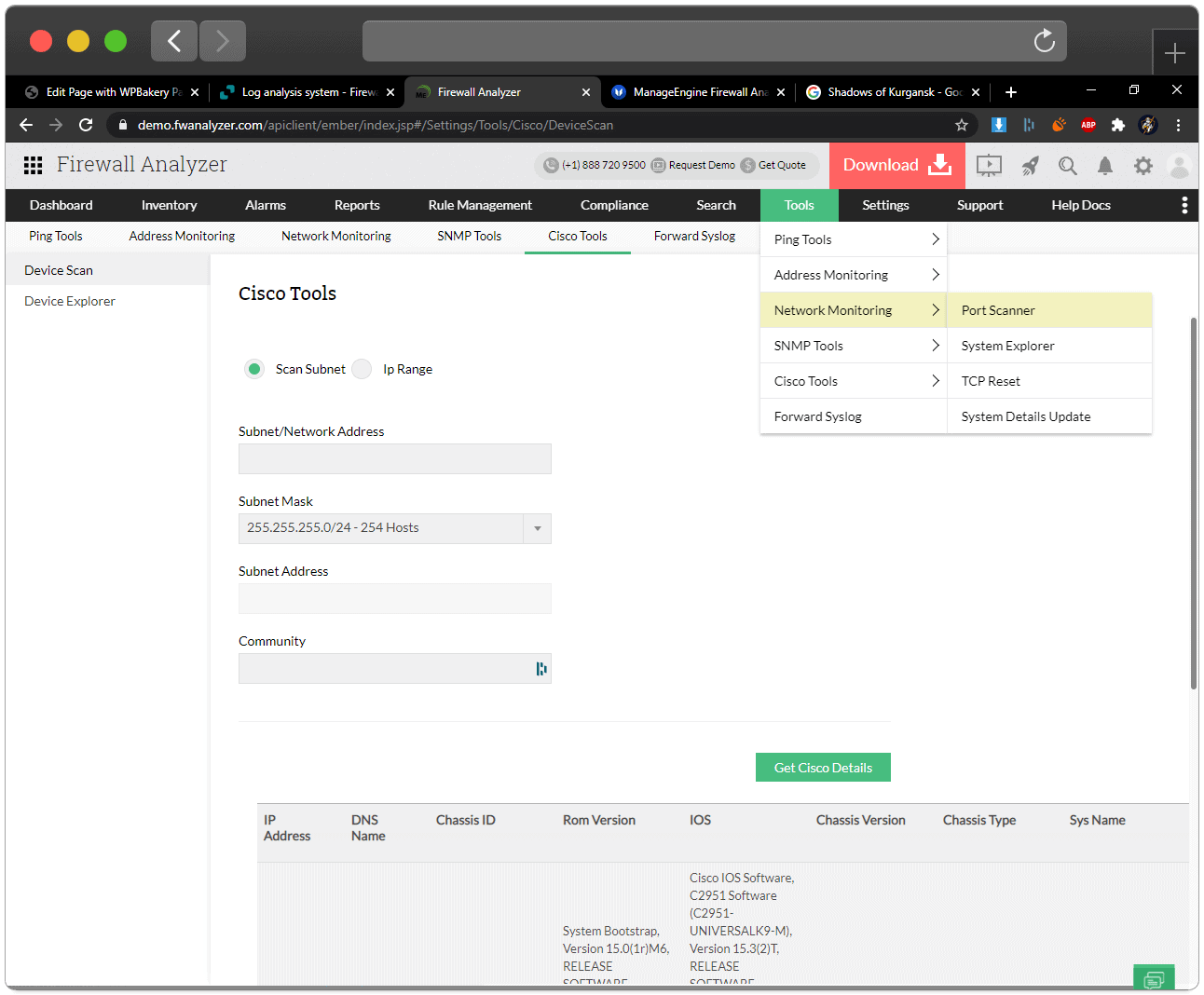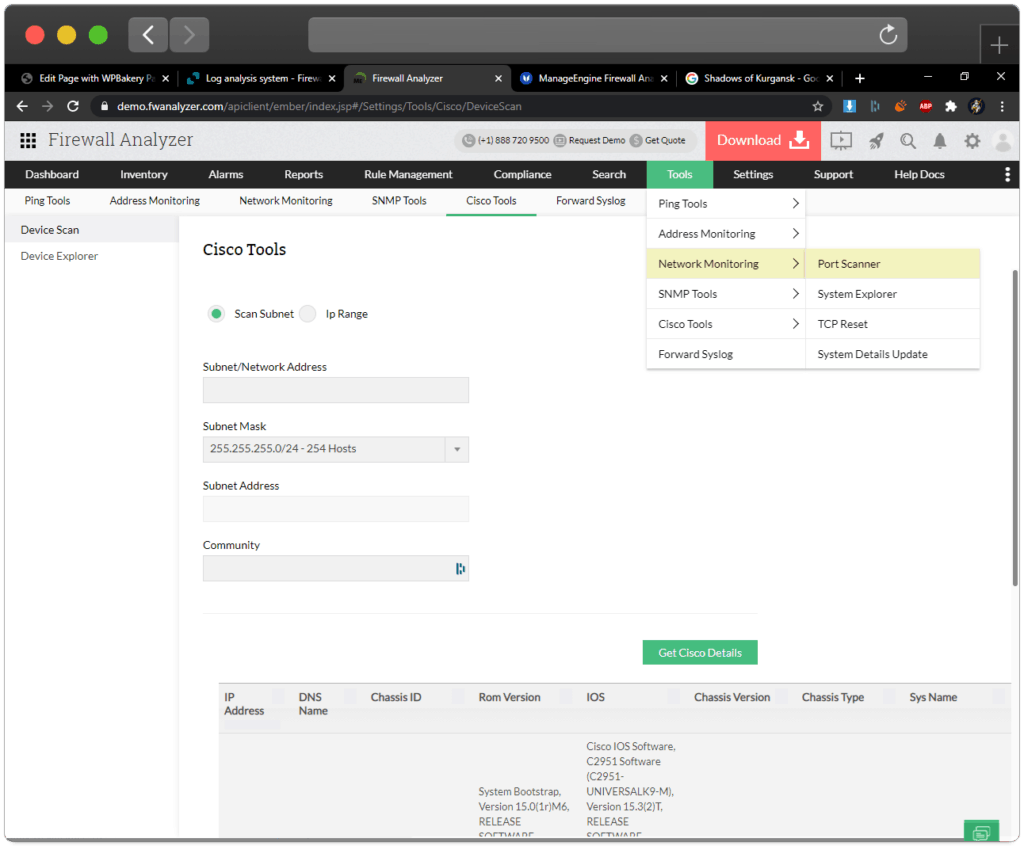 Frequently Asked Questions
Are there any restrictions on Firewall Analyzer Trial version?
The trial version is a fully functional version of Firewall Analyzer. When the trial period expires, you cannot restart the server.
How many users can access the application simultaneously?
This depends only on the capacity of the server on which Firewall Analyzer is installed. The Firewall Analyzer license does not limit the number of users accessing the application at any time.
How is Firewall Analyzer licensed?
Firewall Analyzer is licensed based on the Number of Firewall devices being monitored. In the need to monitor Firewall devices in high availability mode, ensure that the Firewall device is associated with one source (i.e., a single IP address/hostname), where the source is considered as one device for licensing purposes.
Is there a limit on the number of users or web sites that I can monitor?
There is no license restriction on the number of users or websites that can be monitored. However, performance issues may occur when using lower-end machines to run Firewall Analyzer.
Can I still use this product without a firewall, proxy server, or Radius server?
Yes, Firewall Analyzer can be used to simulate firewall logs and see how reports will look like when real-time data is used. Click the Simulate link in the Settings tab to begin sending sample log files to Firewall Analyzer.
How do I install Firewall Analyzer?
Being the Swiss partner of ManageEngine, Kidan is responsible for aiding with professional services, such as installing, implementing, configuring, training, and supporting the company to ensure an effective on-boarding of Firewall Analyzer.
To make it even better, Kidan even provides advice on top of it all!
Get in touch with us to know more.
Want to continue the
conversation?
Thank you for your interest in ManageEngine's Firewall Analyzer solution. Please fill out the form below to ask a question or request assistance.