Introducing Site24x7
All-in-One Monitoring Solution
Site24x7 offers unified cloud monitoring for DevOps and IT operations within small to large organizations. The solution monitors the experience of real users accessing websites and applications from desktop and mobile devices. In-depth monitoring capabilities enable DevOps teams to monitor and troubleshoot applications, servers and network infrastructure, including private and public clouds. End-user experience monitoring is done from more than 100 locations across the world and various wireless carriers.
Features Overview
Site24x7 is a cloud-based all-in-one monitoring solution from Zoho
All-in-One Monitoring Solution
Site24x7 is a cloud-based all-in-one monitoring solution from Zoho Corporation that helps DevOps, and IT teams monitor uptime and performance of all aspects of IT infrastructures. Monitoring services include websites, virtual and on-premise servers, network devices, applications, and more. The tool provides AI-powered insights, in-depth performance reports with instant alerting systems to ensure users are always updated on their IT resources' performance.
Most Flexible Cloud Monitoring Solution
More than 10,000 customers use Site24x7 to monitor more than 275 technologies, frameworks, and services. Site24x7 helps IT and DevOps teams of all shapes and sizes break down the complex relationships between their IT infrastructure, applications, customers, and businesses.
Simple & Better Website Monitoring
Website monitoring, the continuous process of testing a website from global locations, can help measure a site's performance and minimize downtime. However, this does not provide a complete picture.
With Site24x7, besides uptime status, monitor performance of services like DNS, FTP, and SMTP, check API health, detect unsafe URLs, communicate incidents when outages strike, and more to deliver a top-notch end-user experience.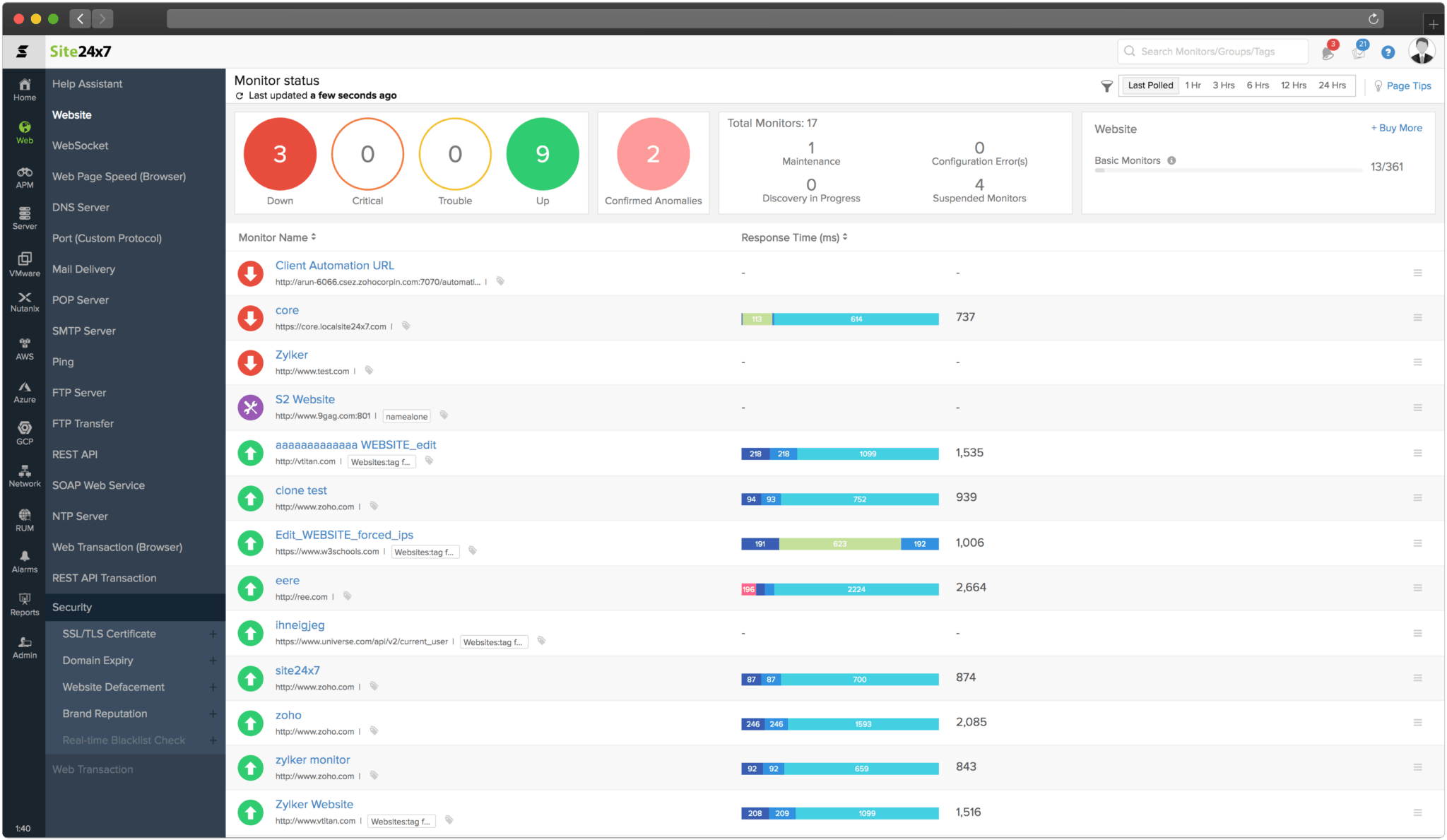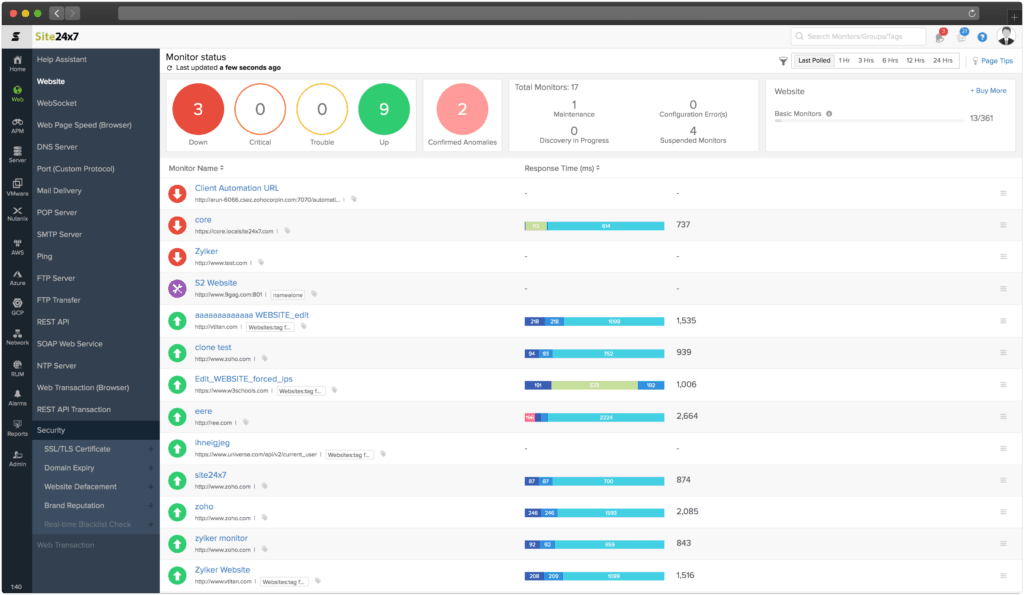 Cloud Monitoring
Get deep insights into the health and performance of cloud services and applications hosted in Amazon Web Services (AWS), Microsoft Azure, and Google Cloud Platform (GCP).
Manage cloud-based applications, services, and the entire infrastructure and get data on performance, security, and customer behavior.
Plugin extensions for entire app stack
Analyze the elements affecting the business by choosing from the growing list of integrations or write custom integrations, specific to the need.
Write custom plugins in Python or Shell and monitor the data needed, in the desired way. Set thresholds to individual attributes and be alerted if the set values exceed.
Real-User Monitoring (RUM)
Real-user monitoring is the process of understanding and analyzing user interaction with websites or apps in real-time.
Proactively monitor front-end performance and enhance the end-user experience with Site24x7 RUM.
Testimonials
Site 24x7 solutions make the difference in monitoring solutions through the most flexible Cloud Monitoring Solutions.

``Site24x7 gives us deep visibility into critical performance parameters of our resources and proactive insight into areas that could become an issue before they arise. The all-in-one dashboard gives us a single pane of glass visibility without the need of shifting to multiple monitoring devices to get complete insights. Modular functionality, affordability, and ease-of-use are key factors behind our reasoning to go with Site24x7.``
Matt Groves
Managing Director, CLOUD BACKUP SOLUTIONS
Frequently Asked Questions
What is Site24x7?
Track the performance of Windows, Linux, FreeBSD, and OS X servers with more than 60 performance metrics including CPU, disk, memory, thread, and handle count of processes and services. In addition to monitoring servers, install 50+ ready-to-use plugin integrations and Microsoft applications including IIS, SQL, and Exchange.
Whom to Contact for Site 24*7 Products, in Switzerland?
Being the Swiss partner of Site 24×7, Kidan is responsible for aiding with professional services, such as installing, implementing, configuring, training, and supporting the company to ensure an effective on-boarding of Site 24×7 Products.
To make it even better, Kidan even provides advice on top of it all!
Get in touch with us to know more.
What is Site24x7 Advanced Analytics?
Advanced Analytics for Site24x7 allows analyzing of end-user experience with powerful analytics. This helps improve service/platform availability with meaningful insights on outages, alarms, monitors, and infrastructure.
Can Site24x7 alert multiple PagerDuty services?
Yes, multiple PagerDuty integrations can be configured in the Site24x7 account by using multiple PagerDuty integration keys.
What does Opsgenie offer Site24x7 users?
Opsgenie has a webhook integration with Site24x7. Use the integration to send Site24x7 alerts to Opsgenie's API with detailed information. Opsgenie acts as a dispatcher for Site24x7 alerts, determines the right people to notify based on on-call schedules– notifies via email, text messages (SMS), phone calls, and iPhone & Android push notifications, and escalates alerts until the alert is acknowledged or closed.
Want to continue the
conversation?
Thank you for your interest in Site24x7 solution. Please fill out the form below to ask a question or request assistance.