Comprehensive Domain Management
Performing complex tasks such as configuring user properties is extremely time-consuming, tiring, and error-prone - especially in a large, complex Active Directory. ADManager Plus will help eliminate these problems. It will automate onerous tasks, simplify AD management and provide a detailed report on the status of various tasks.
With ADManager Plus, all actions related to AD can be performed. The system also allows for partial delegation of powers to technicians without having to share controls in other areas. Recurring tasks will not be a problem as ADManager Plus will do them.
ADManager Plus Offerings
Eliminate through automation: extremely time-consuming, tiring, and error-prone problems.
Domain and user management
ADManager Plus has many functions that certainly facilitate the management of Active Directory. Among them includes creating, editing, deleting, moving, resetting passwords, blocking and unblocking users.
The changes made from the level of one web system will be sent to the native AD with all assigned attributes.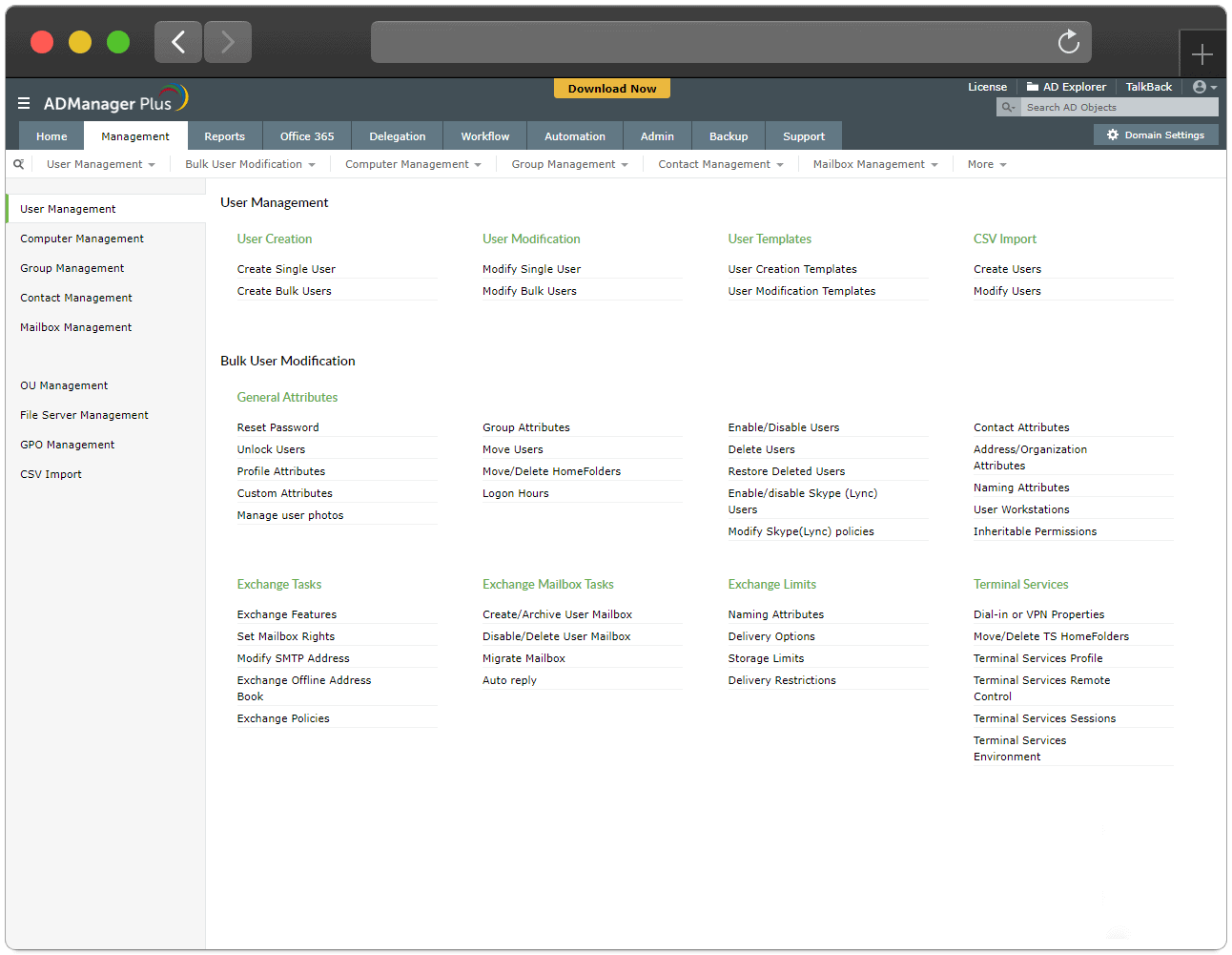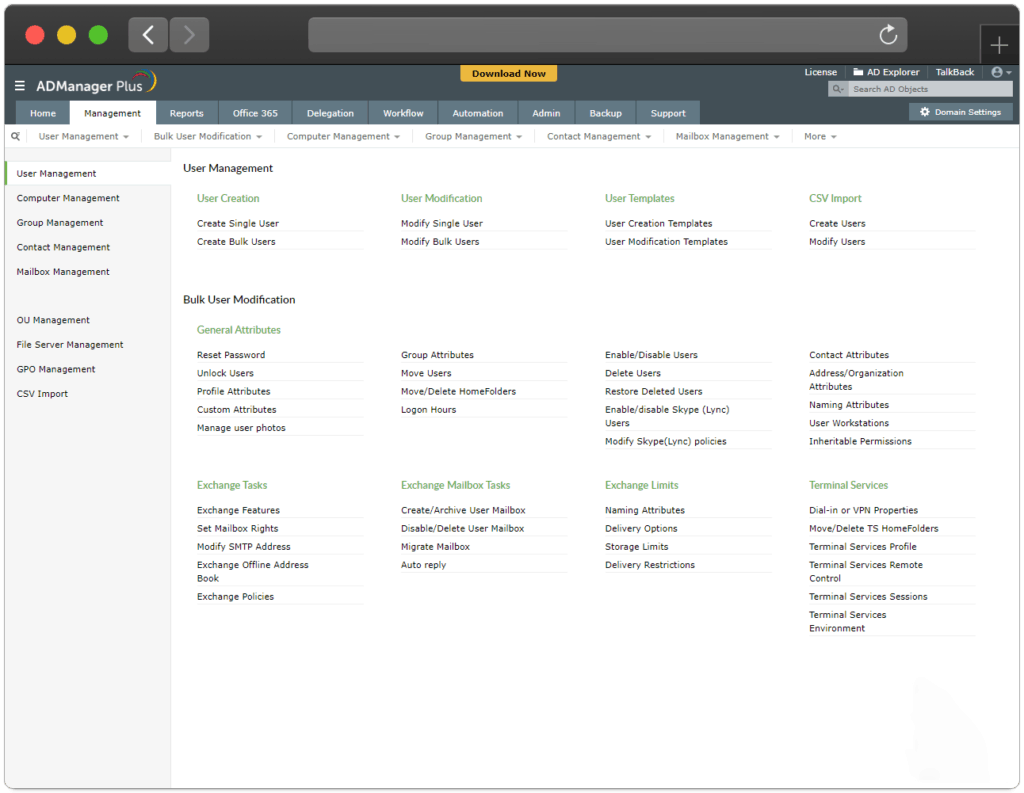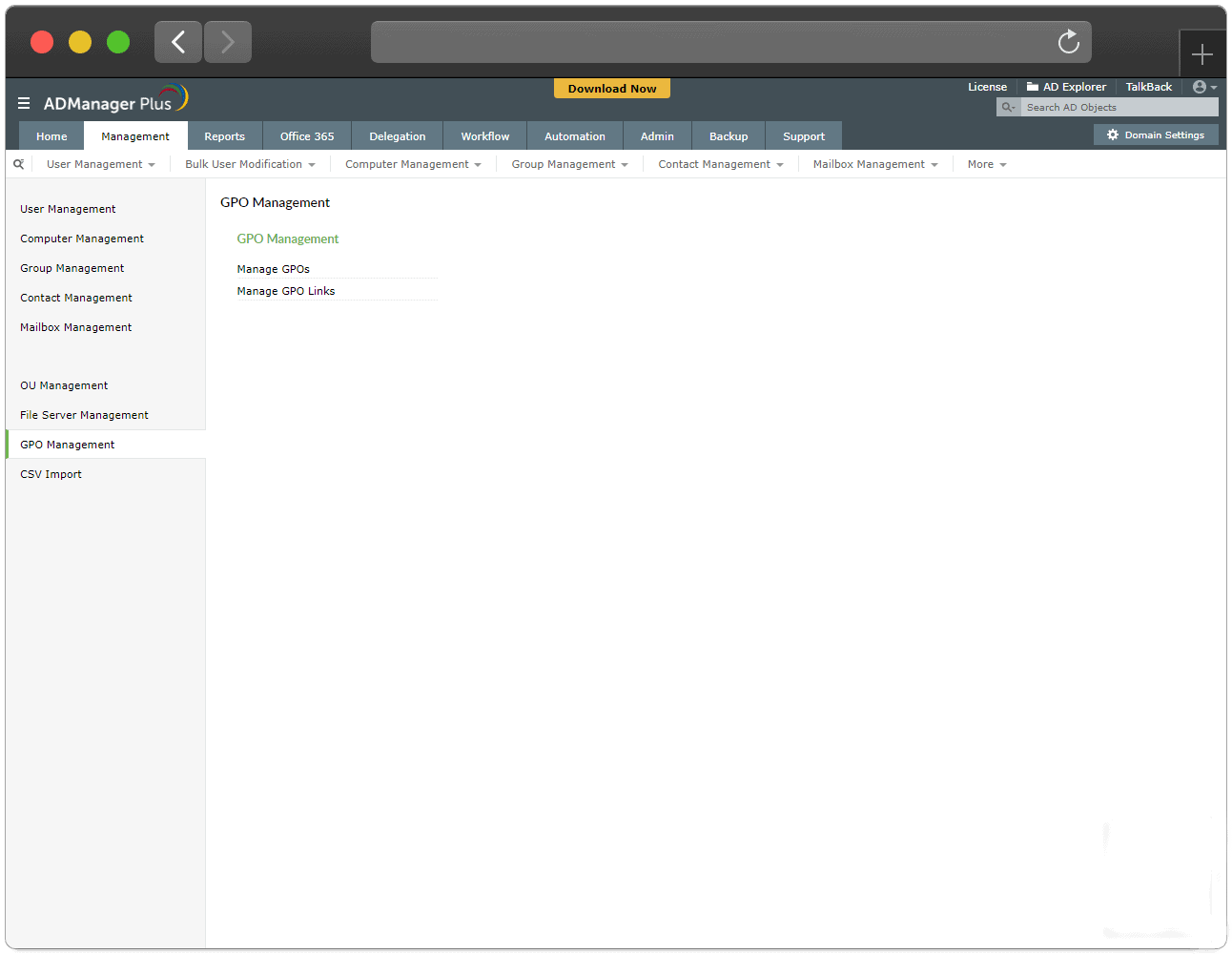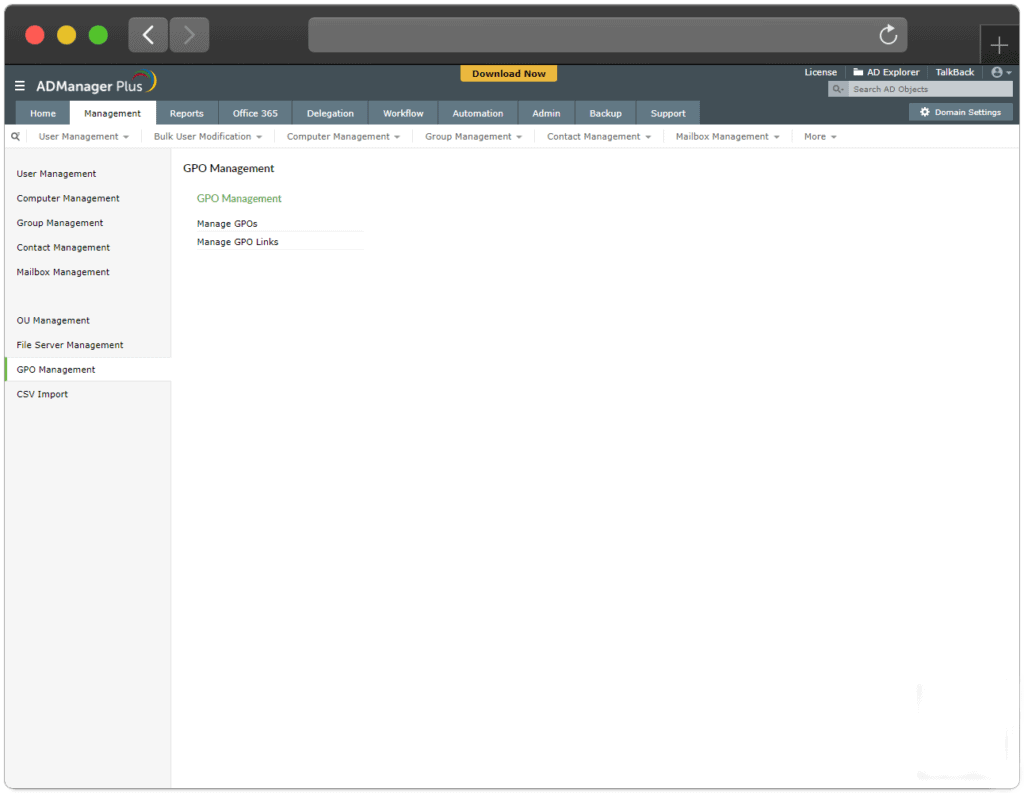 Manage GPO policies
The function enables direct access to editing domain policies, creating new ones and assigning them to selected resource groups in Active Directory.
The system presents the operation in a simple way and tells the administrator what the policy is about.
NTFS and manage access rights
An administrator can easily grant or revoke access to specific folders by one person or group. This happens with the appropriate permissions and the ability to inherit permissions.
This also allows the administrator to reset permissions and re-grant them only to a given resource with a single click.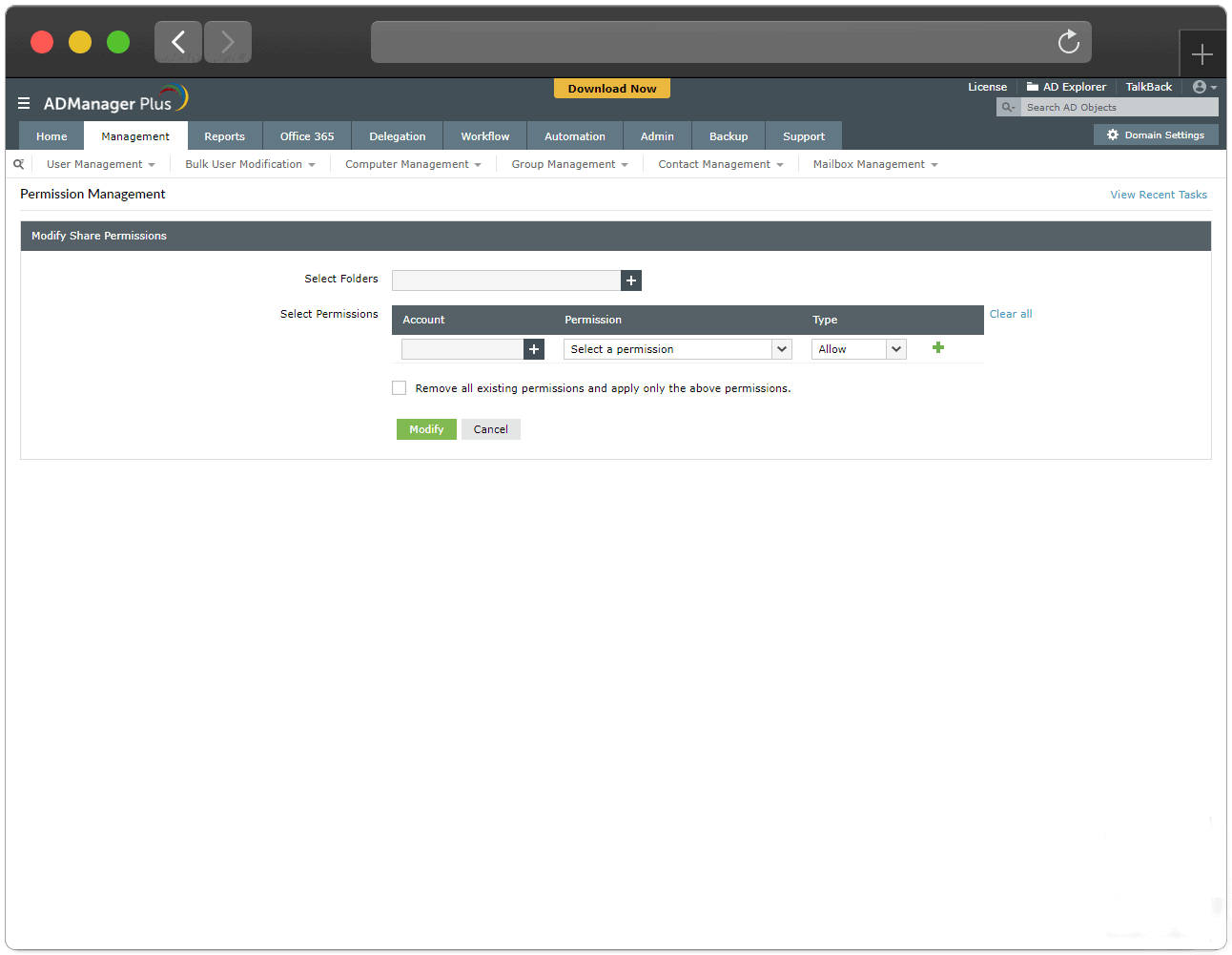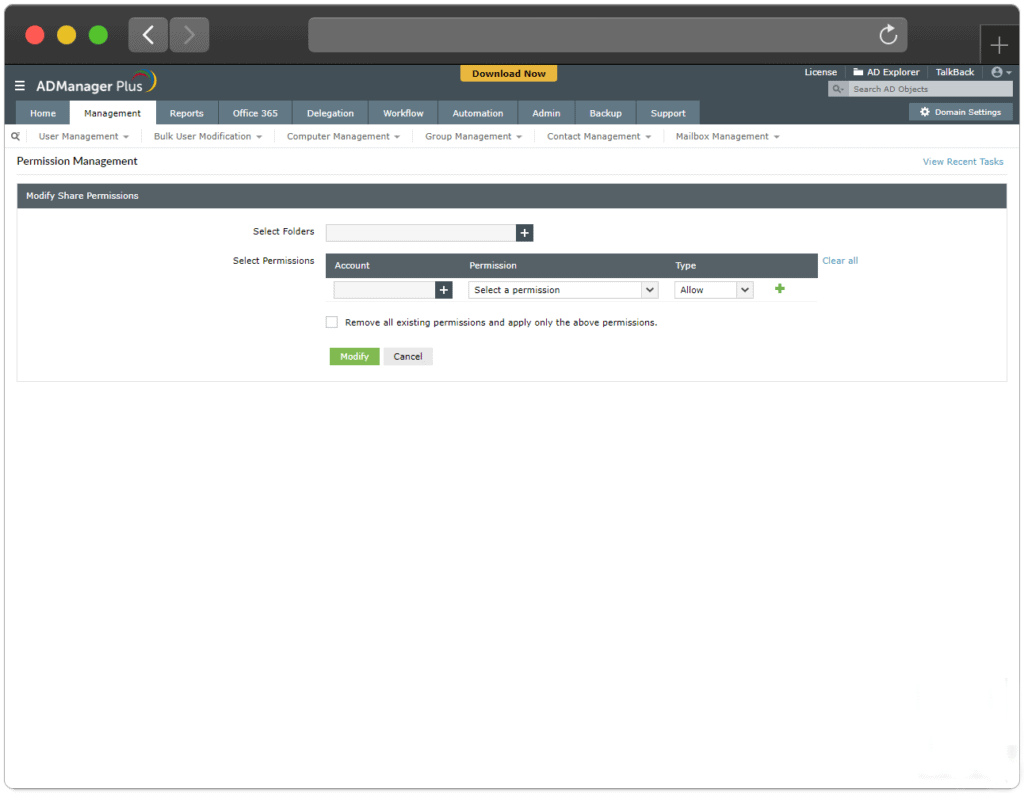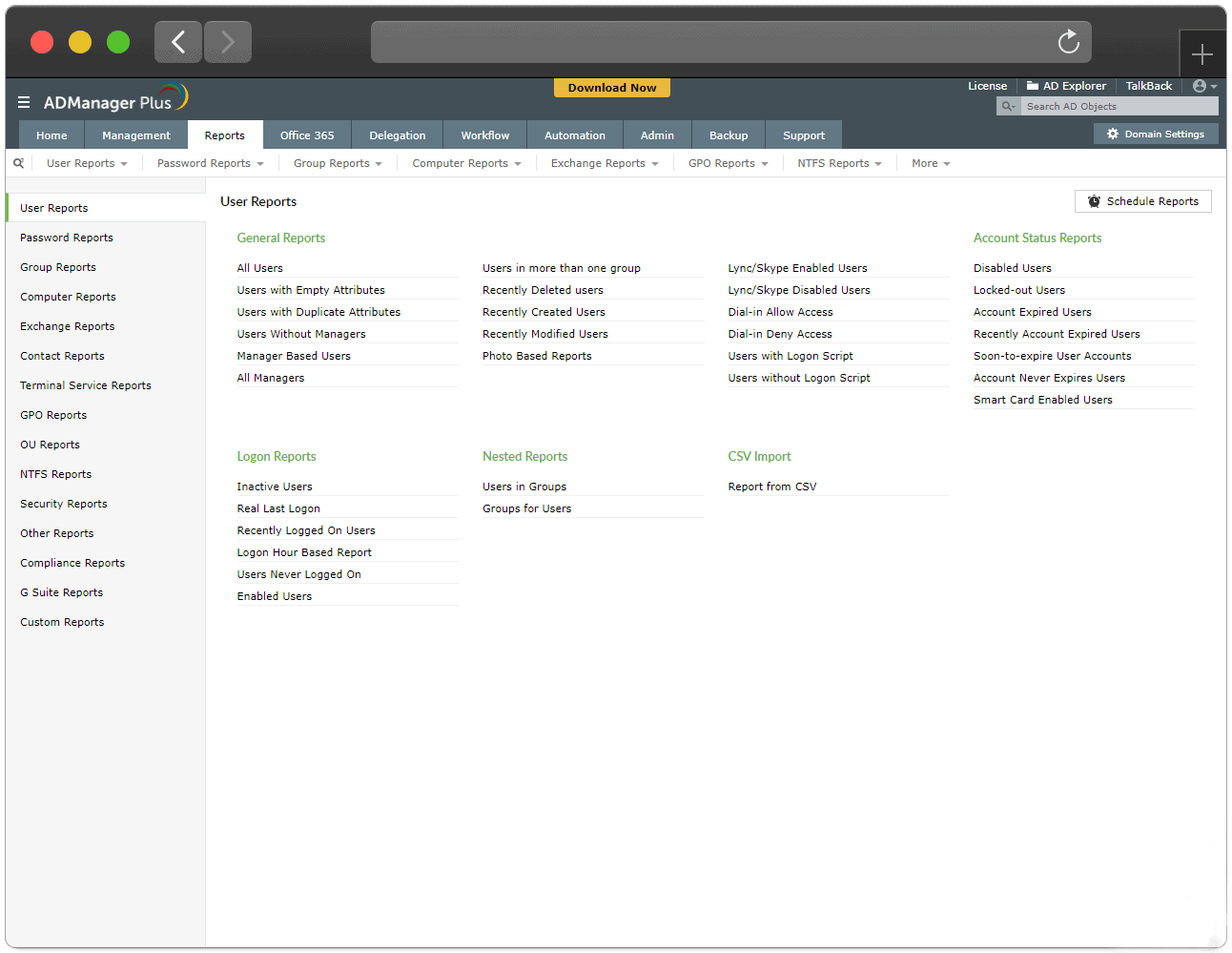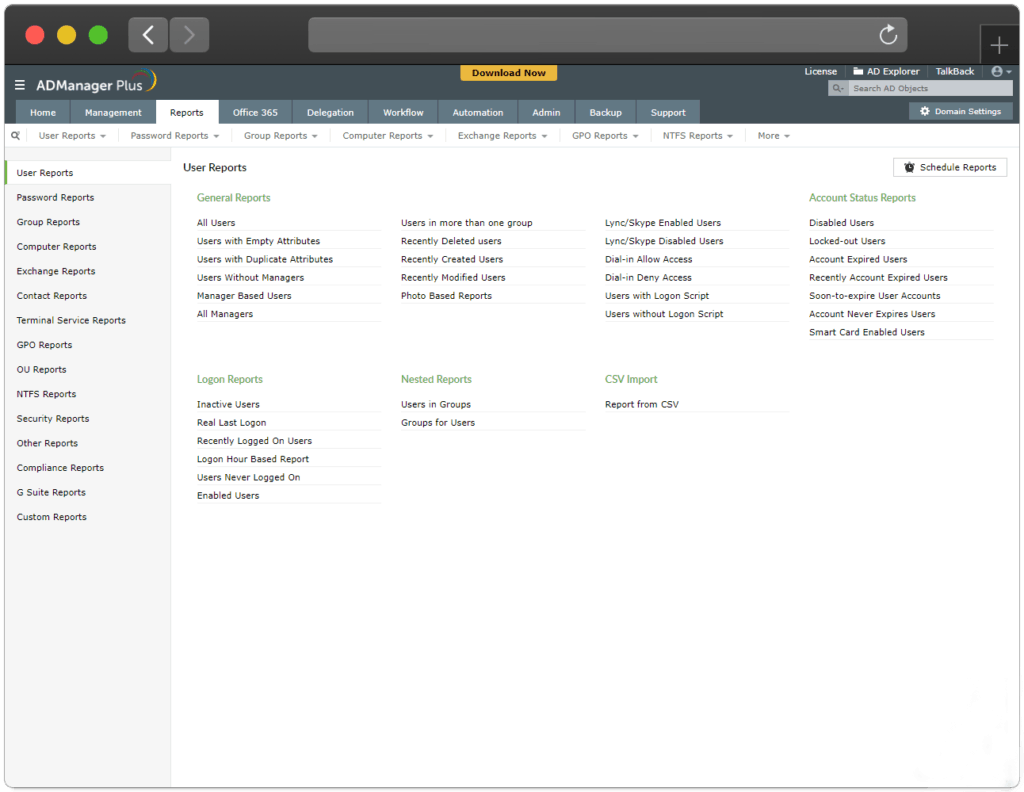 Report events in the AD environment
ADManager Plus includes a large number of reports based on users, passwords, groups, computers, e-mail boxes, contacts, GPO, OU, shares, and the ability to configure a custom report. After generating the report, ADManager Plus performs actions based on the displayed results.
Among them include password reset, unblocking or blocking an account, moving to another group or OU, deleting the account, and others.
Automation for administrator tasks simplifying domain management
Automate monotonous tasks and configure successive actions. It will undoubtedly save administrators time and improve domain management.
Automations allow for cyclical performance of actions, such as password reset based on the configured report, then blocking the user or removing it in the event of long inactivity.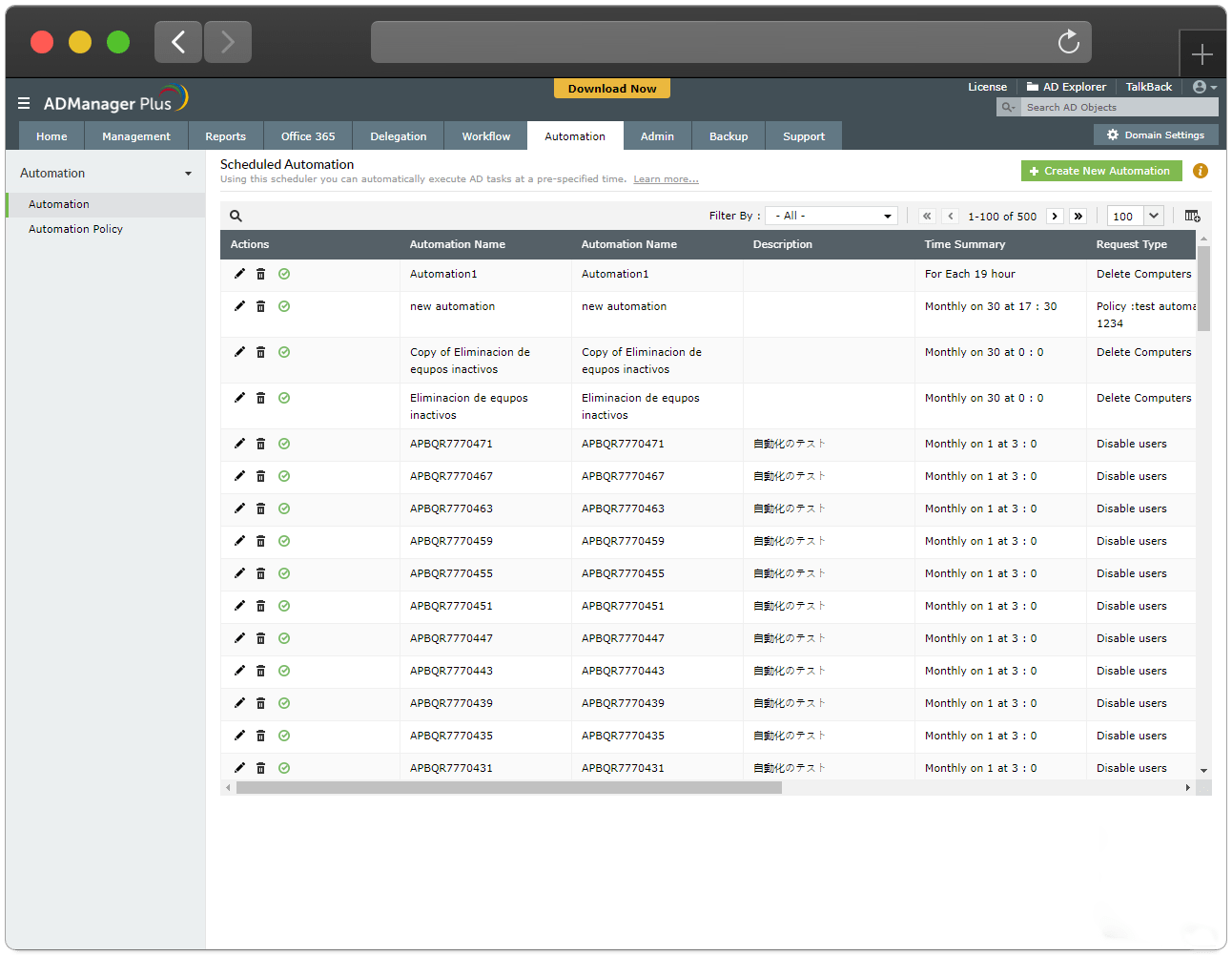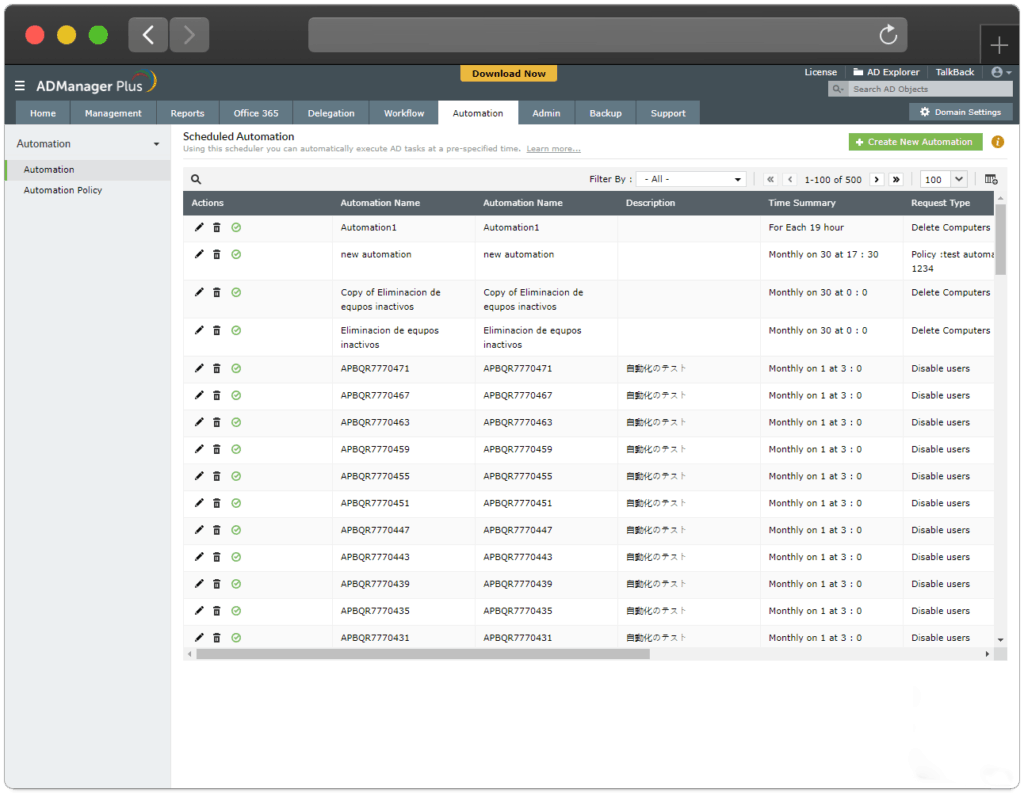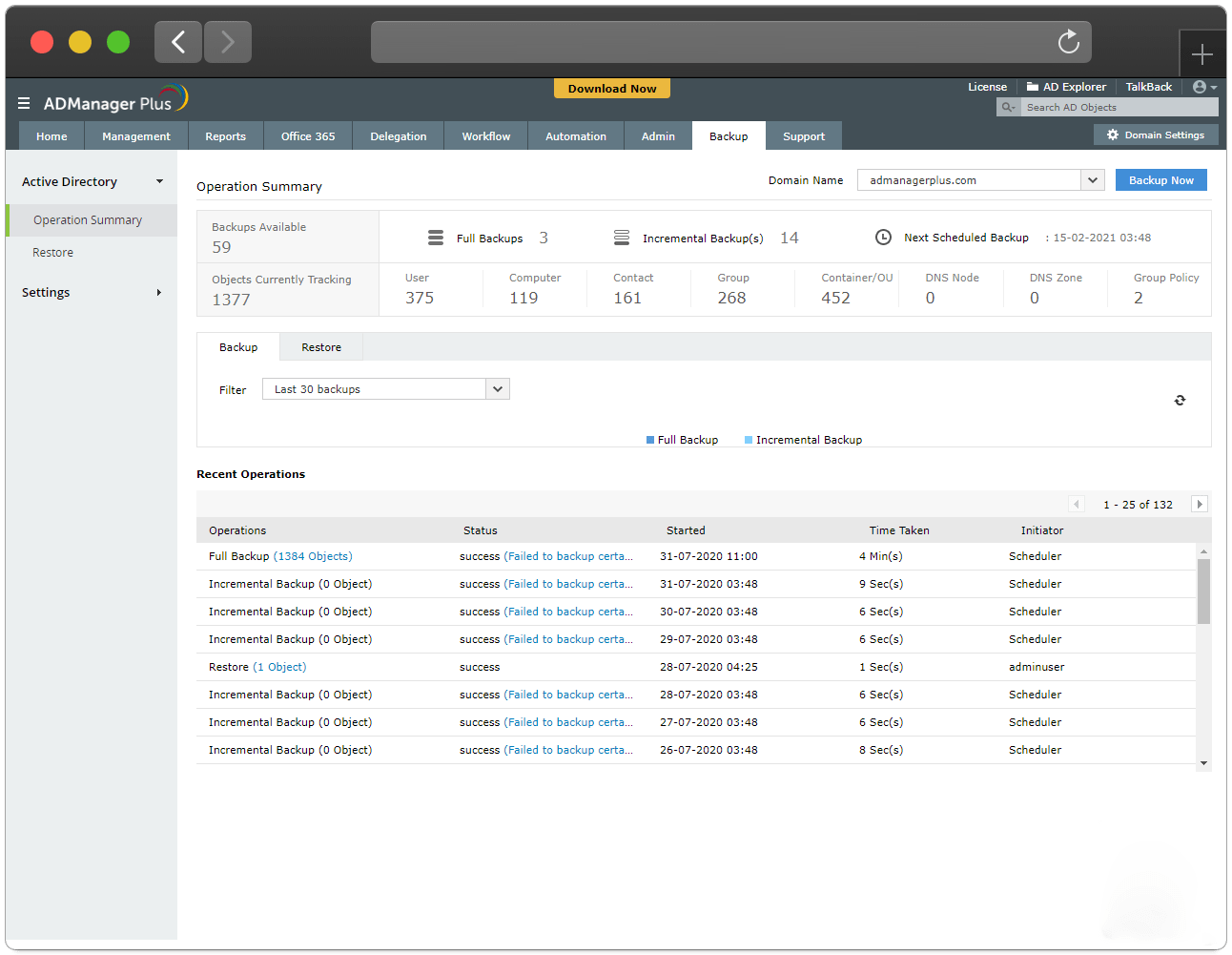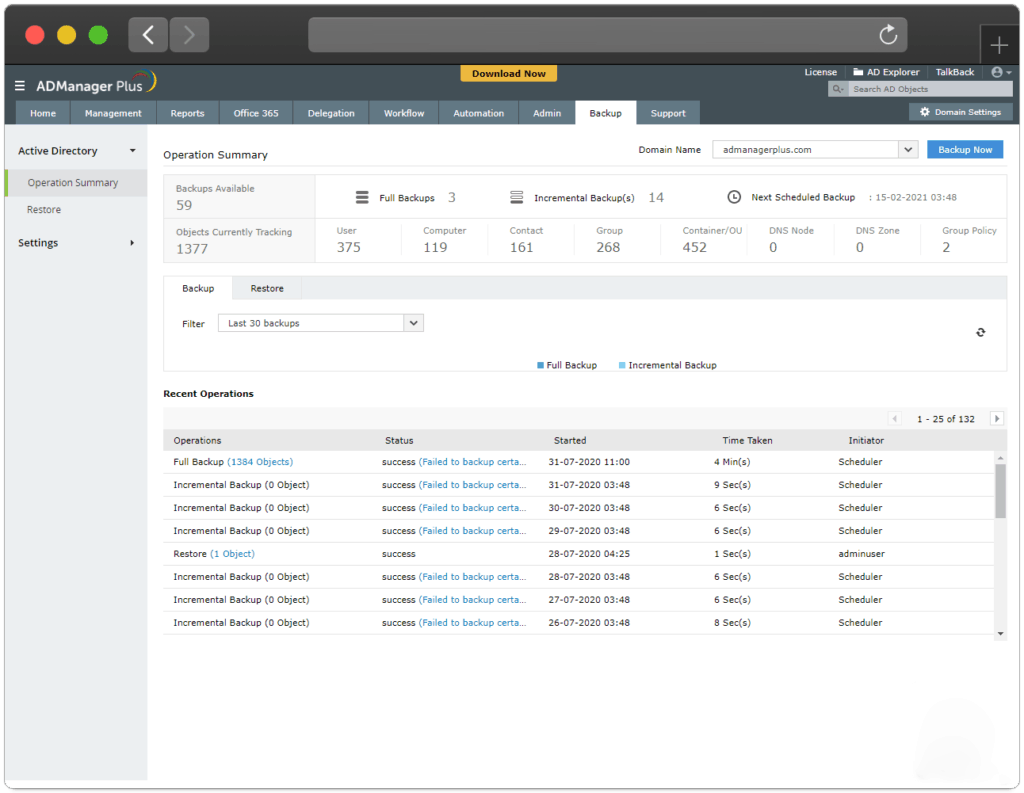 Backup of Active Directory
ADManager Plus features Backup Active Directory and the ability to restore individual objects. The ability to create and restore backups has been implemented in ADManager Plus.
This can create a backup of all resources contained in Active Directory, as well as group membership, hierarchy, and assigned attributes.
ManageEngine ADManager Plus Pricing
Standard Edition is Starting From:
150+ Active Directory Reports
Active Directory User Management
Active Directory Computer Management
Multiple-Domain Management
Help Desk Delegation
Professional Edition is Starting From:
150+ Active Directory Reports
Active Directory User Management
Active Directory Computer Management
Multiple-Domain Management
Help Desk Delegation
Reports Scheduling
AD Group | Contact Management
OU-Based Administration
Workflow | Automation
GPO Management
Frequently Asked Questions
What is ADManager Plus?
ManageEngine ADManager Plus is a 100% web-based product that provides centralized administration and management of Windows Active Directory. ADManager Plus can perform the following:
Create bulk user accounts in the Active Directory with the flexibility to import properties from a CSV file.
Modify the existing user account properties including Exchange Mailbox and Terminal Services properties.
Generate and view granular reports of users, computers, groups like Inactive Users, Disabled Users, Users in Nested Groups, Distribution Groups, Security Groups, Inactive Computers, etc.
Create and delegate security roles for granting/revoking permissions to security principals.
Search ACEs and Active Directory objects.
Manage bulk computers, groups and contacts with ease.
Manage Active Directory and Exchange Server (2003/2007) from a single console.
What operating systems are supported by ADManager Plus?
ADManager Plus supports the following Windows operating systems:
Windows Server 2019
Windows Server 2016
Windows Server 2012 R2
Windows Server 2012
Windows Server 2008 R2
Windows Server 2008
Windows 10
Windows 8.1
Windows 8
Windows 7
What is the difference between Free and Professional Editions?
The Free edition of ADManager Plus can be used to manage up to 100 objects in a single domain and cannot have more than one domain configured.
The Professional edition can be used to manage the number of domains and objects for which it is licensed for.
The Free edition can be upgraded to Professional edition at any point of time by obtaining a valid license from ZOHO Corp.
ADManager Plus runs in a web browser. Does that mean I can access it from anywhere?
Yes, you can connect to the ADManager Plus from any machine on the network through a Web browser.
How is ADManager Plus licensed?
ADManager Plus licenses are annual subscriptions; licenses are based on the number of domains and helpdesk technicians.
How do I install ADManager Plus?
Being the Swiss Partner of ManageEngine, Kidan is responsible for aiding with professional services, such as installing, implementing, configuring, training, and supporting the company to ensure an effective on-boarding of ADManager Plus.
To make it even better, Kidan even provides advice on top of it all!
Get in touch with us to know more.
Want to continue the
conversation?
Thank you for your interest in ManageEngine's ADManager Plus solution. Please fill out the form below to ask a question or request assistance.