A web-based solution that protects businesses against the abuse of privileges.
PAM360 helps companies put together ample opportunities within their IT management framework through strong privileged access governance, more straightforward process automation, advanced insights, and contextual integrations of different IT providers, enabling concrete observations and faster solutions.
Businesses may integrate other key features of multiple ManageEngine IT Security solutions into a PAM360 instance through contextual integrations to further improve their PAM strategy.
PAM360 Offerings
ManageEngine PAM360 is a comprehensive security solution for privileged access which enables a strict implementation of governance for privileged access in critical Information Systems.
Built-in management of privileged user access
PAM360 has the ability to manage the time during which a given user can connect to a selected resource or group of resources in the environment. The administrator can also define what resource or group of resources the user will have access to.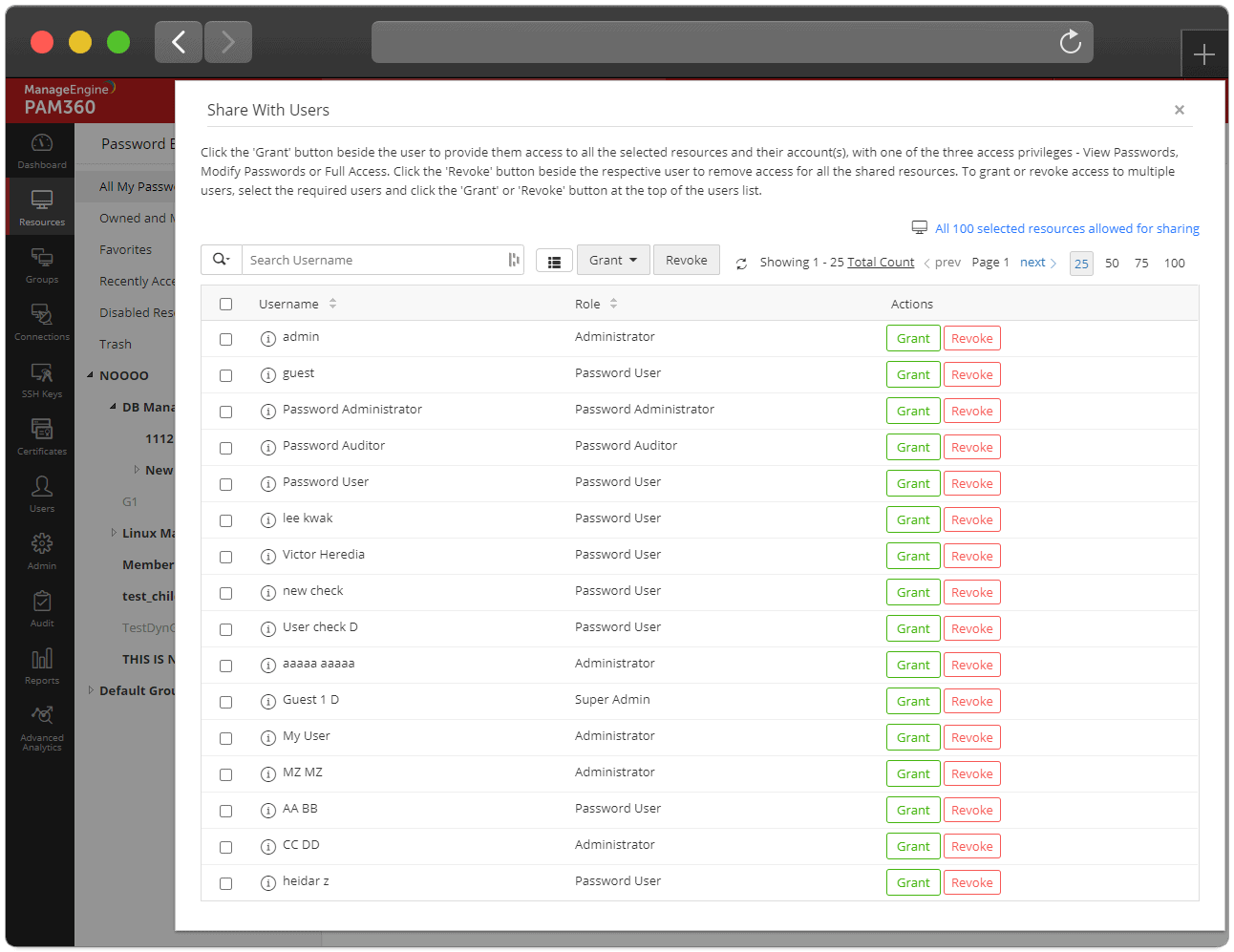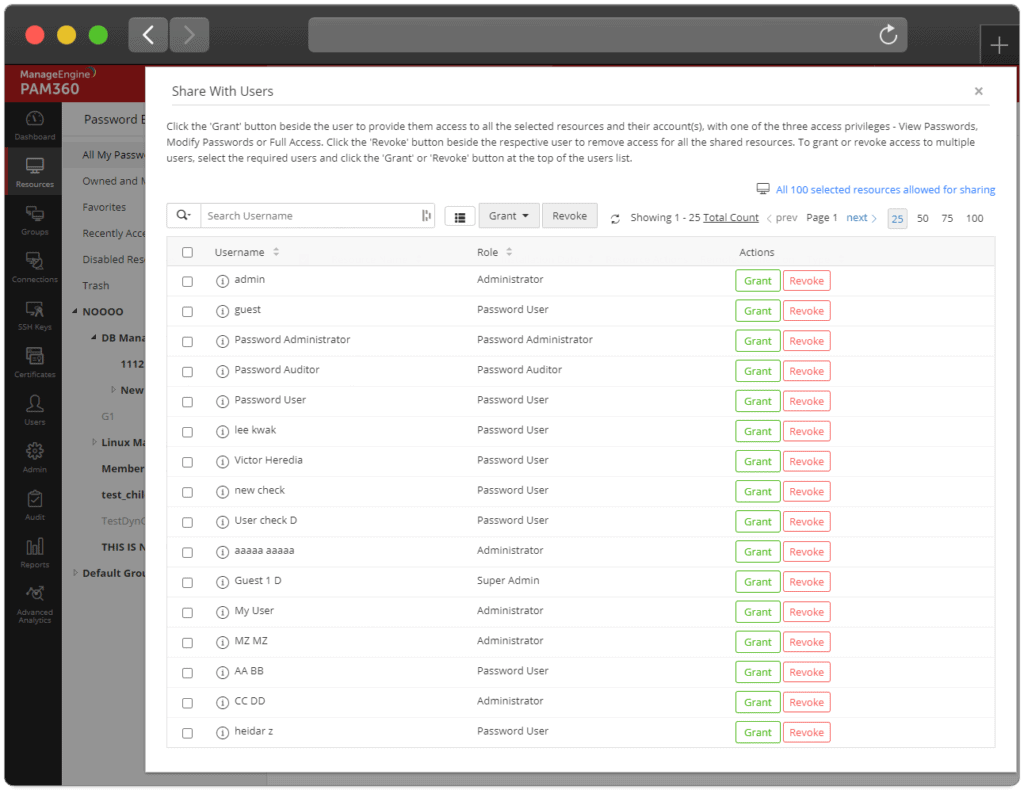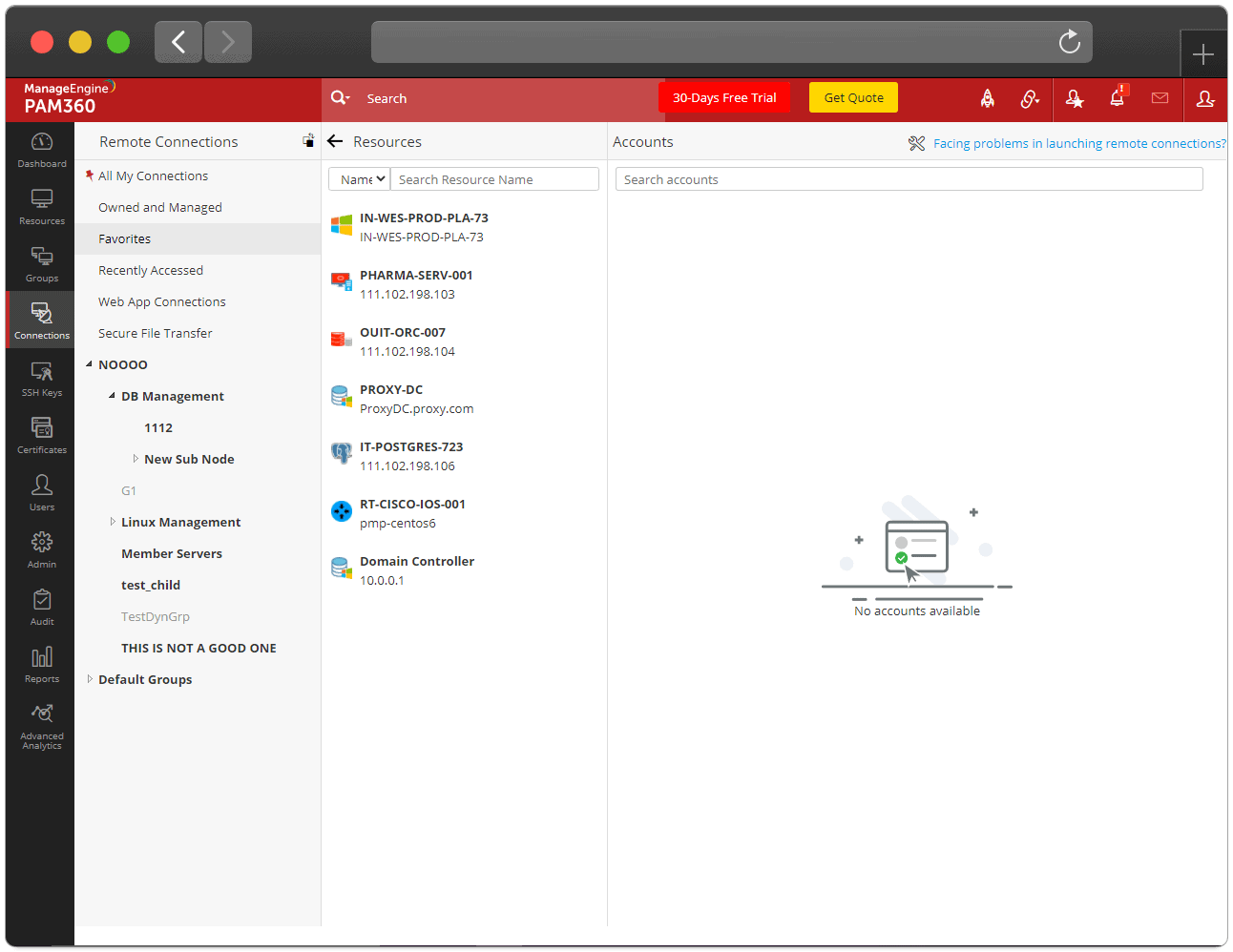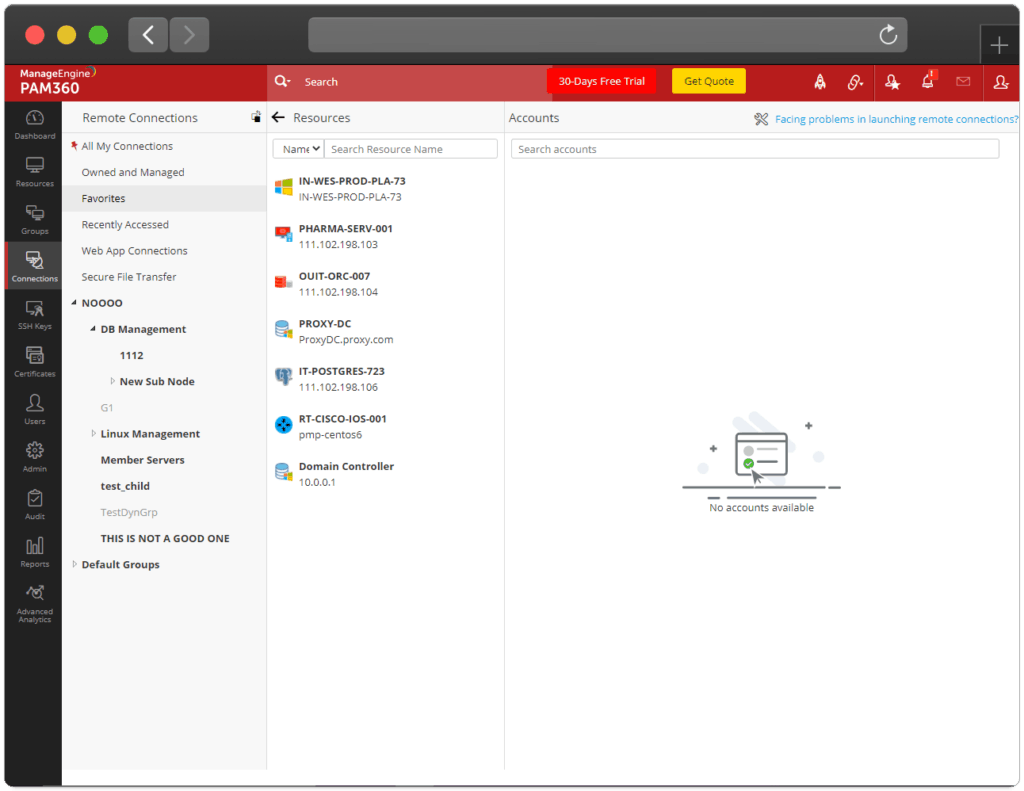 Remotely access resources
Each granted PAM360 user can connect remotely from any device after logging in with their credentials. The remote connection can use RDP, VNC, or Telnet/SSH.
Granting access for a specified period
PAM360 allows third parties to access a given environment for a specified period of time. It allows defining a time period for a remote session. Moreover, once the session has ended, the password can be reset to prevent the resource from being re-accessed.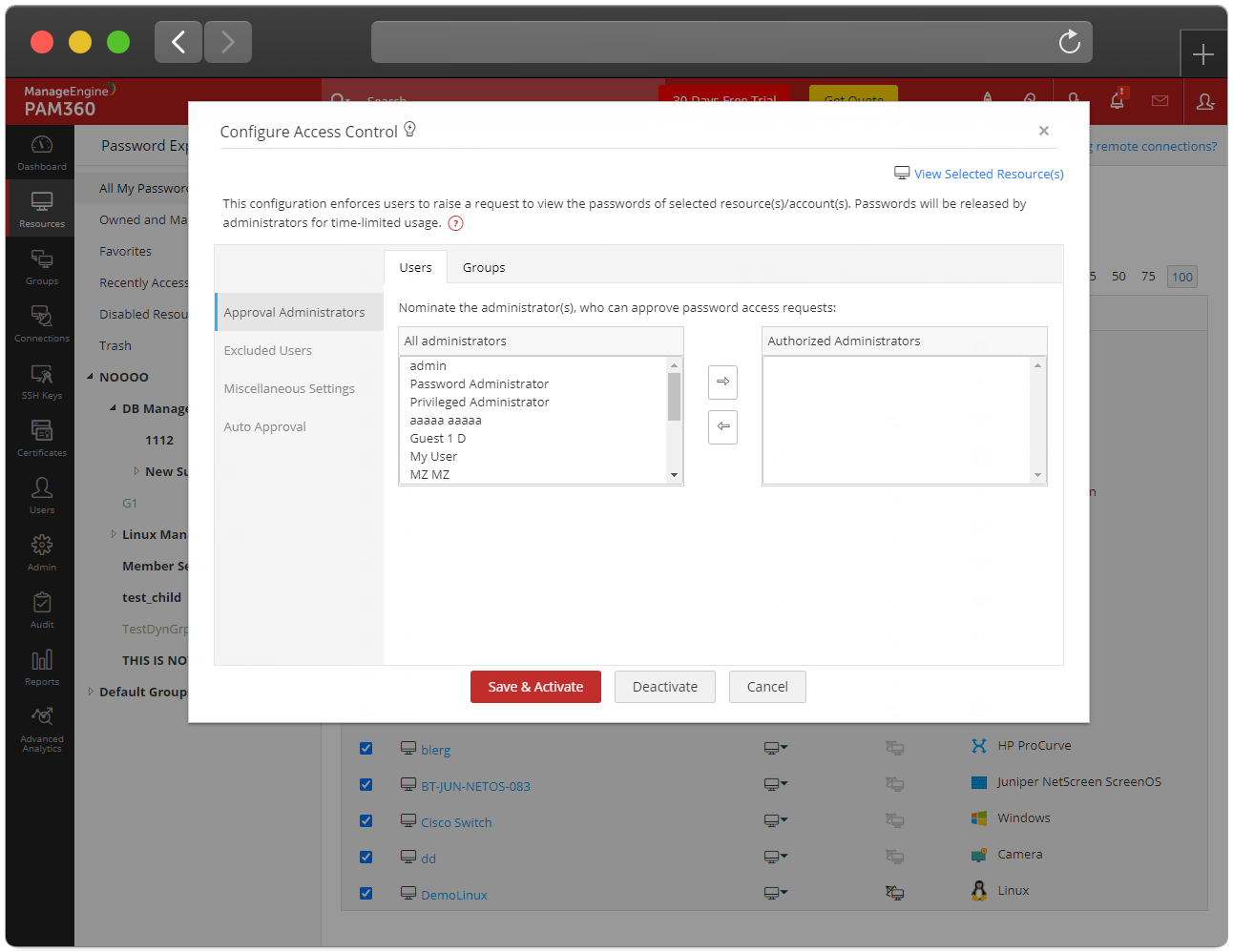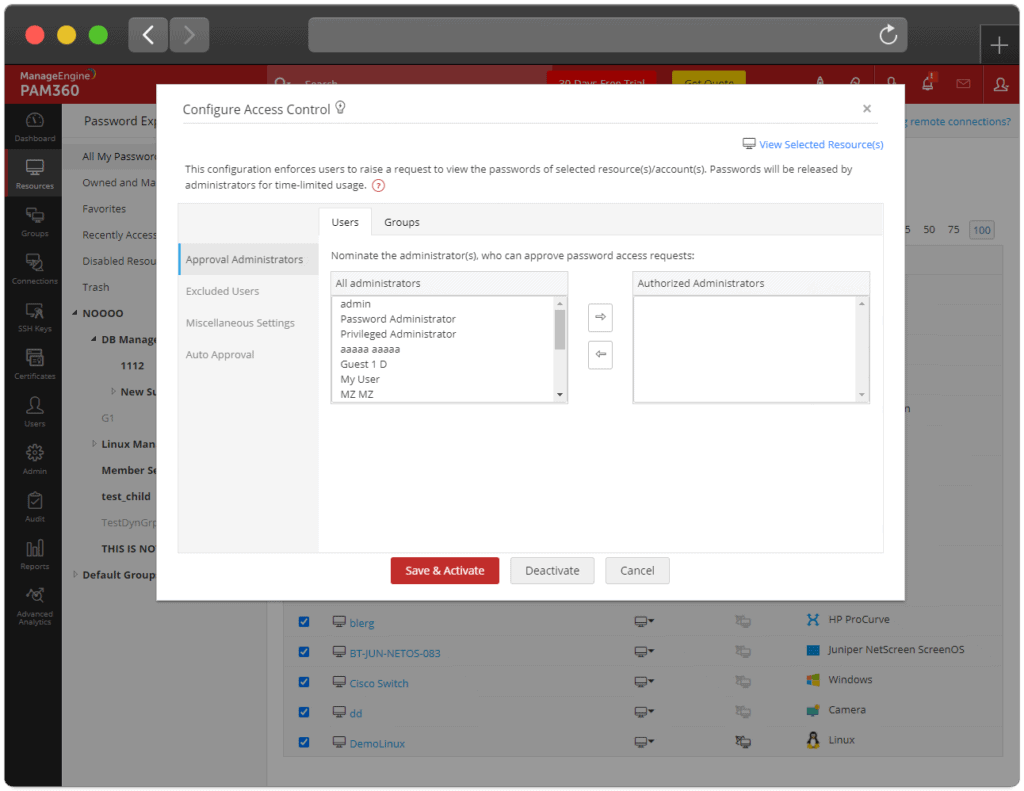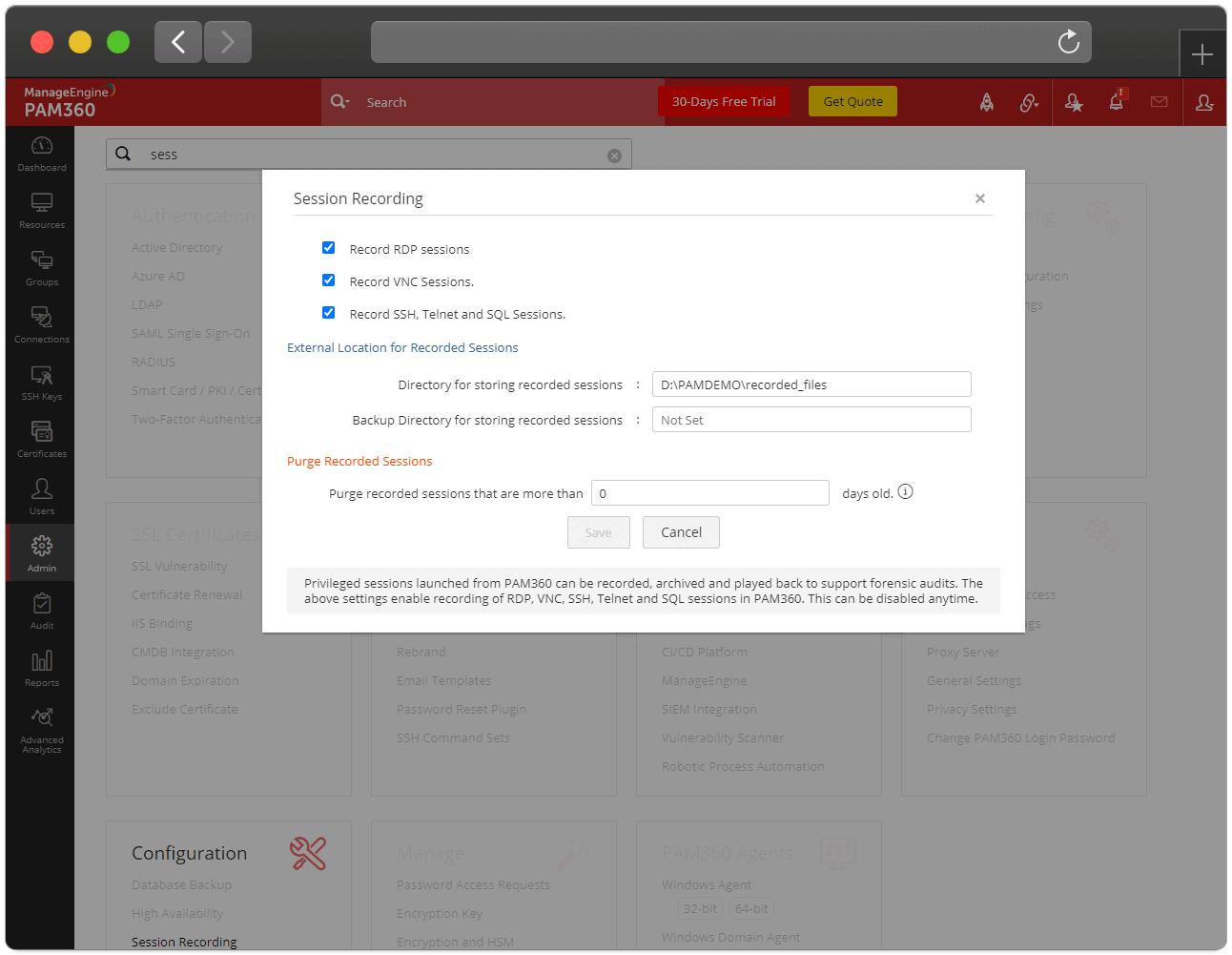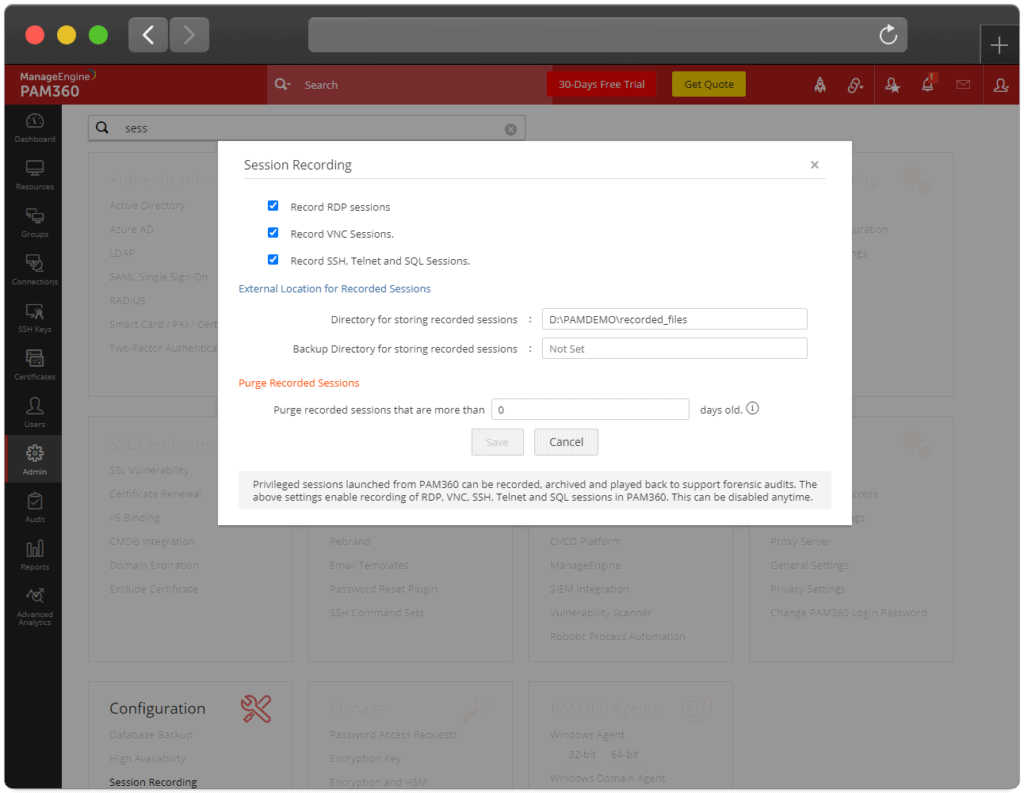 Privileged access is managed easily with remote session recording
PAM360 allows remote users' sessions to be recorded and saved on a path selected by the administrator. PAM360 can record RDP, VNC sessions as well as SSH, Telnet, and SQL.
Behavior analysis activation
PAM360 can be integrated with ManageEngine Analytics in order to monitor and alert administrators in the detection of unusual behavior in the environment. A user may be logging in or connecting remotely to the resource outside working hours or during the weekend.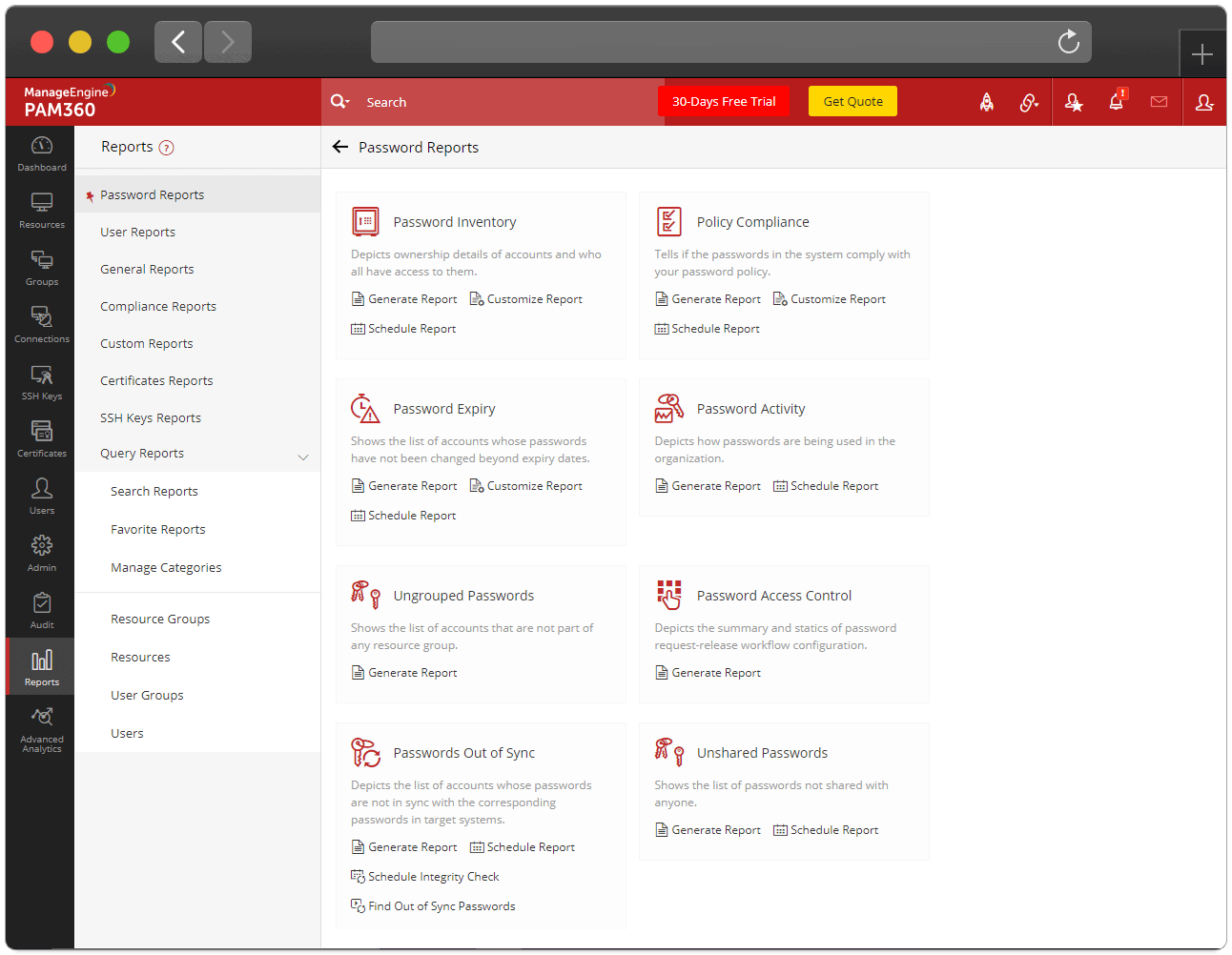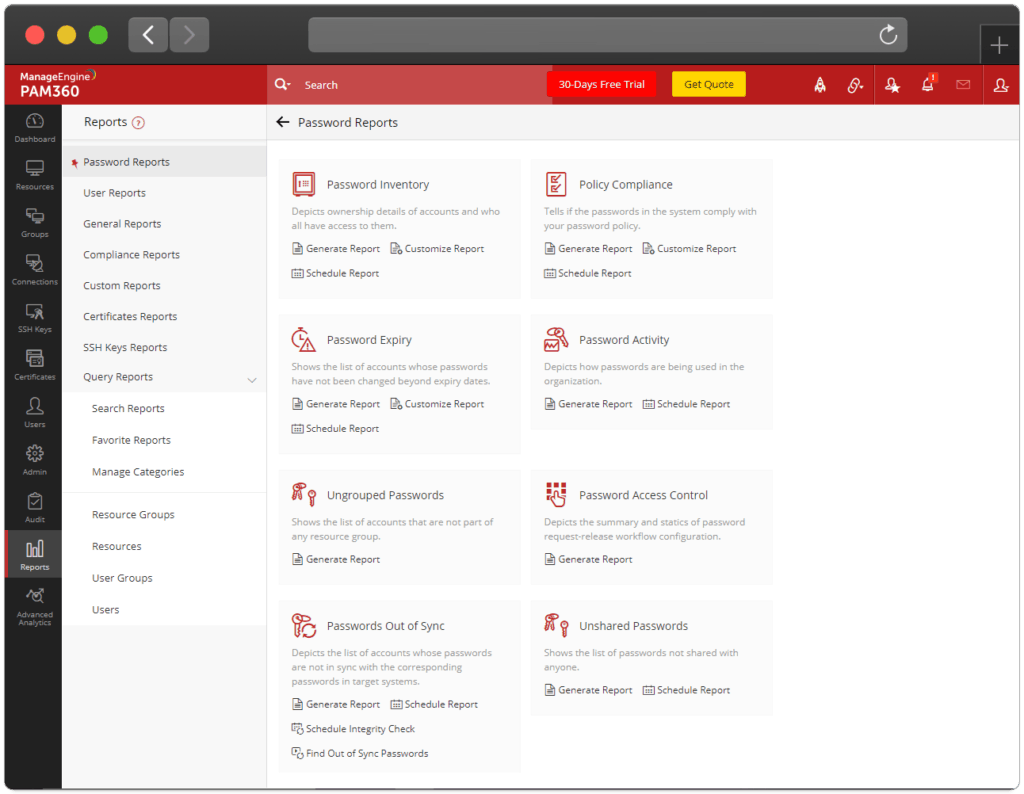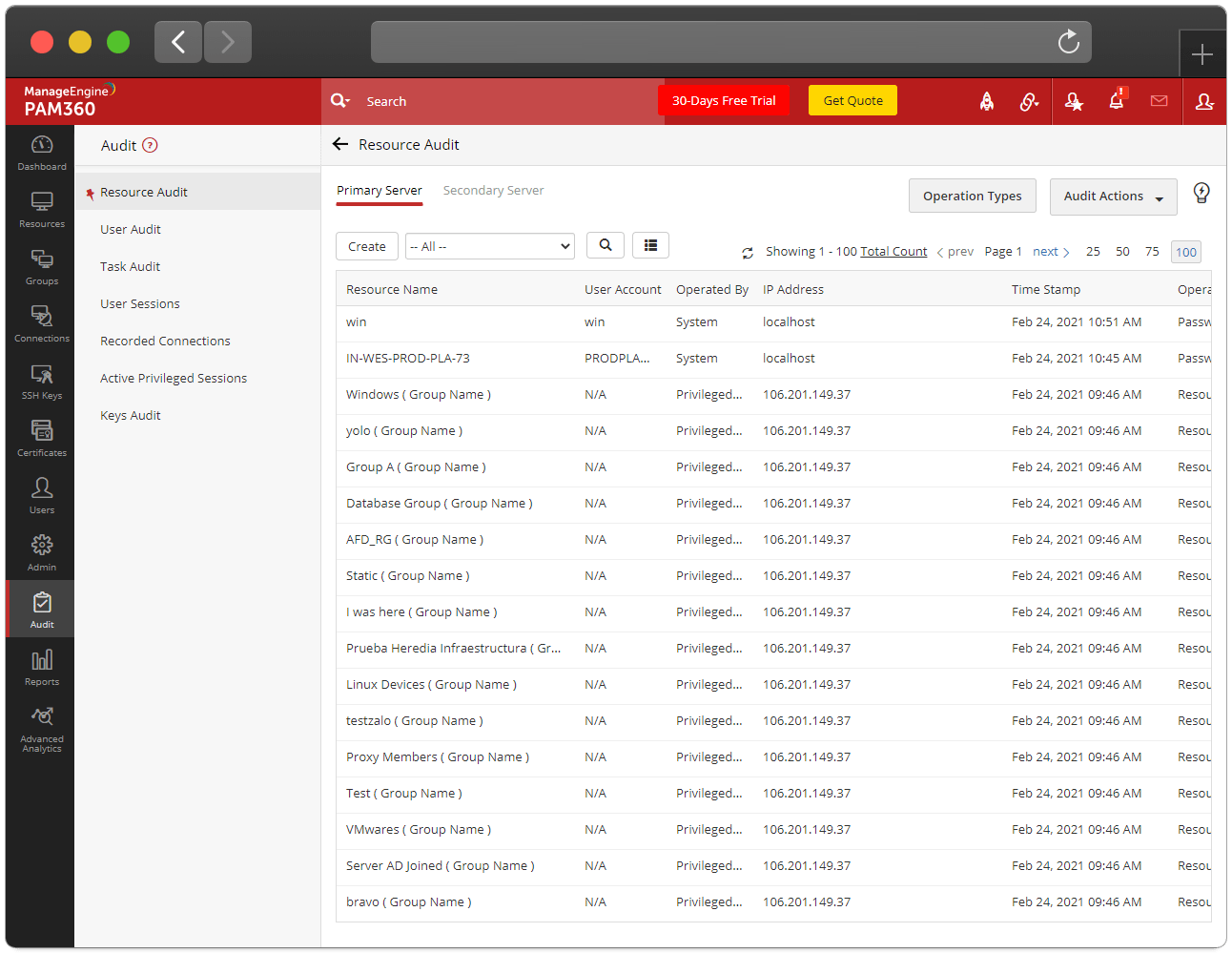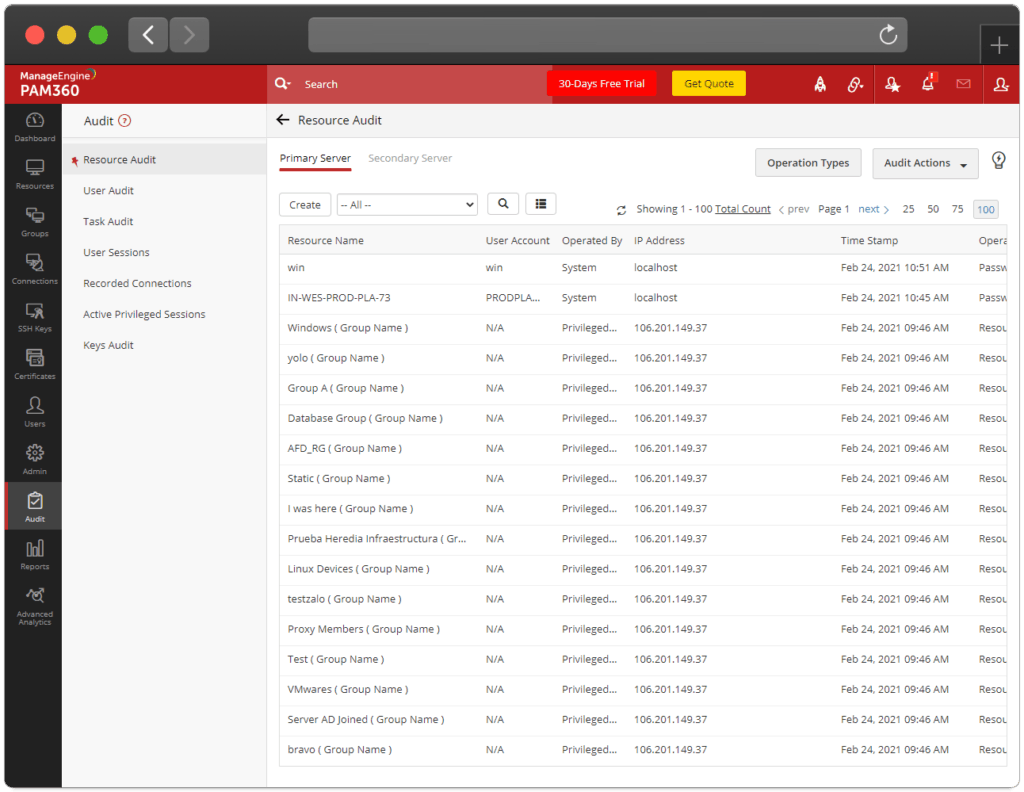 Audit function of events & remote sessions
PAM360 has the ability to audit and search events detected in the system. The software also allows viewing of saved remote sessions and their recordings from one place in the web console. The function also shows if one of the user sessions is active and consuming operational resources.
Access the system's reporting database
PAM360 has a wide range of reports based on the used passwords, users, SSL certificates and SSL keys. Each of the reports in PAM360 can be added to the recurring execution schedule and sent to a selected path set by the administrator.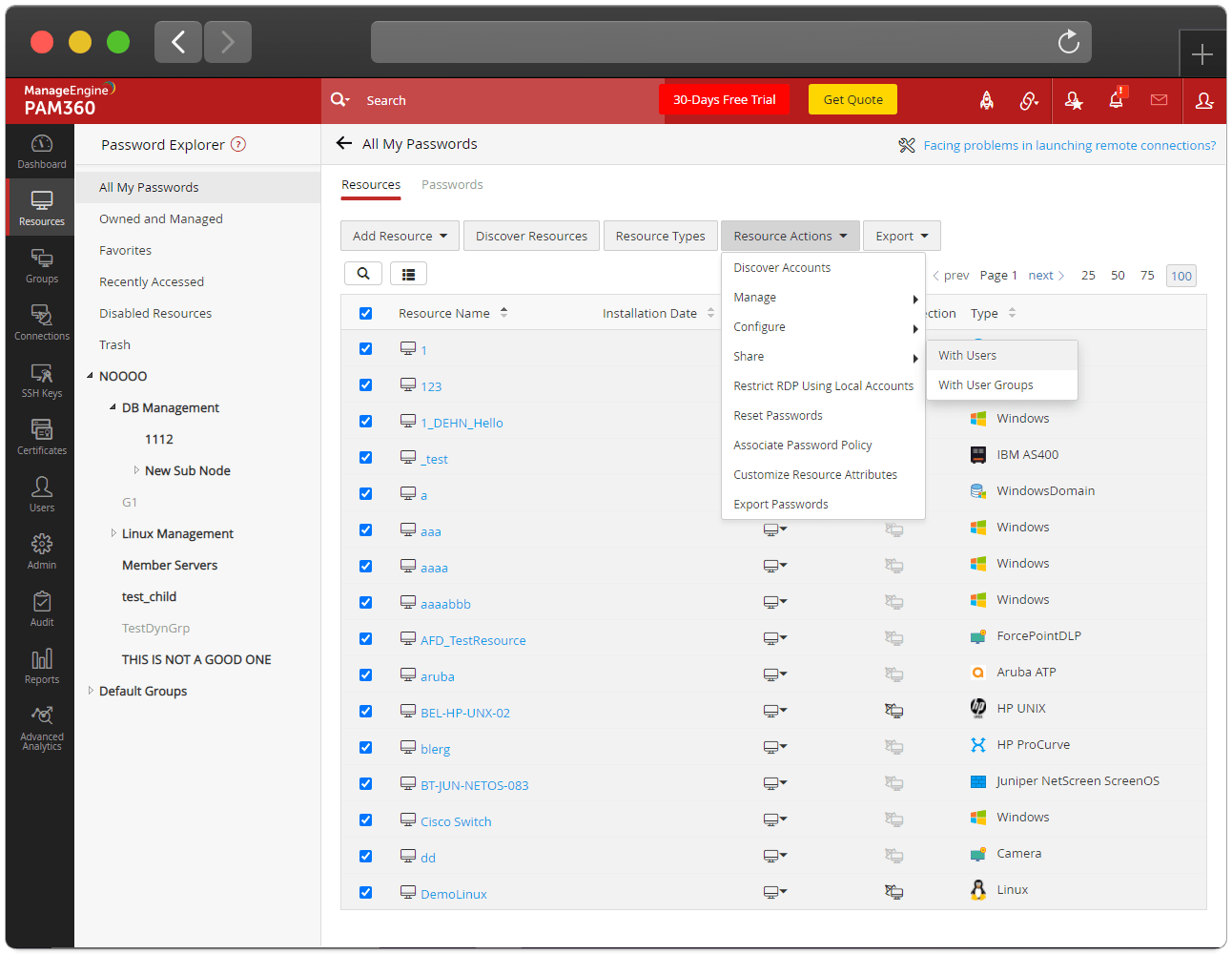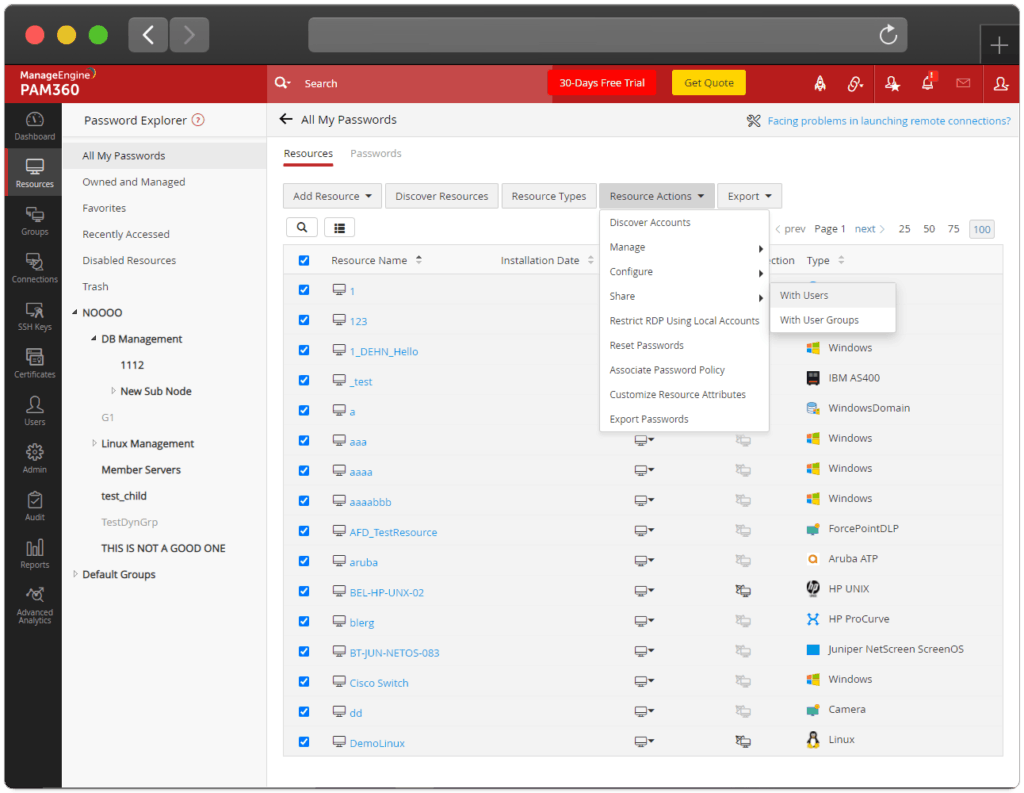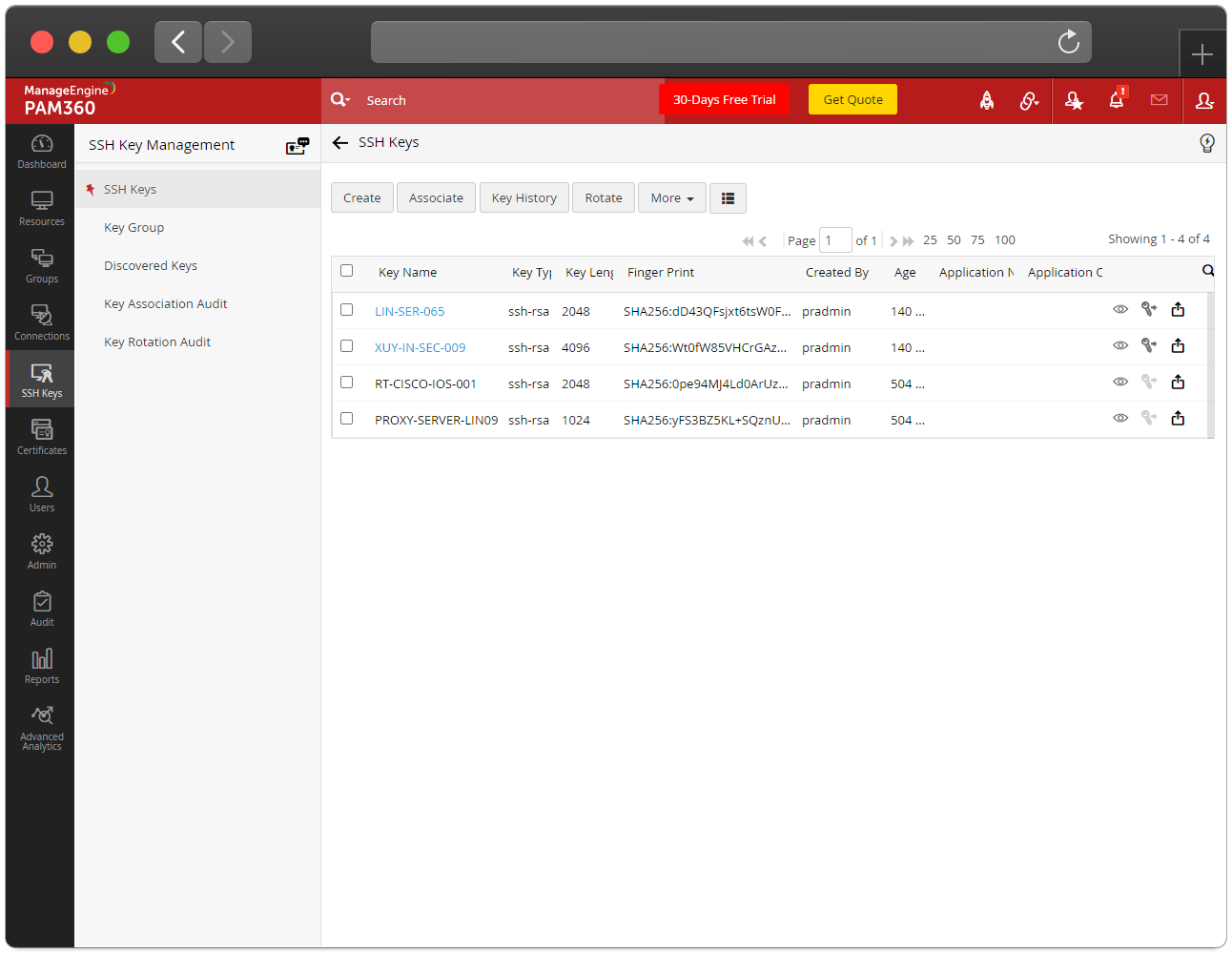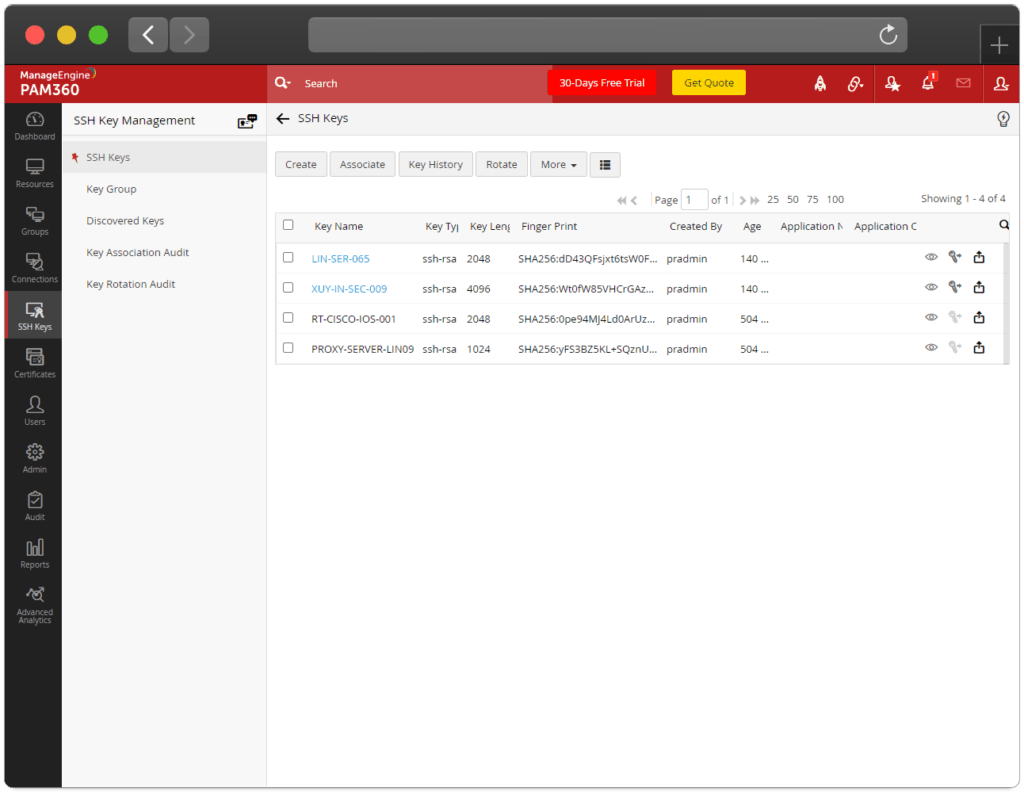 Ability to manage SSH keys
PAM360 allows searching and managing the network for SSH keys. It also shows IP addresses or DNS names, such as when the SSH keys were created and to which servers they were assigned.
PAM through SSL certificates
The system has the ability to detect all SSL certificates in the environment, along with information about them, such as expiration or assignment. Before a given certificate expires, the administrator will receive a notification to do the necessary to maintain smooth operation.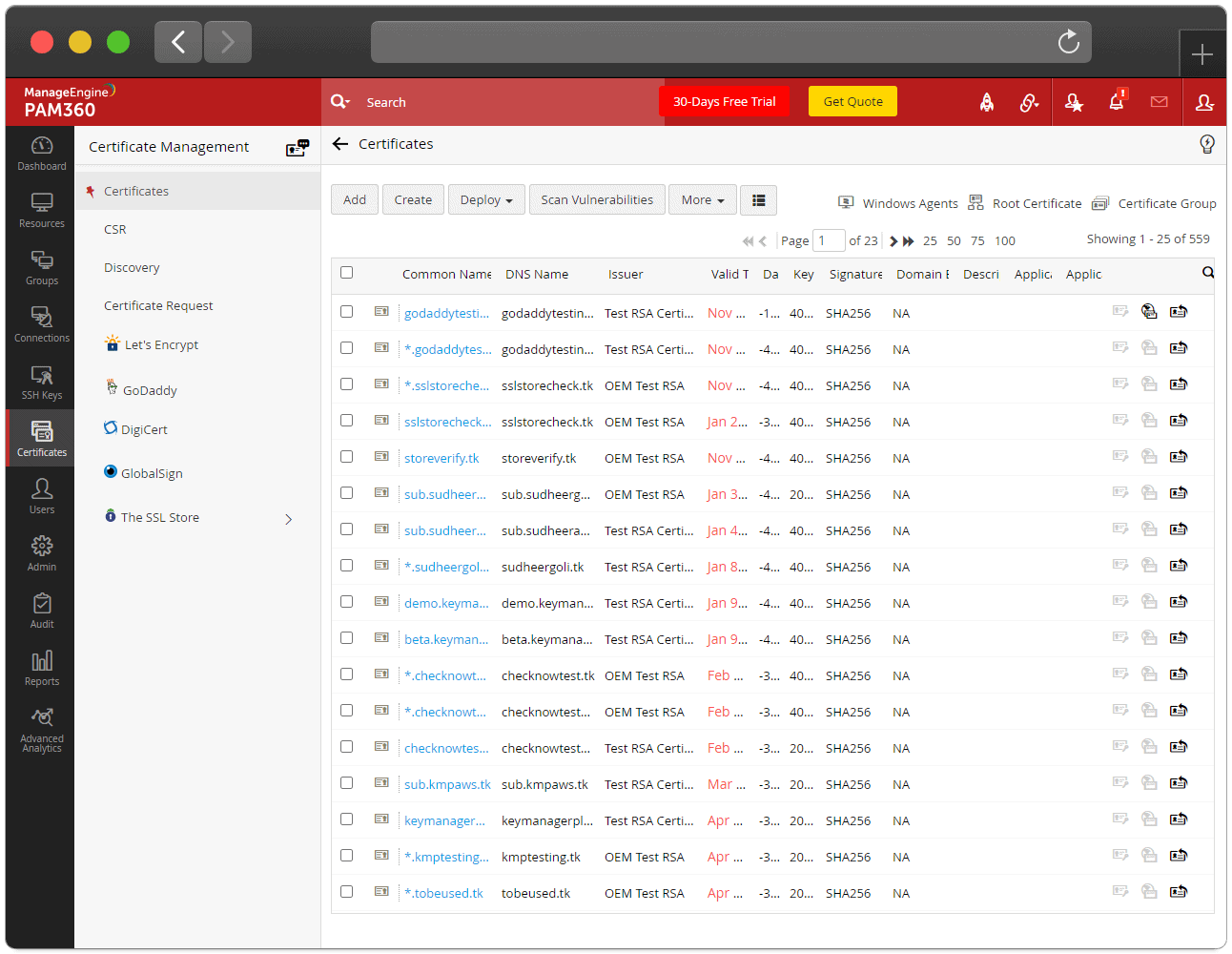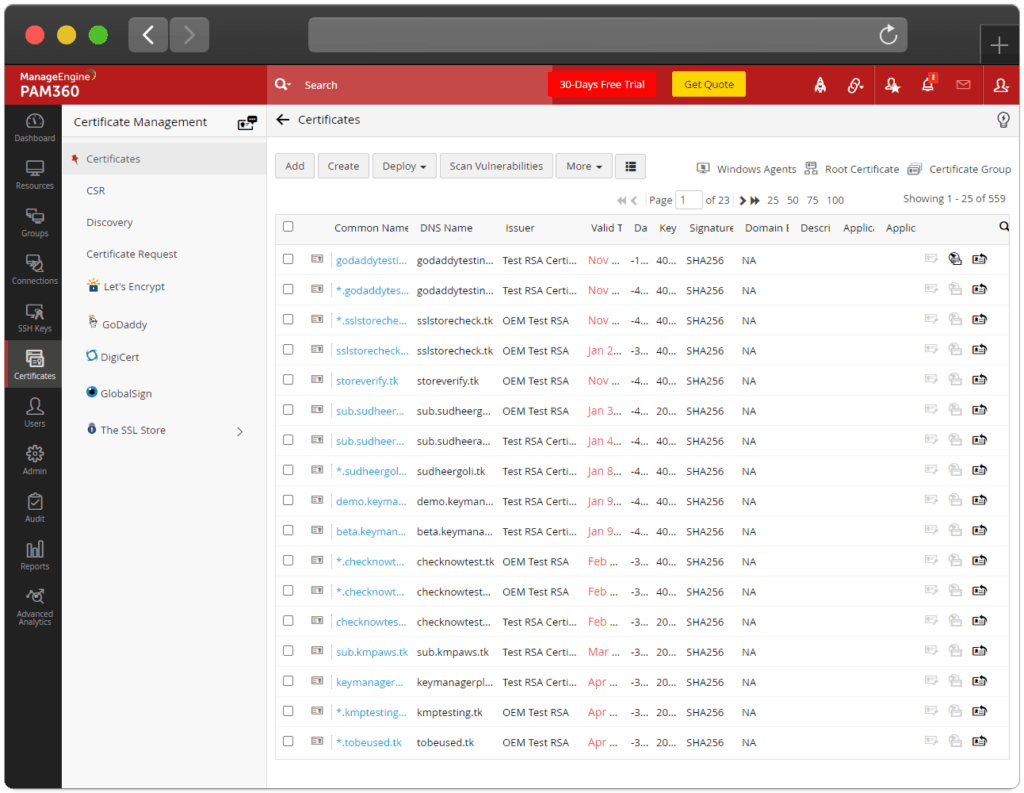 Frequently Asked Questions
How secure are my passwords in PAM360?
Ensuring secure storage of passwords and offering solid defense against intrusion are the top priorities of PAM360. The following measures cater to high-level security for passwords:
Passwords are encrypted in Advanced Encryption Standard (AES) and stored in the database. AES is currently the leading encryption algorithm and has been adopted by the US Government as a regular encryption standard.
The database which stores all the passwords accepts connections only from the host that it is running on, and is not visible externally.
Role-based, fine-grained user access control mechanism ensures that users can view and access passwords only based on the permissions granted to them.
All transactions between the PAM360 console and the server take place through HTTPS.
PAM360's built-in password generator helps generate strong passwords.
Do I need to install any prerequisite software before using PAM360?
Although there are no prerequisites required to install and start PAM360, the following components are needed in order to use Privileged Account Discovery and password reset features:
Microsoft .NET Framework 4.5.2 or above must be installed in the server where PAM360 is installed.
Microsoft Visual C++ 2015 redistributable must be installed.
To check if these software requirements are configured:
Go to Support » Software Requirements

 

and click

 

Check Configuration.
In the pop-up box that opens, the configuration status will be displayed.
Can others see the resources added by me?
No one including admin users will be able to see the resources added, unless, upon setup of PAM360, the Super Administrator. However, if the resources are shared with other administrators, they will be able to see them.
Can I add my own attributes to PAM360 resources?
Yes, the attributes of the PAM360 resource and user account can be extended to include details that are specific to the needs. Refer here for more details.
Does PAM360 record Password viewing attempts and retrievals by users?
Yes, PAM360 records all operations that are possible to be performed by a user- including password viewing and copying operations. Through audit trails, a comprehensive list of all the actions and attempts by the users with password retrieval can be obtained.
How can I install PAM360?
Being the Swiss partner of ManageEngine, Kidan is responsible for aiding with professional services, such as installing, implementing, configuring, training, and supporting the company to ensure an effective on-boarding of PAM360.
To make it even better, Kidan even provides advice on top of it all!
Get in touch with us to know more.
Want to continue the
conversation?
Thank you for your interest in ManageEngine's solutions. Please fill out the form below to ask a question or request assistance.