ManageEngine File Analysis
Prioritize file security and optimize file storage
FileAnalysis is part of DataSecurity Plus, a unified data security platform. This file analysis solution provides deep insights for file security and storage management. Access information on file permissions, disk usage, and storage efficiency through charts as well as predefined and customizable reports.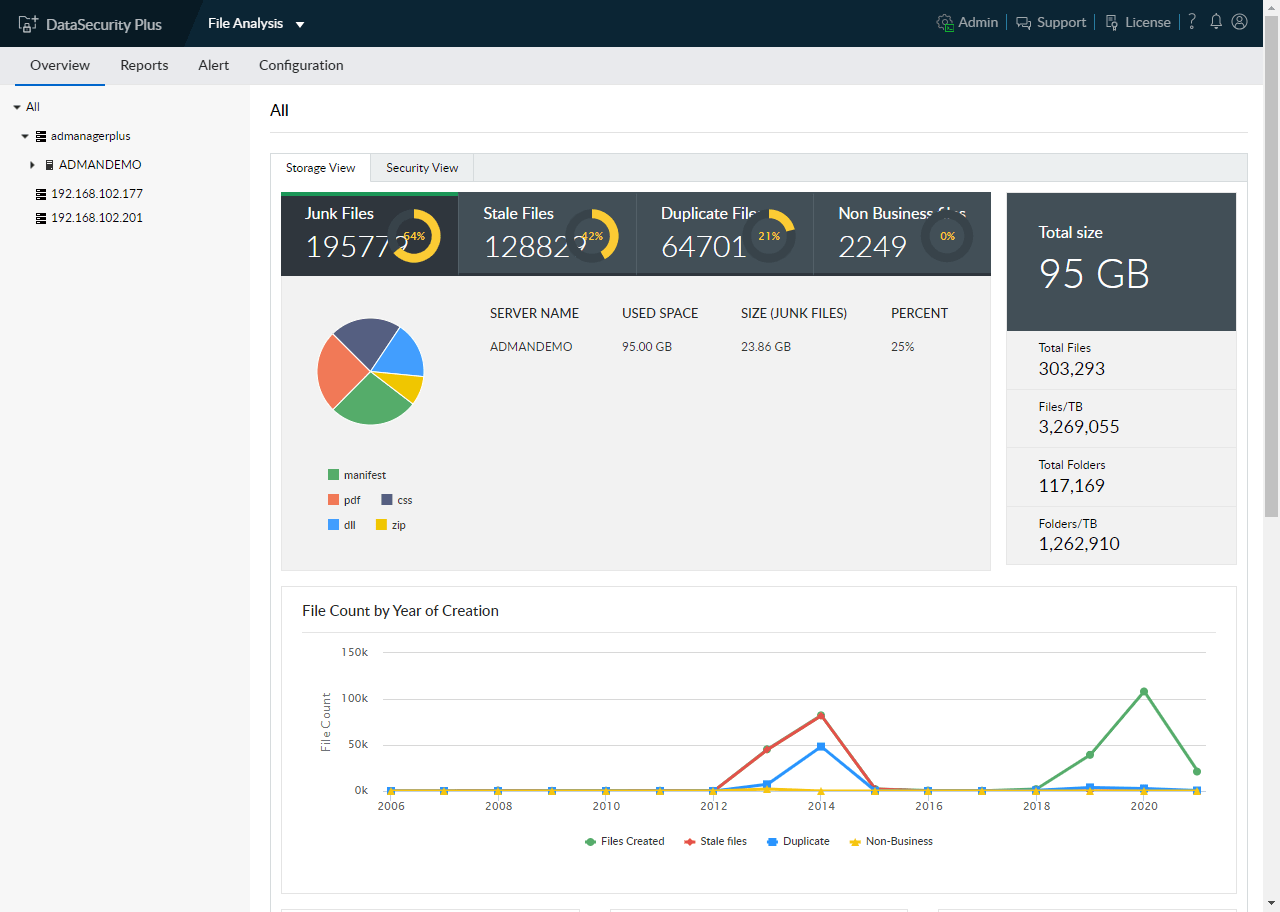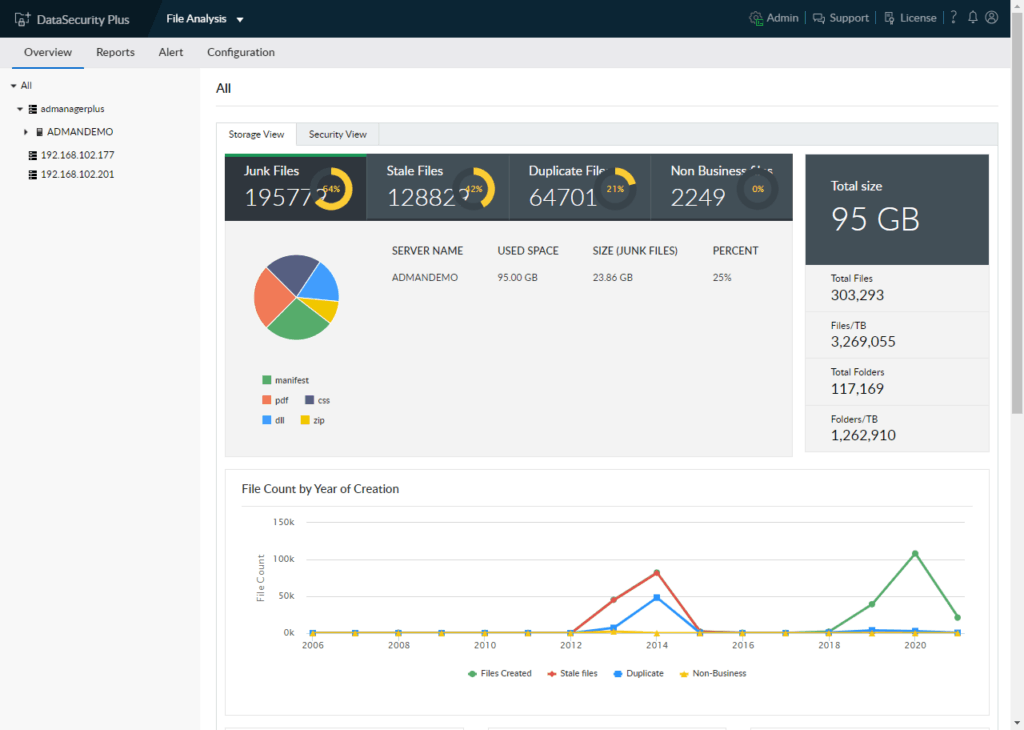 File Analysis Offerings
Transform your unstructured data into powerful business insights
Purge Junk Data
To help handle disc space and lower data storage costs, find and erase stale, outdated, redundant, and other completely unnecessary information and files.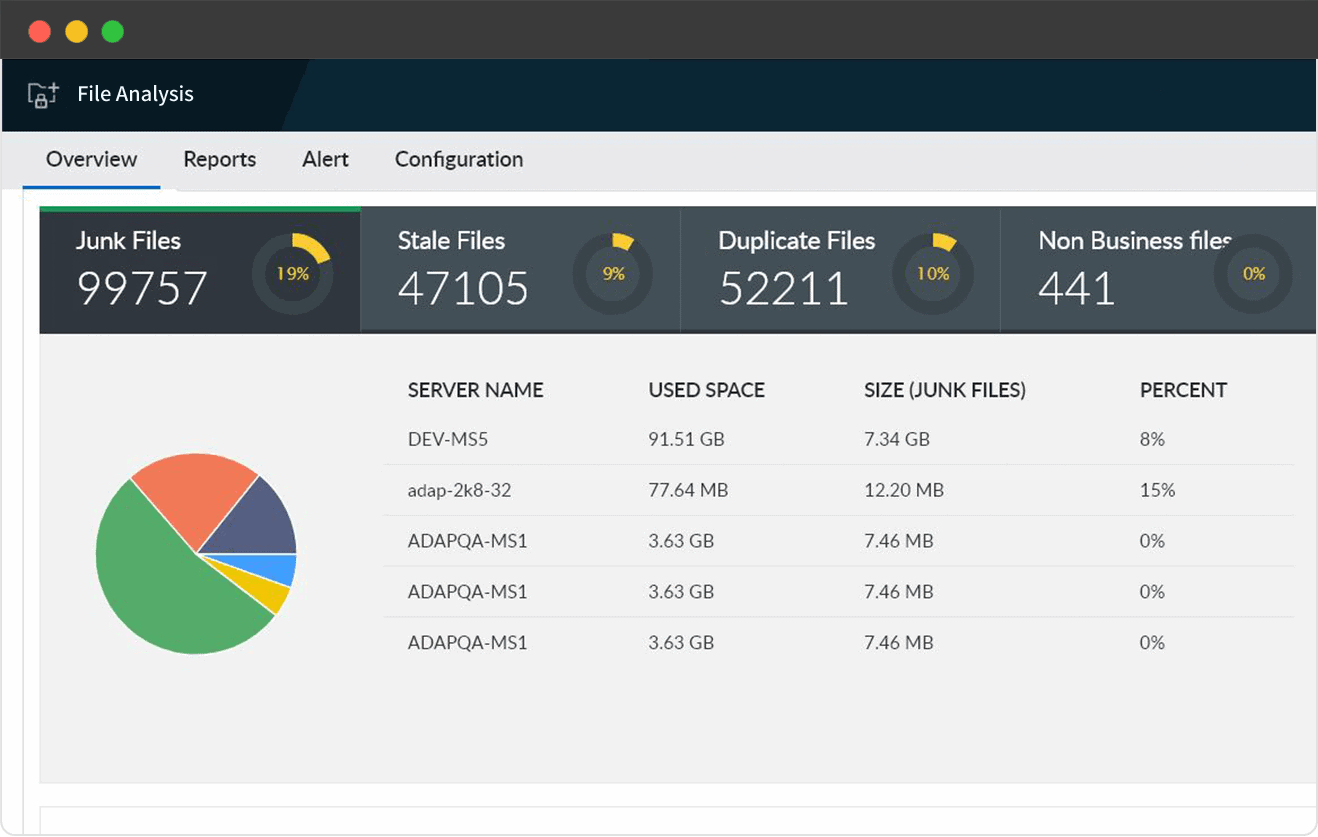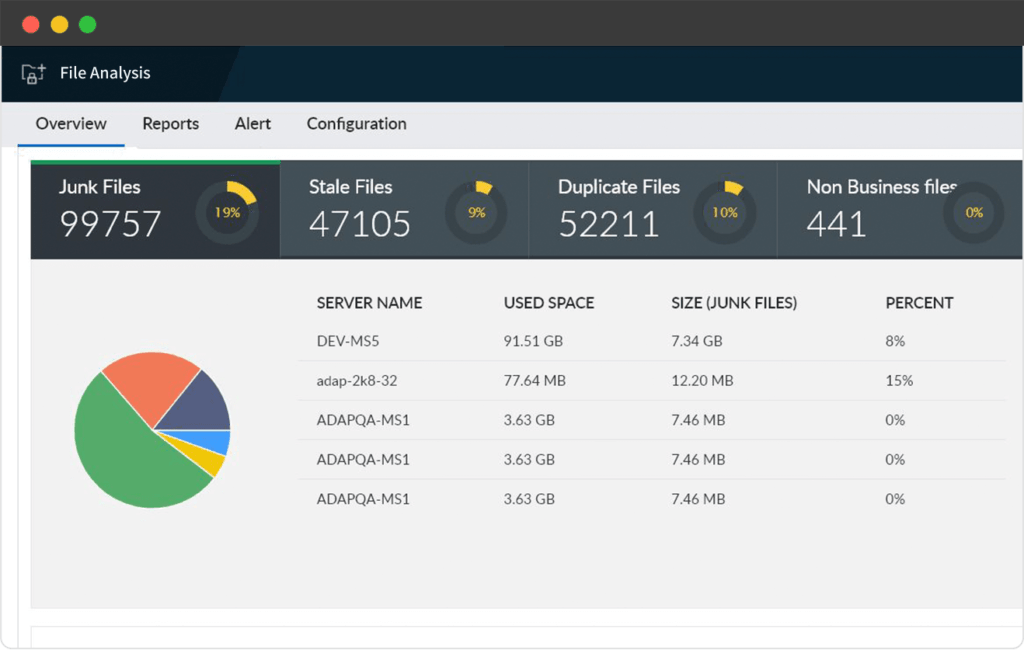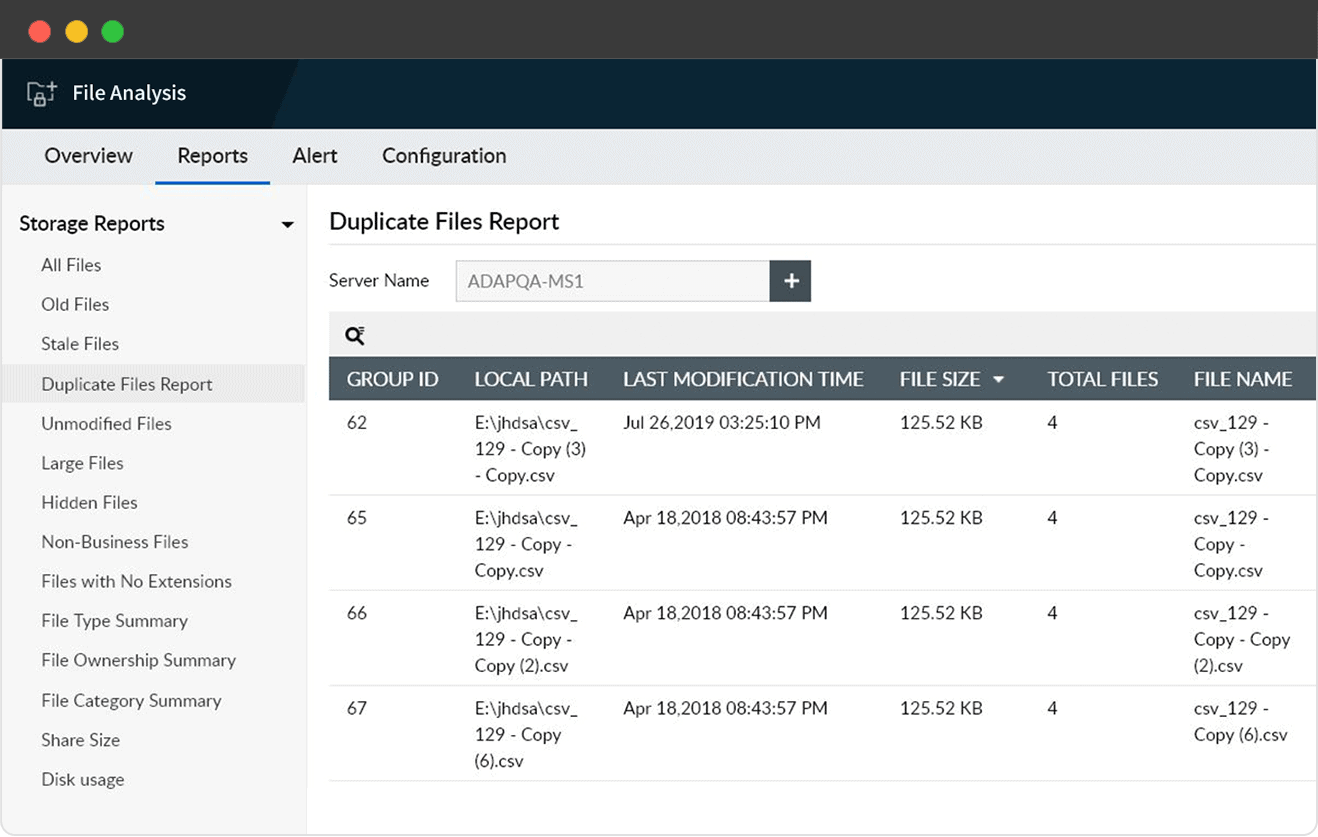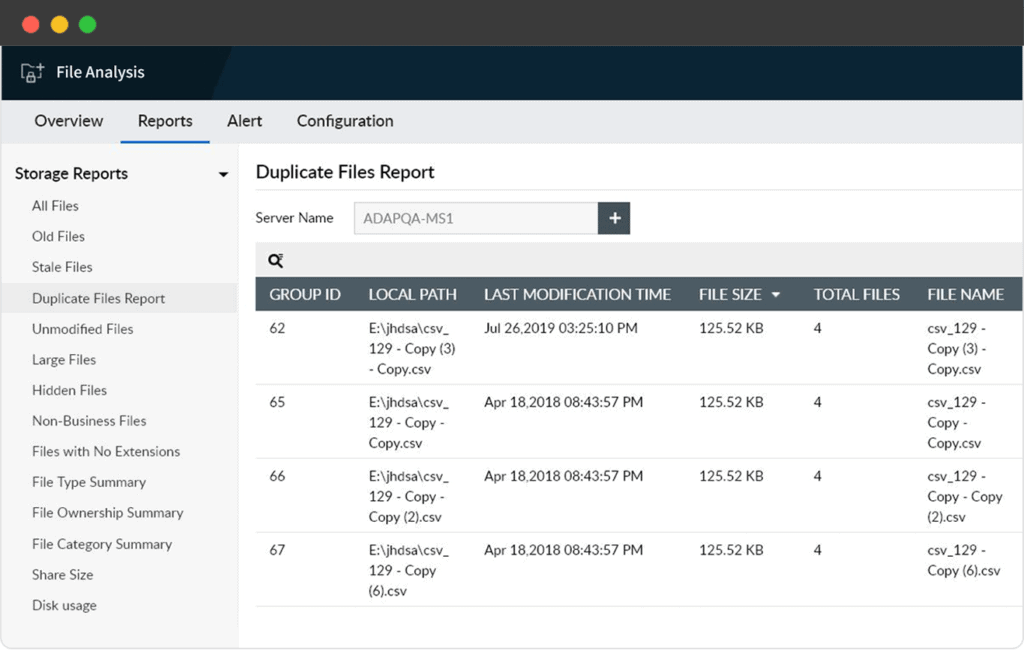 Remove Duplicate Files
Locate duplicate files by comparing file names, sizes, and last modification
times, and delete the unnecessary copies to free up primary storage.
Optimize Data Storage
Analyze disk space usage and storage development rates, and send out instant alerts when free space slips below predefined caps.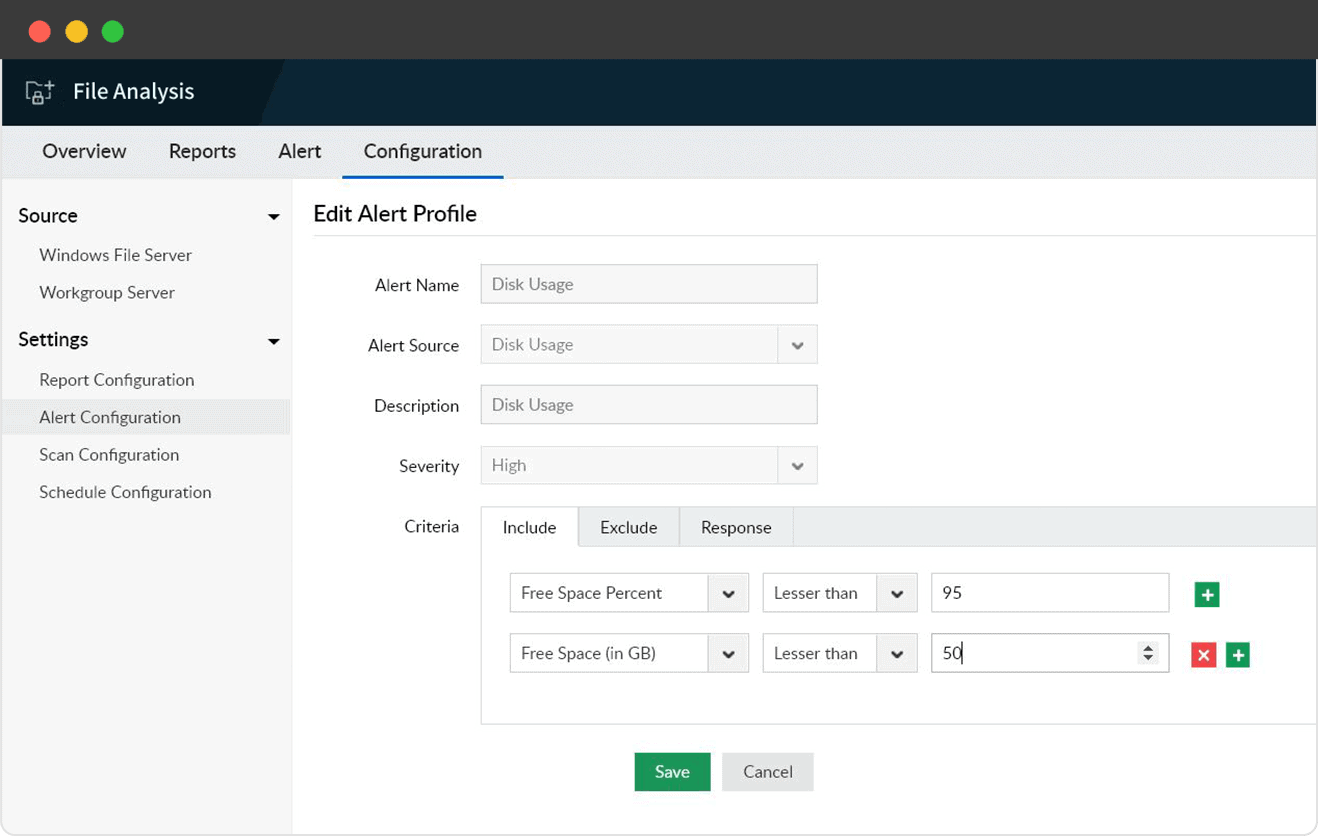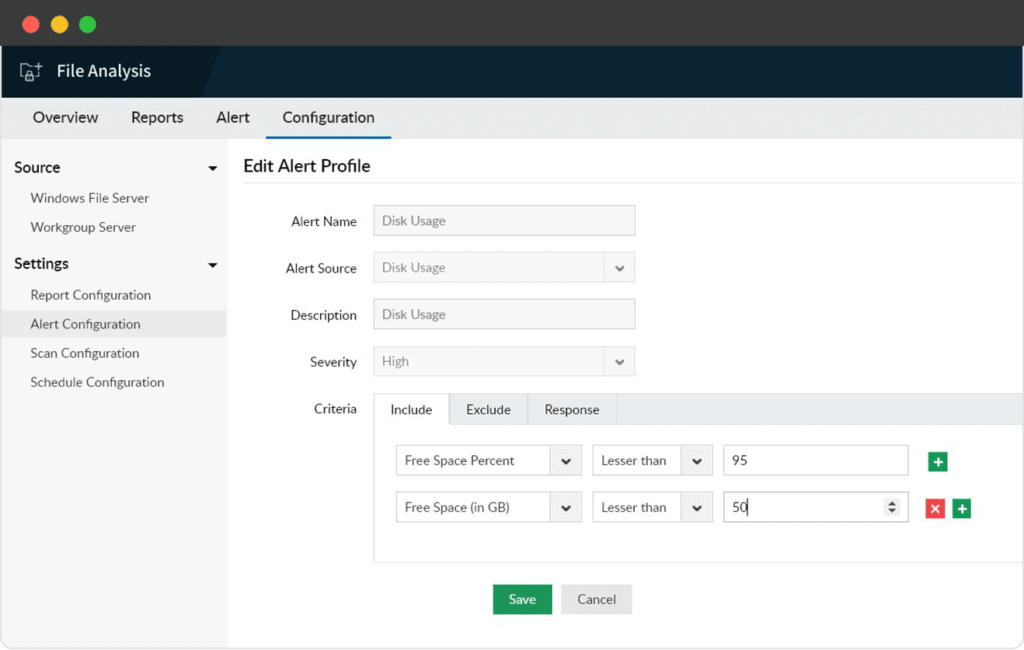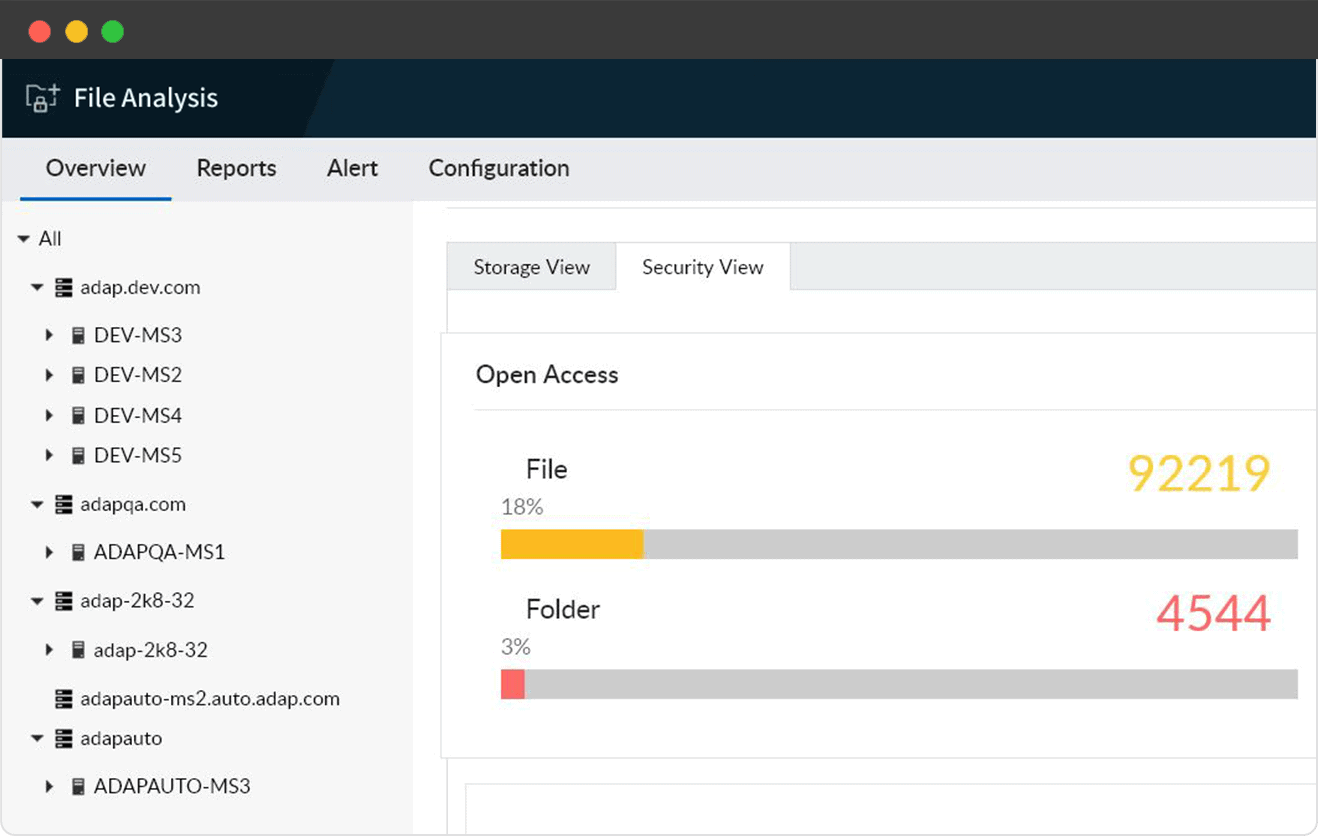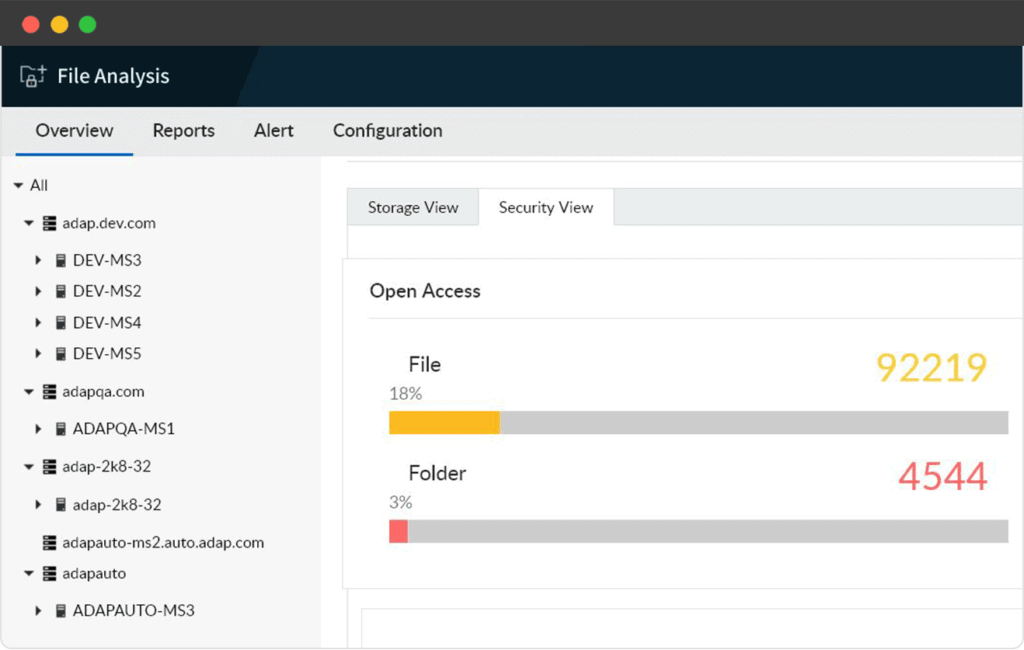 Identify Overexposed Files
Analyze NTFS permissions and detect security vulnerabilities like broken
inheritances and files owned by dormant users. Detect files with excessive permissions such as those accessible by every user or allow unrestricted access
Find Ransomware-Corrupted Files
Detect and respond to ransomware attacks with an automated
threat response mechanism. Track harmful ransomware-infected files using our predefined library of
over 50 ransomware file types to eliminate them from your file servers.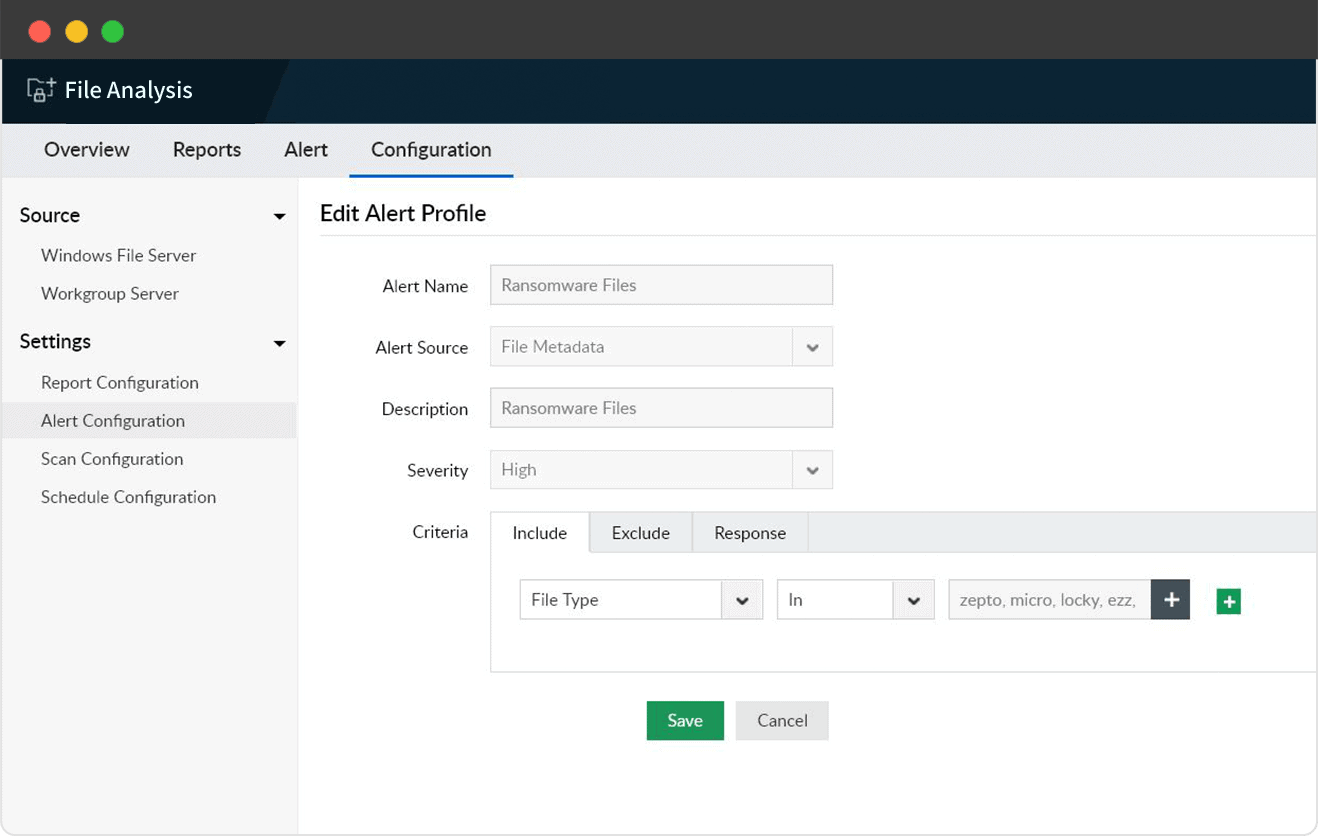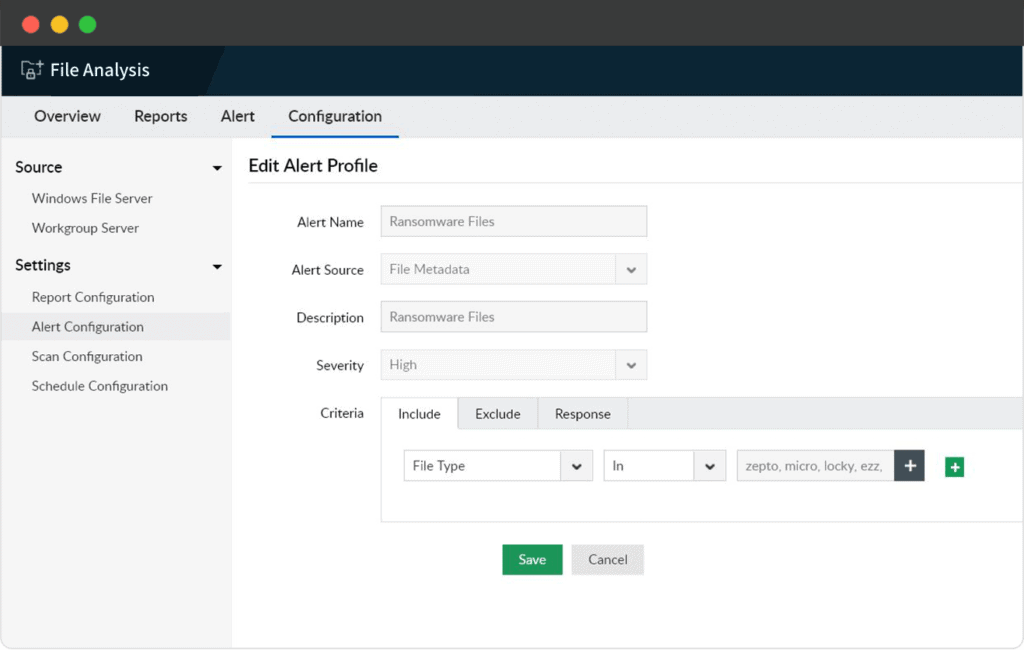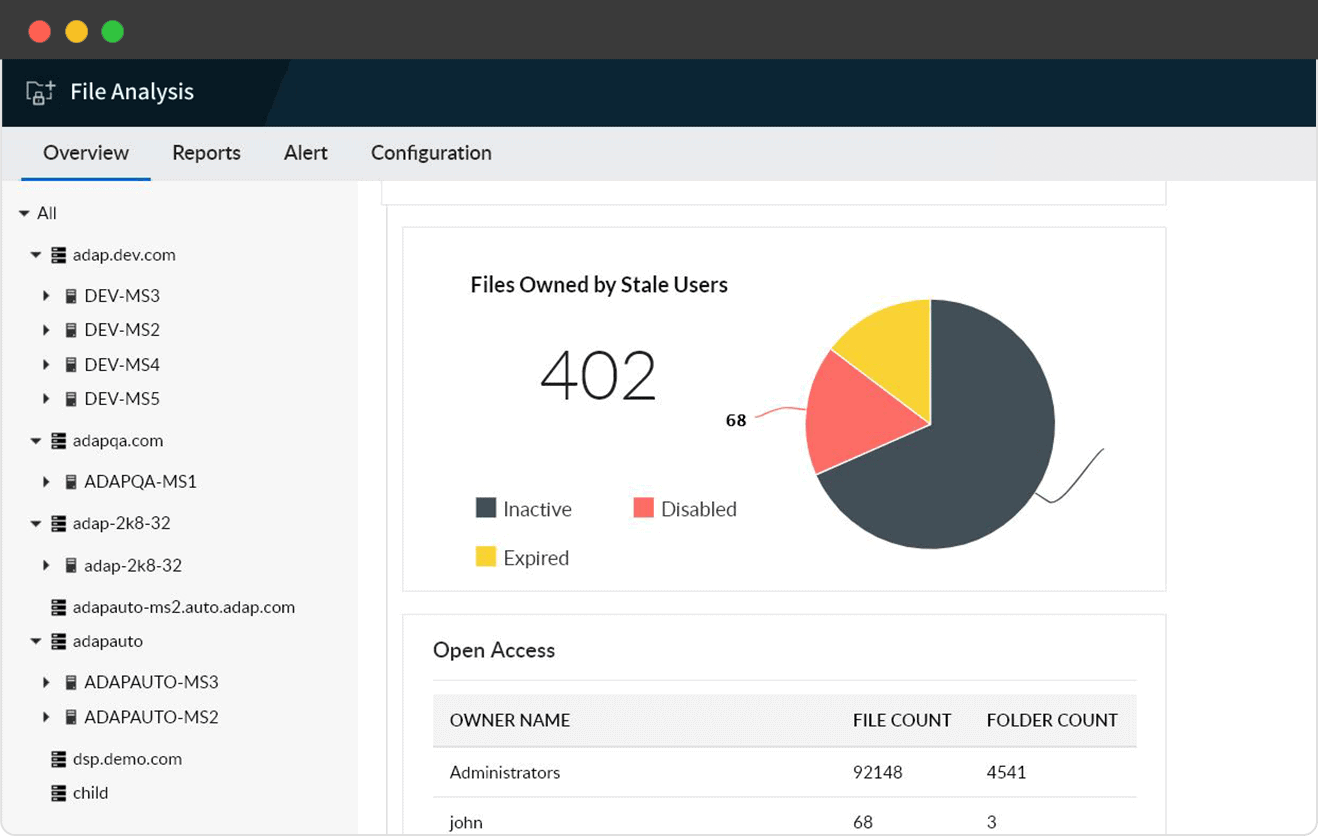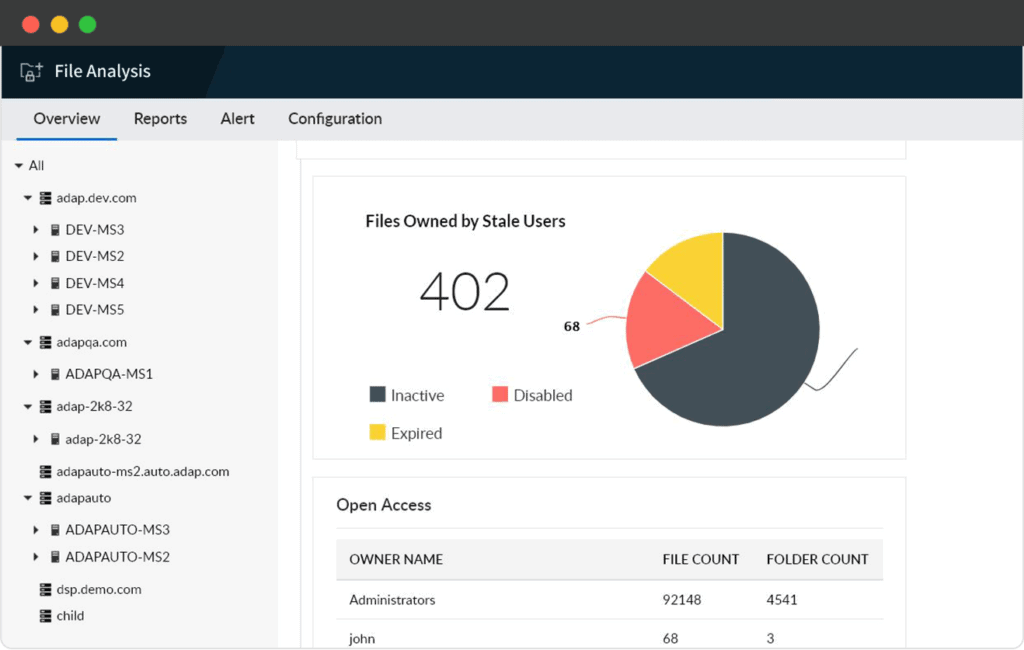 Remove Hidden Data
Find instances of all hidden files in the organization, including system files, OS files, and business-critical data. Scan for specific file types or sizes that are unwanted or unnecessary in your organization.
ManageEngine File Analysis Pricing
File Analysis is Starting From:
FileAnalysis—storage and security insights in one package


Highlights:
ROT analysis
Disk space analyzer
Permission analyzer
Data risk scanner
Frequently Asked Questions
What is the pricing for File Analysis?
The Annual price for the solutions starts at
$

95
Also, there's a free 30-day trial available, with no User Limit and Free  24*5 tech support
How to Set up File Analysis?
To set up File Analysis,
The user has to undergo, domain, File Server and workgroup configurations.
To know the details, contact Kidan or visit the link.
What are the On-Demand reports?
On-Demand Reports:
The list of on-demand reports are:
Effective Permissions: Shows the effective permissions of users in a selected server, share, and sublevel.
All Shares: Lists all the shared files and folders in a selected server with details on the share name, type, share path, and local path.
Open Sessions: Lists all the open user sessions in the selected server with details on the host IP, username, connected time, idle time, and several open files.
Open Files: Lists the files that are open at the time the report is generated.
Junction Points: Lists junction points in a selected server, folder, and sublevel, along with the target location.
Privileged Users: Lists of users with excessive privileges.
Orphaned Files: Lists all the files associated with programs that have been uninstalled or separated because of a computer error.
NTFS Permissions: This shows the security permissions of selected file shares to users.
Empty folders: Lists all empty folders within selected file shares or folders.
What are the Supported Platform for File Analysis?
File analysis can be performed across the following Microsoft Windows Server versions:
Windows Server 2003 R2
Windows Server 2008
Windows Server 2008 R2
Windows Server 2012
Windows Server 2012 R2
Windows Server 2016
Windows Server 2019
Is File Analysis a stand alone product, or comes with some other products integrations?
ManageEngine DataSecurity Plus is unified data visibility and security platform. Data security Plus comprises of the below modules:
File Audit: Report, analyze, and alert on file accesses and modifications in real-time
File Analysis: Analyze file storage, monitor disk space usage, and examine security permissions to locate junk data and security vulnerabilities
Data Risk Assessment: Discover and classify files containing sensitive data (PII, PCI, and ePHI)
Data Leak Prevention: Detect and disrupt sensitive data leaks via endpoints (USBs, email, etc.)
Cloud Protection: Audit your organization's web traffic to track and control the use of high-risk web applications
How do I install File Analysis?
Being the Swiss Partner of ManageEngine, Kidan is responsible for aiding with professional services, such as installing, implementing, configuring, training, and supporting the company to ensure an effective on-boarding of File Analyzer.
To make it even better, Kidan even provides advice on top of it all!
Get in touch with us to know more.
Want to continue the conversation?
Thank you for your interest in ManageEngine's File Analysis solution. Please fill out the form below to ask a question or request assistance.