Metalogix Solutions
Microsoft Platform Management
Metalogix solutions help accelerate and streamline content migration, management, and security for Microsoft SharePoint, OneDrive for Business, Office 365, Exchange, and other cloud collaboration services. Designed with industry best practices, Metalogix software enables in executing today's most complex and strategic collaboration priorities—whether the platform is on-premises, on the cloud, or in a hybrid environment.
Move deprecated and custom line-of-business applications into the platform of choice; manage storage, archiving, and system performance; and protect and govern the entire collaboration ecosystem.
Content Matrix
Metalogix Content Matrix is the industry's most powerful SharePoint and Office 365 migration solution. Designed to migrate significant amounts of content from legacy SharePoint environments into new SharePoint versions in one hop, Content Matrix enables the scalability that organizations need to optimally configure the migration to suit their needs and project timelines.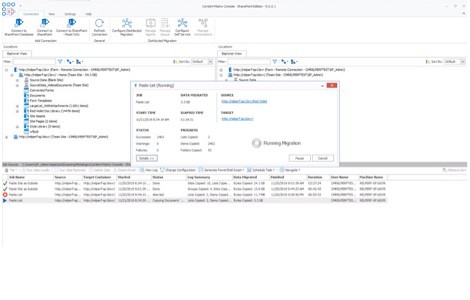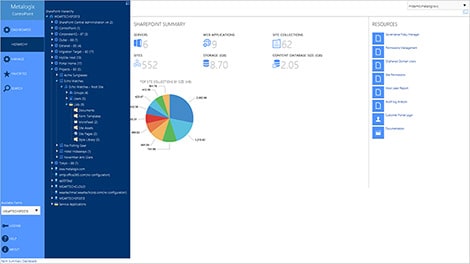 Control Point
Metalogix ControlPoint enables permissions, auditing, reporting and governance policies for SharePoint. Confidently manage permissions, audit user and admin actions, automate and delegate SharePoint governance, clean up SharePoint content, monitor user adoption and protect against data breaches and suspicious user behavior.
Sensitive Content Manager
Metalogix Sensitive Content Manager raises the bar for SharePoint data loss prevention. Confidently scan, detect and classify sensitive data and personally identifiable information (PII). Enforce policies leveraging the full range of SharePoint permissions management, auditing, and user activity. Receive alerts and isolate or remove policy-violating files—on-premises or in the cloud.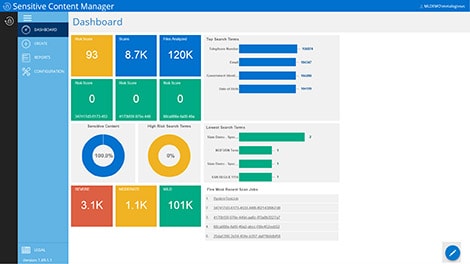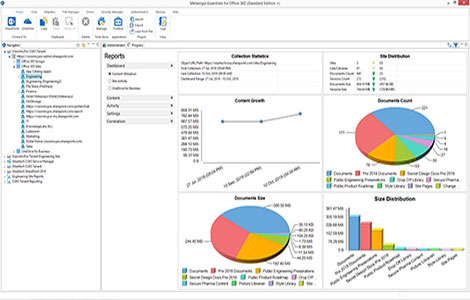 Essentials for Office 365
Simplify Office 365 pre-migration analysis, migration and management with Metalogix Essentials for Office 365. Use a single console to easily move and reorganize content from multiple cloud service providers and on-premises SharePoint and File Shares, manage permissions and licenses and gather key intelligence about user adoption.
StoragePoint
Optimize storage with the leading remote blob storage (RBS) solution. Store content to optimize the organization's cost and performance needs. Solve content growth challenges by leaving unstructured content on appropriate storage tiers while still managing content from within SharePoint – keeping SharePoint's performance high as the content grows.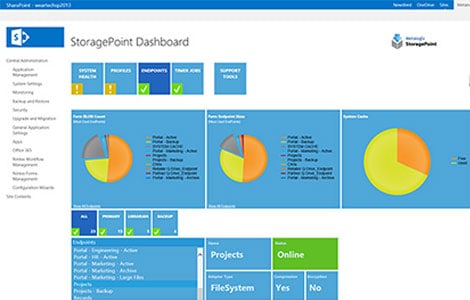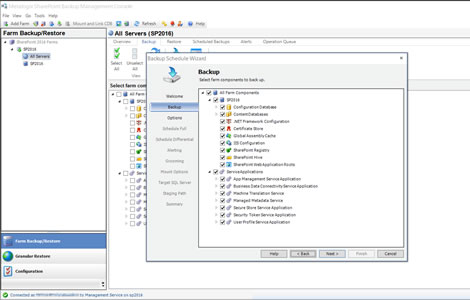 Backup for SharePoint
Ensure a comprehensive backup and restore solution for the entire SharePoint environment. Protect the SharePoint environment, create backup sets that are highly compact and secure, enable granular restores of individual or departmental content and streamline recoveries with self-service features that empower admins and users as well as saves time.
Diagnostic Manager
Monitor, diagnose, and resolve issues in the SharePoint environments. View the health and performance of the SharePoint environment from a single dashboard and create custom reports based on issues specific to the environment. Address issues with SQL, search, and content databases.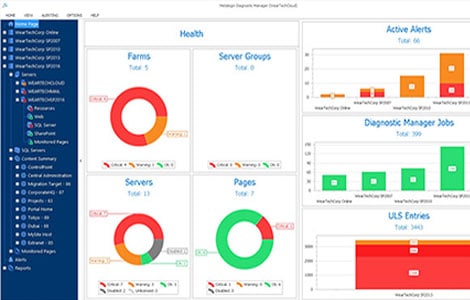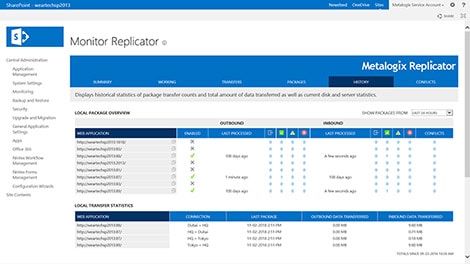 Replicator
Synchronize content between multiple SharePoint environments. Replicate content over limited bandwidth and ensure the continuous availability of SharePoint environments. Minimize data loss during power, system or network failures and planned outages.
Archive Manager for Exchange
Automatically and transparently centralize, control, and retain all of the organization's Exchange email from one central location with robust email archiving capabilities. Reduce email storage by up to 80% and shrink email backup times by 50%.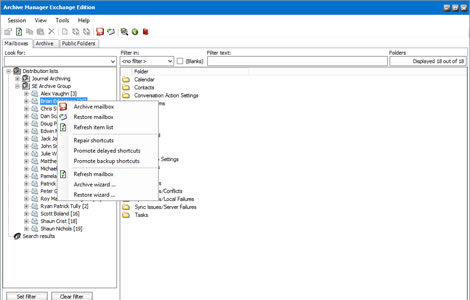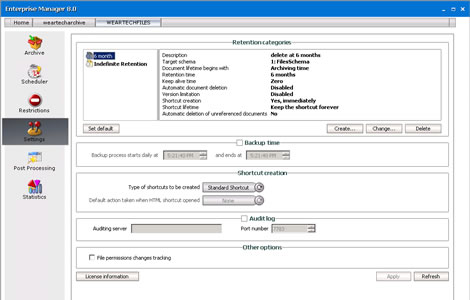 Archive Manager for Files
Automatically archive, manage and secure all the organization's files. Connects to overworked file servers and re-directs documents onto separate, more cost-effective storage tiers, while controlling how long messages are archived in accordance with industry, government, and internal regulations.
97%
CUSTOMER SATISFACTION
Frequently Asked Questions
What is Metalogix?
Metalogix Software is an independent software vendor founded in 2001 in Vancouver, British Columbia and was acquired by Quest Software, Inc. … In general, Metalogix products aim to facilitate the migration of files between platforms, optimizing data storage, backing up data, and monitoring file security.
What is migration in SharePoint?
SharePoint migration is the process of making existing content accessible in SharePoint or Office 365. Generally, this means copying or "migrating" content from a source environment—such as file shares, SharePoint Server, Box, or Google Drive—to any version of SharePoint or SharePoint Online.
What are the steps in Data migration?
6 Key

 

Steps

 

in a

 

Data Migration

 

Strategy
Explore and Assess the Source. Before

 

migrating data, you must know (and understand) what you're

 

migrating, as well as how it fits within the target system. …
Define and Design Migration. …
Build the

 

Migration

 

Solution. …
Conduct a Live Test. …
Flipping the Switch. …
Audit.
How can Metalogix help?
Ensures your content is stored in the right areas
Manage and secure your content with permissions and seeing the movement of content through your system
When you migrate to a new version of SharePoint it might be difficult to maintain version control. Metalogix can help with version control in your new systems.
How do I install Metalogix Solutions?
Being the Swiss partner of Quest, Kidan is responsible for aiding with professional services, such as installing, implementing, configuring, training, and supporting the company to ensure an effective on-boarding of Metalogix Solutions.
To make it even better, Kidan even provides advice on top of it all!
Get in touch with us to know more.
Want to continue the conversation?
Thank you for your interest in Quest Software Metalogix Solutions. Please fill out the form below to ask a question or request assistance.