Audit of sensitive data in the organization
ADAudit Plus can monitor, report and audit all changes occurring in the entire Active Directory: starting with user logins, going through adding new accounts and assigning them permissions, ending with information when a given server was turned off and by whom. The tool audits not only domain controllers, but also workstations, member servers, file servers and disk arrays.
All this from the level of one web console, ensuring quick and convenient access to all data. In addition, the system can alert us in real time. ADAudit Plus replaces tedious log searching with scripts and saves Windows administrators a lot of time.
ADAudit Plus Offerings
Now with monitoring, reporting, and auditing thanks to ADAudit Plus.
Active Directory security & audit
ADAudit Plus enables real-time monitoring and auditing of AD based on events occurring in it. Using them, the system can create alerts and alarm profiles through e-mail or SMS notifications.
In the event of an unwanted event, ADAudit Plus can execute a pre-configured script to prevent unwanted changes due to unauthorized access to the environment.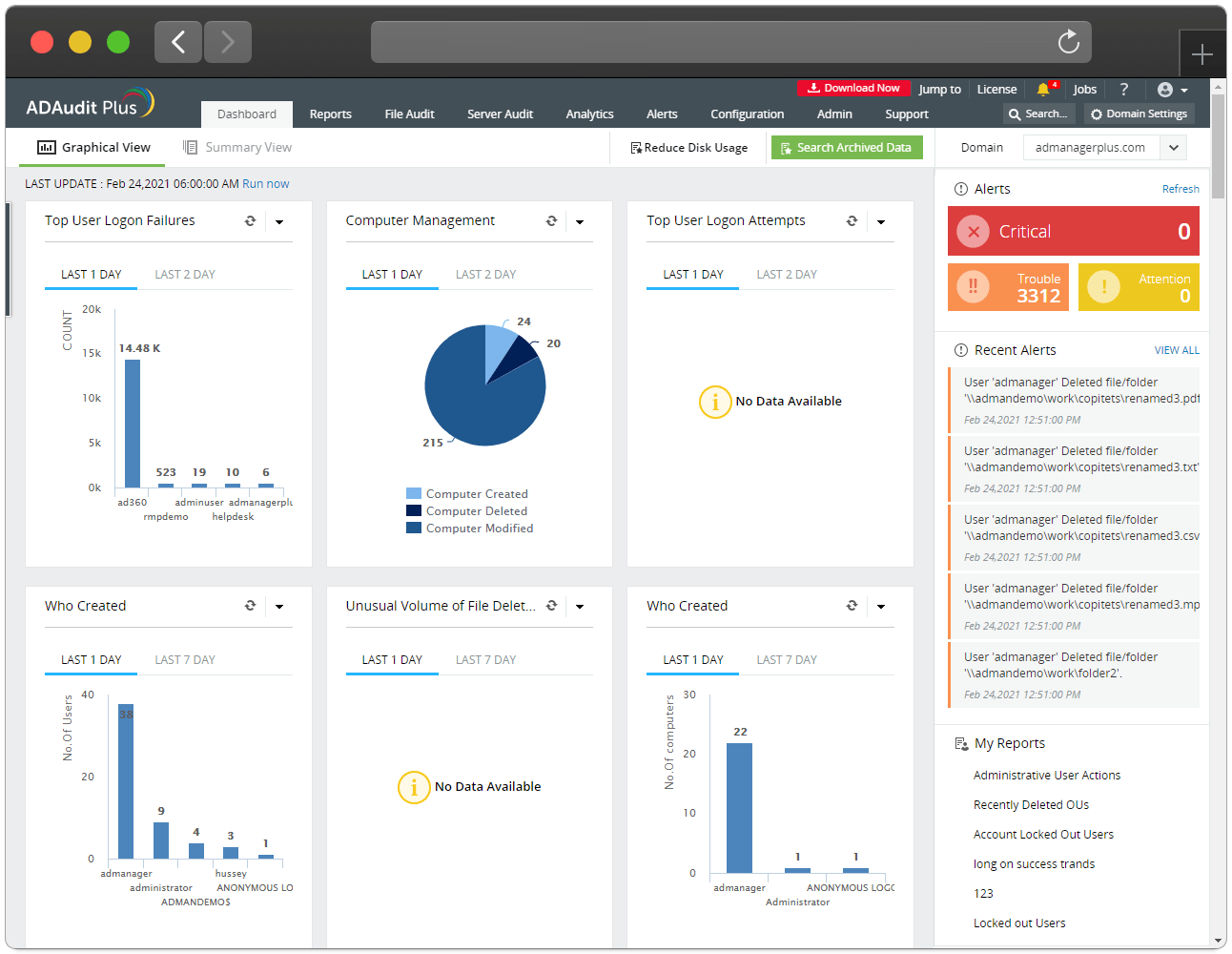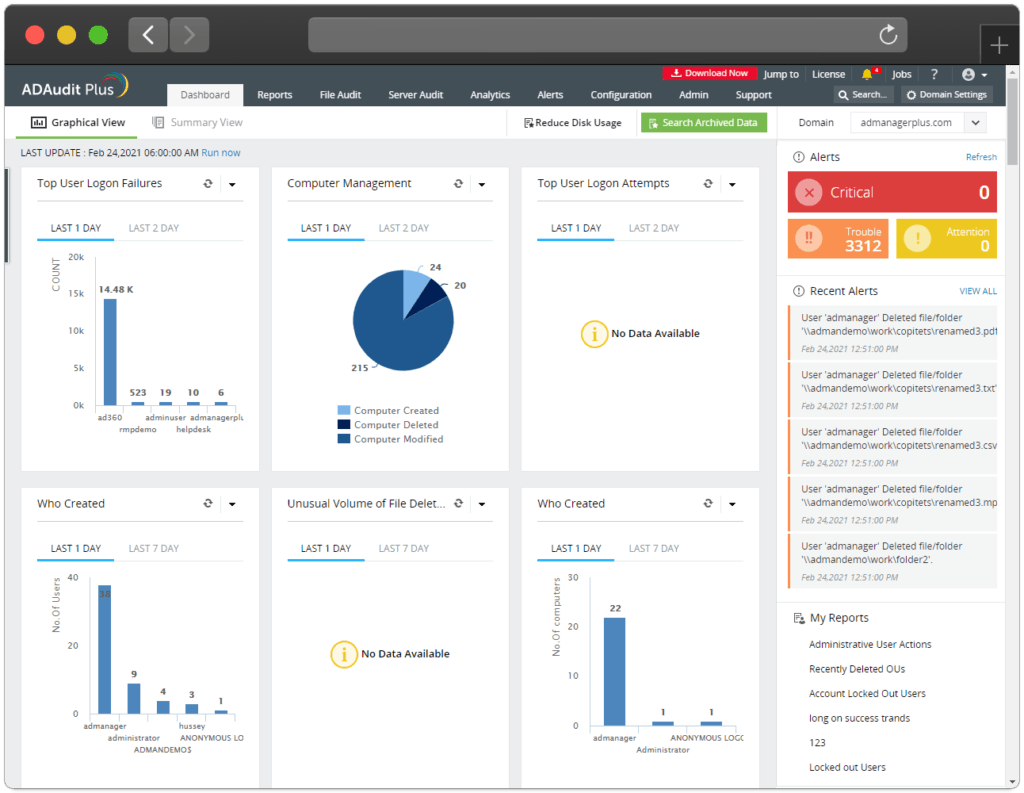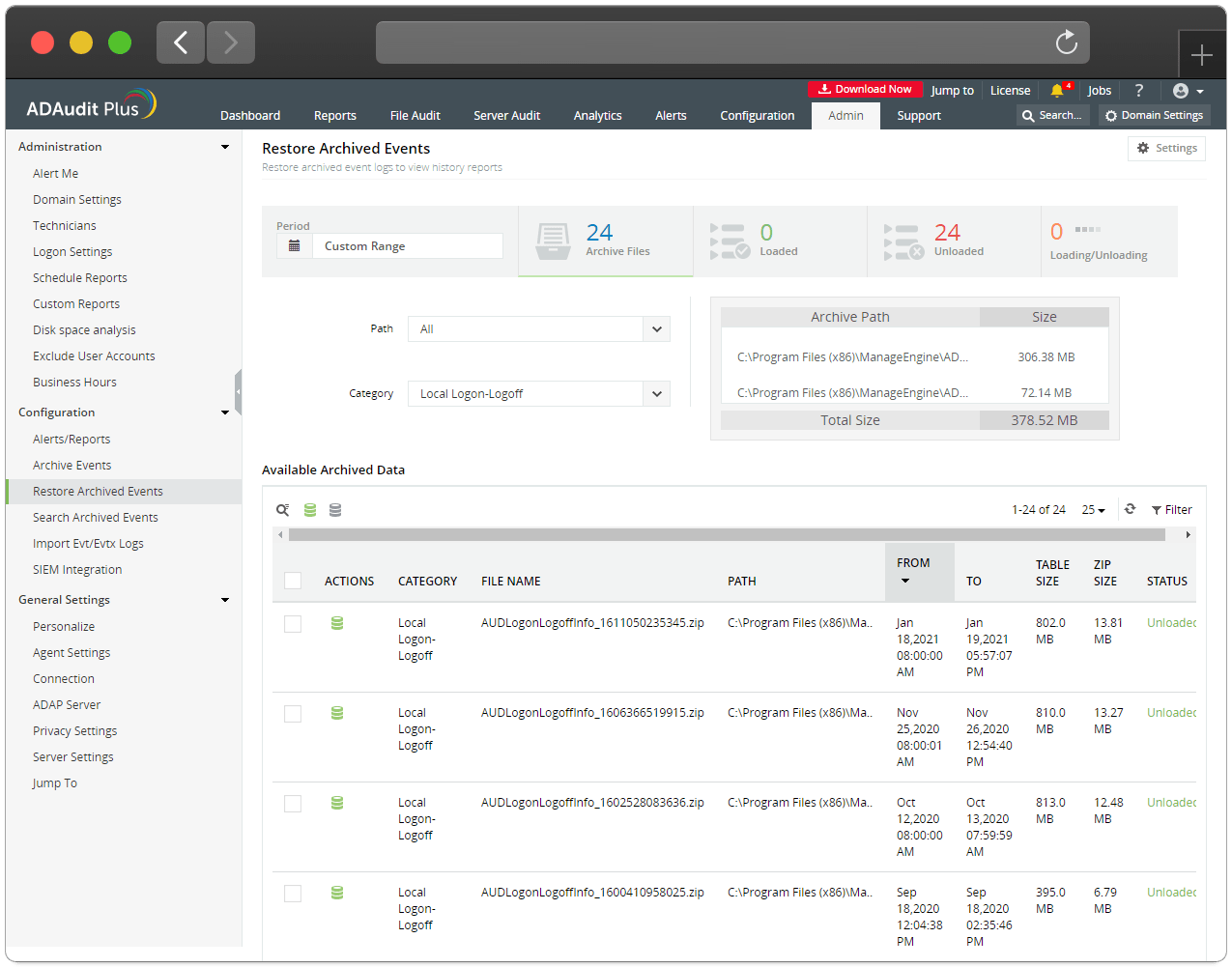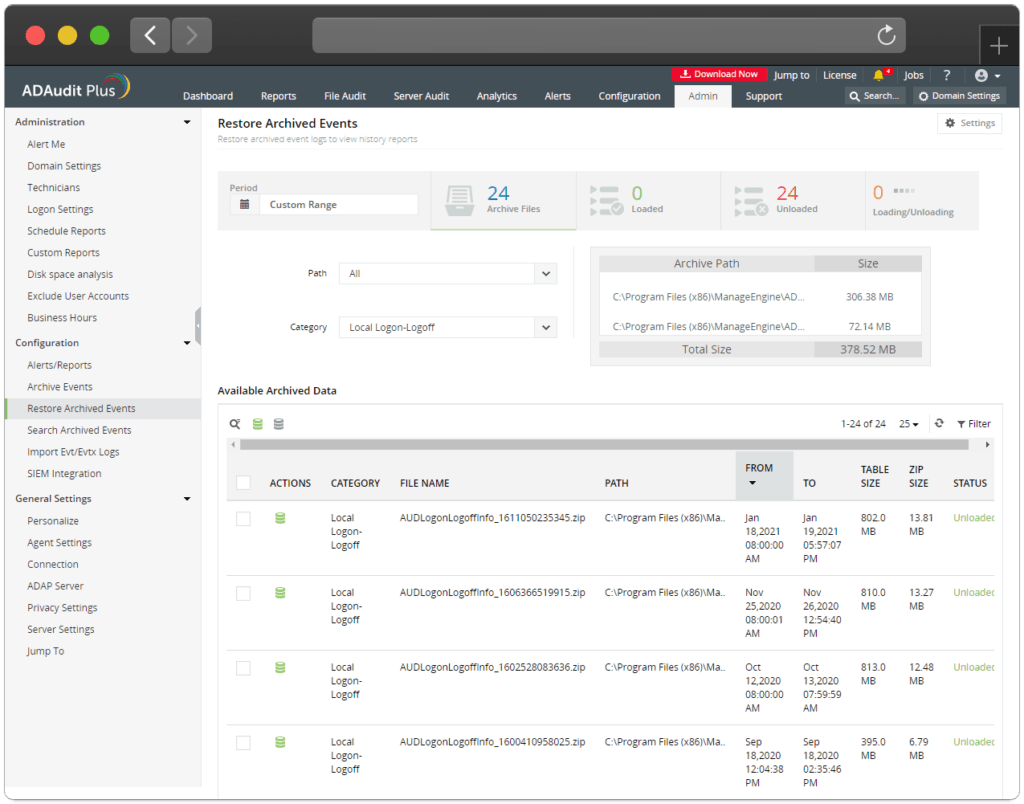 Archive historical data
ADAudit Plus provides periodic data archiving to manage disk space. This can enable reports to be viewed such as Active Directory user login history, password change history, and other information from archived audit data. The completed reports can be exported to XLS, CSV, PDF and Excel formats.
Built-in reports module
The tool has over 200 built-in reports, that can view every action performed. In addition to out-of-the-box reports, ADAudit Plus can define custom reports as per the needs.
Moreover, it enables the creation of cyclical schedules of the execution of these reports and sending the generated file to the path specified in the configuration.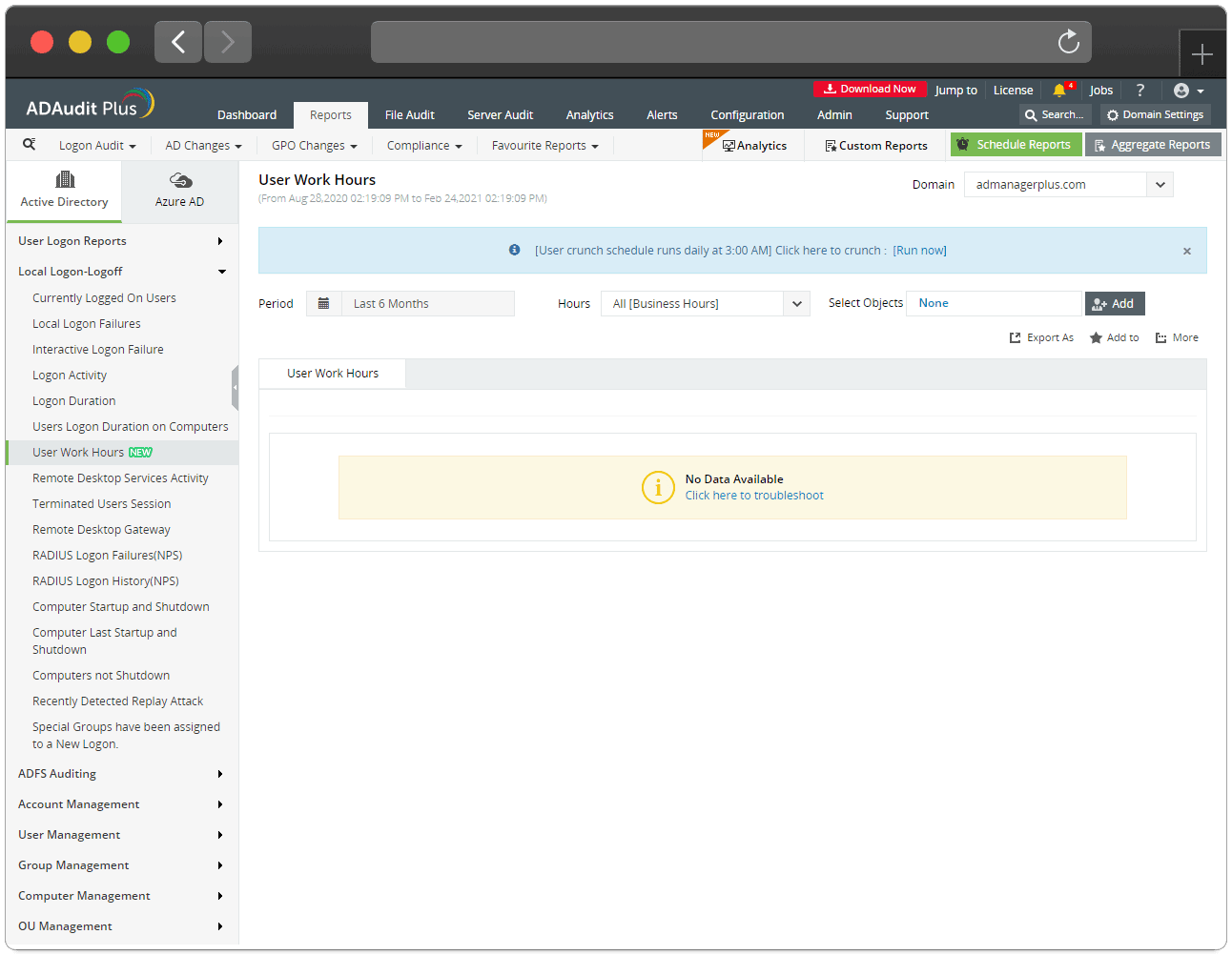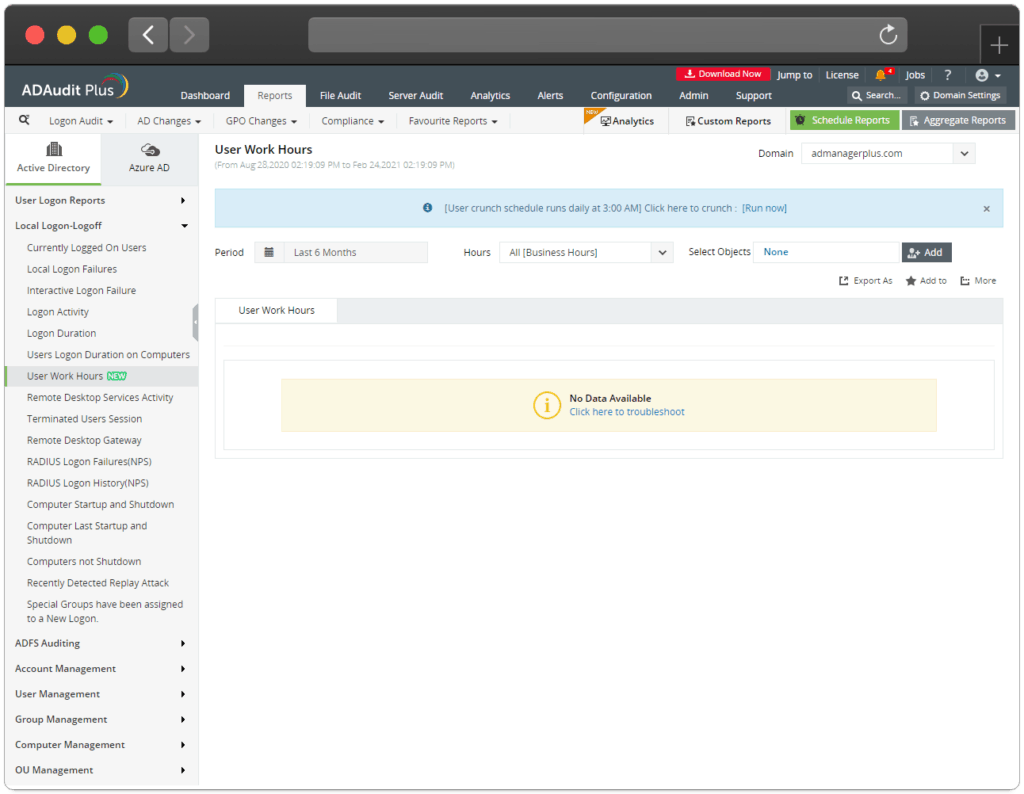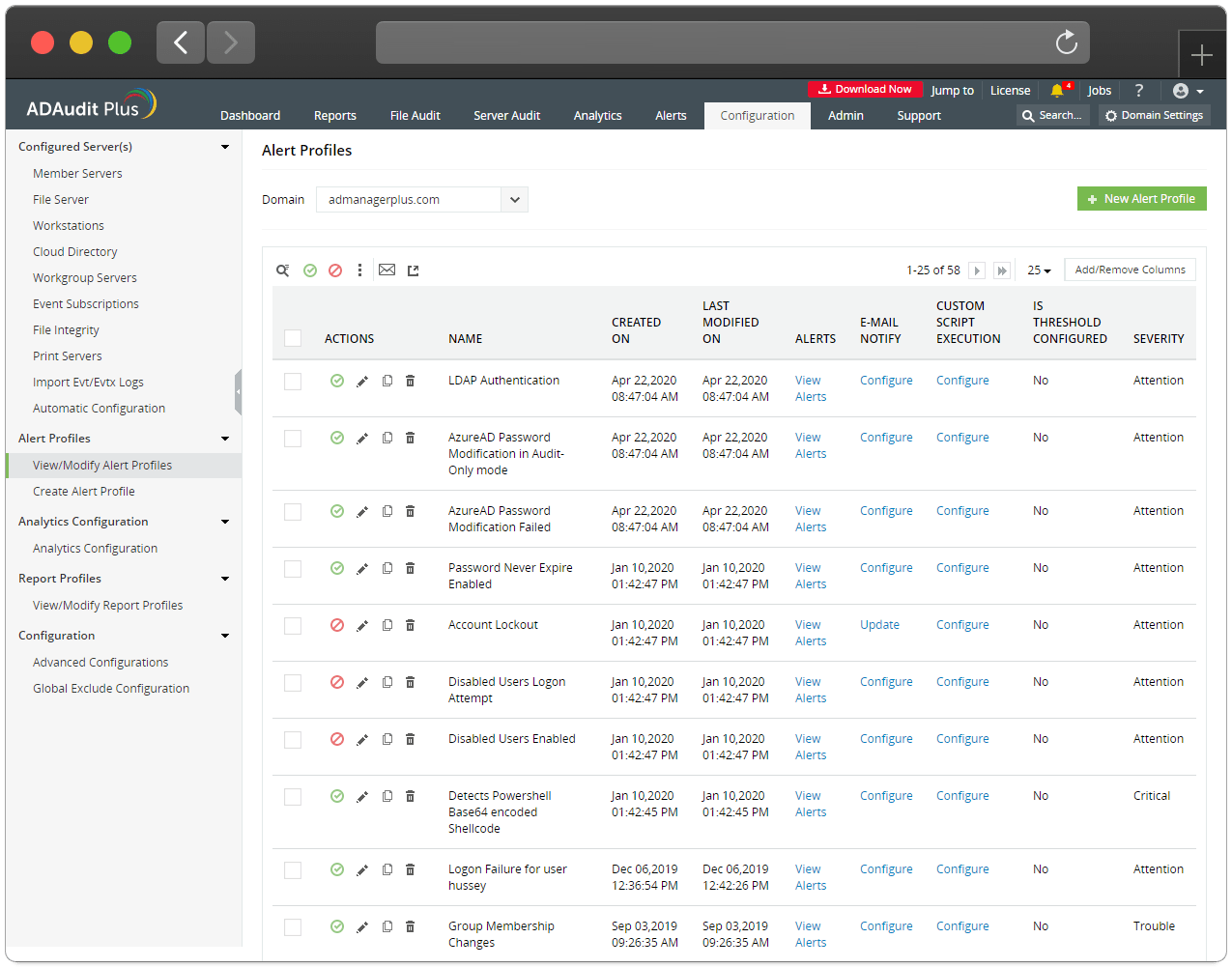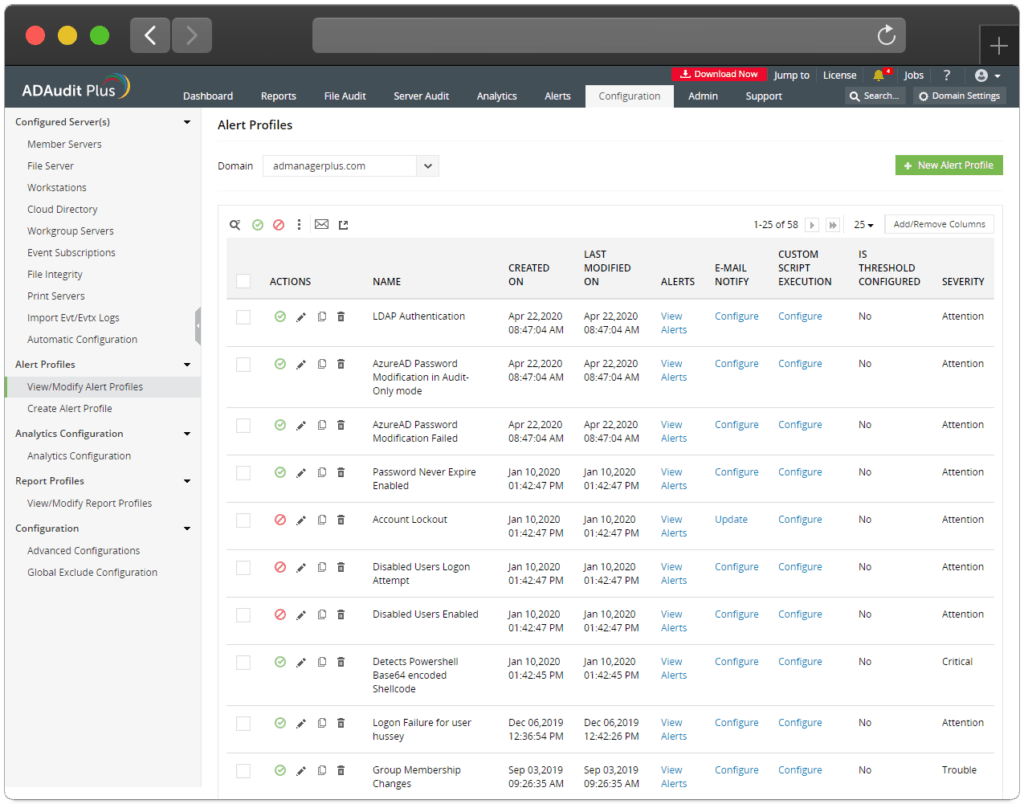 Notifications sent to the administrators
ADAudit Plus can configure administrator notifications. For each event recorded by the system, the content of the message that the administrator receives can be defined.
In the case of a large number of notifications, the system can create a time interval during which only one message/notification can be sent.
Support multiple domains centrally
ADAudit Plus is a multi-domain, which means that many domains can be connected to it and can be monitored simultaneously in real time. Thanks to this, administrators will have the latest information about the domain environment from a single web console.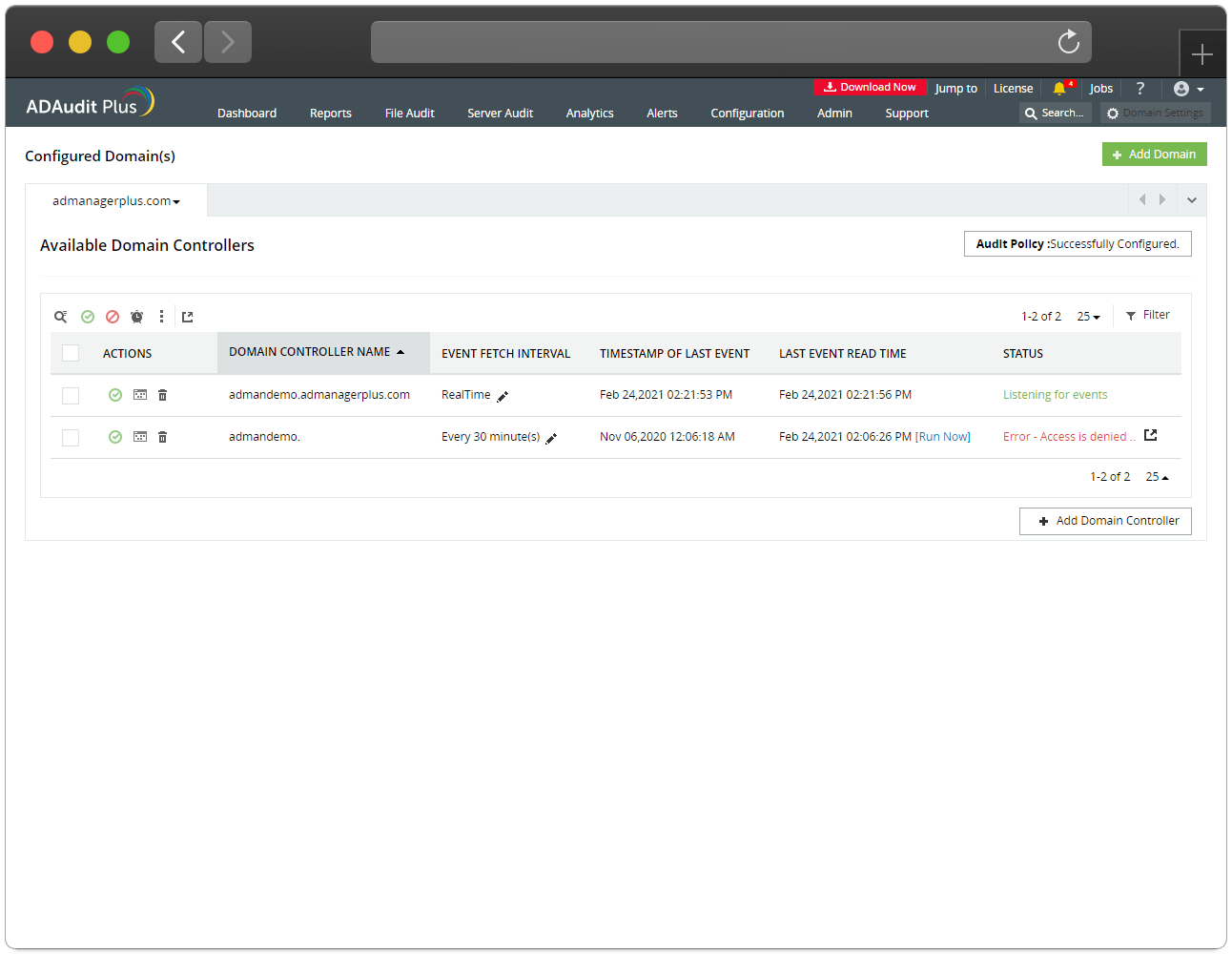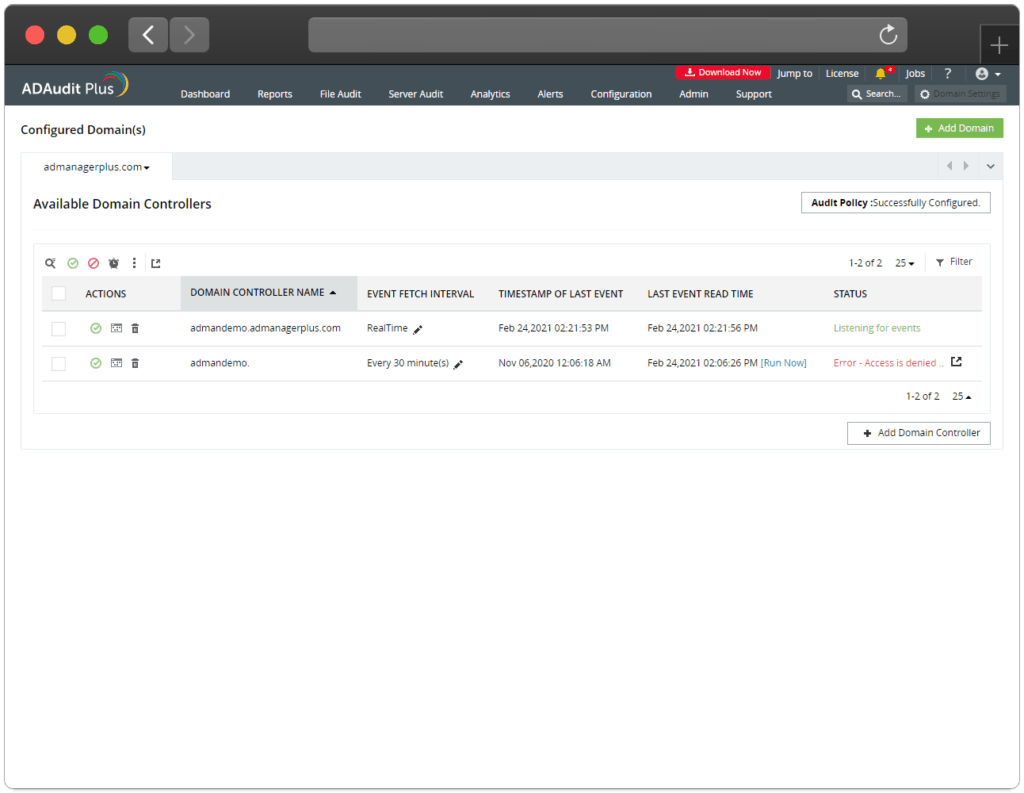 ManageEngine AD Audit Plus Pricing
Standard Edition is Starting From:
• AD Logon Activity Monitoring
• AD User, Group, PC, OU, GPO Change Auditing
• Admin/HelpDesk Technician Activity Auditing
• Schedule, E-mail Pre-Configured Reports
• Threshold based E-mail Alerts
• Compliance Specific Reports
• Account Lockout Reports Analyzer
1. Addons
• Audit File Server and Failover Clusters
• Monitor EMC File Server modifications
• Track NetApp Filer changes
• Track Synology NAS Server changes
• Track Hitachi NAS Server changes
• Track Huawei NAS Server changes
• Azure AD auditing
Professional Edition is Starting From:
• AD Logon Activity Monitoring
• AD User, Group, Computer, OU, GPO Change Auditing
• Administrator/HelpDesk Technician Activity Auditing
• Schedule, E-mail Pre-configured Reports
• Threshold based e-mail Alerts
• Compliance specific reports
• Account Lockout Reports | Analyzer
• Group Policy Object settings audit
• Track all attribute changes of User/Computer/Groups/OU
• New/Old Value audit AD Object attributes*
• Active Directory Permission change audit
• DNS Server Auditing
• Schema, Contacts & Configuration Auditing
• Support for MS SQL database
Frequently Asked Questions
What is ADAudit Plus?
ADAudit Plus

 

by ManageEngine is an on-premise

 

auditing solution. Key features include tools that allow users to audit active directories, login and logoff records, file servers, and Windows server data. It provides information about active directory objects including users, groups, computers, and configuration changes.
How do I audit Active Directory?
ADAudit Plus provides a clear picture of all changes made to your AD resources including AD objects and their attributes, group policy, and more. AD auditing helps detect and respond to insider threat, privilege misuse, and other indicators of compromise, and in short, strengthens your organization's security posture.
How do I Monitor Windows File Server Auditing?
Securely track the File Servers for access, changes to the documents in their files and folder structure, shares and permissions. View from the exclusive file audit reports with 50+ search attributes and filter based on user / file server / custom / share based reporting for crisp detailed information. Also, get instant email alerts on File Servers activities upon unauthorized actions / access to critical files & folders. Find answers to the vital 4W's – 'Who effected what change in File Server, when and from where'.
Windows File Server auditing | Access permissions audit | Compliance audit reports
Detailed forensics of all changes

 

/ failed attempts to file create, delete, modification and folder structure
Track file and folder access permissions & owners
Audit Windows Failover Clusters for a secure, downtime-free and a compliant network environment
Monitor EMC Servers, NetApp Filers CIFS files / folders create, modify and delete, change permissions etc.,
How to Change auditor for NetApp filers?
Gain visibility into your NetApp storage devices with ManageEngine ADAudit Plus, a NetApp file auditing and reporting tool. Receive detailed reports on user activity in NetApp files and CIFS shares, analyze permission changes, and automate responses to security incidents.
How do I install ADAudit Plus?
Being the Swiss Partner of ManageEngine, Kidan is responsible for aiding with professional services, such as installing, implementing, configuring, training, and supporting the company to ensure an effective on-boarding of ADAudit Plus.
To make it even better, Kidan even provides advice on top of it all!
Get in touch with us to know more.
Want to continue the
conversation?
Thank you for your interest in ManageEngine's ADAudit Plus solution. Please fill out the form below to ask a question or request assistance.