DataSecurity Plus
Securing network shares
The tool has built-in reports that obtain any information, e.g. about the current state of the environment. DataSecurity Plus also audits the creation, modification, and deletion of files. The system extends the possibilities by scanning network shares for sensitive data such as PESEL or ID card numbers.
Thanks to this knowledge, block the actions of copying elements by external terminals to data carriers such as USB, web browser, e-mail. DataSecurity Plus gives total control over the environment.
DataSecurity Plus Offerings
Discover, monitor, and protect sensitive data from being exposed or stolen.
Audit network shares and more
Securing network shares is the main feature of DataSecurity Plus. The system also has the ability to track and graphically present archive data, such as access to files and actions performed in them. It is noteworthy that the solution also allows checking the history of file locations.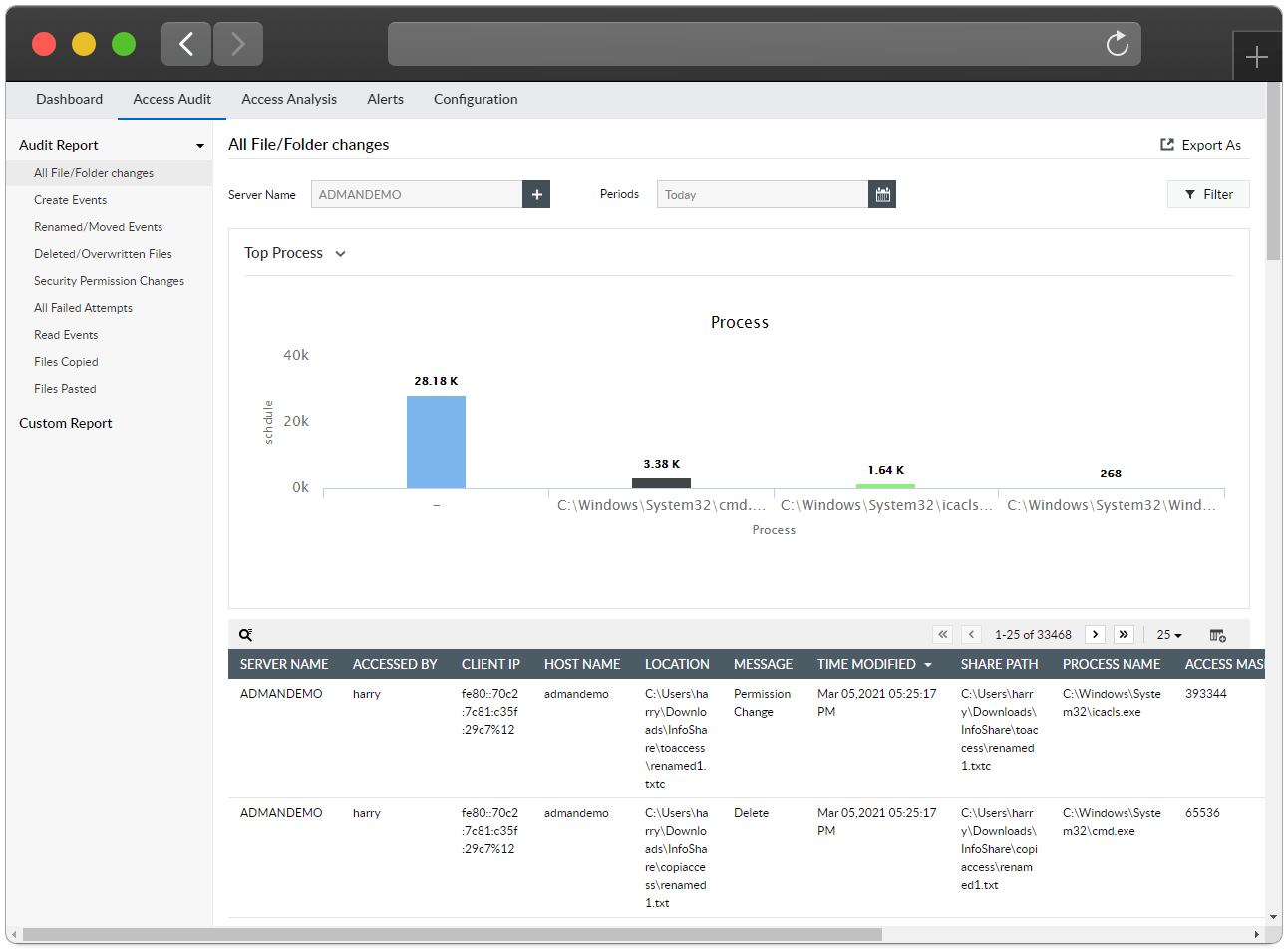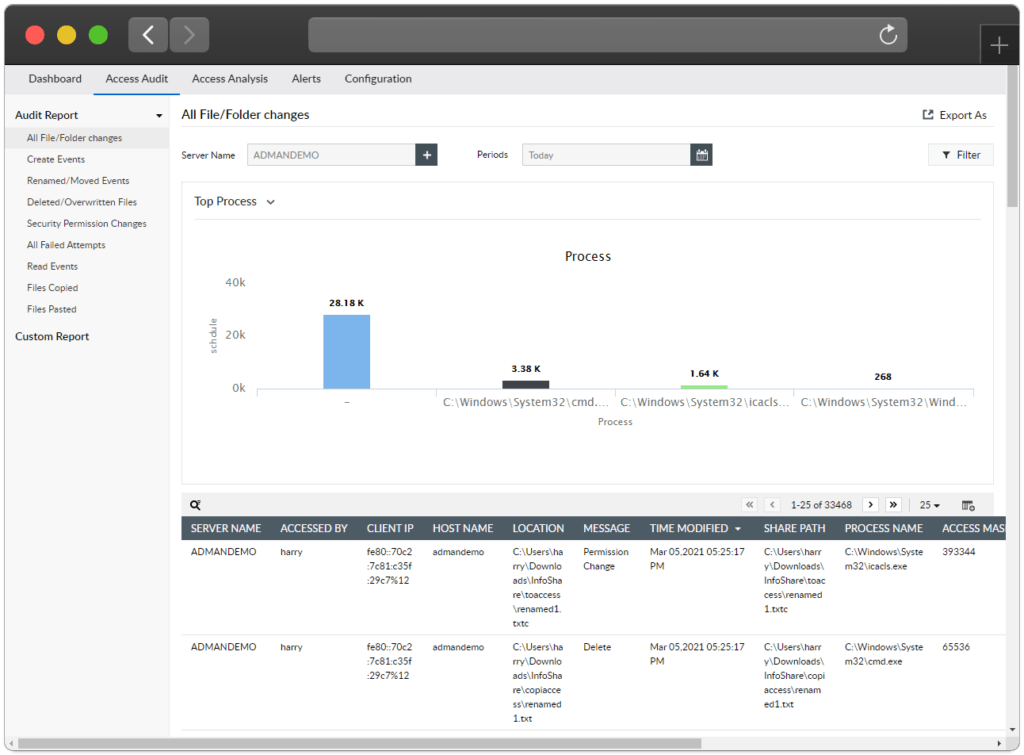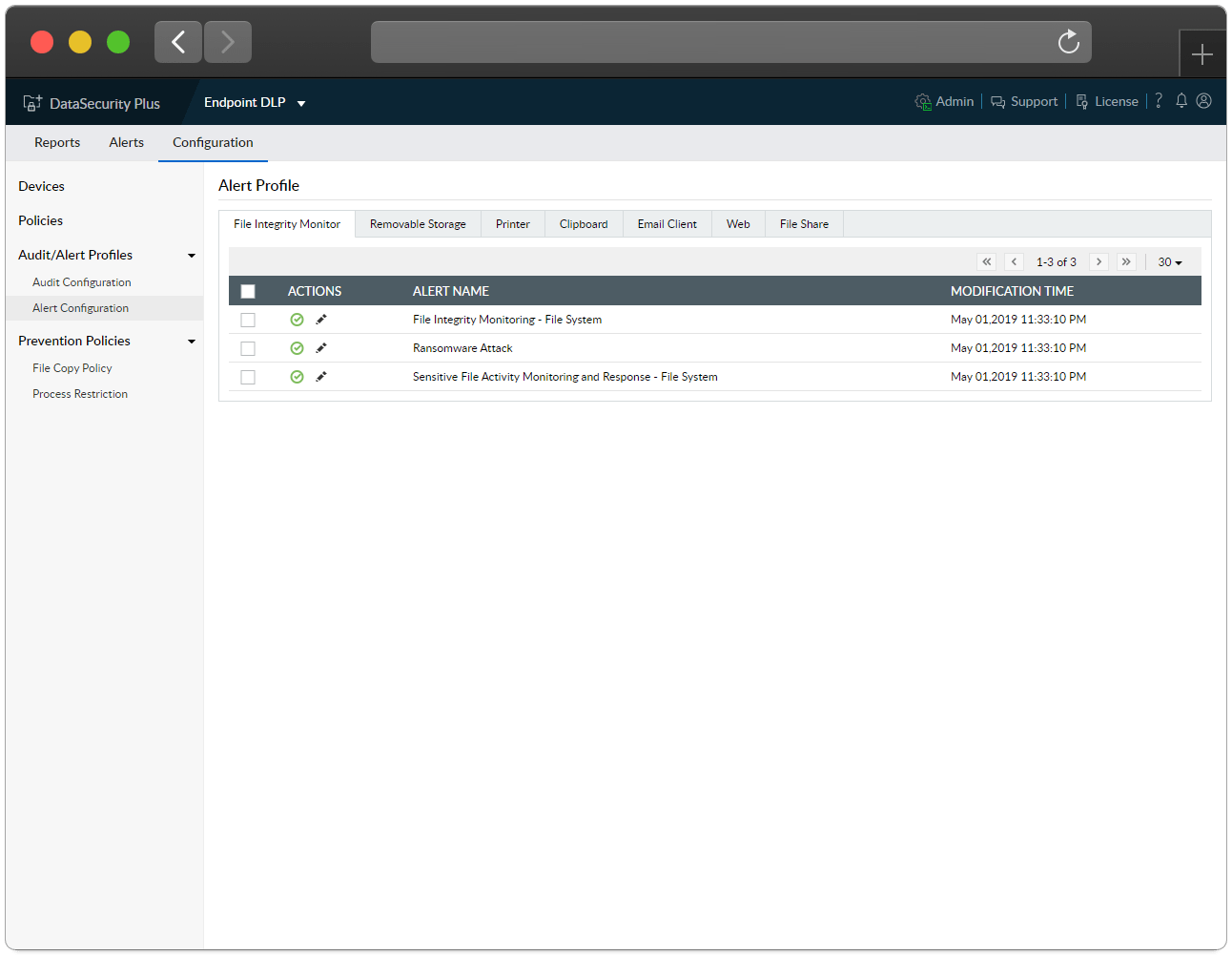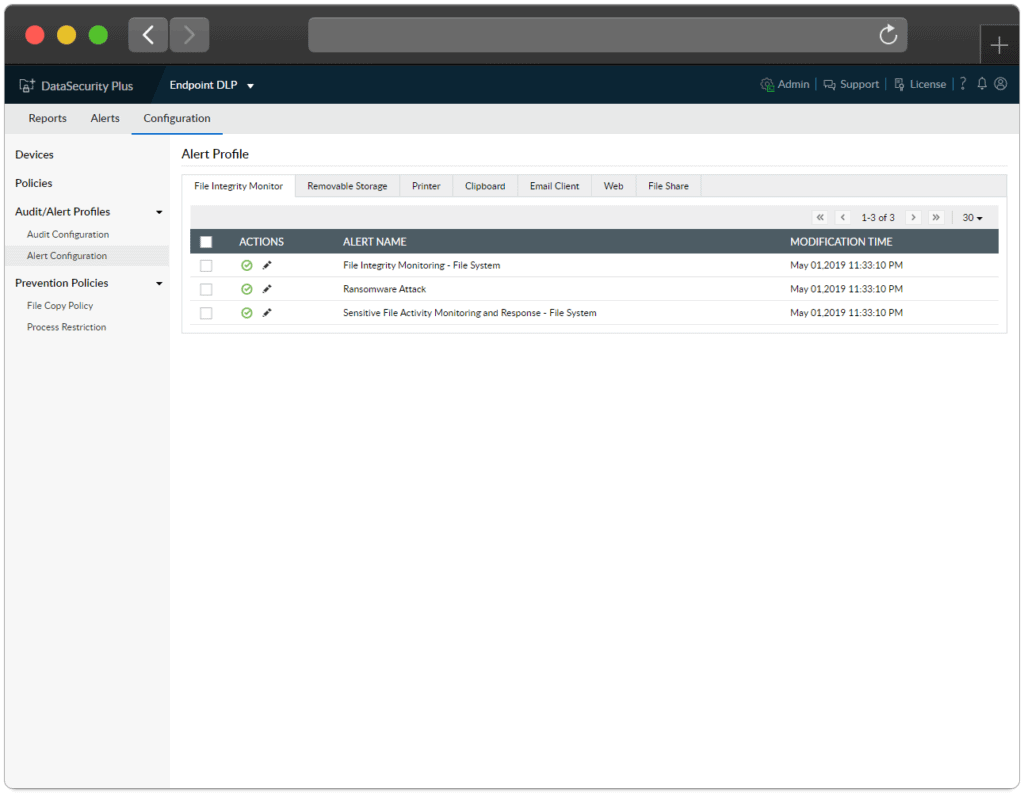 Generating alarms in case of emergency
DataSecurity Plus can create an alert for the system administrator regarding an attempt to copy the data of sensitive users or companies. The notification may contain detailed information about the device and the person who tried to threaten the confidentiality of the company.
Access comprehensive and exhaustive reports
An important aspect is access to an extensive database of reports. The system creates them based on the analysis of files contained in the environment.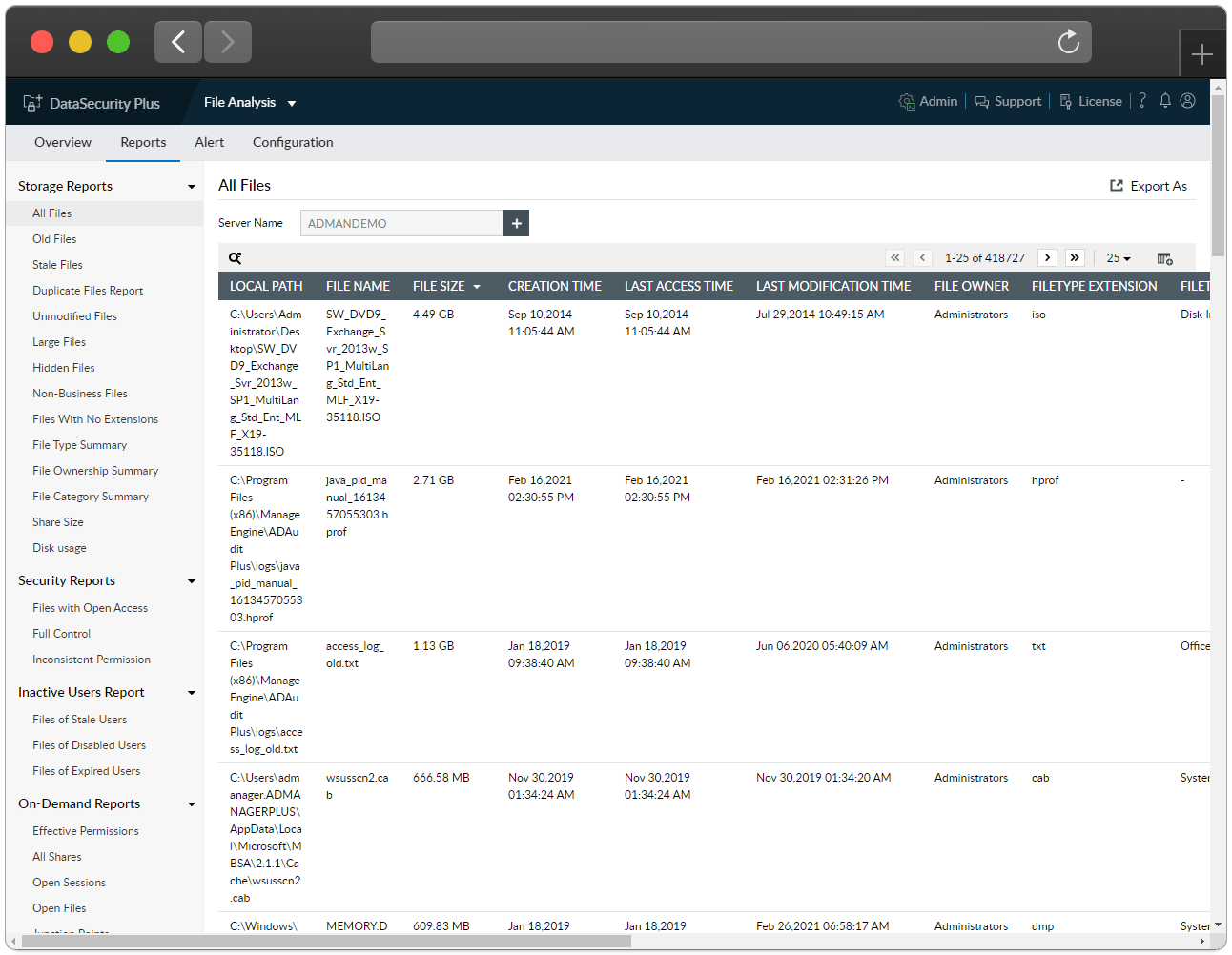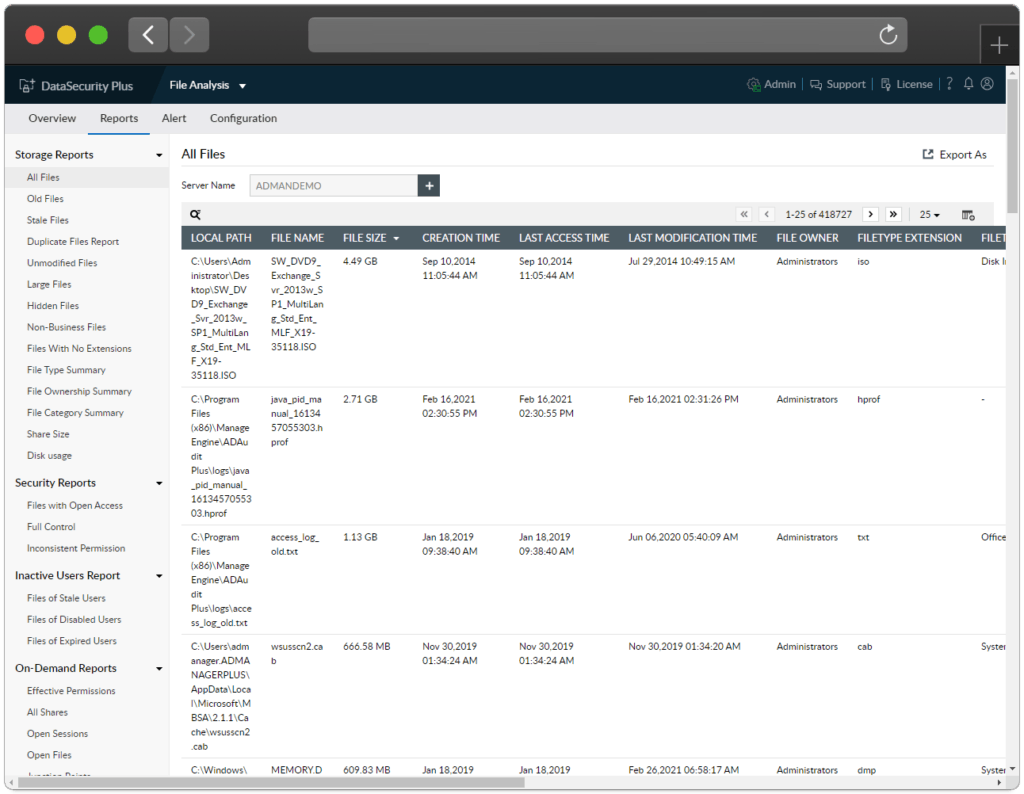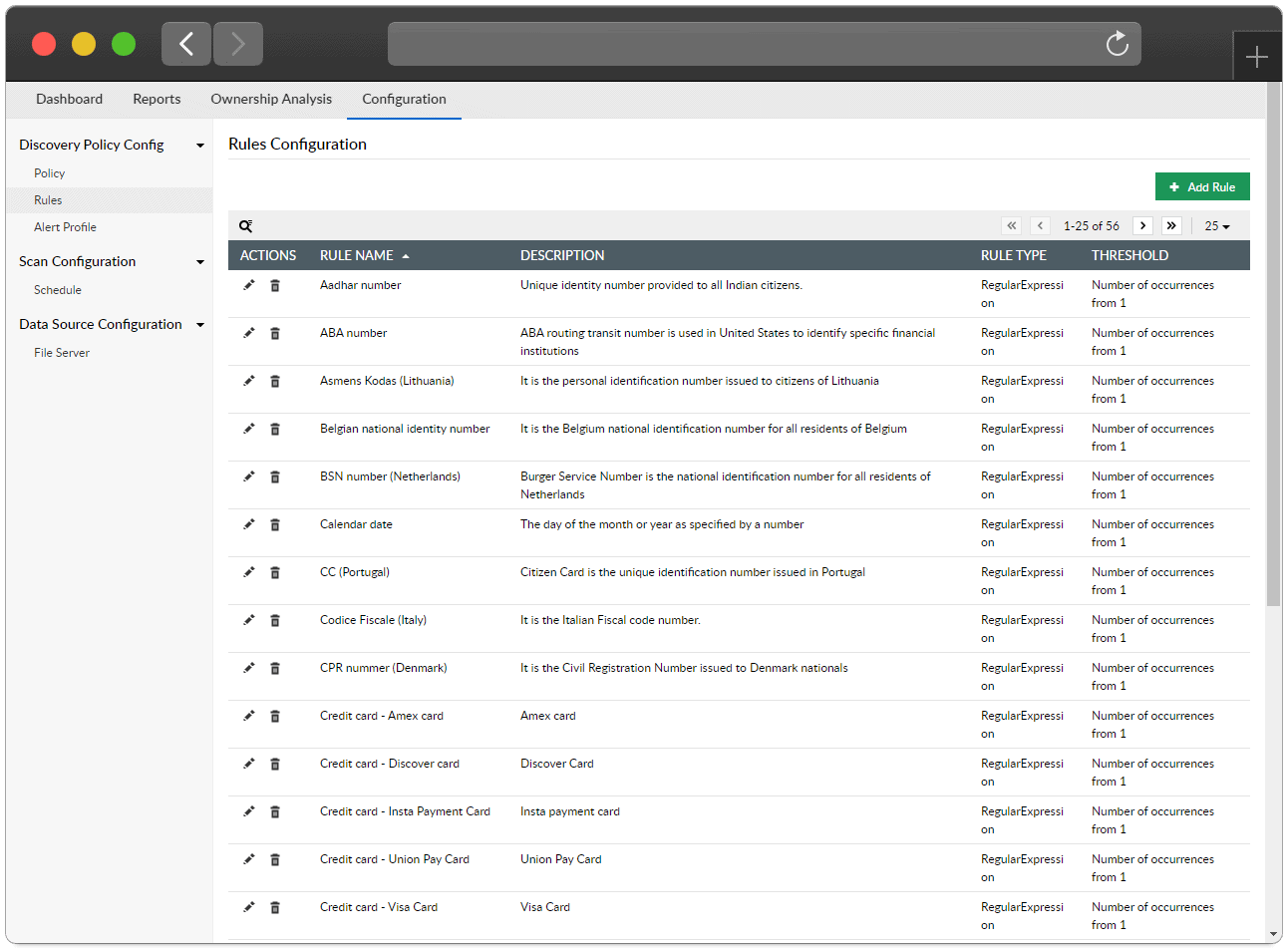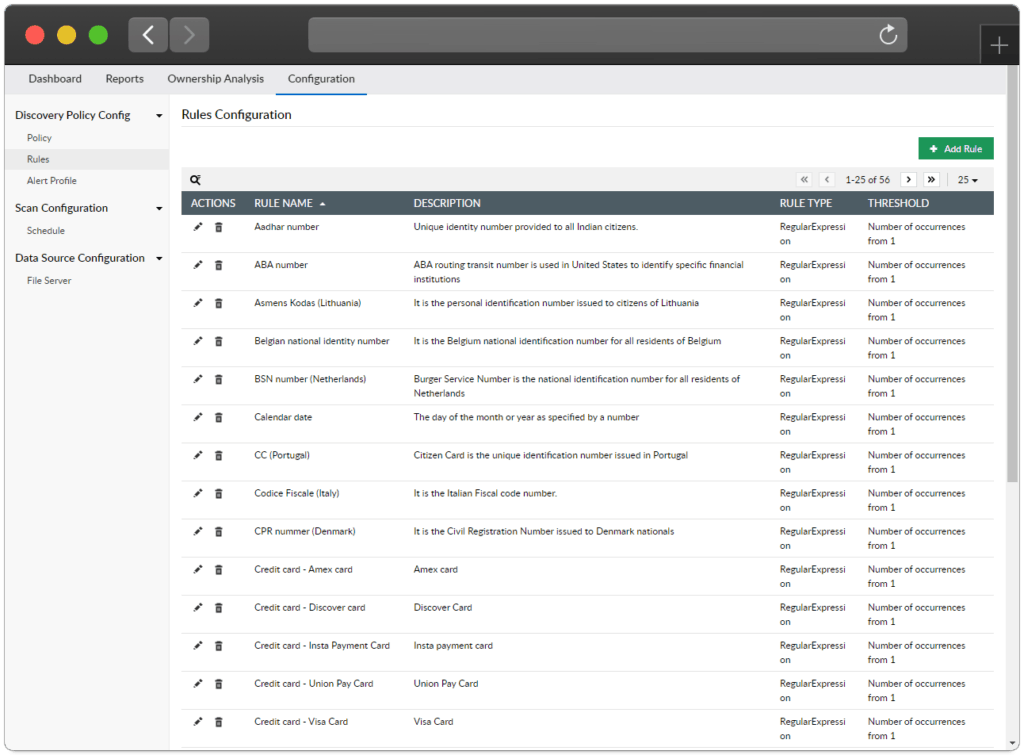 Search for sensitive data based on REGEX
After regular expressions are set up, the system is able to analyze the entire environment based on the information entered. After the action is performed, a graphic report will be presented with information about the results (name, location, source, and more).
Audit end-users
DataSecurity Plus has a module that informs the administrator about an attempt to download data by the user or copy them to a USB device. The message to the technician will contain information about which user and from which computer or IP address they wanted to download the files/information.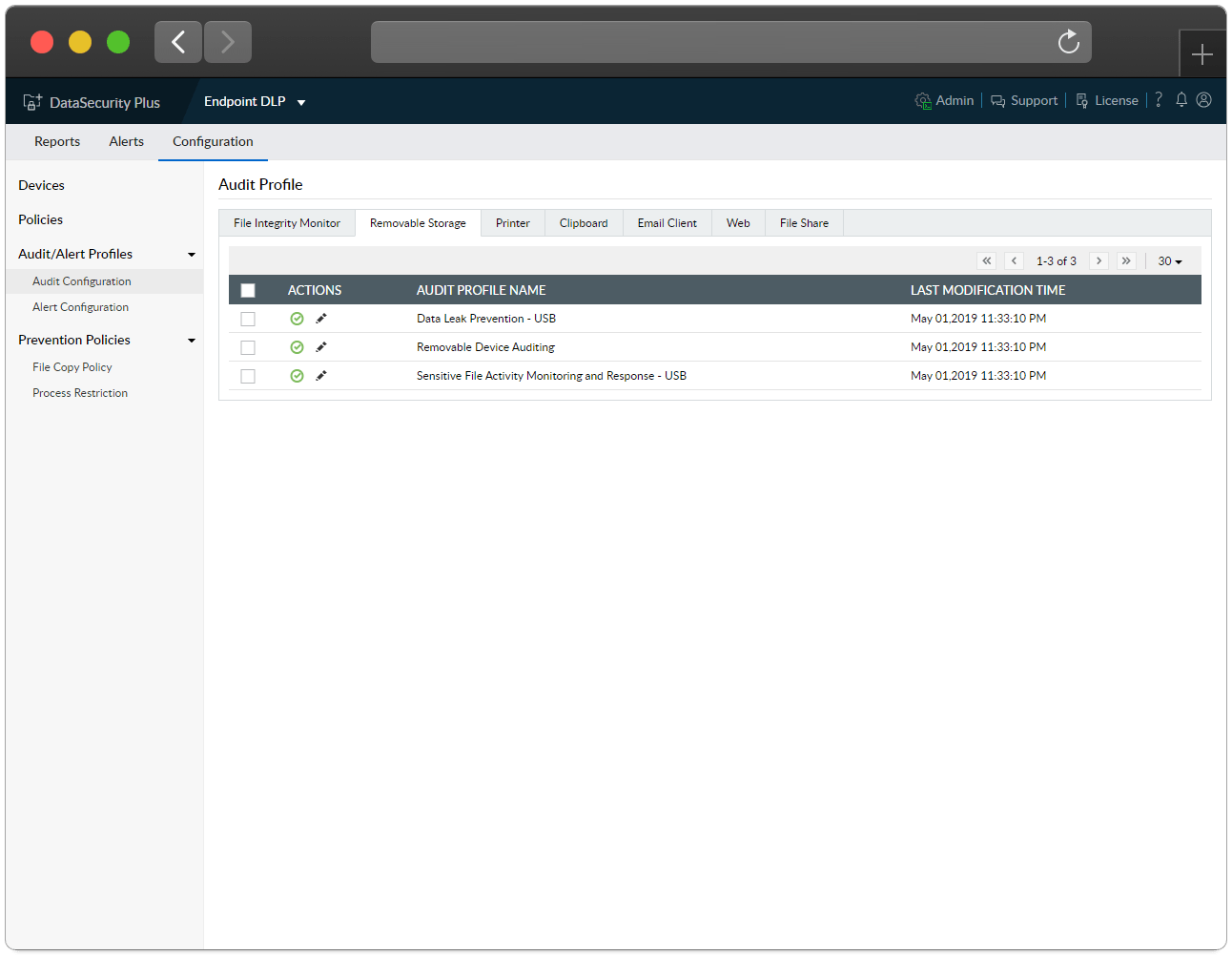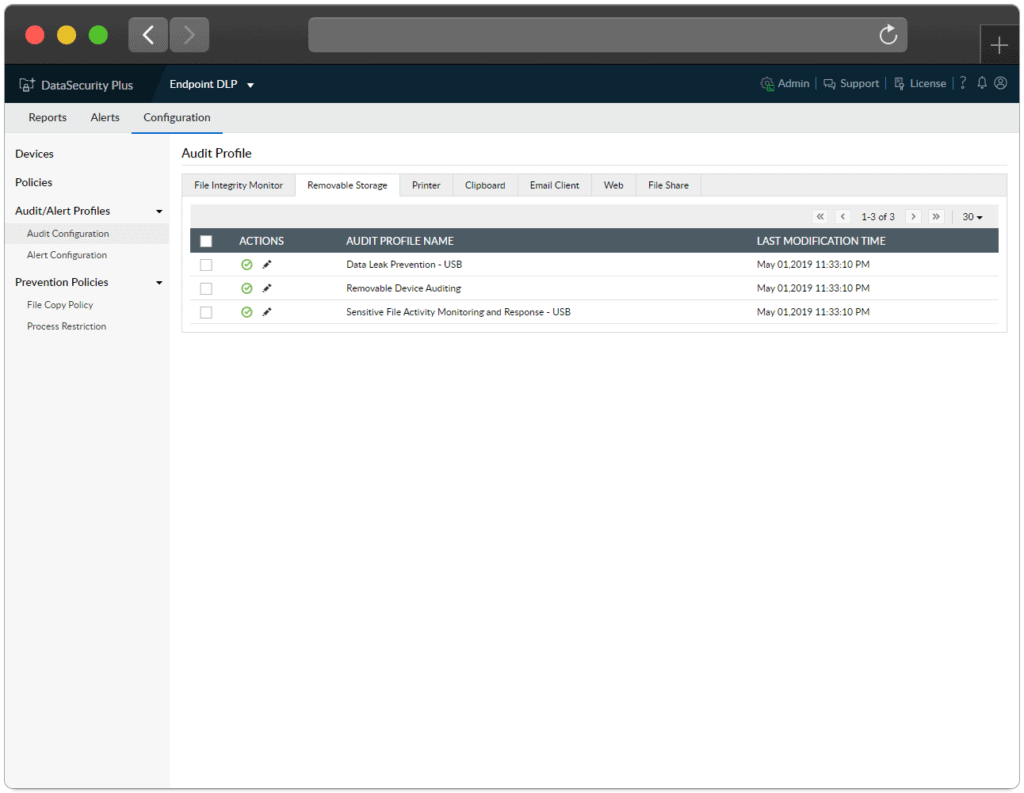 ManageEngine DataSecurity Plus Pricing
File Server Auditing Starts From:
File auditing
Audit, monitor, and alert on all file accesses and modifications made in your Windows file server environments, failover clusters, and workgroups in real time.


For 2 File Servers
File access auditing
File copy auditing
File integrity monitoring
Ransomware detection and mitigation
File change notifier
Forensic analysis
Data archiving
Custom reports and schedules
Data Risk Assessment Starts From:
Data leak prevention
Detect, disrupt, and respond to sensitive data leaks via USB, email, printer, and more through security monitoring.


Per 100 workstations.
Data Leak Prevention Starts From:
Data risk assessment
Perform content inspection and contextual analysis to discover and classify files based on their sensitivity and vulnerability.


For 2TB of scanned data.
Data Leak Prevention Starts From:
File analysis
Identify and discard junk data to declutter storage space and analyze file security permissions.


For 1TB of scanned data
Frequently Asked Questions
What is Data Security Plus?
DataSecurity Plus is an agent-based, real-time file auditing and reporting software that delivers complete visibility into everything happening in the Windows file server environment. Using data security Plus, know the "who, what, where, and when" behind every access event and perform storage analysis. Thereby, improve organizations' Windows file server data security and information management in a simple yet efficient and cost-effective way.
What are the key features of Data Security Plus?
Real-time – Stay 'in the loop' always concerning any file/folder-related events for a more proactive approach towards file server auditing.
Access Audit and Access Analysis reports – Keep track of all file/folder changes and access events.
Storage Analysis reports – Isolate files based on file attributes and get graphical insights into how disk space is being utilized.
Pre-configured reports with schedules that can set up, run, and e-mail selected reports automatically at specified time intervals – Get detailed forensics in intuitively understandable formats automatically.
Threshold-based alerts, on-screen and through instant emails – Reduce incident response times while dealing with critical cases.
Web-based access – Access even while not on-site, using a web browser.
Ease of use – Make it easier for IT admins and non-admin users to put the tool to its complete usage.
Why do users get a 'No server(s) configured' error message?
Data security Plus is a server-based file auditing tool. A server has to be configured to generate reports.
Click Add Server to go to server configuration wizard.
Why do I see 'No Domain Configuration Available' when I start DataSecurity Plus?
Data security Plus, upon starting, discovers the domains from the DNS Server associated with the machine running the product. If no domain details are available in the DNS Server, this message is displayed.
Why are Domain Controllers not resolved when adding domain manually?
When the DNS associated with the machine running DataSecurity Plus does not contain the necessary information, the user needs to add the Domain Controllers manually.
How do I Install DataSecurity Plus as a Service from the Start Menu?
To run DataSecurity Plus as a service. Do the following steps after installing.
Go to Start –> Run –> Type cmd

Go to the '<Installation Directory>\bin' folder on the command prompt.

Type 'InstallNTService.bat'
This will install DSP Service'. Data security Plus can now be run as a Service.
How do I Install DataSecurity Plus?
Being the Swiss partner of ManageEngine, Kidan is responsible for aiding with professional services, such as installing, implementing, configuring, training, and supporting the company to ensure an effective on-boarding of DataSecurity Plus.
To make it even better, Kidan even provides advice on top of it all!
Get in touch with us to know more.
Want to continue the conversation?
Thank you for your interest in ManageEngine's DataSecurity Plus solutions. Please fill out the form below to ask a question or request assistance.