AD 360
A Complete Active Directory Management Software
AD360 is an integrated identity and access management (IAM) solution for managing user identities, governing access to resources, enforcing security, and ensuring compliance. From user provisioning, self-service password management, and Active Directory change monitoring, to single sign-on (SSO) for enterprise applications, AD360 helps you perform all your IAM tasks with a simple, easy-to-use interface.
AD360 provides all these functionalities for Windows Active Directory, Exchange Servers, and Office 365. With AD360, you can just choose the modules you need and start addressing IAM challenges across on-premises, cloud, and hybrid environments from within a single console.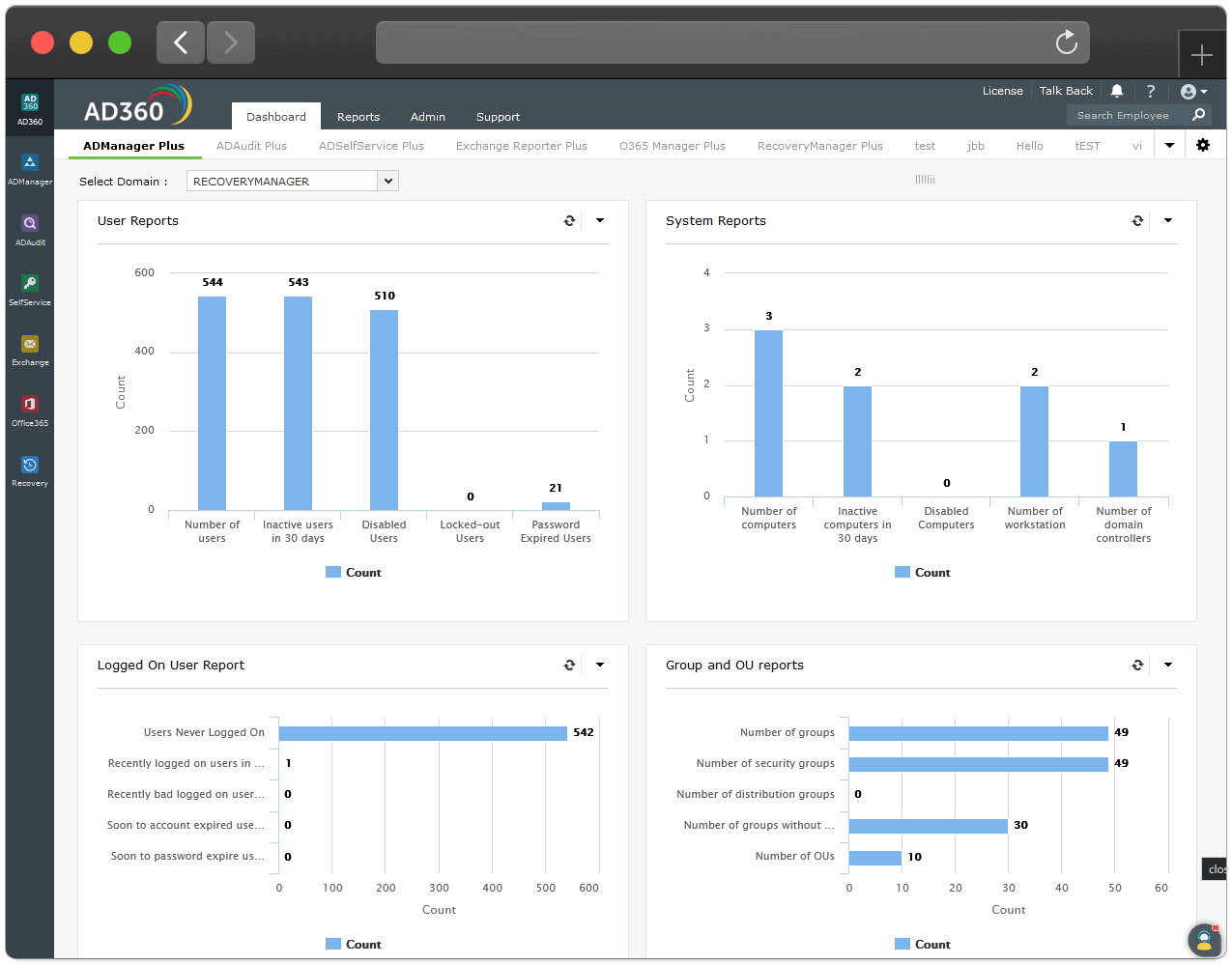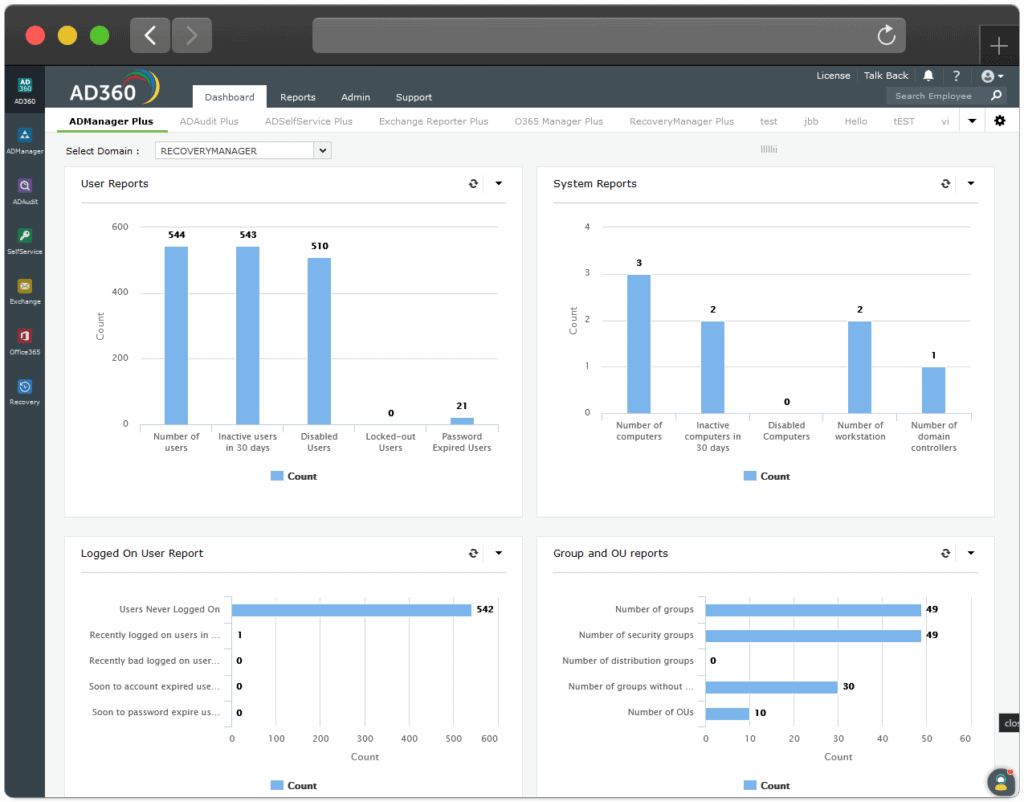 ADManager Plus
ManageEngine ADManager Plus is a simple, easy-to-use Windows Active Directory Management and Reporting Solution that helps AD Administrators and Help Desk Technicians with their day-to-day activities. With a centralized and Intuitive web-based UI, the software handles a variety of complex tasks like Bulk Management of User accounts and other AD objects.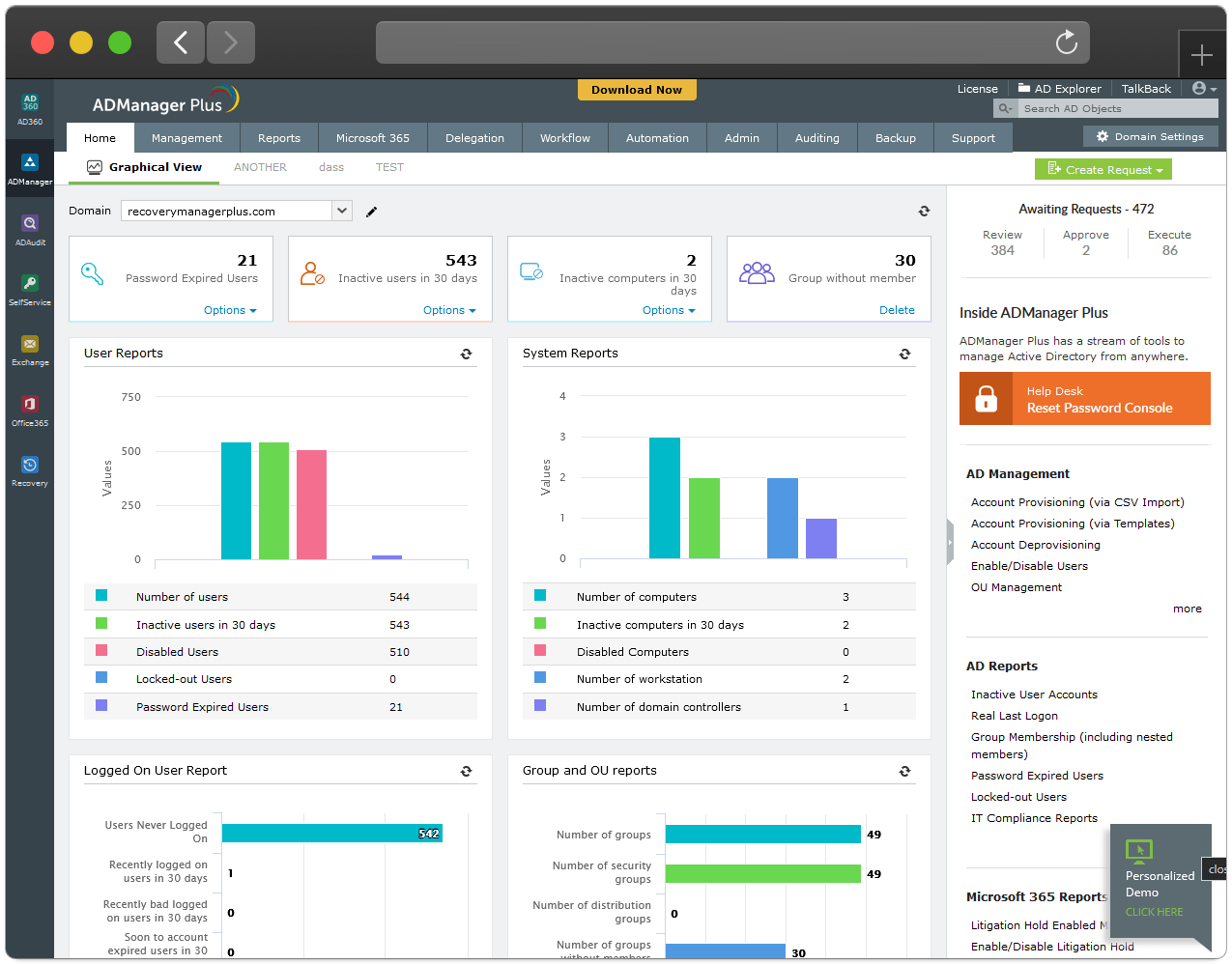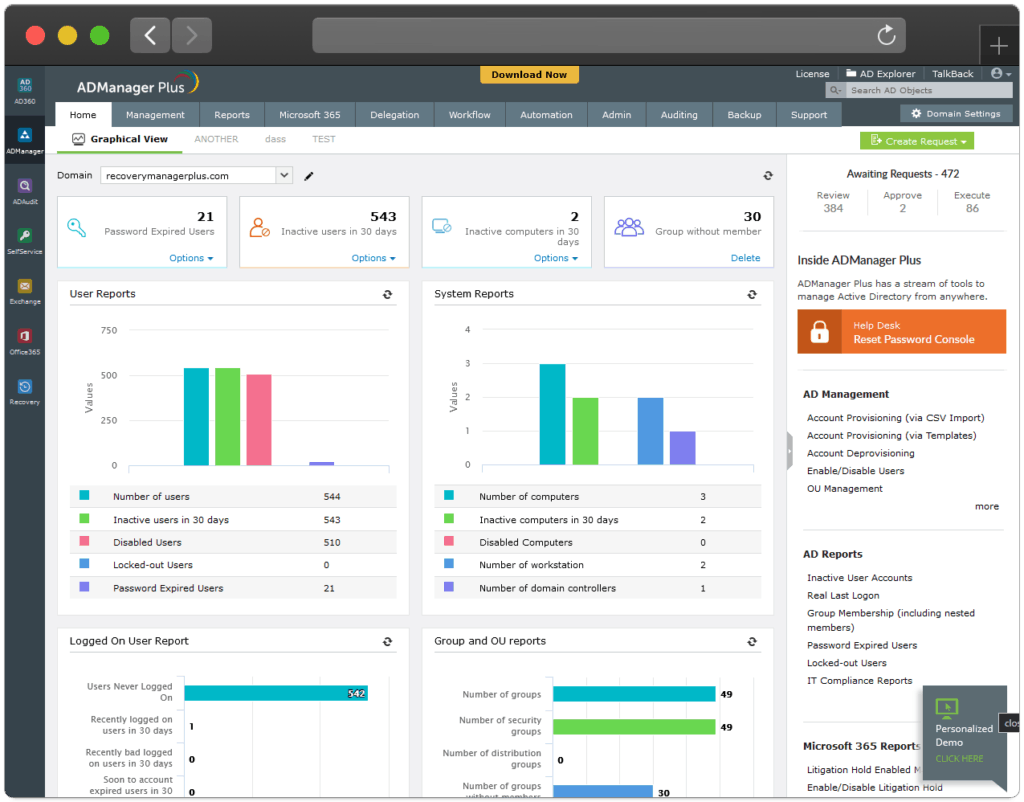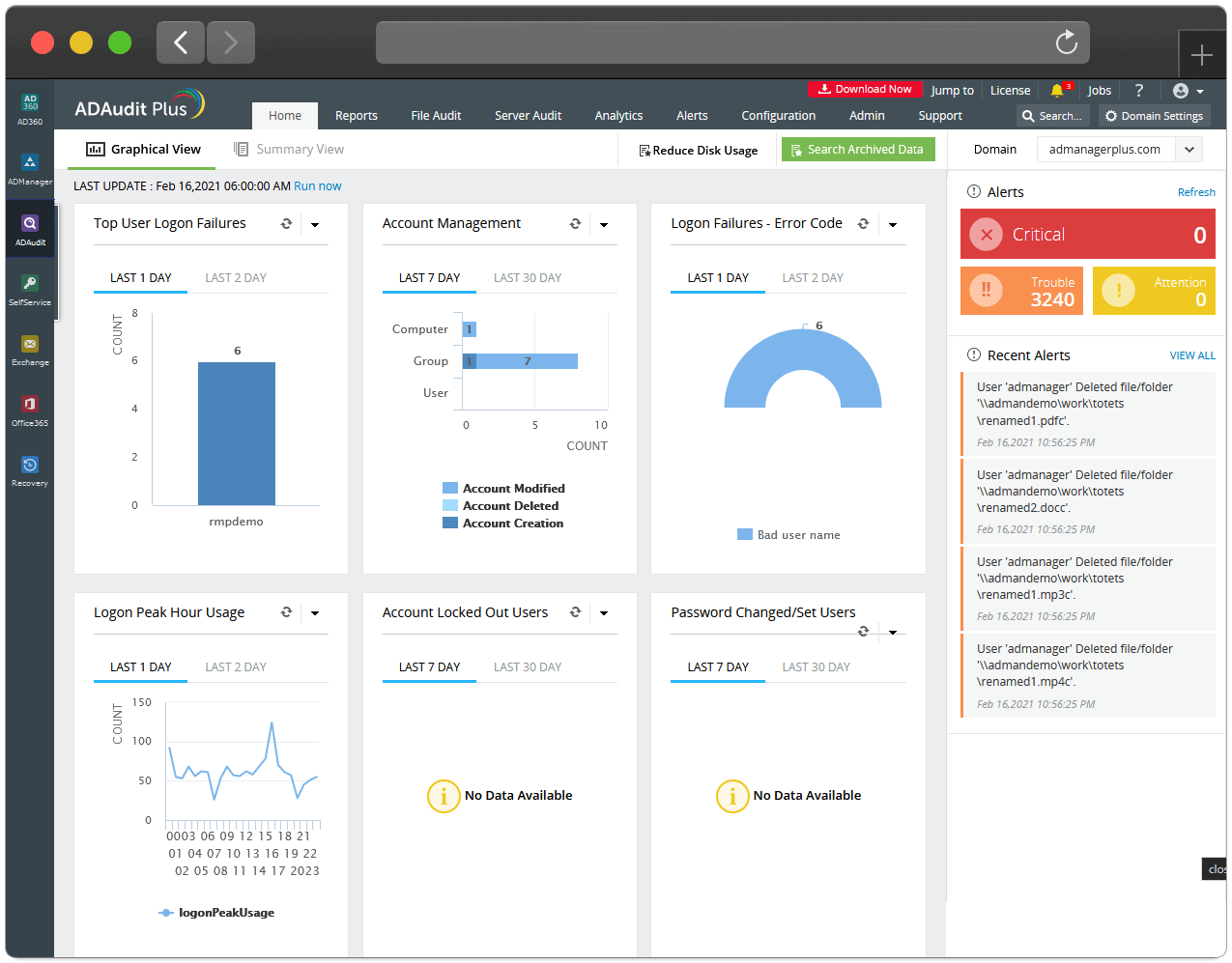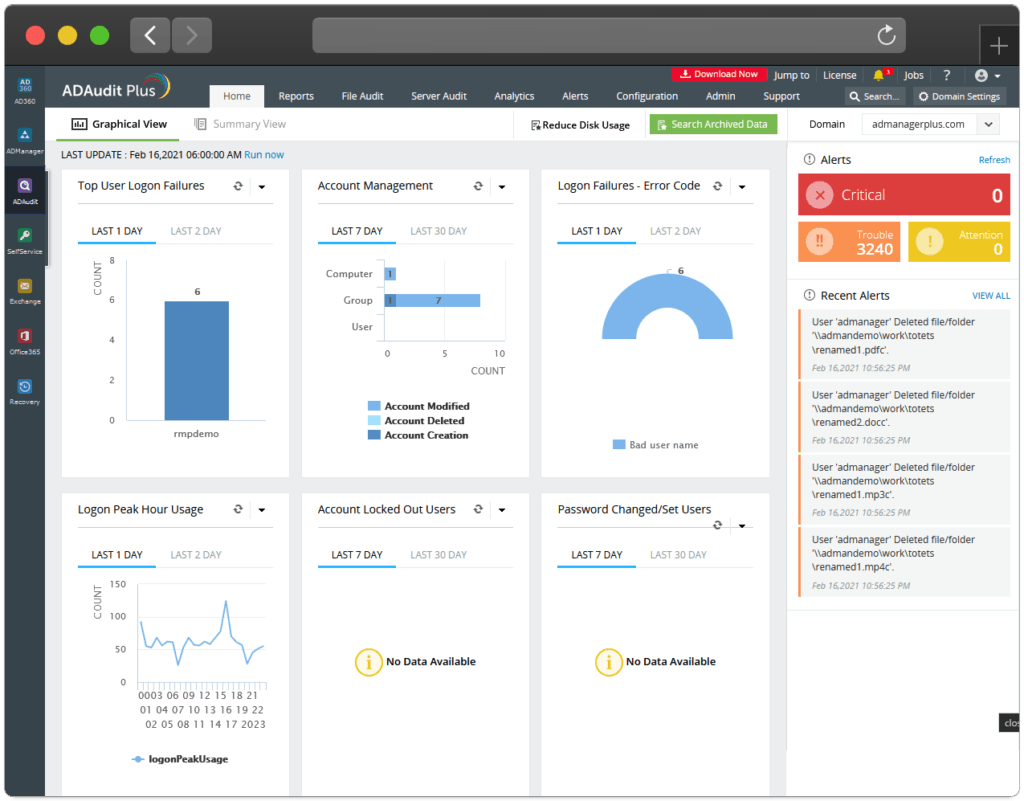 ADAudit Plus
ManageEngine ADAudit Plus is an enterprise-wide Active Directory change auditing software with reports and alerts that addresses the most-needed security, audit and compliance demands set forth by regulatory and government bodies, and provides an IT administrator the right business add-ons to assist in the execution of a change management action.
ADSelfService Plus
ManageEngine ADSelfService Plus is a secure, web-based, end-user password reset management program. This software helps domain users to perform self service password reset , self service account unlock and employee self update of personal details (e.g telephone numbers, etc) in Microsoft Windows Active Directory.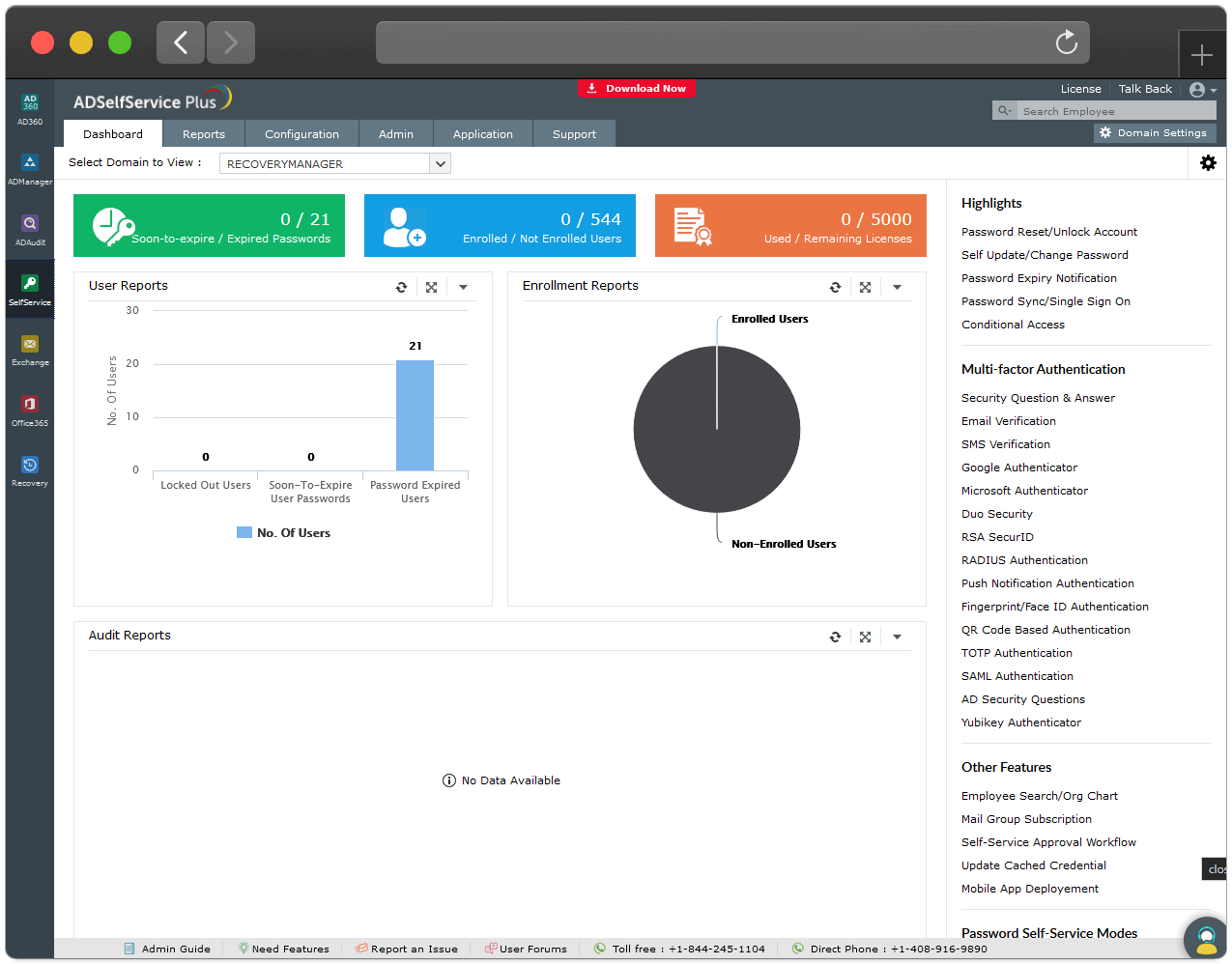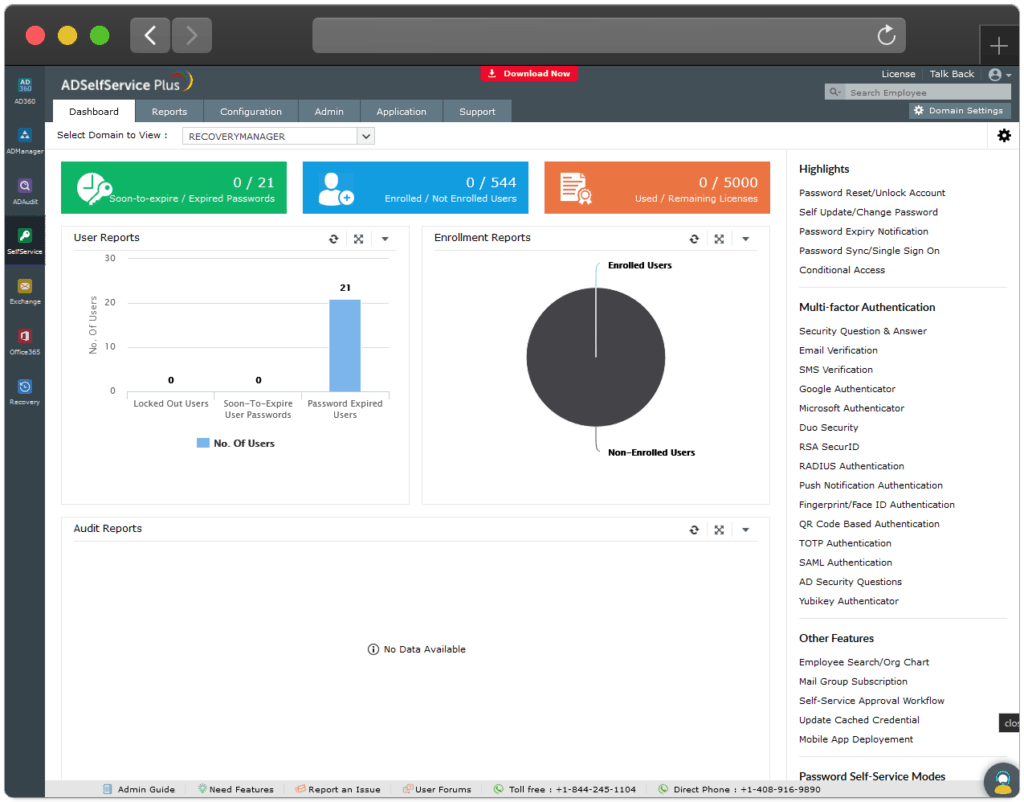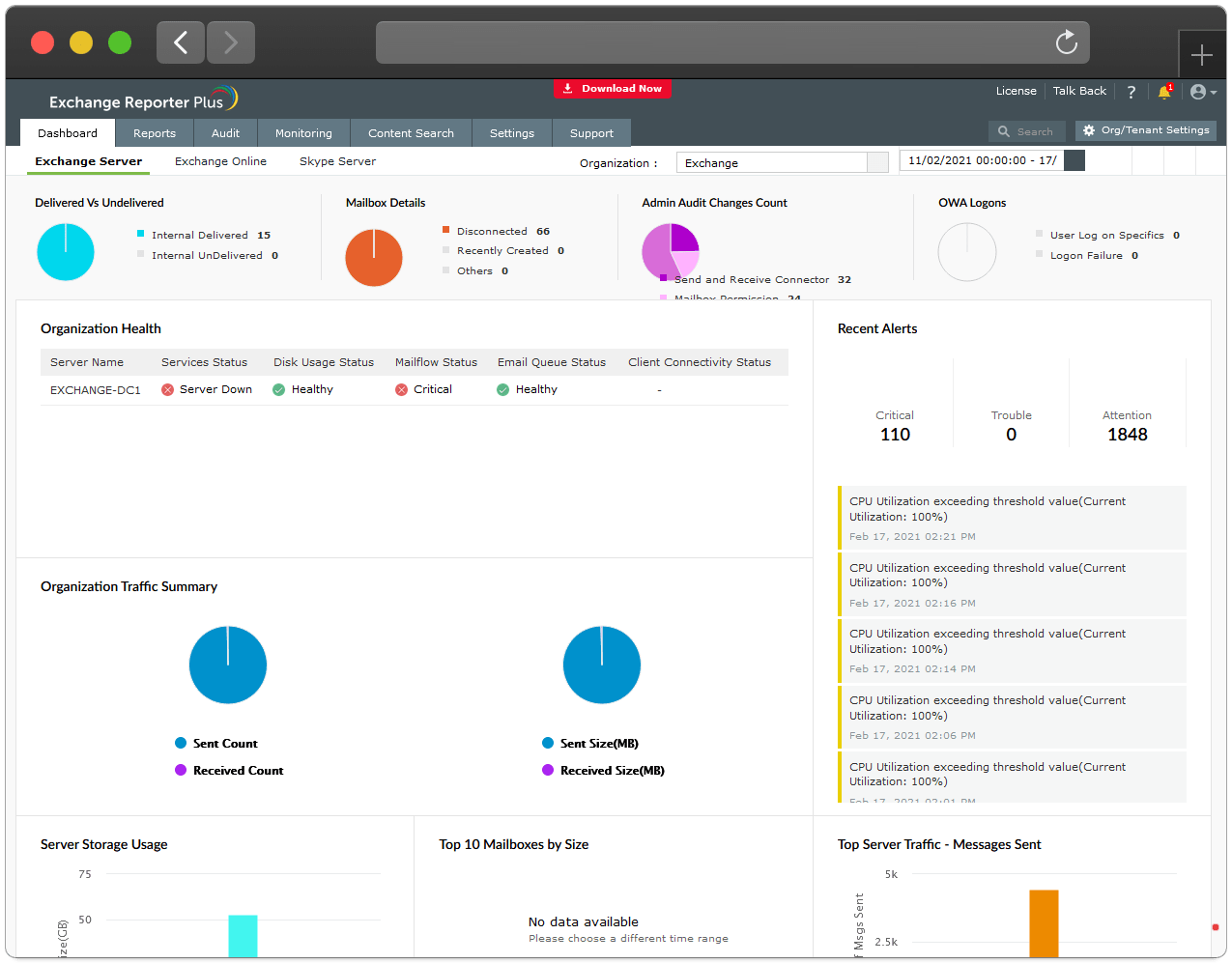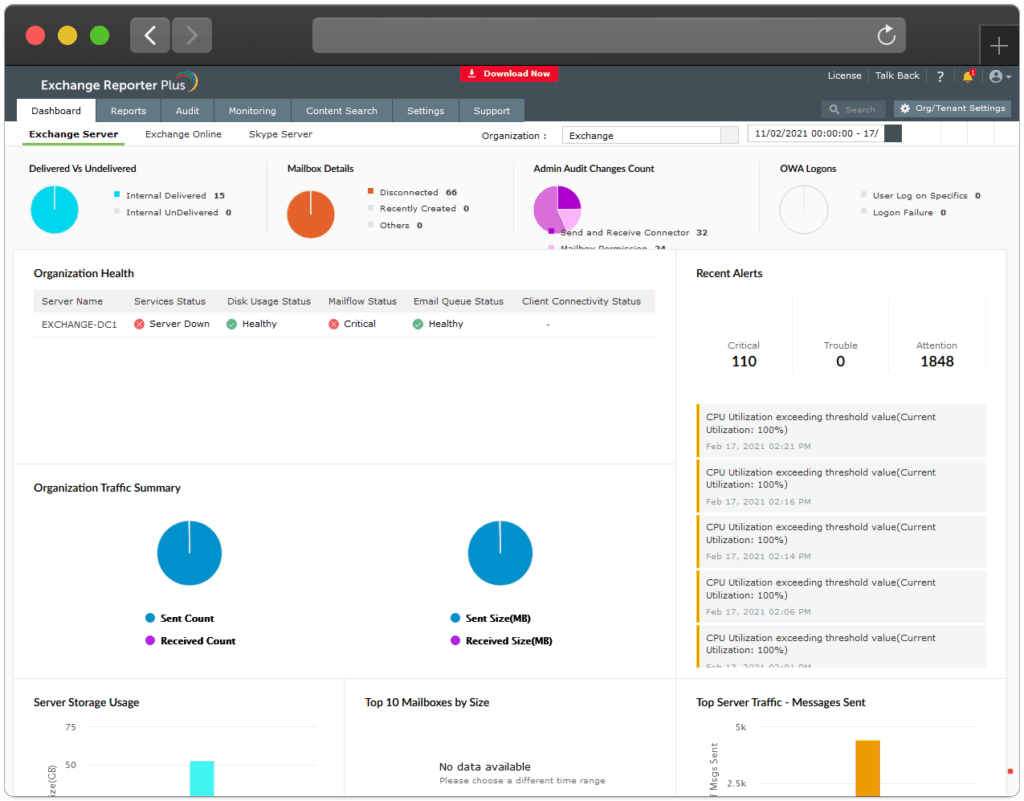 Exchange Reporter Plus
Microsoft Exchange Server is, by a distance, the most popular communication, collaboration and email messaging application today! MS Exchange serves as the hub of all email communications.
M365 Manager Plus
M365 Manager Plus used for reporting, managing, monitoring, auditing, & creating alerts for critical activities. With its user-friendly interface, you can easily manage it.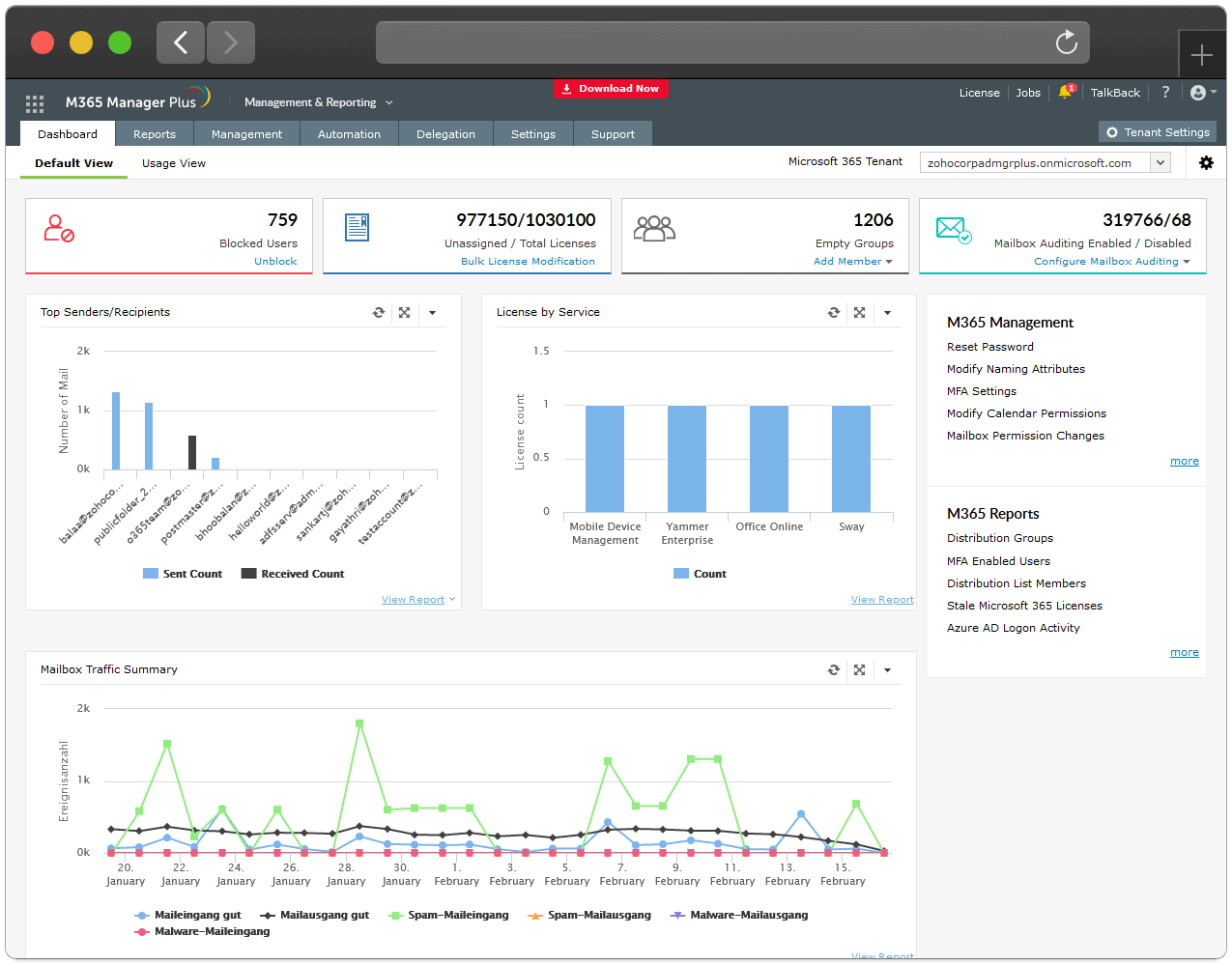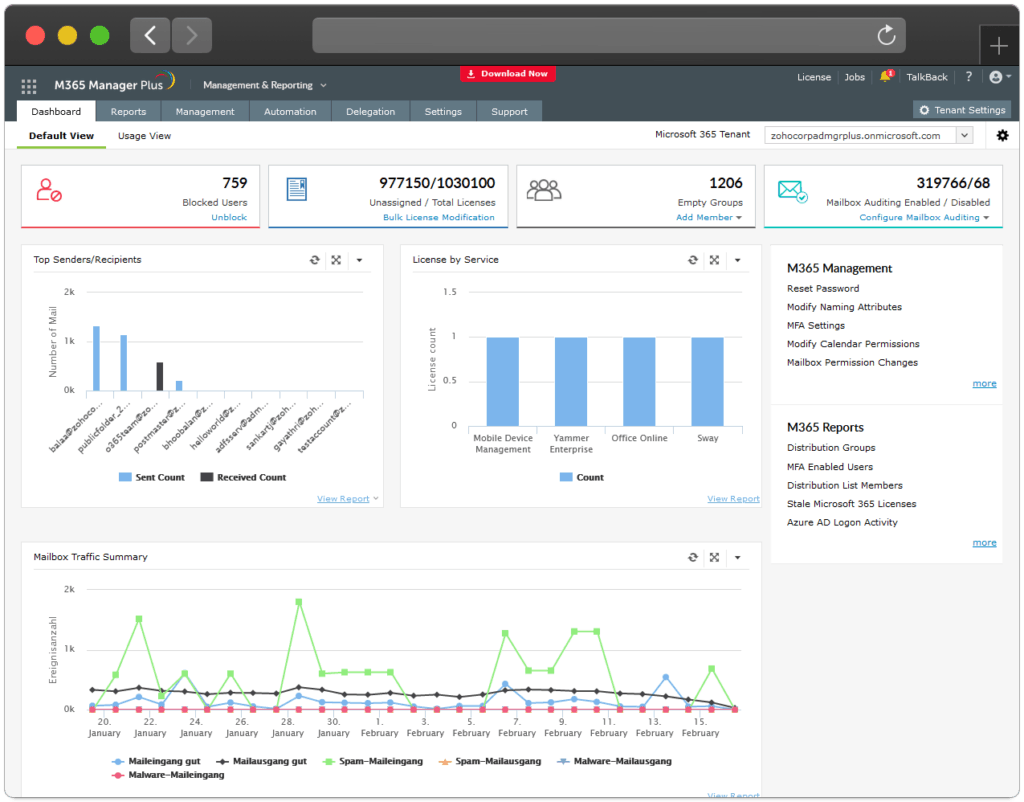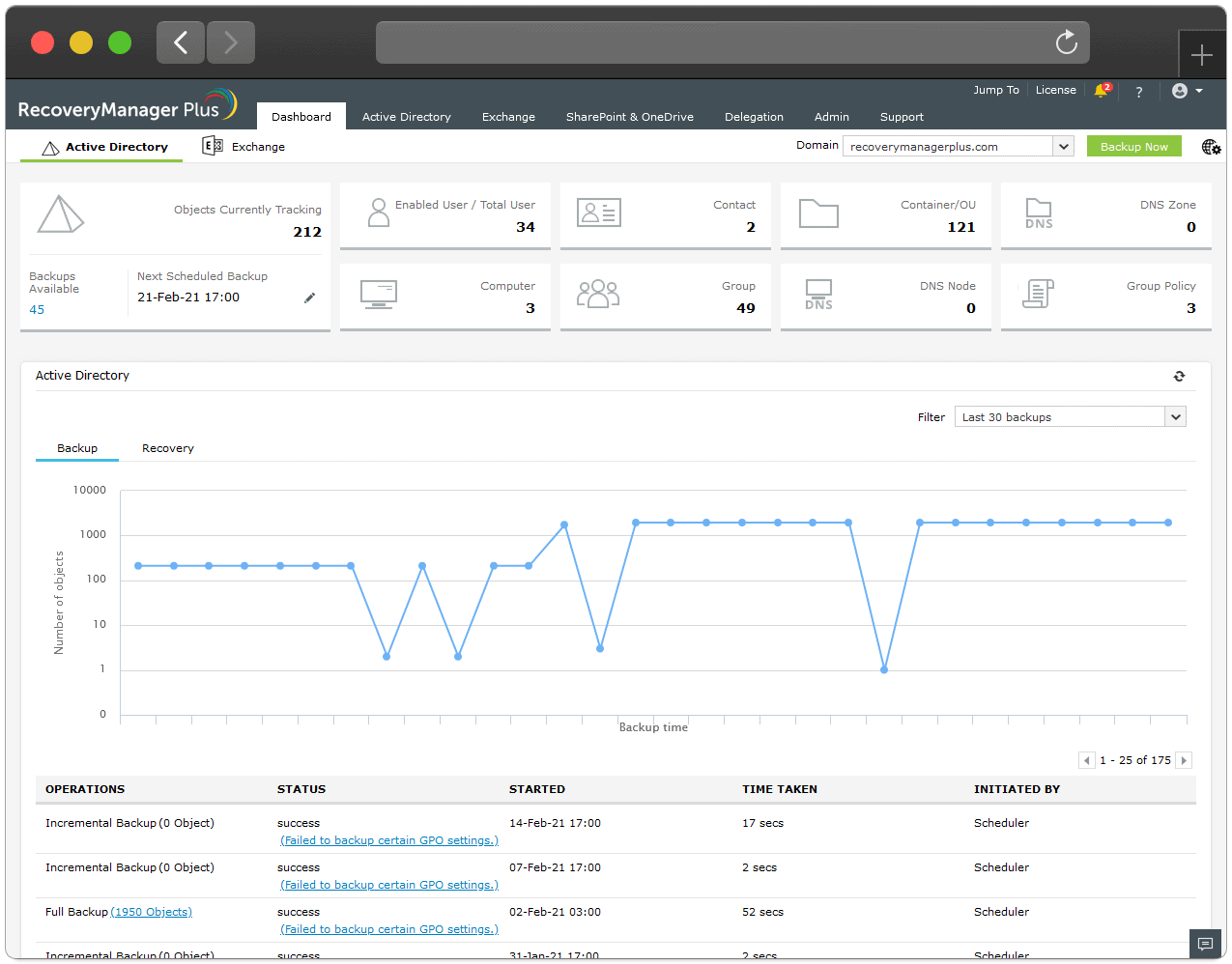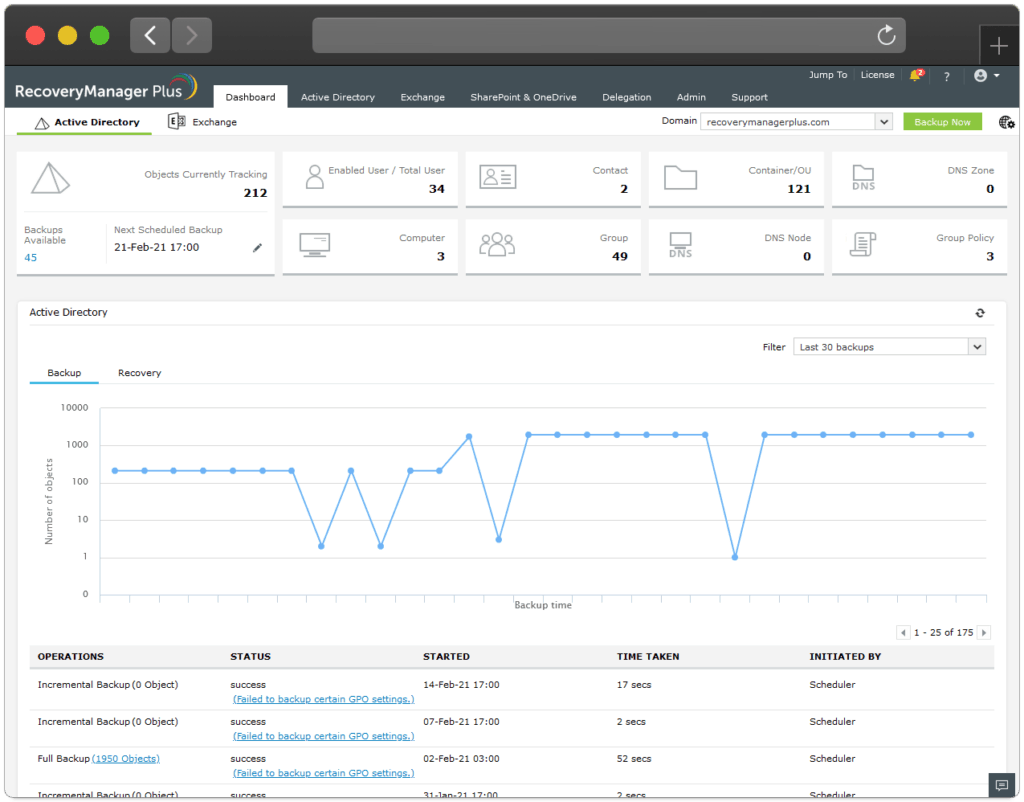 RecoveryManager Plus
ManageEngine Recovery Manager Plus comes with simple Active Directory backup and granular restore features that completely automates the backup operation for you.
Frequently Asked Questions
What is AD360?
ManageEngine AD360 is a 100% web-based product that provides a complete solution to all your Windows Active Directory challenges and management problems. With AD360 you can perform the following tasks:
Active Directory Management
Active Directory Auditing
Password Self-Service for end-users
Exchange Analysis and Reports
What operating systems are supported by AD360?
AD360 support the following Windows operating systems:
Windows Server 2012 R2
Windows Server 2012
Windows Server 2008 R2
Windows Server 2008
Windows Server 2003 R2
Windows Server 2003
Windows 10
Windows 8
Windows 7
Windows Vista
Windows XP (SP3 & above)
AD360 runs in a web browser. Does that mean I can access it from anywhere?
Yes, you can connect to the AD360 from any machine on the network through a Web browser.
Do I need any prerequisite software to be installed before using AD360?
No, AD360 do not require any prerequisite software to be installed. You need to have only the four components of AD360 installed and running to enjoy all the benefits of the product.
Can AD360 work if DCOM is disabled on remote systems?
Yes, AD360 does not use the DCOM service to perform the tasks.
Want to continue the
conversation?
Thank you for your interest in ManageEngine's solutions. Please fill out the form below to ask a question or request assistance.