ManageEngine Vulnerability Manager Plus
Vulnerability management
Vulnerability in the network can be used by unauthorized persons, to prevent this ManageEngine has created Vulnerability Manager Plus. It is an integrated vulnerability management tool that provides comprehensive scanning, assessment, and removal of vulnerabilities across all endpoints of the network. Vulnerability Manager Plus also offers periodic data reporting with the possibility of sending relevant information to the indicated e-mail addresses. It is also possible to use queries that will extract the most detailed information from the system, depending on our needs.
Vulnerability Manager Plus Features
Prioritization-focused threat and vulnerability management software offering built-in patching for enterprises
Deployment module can test and then install selected patches
Creating change implementation policies or security policies is intuitive and can perform the same tasks on entire groups of devices. Managing vulnerability to threats, thanks to Vulnerability Manager Plus, can be automated or carried out manually. Have the option of remotely turning on and off the workstations which are interested in. Thanks to this, take full control of the device at any time.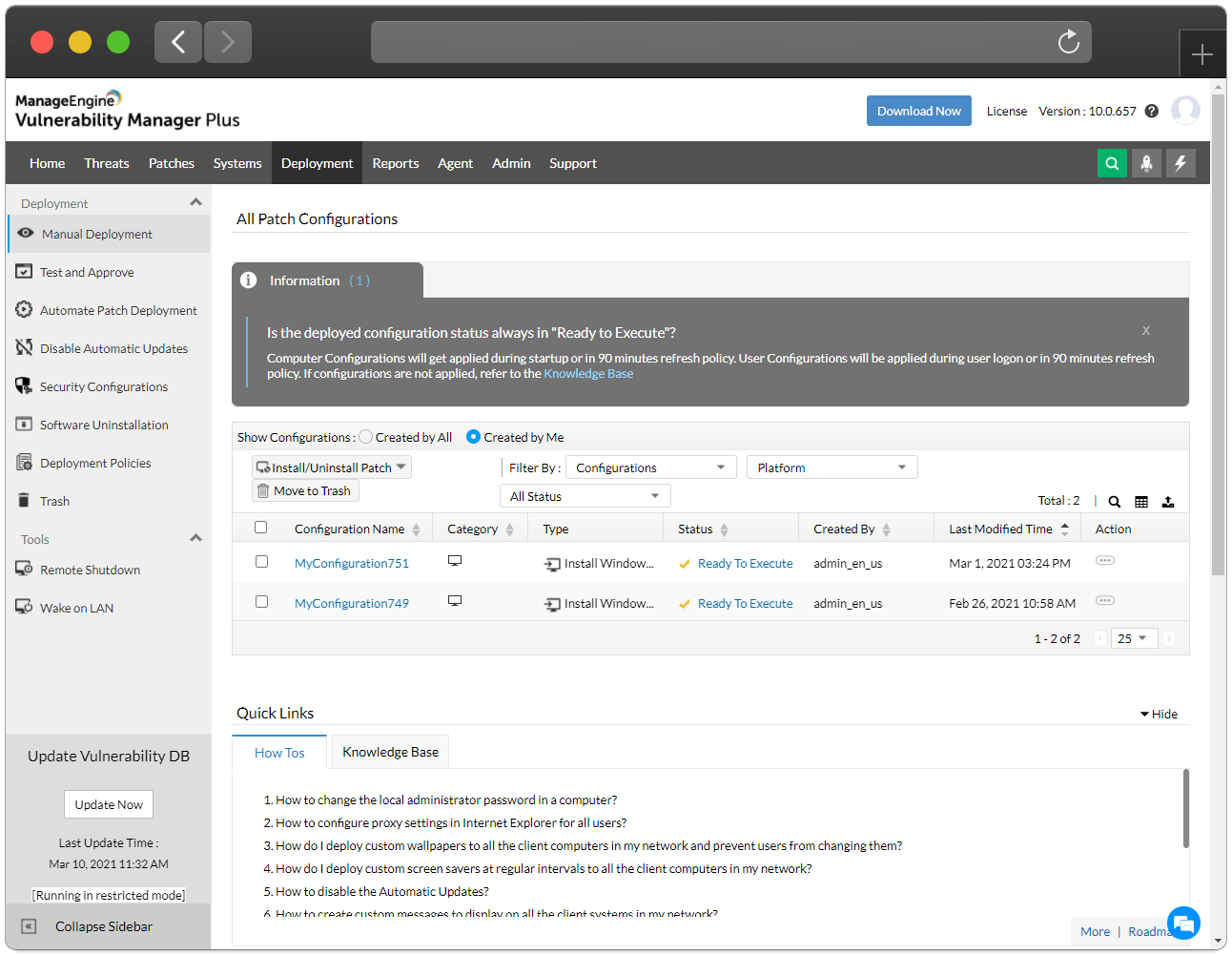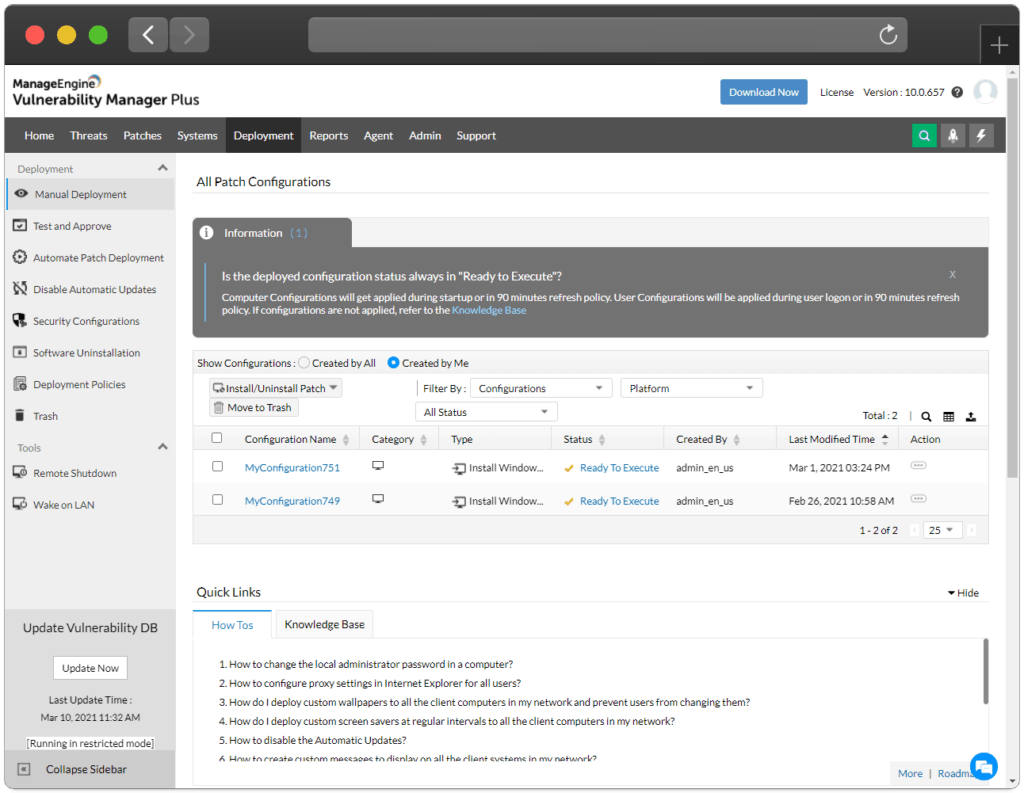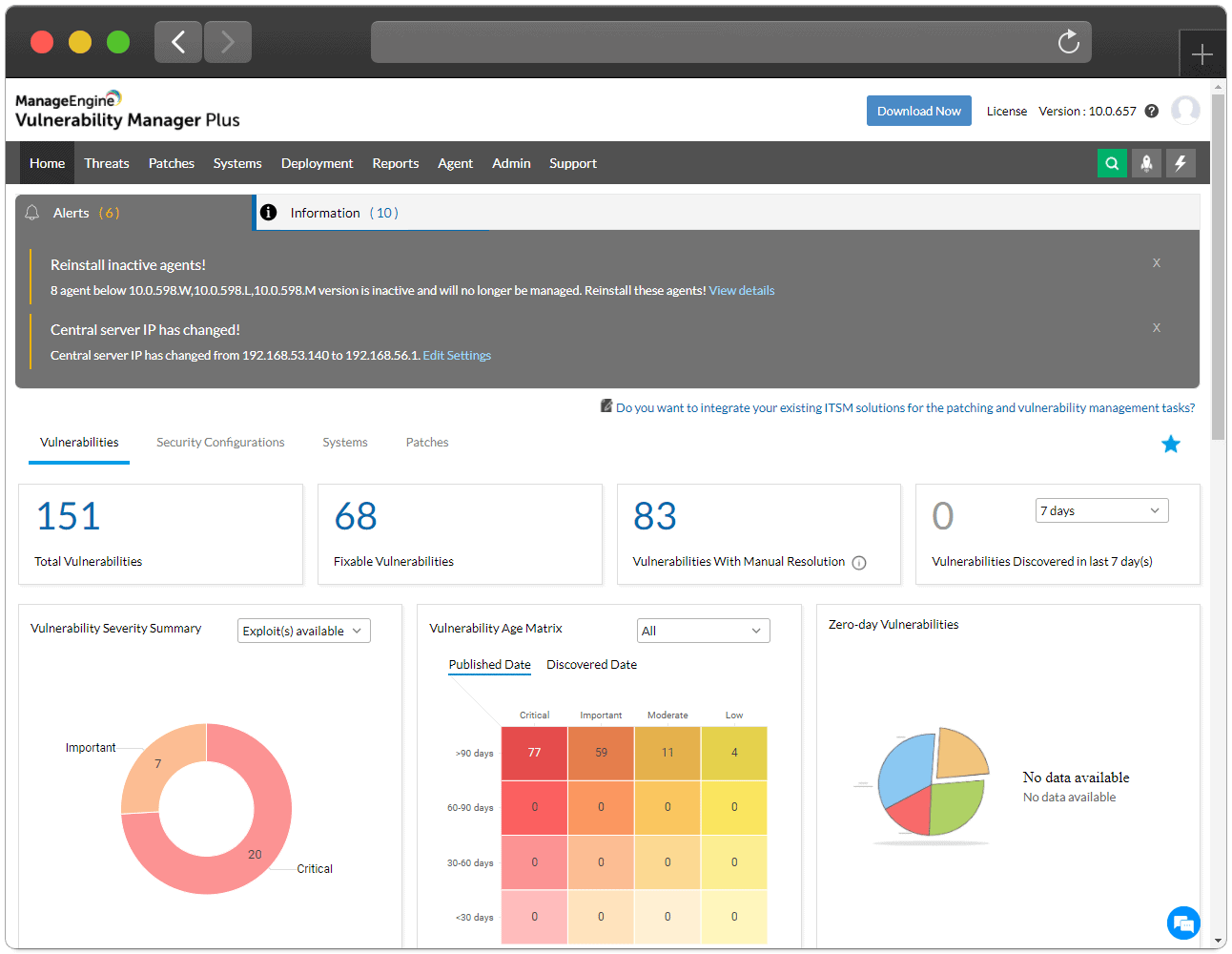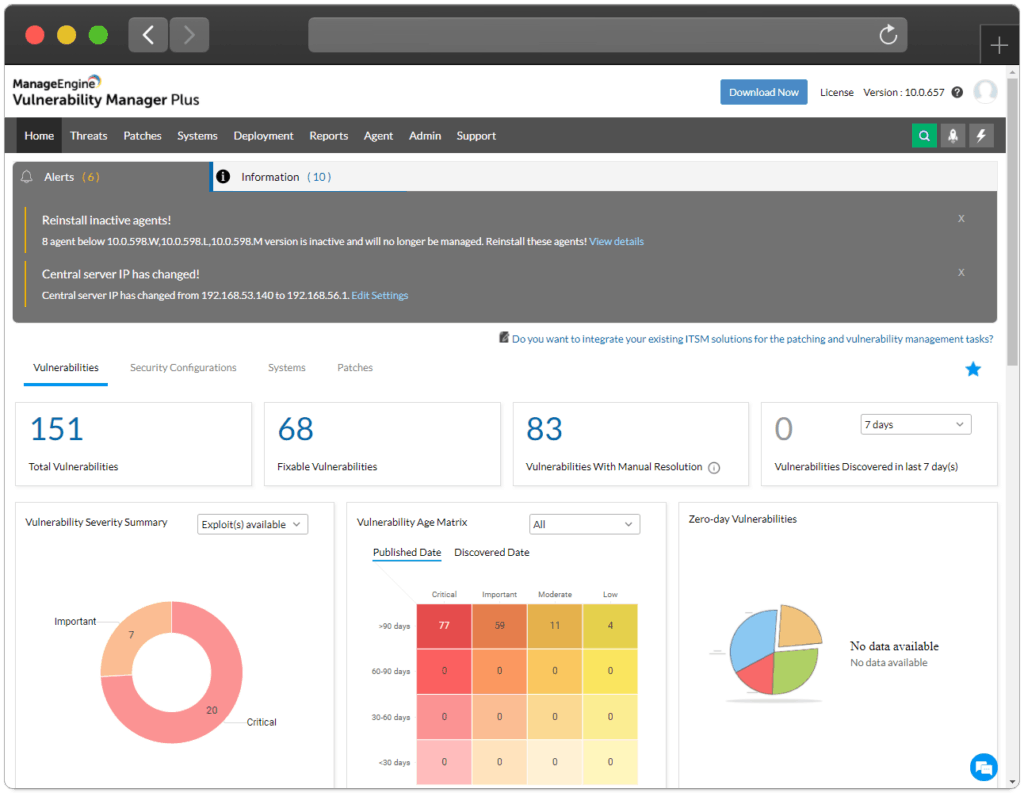 Dashboards as the main source of information alerting real-time possible dangers
The system informs about critical vulnerabilities related to e.g. the lack of up-to-date security measures obtained from third parties. It also informs about vulnerabilities with lower priority, which can optimally plan the work related to infrastructure maintenance.
Reporting errors in the configuration of server settings
Informing about incorrect/misconfigured server settings related to e.g. appropriate encryption, rights to introduce changes, methods of authentication, the validity of certificates, enforcement of secure connections. The Threats module also can check the ports used in the infrastructure. It also provides information about the application using it and the source of origin (workstation).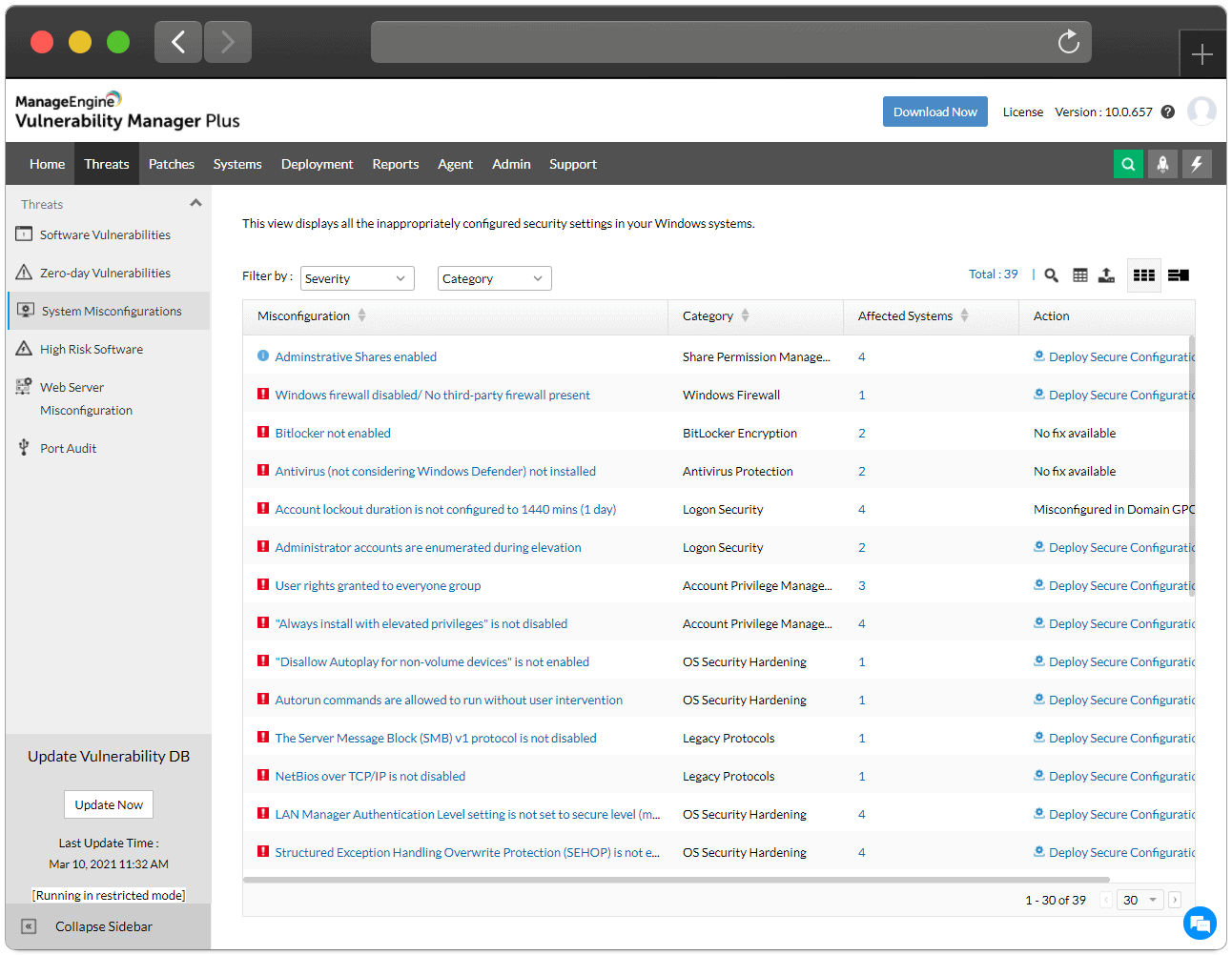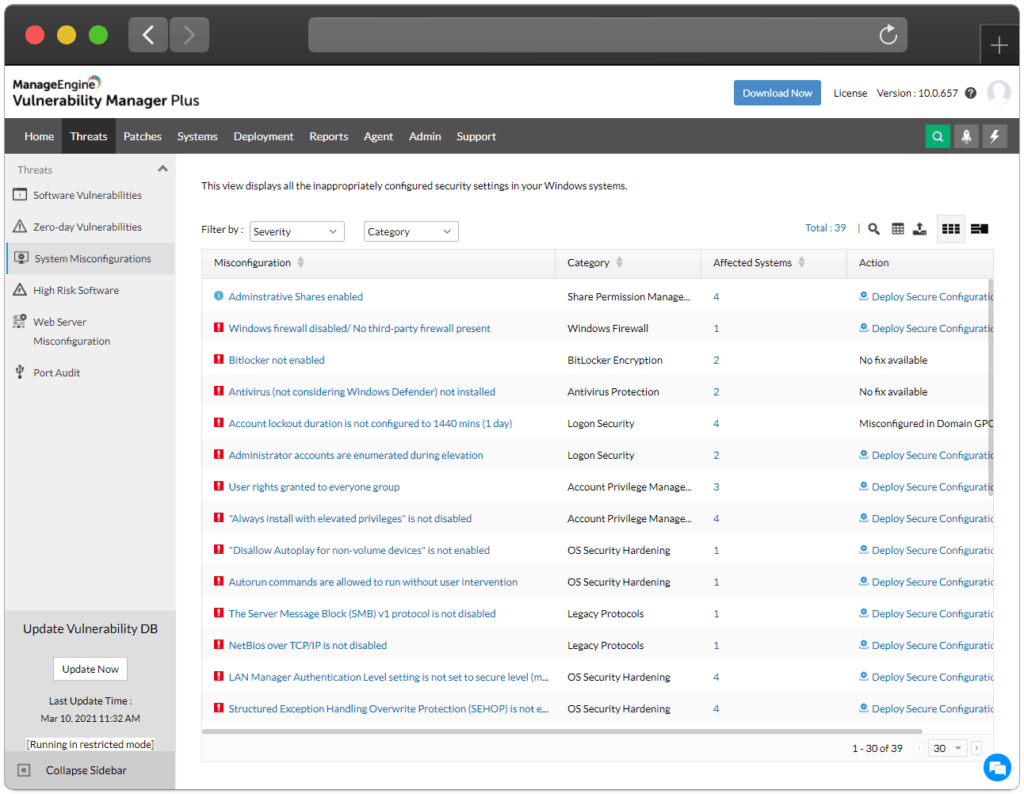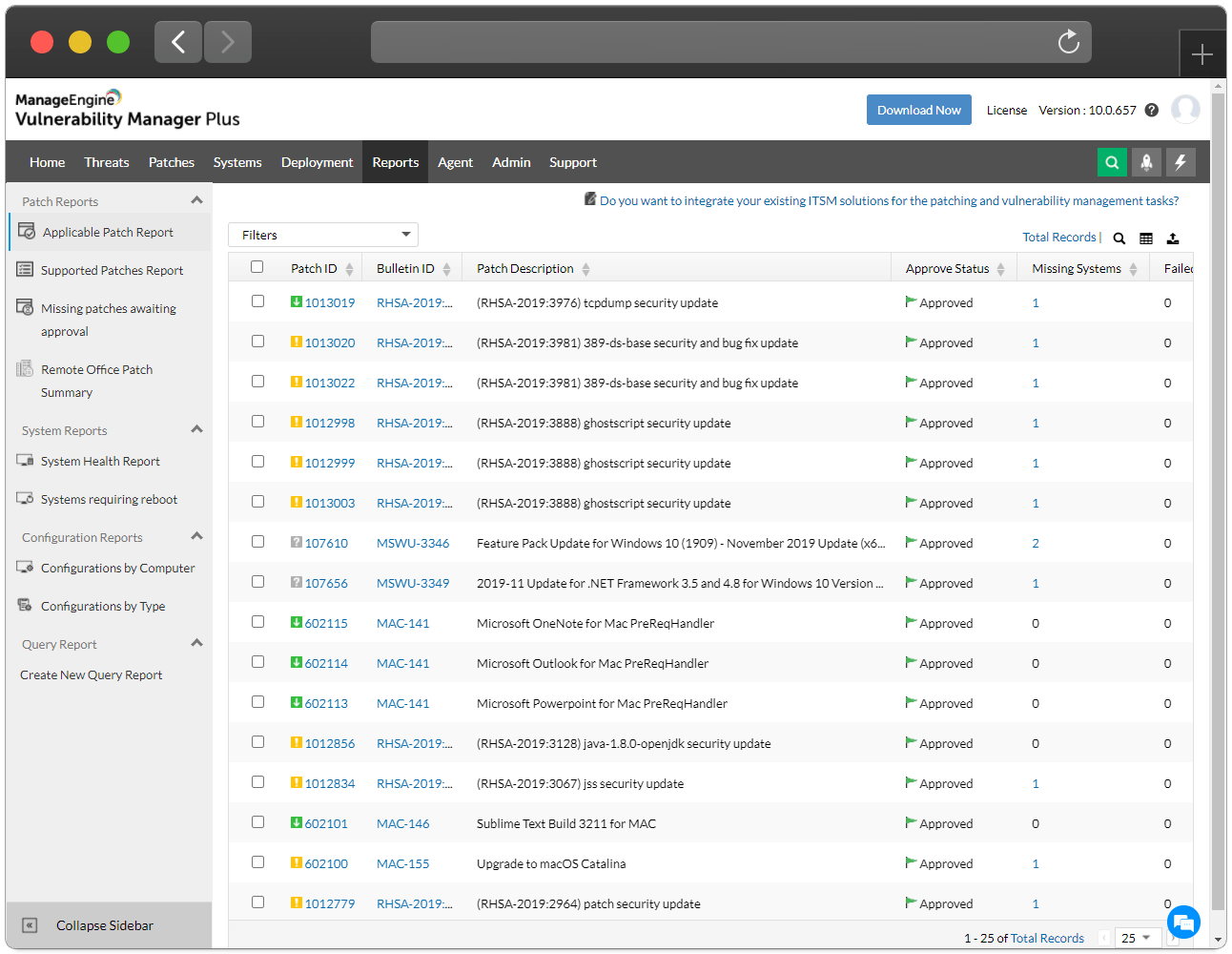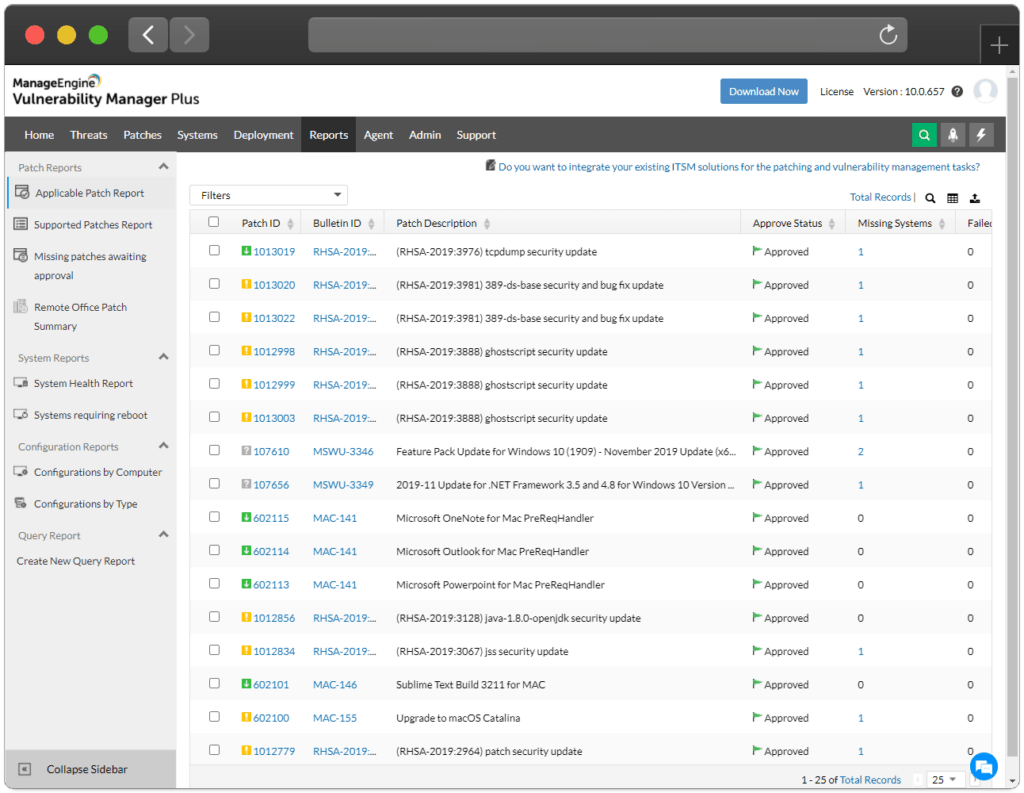 Managing and reporting data related to vulnerability and configuration
Reporting data related to the configuration of workstations, systems that require a restart, data related to the general state of compliance with security criteria, or data on uninstalled security patches. The application can use both predefined reports, reports created for the individual needs of the user by means of queries. Scheduled reports are also available - sent periodically to the indicated e-mail addresses.
Frequently Asked Questions
What is Vulnerability Management
Vulnerability management is a cyclical process of identifying IT assets and correlating them with a continually updated vulnerability database to identify threats, misconfigurations, and vulnerabilities. Another aspect of vulnerability management includes validating each vulnerability's urgency and impact based on various risk factors and responding to the critical threats swiftly. Vulnerability management is vital to endpoint security and is one of the most proactive approaches to weed out security weaknesses before they lead to a breach. 
What is the difference between Vulnerability Manager Plus and Patch Manager Plus?
ManageEngine Vulnerability Manager Plus brings together all the capabilities of vulnerability management under one package- right from the assessment of vulnerabilities to patching them, from managing security configurations of network endpoints to hardening internet-facing web servers- from a centralized console.
Whereas, ManageEngine Patch Manager Plus is an exclusive tool for automating, customizing, and streamlining the entire patching process. Best suited for IT administrators who are looking out for a stand-alone patch management solution.
What is the difference between the Enterprise edition and Professional edition?
The Professional edition offers a variety of features which include vulnerability scanning and assessment, detection of system misconfigurations, security misconfigurations, high-risk software, and web server misconfigurations. The Enterprise edition offers all the features of the Professional edition and in addition to that, it offers remediation for all the security flaws from the console.
Why are patches also displayed under the software vulnerabilities tab?
Under software vulnerabilities, patches are displayed as a resolution to fix a known threat or vulnerability.
Which platform does the security configuration management feature currently support?
The product currently supports security configuration management only for systems running on Windows OS
How do I Install Vulnerability Manager Plus?
Being the Swiss Partner of ManageEngine, Kidan is responsible for aiding with professional services, such as installing, implementing, configuring, training, and supporting the company to ensure an effective on-boarding of Vulnerability Manager Plus.
To make it even better, Kidan even provides advice on top of it all!
Get in touch with us to know more.
Want to continue the
conversation?
Thank you for your interest in ManageEngine's Vulnerability Manager Plus solution. Please fill out the form below to ask a question or request assistance.