ManageEngine Support Center Plus
Extensive Helpdesk System
Support Center Plus Offers registration of applications, management of accounts contacts, SLA agreements, and a knowledge base. The solution is a web-based customer support software that lets organizations effectively manage customer tickets, their account & contact information, the service contracts, and in the process, providing a superior customer experience.
The application also allows for extensive management of SLA agreements, monitoring their compliance, and creating escalation variants in the event of failure to comply with the agreed terms of the contract.
SupportCentre Plus Offerings
Everything you need to run top-class customer support.
Allows access to data without prior software installation
Communication between the service technician and the reporting person can occur both by e-mails sent by the system and after the user logs in to the portal. The second option significantly increases the possibilities of interaction and checking at what stage the application is. This ticket management system is also available as a mobile application for Android and iOS. This makes it much easier to access the most important functions of the software.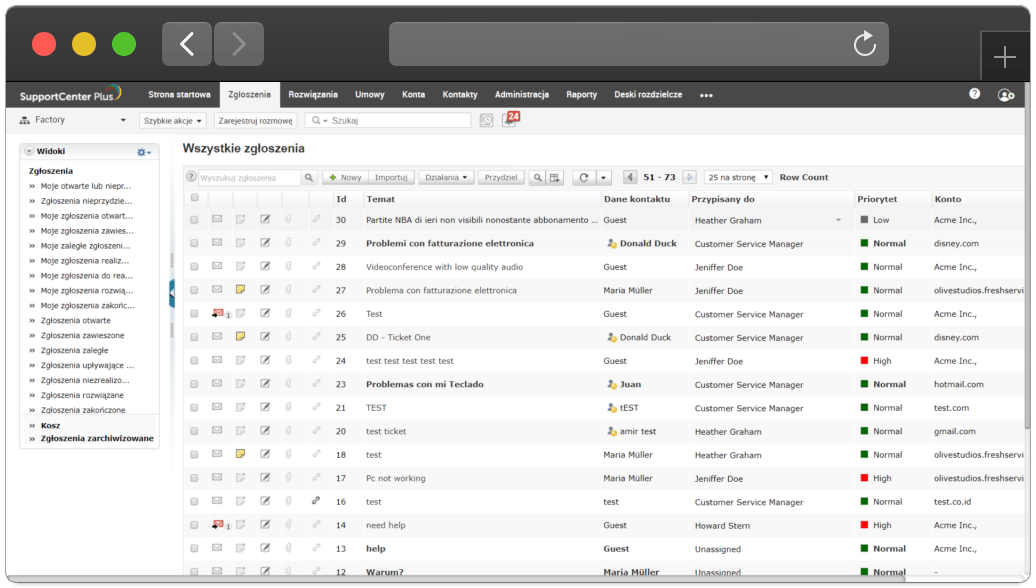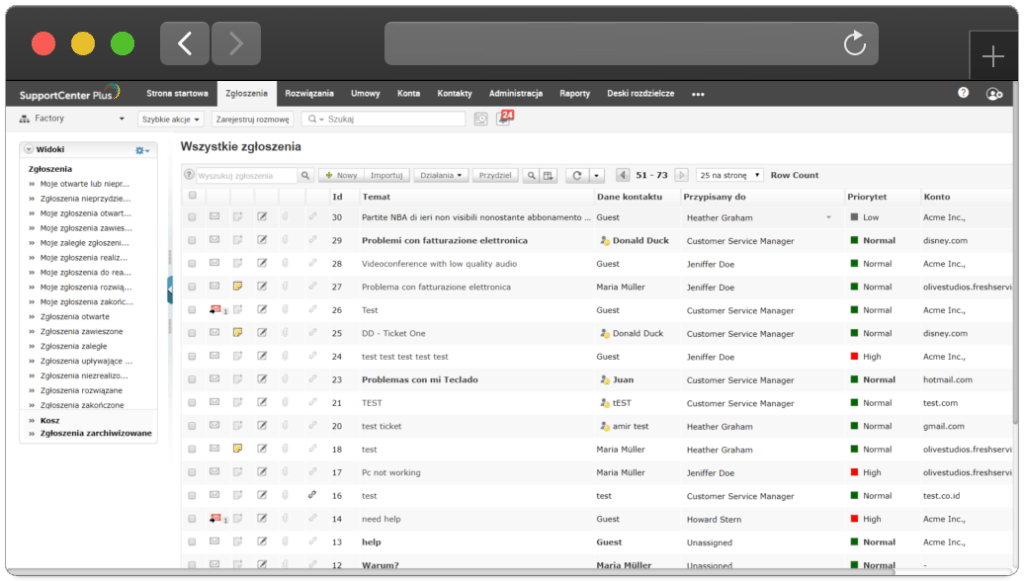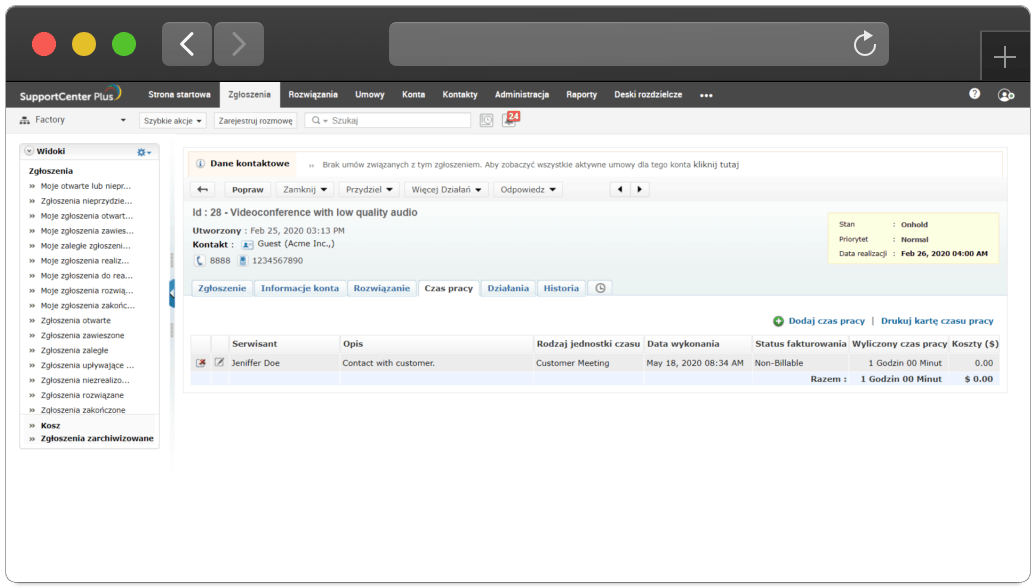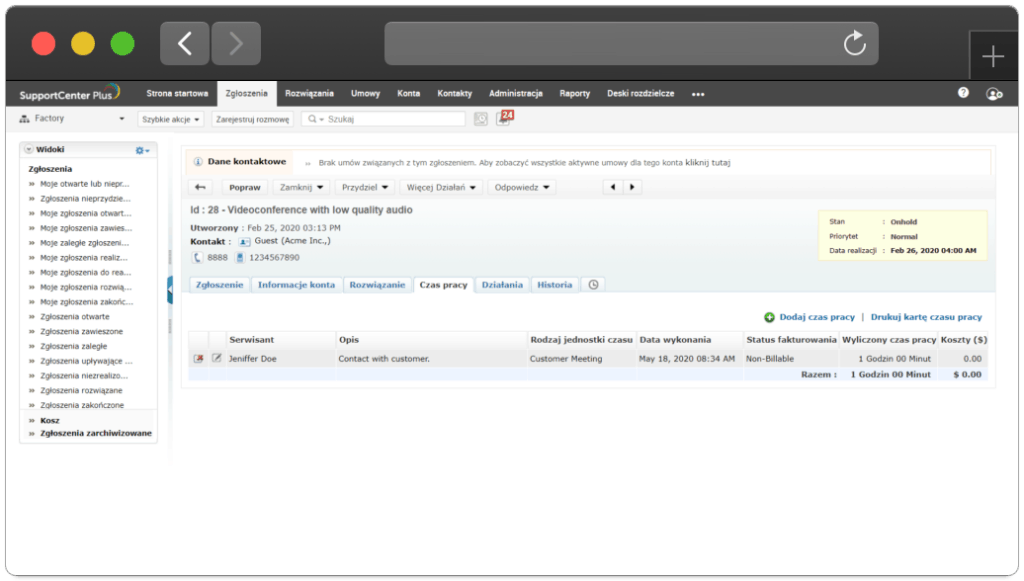 Statistics to verify the time spent on resolving requests
Users can verify the working time based on a completed work log, including descriptions of activities performed. This solution will surely satisfy many superiors, and the whole thing can be easily printed if there is a need to verify data. For in-depth analysis, appropriate reports can also be used, generated in an accessible way from the application level.
Up to 20 portals creation for better reports filtering
Task management offered by SupportCenter Plus allows users to be more transparent. This is especially useful if the positions in the organization are very complex in terms of responsibilities. Users can switch between created portals, which effectively separate from each other different types of notifications, which a different configuration may also characterize.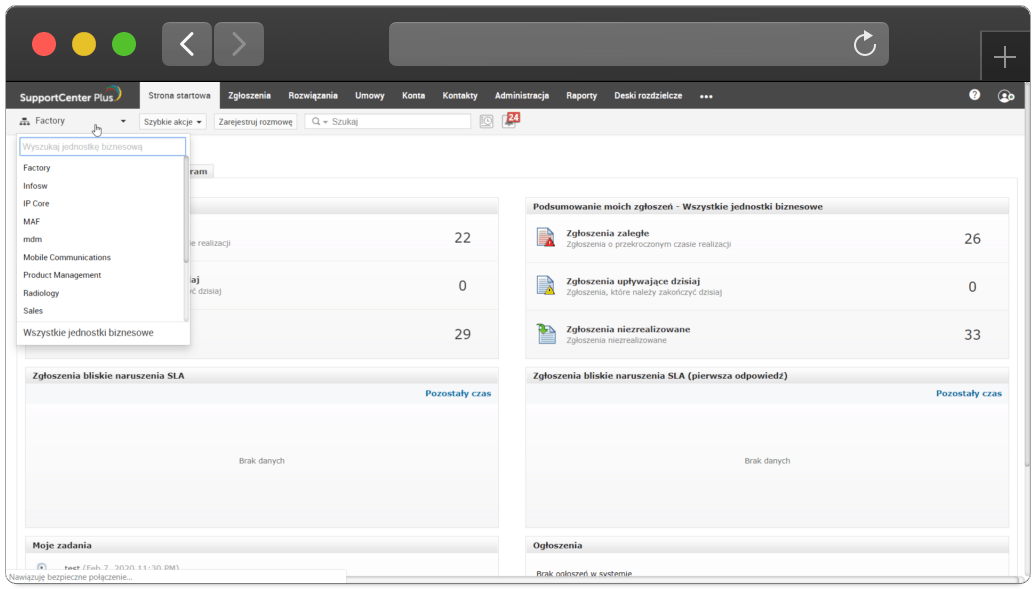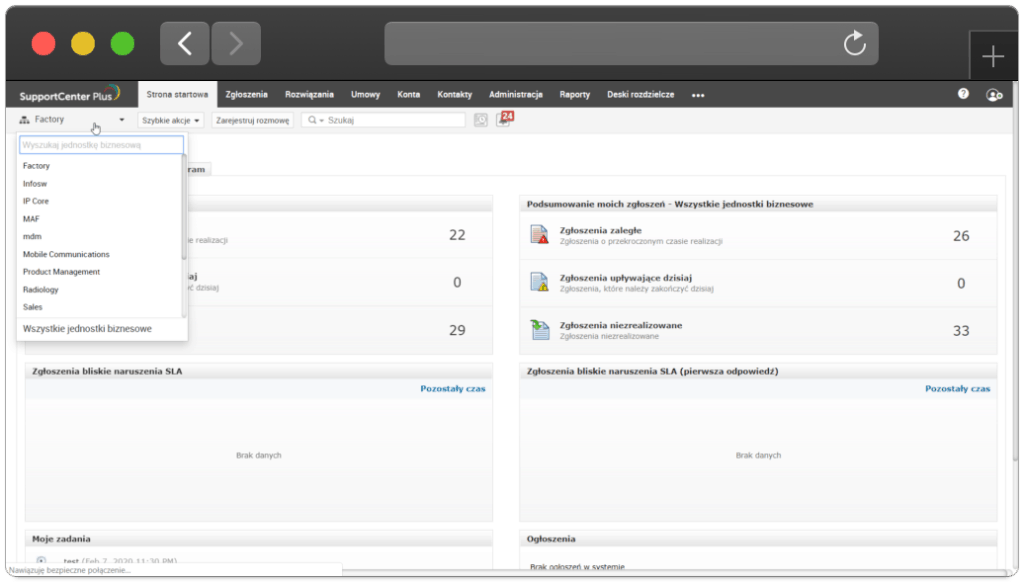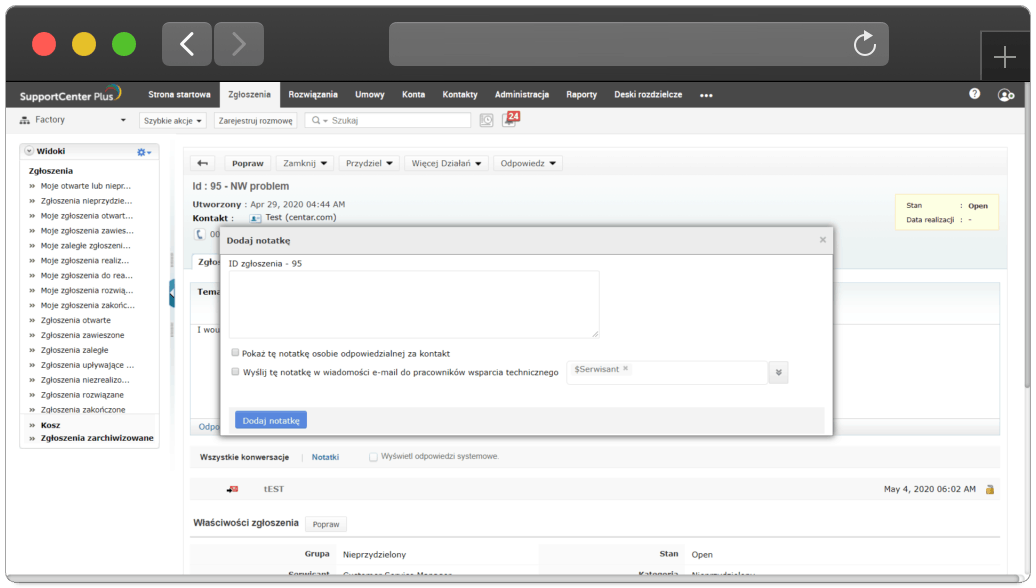 Notes for better communication
SupportCenter Plus allows users to make notes private or public. This is especially useful for saving the necessary data to facilitate the process of solving a reported problem. Notes can also be created by reporting persons, e.g., when additional attachments are included in the application.
Detailed reports creation
SupportCenter Plus allows users to send scheduled reports to specified e-mail addresses by a periodically defined time interval. The module has the most frequently used reports to create personalized analyses and filtering based on the fields available in the reports. To extract the most detailed information, a query execution module is available to block the possibility of performing operations modifying data in the database.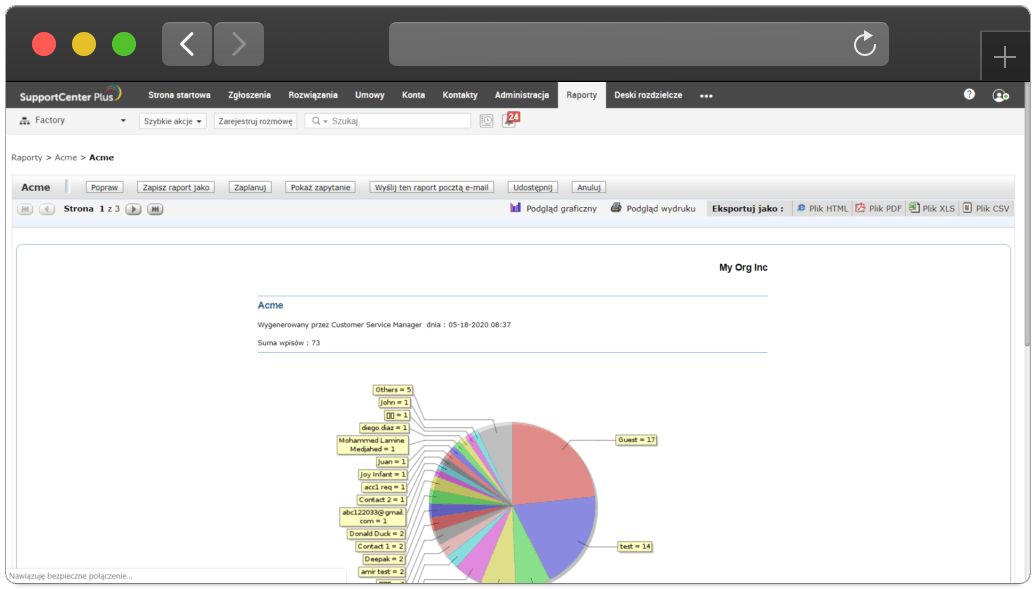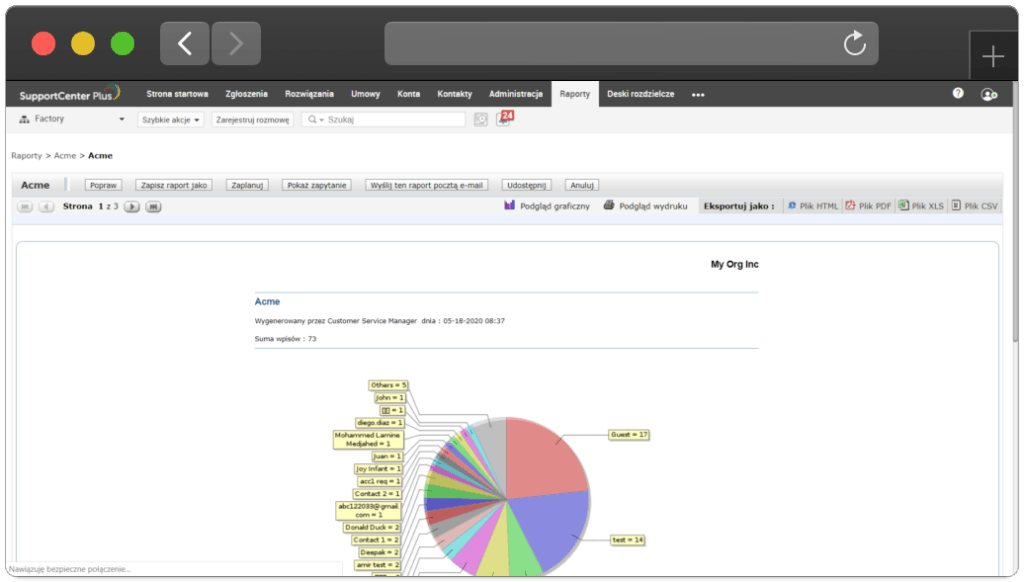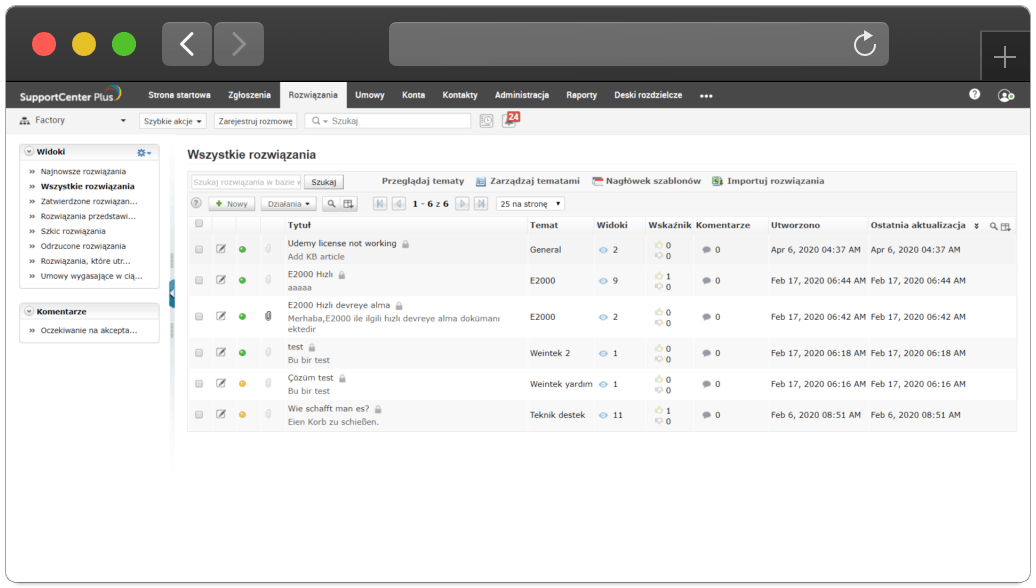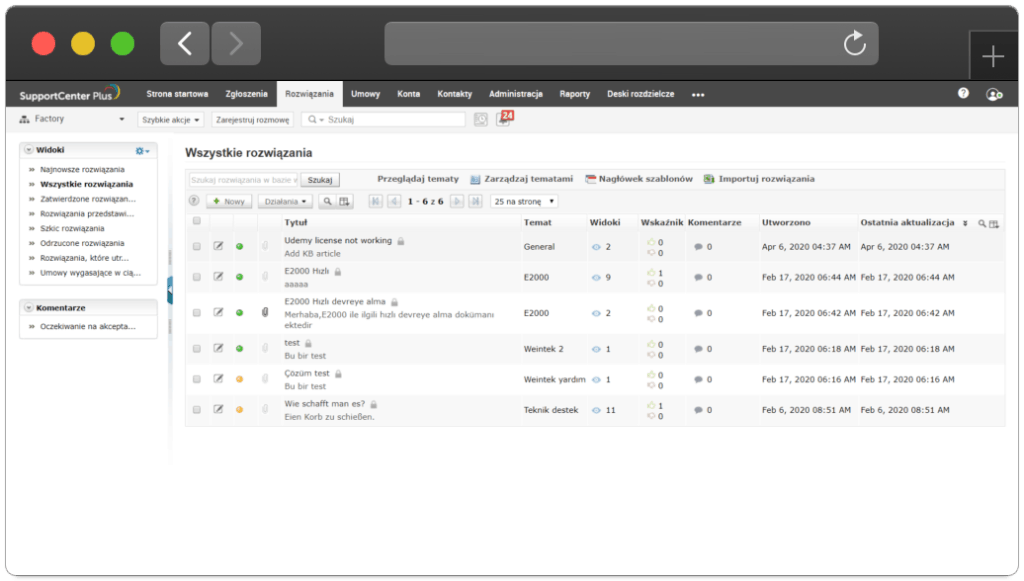 knowledge base obtain the information necessary
The system can also be made available to applicants who can search for solutions themselves. The visibility of solutions can be configured to provide service technicians with all the information they need. For applicants, however, access may be limited to a specific topic.
ManageEngine Support Center Plus Pricing
Professional Edition is Starting From:
Features:
Help Desk Management
Customer Portal
Billing Contracts
Product Catalog
Active Directory Integration
Reports and Dashboards
Survey
API
Enterprise Edition is Starting From:
Features:
Help Desk Management
Customer Portal
Billing Contracts
Product Catalog
Active Directory Integration
Automation bundle
Reports and Dashboards
Survey
Live Chat
API
Frequently Asked Questions
What is the purpose of SupportCenter Plus?
The two main focus of ManageEngine SupportCenter Plus are;
Request Tracking

Customer Account Management
Using the above modules, support reps and administrators can resolve complex issues in no time, thus reducing end-user frustration arising due to a time-consuming issue resolving process. Besides, administrators can also keep track of the customers' changing needs and modify their services to suit their requirements.
What are modes of creating requests in SupportCenter Plus?
SupportCenter Plus provides 4 simple ways of creating a request.
Phone

 

– The ticket can be created by the Support Staff

Email

 

– Automatic Conversion of Emails to Tickets

Forums

 

– SupportCenter Plus can be integrated with phpBB forums and forum posts can be automatically converted to tickets

Self-Service Portal

 

– Ticket submission thorough integrated web forms and customer self-service Portal.
Is the Timesheet Tab available to all users?
The Timesheets tab will be available only to the Global and Business Unit administrators.
SupportCenter Plus can be used for which industries?
Educational Institutes
Financial Institutes
Hospitals
Manufacturing
Retail
Information Technology
Telecom
How to host SupportCenter Plus?
Hosting ways:
Intranet
Internet
2.1. On the WAN
2.2. On the DMZ
How do I install SupportCenter Plus?
Being the Swiss partner of ManageEngine, Kidan is responsible for aiding with professional services, such as installing, implementing, configuring, training, and supporting the company to ensure an effective on-boarding of SupportCenter Plus.
To make it even better, Kidan even provides advice on top of it all!
Get in touch with us to know more.
Want to continue the
conversation?
Thank you for your interest in ManageEngine's SupportCenter Plus solution. Please fill out the form below to ask a question or request assistance.