ManageEngine ServiceDesk Plus MSP
All-in-one ITSM suite, Designed Specifically for Service Providers
ServiceDesk Plus MSP is a web-based, full-fledged ITSM suite designed specifically for managed service providers. This all-in-one ITSM solution delivers a comprehensive help desk, service desk, account management, asset management, remote controls, and advanced reporting in a multi-tenant architecture with robust data segregation. It empowers service providers to offer services and support to multiple clients with centralized controls.
ServiceDesk Plus MSP Offerings
A complete solution for the MSP's with all the ITSM essentials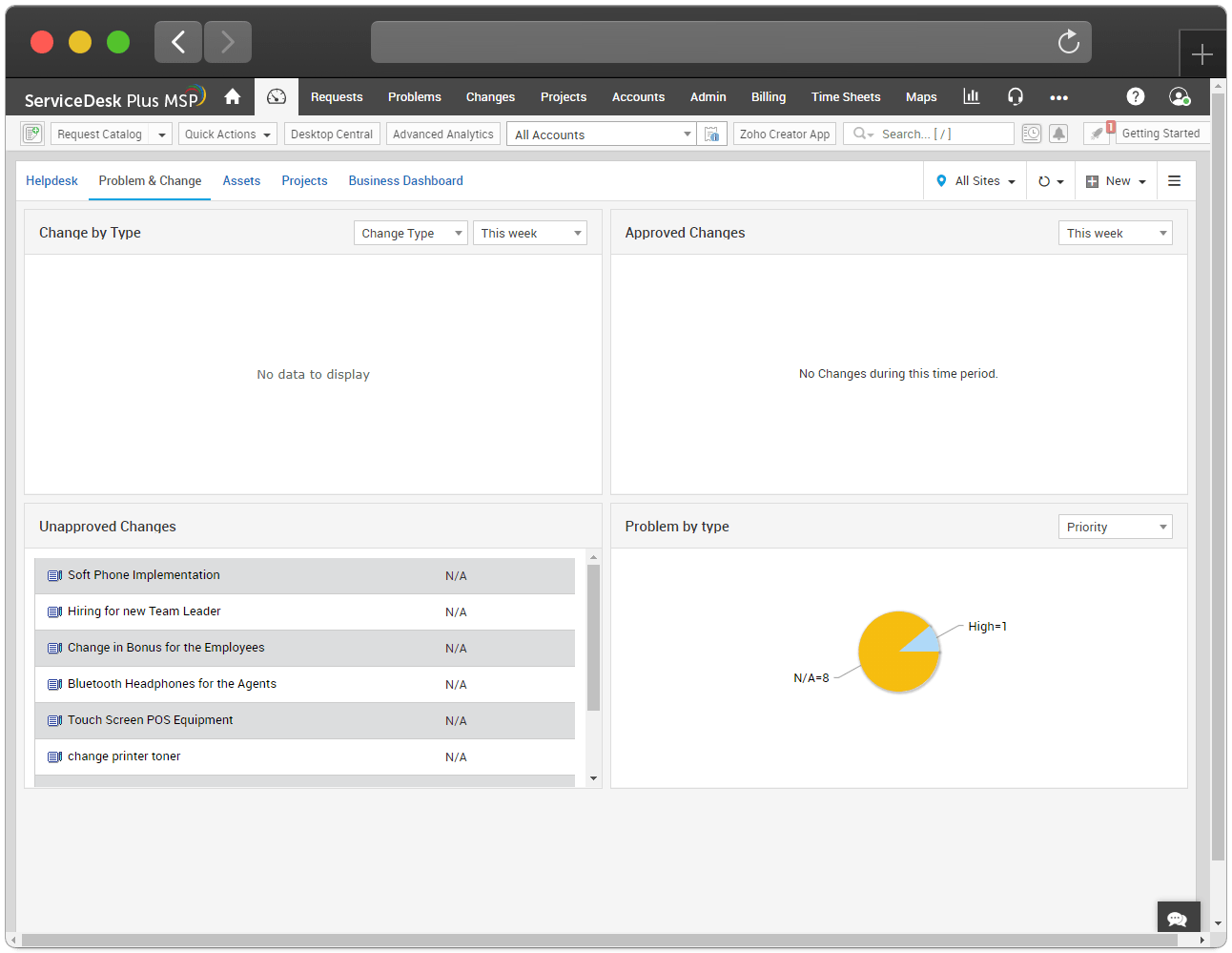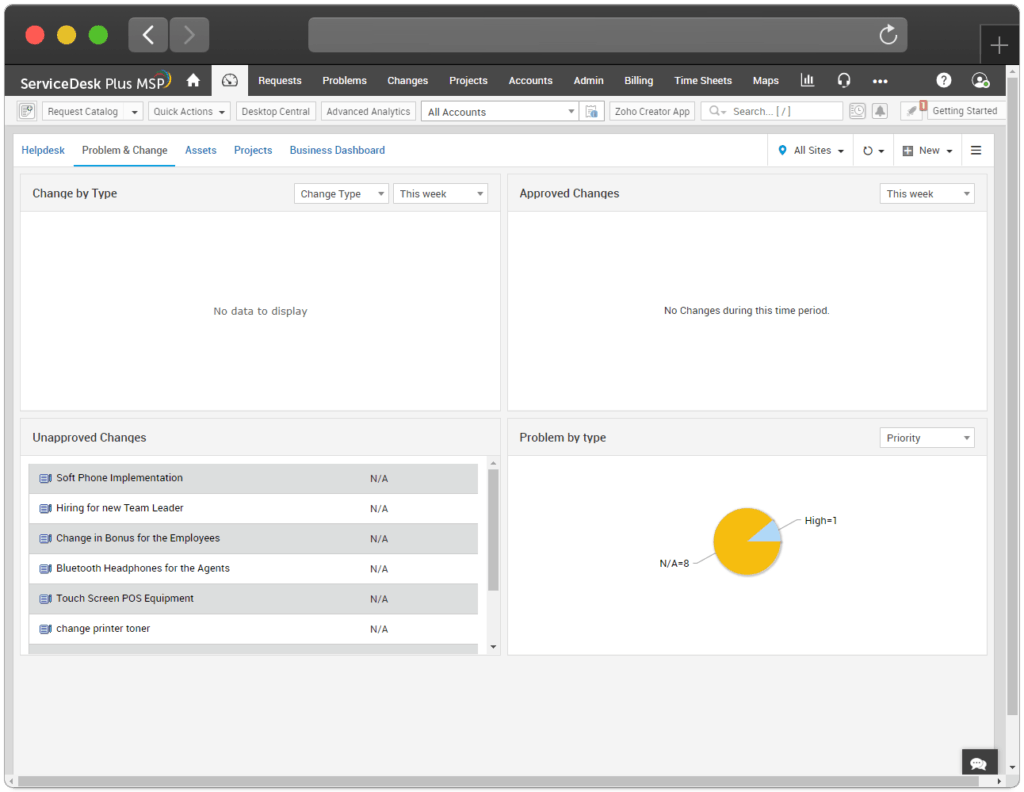 ServiceDesk Plus MSP Include
1. Account Management
2. Rebrand- provide personalized service
6. Technician Auto Assign
7. Integrated Remote Control
8. Service Level Agreement
9. Automated Billing & More
The solution helps MSP's With
1. Manage multiple clients
2. Efficiently manage incidents from every account
3. Display all available services in a service catalogue
4. Increase customer satisfaction with a knowledge base
5. Take control with easy change management processes
6. Use advanced analytics to stay on top of services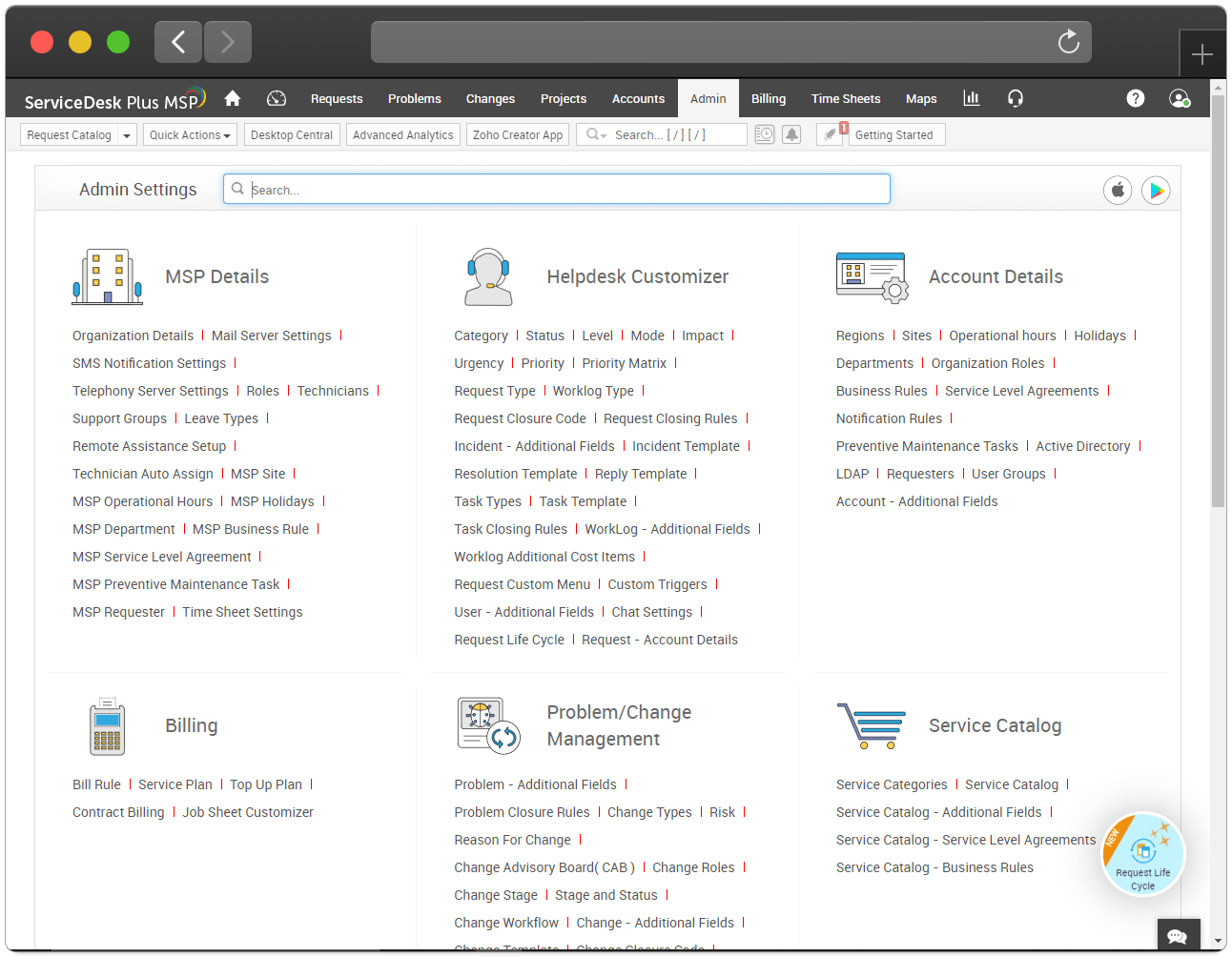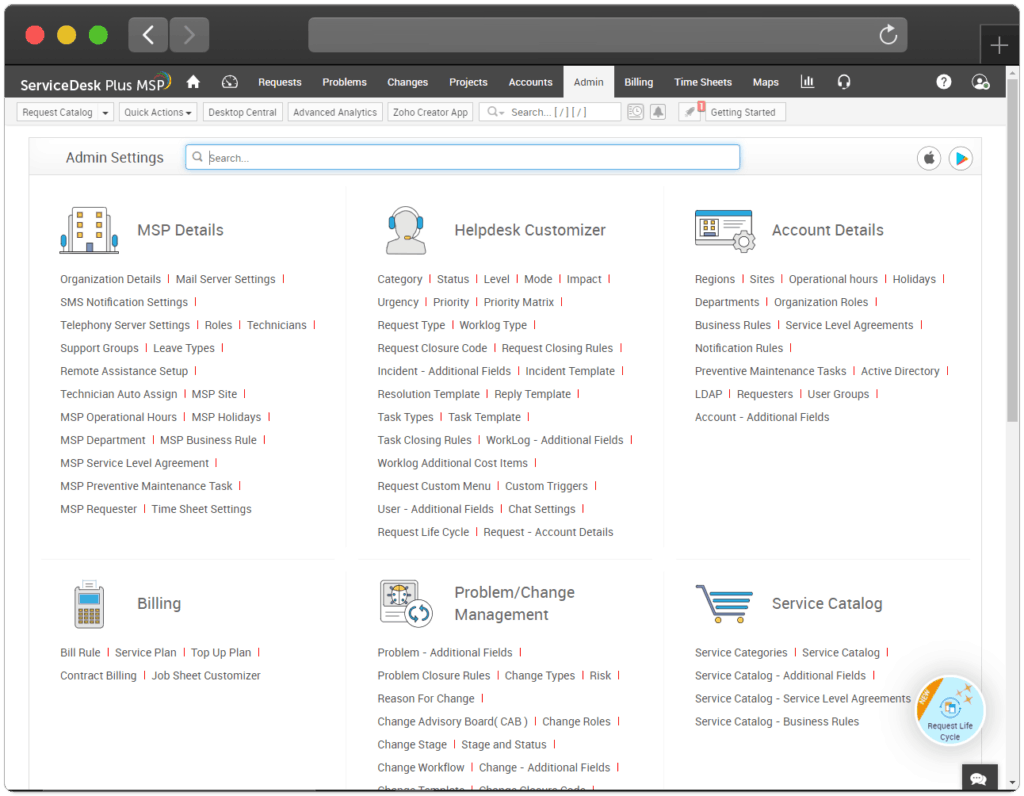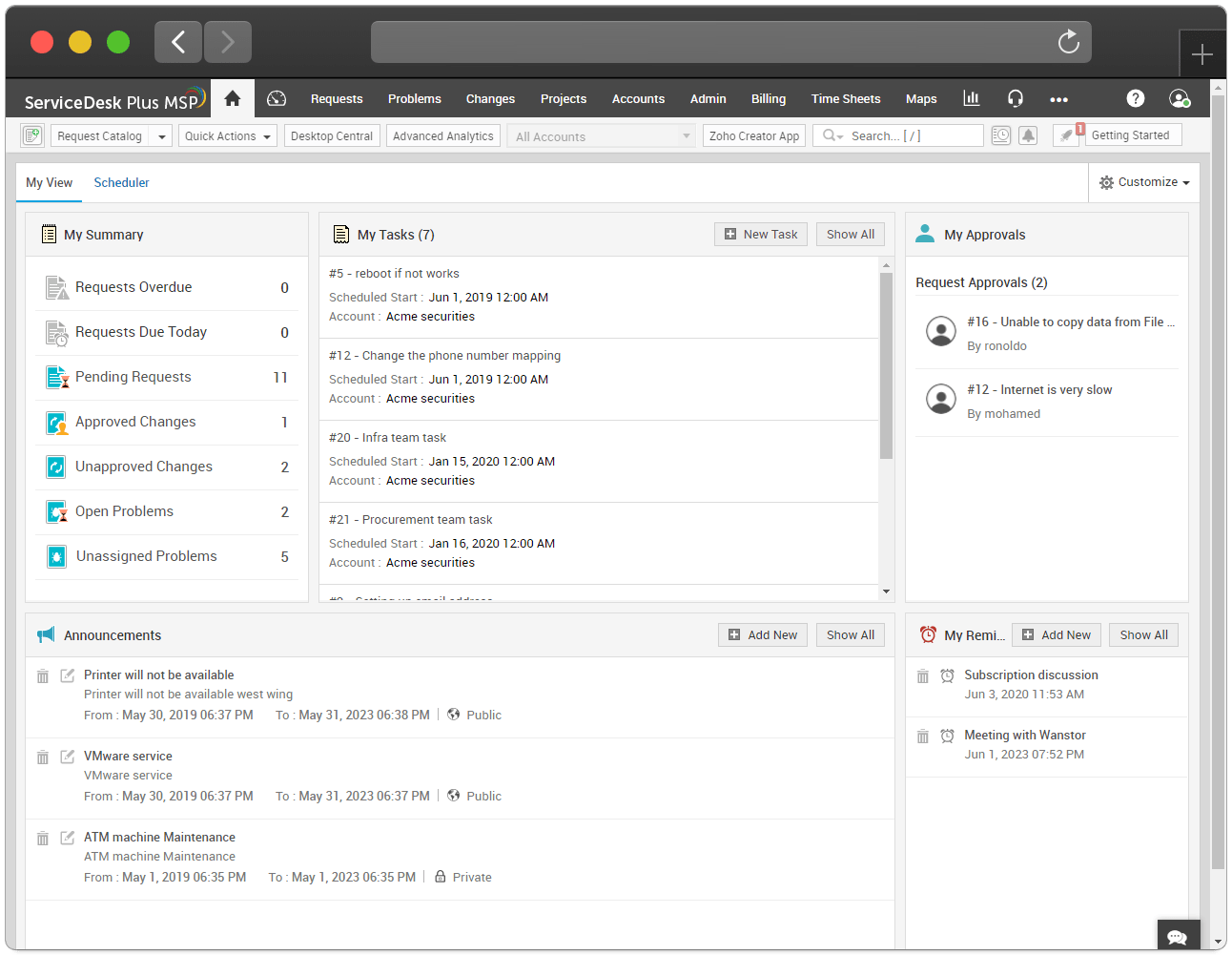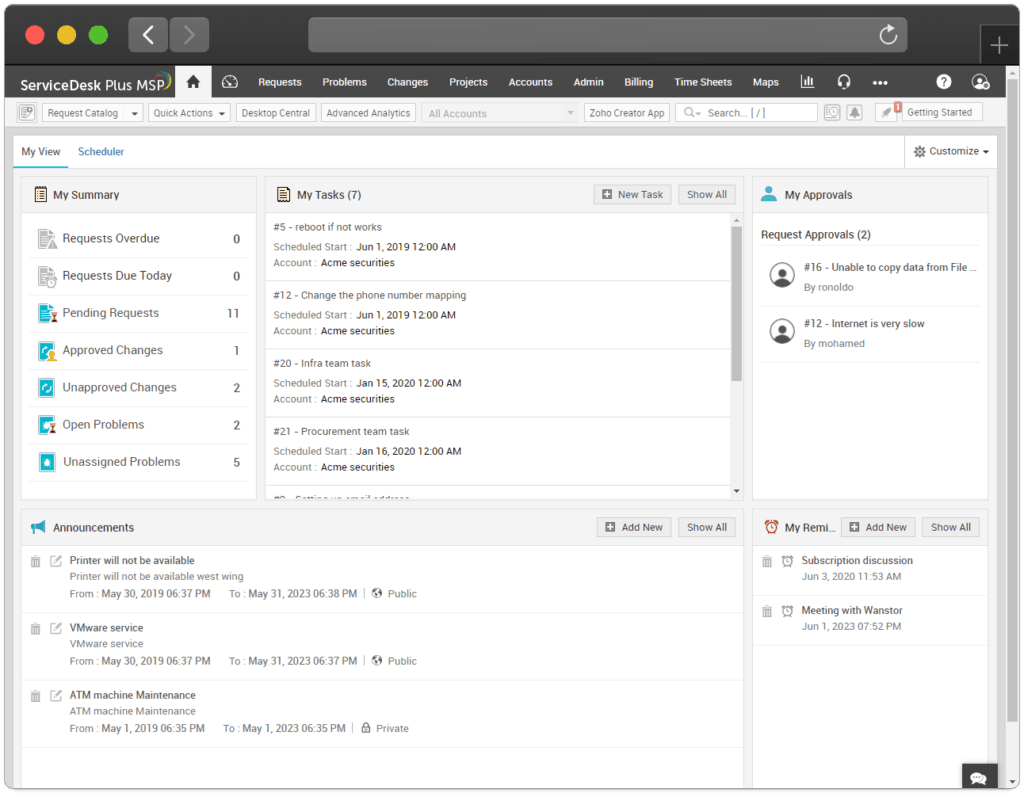 Some Important Features of ServiceDesk Plus MSP are
1. Mobile app for iPhone
3. Purchase & Contract Management
Frequently Asked Questions
How do I convert an Email into a Request?
Create an email account, say "ServiceDesk" in your mail server. Configure a password for this account.
Configure the settings in ServiceDesk Plus – MSP software using Admin -> Mail Server Settings -> Incoming. Specify the email address as "[email protected]" and the username as "ServiceDesk". Select the protocol through which you prefer to fetch the messages say, POP or IMAP.
For each account, create a mail alias in the mail server which maps to the email address "[email protected]". Eg: [email protected] as an alias for Account1 which maps to "[email protected]".
When creating accounts, for each account, enter the mail alias that you created for that account as the 'support e-mail address'. This is the address to which the requesters from an account will send their e-mail requests.
Once a requester sends a mail, it will be received at the mail server
ServiceDesk Plus – MSP will fetch emails at regular intervals from your e-mail address and automatically convert them into tickets for the corresponding account.
How do I perform a domain scan in ServiceDesk Plus - MSP?
When you install and start ServiceDesk Plus – MSP for the first time, it detects all the domains in your network and from the neighboring network of the server on which it is installed.
Click Admin -> Windows Domain Scan to list all the domains.
You can also enter the domain controller information, login name, and password on editing the domain you want to scan. The login name and password should be a domain admin login name and password. 
Is it possible for a requester to view all requests of his/her account without changing him/her as a technician?
Yes, it is possible.
Go to Admin -> Requesters -> Edit the particular requester -> In Requester allowed to view section, select the option 'Show all their account requests', which will give the requester the ability to view all the requests of his/her account. [Screenshot]
Technician A creates a report and schedules it in a periodic basis. Will Technician B be able to view the reports scheduled by Technician A?
No, technicians cannot view reports scheduled by other technicians.
What are the steps to perform a manual backup in ServiceDesk Plus MSP?
Step 1:

 Stop ManageEngine ServiceDesk Plus – MSP service.

Step 2:

 From the command prompt, go to [ServiceDesk Plus-Home]\bin directory and execute 

backUpData.bat

 command to start the backup.



Where, ServiceDesk Plus-Home -> C:\ManageEngine\ServiceDeskPlus-MSP [Screenshot]

Once the backup is complete, a backup file with .data extension is placed in the Backup folder under ServiceDesk Plus – MSP Home directory.
This backup file contains information such as the Build number of ServiceDesk Plus – MSP, and also the date and time when the backup was performed.
The format of the backup file is shown below,
Backup_ ServiceDesk_ [Build number] _Month _date _ Year _ Hour _Minutes
For example, a backup taken in Version 7 and Build 7500 of ServiceDesk Plus – MSP looks like this
backup_servicedesk_7500_fullbackup_02_24_2009_07_51.data
What are the benefits of integrating ServiceDesk Plus - MSP with Desktop Central?
The benefits of integrating ServiceDesk Plus – MSP with Desktop Central (DC) are,
Easy to deploy software on workstations
Sync the IT Asset information on DC with ServiceDesk Plus – MSP
How do I install ServiceDesk Plus - MSP?
Being the Swiss partner of ManageEngine, Kidan is responsible for aiding with professional services, such as installing, implementing, configuring, training, and supporting the company to ensure an effective on-boarding of ServiceDesk Plus MSP.
To make it even better, Kidan even provides advice on top of it all!
Get in touch with us to know more.
Want to continue the
conversation?
Thank you for your interest in ManageEngine's ServiceDesk Plus MSP solution. Please fill out the form below to ask a question or request assistance.