ManageEngine Patch Manager Plus
Advanced patch deployment tool
The solution is also available in the cloud. It helps to ensure security and lowers the susceptibility to threats related to malware. The application monitors systems for missing patches, tests downloaded updates before their implementation, minimizing the risk of failure. It then automatically installs the tested update files to the selected applications. Additional options are reports and audits, which allow getting a full picture of changes made to corporate devices.
Patch Manager Plus provides insight into information about the state of users' operating systems. In case a specific workstation needs to be restarted, Patch Manager Plus will inform about it in good time.
Patch Manager Plus Offerings
The one-stop solution to all the patching needs
Automatic deployment by the update management tool
Patch Manager Plus allows selecting a test group of workstations on which the updates will be installed first. If the installation process goes smoothly and the devices themselves work properly for a certain amount of time, the system can automatically install the tested patches in the remaining groups of devices. The whole process can also be done manually.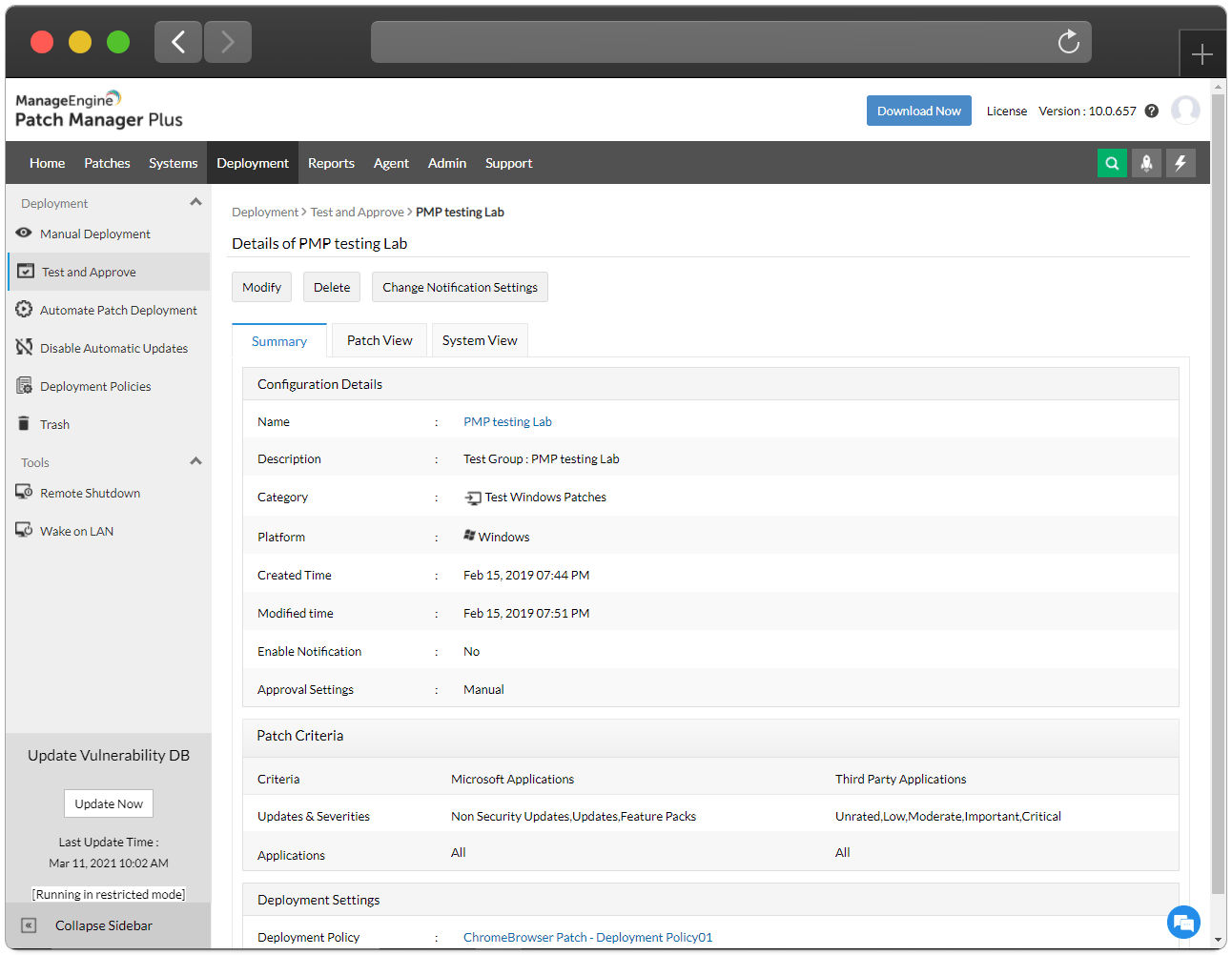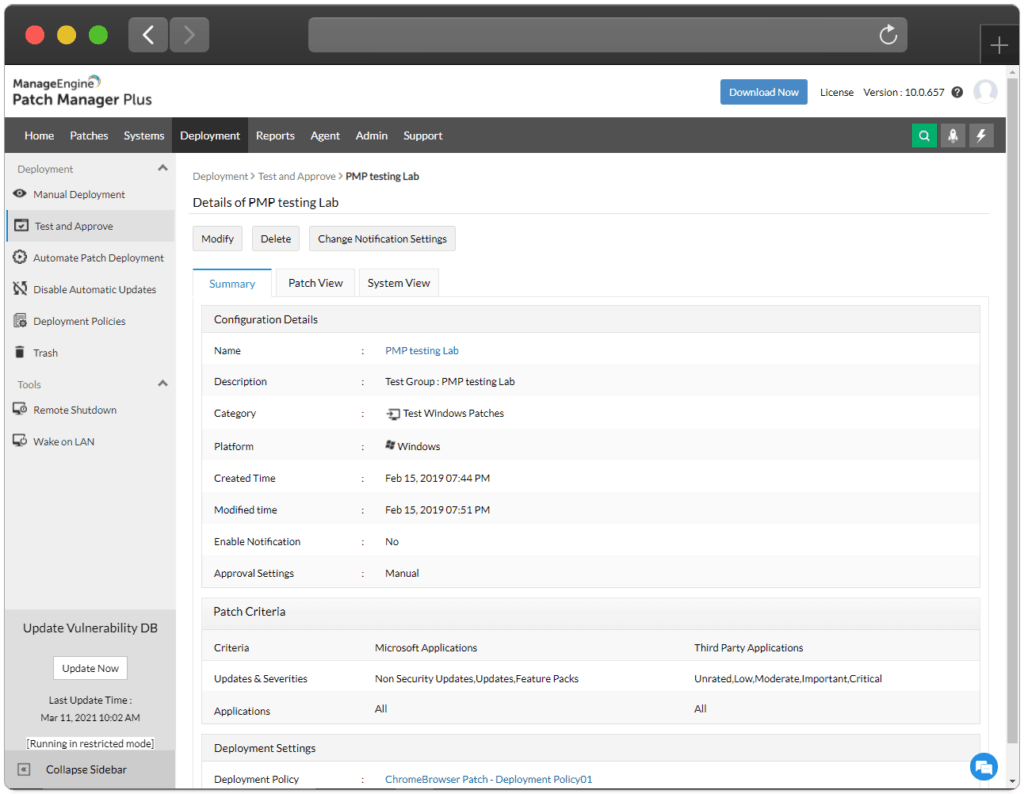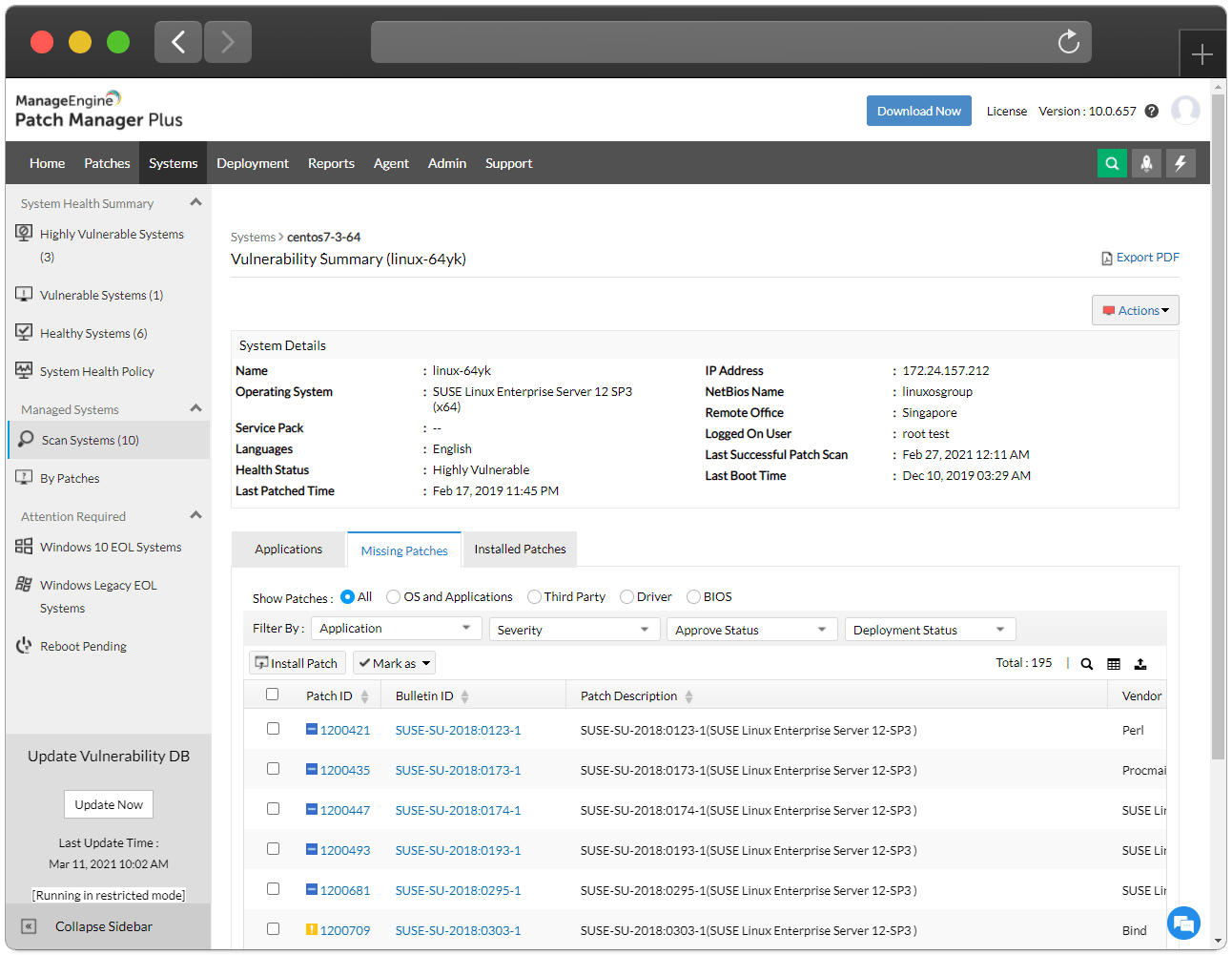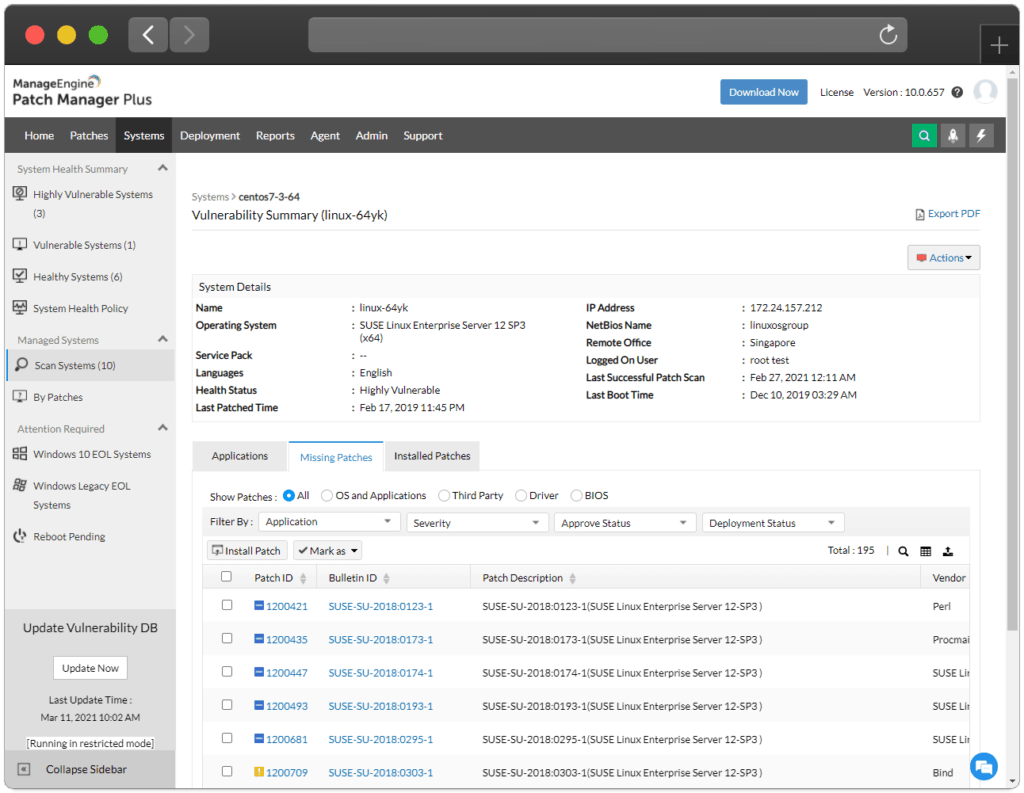 Full view of changes made without involving end-users
The installation process is non-invasive, so device owners can do their work during this time. Thanks to the division into groups, it is possible to perform operations on many devices simultaneously or individually, depending on the needs. The extensive configuration allows adjusting the activities performed by the software to the currently adopted standards in the organization.
Undo modifications in case of any problems/unwanted changes
This update management tool will inform about current issues after testing. On the other hand, some of the inconveniences may appear only when the user uses the application. In such a situation, it is possible to undo the changes and restore the state before the performed operations. Thus, easily restoring the full functionality of the software to users.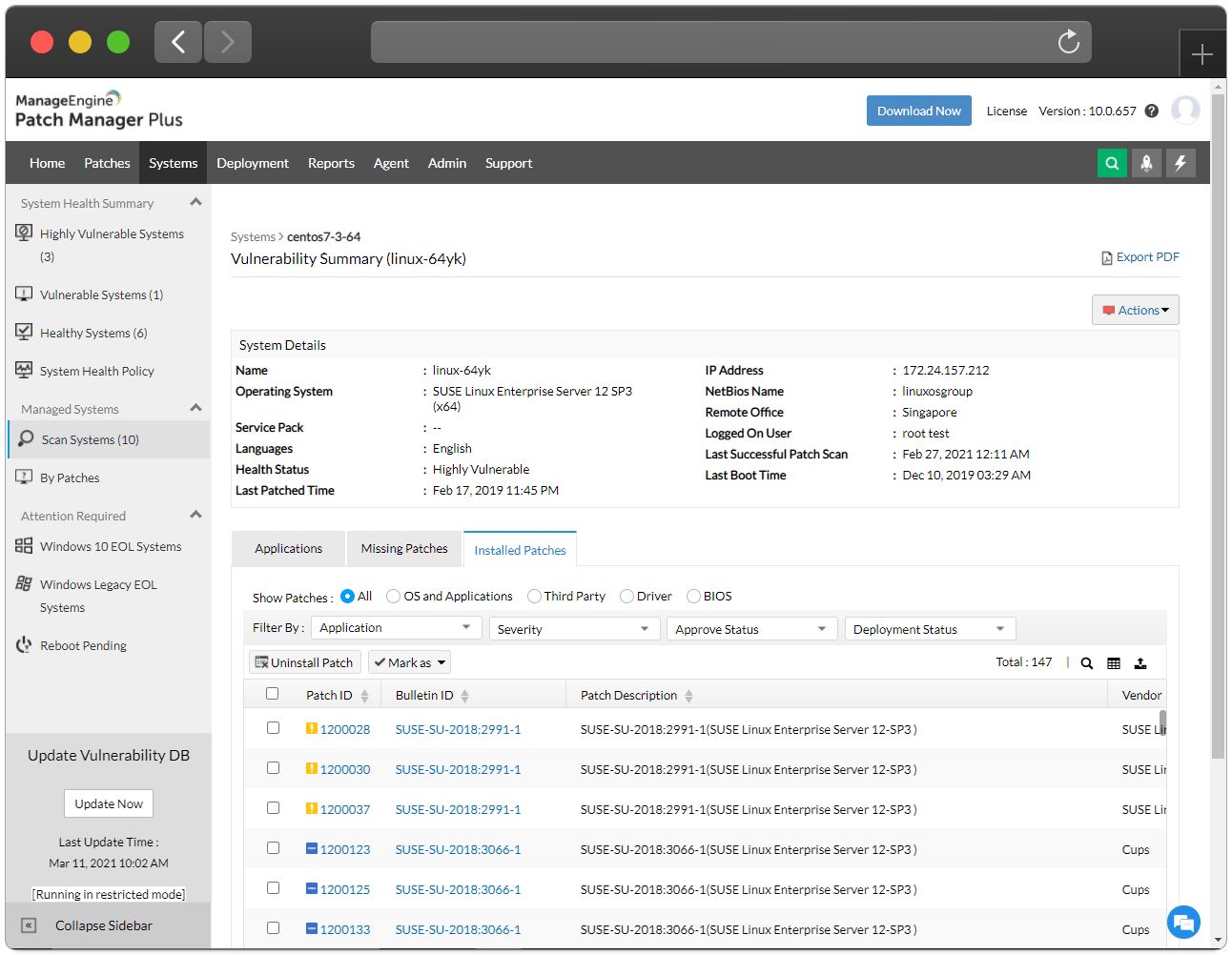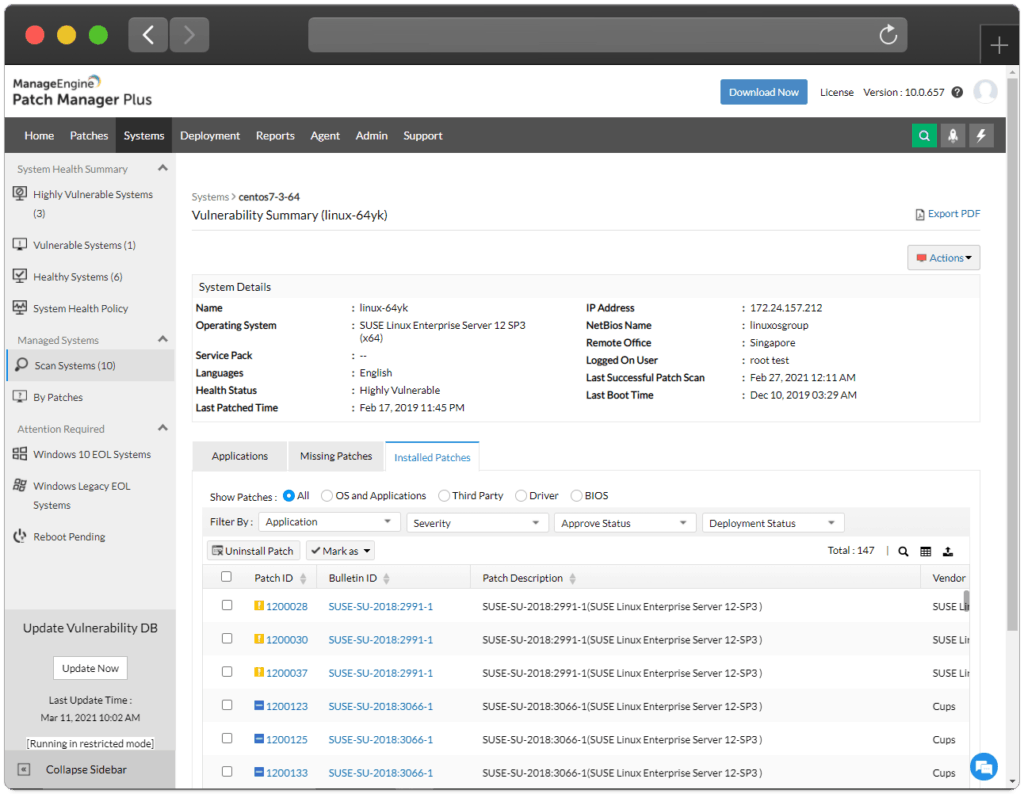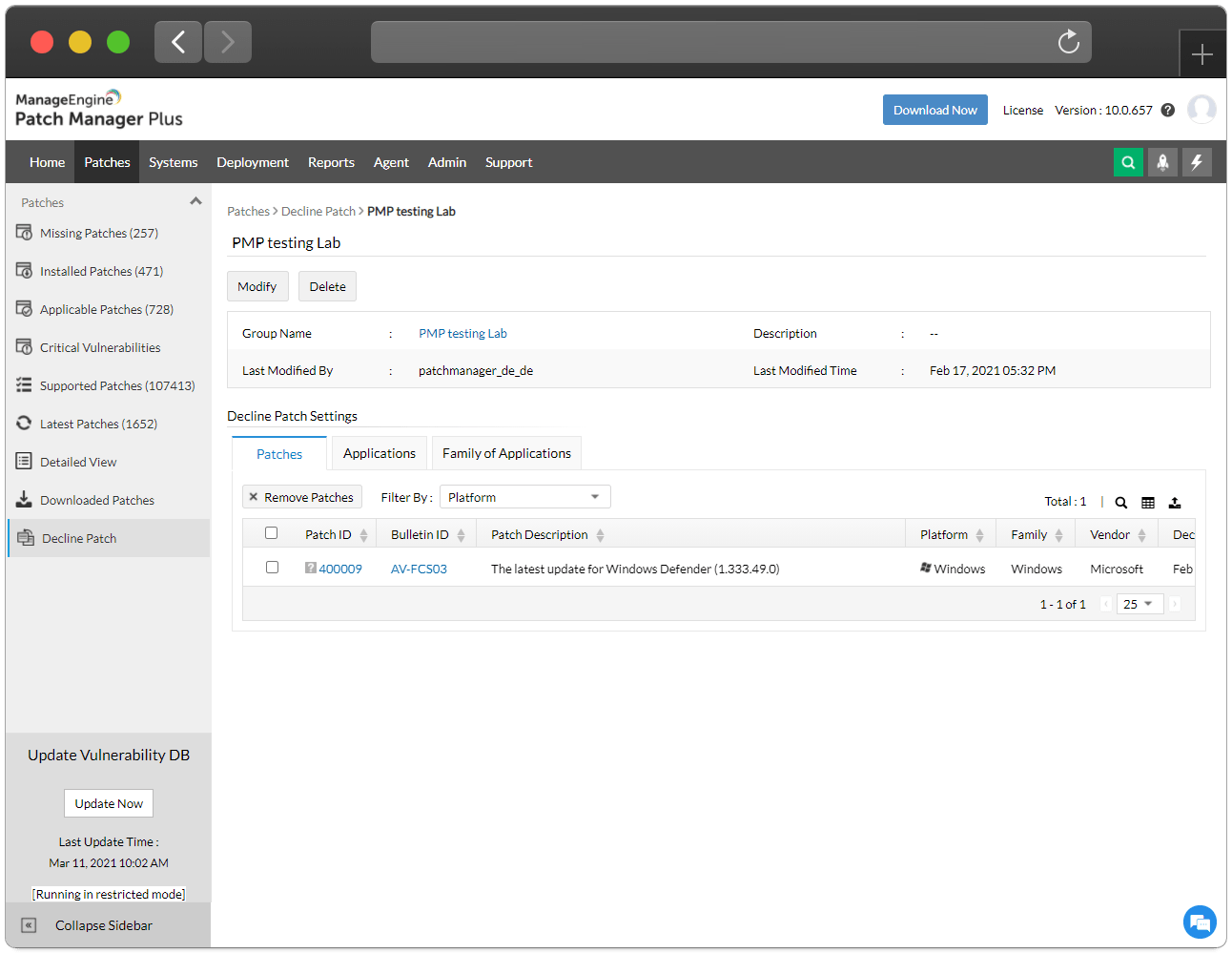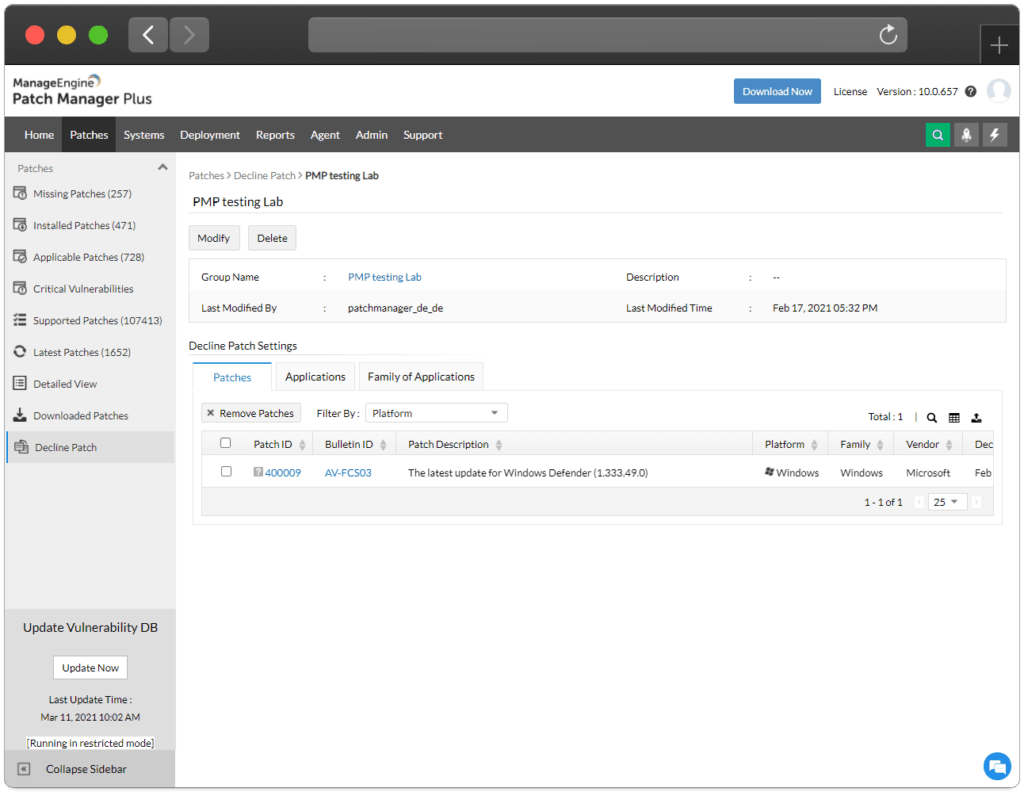 Skip certain updates; ie 'troublesome' fixes.
Occasionally there are situations in which administrators may find out about faulty updates. In such a situation, it is possible to skip the operation for specific software. Thus, saving not only time (in the case of administrators), but also end-users who will not experience any problems.
Full information about the state of the indicated OS
The application informs about current threats along with the specification of specific workstations. In addition, it provides data on computers that are currently in good condition (taking into account, for example, patches not installed). Stations that require a restart are also grouped in one place so that, if necessary, this process can be forced with the possibility of introducing the necessary changes to a specific device.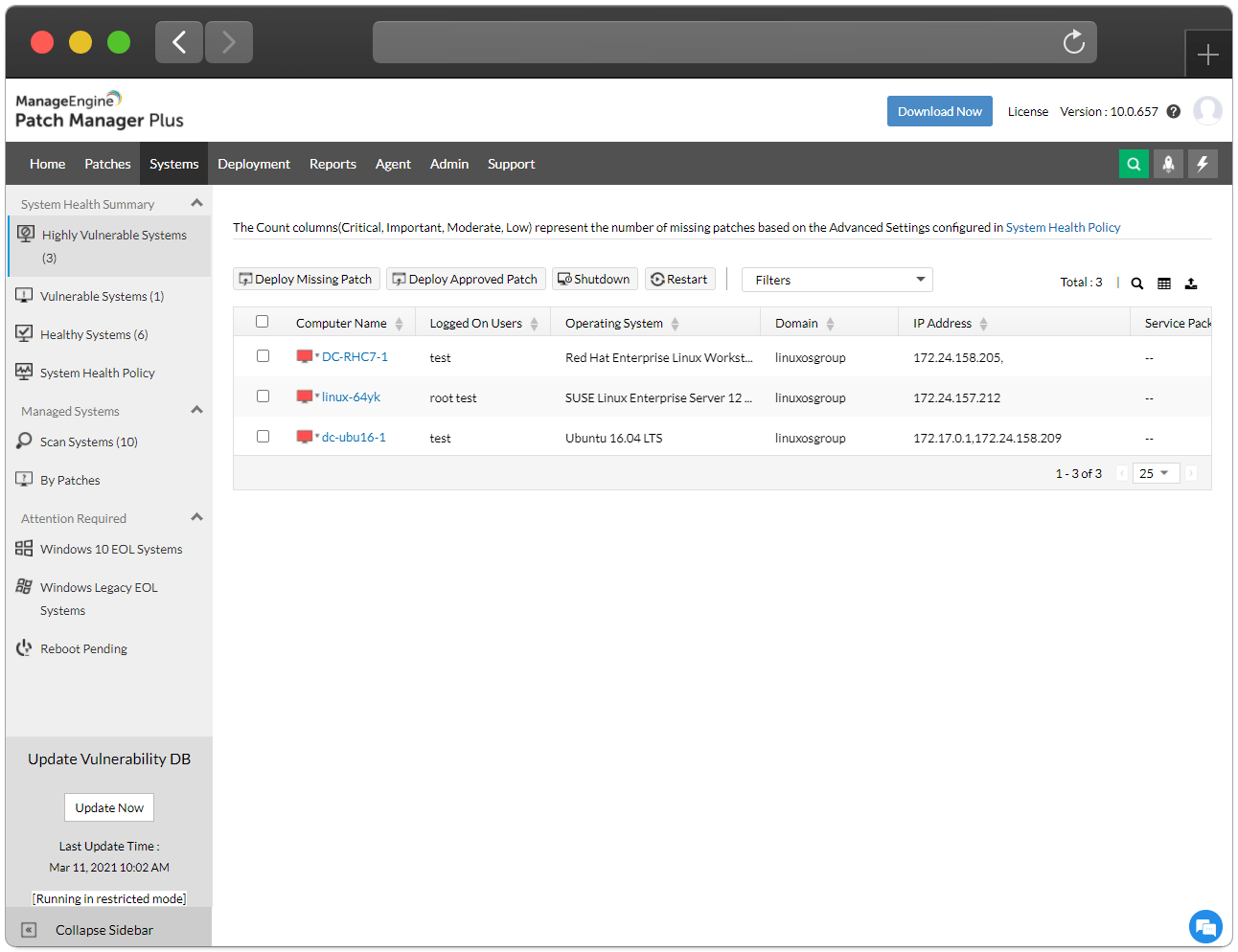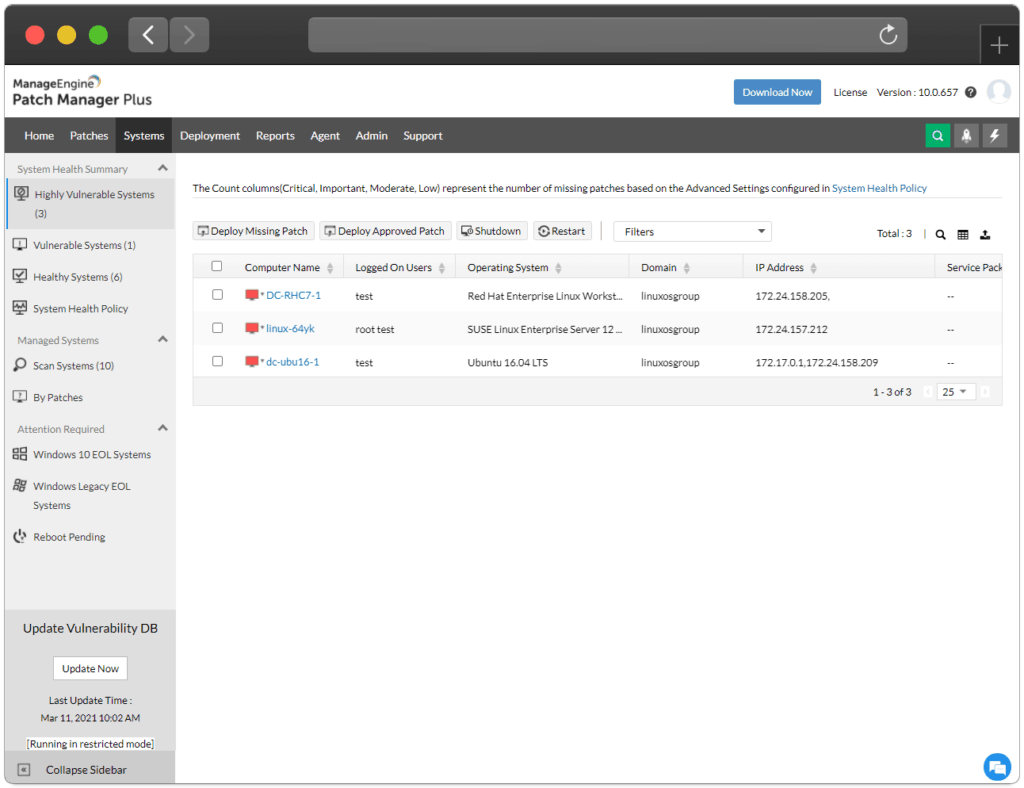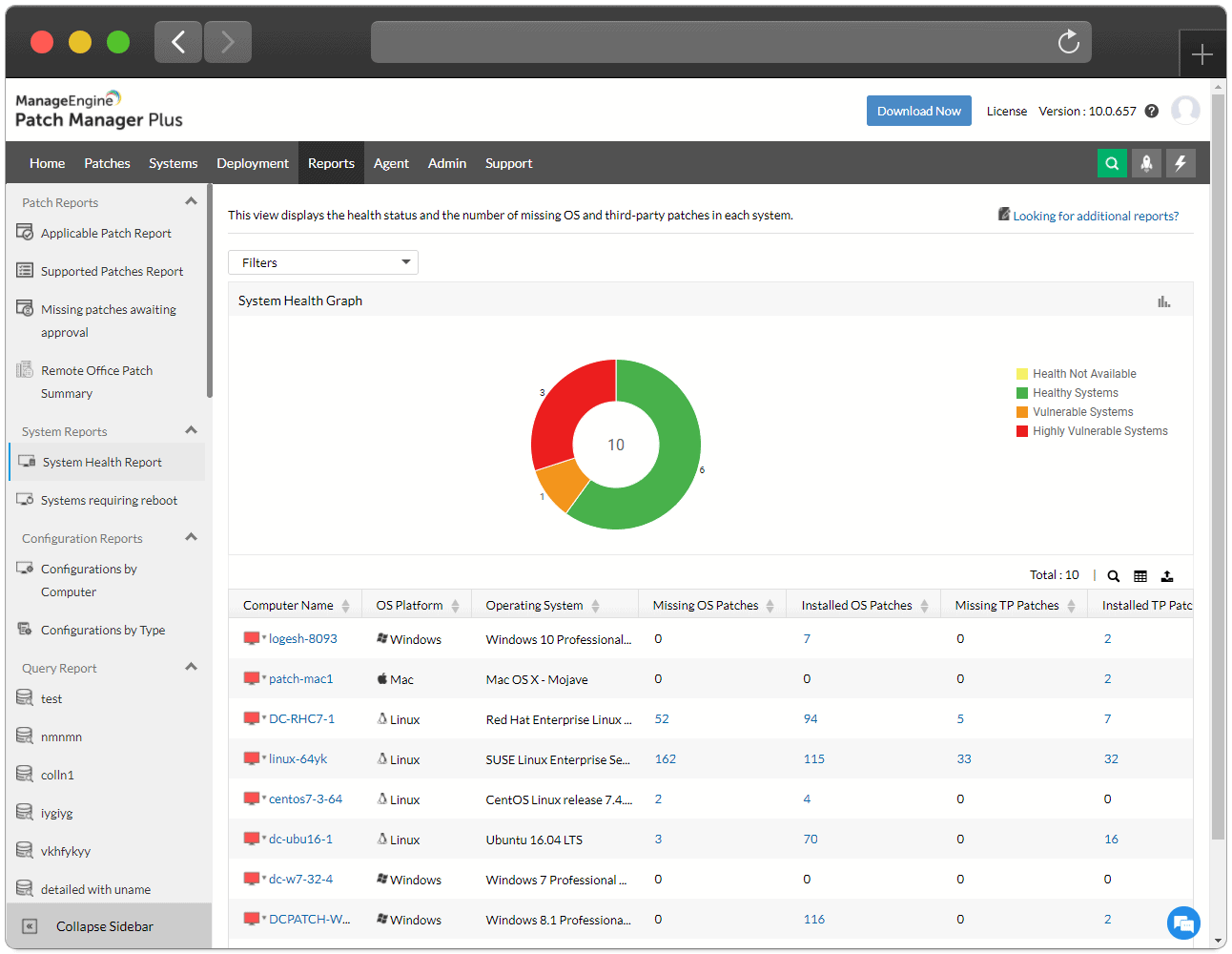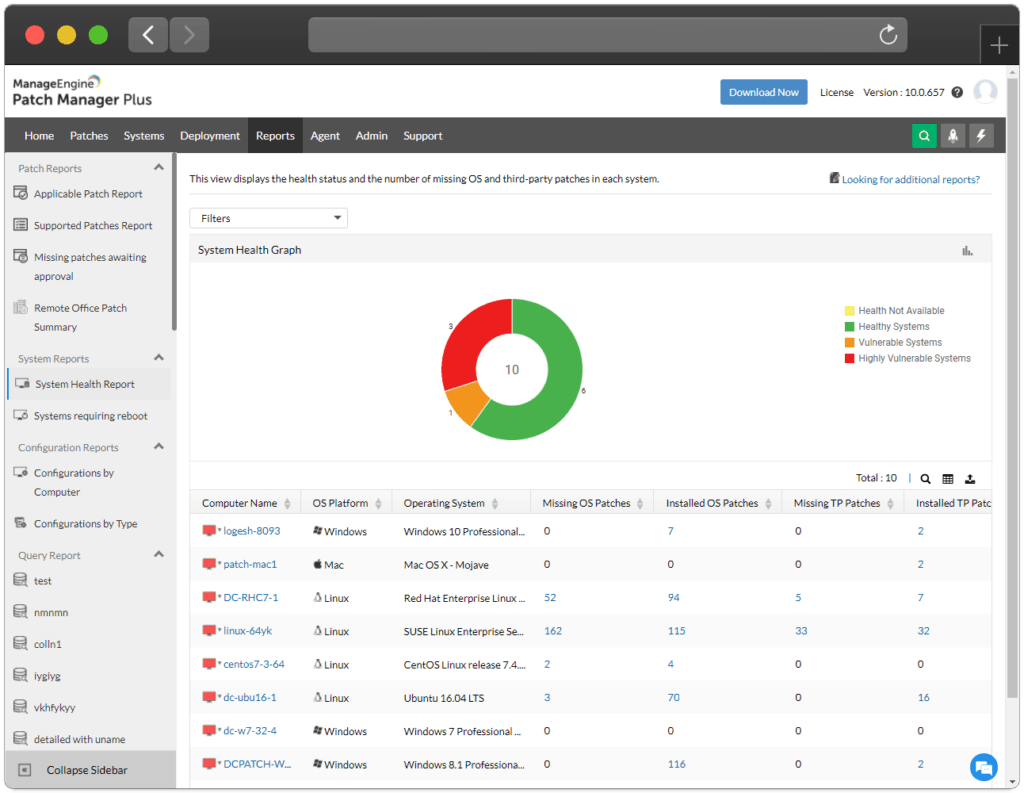 Managing updates while reporting changes and obtaining detailed information
By default, Patch Manager Plus offers, among other things, reports on the overall health of workstations (systems in good health, vulnerable or highly vulnerable), reports on patches or stations that need to be restarted. It is also possible to create data sets depending on the selected categories, with the option of periodically informing the indicated e-mail address.
Frequently Asked Questions
Can I schedule a reboot for a specific time after patches are installed? For servers as well as desktops?
Patch Manager Plus supports reboot scheduling in deployment policy with "Reboot Window/Specify Reboot Time" for Force Reboot.
This feature is available in Patch Manager Plus build versions 10.0.405 and above.
How often should the patch scan be ran, is there a manual setting?
It depends on the number of computers, the internal security requirement, and related compliance. All systems are scanned automatically after the patch database synchronization which happens every day at the user-specified time. In addition to this, patch scans can also be initiated manually when required.
How to specify languages for patches?
Patch Manager Plus will automatically detect the language based on the operating system.
Can you limit patches to just laptops or desktops?
Yes, it is possible. Target machines based on system types such as laptops and desktops. Also, create a custom group with system type as criteria.
How would I automatically download and deploy the latest flash updates as they are released?
Configure "Automated Patch Deployment Task" and ensure that the schedule is run every day to keep computers up-to-date.
How do I install Patch Manager Plus?
Being the Swiss partner of ManageEngine, Kidan is responsible for aiding with professional services, such as installing, implementing, configuring, training, and supporting the company to ensure an effective on-boarding of Patch Manager Plus.
To make it even better, Kidan even provides advice on top of it all!
Get in touch with us to know more.
Want to continue the
conversation?
Thank you for your interest in ManageEngine's Patch Manager Plus solution. Please fill out the form below to ask a question or request assistance.