Mobile Device Manager (MDM) Plus
System for Managing Mobile Devices
The use of the application is available in both regular and MSP versions, in the cloud, and locally. MDM Plus can configure tablets and smartphones from a central location. The software is a response to the ever-growing number of users of mobile devices, which poses an increasing threat to enterprises, as these devices also contain sensitive corporate data.
Device theft can expose an organization to data loss and its associated consequences. Under these circumstances, Mobile Device Manager Plus should not be a choice but a necessity. Creating security policies, implementing mobile applications, updates, geolocation, restrictions on both Android and iOS devices,
Device OS supported in Mobile Device Manager Plus
Centrally manage multiple mobile platforms
Management of mobile devices
The range of supported devices includes smartphones, tablets, laptops, and desktop computers. Systems supported by the application include iOS, Android, Windows, macOS, and Chrome OS.
Configuration is carried out in an intuitive way, while the daily operation is supported by interactive dashboards visible after logging into the system. Without the need to report data, the user gets access to information about current problems as well as the health and use of devices.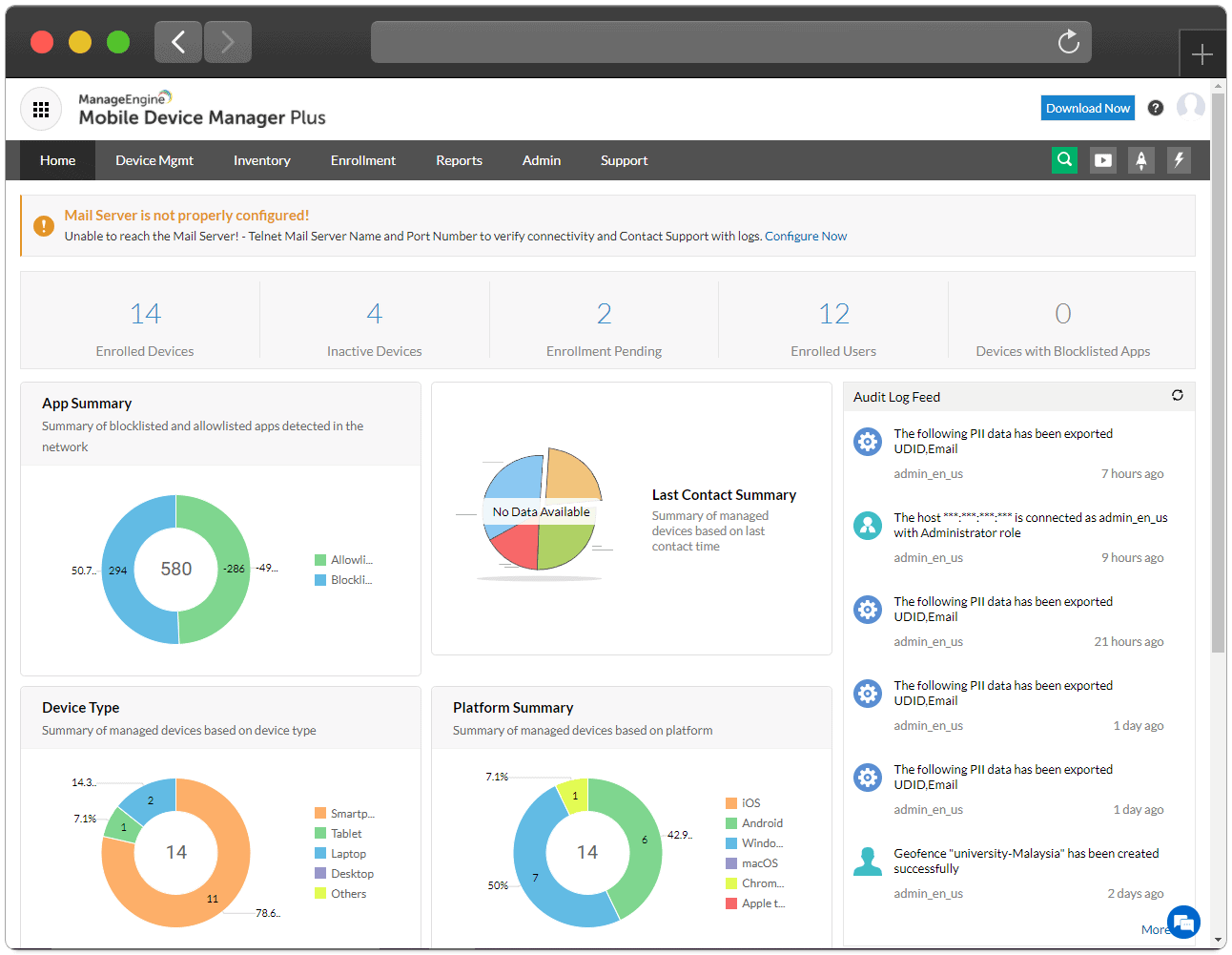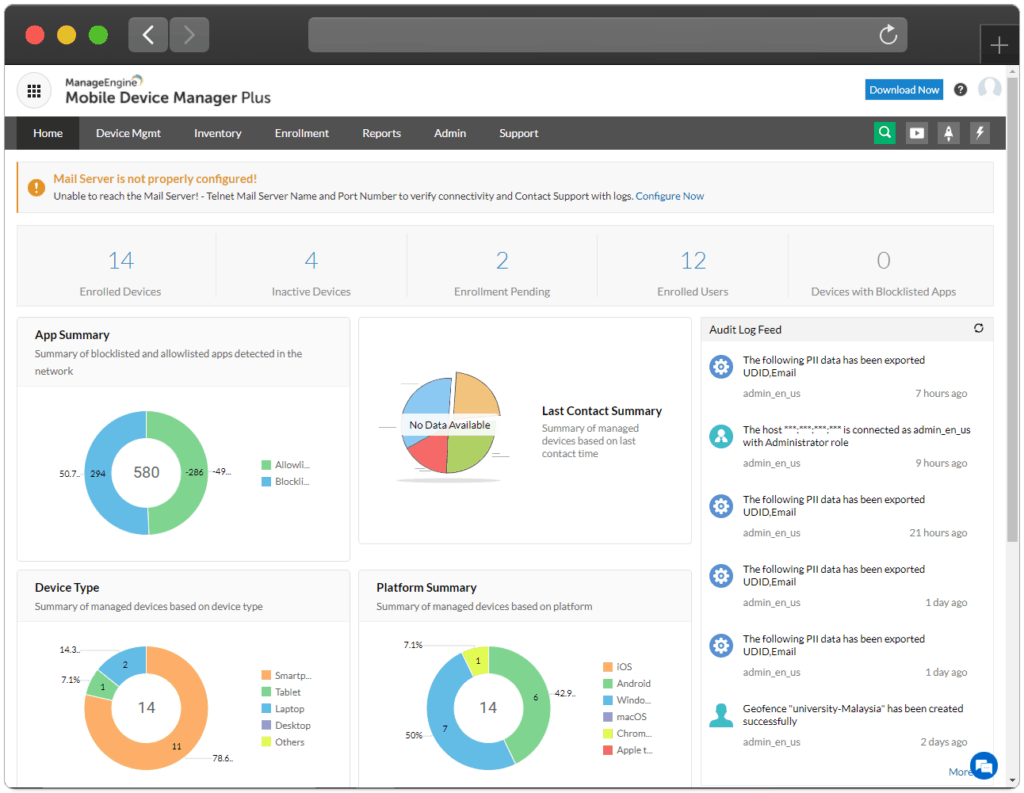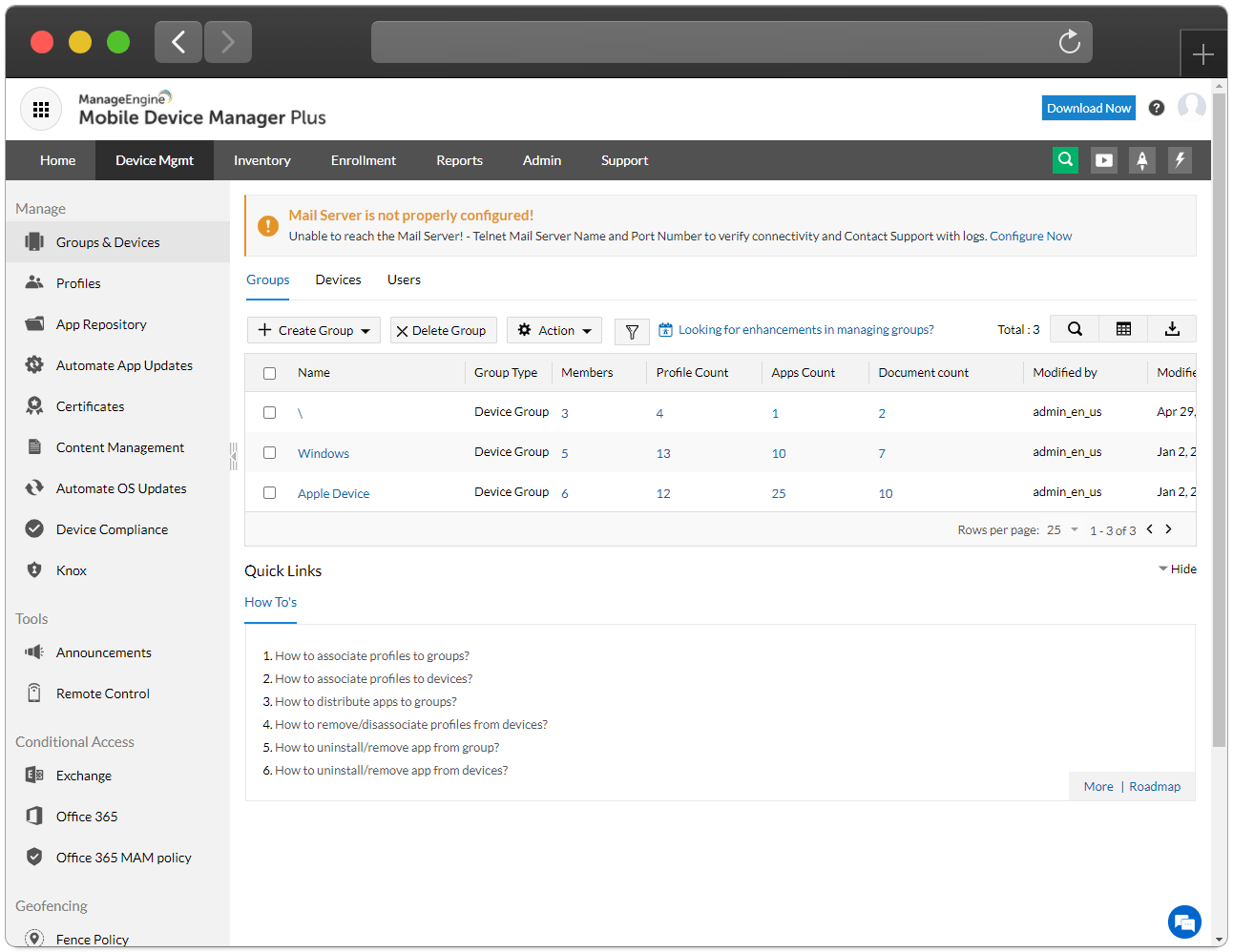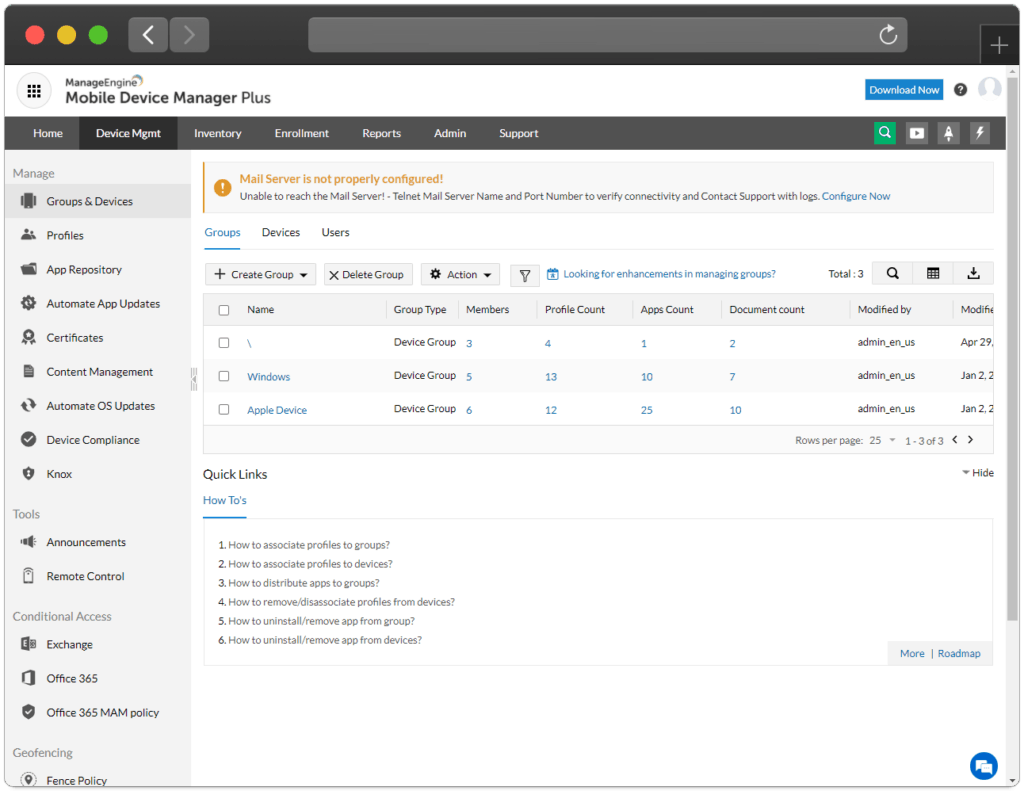 Distribute the application to many devices simultaneously
Mobile Device Manager Plus provides real-time information about the success of action on each resource. This allows the process to be restarted in case of synchronization problems.
Functionality is not limited to applications available e.g. on Google Play or the App Store. Custom software can be imported into the MDM server and then distributed.
More efficient information sharing to end-user devices.
TMDM can import photos, videos and audio files up to 1GB, to which a description is added for easier data verification. Documents can be sent to selected devices or entire groups.
A detailed selection by platform (iOS, Android, Windows) or type (smartphone, tablet, laptop, desktop computer, TV) is also possible.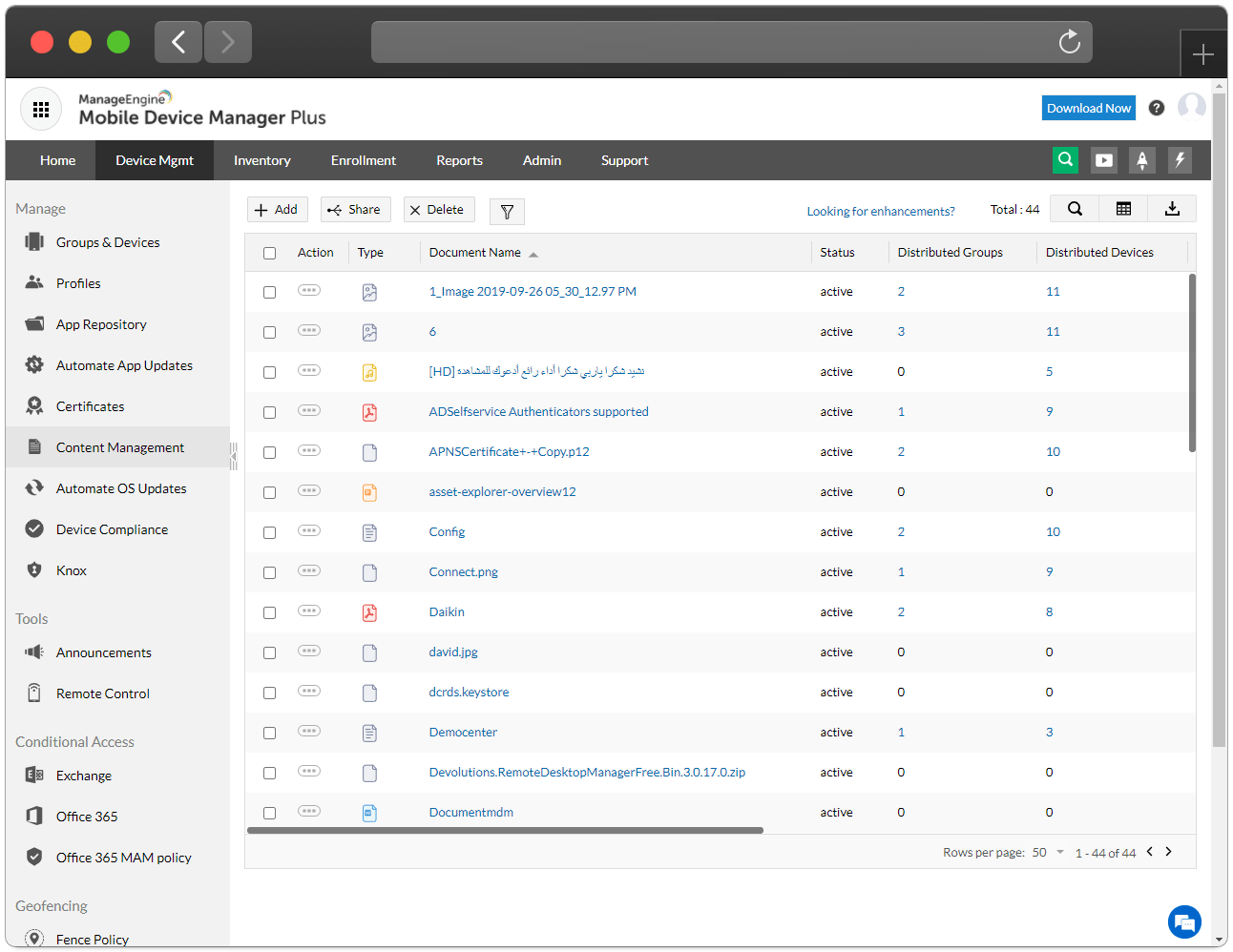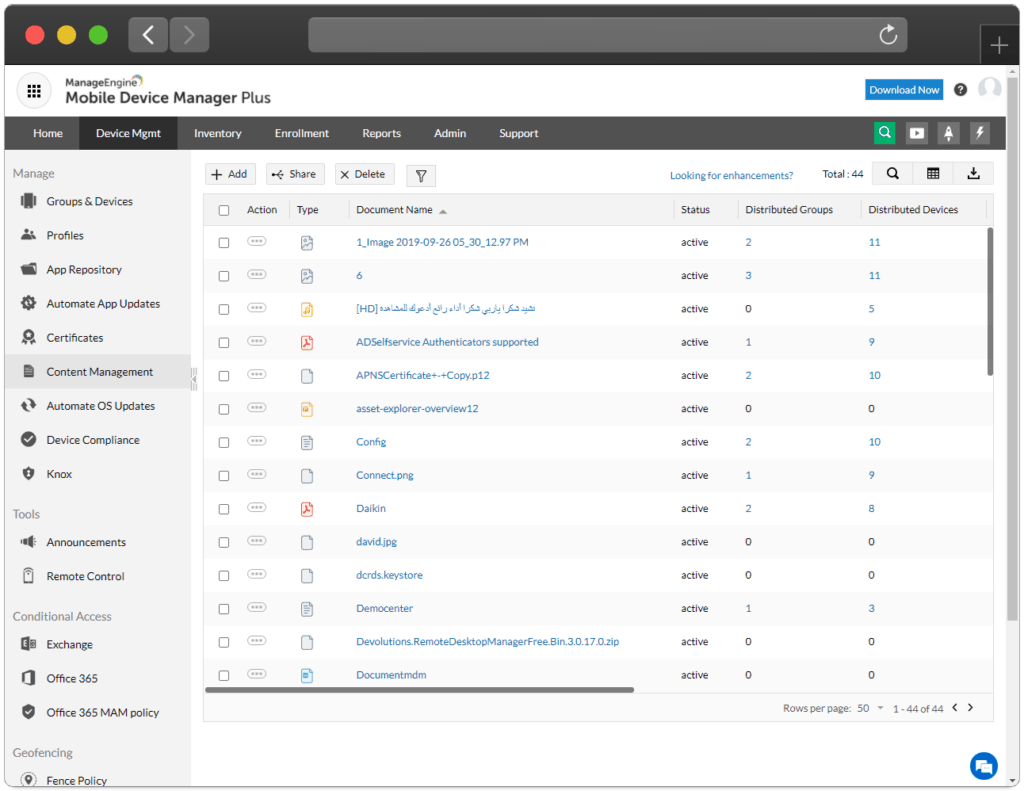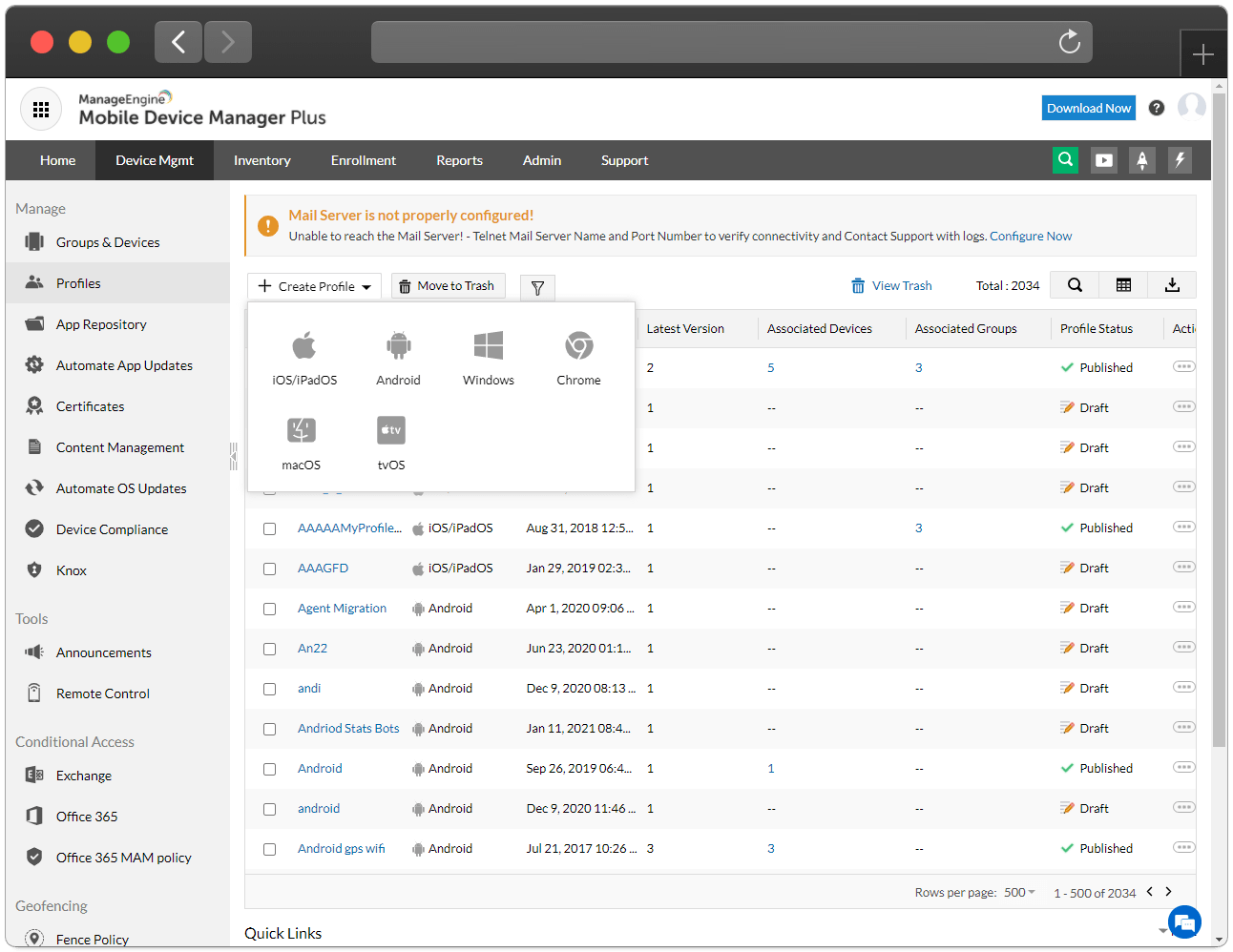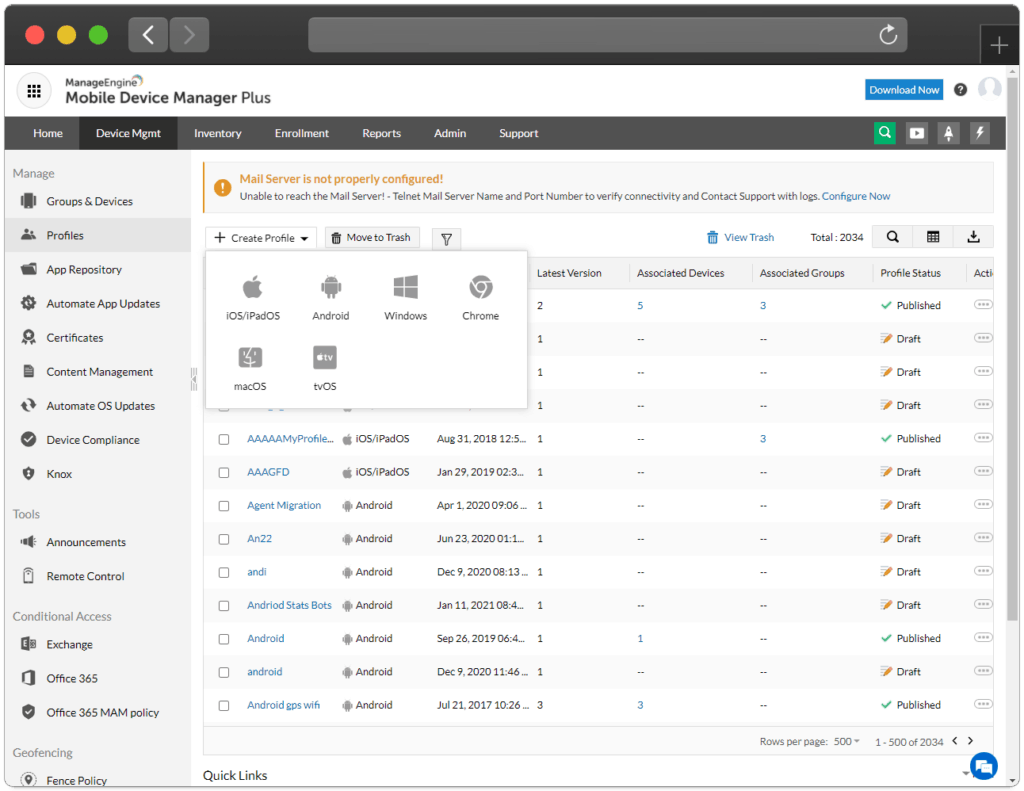 Create extensive security policies
The tool facilitates the management of mobile devices thanks to the configuration of profiles with the possibility of deciding on each functionality. Then assign the created profile to whole groups of devices.
The administrator can decide, among other things, about: biometric methods of unblocking, Wi-Fi, VPN, E-mail, Exchagne ActiveSync, EFRP, blocking the possibility of restoring factory settings, blocking the use of Youtube, Gmail and many other resources.
Create user groups with assignable resources
This is especially useful in the case of different security policies for different companies/departments of the organization. The transparent division also can find resources faster with the possibility of more detailed filtering.
For example, by user name, e-mail address, device name, type, model, software version, serial number - being the main resource identifier.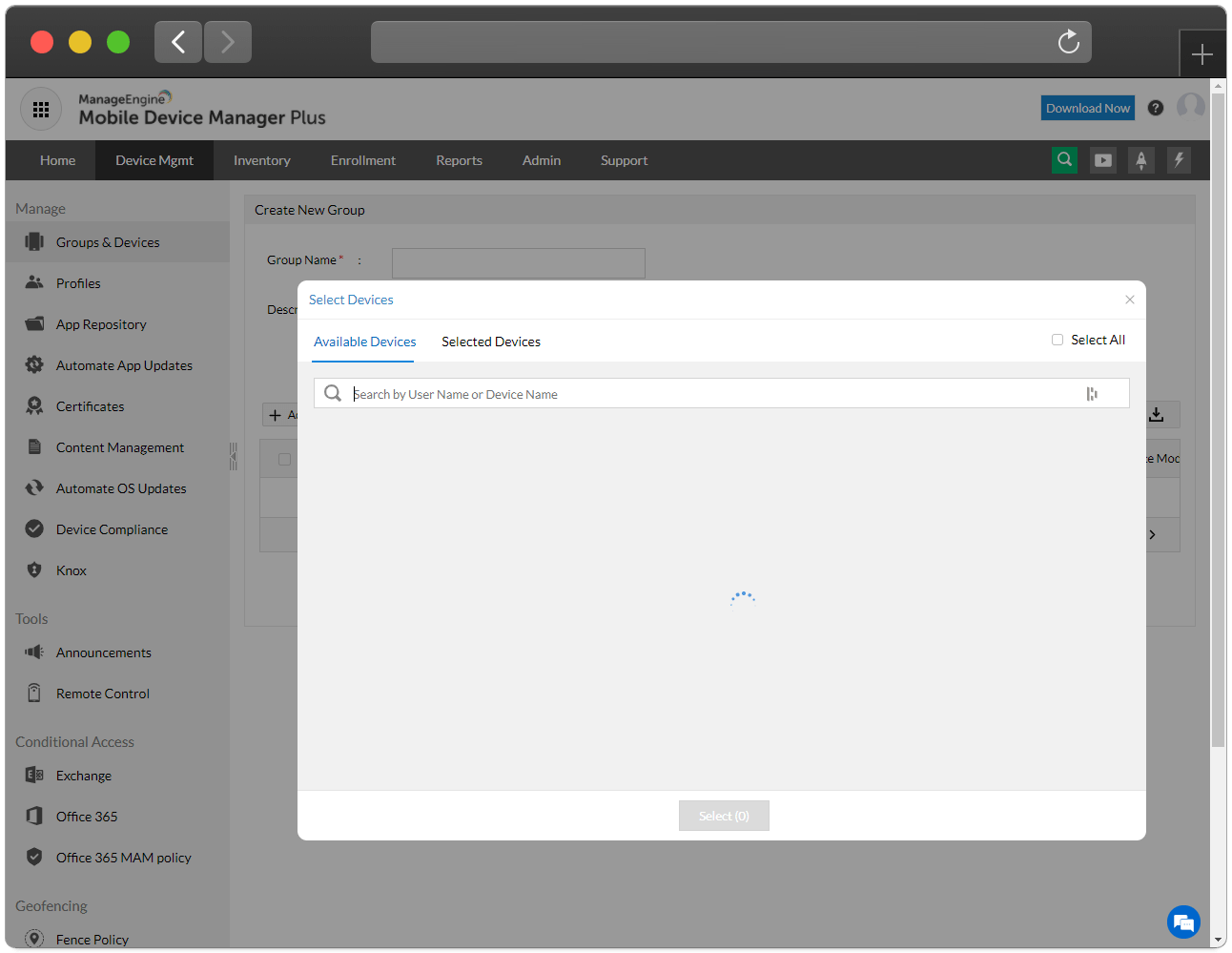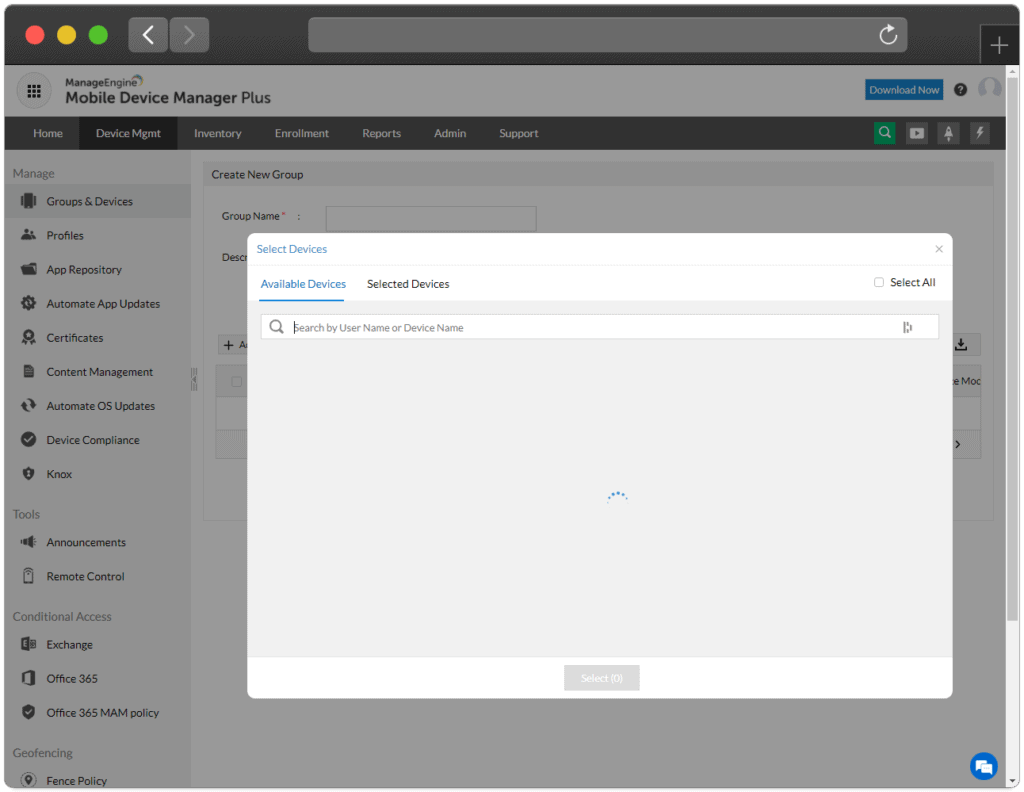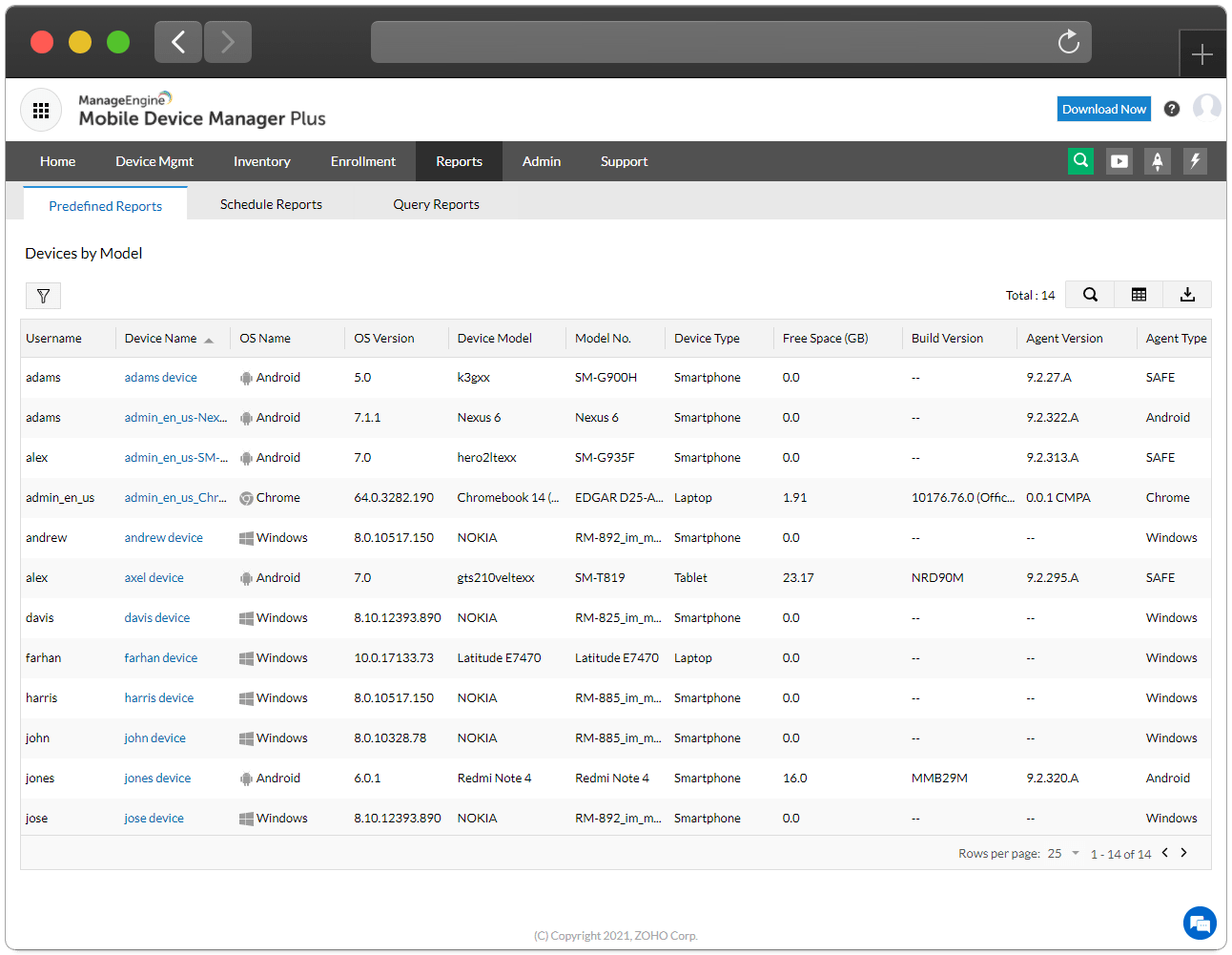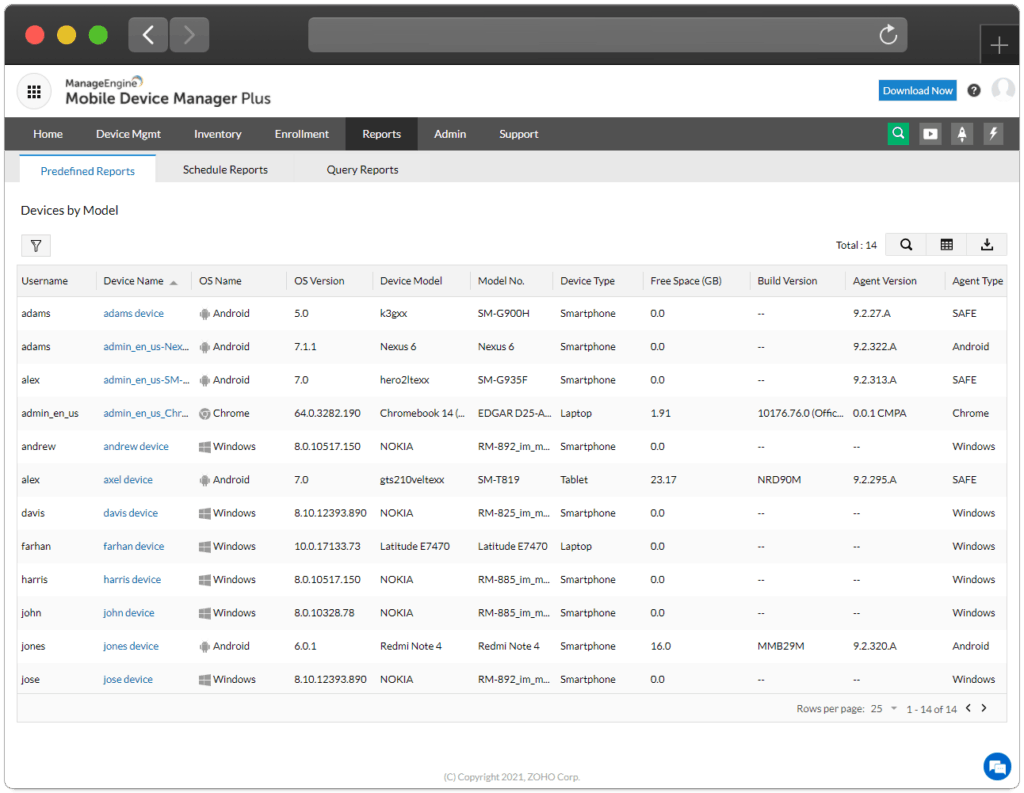 Reports enable periodic auditing of mobile devices.
Reports can be sent as PDF, XLSX, CSV or ZIP archive. In the case of a large file size (e.g. after exceeding 5MB), it is possible to automatically publish the data on the Mobile Device Manager Plus server.
Then, the system sends notifications along with the appropriate link allowing access to the report. Cyclicality can be configured with a 24-hour, weekly or monthly interval.
Frequently Asked Questions
What is Mobile Device Manager Plus?
Mobile Device Manager Plus is an enterprise mobility management solution that automates the management of mobile devices with extensive support for Mobile Device Management (MDM), Mobile Content Management (MCM), Mobile Application Management (MAM).
What are the software requirements for Mobile Device Manager Plus?
Software Requirements 
Supported Platforms
ManageEngine Mobile Device Manager Plus runs on the Microsoft Windows operating systems.
ManageEngine Mobile Device Manager Plus requires one of the following browsers to be installed in the system.
Internet Explorer 7 and above
Google Chrome 20 or later versions
Mozilla Firefox 4 and above
Apple Safari 5 and later versions.
Supported Devices
Android 4.0 or later
iOS 4.0 or later
Windows Phone 8 or later
Windows 10 Laptops
macOS 10.7 or later
tvOS 7.0 or later
Chrome OS 57.0 or later
iPadOS 13.0 or later
What is the difference between Cloud and On-Premise versions of Mobile Device Manager Plus MSP?
MDM MSP Cloud is the SaaS version of the MDM MSP On-Premise. With MDM MSP Cloud, sign in using the Zoho account and start managing devices. Zoho manages the data and server configuration. Whereas in the On-Premise version, install the application and configure network settings to set up MDM MSP and manage devices.
How much network data and battery does ME MDM app consume?
ME MDM consumes network data and battery only for downloading applications pushed to the device, with the data consumed depending on the application's size. Other actions consume negligible network data. Additionally, the consumption varies in the case of geo-tracking based on the accuracy level specified.
What are the databases supported by Mobile Device Manager Plus MSP(MDM MSP)?
MDM MSP currently supports pgSQL and MS-SQL.
How do I install Mobile Device Management Plus?
Being the Swiss partner of ManageEngine, Kidan is responsible for aiding with professional services, such as installing, implementing, configuring, training, and supporting the company to ensure an effective on-boarding of Mobile Device Management Plus.
To make it even better, Kidan even provides advice on top of it all!
Get in touch with us to know more.
Want to continue the
conversation?
Thank you for your interest in ManageEngine's Mobile Device Management Plus solution. Please fill out the form below to ask a question or request assistance.