ManageEngine M365 Manager Plus
Comprehensive management of Office365
The friendly interface makes it easy to manage Exchange Online, Azure Active Directory, Skype for Business, OneDrive for Business, Microsoft Teams and other Office 365 services from one place. It provides many built-in reports to give a complete insight into the Office365 environment. The tool helps to perform complex tasks, including group management of users and mailboxes or delegation of rights.
With M365 Manager Plus, it allows user to monitor the status of Office, additionally sending real-time notifications. It simplifies compliance management through built-in reports and also offers advanced environmental auditing.
M365 Manager Plus Offerings
A holistic Microsoft 365 administration solution with advance features and capabilities
Dashboards enabling insight into the most important events
The most important events detected recently are presented in the main menu of the system. Information presented in graphical form makes it easier to supervise the entire environment, allowing for simpler and more effective monitoring of actions and the overall management of Office 365.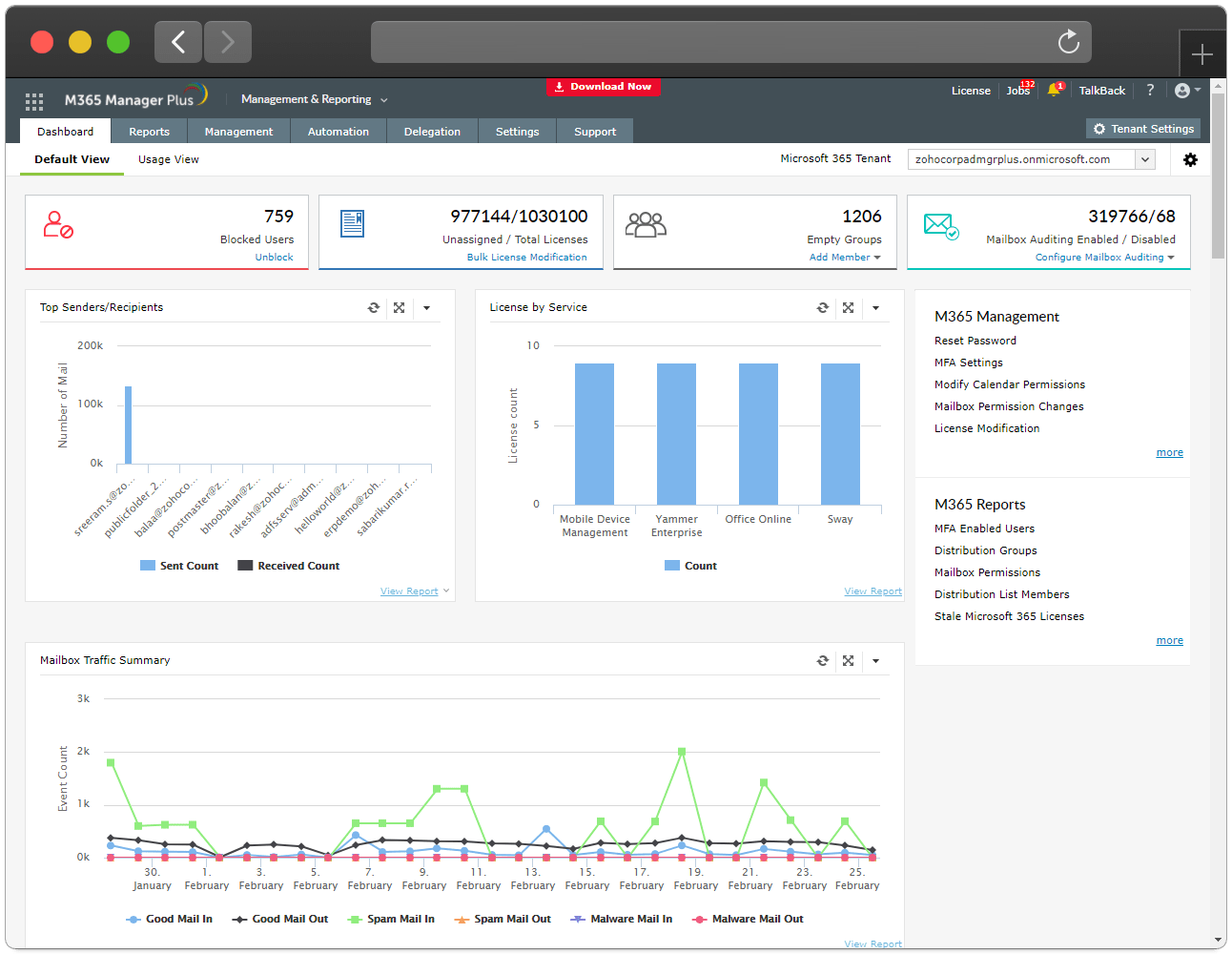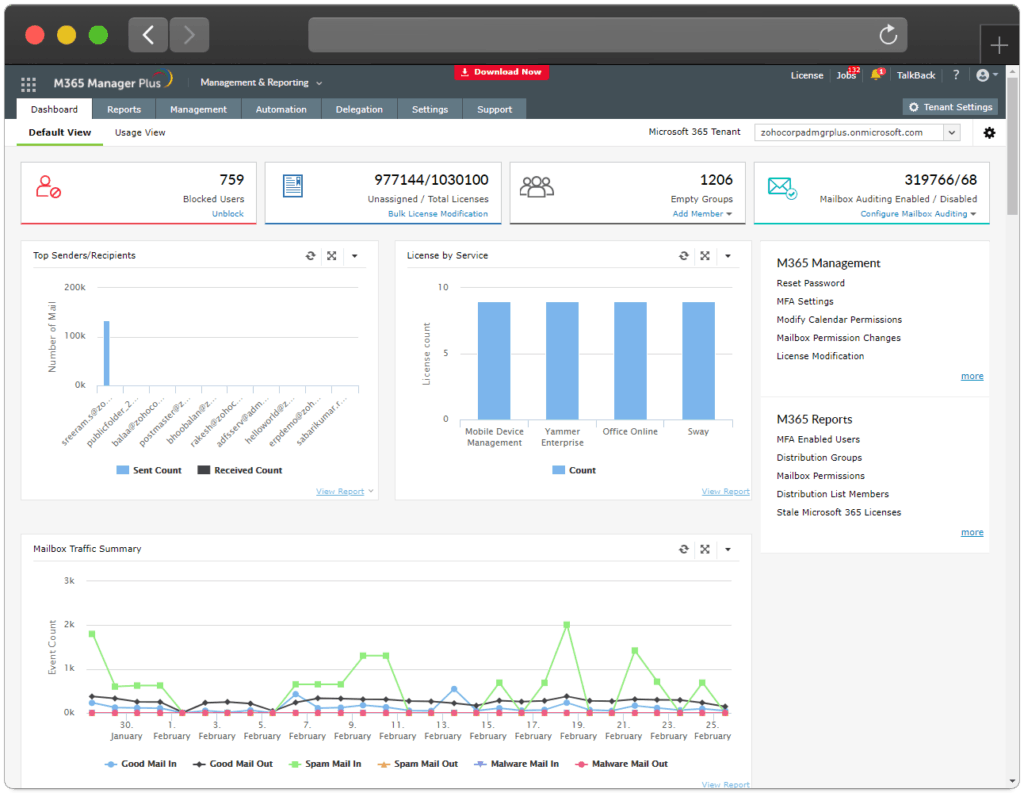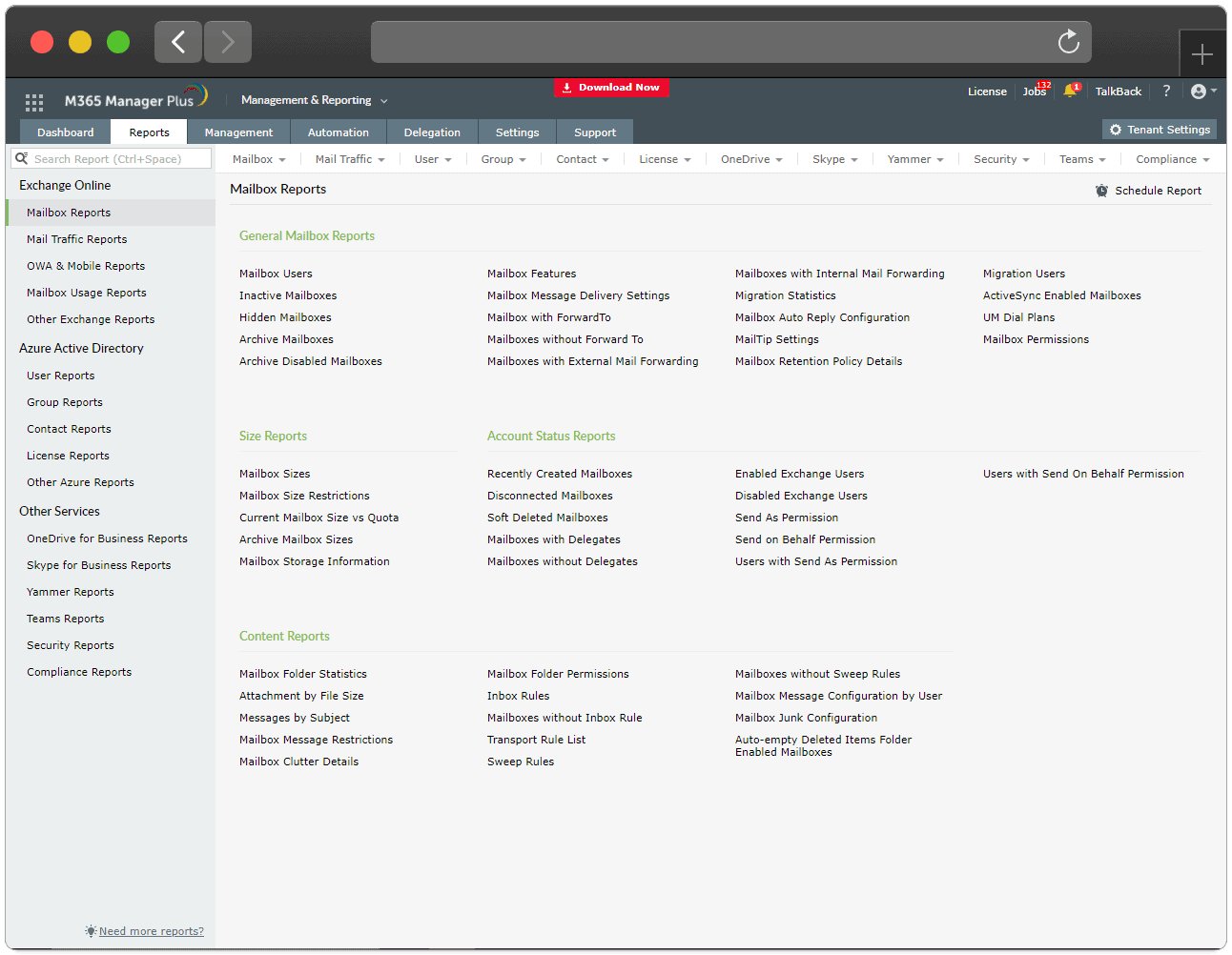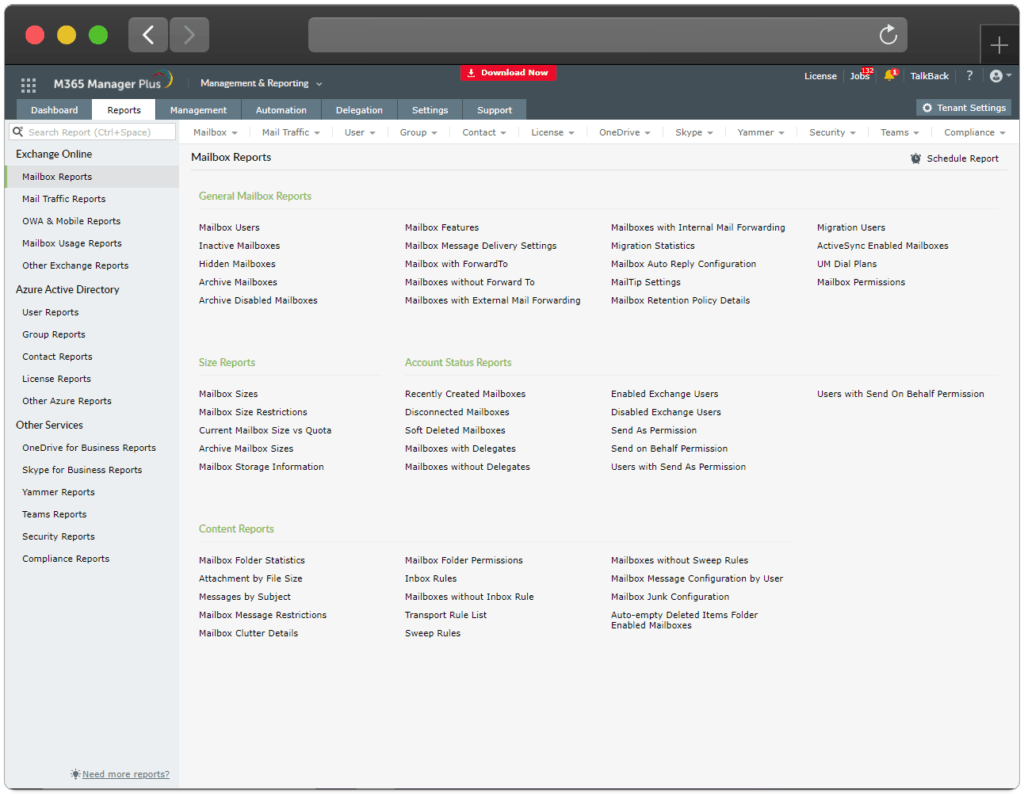 Possibility of reporting and creating periodic reports
The system has the function of reporting and performing actions on the generated results. The program also allows the user to generate a schedule for creating reports and sending them to the selected path, in the selected format. After the report is completed, the system can notify the administrator via e-mail that the results have been delivered.
Comprehensive management of Office 365 and installations
M365 Manager Plus has many user management functions in Exchange Online, AzureAD and Microsoft Teams, such as: creating, editing, deleting, moving, resetting passwords, blocking and unblocking users. The system also allows user to manage MFA settings and licenses.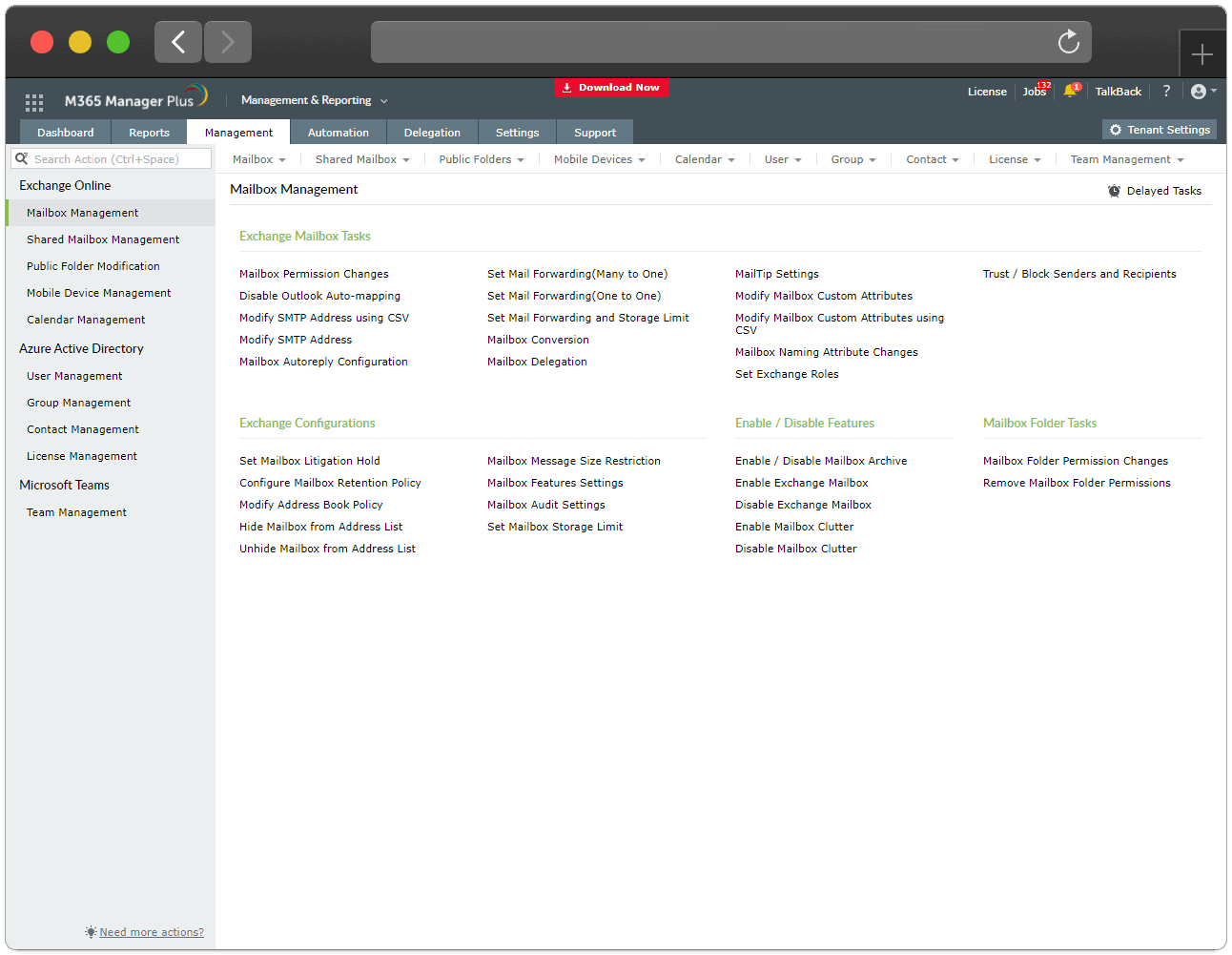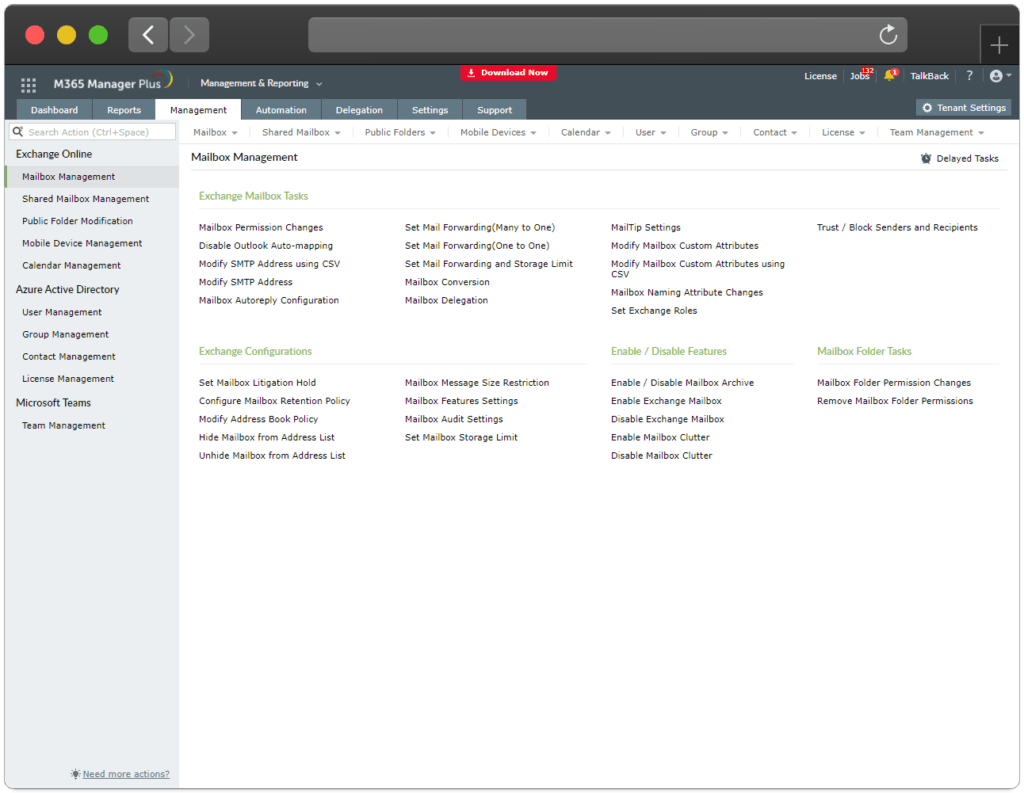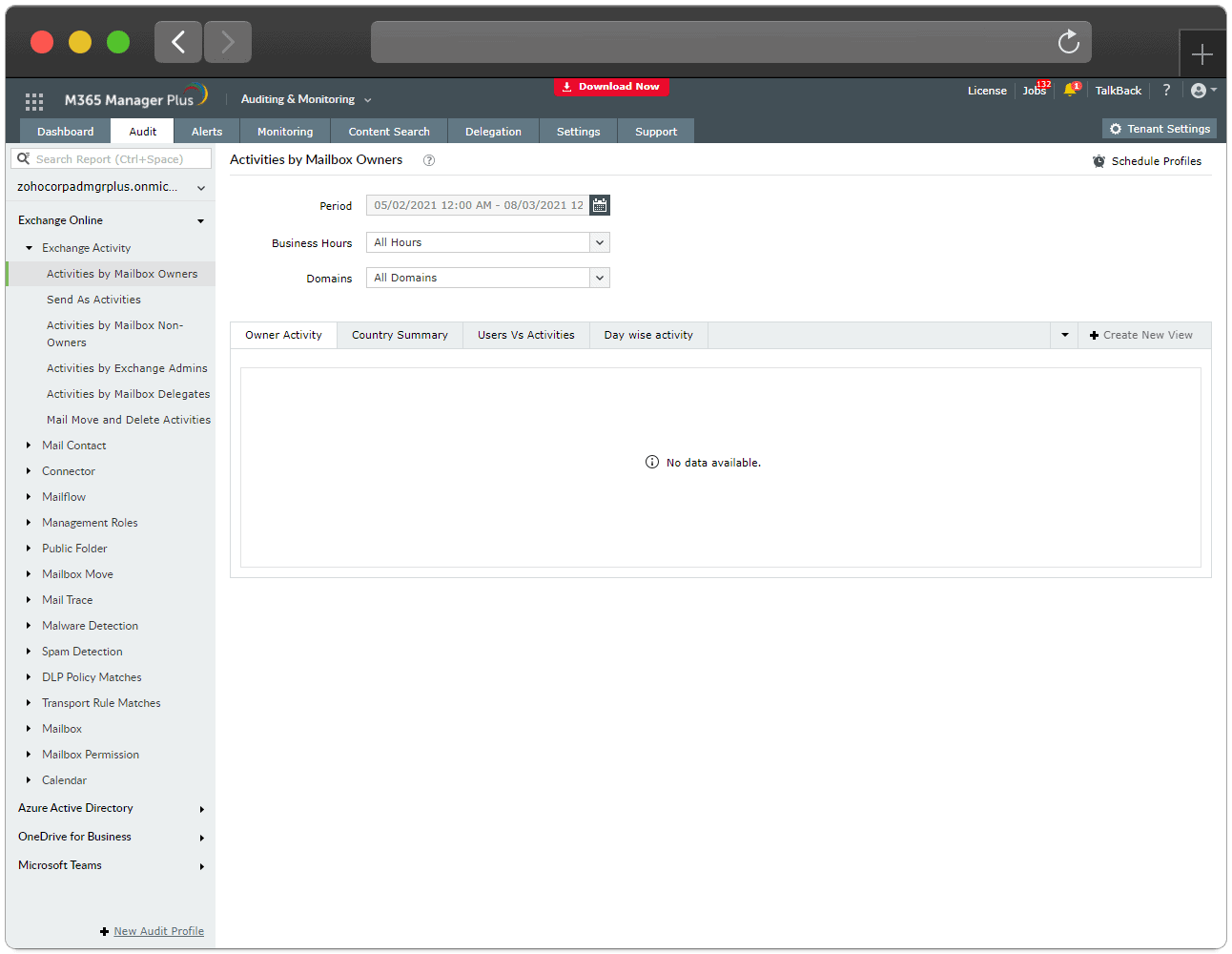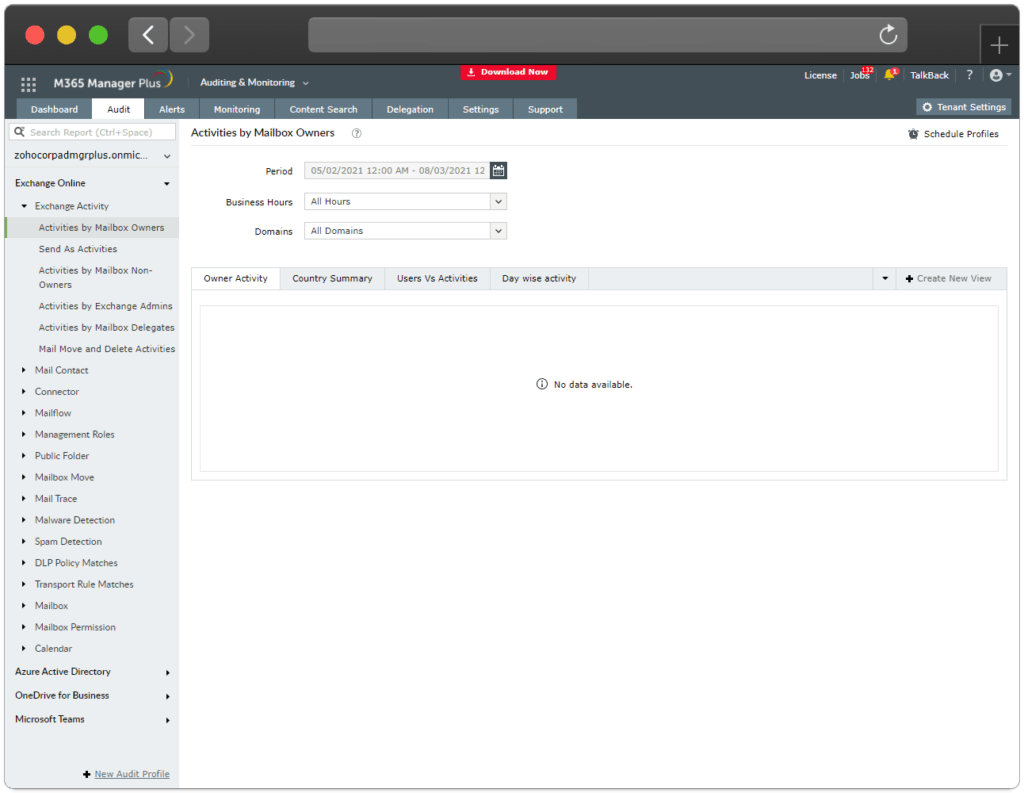 Extensive audit of Office365 instances
The system has the option of auditing the managed instances, along with graphical presentation of the results of archival events. The generated data can then be sent to one of the file formats: CSV, PDF, XLS, HTML. M365 Manager Plus also has the function of creating schedules for cyclical execution of reports and sending them to a selected path on the disk.
Defining real-time alarming
The M365 Manager Plus has the ability to configure administrator notification. For each event recorded by the system, the user can define the message that the admin will receive. In the event of many notifications, the system allows creating a time interval during which only one message/notification can be sent.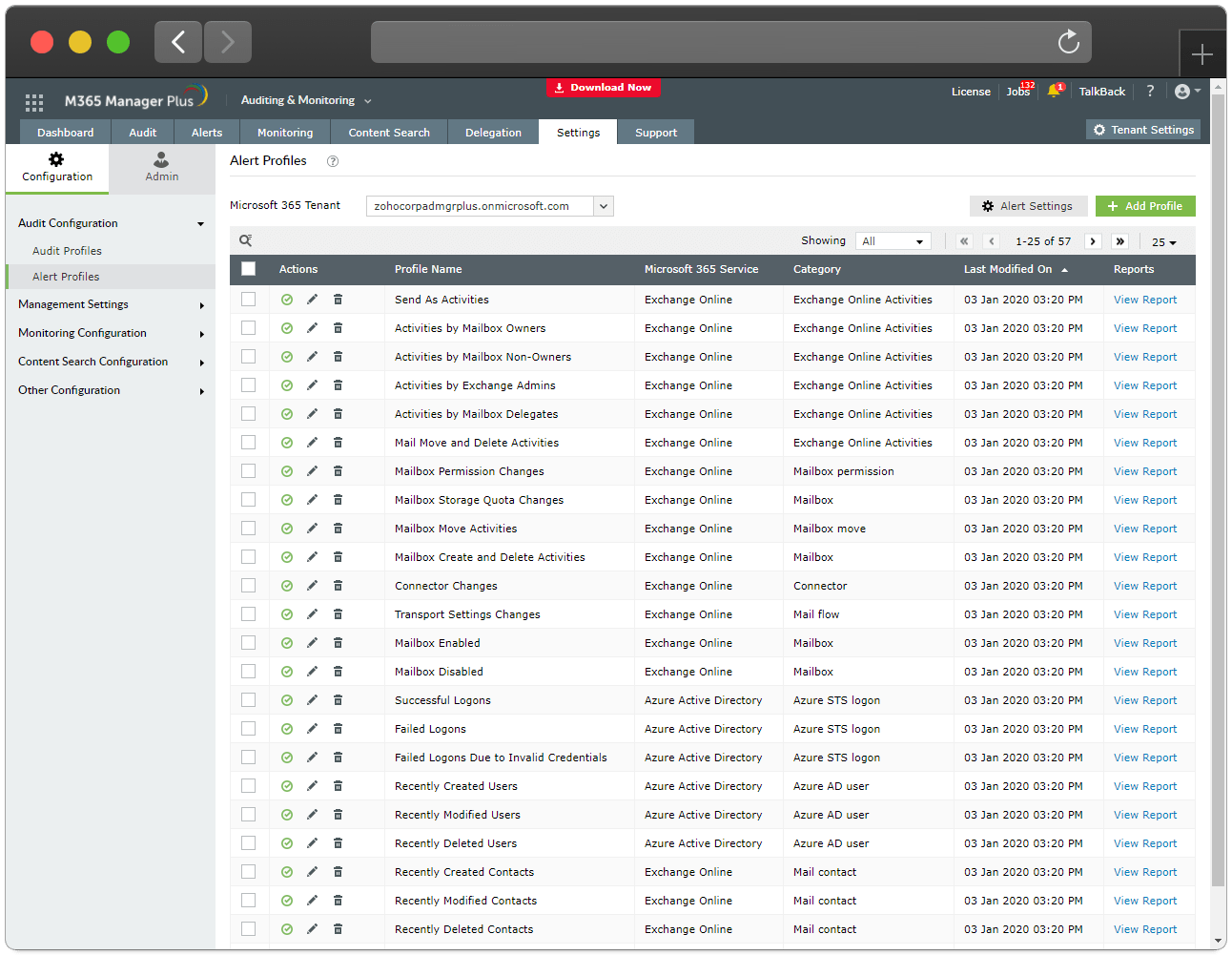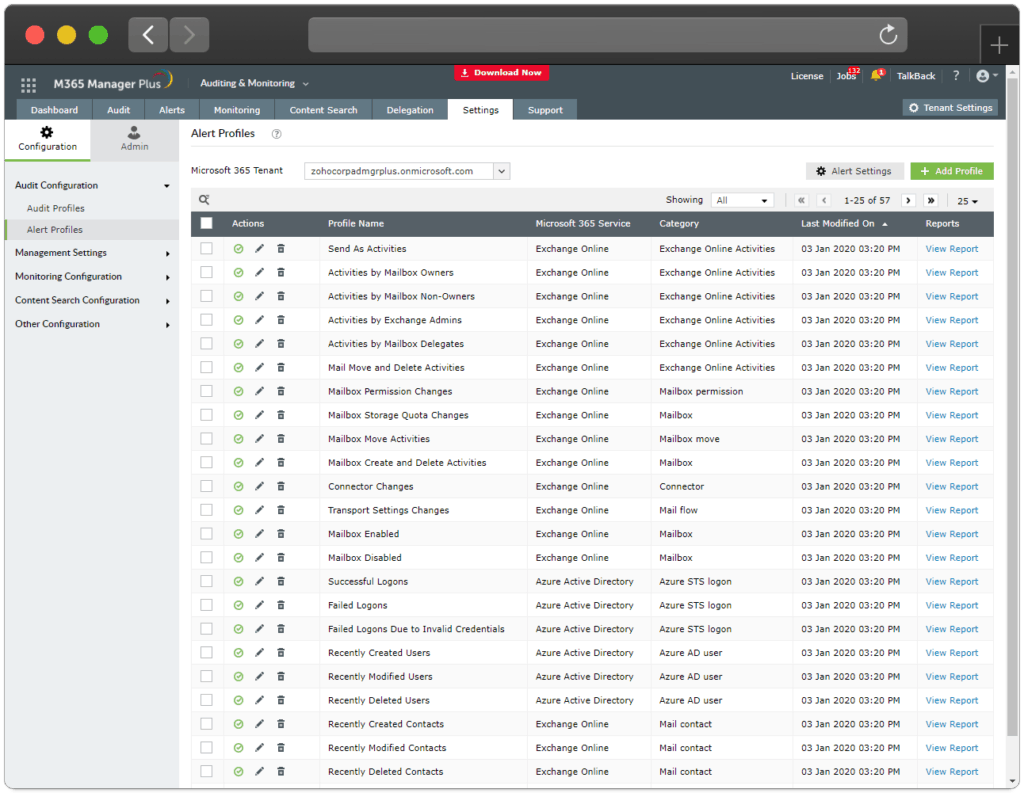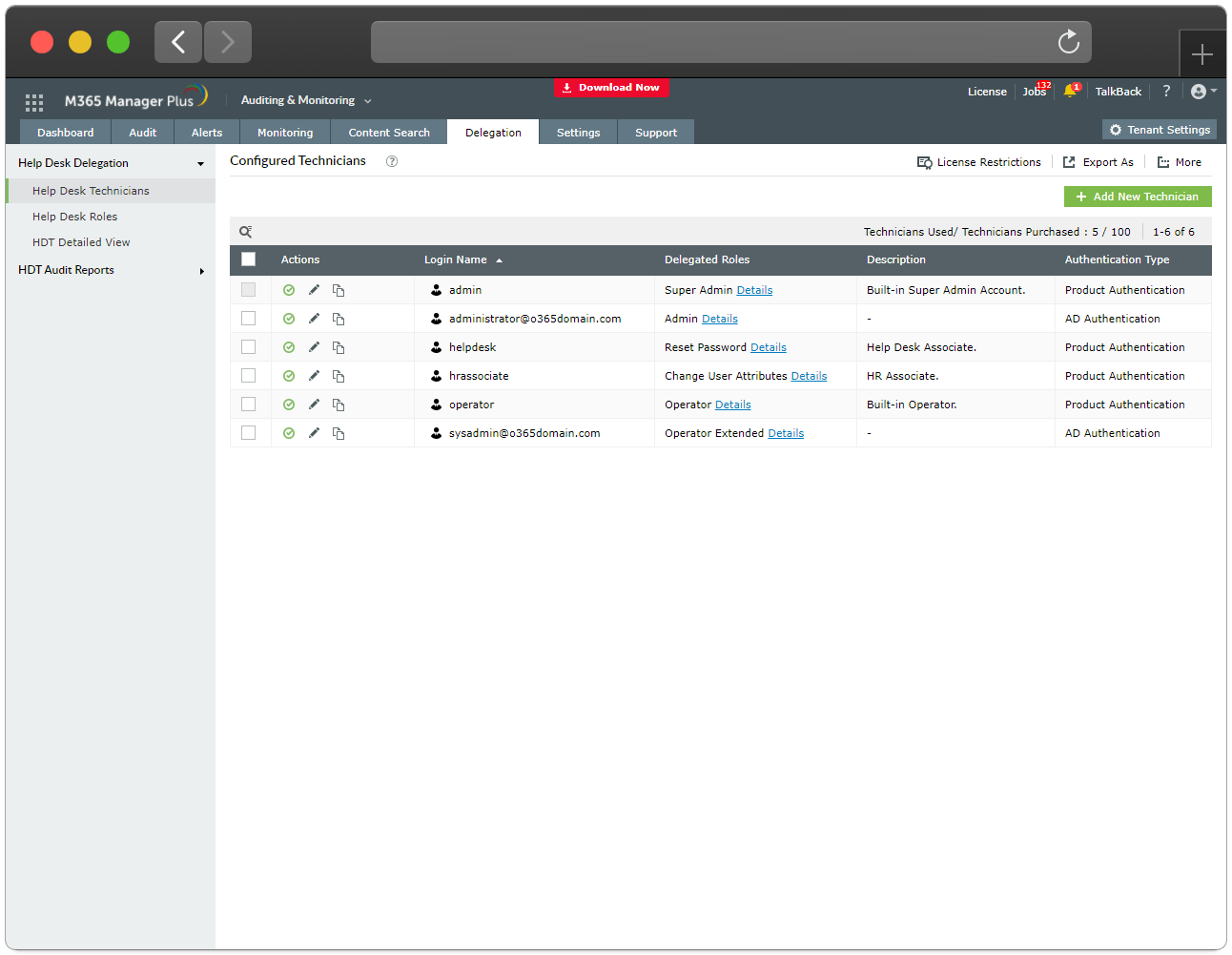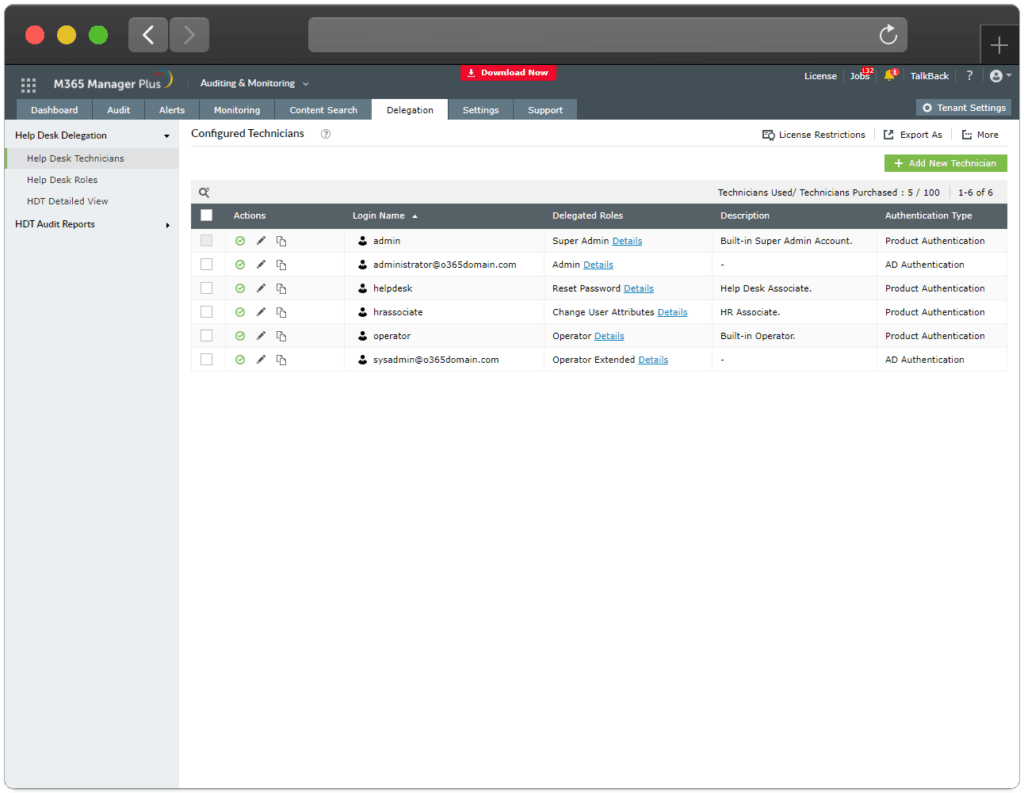 Delegating powers to selected technicians
This function gives some administrative rights to technicians. These tasks include, among others user management or access to instance reports. Due to granularity, appropriate permissions are assigned to selected persons.
Automation of tasks in the management of Office365
M365 Manager Plus to automate monotonous tasks and configure successive actions that will save administrators time. Automations allow users to periodically perform activities such as password reset based on the configured report, then blocking the user or removing it in the event of long inactivity.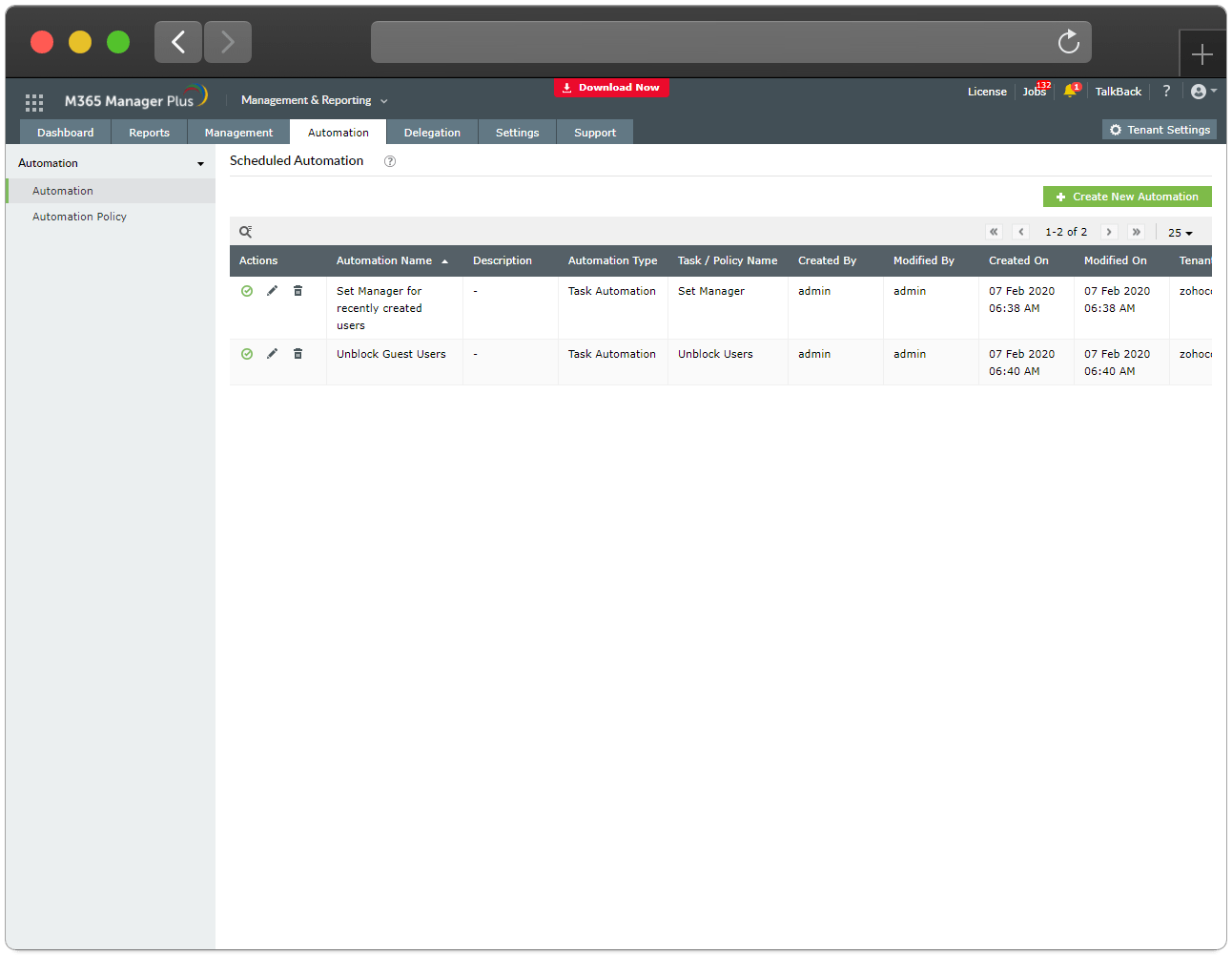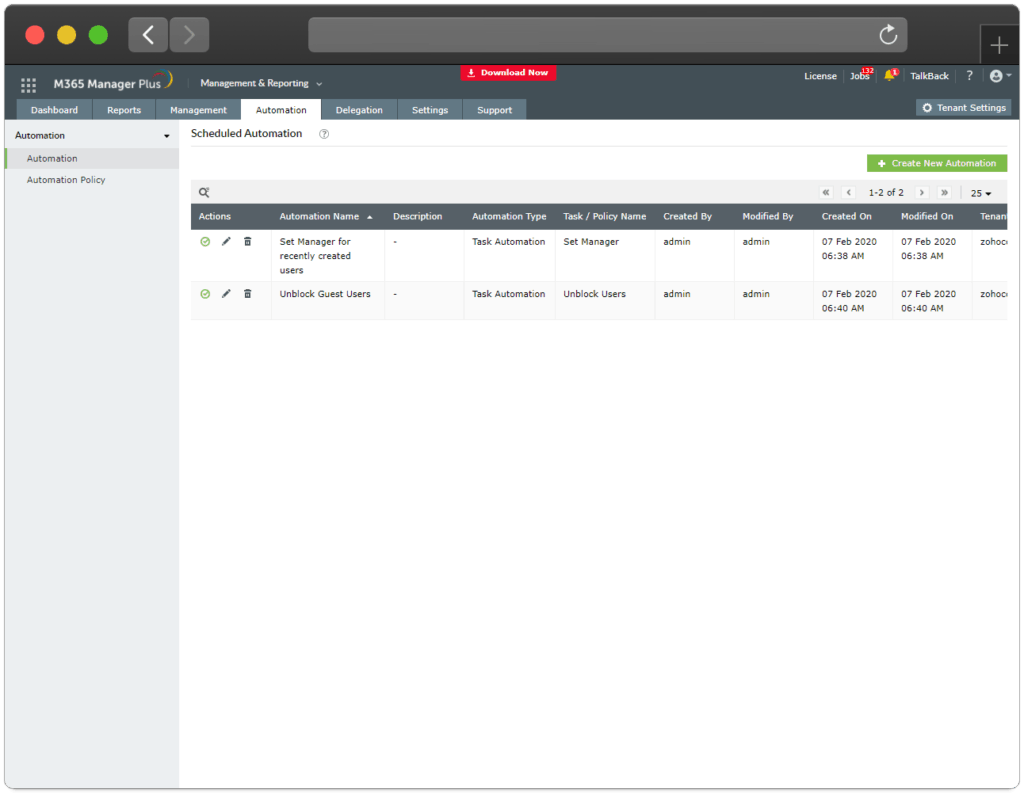 ManageEngine M365 Manager Plus Pricing
Standard Edition is Starting From:
Supports 25 to unlimited number of users/mailboxes.


Supported features:
500+ reports on Microsoft 365 services.
Microsoft 365 management.
Password expiry notification.
Help desk delegation.
Professional Edition is Starting From:
Supports 25 to unlimited number of users/mailboxes.


Supported features:
500+ reports on Microsoft 365 services.
Microsoft 365 auditing and alerting.
Microsoft 365 health monitoring.
Microsoft 365 management.
Password expiry notification.
Help desk delegation.
Frequently Asked Questions
What Editions are available in M365 Manager Plus ?
M365 Manager Plus is available in three editions. The first edition is totally free, start at $0, then there are standard and Professional Editions available.
To know in detail about each edition's pricing and features, or get a quote, contact Kidan, as being the exclusive Swiss Partner of ManageEngine, we offer professional local support.
Is M365 Manager Plus also Free?
Yes, M365 is 100% free for up to 25 users.
What is the difference between Free edition and free Trial version of M365 Manager Plus?
Free 30-day Trial
Fully-functional Standard Edition; converts to Free Edition after the evaluation period.
Free Edition
Standard Edition features restricted to only 25 users or mailboxes.
What is the advantage of SIEM integration with Microsoft 365?
M365 Manager Plus captures data that helps the user identify security incidents, including information on failed login attempts, non-owner mailbox access, password resets, emails sent using send-as and send-on-behalf permissions, and more. Forwarding this data from M365 Manager Plus into the SIEM deployment or any other Syslog server that runs business intelligence applications sets up for in-depth analysis.
How do I install M365 Manager Plus?
Being the Swiss Partner of ManageEngine, Kidan is responsible for aiding with professional services, such as installing, implementing, configuring, training, and supporting the company to ensure an effective on-boarding of M365 Manager Plus.
To make it even better, Kidan even provides advice on top of it all!
Get in touch with us to know more.
Want to continue the
conversation?
Thank you for your interest in ManageEngine's M365 Manager Plus solution. Please fill out the form below to ask a question or request assistance.