ManageEngine Exchange Reporter Plus
Audit and monitoring of Exchange servers
It contains over 300 unique reports on various Exchange entities such as Mailboxes, Mail Traffic, Public Folders, Outlook Web Access and ActiveSync, and details on the use and configuration of Skype for Business Server. The system allows for tracking incoming and outgoing messages from the entire environment, additionally analyzing them.
Exchange Reporter Plus also monitors all key parameters of the proper operation of the environment and alerts in the event of any problem, preventing a failure. The system also monitors the number of ActiveSync devices connected to the environment, public folders and distribution groups.
Exchange Reporter Plus Offerings
The one-stop solution for Exchange reporting, auditing, monitoring, and content search
Monitoring Exchange with the function of viewing the most important events in the environment
The system has the ability to graphically present the activity of the environment, which improves the entire monitoring. The dashboard shows the user mailboxes that take up the most space. The tool also has a reporting function that includes information about the remaining space on the server.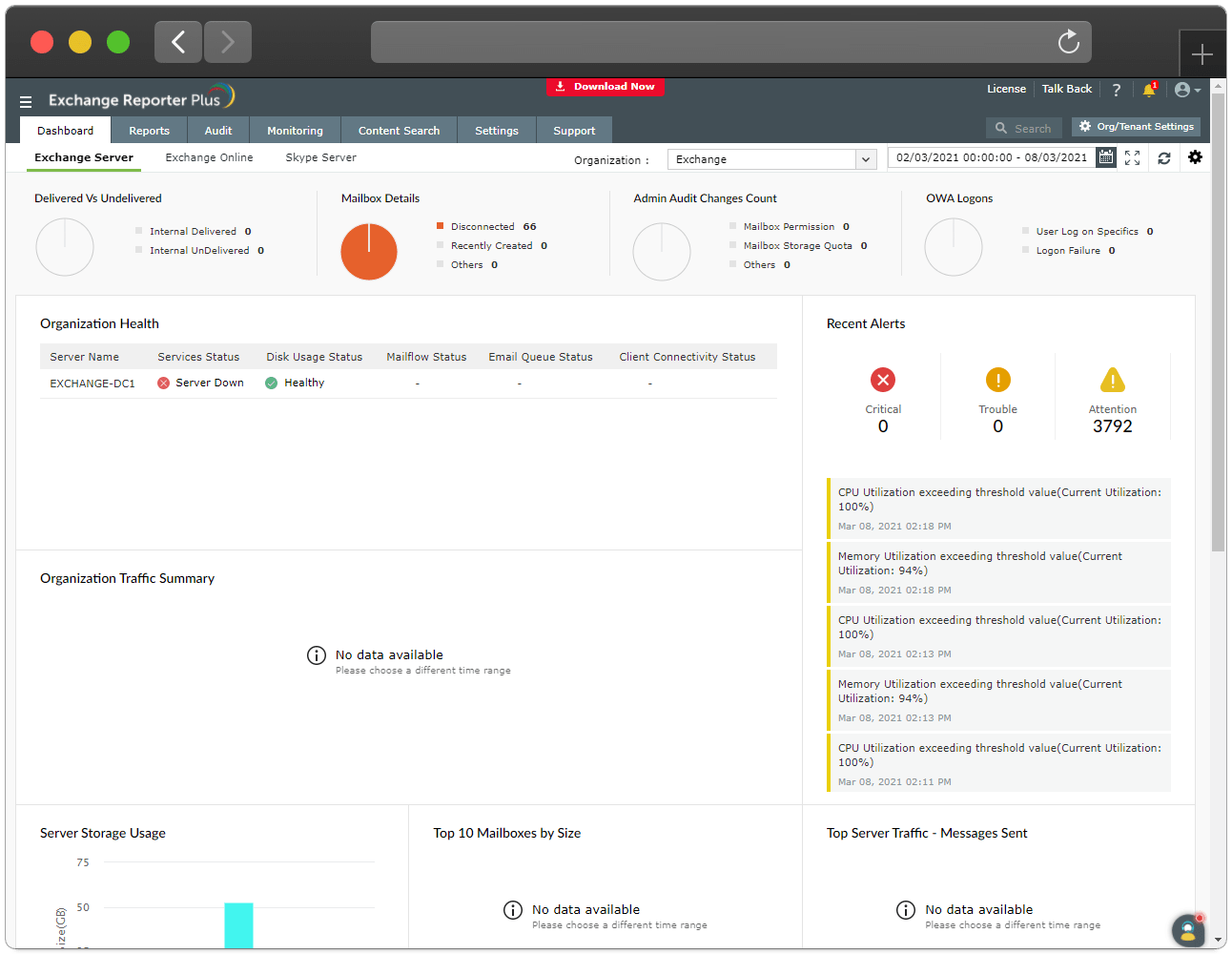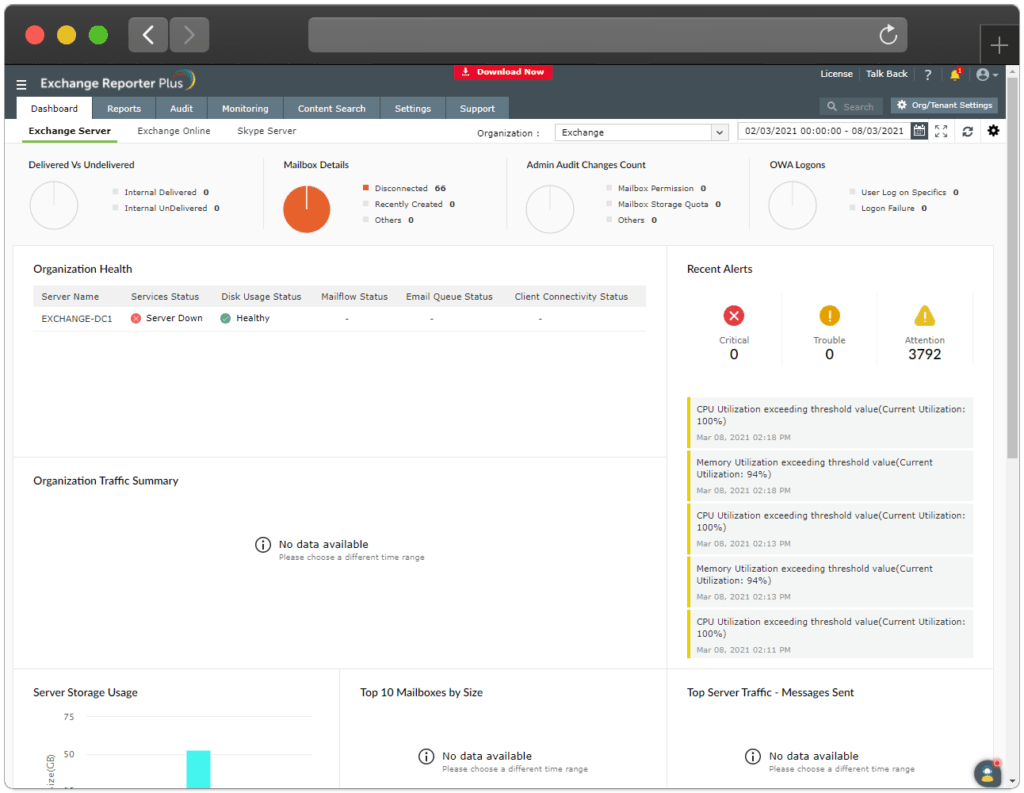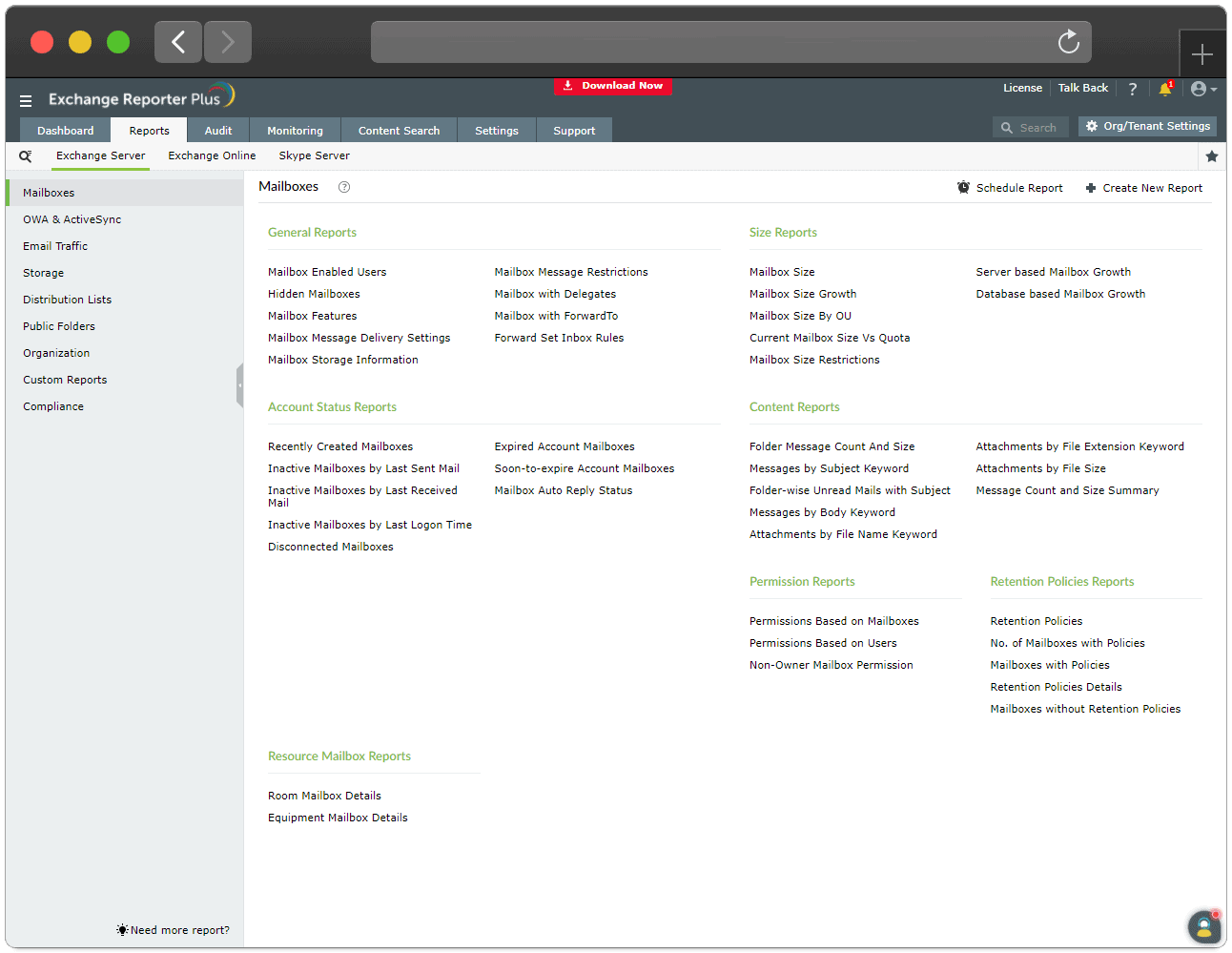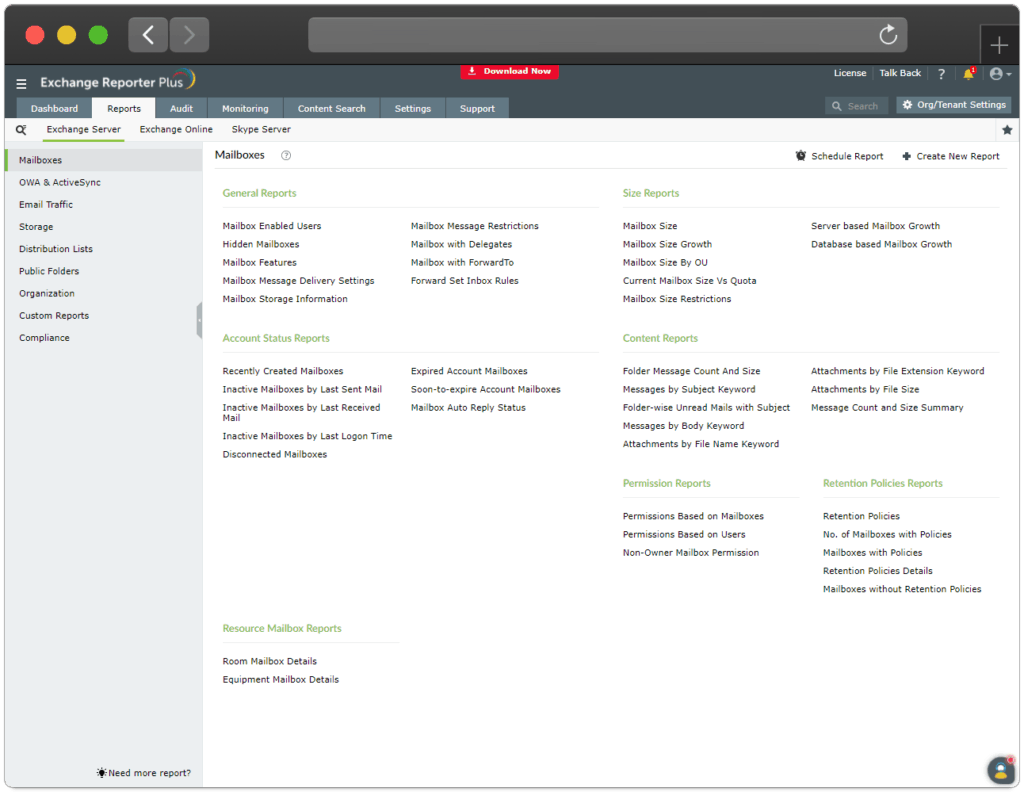 Possibility of detailed reporting of mailboxes
Exchange Reporter Plus provides seamless access to an extensive database of mailbox reports, such as their size, attachments in them, and even keyword searches. The reporting function also allows you to verify resources such as public folders, remaining disk space and OWA & ActiveSync reports. As a result, each of the generated reports can be sent to a CSV, PDF, XLS or HTML file.
Audit of events on servers and Exchange monitoring
The system also includes an event auditing function for Exchange and Exchange Online servers. When generating a report, the user can select a specific period, domain, and events captured during or outside of working hours. Each of the reports can be added to a cyclical schedule and then sent to a selected path on the disk.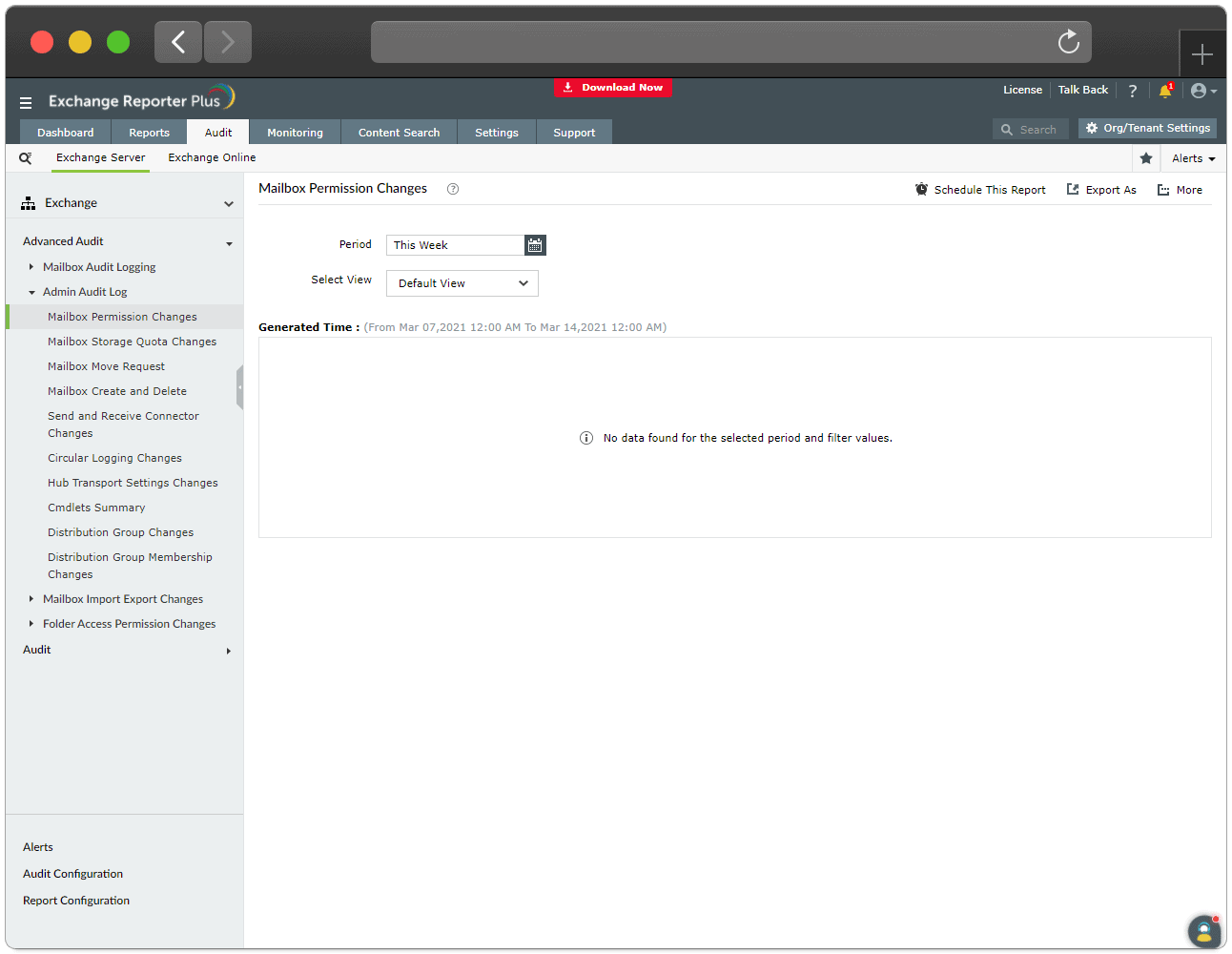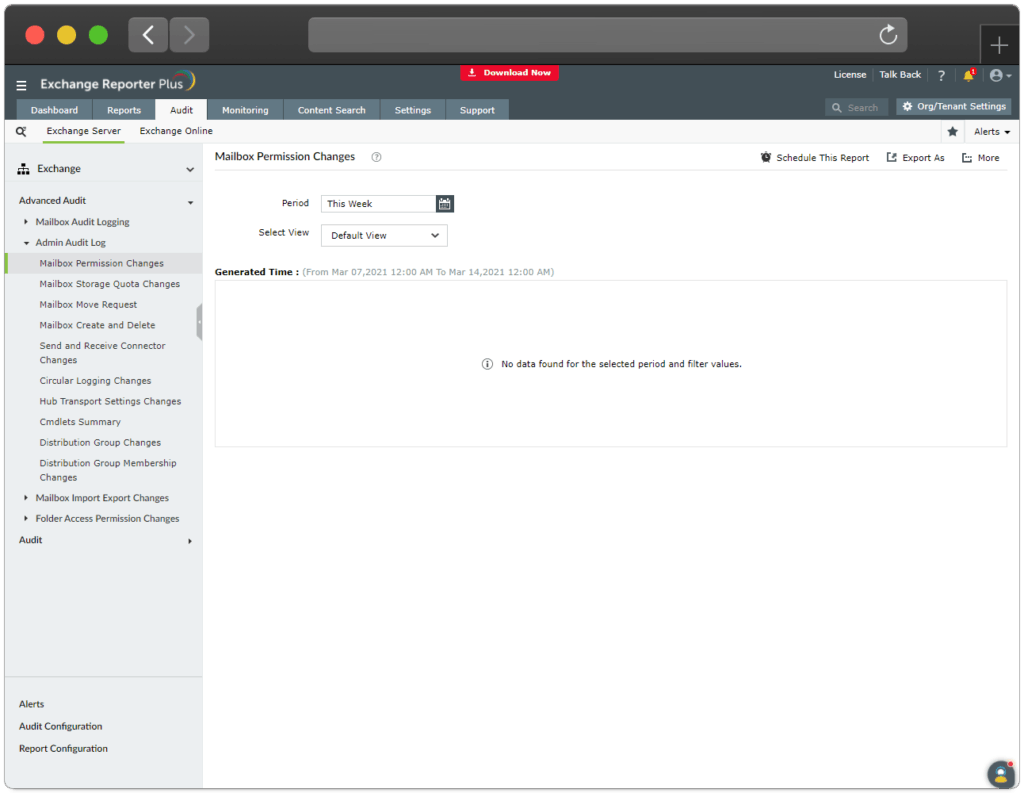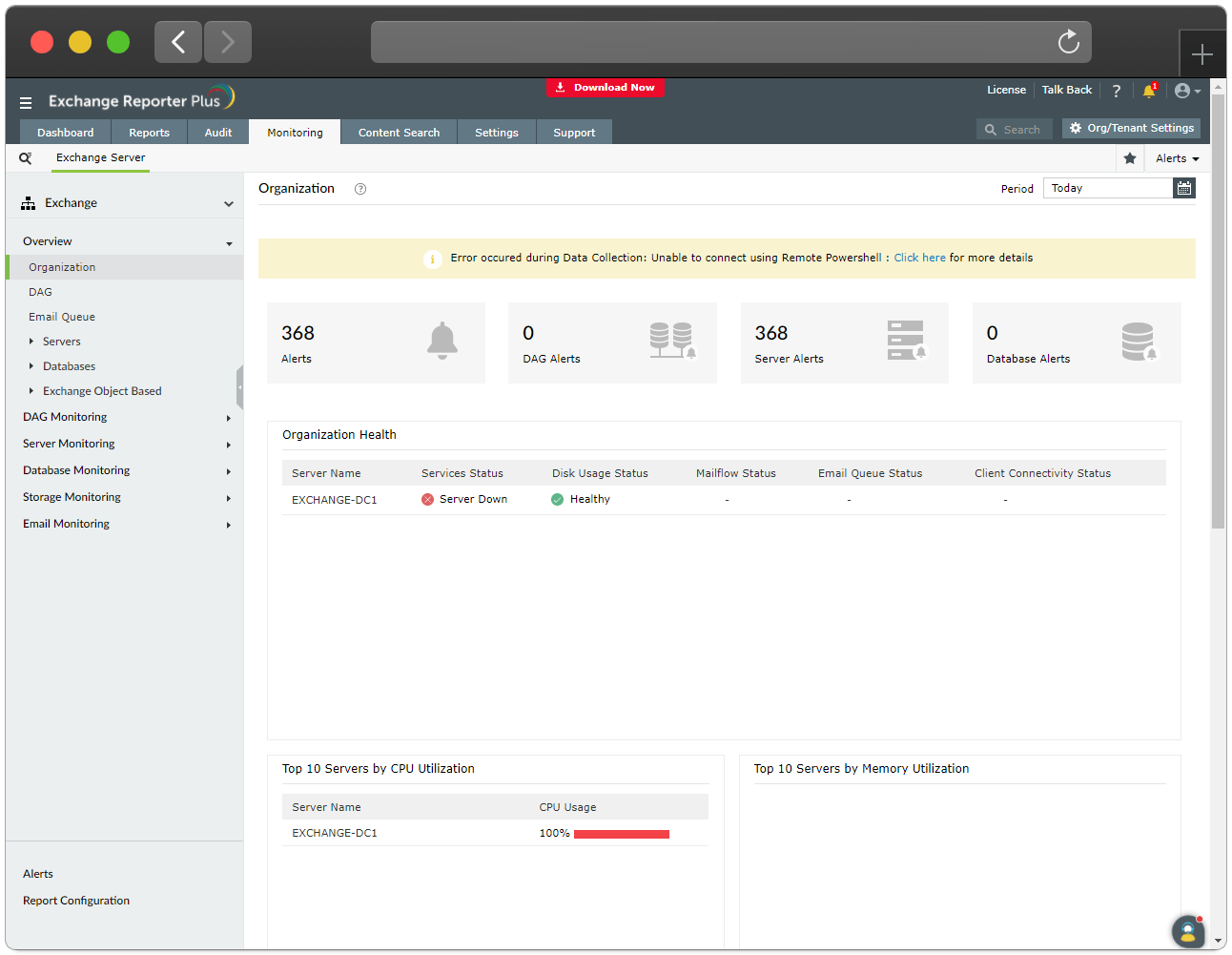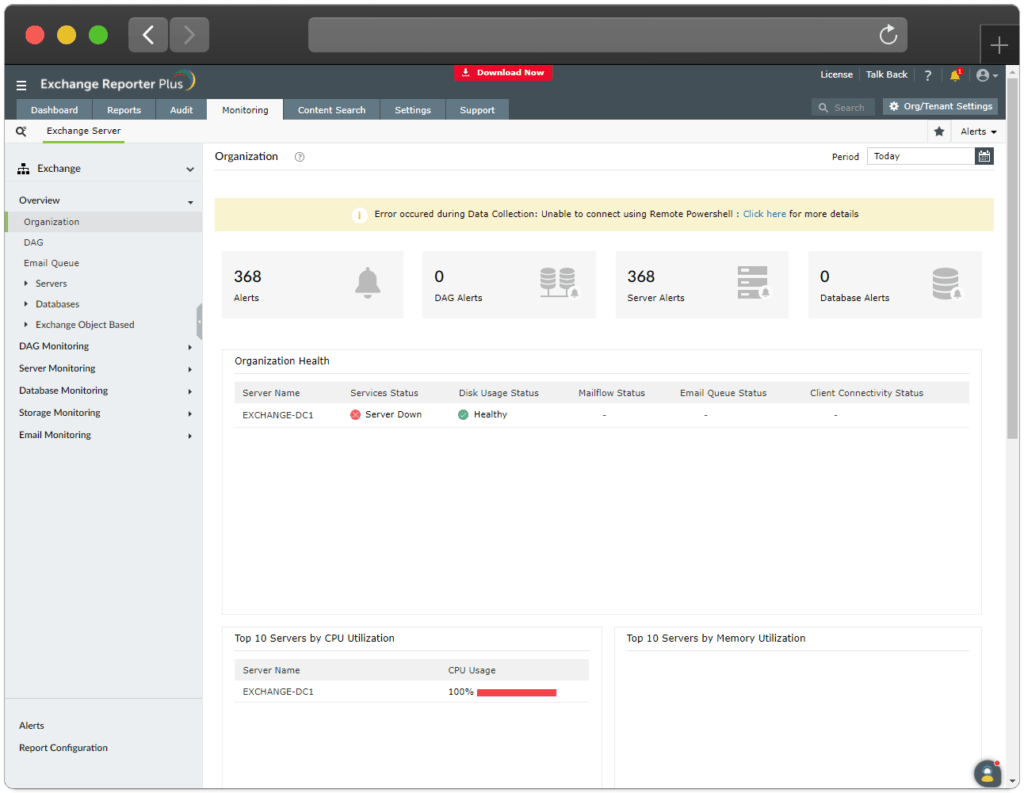 Audit function of changes in authorizations, DAG and databases
An important aspect is that the system has a module for alerting about user permissions, DAGs and the database itself. If Exchange Reporter Plus detects an undesirable change, the system administrator will be notified via SMS or email. An alert type can be precisely defined with a defined message and relevant information in a given message.
Frequently Asked Questions
What are the advantages of Exchange Reporter Plus?
A web-based tool for on-the-move access
Flexible licensing options
Secured logins with two-factor authentication
Granular help desk roles for delegation
Single platform to report on, audit, and monitor Exchange
Keyword and pattern-based mailbox content search
Exchange Server vs Exchange Reporter Plus
Exchange Reporter Plus offer Over 450 intuitive Exchange Server and Exchange Online reports, Customizable dashboard, Reports scheduling, Mailbox content search, Real-time alert notifications via SMS and email, Log storage for an indefinite period, Log storage for an indefinite period, Log forwarding to SIEM tool and much more, all of these things are not available in Exchange Server.
Why is MAPI CDO required for Exchange Reporter Plus?
MAPI is a messaging architecture and a Component Object Model (COM) based API for Microsoft Windows providing access to all the contents of the messaging stores. Exchange Reporter Plus uses MAPI to fetch mailbox and public folder content related data for its reports. This applies only to Exchange Server versions 2003 and 2007.
Why is Diagnostic Logging configuration needed for Exchange Server Auditing functionalities?
Diagnostic Logging should be configured for mailbox logon events to be recorded in the Application Log in Event Viewer. These events are used for generating Mailbox Logon reports. This configuration is not required for Exchange Servers 2013 and 2016.
To configure Diagnostic Logging, open Exchange Management Shell on any one of the Exchange Servers and execute the following command after entering the server name in the place of %SERVER_NAME%.
'%SERVER_NAME%\MSExchangeIS\9000 Private\Logons' | Set-EventLogLevel -Level 'Expert'
What are the privileges required for gathering email monitoring data?
Transport queues role should be assigned to the user or the Organization Management group in order to generate the Email Queue Monitoring Report.
To assign this role to the user:

New-ManagementRoleAssignment -Name TransportRoleAssignment -User 'DOMAIN\userName' -Role 'Transport Queues'

To assign this role to Organization Management group:

New-ManagementRoleAssignment -Name TransportRoleAssignment -SecurityGroup 'Organization Management' -Role 'Transport Queues'
How do I install Exchange Reporter Plus?
Being the Swiss Partner of ManageEngine, Kidan is responsible for aiding with professional services, such as installing, implementing, configuring, training, and supporting the company to ensure an effective on-boarding of Exchange Reporter Plus.
To make it even better, Kidan even provides advice on top of it all!
Get in touch with us to know more.
Want to continue the
conversation?
Thank you for your interest in ManageEngine's Exchange Reporter Plus solution. Please fill out the form below to ask a question or request assistance.