ManageEngine EventLog Analyzer
Log analysis from the entire environment
It allows users to generate real-time alerts to mitigate internal and external dangers, perform real-time correlation of events, and more. Provides ready-made compliance reports such as PCI DSS, FISMA, GLBA, HIPAA. It also helps protect sensitive data with its File Integrity Monitoring feature. In addition, the solution includes monitors user activity, archives log data.
The system also allows taking appropriate actions in non-compliance so that users can quickly react to each event. Users can also create a workflow that will do the work if the event occurs outside the organization's working time.
EvenLog Analyzer Offering
A robust log processing solution to make the work simpler
Built-in dashboards with health and other actions preview
First, the main menu of the system lists the most important recently detected events. Users can also find information on the health of the monitored environment there. As a result, the log analysis is presented in an easy-to-read graphic form.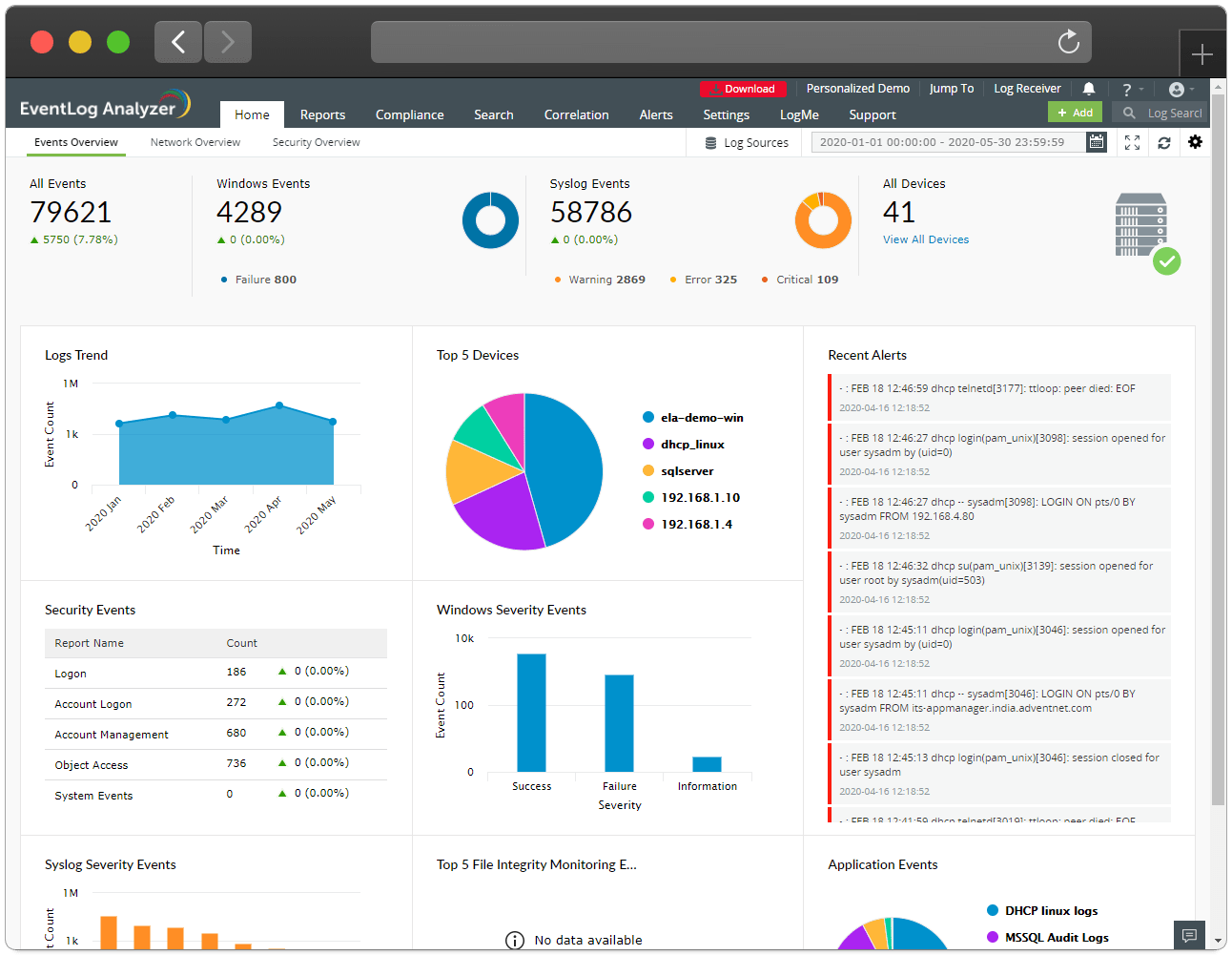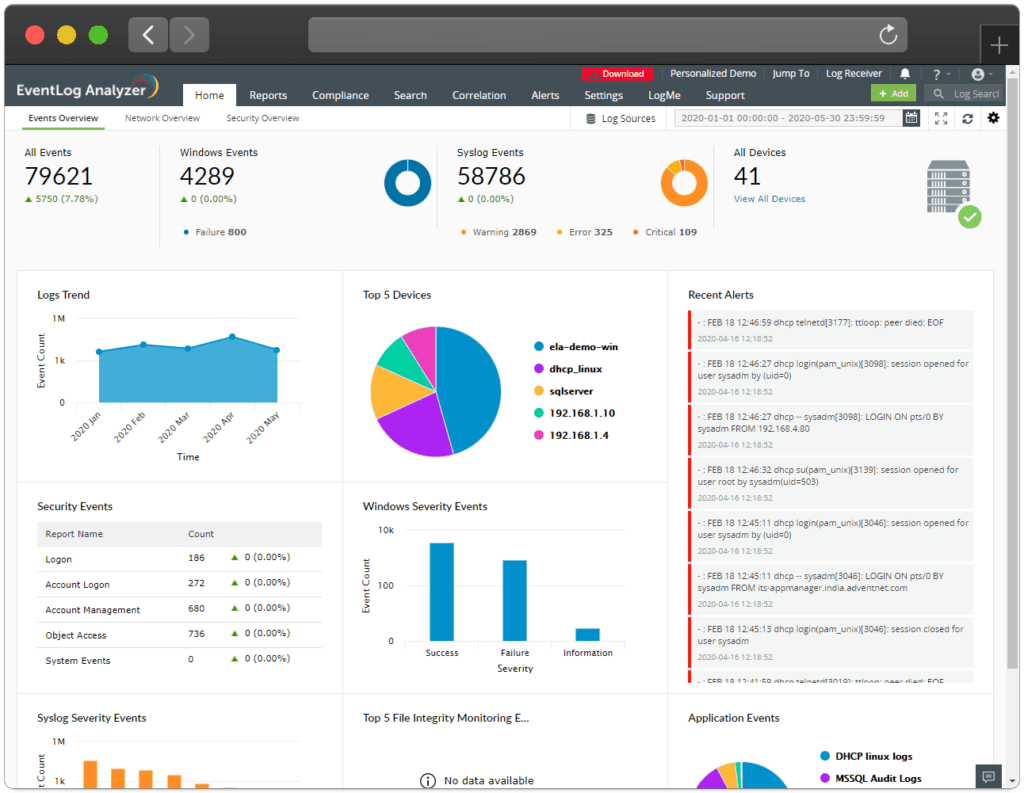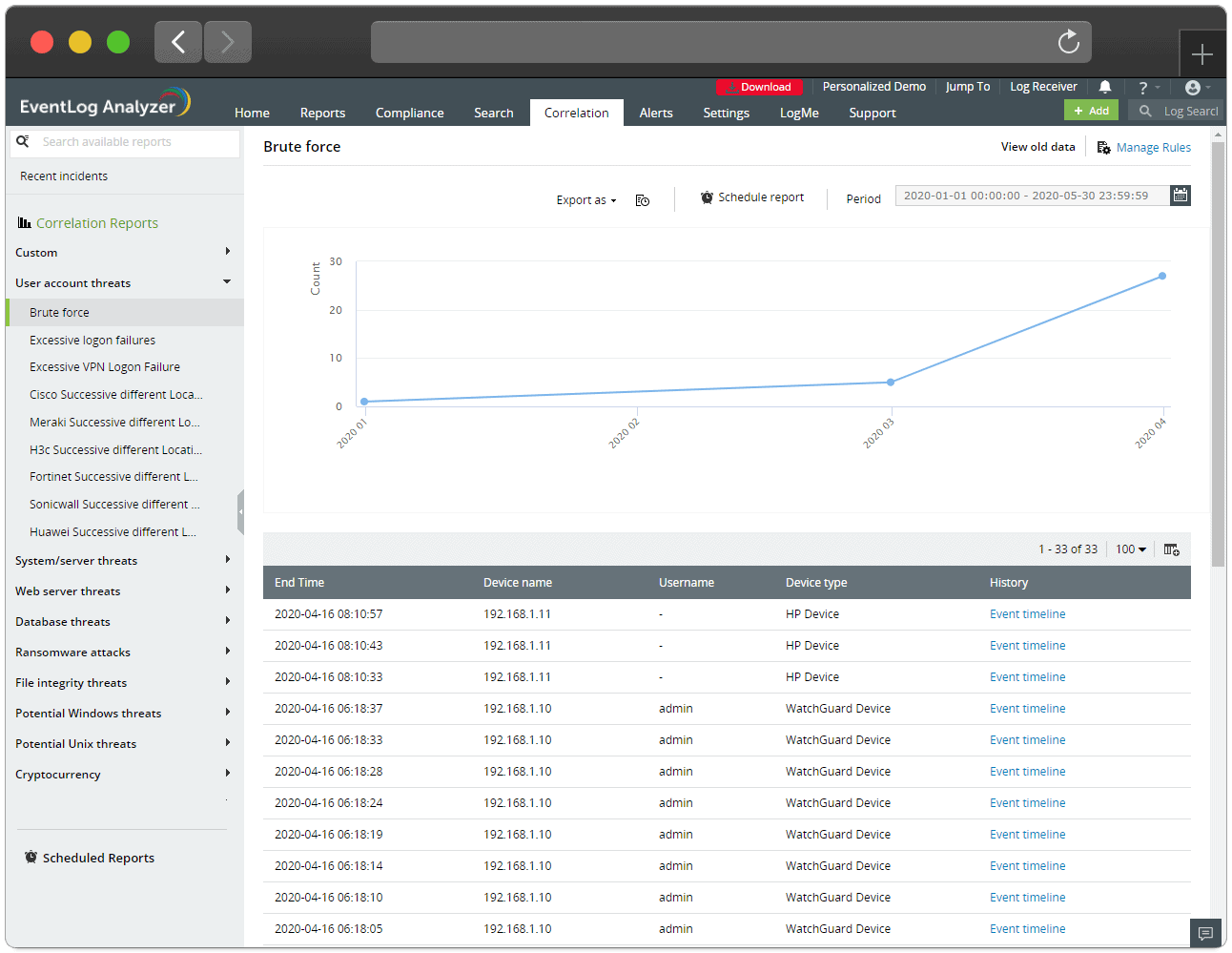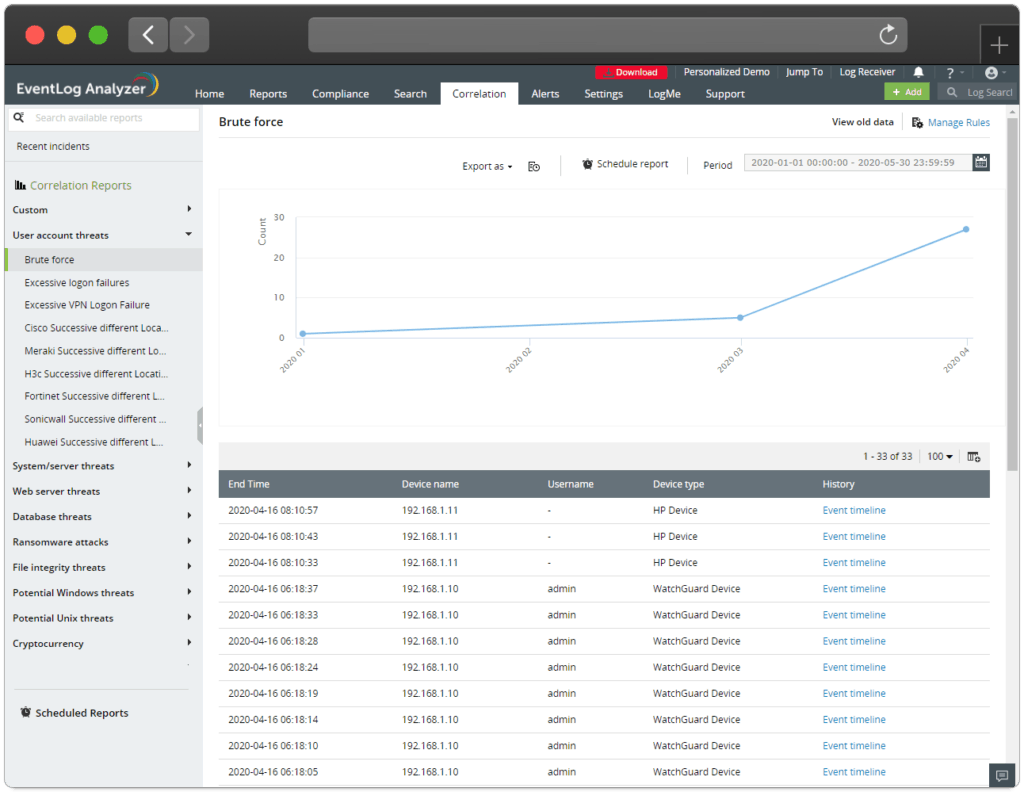 Configurable event correlation
Instantly detect attack attempts and trace potential security threats by correlating log data with over 30 predefined rules and a drag-and-drop custom rule builder. EventLog Analyzer comes with predefined rules to detect brute force attacks, account lockouts, data theft, webserver attacks, and a lot more. Raise a ticket in the help desk console for every correlation rule alert to ensure accountability and speed up incident resolution.
Access to detailed reports
The system includes a wide range of reports based on devices, applications, file monitors, detected threats, vulnerability monitors, VM management, and user management. It is also possible to define a custom report. EventLog Analyzer can send any of the generated results to the selected path in one of the file formats: PDF or CSV. The software also allows users to create cyclical report generation schedules and finally send them to the selected disk space.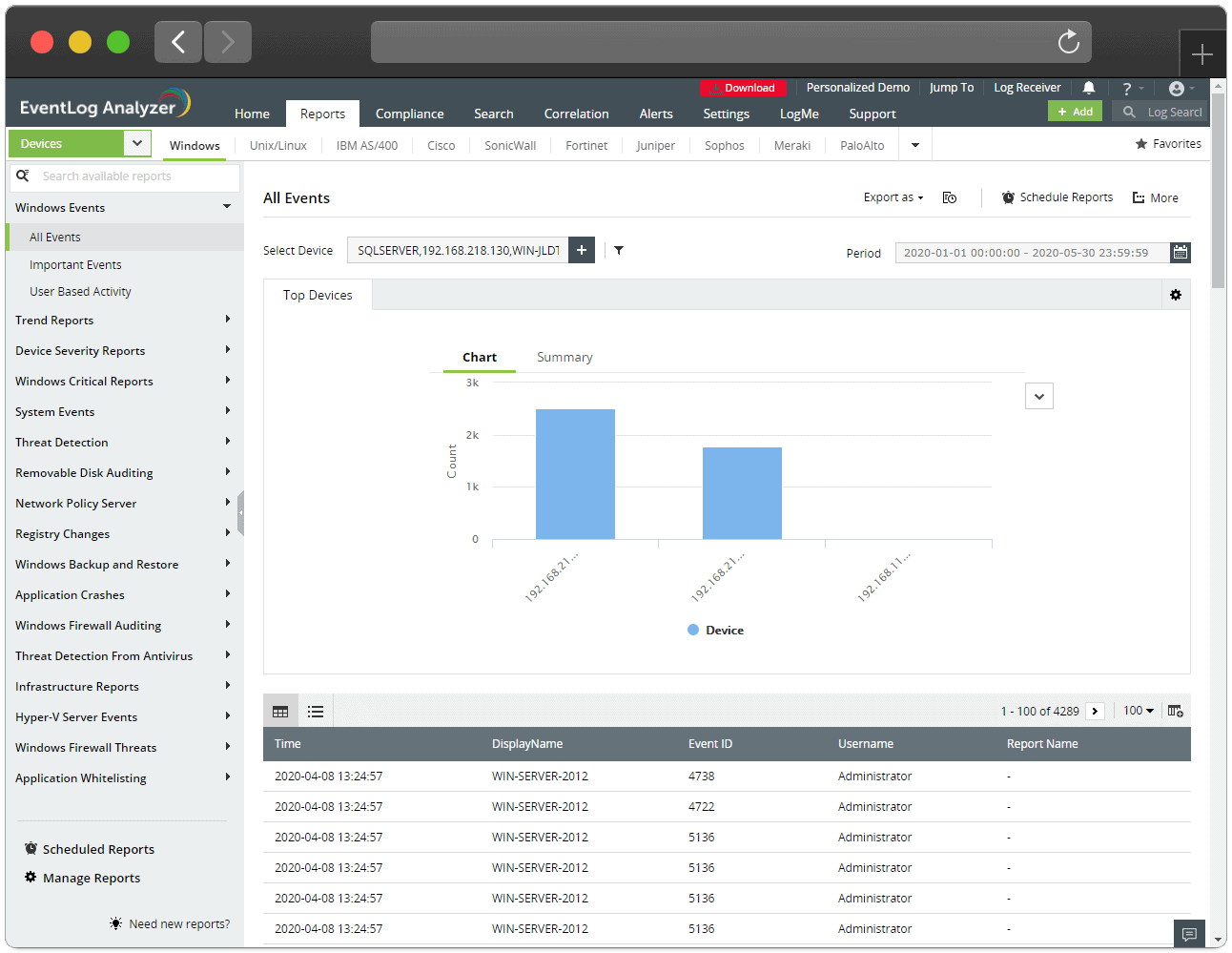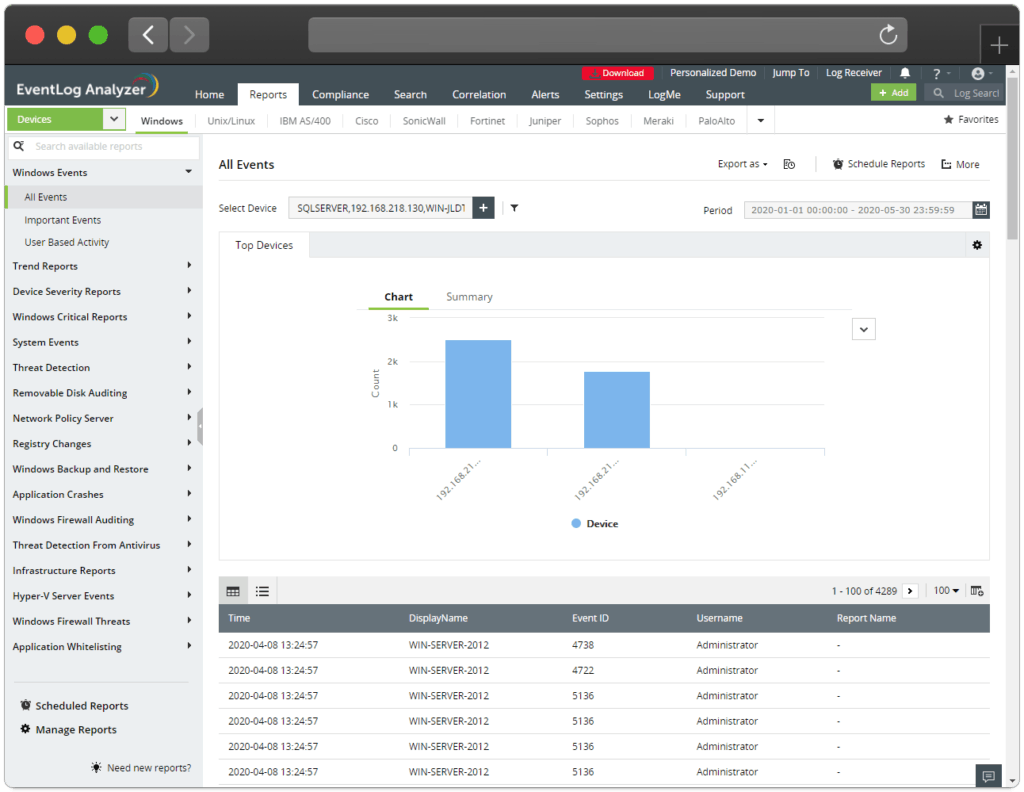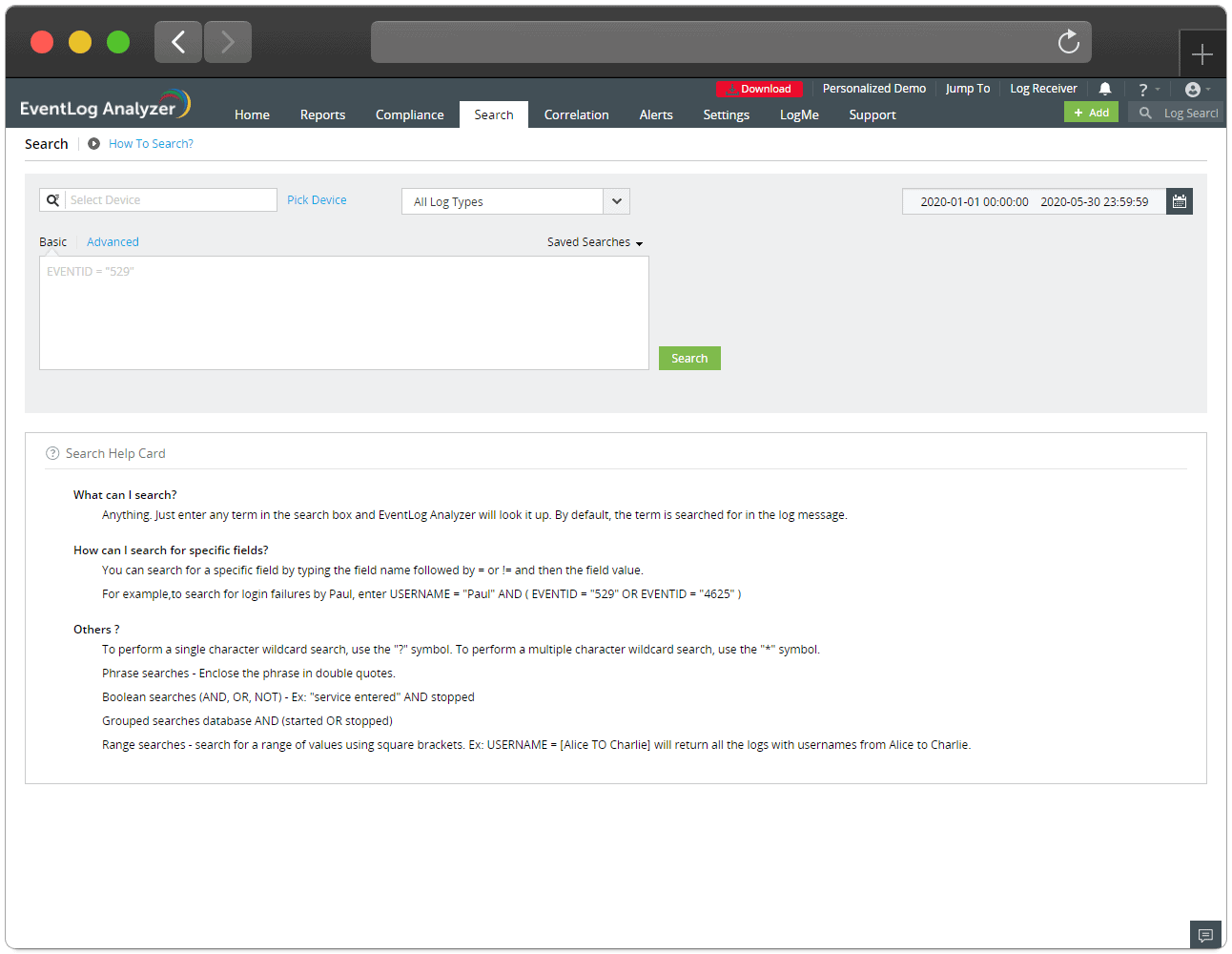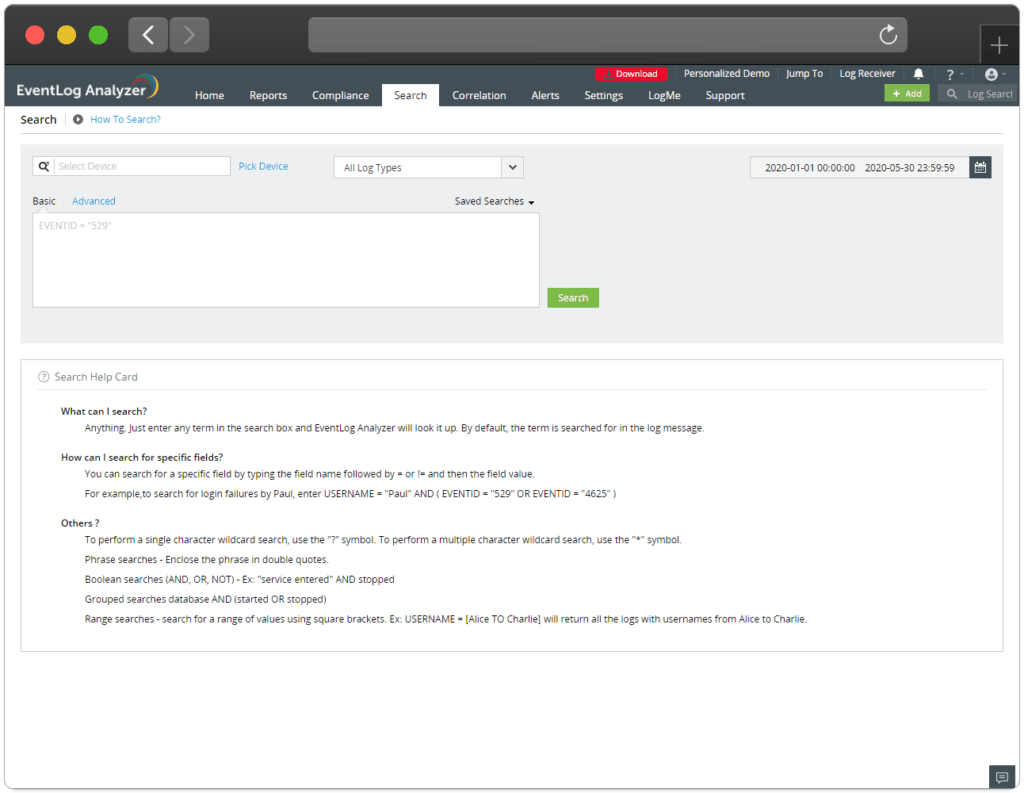 One place for all collected logs
The system offers the function of searching the information users are interested in, in the logs read based on its own rules. The search can be based on device types as well as event numbers or other LDAP information. This possibility undoubtedly facilitates searching and analyzing logs.
Configuration of real-time alarms is possible
EventLog Analyzer can also configure the process of notifying administrators. For each event recorded by the system, users can define the message that the administrator receives. While many notifications will appear simultaneously, the system will allow creating a time interval during which only one message/notification can be sent.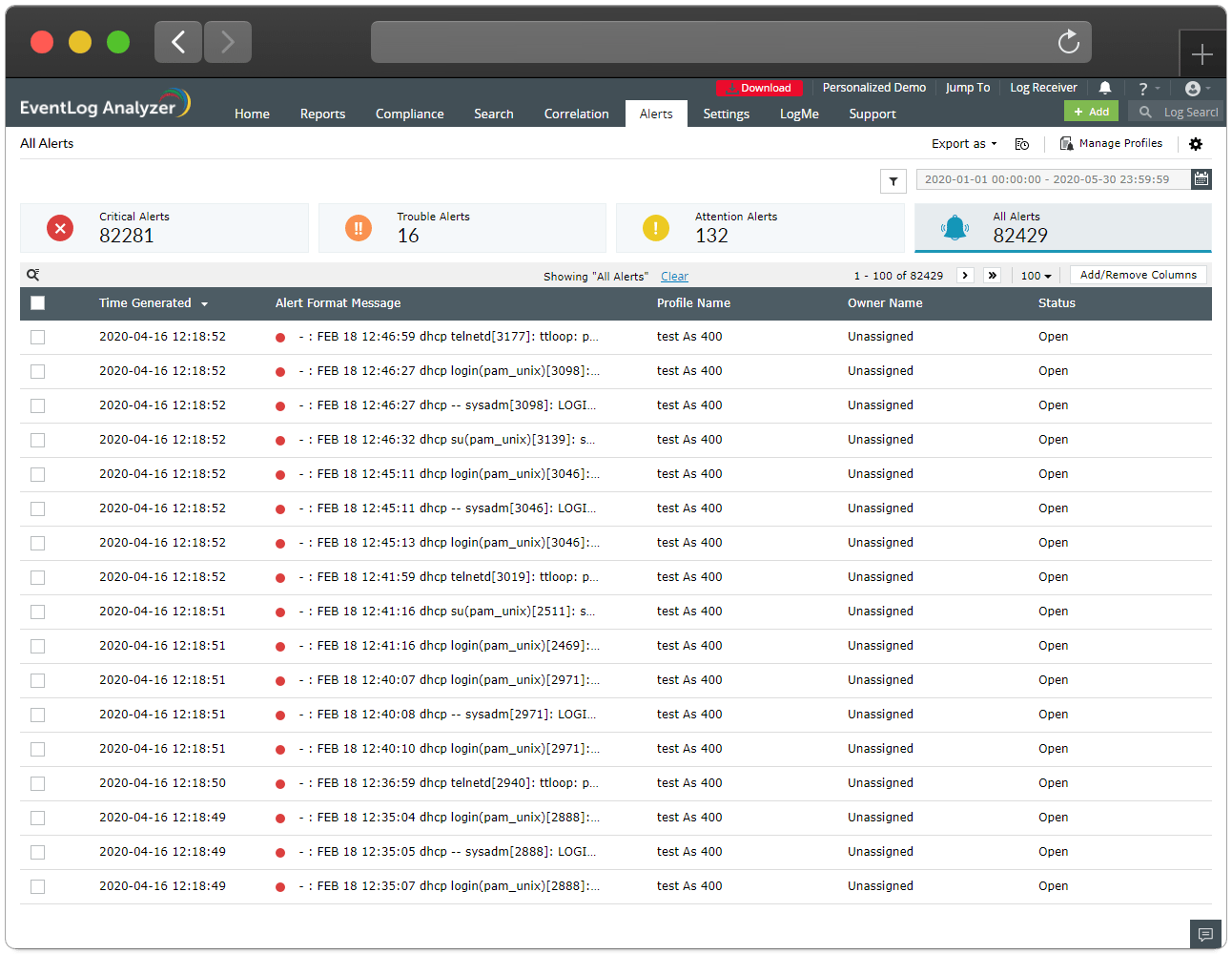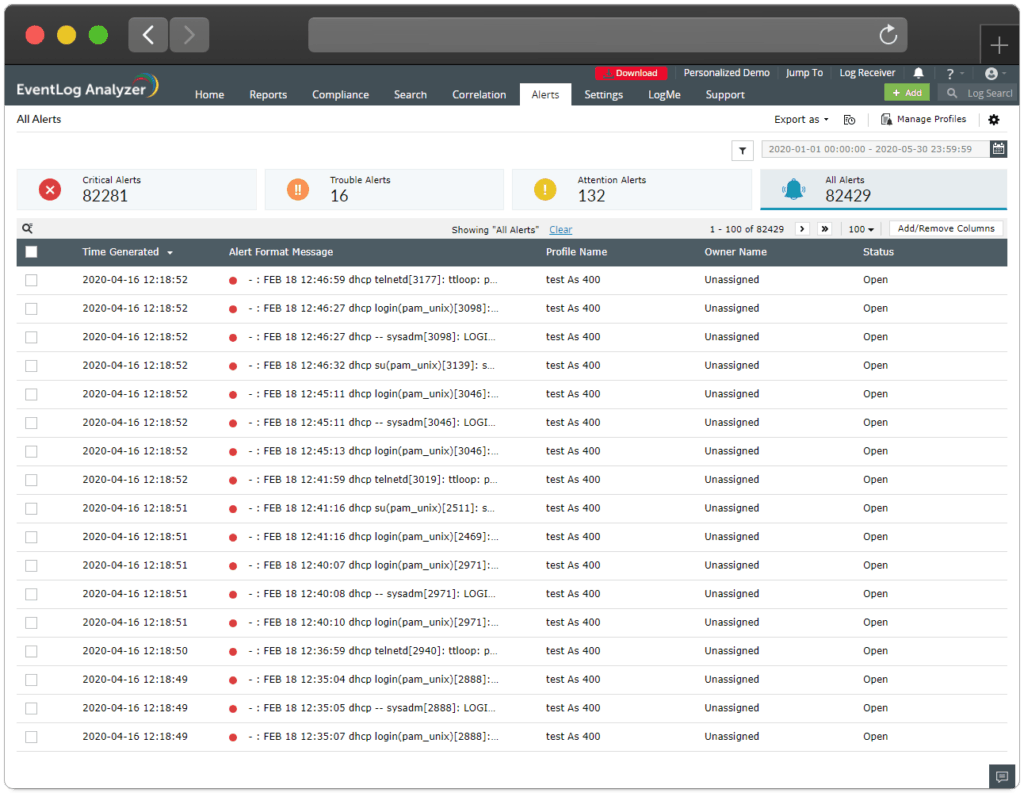 ManageEngine EventLog Analyzer Pricing
Premium Edition is Starting From:
Features:
Log collection and archival
Universal Log Parsing and indexing
File Integrity Monitoring
Real-time event correlation and alerts
Compliance reporting
Log forensics
Distributed Edition is Starting From:
Features:
Log collection and archival
Universal Log Parsing and indexing
File Integrity Monitoring
Real-time event correlation and alerts
Compliance reporting
Log forensics
Scalable architecture
Multi-geographical location monitoring
Server specific reports
Rebranding and client specific views
Frequently Asked Questions
What is purpose of EventLog Analyzer?
EventLog Analyzer is a web-based security information and event management (SIEM) solution that assists small to large organizations with monitoring network devices, servers, and applications. Key features include auditing, traffic analysis, threat detection, and compliance management.
The application comes with a log management module, which helps administrators collect information on network activities from multiple sources such as routers, switches, and scanners and generate mechanism reports. EventLog Analyzer enables users to scan database servers, detect data thefts, and troubleshoot system crashes. The file integrity monitoring feature allows security teams to track changes in various file types such as system configuration/zipped and receive real-time alerts.
Can I access the EventLog analyzer from anywhere?
As Eventlog Analyzer is a web-based solution, yes the users can access the solution from anywhere as long as the user can connect to the server in which Eventlog Analyzer is running.
How many users can access the application simultaneously?
The EventLog Analyzer license does not limit the number of users accessing the application simultaneously.
What is the difference between free and paid editions?
The free version of EventLog Analyzer is limited to handling event logs from a maximum of five-event log sources, whereas the Standalone and Distributed editions can handle event logs from 10 to 1,000 log sources and 50 to unlimited number of log sources, respectively.
DO I have to reinstall EventLog Analyzer to upgrade from free to paid version?
No, users don't have to reinstall or shut down the server. Users can simply upload the new License file to upgrade from free to the paid version.
How do I install EventLog Analyzer?
Being the Swiss Partner of ManageEngine, Kidan is responsible for aiding with professional services, such as installing, implementing, configuring, training, and supporting the company to ensure an effective on-boarding of EventLog Analyzer.
To make it even better, Kidan even provides advice on top of it all!
Get in touch with us to know more
Want to continue the
conversation?
Thank you for your interest in ManageEngine's EventLog Analyzer solution. Please fill out the form below to ask a question or request assistance.