ManageEngine Device Control Plus
Advanced device port management
Device Control Plus can control, block, and monitor USB-connected mobile devices and other peripherals. The product protects against unauthorized access to sensitive organization data. The application helps to establish specific rules, which can then be assigned to specific groups of devices. Define whether a given port should be allowed, blocked, or read-only.
The whole is complemented by a report module, used to extract archival data and a detailed analysis of changes made on users' devices. Device Control Plus also supports advanced filtering of available devices to find a resource thanks to specific data, e.g. IP address.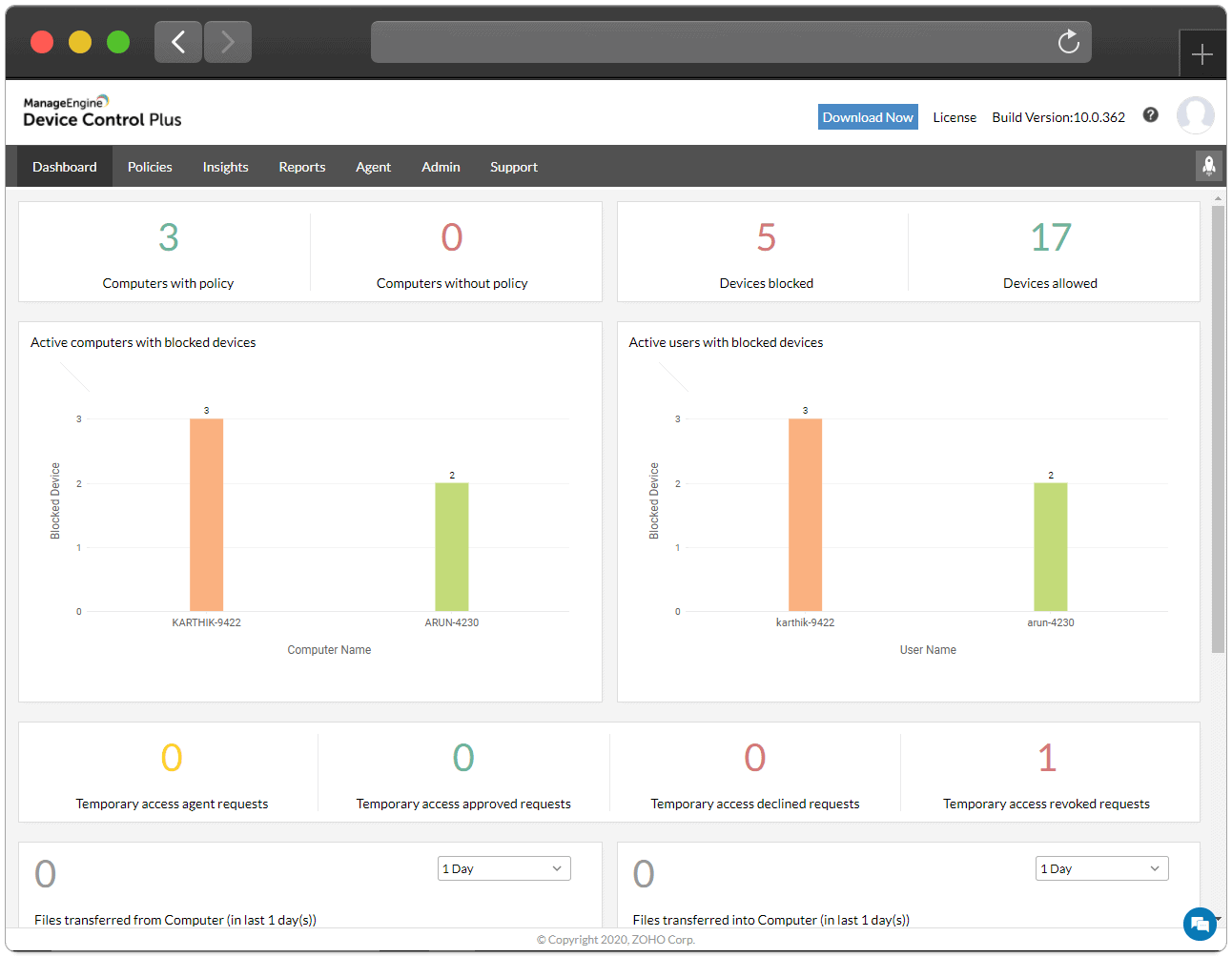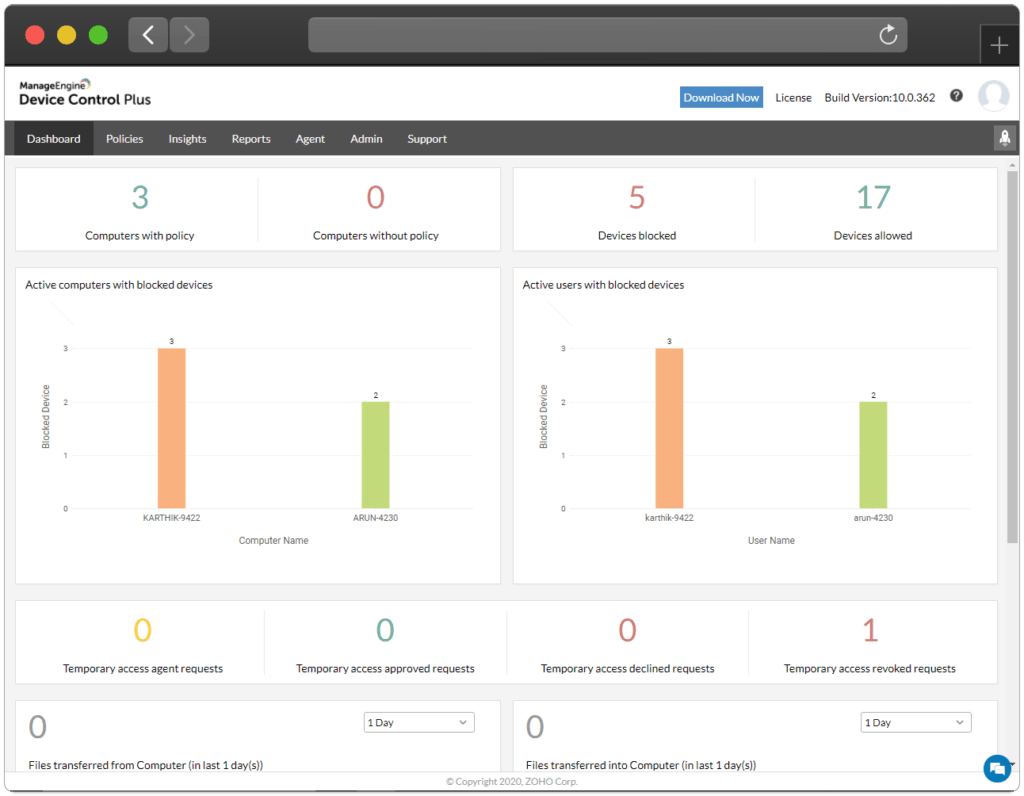 Device Control Plus Features
Auto-detection and management of more than 17 types of peripheral devices and continuous monitoring of network ports.
Advanced device port management
Connecting unauthorized resources, such as flash drives or hard drives, can undoubtedly have serious consequences. From data deletion to data theft, to device infection. Device Control Plus can easily manage device ports and helps to protect against dangerous situations. This is possible thanks to the port blocking function or sharing them with specific types of devices.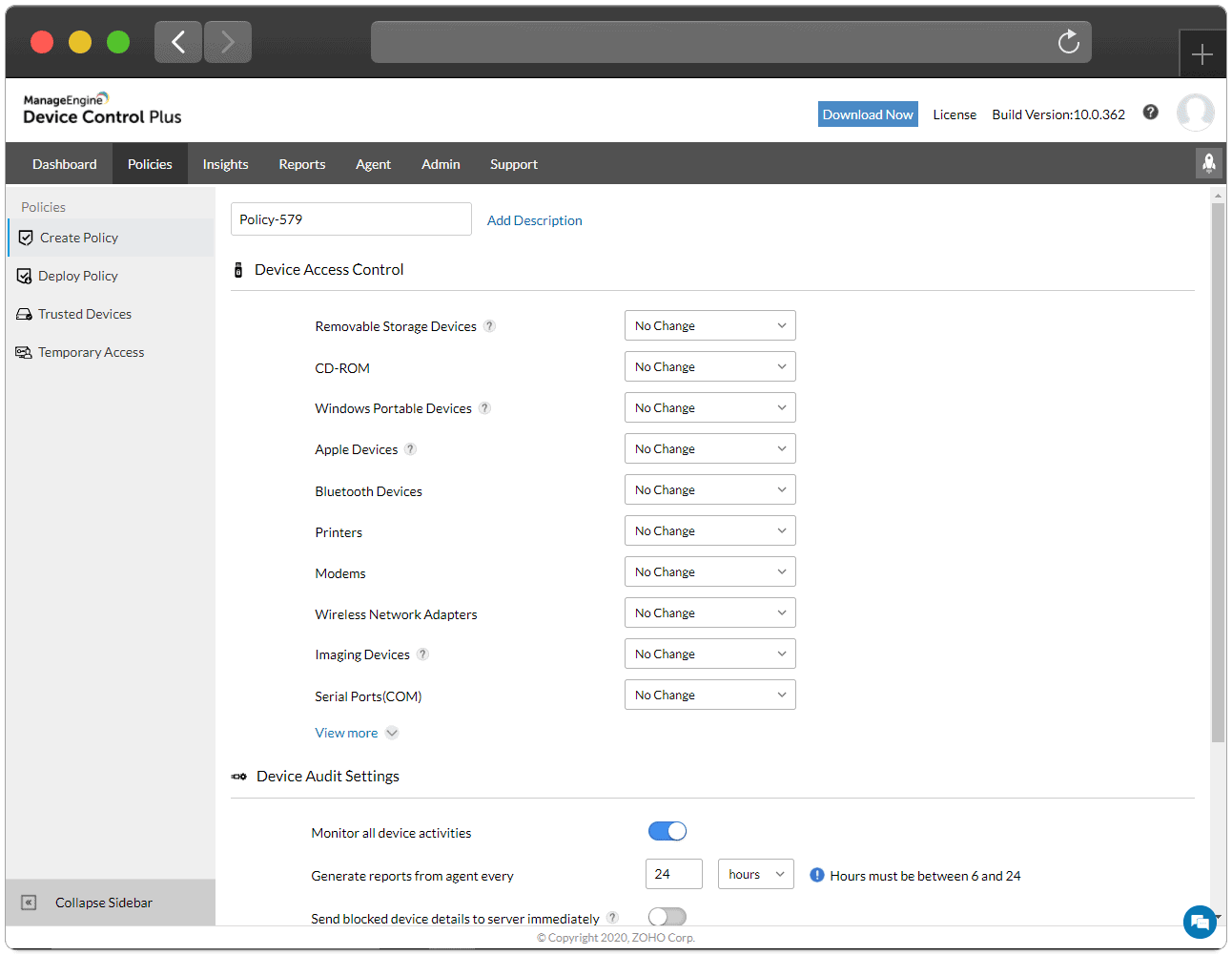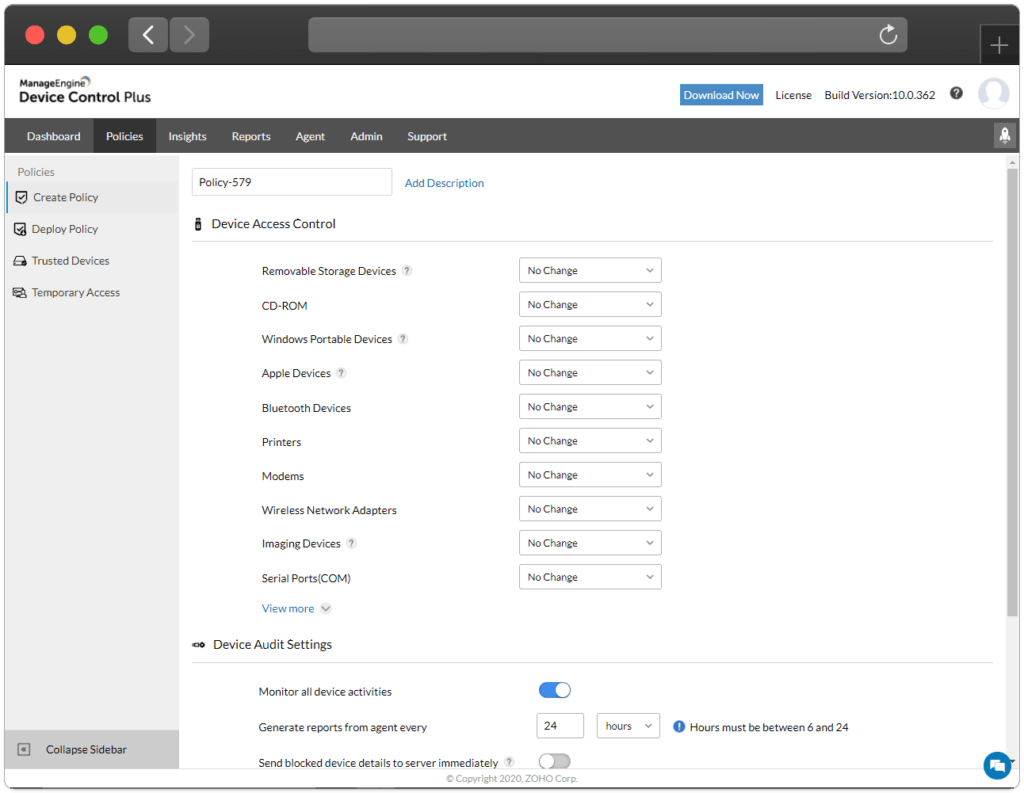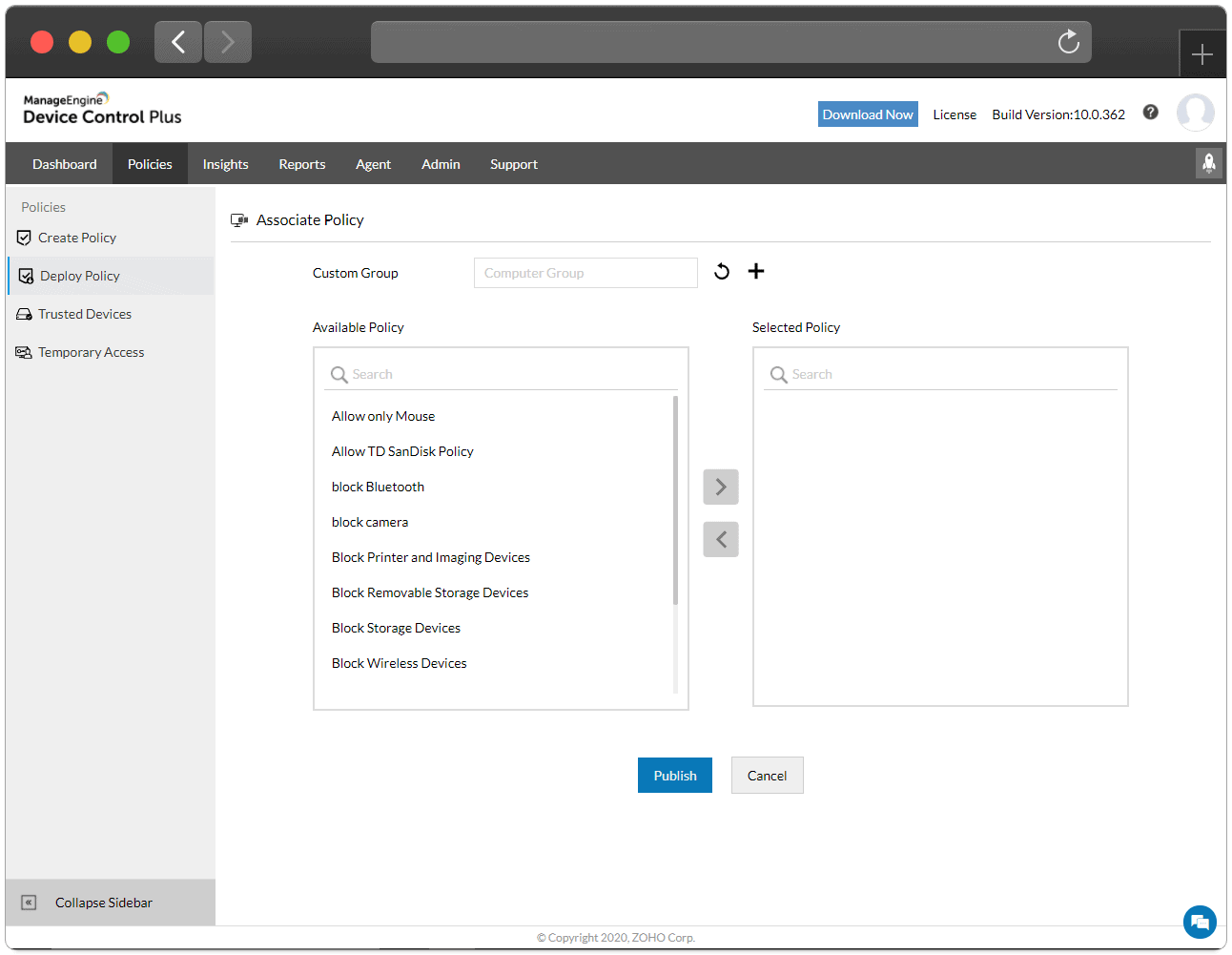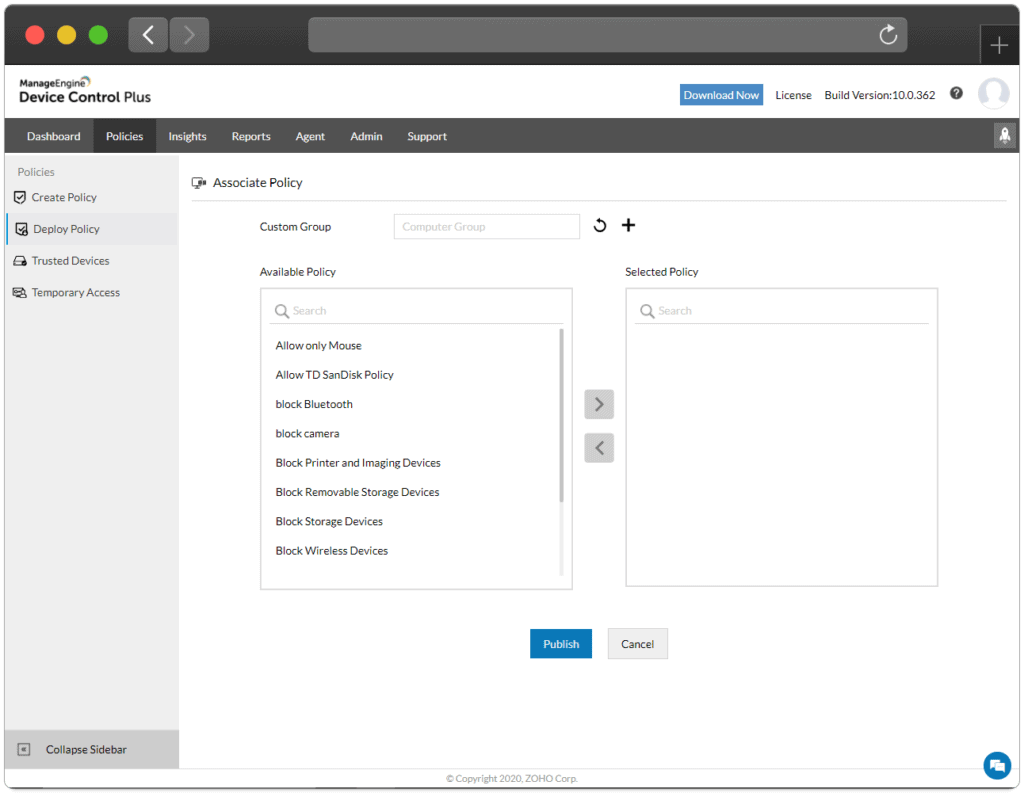 Specific security policies automatically implemented within the organization's devices
The applicable security policies can be assigned to previously created device groups. Therefore, there is no need to define them separately for each workstation. In addition, they increase the efficiency of the IT department when hiring new employees. Depending on the position taken, the device is assigned to the appropriate group with previously set restrictions.
Categorize devices depending on the type of product
Resources can be categorized as a removable storage device, CD ROM, Windows portable devices, Apple devices, bluetooth, printer, modem, wireless adapter, imaging devices, serial ports (COM), parallel ports (LPT), biometric , infrared, smart card reader, tape drive, mouse, floppy disk.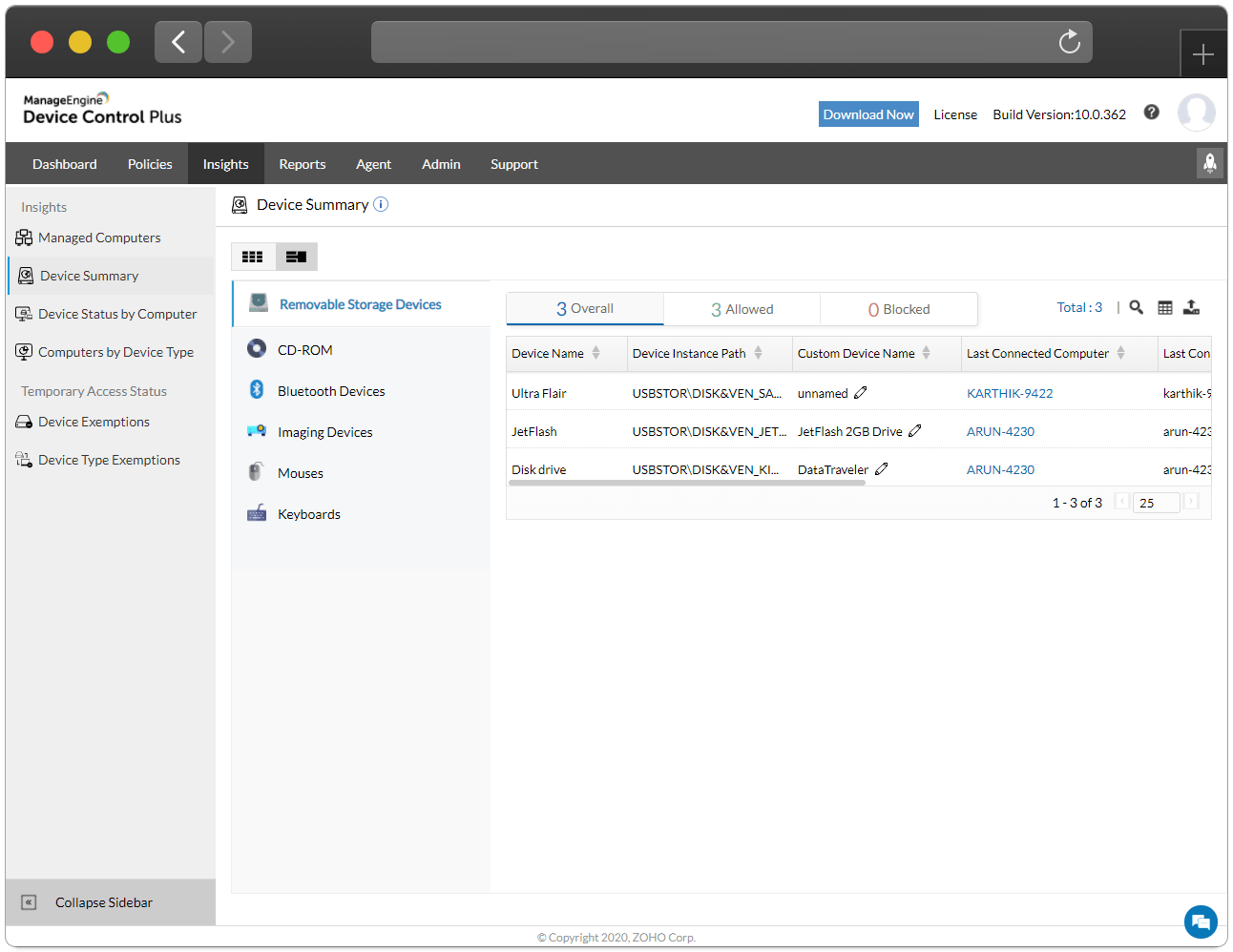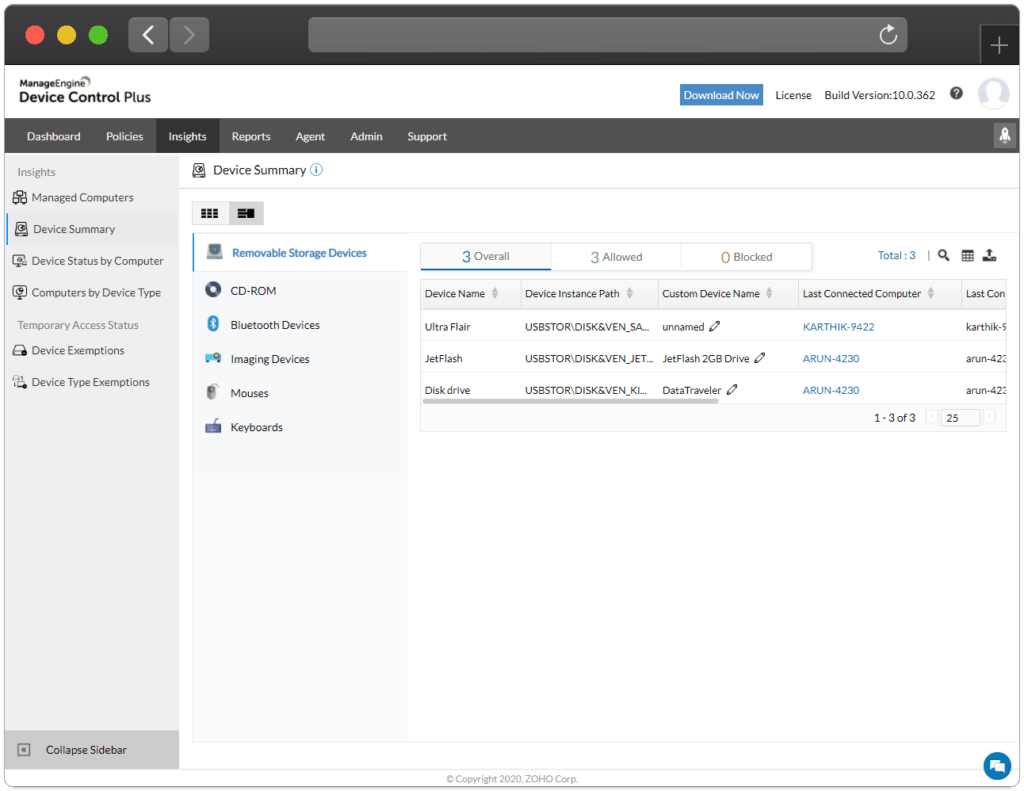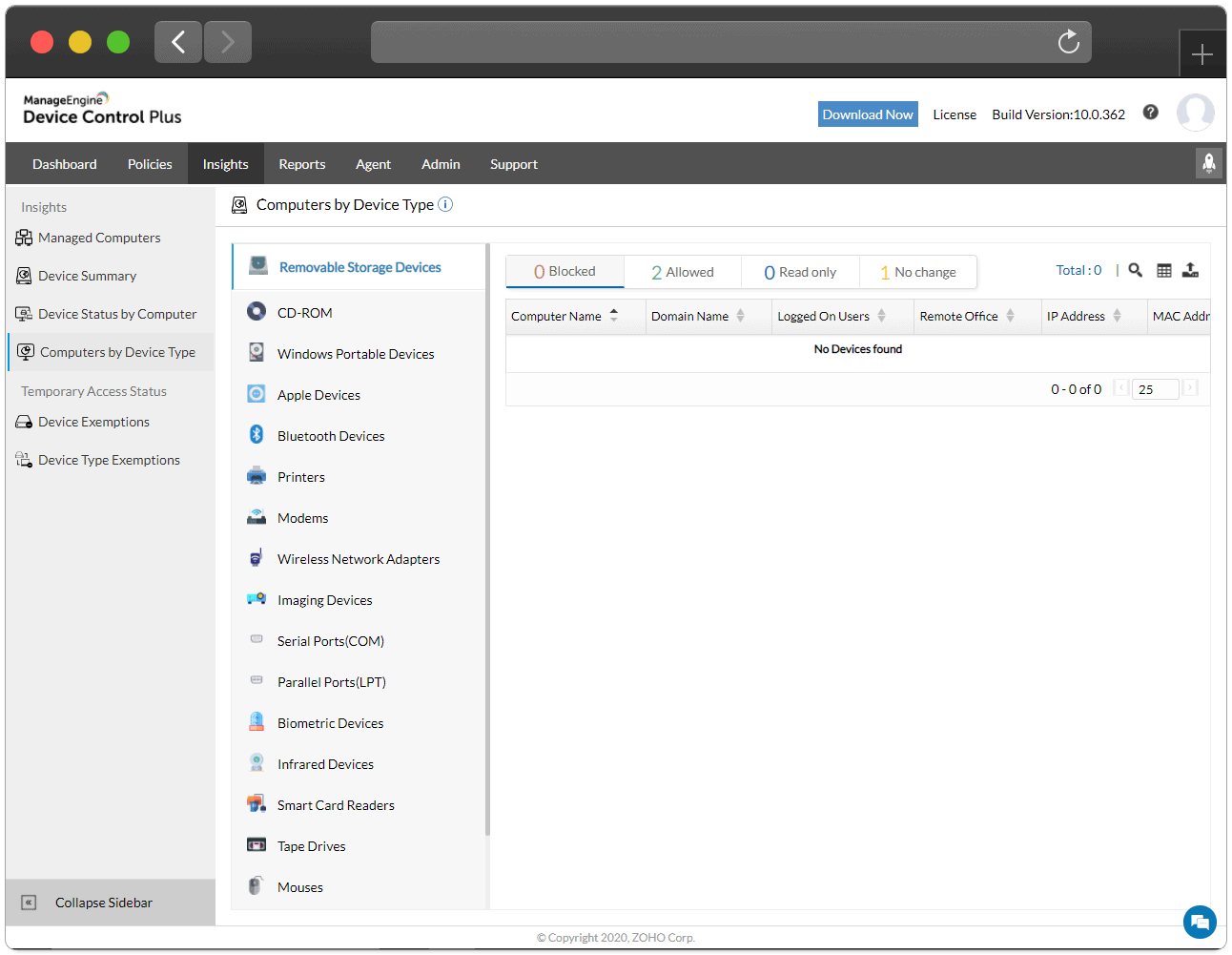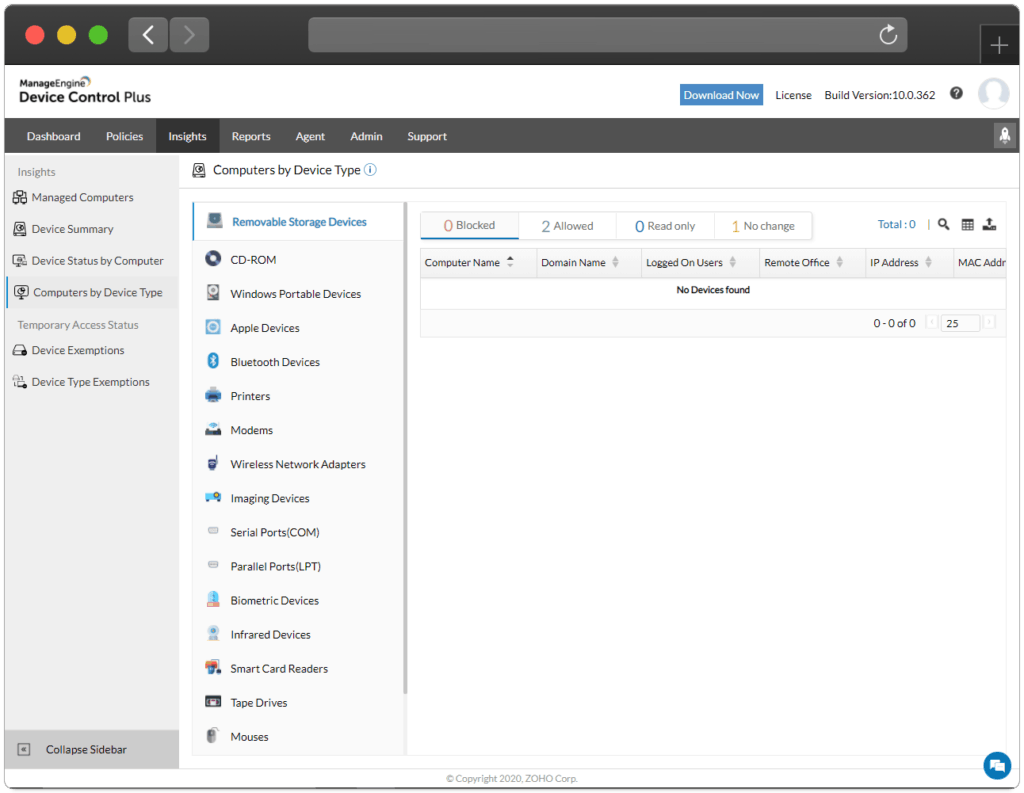 Advanced management of device ports
All accessories connected to the workstations can be verified according to the following data: computer name, domain, user name, device name, device type, manufacturer, device instance path, connection time, disconnection time, usage time, as well as the last action informing about whether the connected device has been blocked or allowed to use.
Personalize agent to adapt operations to organization's network structures
The system can configure the server's IP address, enable HTTPS communication and scan immediately after installing the agent. If the installation fails, specify the time interval after which the automatic process initiation begins. By adding a computer to Active Directory, facilitate the management of management ports thanks to, inter alia, the option of automatic installation of the agent with notification of this fact.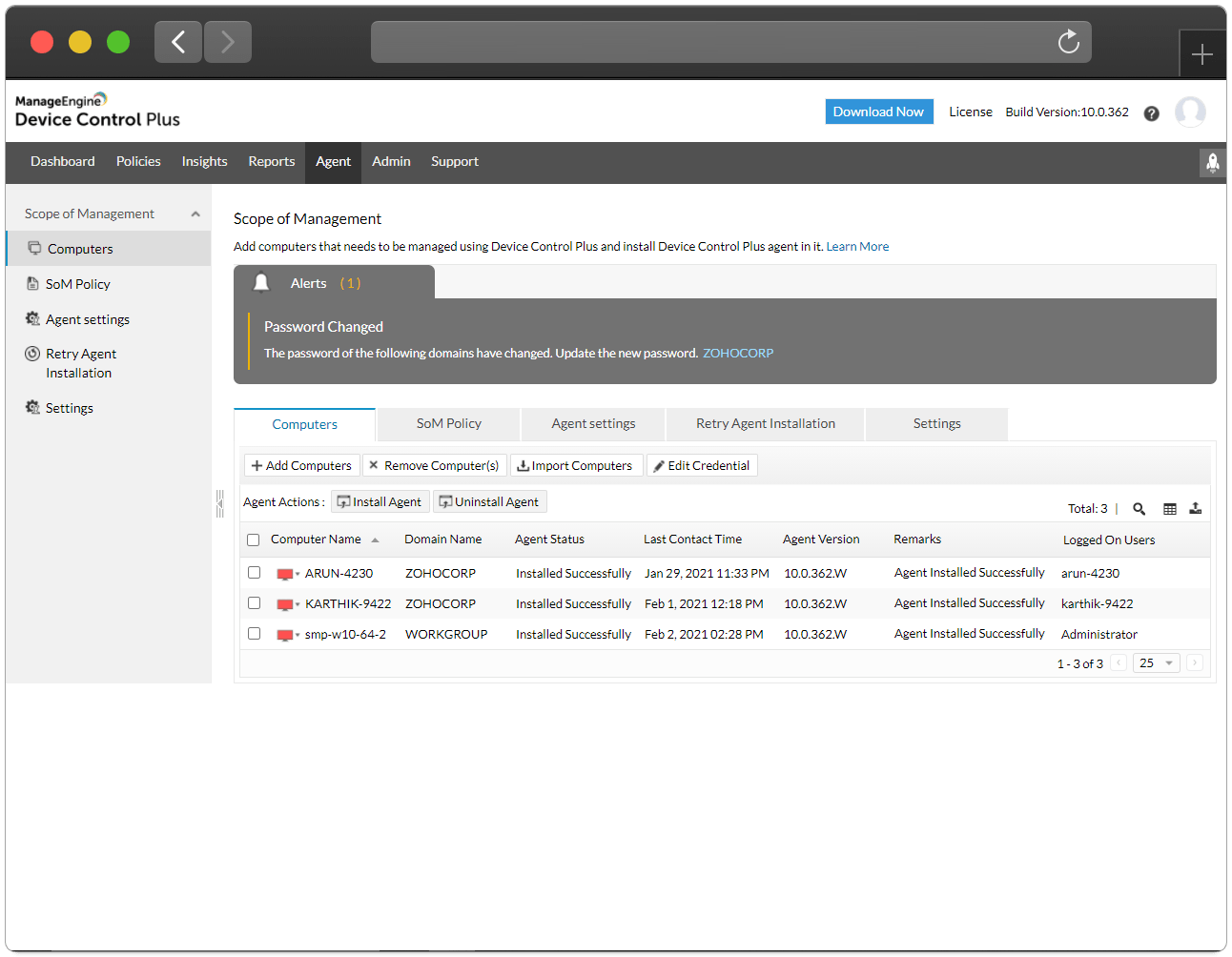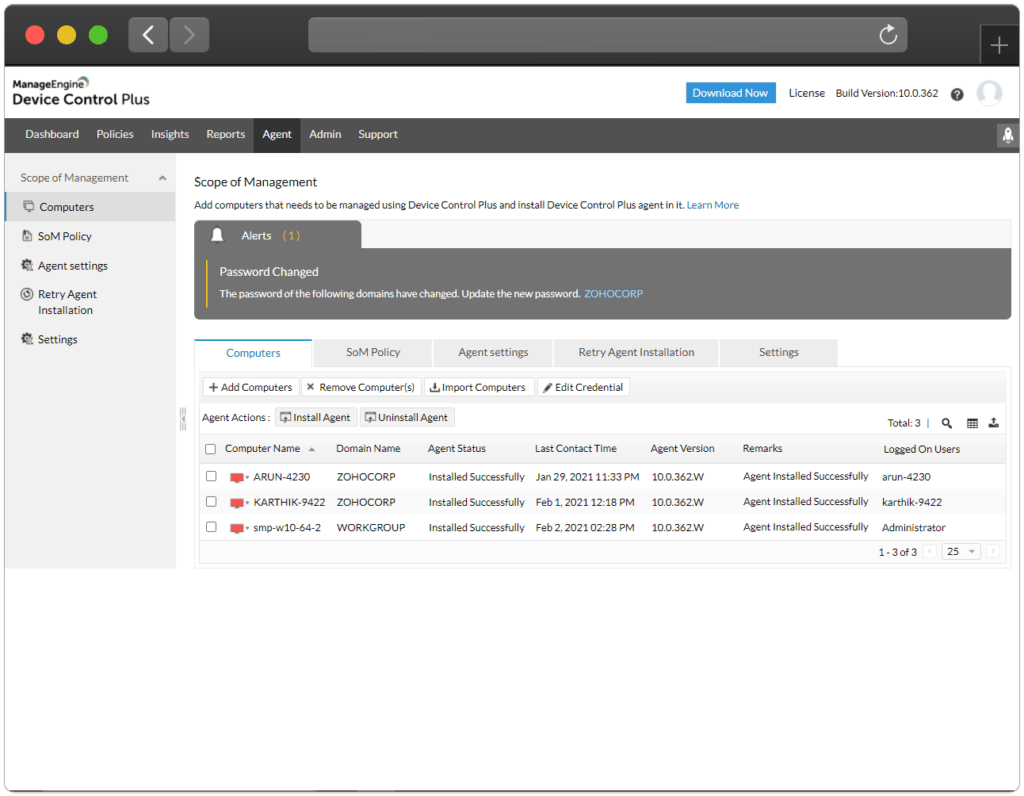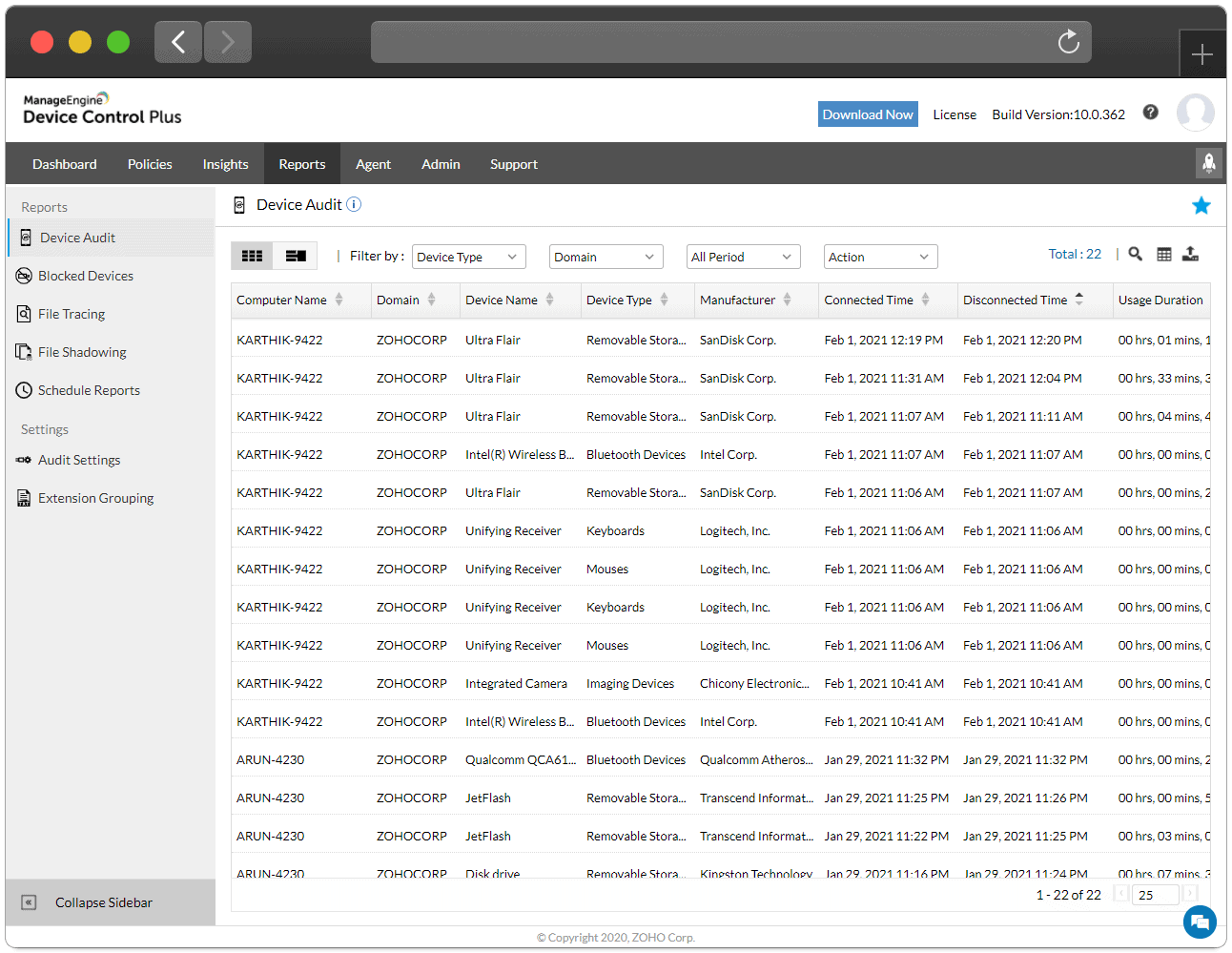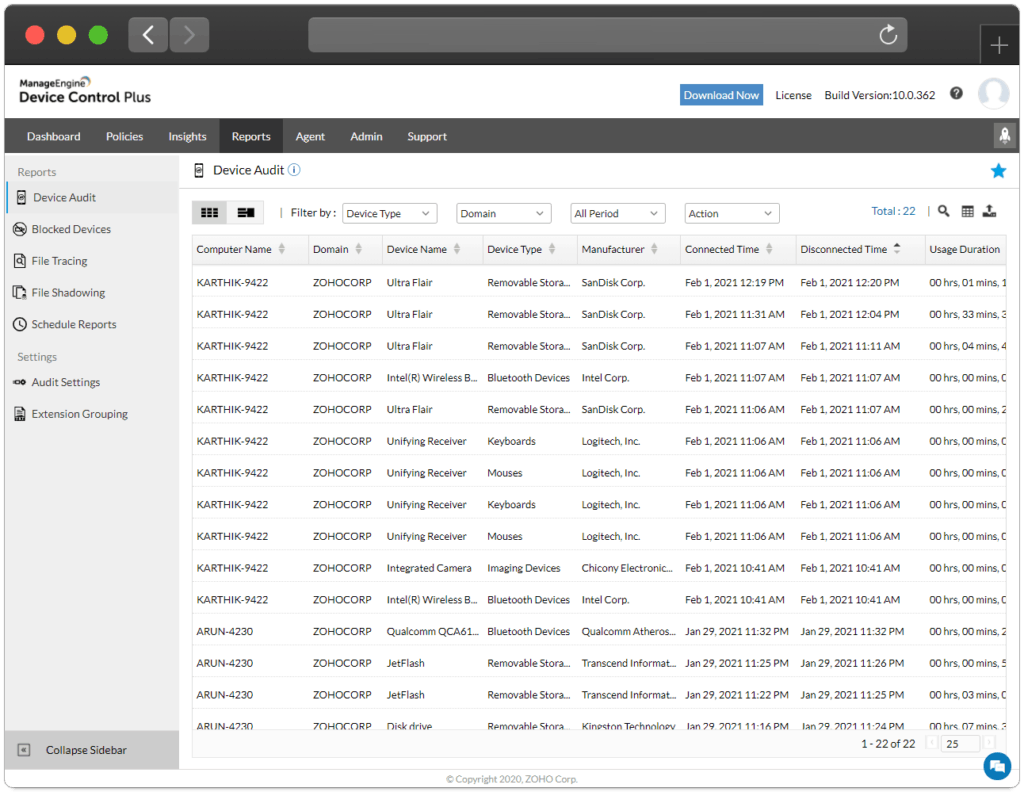 Report module with cyclical notifications of selected e-mail addresses and exporting
By default, the available scheduled reports are device inspection, device summary, unauthorized devices, file tracking, file shadowing. The recipient can receive the data in three different ways: a file added to an attachment, a ZIP file, or the URL to the report on the Device Control Plus server. If the specified data limit is exceeded, change the settings so that the report is automatically published to the server.
ManageEngine Device Control Plus Pricing
Professional Edition is Starting From:
Suitable for controlling desktops in LAN


Main Features:
Device and Port control
File access control
File transfer control
File tracing
File shadowing
Device audit
Temporary access
Trusted Device List
17 Supported devices
General:
Active directory authentication
Multi Technician
Download/ Schedule reports
Frequently Asked Questions
Is it possible to disable the Auto-Play feature? How?
Yes, it is possible to disable auto-play under the device access control settings. It is recommended to disable it when creating a policy to allow a particular device type so as to prevent automatic file launching when a device is connected.
How to stay current with Device Control Plus?
Device Control Plus works on set and forget policy and hence you do not have to worry about updating it frequently.
Once the policies to control the devices have been created, simply monitor the computers.
How to get the reports of audit log for blocked devices?
The audit log for blocked devices will be available in a report called 'Unauthorized Devices' which can be accessed from under the 'Reports' tab.
Can I grant access permissions to devices that are outside my network?
Yes, you can. Grant temporary access to devices that are present both inside and outside the network. Target machines based on system types such as laptops and desktops. Also, create a custom group with system type as criteria.
What is the critical distinction between Device Control Plus and other DLP solutions?
There are a plethora of vulnerabilities that can be fixed by a software patch.
But, in order to address cyber attacks due to removable media, it is highly important to secure your endpoints from the port level.
Device control plus can control, block, and monitor the devices that connect to the endpoints.
How do I install Device Control Plus?
Being the Swiss partner of ManageEngine, Kidan is responsible for aiding with professional services, such as installing, implementing, configuring, training, and supporting the company to ensure an effective on-boarding of Device Control Plus.
To make it even better, Kidan even provides advice on top of it all!
Get in touch with us to know more.
Want to continue the
conversation?
Thank you for your interest in ManageEngine's Device Control Plus solution. Please fill out the form below to ask a question or request assistance.