ManageEngine Cloud Security Plus
A Top Quality Cloud Analyzation Tool
The tool to centrally manage the logs of all services and has specialized reports that will help to look closely at the entire environment. It enable to find out who, when and what has done and analyze the gaining of unwanted access. The system has many predefined reports that facilitates to quickly analyze the environment.
Cloud Security Plus is a web-based platform, providing insight into the entire cloud environment from one place.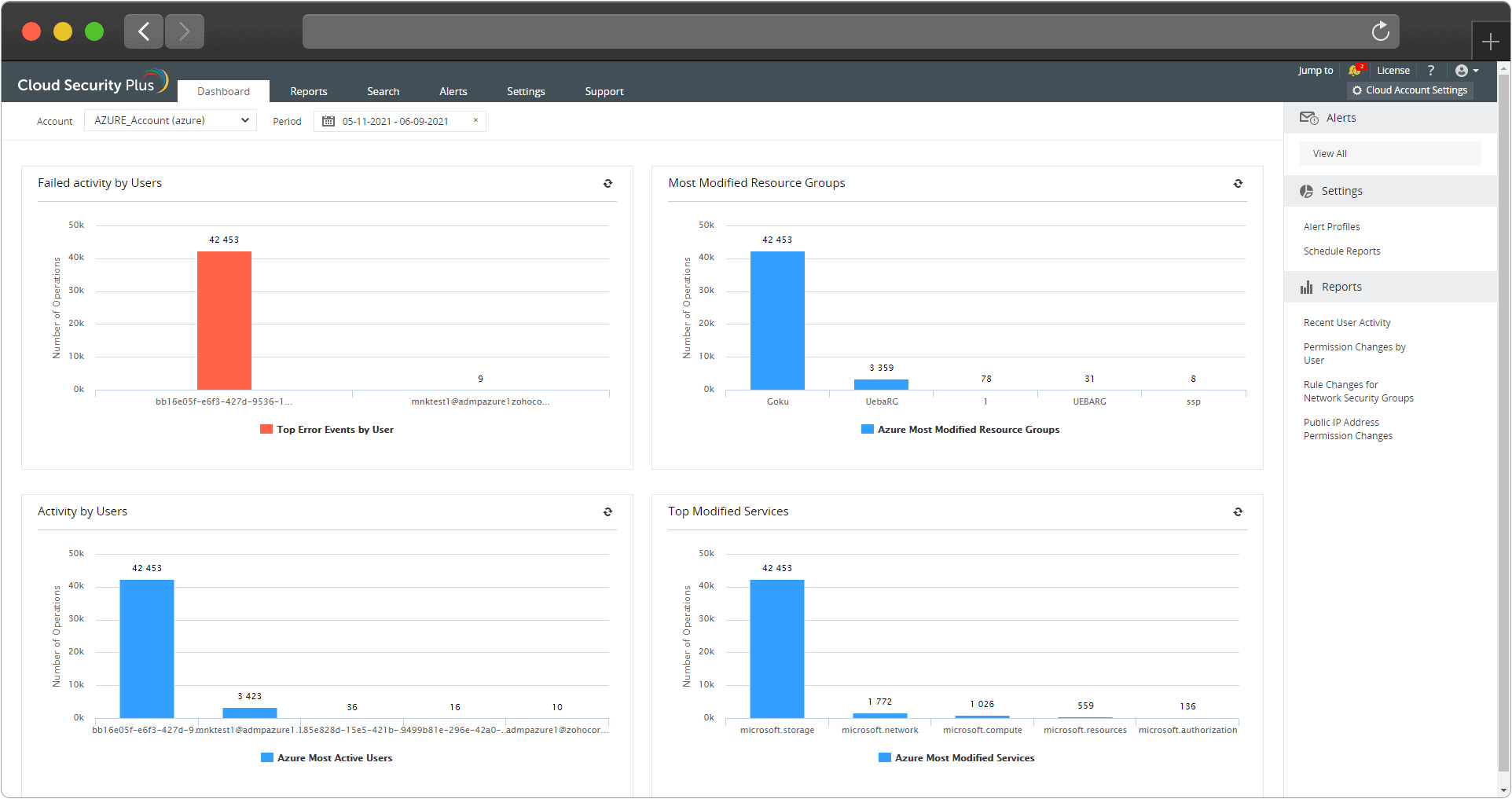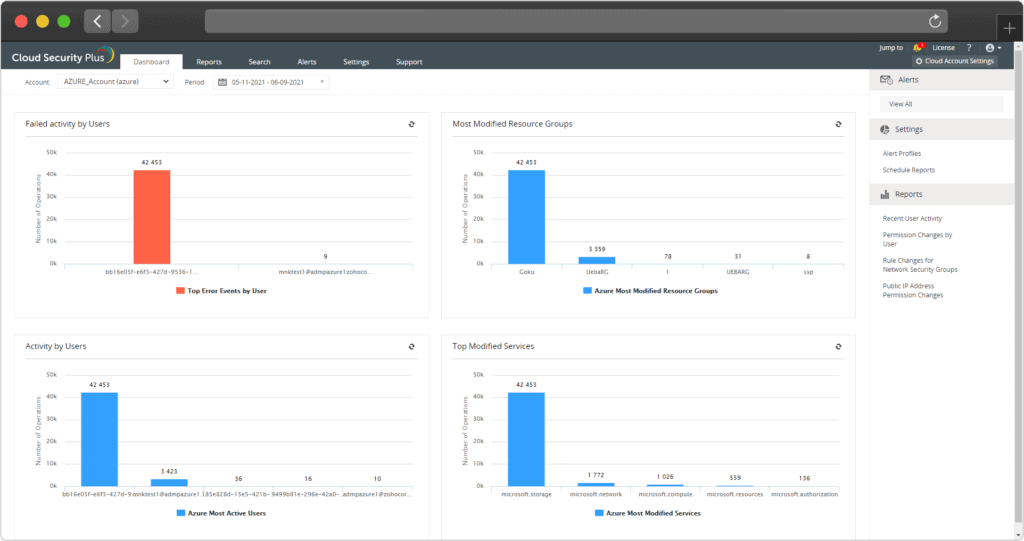 Cloud Security Plus Features
A log management and monitoring tool for public cloud platforms
Quick Access to Complete data
Cloud Security Plus present data by analyzing the current state of the environment after logging into the application. With this tool the entire analysis of the cloud environment becomes much easier. The interface allows to select the appropriate cloud solution, as well as choose the period that is required to verify. Dashboards also allow to go directly to the appropriate report in a single click.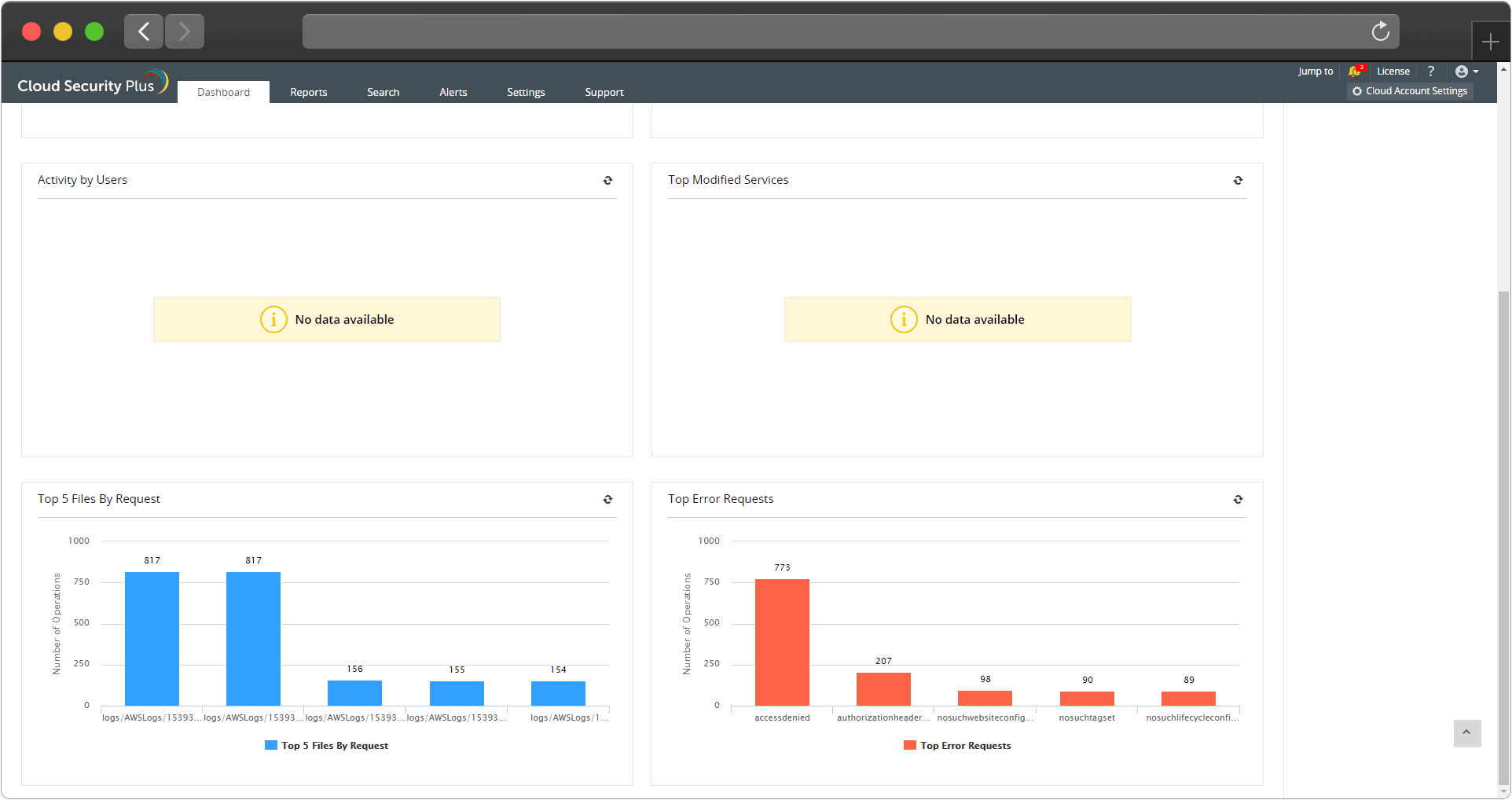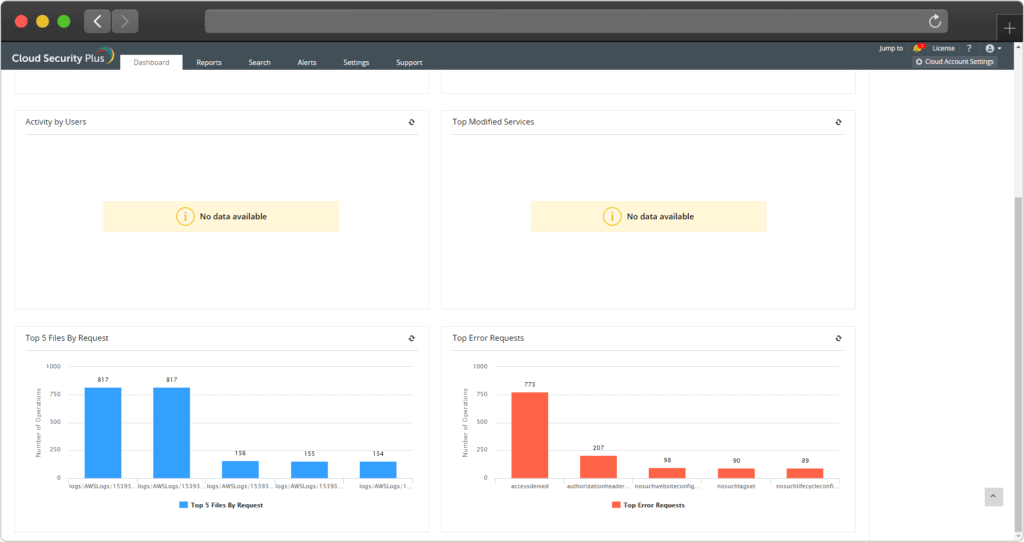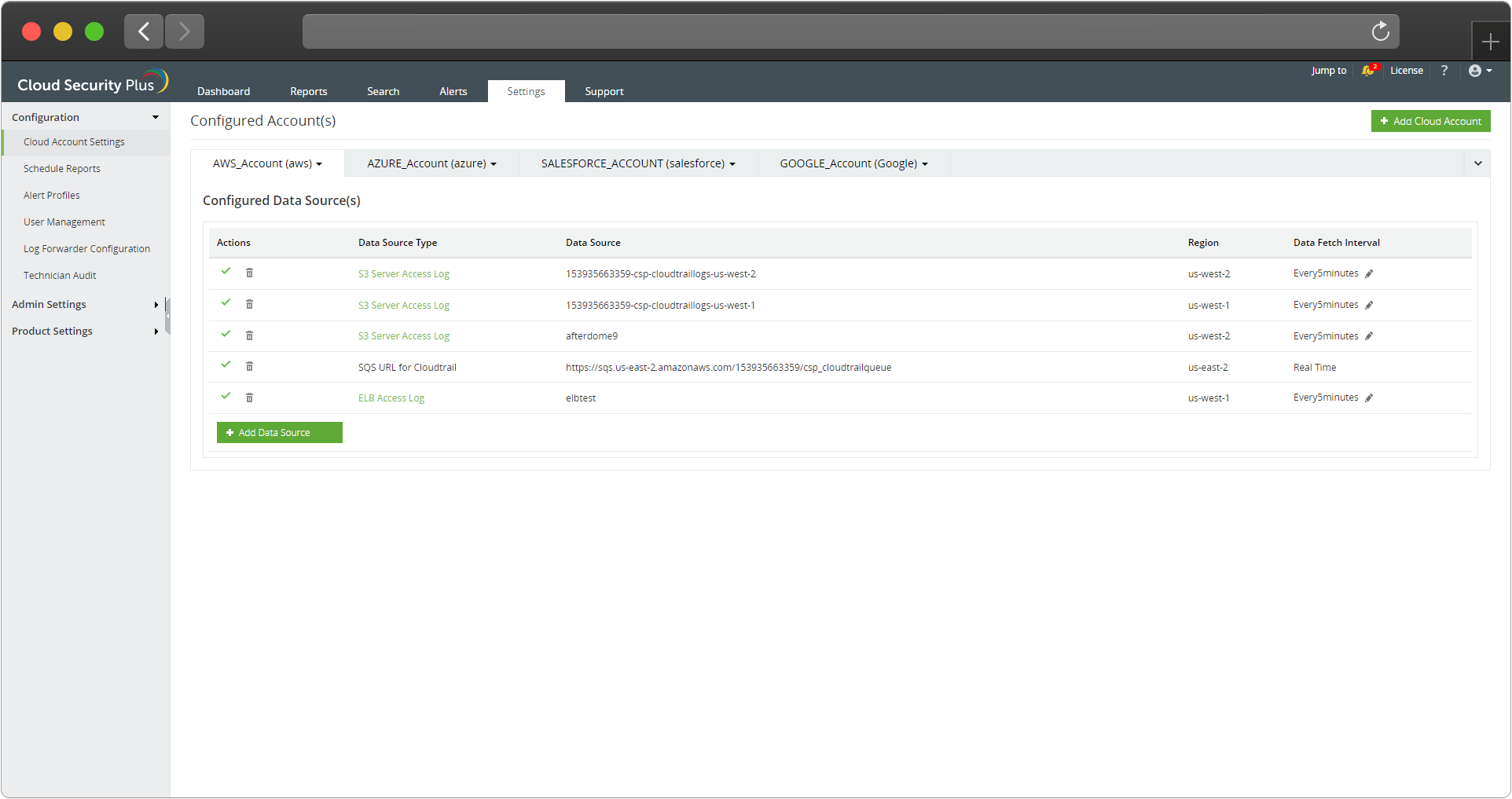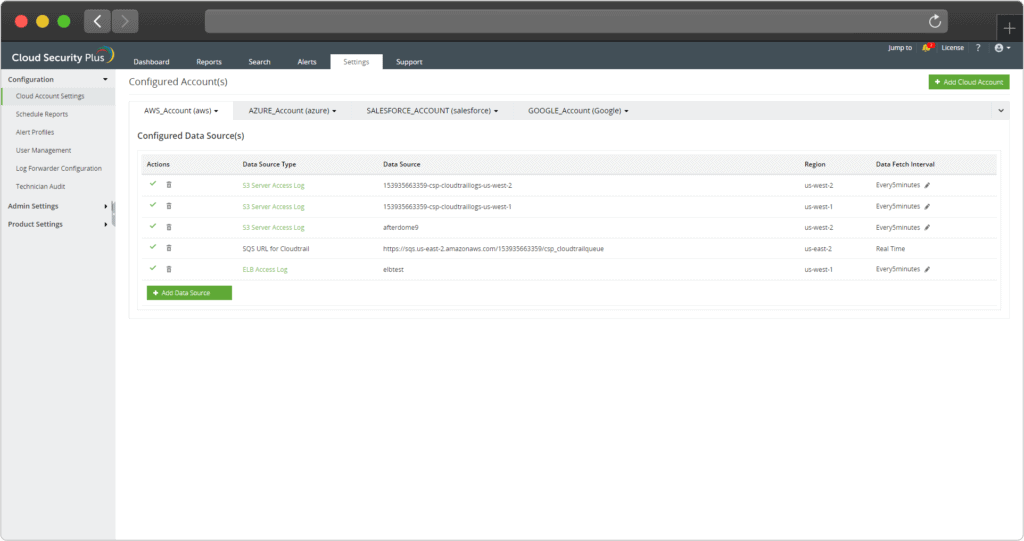 Central Management
This tools gathers information from a number of public cloud instances and save it in the database for a preset time period . Data received by Cloud Security Plus can be graphically presented using reports. This capability enable to monitor all actions from one console, between multiple cloud environments.
Comprehensive Auditing and Reporting
Cloud Security Plus provide the reports of events for:
Amazon EC2
Web Application Firewalls (WAF)
Relational Database Service (RDS)
Lambda, Security Token Service (STS)
Elastic Block Store ( EBS)
Virtual Private Cloud (VPC)
Elastic Load Balancer (ELB)
Simple Storage Service (S3)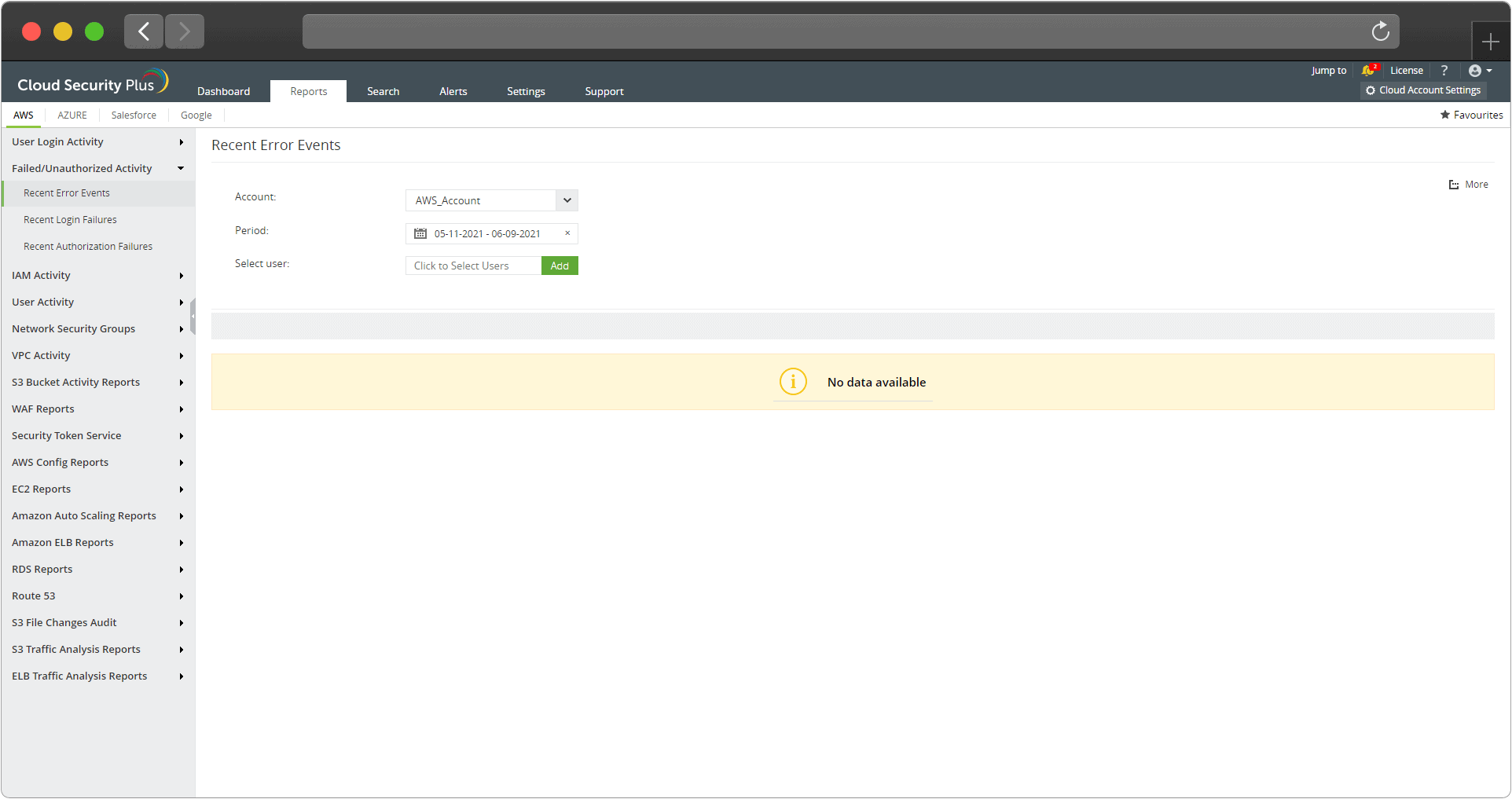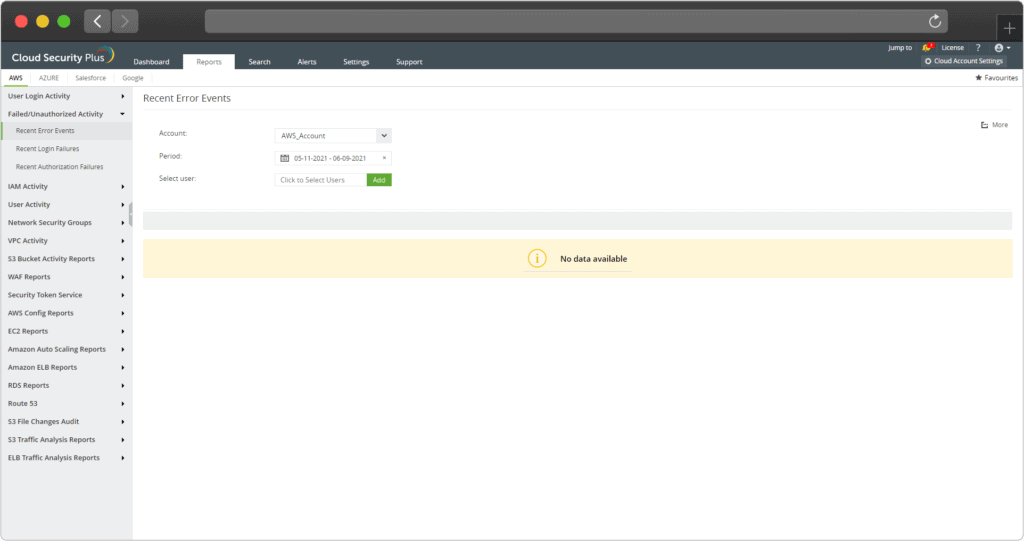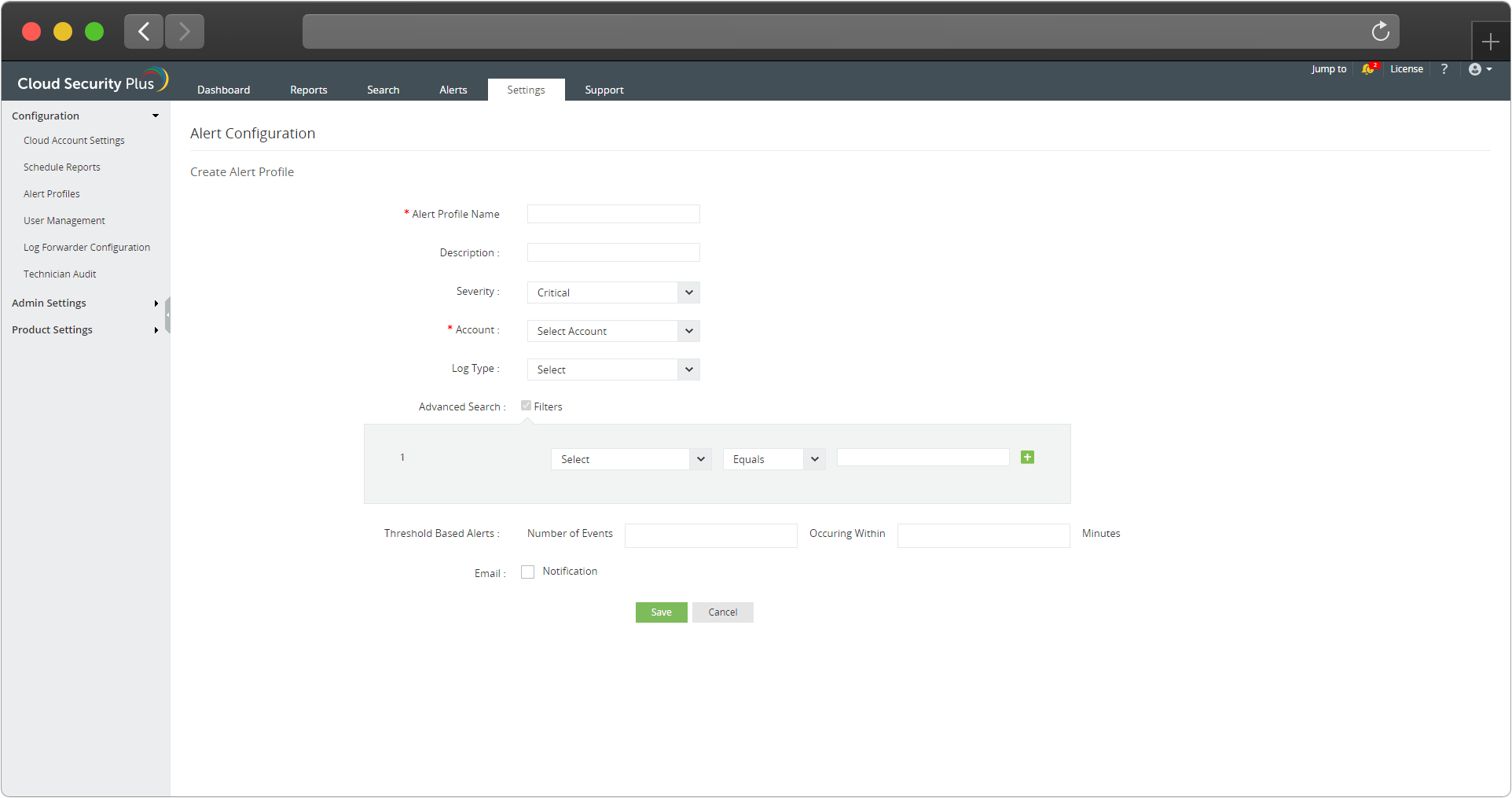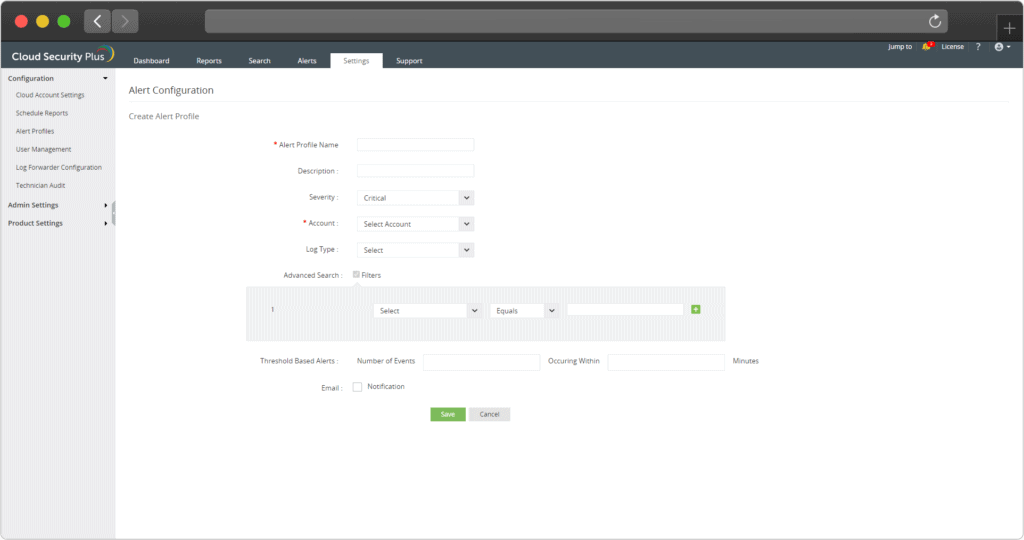 Real-time Alerts
This system can be configured to notify administrators via e-mail. Alerts can be categorized and assigned an appropriate message, which will help the technician to identify the issues or potentially dangerous event. This real-time alerting a valuable element of every administrator's work.
Frequently Asked Questions
What is Cloud Security Plus?
Cloud Security Plus is a log management solution for cloud platforms: Amazon Web Services (AWS), Microsoft Azure, Google Cloud Platform and Salesforce.
What are the software requirement?
ManageEngine Cloud Security Plus can be installed and run on the following Microsoft Windows operating systems (both 32-bit and 64-bit architecture)
Windows 7 and above

Windows Vista

Windows Server 2012

Windows Server 2008 R2
Which Web browsers are supported by Cloud Security Plus?
Cloud Security Plus supports the below browser versions:
Microsoft Internet Explorer 9 and above

Mozilla Firefox 3 and above

Google Chrome
Which public Cloud platforms are supported?
Cloud Security Plus supports the below browser versions:
Microsoft Internet Explorer 9 and above
Mozilla Firefox 3 and above
Google Chrome
Do I get any support to Install Cloud Security Plus?
Being the Swiss Partner of ManageEngine, Kidan is responsible for aiding with professional services, such as installing, implementing, configuring, training, and supporting the company to ensure an effective on-boarding of Cloud Security Plus
To make it even better, Kidan even provides advice on top of it all!
Get in touch with us to know more.
Want to continue the conversation?
Thank you for your interest in ManageEngine's Cloud Security Plus solution. Please fill out the form below to ask a question or request assistance.