Launches RMM Central to Automate Complete IT Management for MSPs in One Solution
Monitor client networks and proactively fix performance issues in real-time
Manage and secure devices with timely patches and remote troubleshooting
Download a 30-day, free trial at https://mnge.it/M1y
Switzerland, the 10th of May 2021 — ManageEngine, the enterprise IT management division of Zoho Corporation, today announced the launch of RMM Central, a unified remote monitoring and management solution for managed service providers (MSPs). Available immediately, RMM Central helps discover networks, monitor device performance, detect and manage faults, deploy missing patches, enable remote access and provide a complete overview of all hardware and software inventory.
Service providers need to understand their clients' IT networks and automate everyday tasks like adhering to specific security policies, meeting client service-level agreements (SLAs), generating specific reports, and managing their billing. However, juggling multiple tools to monitor network performance and manage devices is time-consuming. With network management complexities and security threats increasing exponentially, MSPs need a single solution that can offer high scalability, security, quick setup, easy navigation, holistic features, seamless client onboarding, and affordable pricing.
"Having worked with the MSP market for more than 10 years, ManageEngine is committed to this market and understands the demand for a unified IT management solution. To meet this demand, we've developed RMM Central by combining the capabilities from different products to offer holistic features, and we plan to launch similar products down the road. Using these solutions, service providers can optimize productivity with operational efficiency and provide exceptional service to their clients." said Mathivanan Venkatachalam, Vice President of ManageEngine.
"RMM Central is the go-to solution for MSPs that want to effectively manage and monitor their clients' complete IT networks and enable in-depth visibility into the client network from a single console. It is an easy and comprehensive IT management solution for MSPs to manage and monitor multiple client accounts, domains, and networks from a unified console," said Mr. Dani SYED, CEO of Kidan, the Swiss ManageEngine partner.
A Unified Solution for MSP Network Management
With the launch of RMM Central, ManageEngine provides MSPs with a single tool that delivers 360-degree visibility into all managed client networks. RMM Central's highlights include:
Seamless network performance monitoring: Identify and fix performance issues like faults, alarms, and outages before they become significant problems and cause downtime.
Automated, proactive IT security: Detect and deploy missing patches, make fault management foolproof, customize security policies and implement configurations for each client network to fortify them.
Centralized asset management: Manage all hardware and software assets, meter software usage, manage software licenses as well as detect and blacklist malicious applications across all managed devices.
Instant remote troubleshooting: Remotely connect to devices, coordinate with end users on voice and video calls during a troubleshooting session and collaborate with multiple technicians simultaneously to achieve SLAs faster.
Pricing and Availability
RMM Central is available immediately at https://mnge.it/LS9. Pricing starts at $1,195 for 50 devices per year. A fully functional, 30-day trial is also available, as well as a free edition that efficiently manages up to 25 devices.
About RMM Central
RMM Central is a unified solution that helps MSPs manage and monitor multiple client networks from a single console. With capabilities that simplify the everyday management routines of MSPs, including patch management, remote access, and performance monitoring, RMM Central's holistic approach ensures that resources and efforts are minimized and return on investment is maximized.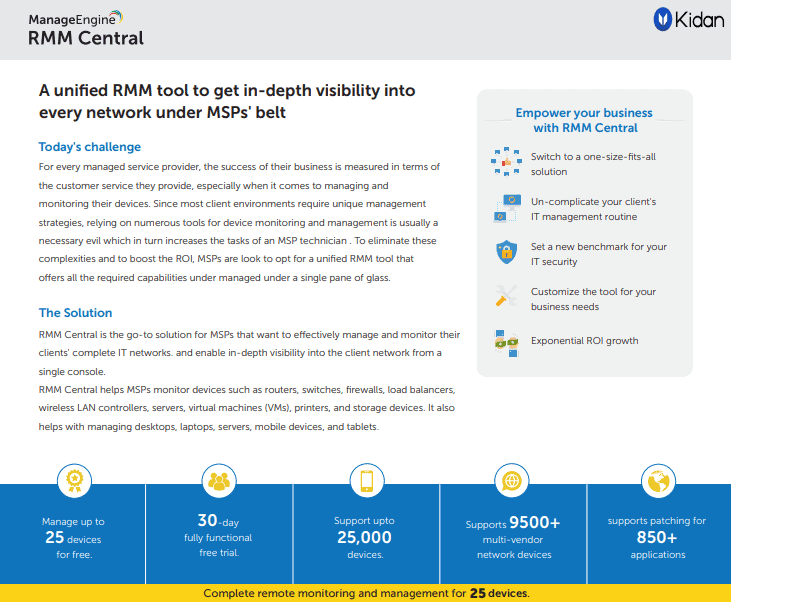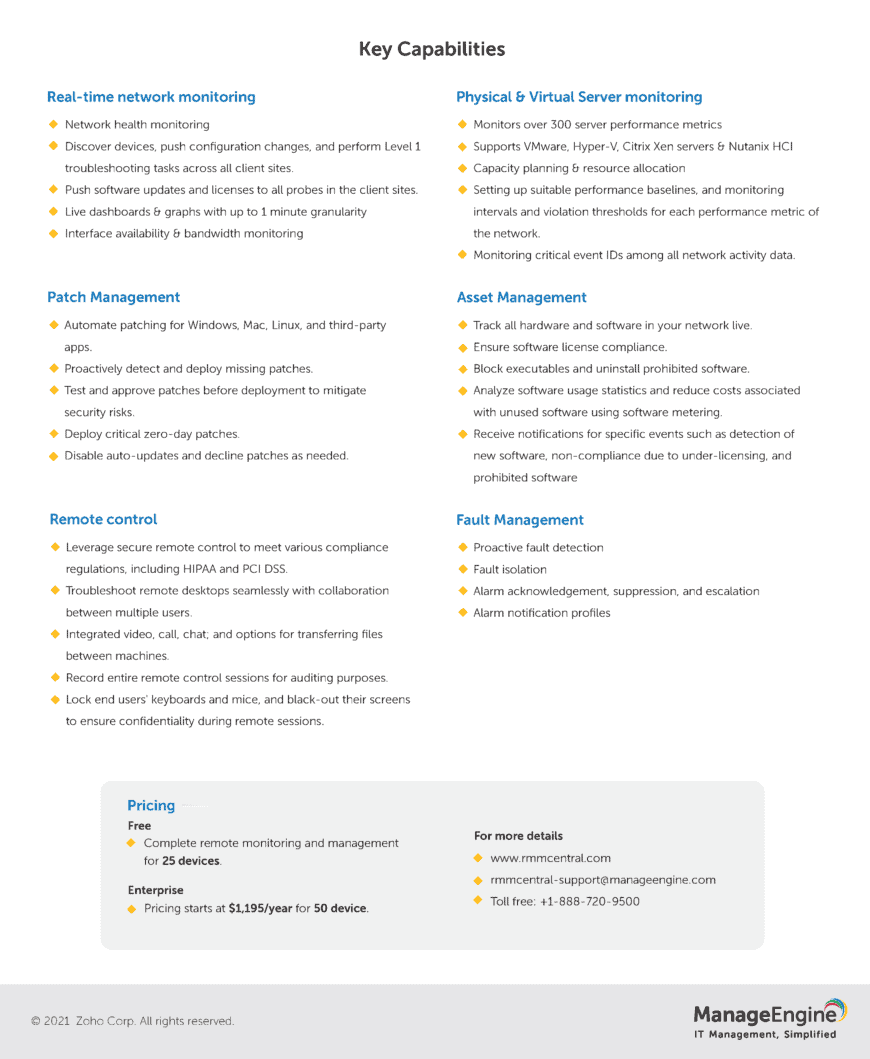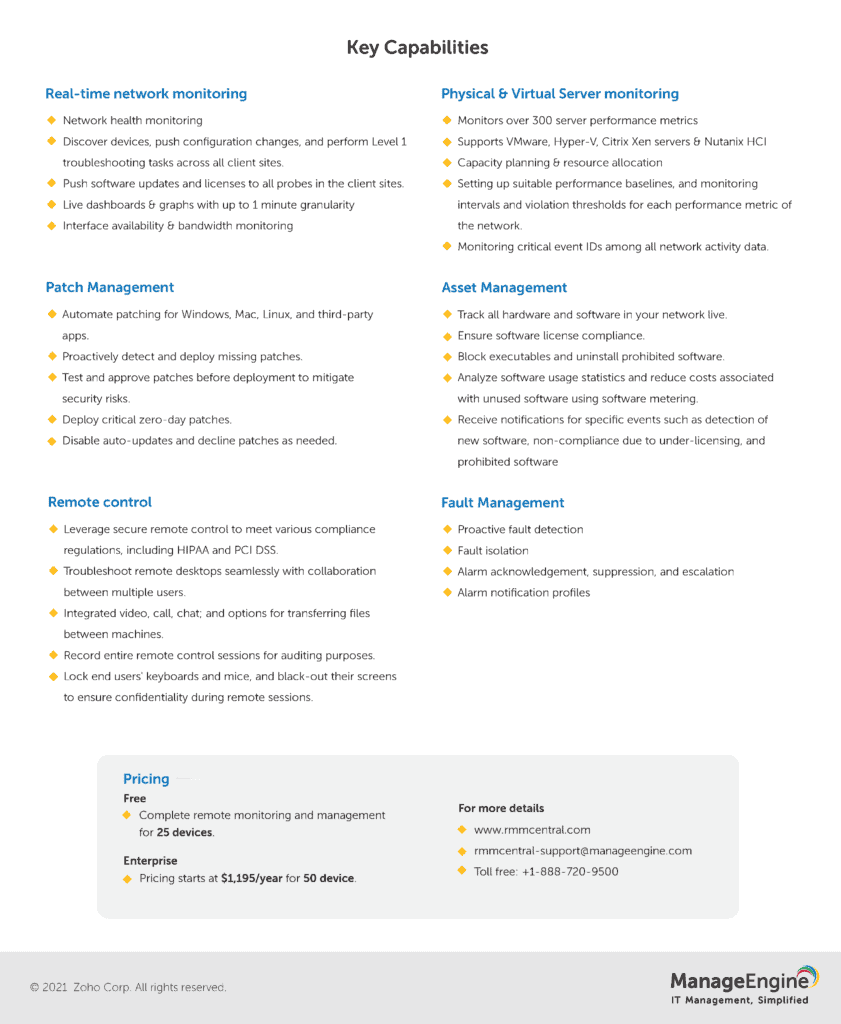 About ManageEngine
ManageEngine is the enterprise IT management division of Zoho Corporation. Established and emerging enterprises — including 9 of every 10 Fortune 100 organizations — rely on its real-time IT management tools to ensure optimal performance of their IT infrastructure, including networks, servers, applications, desktops, and more. They have offices worldwide, including the United States, the Netherlands, India, UAE, Mexico, Singapore, Japan, China, and Australia as well as a network of 200+ global partners to help organizations tightly align their businesses and IT.
About Kidan
As the exclusive Swiss partner of ManageEngine, Kidan is a company providing end-to-end IT services and solutions to assist organizations meet business requirements and help them achieve more with their technologies. The services we provide include advice, consulting, sales, implementation, training, and support.
You can find more information below:
ManageEngine, a division of Zoho Corporation
Website: https://manageengine.com/ 
Twitter: https://twitter.com/manageengine
Facebook: https://www.facebook.com/ManageEngine/
LinkedIn: https://www.linkedin.com/company/manageengine/
Kidan's Contact Information: 
Email: [email protected] 
Phone Number: +41 22 519 64 01
Connect with us: