Since 2020, Kidan has been a proud partner of ManageEngine – the enterprise IT management software division of Zoho Corporation. We expect ManageEngine to be one of our growth drivers in the coming years, and this partnership is a crucial step for our future business journey.   
"As a customer-centric company, the partnership with ManageEngine, the leader in providing IT software solutions to all organizations around the world, enables us to provide even better services and solutions to our customers. We look forward to streamlining and unifying the IT of Swiss customers with ManageEngine and their wide range of IT management solutions."
-Dani SYED, Founder & CEO of  Kidan Sàrl
What is ManageEngine?
ManageEngine (ME) leads the IT Market for its enterprise IT Management Solutions. It provides comprehensive IT management software and focuses on modular IT solutions that work for any business, regardless of  its size or budget. ME designs complete IT management solutions focusing on simplifying the business and IT tasks by providing more than 90 software solutions (i.e., products) and tools that cover all the IT needs at economical prices.
Benefits of Kidan – ME Synergy
As the official partner of ManageEngine in Switzerland, we aim to collaborate with ME to assist the Swiss organizations with the best-in-class solutions to streamline and unify their IT by providing end-to-end services. Indeed, Kidan offers a range of IT services, including advice, sales, installation, implementation, customization, training, and support. Kidan's technical team and experts are firmly committed to our customers to help them understand, interpret, and solve their IT complications. 
This long-term business partnerships consist of trust and a common desire to solve client challenges and make them successful. The aim is to expand market reach and increase flexibility in serving customers. Kidan focuses on mapping benefits for both the partners and strengthening relationships with customers in the customer network.
All in all, Kidan continues to strive to maintain a very healthy partnership with ManageEngine as well as looks forward to facing partner-related business problems together with high and professional standards – with Kidan Standards.
Our Portfolio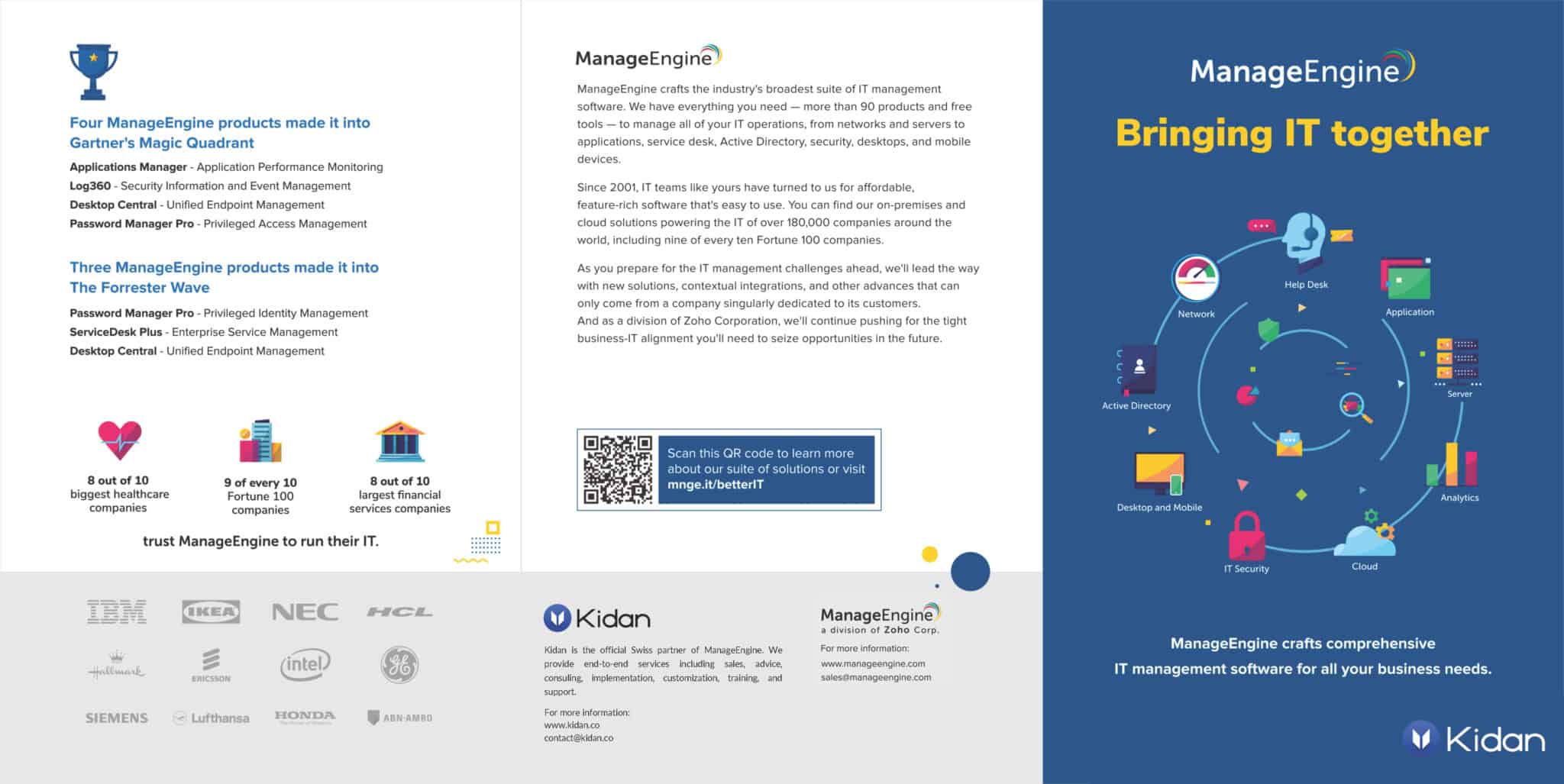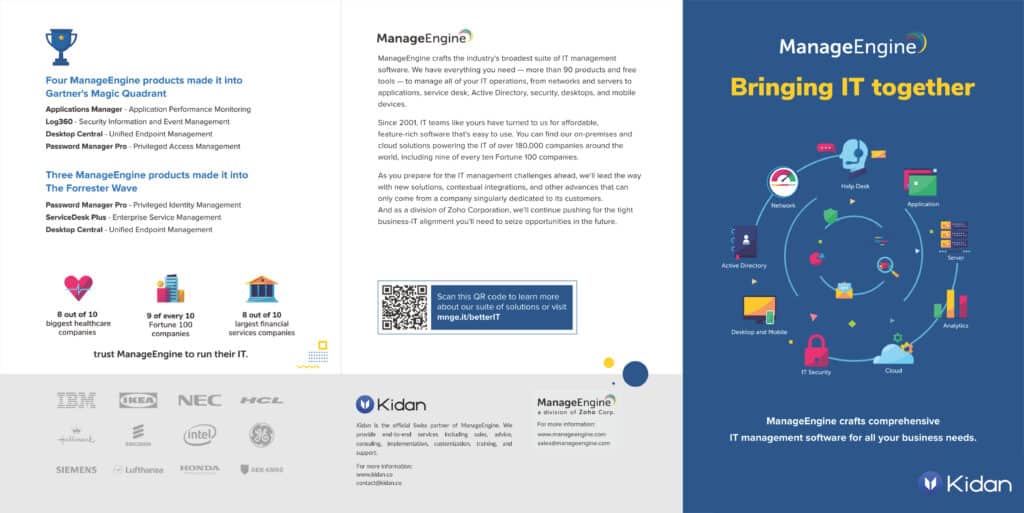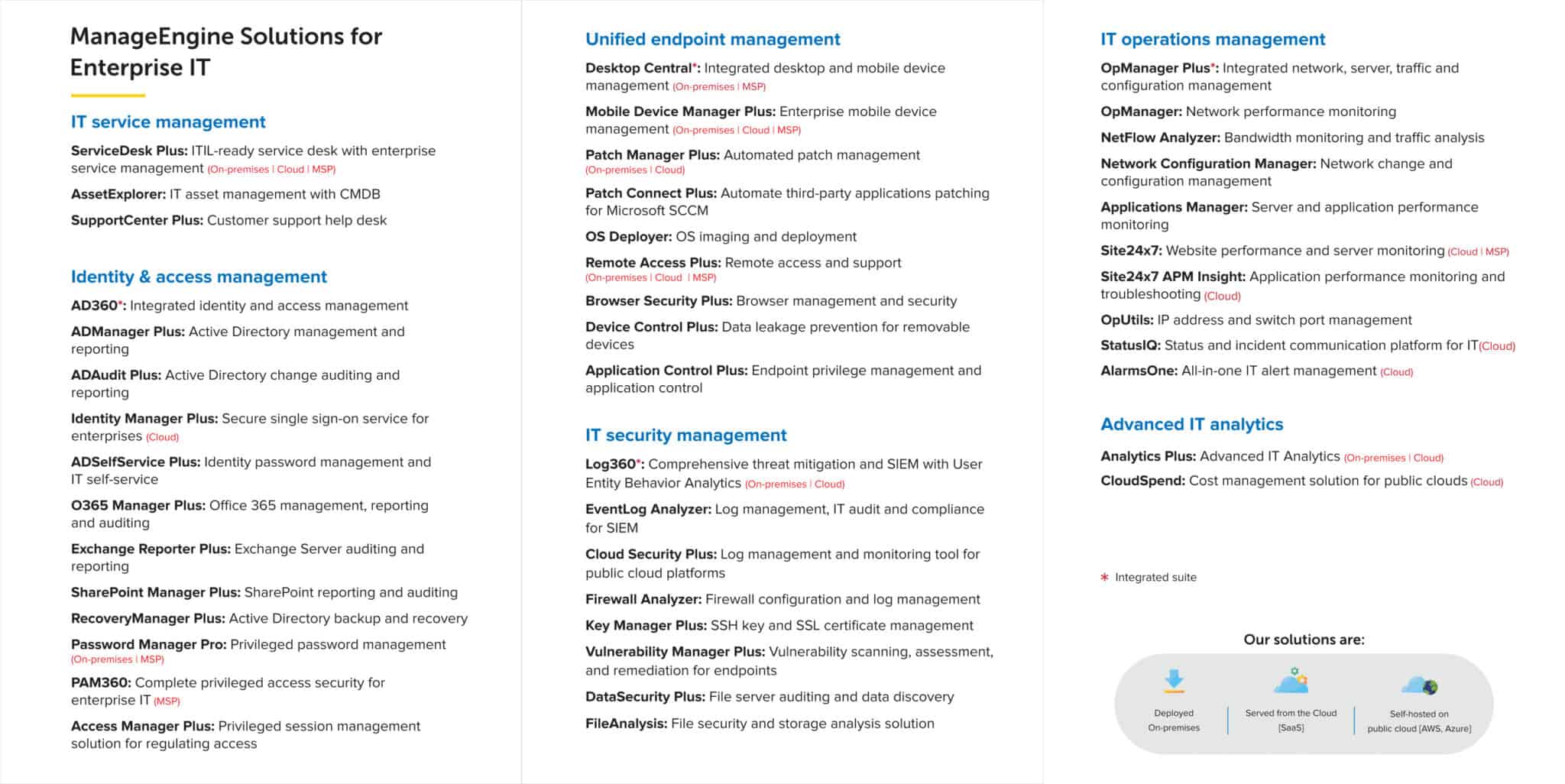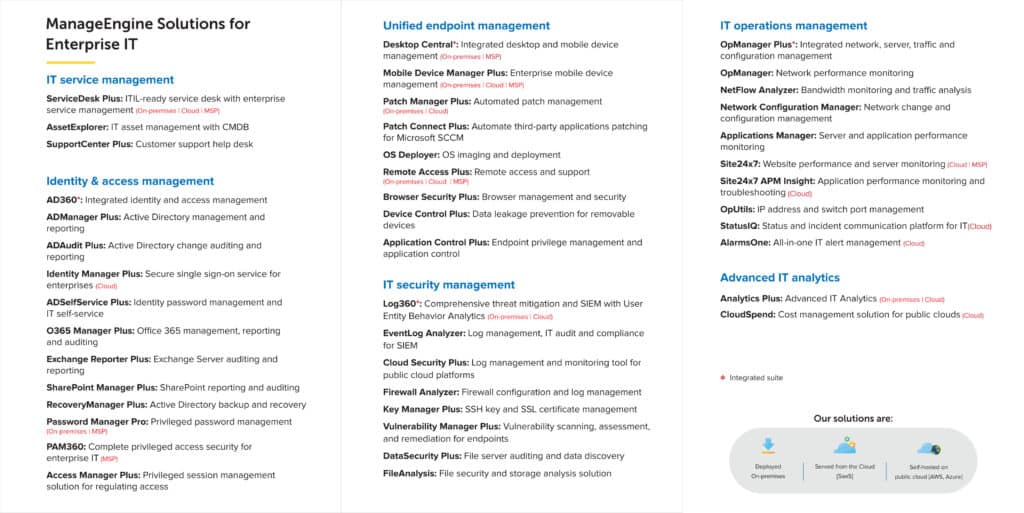 You can find more information below:
ManageEngine, a division of Zoho Corporation 
Website: https://manageengine.com/  
Twitter: https://twitter.com/manageengine
Facebook: https://www.facebook.com/ManageEngine/
LinkedIn: https://www.linkedin.com/company/manageengine/ 
Kidan's Contact Information:  
Email: [email protected] 
Phone Number: +41 22 519 64 01 
Connect with us:  
LinkedIn: https://www.linkedin.com/company/kidanch/about/
Twitter: https://twitter.com/Kidan_Global
Medium: https://medium.com/@kidan
Facebook: https://www.facebook.com/kidan.ch/ 
Instagram: https://www.instagram.com/kidanllc/