The new challenge for many organizations is shifting from a physical workspace to a remote one. If not done properly, employees can undergo significant setbacks in their professional and personal lives. Hence, organizations should invest in the new trend of endpoint security for a remote work environment.
With this new global pandemic and the latest movement on Work From Home (WFH) environments, organizations are expected to modernize their infrastructure and train their workforce for remote operations without compromising on Security.
Generally, as an initial response, Security is often shrugged off until the need for it becomes crucial. However, it is essential to control any threats and gaps which prevent cyber crimes from occurring due to some inadequate security measures.
Practical Measures to Help Reduce Risk
To improve remote work environments, companies must focus on three priorities:
Stay connected with employees. Configure tools to view the real-time status of employees for more informed decision-making while respecting confidentiality.
Identify and close the security loopholes in a remote work environment.
In the event of extending or permanently imposing a remote work model, secure the environment for the long run.
Business Continuity across Secure Cloud Environment
Leveraging the cloud empowers organizations to address new security and connectivity requirements quickly. Security Policies should be an important concern as organizations shift to the cloud. The inadequate security measures result in a fragmented, complicated security framework that can make threat detection and response more difficult. A cloud security application detects a threat, contains and fixes it, and shares the knowledge across the entire distributed network so workstations can all get back to normal as soon as possible.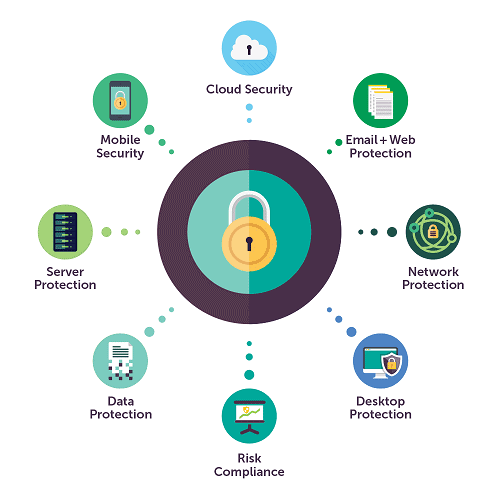 Leveraging End-point Security Solutions
Endpoint security solutions enable organizations to scale and augment the capacity they already have in the cloud. This facilitates network and security teams to keep working in the same model while using a familiar and scalable solution to handle growing interaction with clients, partners, vendors, end-users, and end-nodes.
Endpoint security solutions incorporate automated detection and prompt response and seamlessly integrate into a more extensive network security model, meaning increased response times to threats.
Organizations will gain further visibility and securely synchronized, dynamic control of network, user, and host activity with a unified solution. These solutions enable them to extend security practices seamlessly across their distributed network, from their console to the multi-cloud, their core network, and their nodes and other remote-edge locations.
Recommendations for Top-Class End-point Security Solutions
Here are few reliable and affordable solutions that help organizations add protective layers of Security to enable remote access to critical systems.
Are you looking for more Help with Endpoint security?
As a best-in-class IT consultancy company, Kidan provides top-notch technology by recognizing the importance of helping businesses develop healthy relationships with these new digital endpoints and adapting the secure technology practices into constructive work outcomes.
You can find more information below:
Kidan's Contact Information: 
Email: [email protected] 
Phone Number: +41 22 519 64 01
Connect with us: 
LinkedIn: https://www.linkedin.com/company/kidanch/about/
Twitter: https://twitter.com/Kidan_Global
Medium: https://medium.com/@kidan
Facebook: https://www.facebook.com/kidan.ch/
Instagram: https://www.instagram.com/kidanllc/