Business organizations emphasize modernizing the "IT back office" to minimize human interaction to tickets and assignments and build a proactive, self-driven, and engineered automation model. The past decade has seen rapid development in business process automation by aligning Information Technology and AI investments with business strategy.
As these new digital technologies create new data streams such as AI, VR, and Voice Recognition, the data landscape will inevitably keep growing in complexity rapidly. Mainlining the data quality and adapting the regulations is quite challenging.
What is Automated Data Management Tools?
Automated Data Management tools are intelligent software solutions to streamline enterprise-wide Data Management tasks. They simplify operations through Machine Learning (ML) and Artificial Intelligence (AI). These technologies help identify data patterns and adapt to business rules by comparing data, detecting and correcting errors, and mapping valuable data elements. This methodology enables Data Management tools to analyze and evaluate unique data points and help organizations efficiently increase their ability to manage vast volumes of dynamic data and complete data management task in real-time.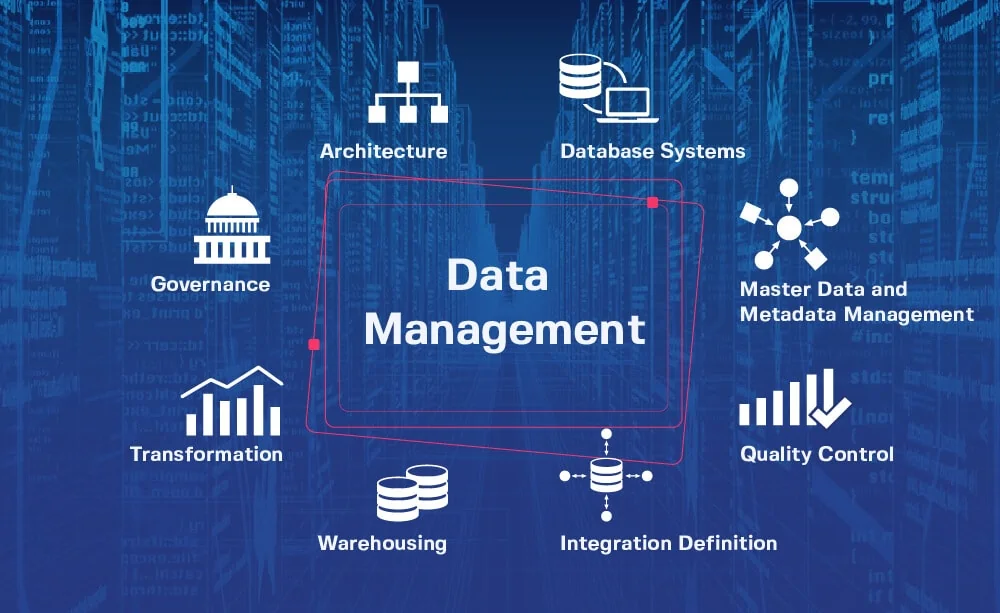 Benefits of Automated Data Management Tools
The effort involved in the digital handling of the organization's entire data implies that automated data management systems are essential tools for saving time, streamlining processes, and making better use of all of the business's resources.
These management tools can also integrate with the company's other software solutions and include features for evaluating data, testing for omissions, observing the usage of each file, and updating associated applications and platforms. The promising benefits of Automated Data Management
1. Handle Large Volume of Data:
Automate Data Management systems are designed flexible enough to efficiently handle the unlimited volume of data. No matter how much the database grows, these solutions can accommodate a large quantity of data.
2. Improve Data Quality
Using irrelevant and redundant data in business operations can significantly lose. These systems improve the data quality by cleansing the data for errors redundancy and performing automatic data repair and backup operations to make data reliable to use.
3. Facilitate Global Working
The Cloud-based functionality of these systems is tailored to address remote working needs, which is the dire requirement of the current Covid-19 situation and allows synchronizing information across countries for the different teams.
With automated data management system can extend the data reach of analytical tools into legacy systems and virtualized environments. Automation can help extract and analyze core banking information or collect exchange rate data from a website into a format that analytics tools can understand.
4. Guarantee High Level of Security
Automated data management uses artificial intelligence (AI) to manage vital standardized processes within an organization. These tools match data from the cloud with legacy systems and ensure compliance with industry data protection laws. This approach is necessary for companies struggling to manage the influx of data created and stored on their servers.
5. Optimized Data Access
Automated Data Management helps save much time by locating relevant and always correct data, integrating it into the central database, and exporting it to any format to share with third parties, across other digital channels, or in marketing strategies.
ManageEngine OpManager Plus:  All-in-one Data Management Platform
OpManager Plus enables seamless data automation and integrations. It consolidates the entire backup environment into a single system. It gives you a simple, powerful, and policy-driven interface to manage data and ensure end-to-end data protection. With OpManager Plus, you can now safely and efficiently leverage public cloud services for the long-term retention of critical corporate data.
Kidan's Contact Information: 
Email: [email protected] 
Phone Number: +41 22 519 64 01
Connect with us: 
LinkedIn: https://www.linkedin.com/company/kidanch/about/
Twitter: https://twitter.com/Kidan_Global
Medium: https://medium.com/@kidan
Facebook: https://www.facebook.com/kidan.ch/
Instagram: https://www.instagram.com/kidanllc/