Every organization has its organizational framework in which roles and responsibilities of the different departments such as sales, IT, manufacturing, and quality assurance to achieve the desired common goal. Employers use business resources such as applications and hardware tools to execute business operations along with the skills and expertise. To effectively use these resources, it is essential to have some access control tool in place. Active Directory is one of such tools that manage users, applications, and resources and allows to handle authorization and authentication of users for these resources.
What is Active Directory?
Active Directory (AD) is a component of Microsoft Windows software environments, specifically for networks that require domain management services. Active Directory service is much more than just authentication and access to network resources. It is also used to implement various network security policies, enable different processes, and enable multiple services.
AD is a logical framework that allows the server to perform appropriate functions, authentication, services, etc. AD is a database with its functionality that runs to respond to numerous requests to processes and services that record event logs and manage the database.
Benefits of Active Directory
There are several benefits to using AD for primary network users and computer management:
Centralized Data Repository
Active Directory stores the identity information of applications, users, and resources in a multi-master database. The AD database stores information as objects, and it can store up to 2 billion objects. To access the resources, users can use this identity data from anywhere in the network. Administrators can manage authentication and authorization of the organizational application from a centralized location. Without directory services, identities would be replicated across different systems and create difficulties for administrators to manage operations.
Minimized Data Replication
For complex business requirements such as branch offices, multiple domain controllers are required. If the identities are managed from a centralized system, sub-domain controllers are aware of the changes made to the Active Directory database. Active Directory can delegate responsibilities throughout the organization and tools and utilities to add, remove, and modify Active identities/objects with a centralized domain controller. It uses a synchronization mechanism that ensures consistent data across all the domain controllers. Thus, it allows for making company-wide changes with just a few clicks.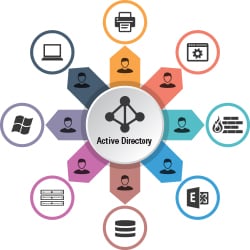 Periodic audits help you understand new security threats. Active Directory allows to capture and audit events occurring in identity infrastructures such as authentication, directory service modifications, or access violation. It also helps collect data from a centralized location for troubleshooting authentication and authorization issues users may have.
Active Directory facilitates security throughout an entire enterprise. Through delegation, higher-level management authorities can set permissions for resources and applications to other administrators or users. The objects in the Active Directory are connected hierarchically. An object in the AD tree inherits permissions from its parent objects. These features ensure that users are identified uniquely and securely. Administrators can create and update permissions as required from within a single database, thereby reducing the chances of incorrect or outdated configuration.
An organization uses different applications, and Each of these applications has a different authentication mechanism. Active Directory helps to maintain different user credentials to authenticate on different applications. This means that administrators can authenticate different systems and applications used by an organization with Active Directory credentials. There is no need to keep typing credentials every time to get access. Authenticate id once on a computer, and the same session will be used to authenticate other Active Directory-integrated applications.
Concluding
Active Directory manages the company's domain, consisting of users, applications and workstations, and security procedures and settings. When authorizations and rights are managed wisely, it's easy to ensure files can be accessed by those who need them and inaccessible to those who do not. Users can be grouped smartly, such as Marketing, Sales, HR, and Service, and those groups can have different policies.
If you are looking for any help regarding planning, implementing, and managing your network for the most significant security and lowest operational cost, contact Kidan on the information given below to meet with us about your needs and goals.
Kidan's Contact Information: 
Email: [email protected] 
Phone Number: +41 22 519 64 01
Connect with us: 
LinkedIn: https://www.linkedin.com/company/kidanch/about/
Twitter: https://twitter.com/Kidan_Global
Medium: https://medium.com/@kidan
Facebook: https://www.facebook.com/kidan.ch/
Instagram: https://www.instagram.com/kidanllc/